Although this pretty city looks beautiful year-round, some months are certainly more ideal than others. It's true that most people consider spring the best time to visit Savannah, but I personally have another favorite time of year.
To help you plan the perfect trip and decide which time of year would work best for you, I've come up with a list of pros and cons for each season.
Note: This guide contains affiliate links to my trusted travel partners.
If you're new around here, first of all … allow me to extend a warm welcome!
My name is Erin, and I authored the Savannah First-Timer's Guide. It combines my top tips from this website into one handy downloadable guide.
---
Contents
Spring | Summer | Fall | Winter
---
You might also be interested in:
☀️ Savannah's Weather by Month
🏠 A Local's Guide to the Best Places to Stay in Savannah
Now, let's get to planning your (future) trip…
Spring in Savannah
As I mentioned above, spring is a very popular season for tourism, and there are many good reasons for that.
Topping the list: spring is azalea season, which is easily the most beautiful time of year to visit Savannah!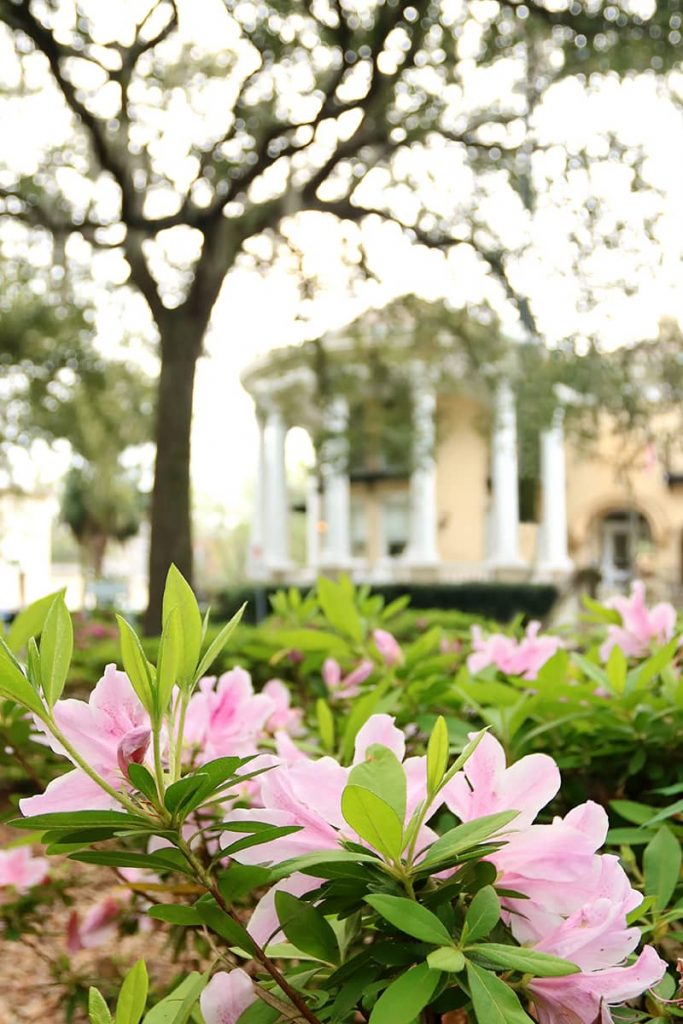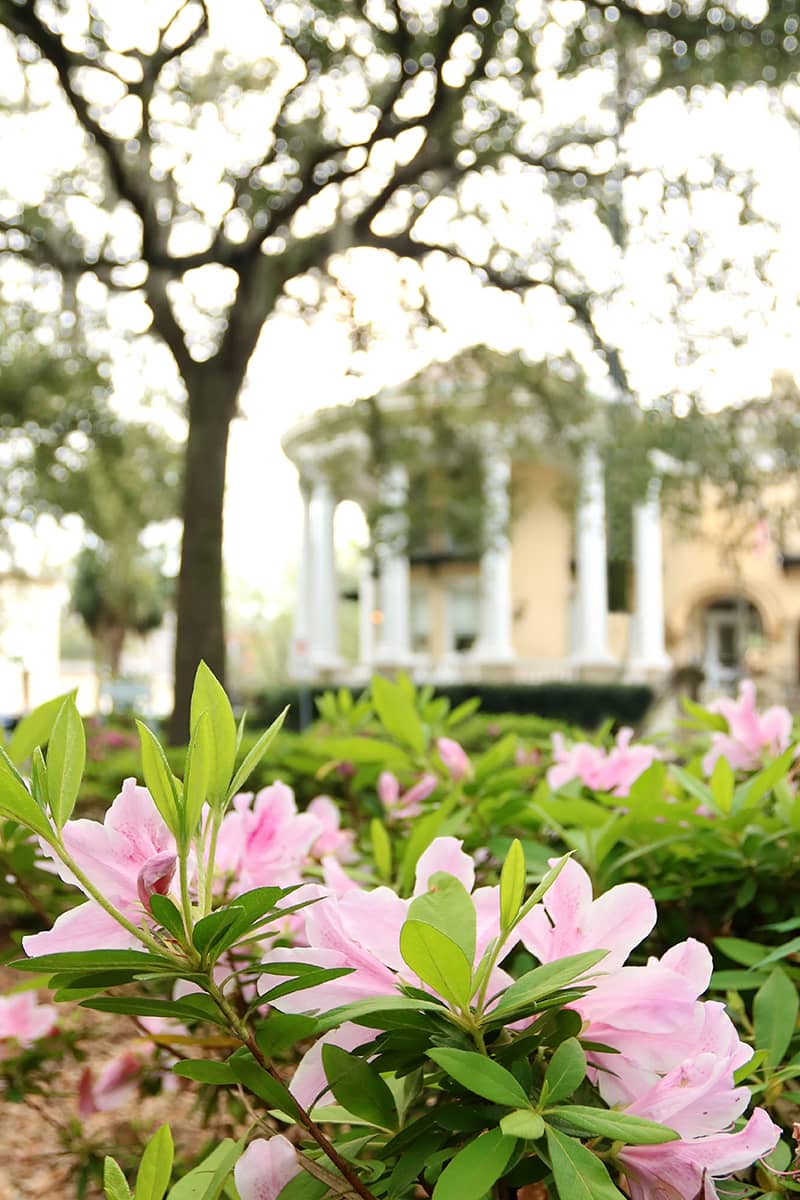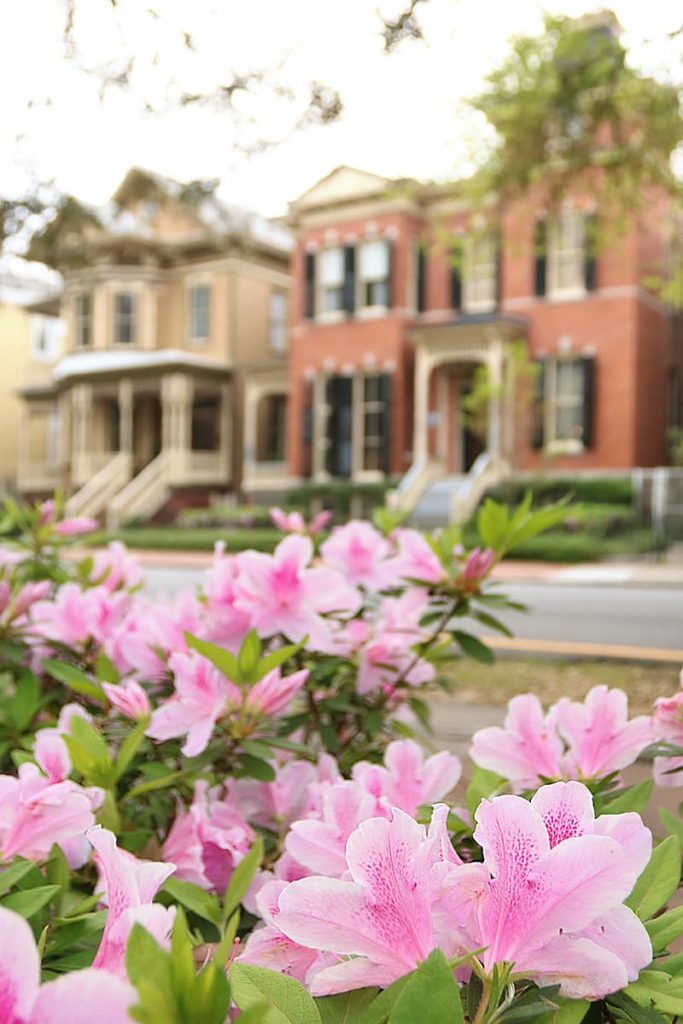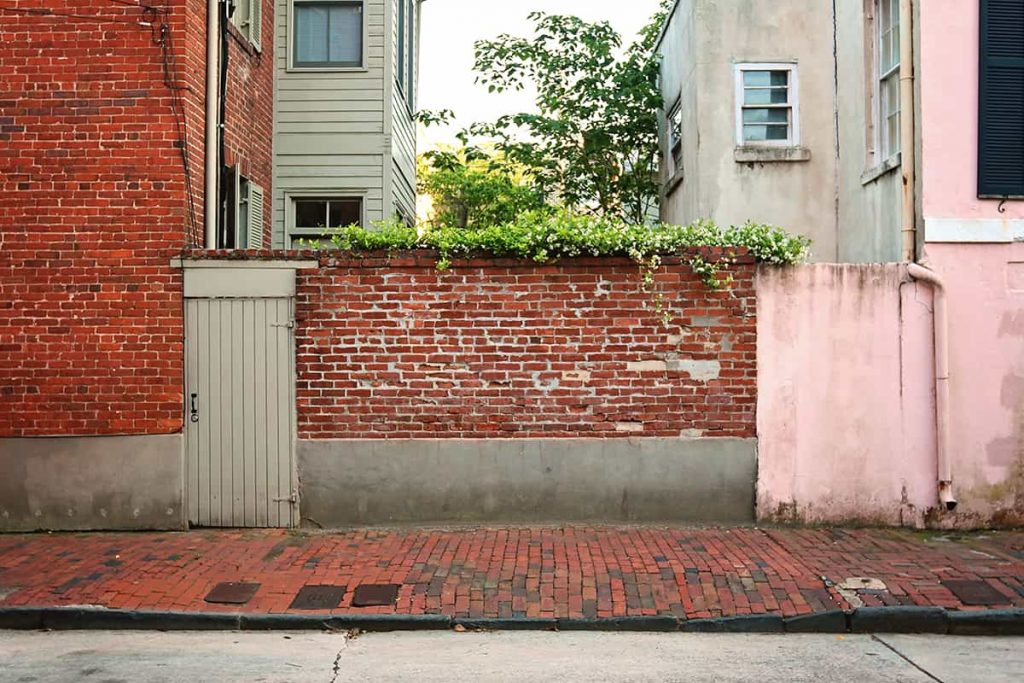 Spring Weather in Savannah
The weather in Savannah is mild in March and April, but then our famous Southern heat and humidity makes its presence known towards the beginning of May.
The average high in March and April is in the mid-70s, while it reaches to the mid-80s in May. You can count on the early morning and late evening hours to be pleasant throughout the season.
Springtime Events in Savannah
Spring is when some of the biggest events of the year occur in the city.
Two of Savannah's major spring events are St. Patrick's Day and the Savannah Tour of Homes and Gardens.
St. Patrick's Day:
Our St. Patrick's Day celebration is the second largest in the United States!
Festivities include the St. Patrick's Day Parade, the "greening of the fountain" in Forsyth Park, and the Mass of the Feast of St. Patrick at the Cathedral of St. John the Baptist.
Plan for it: March 17, 2023
NOGS Tour of Hidden Gardens:
This event allows you to tour private homes and gardens throughout the Historic District. It's held annually in March or April and spans a few days.
Plan for it: April 14-15, 2023
⭐ Insider Tip: Hotel prices rise significantly in the weeks surrounding St. Patrick's Day. You also need to book accommodations months in advance.
Can't-Miss Spring Destinations
When visiting Savannah during the spring season, there are a few spots you absolutely shouldn't miss.
Bonaventure Cemetery
This is one of the most beautiful cemeteries in the entire world, and March is the peak blooming season for azaleas in the cemetery.
You'll see a sea of pink blooms in nearly every direction you look. It's incredible!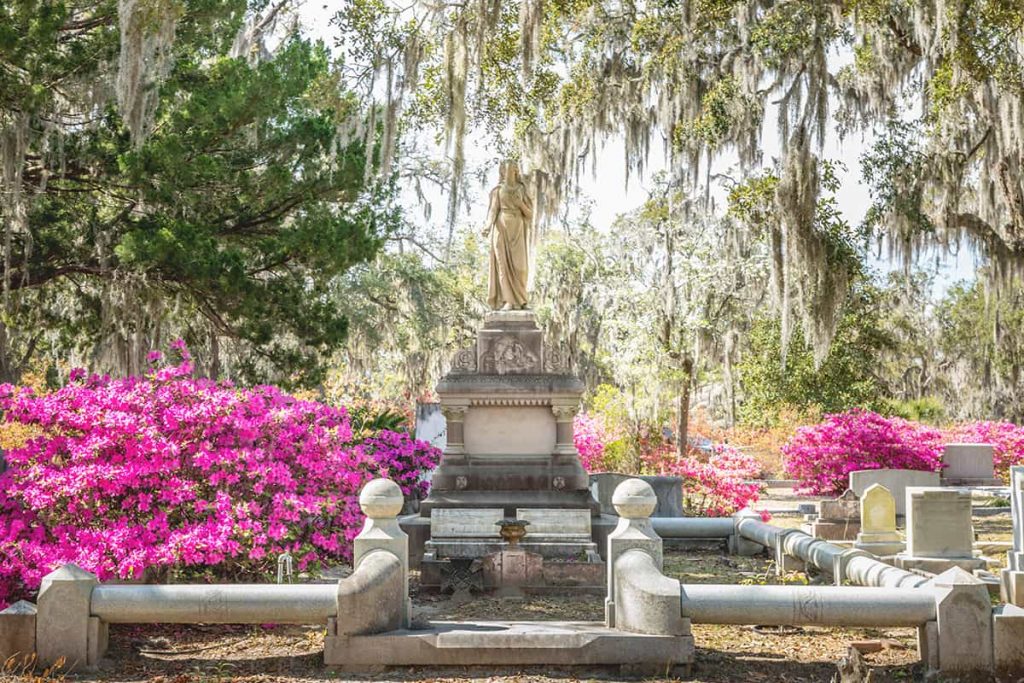 Forsyth Park
The park is an ideal place to go for a stroll and enjoy nature.
You can always count on seeing seasonal plants surrounding the iconic fountain, and azaleas and dogwoods bloom throughout the park.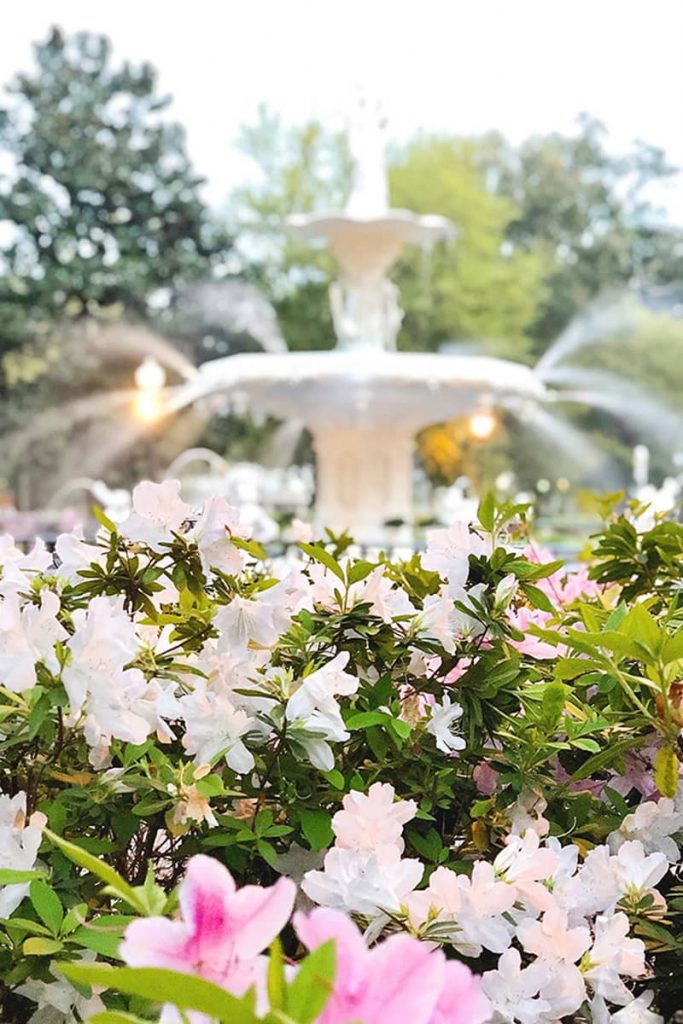 Spring is also a fantastic time to visit the Historic District. All of the beautifully maintained gardens and picturesque cobblestone streets make it the perfect place to spend a day exploring.
You'll also find captivating squares, landmarks, churches, and incredible restaurants in the Historic District.
Related Reading: 21 Photos That Will Make You Want to Stroll Through Forsyth Park
Outdoor Dining Savannah
There are plenty of restaurants that offer outdoor dining in Savannah, and I suggest taking advantage of them during the spring season.
Here are a few of my favorite spots to grab a bite to eat while relaxing and enjoying the sunshine.
I think we got really lucky getting spots at the bars, but we didn't realize how truly far in advance you should book meals at the popular restaurants!

Cassie (via my Savannah First-Timer's Guide Facebook group)
As one of the members in my private Facebook group suggests, you can always request a bar spot if you've forgotten to make reservations — especially at the most famous Savannah restaurants.
Is Spring the Best Time to Visit Savannah GA?
So, what's my final verdict? Spring is an incredible time to visit!
Pros: Savannah looks magical with seas of colorful azaleas in bloom, and it's almost as if the weather was perfectly designed for long strolls through the Historic District.
It's undoubtedly the prettiest time of year to visit. Still need proof? Check out Spring in Savannah: A Photo Essay.
Cons: The downsides to keep in mind are the high rates for accommodations, the crowds, the pollen that clings to every surface (including your clothes), and the rambunctious St. Patrick's Day crowd.
(If you're visiting to party, then consider that last one a perk.)
Where to Stay in Savannah in the Spring
I've hand-picked these options because they'll give you some of the best views of the azaleas.
The Mansion faces Forsyth Park, Planters Inn overlooks Reynolds Square, and Eliza Thompson House was the first home ever built on beautiful Jones Street.
Related Reading: Is Jones Street Really the Prettiest Street in Savannah?
---
Summer in Savannah
The summer months bring serious heat and humidity to Savannah, and just when you think the humidity can't get any worse — the rainy season arrives!
Summer Weather in Savannah
The peak months for hot weather in Savannah are June, July, and August. That's right…it's hot all summer long.
When I tell you it's a different kind of heat, I truly mean it!
Savannah is a coastal city, so it's very humid. The humidity makes it difficult for your body to cool itself, which increases the "feels like" temperature considerably.
That means some days we might have a high of 90°F (32°C), but the "feels like" temp might be 105°F (40°C).
August is typically the rainiest month of the year — although it's common to have brief, pop-up afternoon thunderstorms throughout the summer months.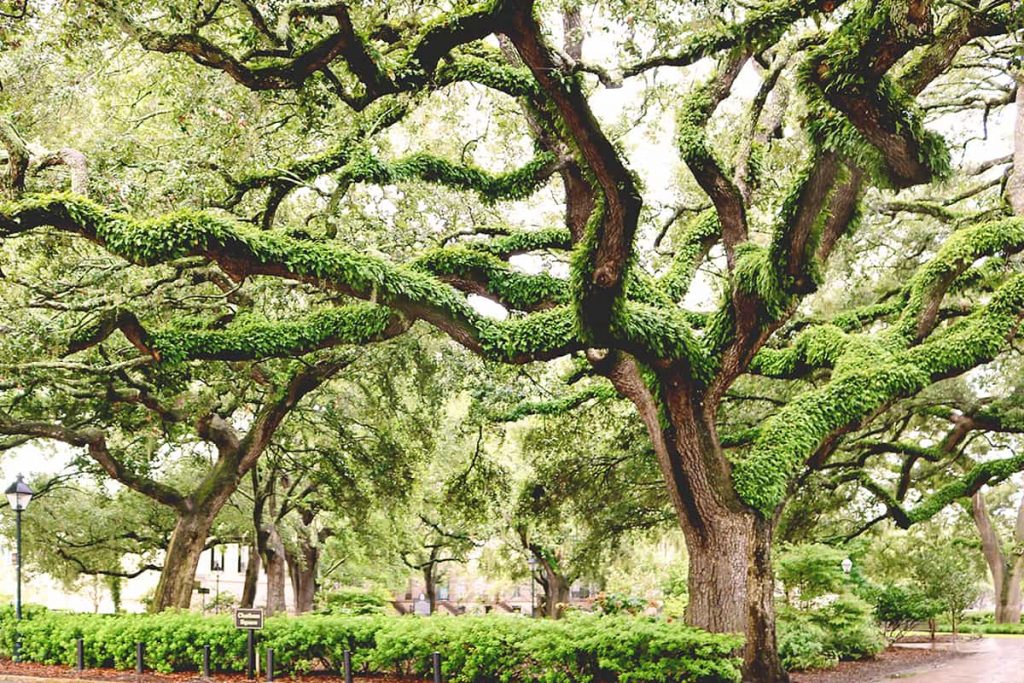 📸 Photo Tip: One of the best times to capture incredible photos of Savannah is after a fresh rainfall. It brings out the resurrection fern that covers the Southern live oaks, and the brick pathways glisten from the rain. You can also capture pretty reflection shots.
Tips to Survive the Heat
If summertime is the only opportunity you have to vacation in Savannah, there are a few ways to make the best of your trip, despite the hot weather.
Cant-Miss Summer Destinations
I always joke that the best way to spend a summer day in Savannah is to leave.
That's right: leave the city and to head out to Tybee Island!
After all, what better place to be when it's hot out than at the beach?
Located only 20 minutes from downtown Savannah, Tybee is a charming little island that offers a typical laid-back, beachy vibe.
Spend the day digging your toes in the sand, explore some of Tybee's adorable shops, visit the lighthouse, or indulge in some delicious seafood while catching a sunset over the water.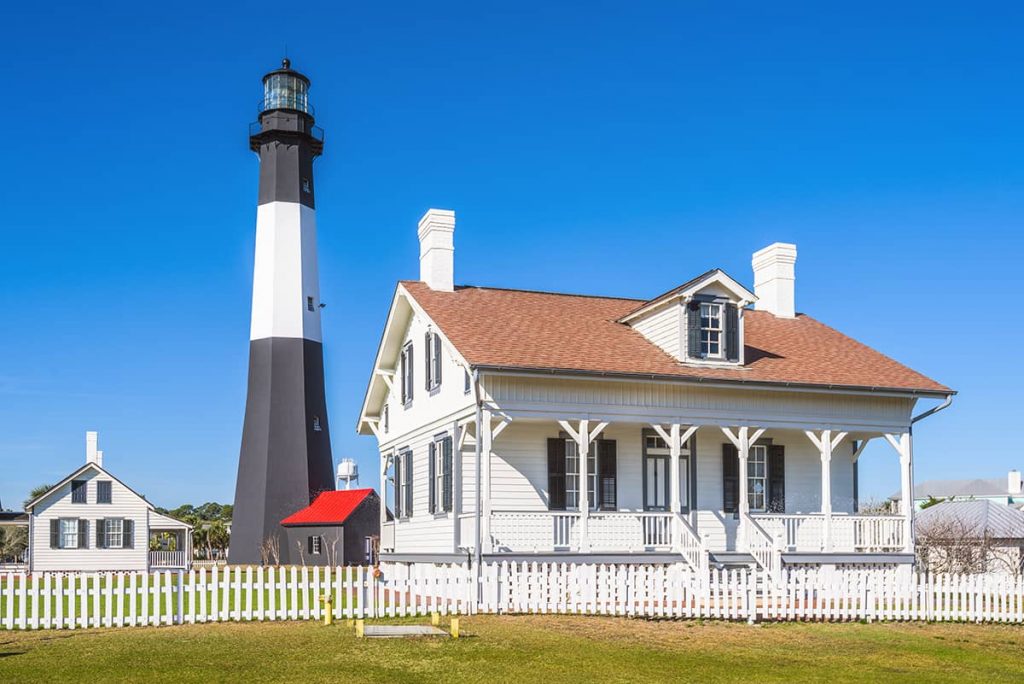 My favorite restaurant on Tybee Island is probably Sundae Cafe, and my favorite place to see a sunset is the Back River beach.
Related Reading: 7 Incredible Beaches on the Georgia Coast
Is Summer the Best Time to Visit Savannah GA?
Not in my opinion. Sorry folks!
I know it's when most people have time off work and are able to vacation with the family, but unless you really love the heat and humidity, it's not the prime time to explore.
Pros: There are plenty of historic homes and landmarks to see that will allow you to stay in an air-conditioned area during the heat of the day. Plus, the beach is only 20 minutes away!
Cons: The humidity is brutal. Summer is a fairly crowded time to visit. Crime in Savannah trends upwards during the summer months. The bugs are worse in the summertime, too.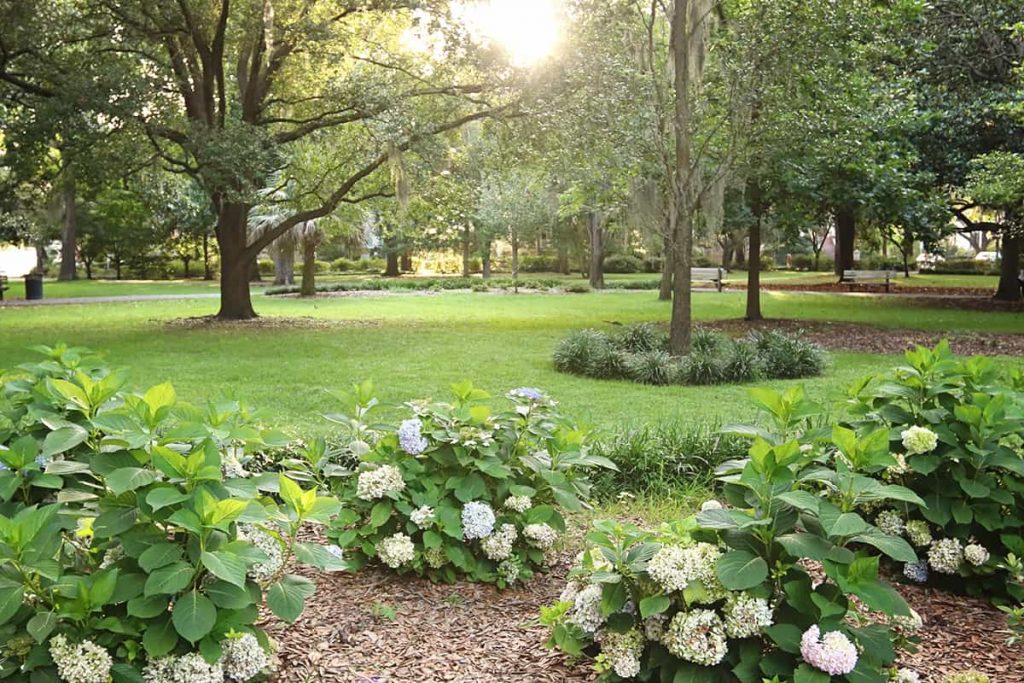 Where to Stay in Savannah in the Summertime
I've hand-picked each of these options because they have rooftop pools so you can cool off when it gets too hot out!
Perry Lane is more of a luxury option, but both the Homewood Suites and Hampton Inn are reasonably priced and great for families.
---
Fall in Savannah
Fall is my favorite time of year in Savannah!
Just make note that fall doesn't truly begin around here until the last week in October.
When I say I love fall in Savannah, I'm really referring to the week surrounding Halloween — which is always a good time — and the month of November.
Fall Weather in Savannah
The summer heat and humidity tend to hang around throughout September and much of October.
The average high temperature in September is 86°F (30°C). When you add in humidity levels above 70%, the "feels like" temp climbs well into the 90s.
⭐ Insider Tip: September is the peak of Atlantic hurricane season. If you plan a trip during September, I recommend purchasing a hurricane travel insurance policy, just in case.
October is slightly better, since the air cools down in the early morning and late evening hours. The "feels like" temps still reach into the 80s.
October was still surprisingly warm weather, and traveling on the brink of Halloween added an extra "spooky" factor to the haunted city.

Audrey M. (via my Savannah First-Timer's Guide Facebook group)
Once November rolls around, the daytime temperatures cool down considerably!
The average November high is usually in the low 70s. It's also the driest month of the year in Savannah.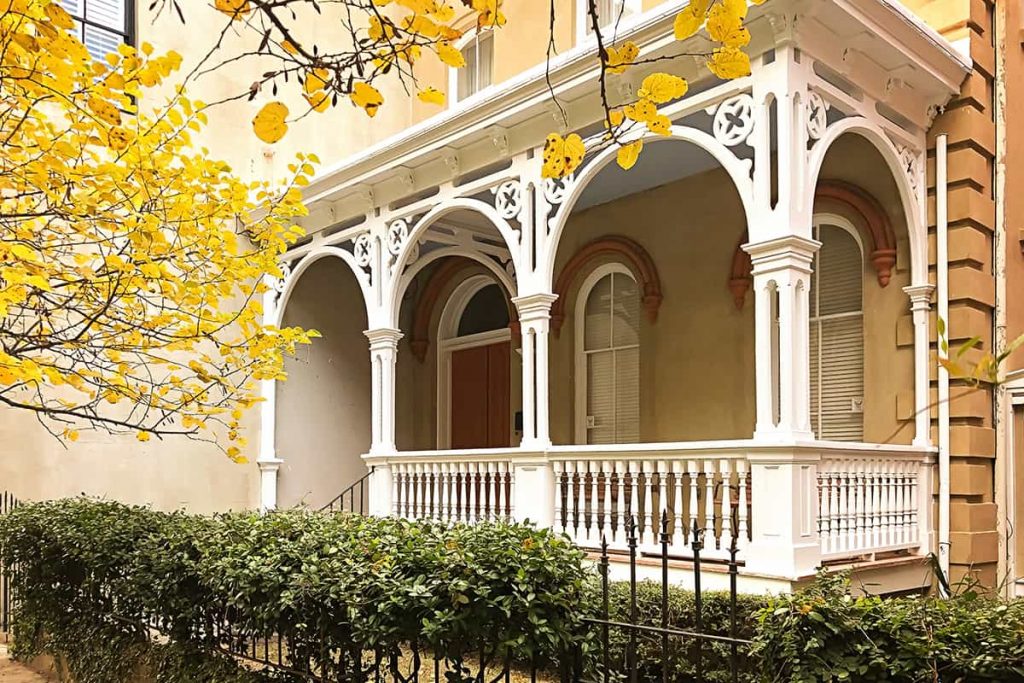 The fall weather in Savannah is perfect for strolling around the city! The leaves start changing colors in November, and the city typically isn't overcrowded.
Fall Events in Savannah
The beautiful fall weather provides an ideal opportunity to host events in Savannah, and there are some great ones!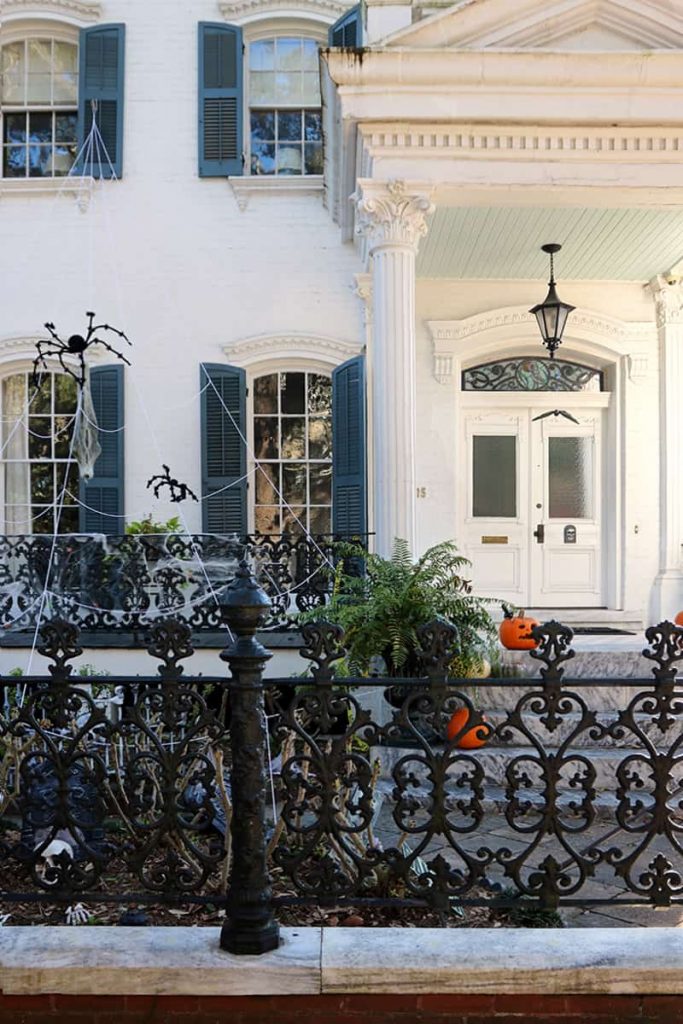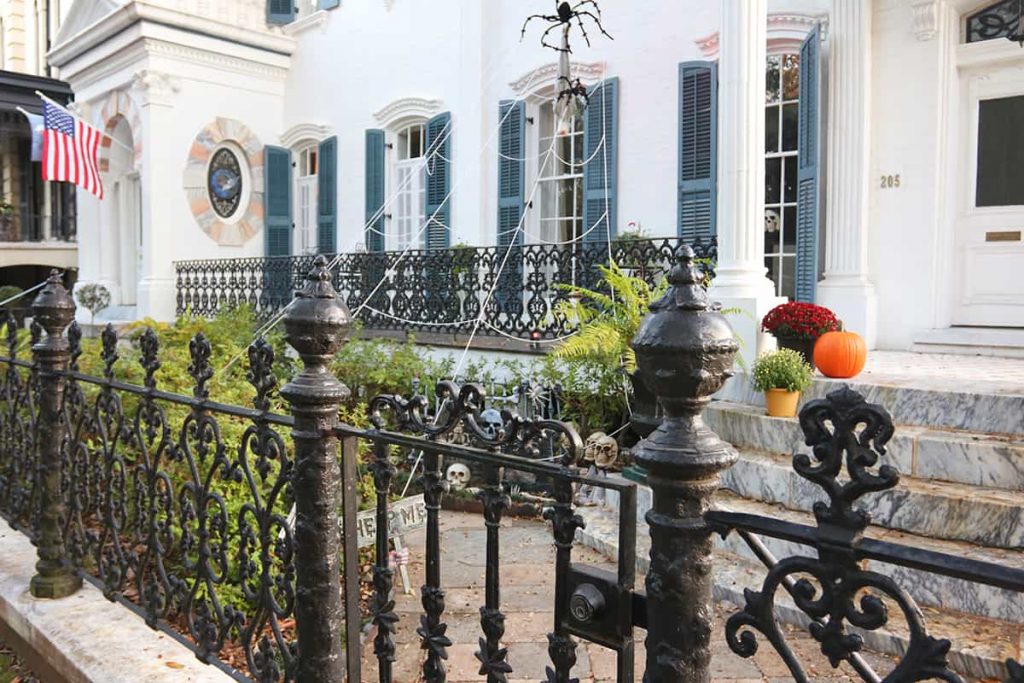 Related Reading: Savannah in October: The Most Epic Halloween Events and Fall Festivals
Can't-Miss Fall Destinations
Each place I listed as a must-see in the spring should also be explored in the fall!
Although the azaleas won't be in bloom, you can enjoy the colorful fall foliage instead.
Bonaventure Cemetery
The Spanish moss dangling in the trees against a backdrop of warm fall color adds an extra spooky touch to an already stunning cemetery.
Historic District
If you haven't guessed by now, the Historic District is worth exploring year-round!
You'll see homes decorated with pumpkins and fall decor, and many homeowners go all-out with their Halloween decorations.
River Street
This is another popular spot no matter the season, but I particularly love it in the fall. Check out the storefronts at River Street Sweets and Savannah's Candy Kitchen.
They both tend to decorate with impressive seasonal decor, and it's fun to stop in either shop for yummy fall treats like pralines, caramel apples, and seasoned nuts.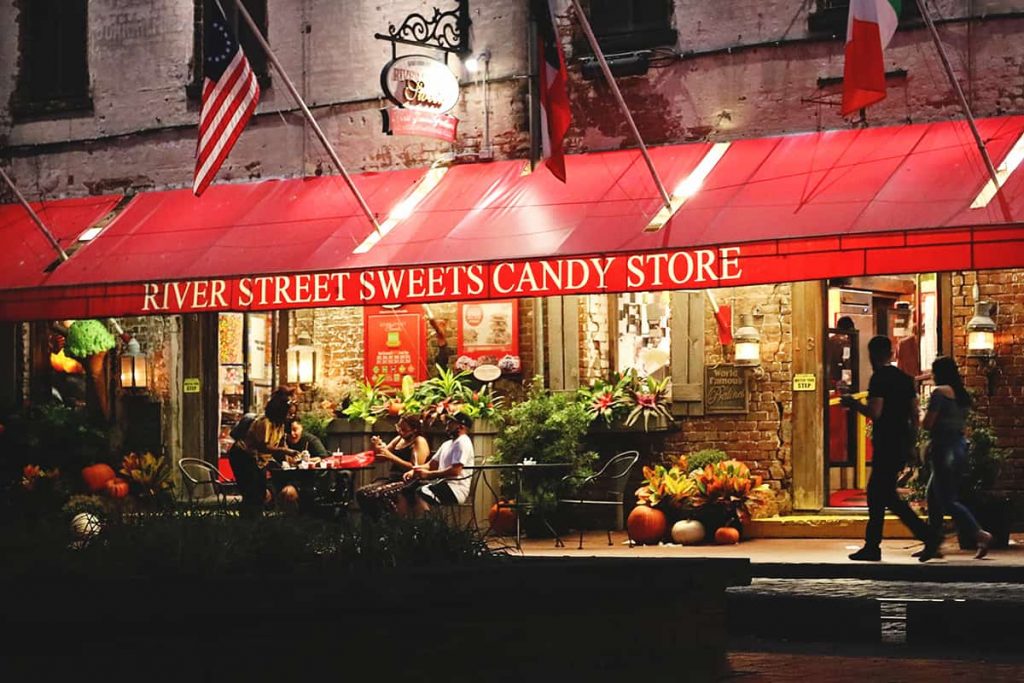 Related Reading: 11 Photos That Will Make You Fall in Love With River Street
Is Fall the Best Time to Visit Savannah?
My final verdict? Fall is my personal favorite, so it gets my vote as the best time to visit Savannah.
As much as I love it, I figure you might like it, too! Since it's not as expensive as springtime, it's worth giving it a shot.
I'm not the only one who thinks so, either…
We visited Savannah in mid October, it was an amazing time! Crowds were lower, and the weather was warm enough to enjoy shorts and sandals during the day and a light sweater at night! I would highly recommend a fall visit!

~Melanie (via my Savannah First-Timer's Guide Facebook Group)
Pros: You'll enjoy clear and sunny days, low humidity (by Savannah standards), spooky Halloween decor, delicious fall treats, and enough ghost tours to keep you busy for days.
Cons: Hurricanes, or the occasional mandatory evacuation due to a hurricane, are the only negatives that come to mind.
Related Reading: The 11 Most Haunted Places in Savannah, GA
Where to Stay in Savannah in the Fall
I've hand-picked each of the options below because they're deep in the heart of the Historic District and are known for decorating beautifully for the fall season.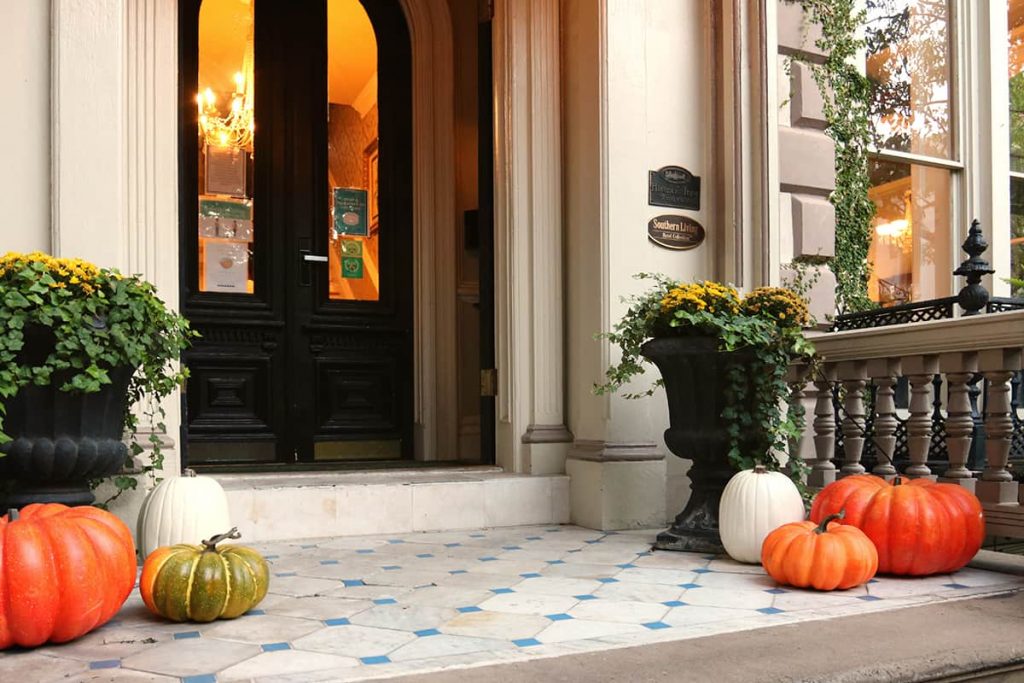 Related Reading: What's the Most Haunted Bed & Breakfast in Savannah, GA?
---
Winter in Savannah
December is the most romantic time of year to visit. I think it's even better than Valentine's Day, because the Christmas lights are so magical.
Everything is decorated so beautifully during the holidays!
Winter Weather in Savannah
Like most places in the South, the winters in Savannah are rather mild.
Average lows are around 40°F and highs are typically in the 60s — sometimes even the low 70s.
January is by far the coldest month, but winter simply doesn't last too long around here.
The tulip trees begin blooming by mid-February and are quickly followed by the azaleas.
Snow is almost unheard of.
If you're lucky enough to be in Savannah when it's snowing, make sure you take as many photos as possible! It's a rare sight.
It's actually much more common to see some fall foliage still hanging around in December than it is to see snow.
Most visitors are surprised to learn that the Southern live oaks seen throughout Savannah aren't deciduous trees; they're closer to evergreen and tend to replace their leaves slowly over a period of weeks.
There's never a period of time where the trees look completely bare, and the beautiful Spanish moss is in the trees year-round.
Winter Events in Savannah
The majority of the events during the winter months are holiday-related.
Can't-Miss Winter Destinations
There are so many pretty sights to see in Savannah during Christmas! I already mentioned a few above (City Market, River Street), but I want to point out a couple more.
The Cathedral of St. John the Baptist
The cathedral is a must-see year-round, but it's particularly stunning during the holidays.
You'll find full-sized Christmas trees made from poinsettias, as well as a beautiful and highly detailed nativity scene.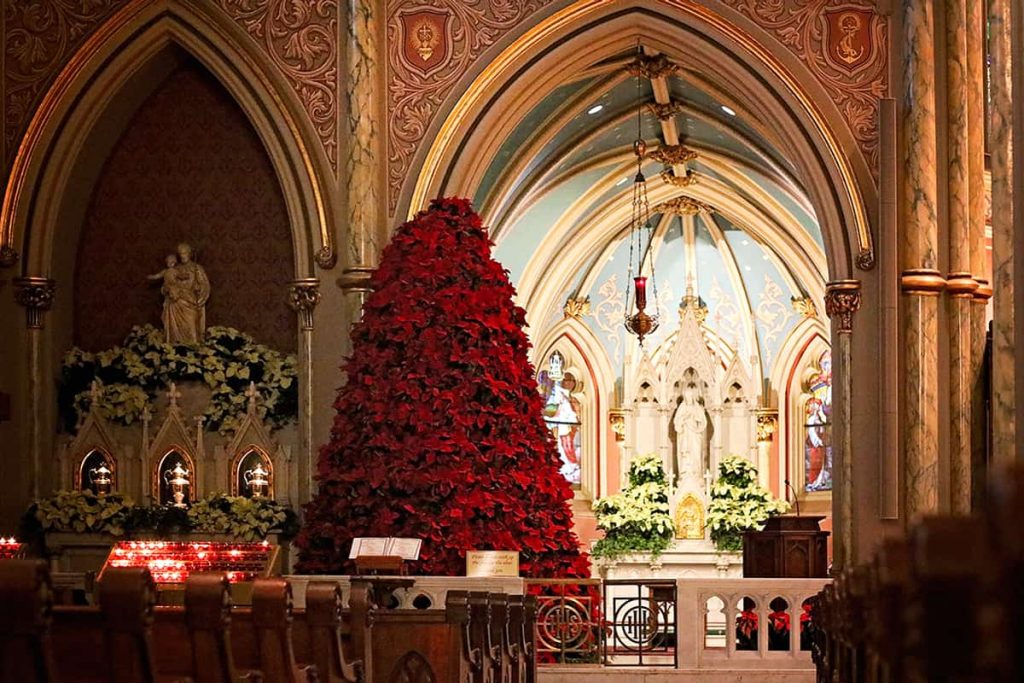 Broughton Street
Savannah's most famous shopping street is draped with twinkle lights from one side to the other all season long, and you'll find wreaths on every lamppost.
The storefronts go all-out with their holiday window displays, and you'll find the official city Christmas tree at the intersection of Bull and Broughton Streets.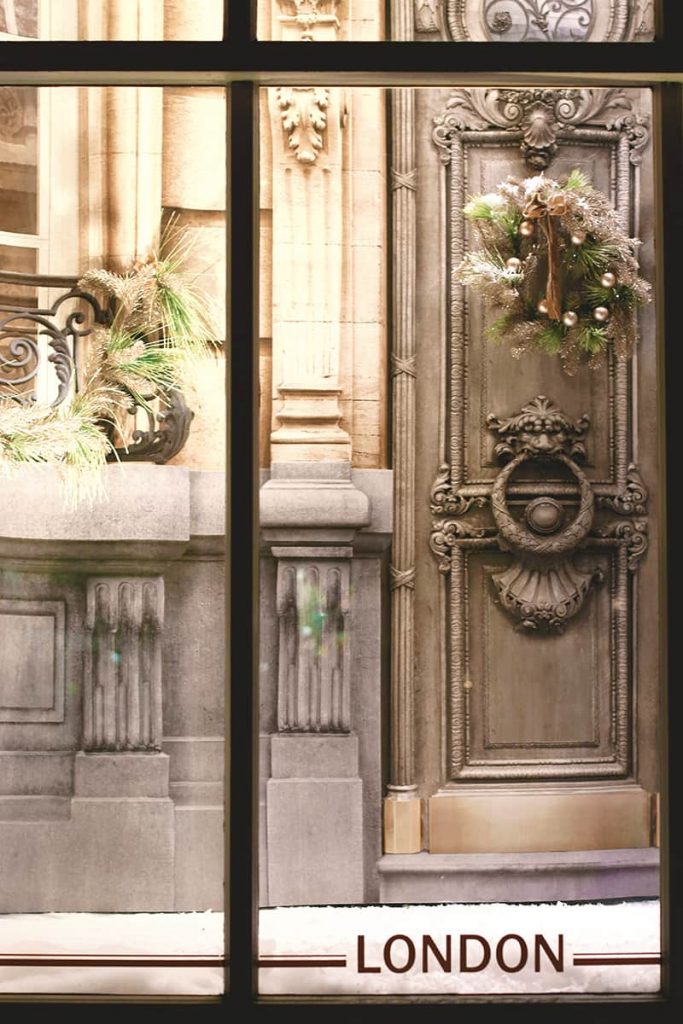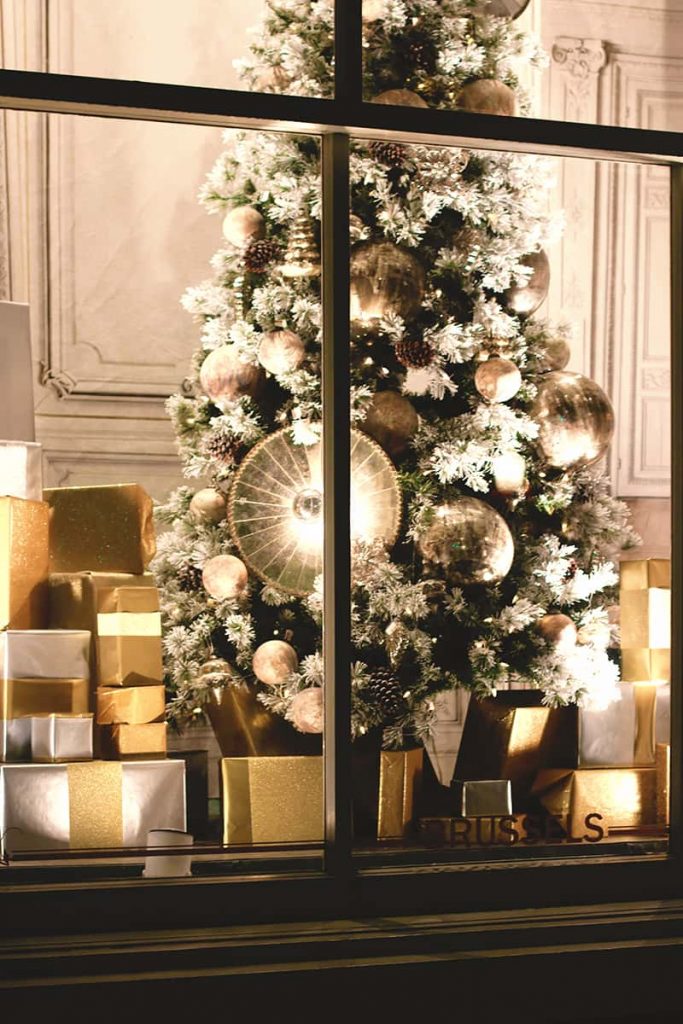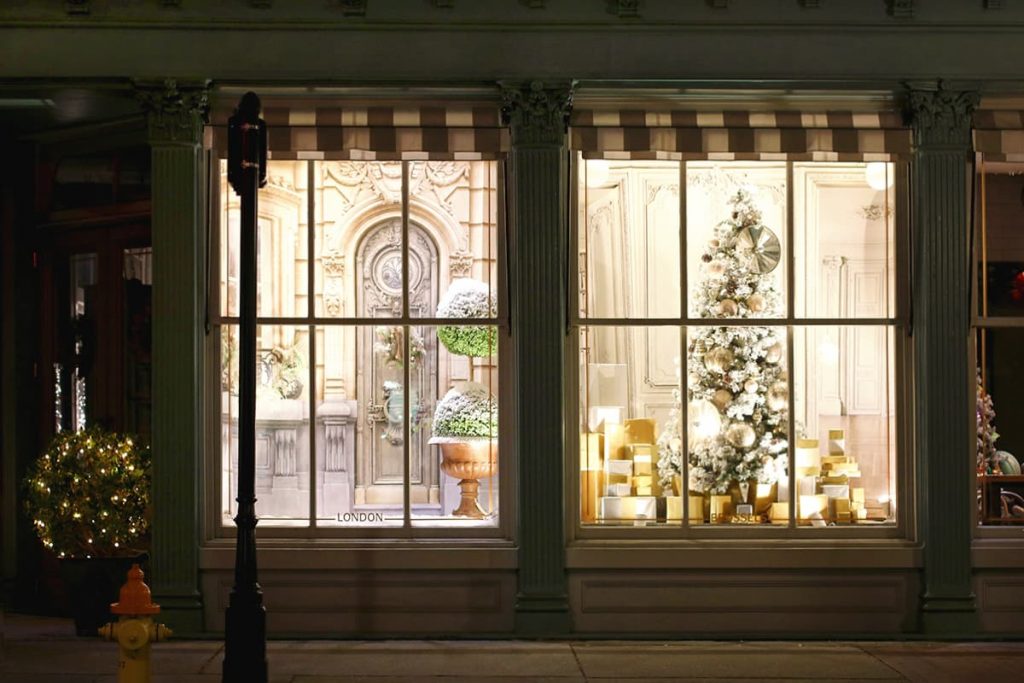 Forsyth Park and the Squares
The famous fountain gets a holiday makeover with greenery and bows, and many of the squares do, too.
North of Gaston Streets
The streets directly north of Forsyth Park feature some of the most beautiful homes in Savannah, and they're usually decorated beautifully for the holidays.
The breathtaking Armstrong-Kessler Mansion is a must-see!
Related Reading: Christmas in Savannah (The Most Magical Time of Year!)
Cozy Indoor Spots to Hang Out in Savannah
On the rare days when it's too cold to spend time outdoors, here are a few cozy indoor places I recommend.
E. Shaver, bookseller
This adorable independent bookstore has been open since 1975 and is home to four sweet cats with literary-themed names.
Imagine curling up with a good book with a cat stretched out in a ray of sunlight right next to you? Perfection.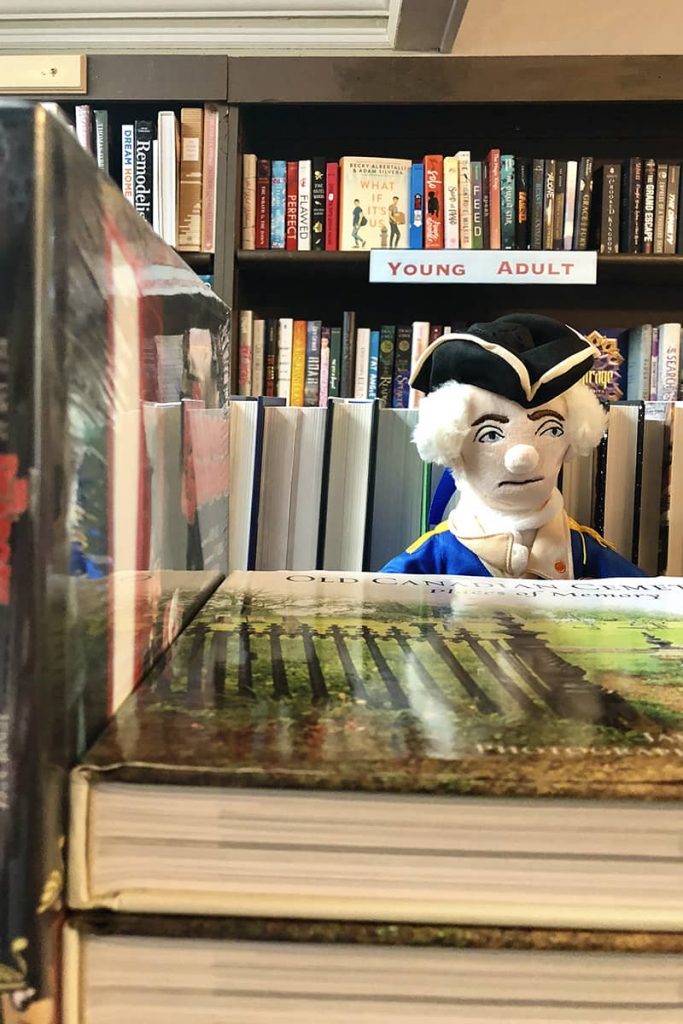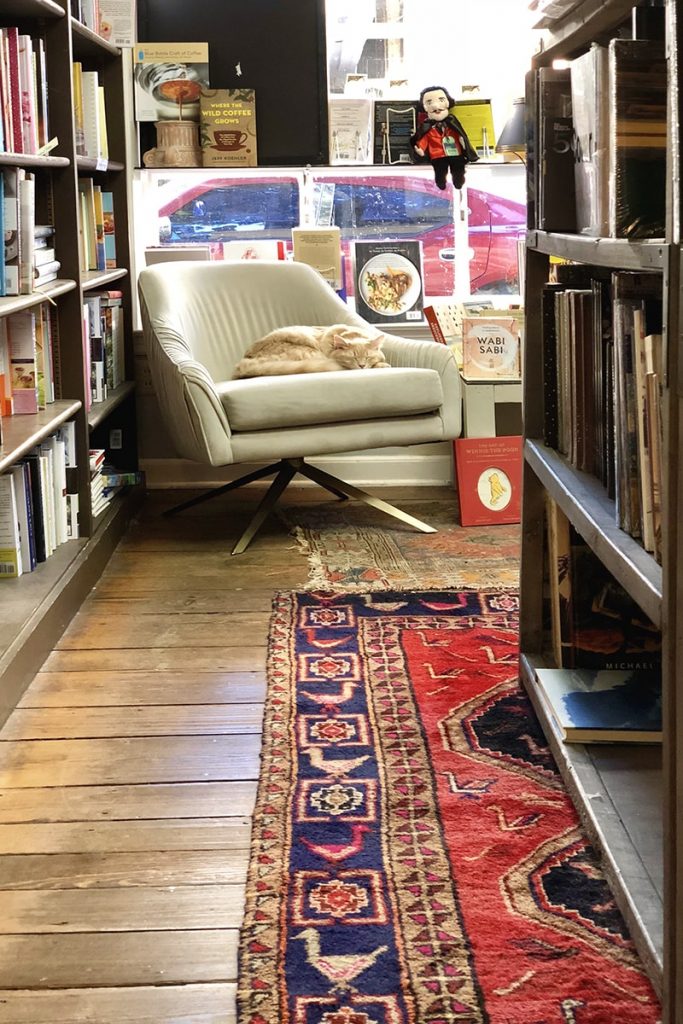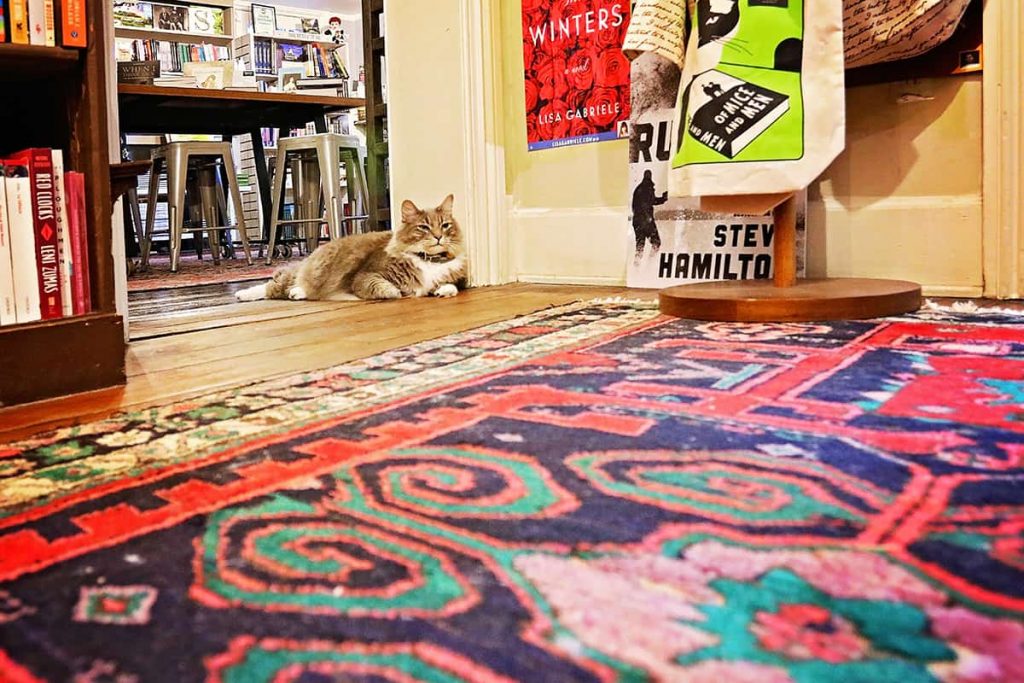 Crystal Beer Parlor
Grab a burger and a few beers at one of the oldest restaurants in Savannah. The walls are lined with local memorabilia, and they fill their plates with delicious, hearty food.
Six Pence Pub
This is about as close as you'll get to an English pub in Savannah! It even has a bright red phone booth by the entrance.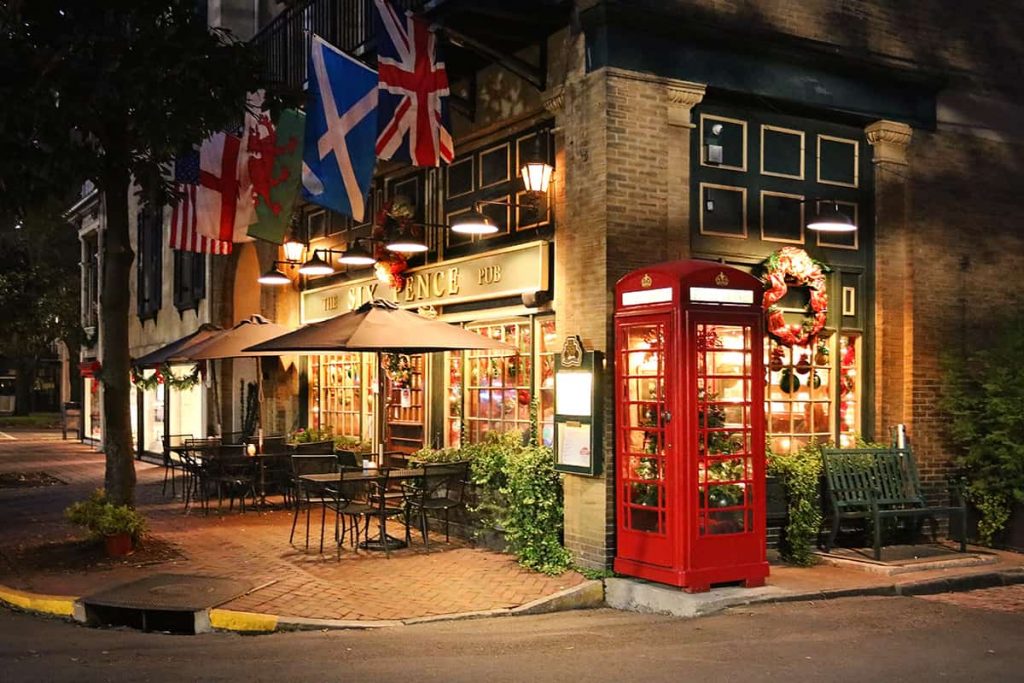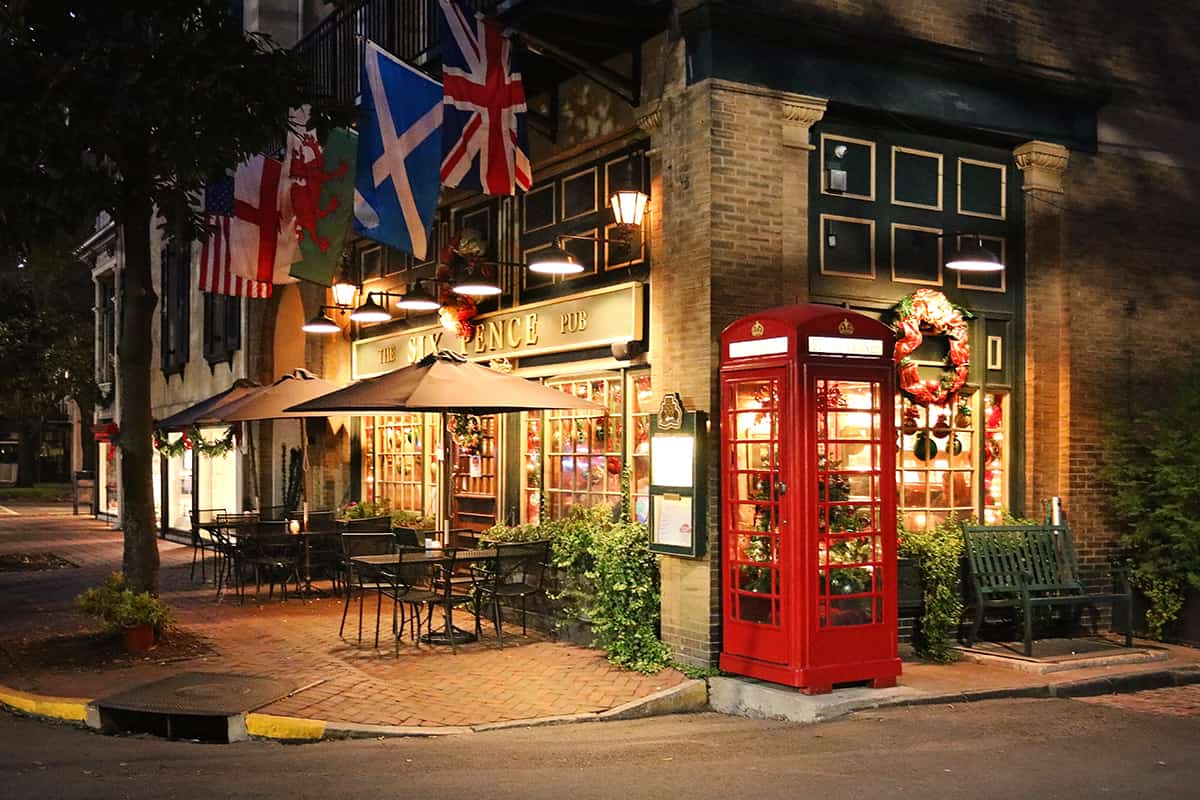 Is Winter the Best Time to Visit Savannah GA?
My final verdict? You might be sensing a trend here, but there's no terrible time to visit…except summer.
The weeks leading up to Christmas top my list, but late February is also very nice because you can catch the flowers blooming before the pollen is in full-force.
Pros: Savannah looks like a scene straight from a Dickens novel during the Christmas season — complete with carolers serenading homes in the Historic District.
From the cathedral to the squares to Broughton Street…it's all magical.
It helps that the temperatures are fairly mild during the winter months compared to the majority of the country.
Cons: Most home tours and museums close around 6pm, which means there aren't a ton of activities to keep you busy after dark (and it gets dark around 5:30 during the holiday season…closer to 6:30 in February).
Where to Stay in Savannah for Christmas
I've hand-picked each of the options below for their beautiful Christmas decorations and prime locations within the Historic District.
The Hamilton-Turner Inn is within steps of the Cathedral of St. John, so you'll be able to hear the bells chime as you enjoy coffee in the courtyard.
The Marshall House is located along bustling Broughton Street, so you can cross last-minute Christmas shopping off your list while checking out the beautiful holiday window displays.
Ballastone Inn is the splurge option. They go above and beyond with their decorations.
Do you have any questions for me about the best time to visit Savannah GA? If so, let me know in the comments below.
---
Savannah Travel Guide Info
If you're planning to a trip to Savannah, here are a few additional resources I've created to help you out.
When you purchase my ebook, you also get access to a private Facebook group I created where you can ask questions about your trip and get advice/see photos from others who have recently visited.
---
So, what's the best time to visit Savannah in your opinion? Let me know in the comments below!
---
Love this post? Pin it now to save for later!