December is such a magical time in Savannah! The Historic District looks like a scene straight out of a Dickens novel…and that's not an exaggeration. Today I'm sharing a few of my favorite Christmas in Savannah activities, plus I'll list a few fun things to do in Savannah in December, in general!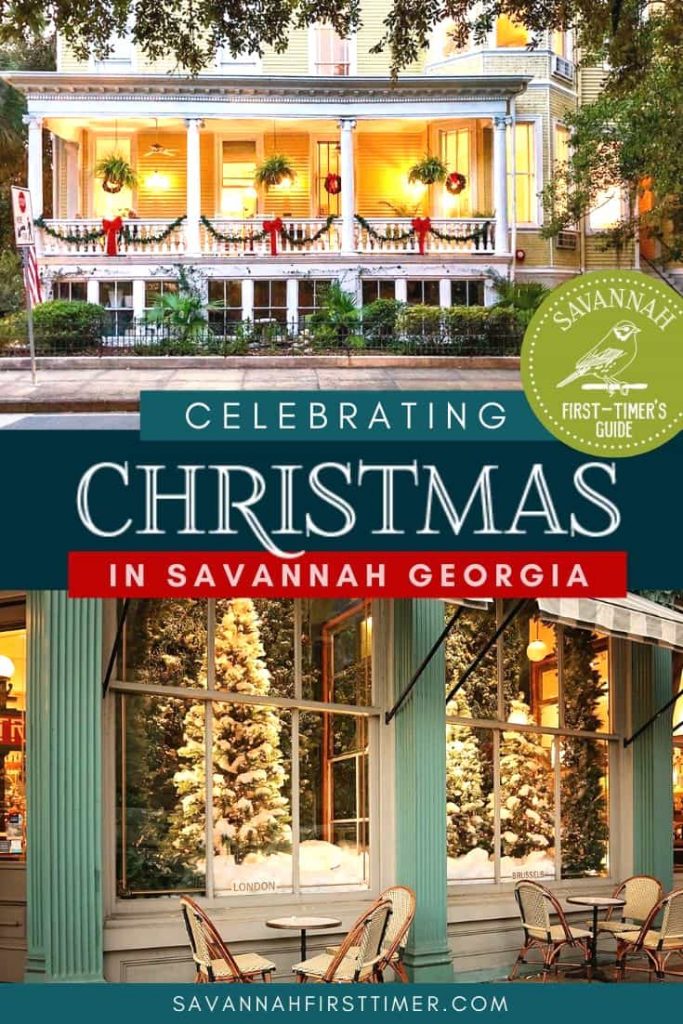 FTC Disclosure: This post contains affiliate links, which means I may receive a commission, at no extra cost to you, if you purchase through one of my links. Please see my full affiliate disclosure for additional information.
If you're new around here, first of all…welcome! I'm Erin, and I authored the Savannah First-Timer's Guide. It's a helpful ebook that contains everything you need to plan the perfect trip to Savannah.

Since this is a rather lengthy post, I created a handy table of contents you can click on to jump to specific sections of interest.
Savannah Georgia in December
If you're wondering if December is a nice time to plan a trip to Savannah, it is! Between the mild weather and the year-round Southern charm, you'll find yourself wanting to return year after year.
I've written a very detailed post describing the best time of year to visit Savannah, and December is a month that consistently earns high marks from me.
PLEASE NOTE: Due to the pandemic, I currently advise against any unnecessary travel and hope you'll stay home and stay safe. If you're committed to traveling to Savannah, be advised that the city is under a mask mandate and please do your part to keep our residents — and yourself — safe and healthy.
Savannah Weather in December
With highs in the upper 60s to low 70s (Fahrenheit), and lows in the mid-40s, you can expect a comfortable vacation. It's typically cool enough for a light jacket, but not so cold that you'd want to spend your entire vacation indoors by a fireplace. We do have an occasional cold front.
Now…if it's a white Christmas you're seeking, you won't find that here. It only snows in Savannah once every 10 years or so, and it's a huge event when it happens. (And by huge event, I mean the entire city shuts down to enjoy it.)
The last time we had a memorable snowfall was in January of 2018, so I guess that means we aren't due again for a while.
What to Wear in Savannah in Winter
While it typically doesn't get very chilly in Savannah, you'll still want to come prepared in case of a rare cold snap. I always suggest bringing items for layering.
Sweaters and cardigans are great, but it's usually a safe bet to leave your heavy winter coat at home. Bring gloves and a hat in case you need them for early morning or late evening strolls, and check the local weather before packing — just to make sure! (The zip code for Savannah is 31401, in case your weather app requests it.)
Keep in mind that there's often a breeze blowing in off the water along River Street, so sometimes that area feels slightly cooler.
Related Reading: 11 Photos That Will Make You Fall in Love with River Street
Where to Stay in Savannah for Christmas
There are so many incredible places to stay in Savannah that it can be hard to choose! However, there are a few hotels and B&Bs that stand out for their spectacular holiday decor. You'll enjoy a festive trip staying at any of these locations.
River Street Zone
Marriott Plant Riverside is the newest hotel along River Street, and they're making their presence known in a big way this year by hosting numerous Christmas events (which you'll read more about below). I believe they were also the first hotel in the Historic District to put their decorations up? As of mid-November, they already had a good bit of holiday decor on display. Check rates here.
River Street Inn is located along the center of River Street and is very convenient to restaurants, shops, and bars. They just completed an extensive renovation, so I'm excited to see how they'll decorate for 2020. Check rates here.
Historic District North Zone
Ballastone Inn has immaculate decorations on the interior and exterior of the inn. They don't hold back for the holidays, and the results are jaw-dropping. Ballastone is my number one pick if you want to feel like you're in a Christmas wonderland — and a luxurious one, at that. They begin decorating the day after Thanksgiving. Check rates here.
The Marshall House is located on Broughton Street, which is the main shopping street in Savannah. It's just two blocks away from the city's official Christmas tree. The hotel looks beautiful year-round, but it's particularly festive during the holidays. They install a unique Christmas tree in the lobby that looks like a pineapple. (Yes, really…a pineapple. It's the symbol of Southern hospitality.) They also hang garlands from the intricate wrought-iron balcony on the exterior of the hotel. If you enjoy the spook factor, it's considered one of the most haunted hotels in Savannah. (It's haunted by friendly ghosts, of course!) They begin decorating the Monday after Thanksgiving. Check rates here.
Historic District South Zone
Hamilton Turner Inn has been voted one of the top small hotels in the US, as well as one of the most romantic. It also tops the list for best service. In addition to those accolades, their Christmas decorations are some of the most beautiful in the city. I'm a big fan of the oversized nutcrackers guarding their front door. Check rates here.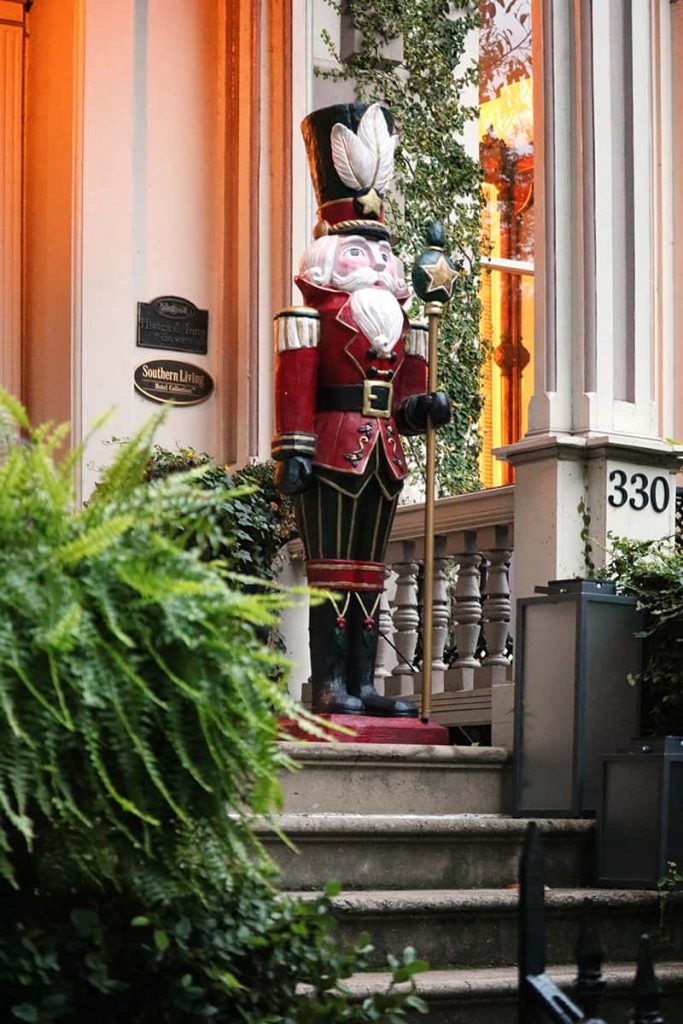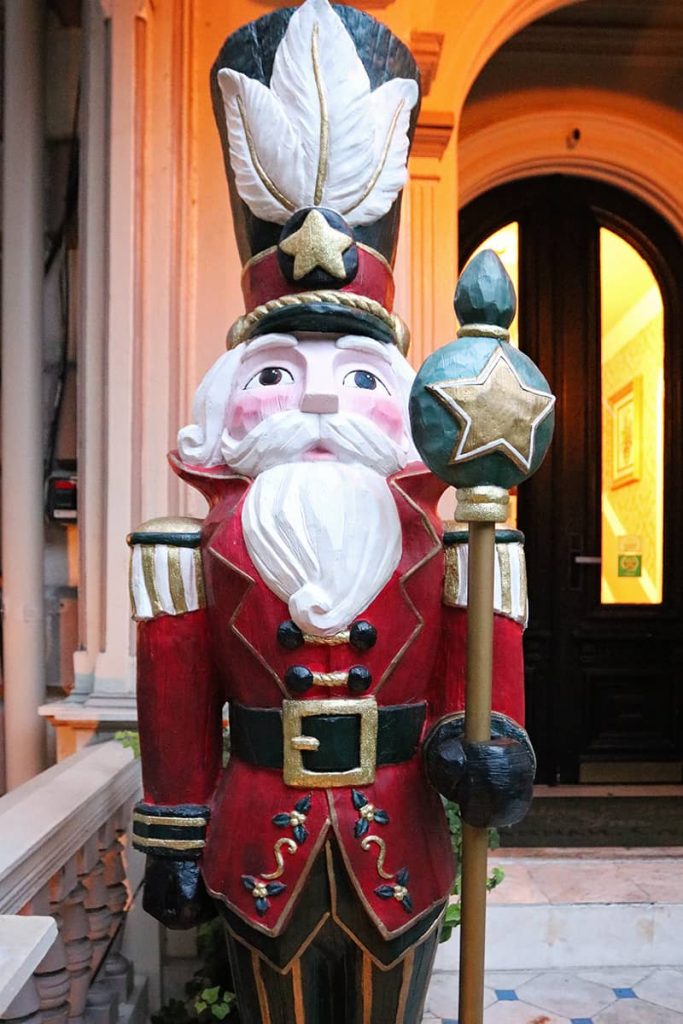 Forsyth Park Zone
Forsyth Park Inn is a cheery yellow Savannah bed and breakfast with a relaxing front porch overlooking Forsyth Park. Since December is so mild, it's nice to enjoy a cup of hot cocoa on the porch and then head across the street for a walk in the park. Check rates here.
Feel free to join my private Facebook group about Savannah if you're planning a trip and need help narrowing down your choices. My Savannah First-Timer's Guide includes a map detailing the different zones in Savannah and describes which ones are more touristy, romantic, residential, etc.
No matter which hotel or B&B you choose, you'll find second-to-none Southern hospitality and gorgeous holiday decor on display.
Related Reading: What's the Most Haunted B&B in Savannah?
Where to See Christmas Lights in Savannah GA
One thing to note about the holiday decor is that you won't find many tacky yard displays and garish lights around the city — especially in the Historic District. The decor is more traditional throughout the downtown area.
Homes usually display an indoor Christmas tree and candles in the windows, and you'll find wreaths and greenery on the exterior of the homes. The squares are often decorated with greenery and red ribbons on the flickering lampposts.
The Historic District
The Historic District is the perfect spot for a stroll for anyone who loves understated Christmas lights. I suggest heading out around dusk so you can peek through the windows to see the trees all lit up. It's so magical! Here is one route I recommend:
North of Gaston: Begin at the famous Forsyth Park fountain, which is typically decorated with red ribbons and greenery for the holidays. From there, head directly north to the intersection of Bull and Gaston and spend an hour or two exploring the five streets directly north of the park: Gaston, Gordon, Taylor, Jones, and Charlton. Particular houses to note include the Armstrong-Kessler Mansion, Noble Hardee House (aka: Alex Raskin Antiques), Mercer Williams House, Andrew Low House, and Hamilton-Turner Inn.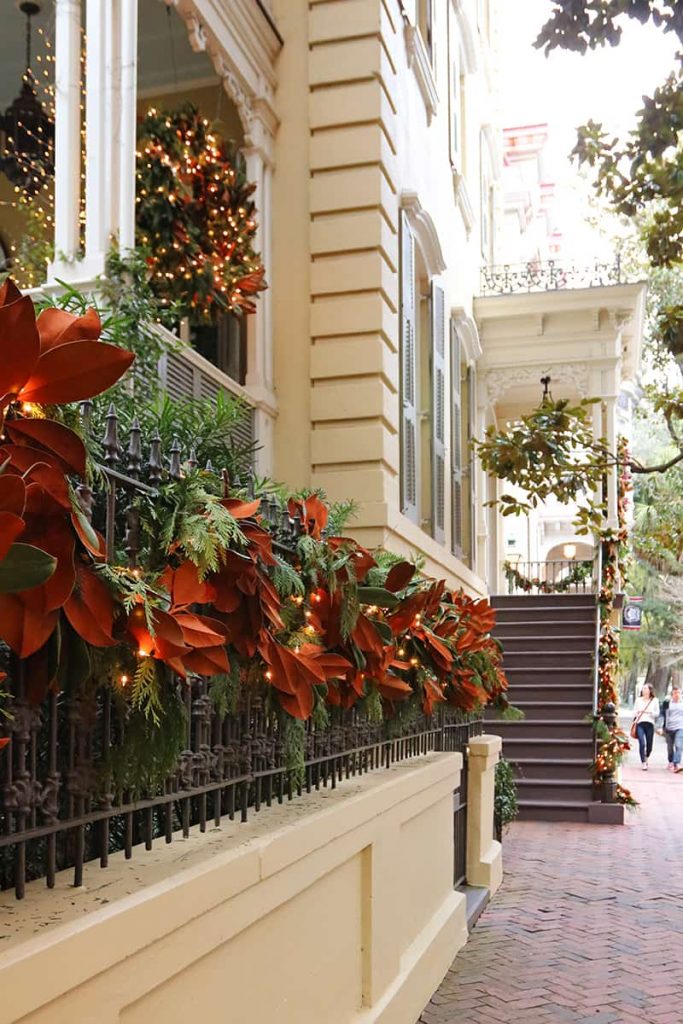 Forsyth Park and the beautiful squares are usually decorated with greenery and red ribbons. Those decorations go up in early to mid-December. Here are a few of the squares that are already decorated for the 2020 Christmas season:
Calhoun Square
Crawford Square
Franklin Square
Lafayette Square
Pulaski Square
Telfair Square
Troup Square
Washington Square
The decorations in Forsyth Park go up in the afternoon on Sunday, December 6, 2020.
If you prefer to stay in a historic home instead of a hotel or B&B, here are a few Savannah Historic District home rentals I recommend…
River Street
River Street is another beautiful spot in the Historic District. All of the lampposts are covered in greenery and red ribbons, and the Georgia Queen riverboat looks festive with holiday lights and greenery.
The newly developed west end of River Street is known as the Plant Riverside District. They've created a holiday market similar to the Christmas markets you see in Europe, albeit on a much smaller scale.
The lighted displays in the Plant Riverside District are not as understated as what you'll find in the rest of the Historic District. Their Christmas trees have bright blue LED lights, for example, and their fountains resemble a mini-Vegas lighting display.
Broughton Street
All of Broughton Street is draped with holiday lights from one side to the other during the Christmas season, and you'll find wreaths hanging from every lamppost. It truly looks like a scene from a postcard.
The official city tree can be found at the intersection of Bull & Broughton Streets, next to Levy Jewelers.
The extravagant window displays at The Paris Market and 24e are definitely worth checking out! Every year, I anxiously await the unveiling of their holiday window displays to see if they've outdone themselves from the year prior.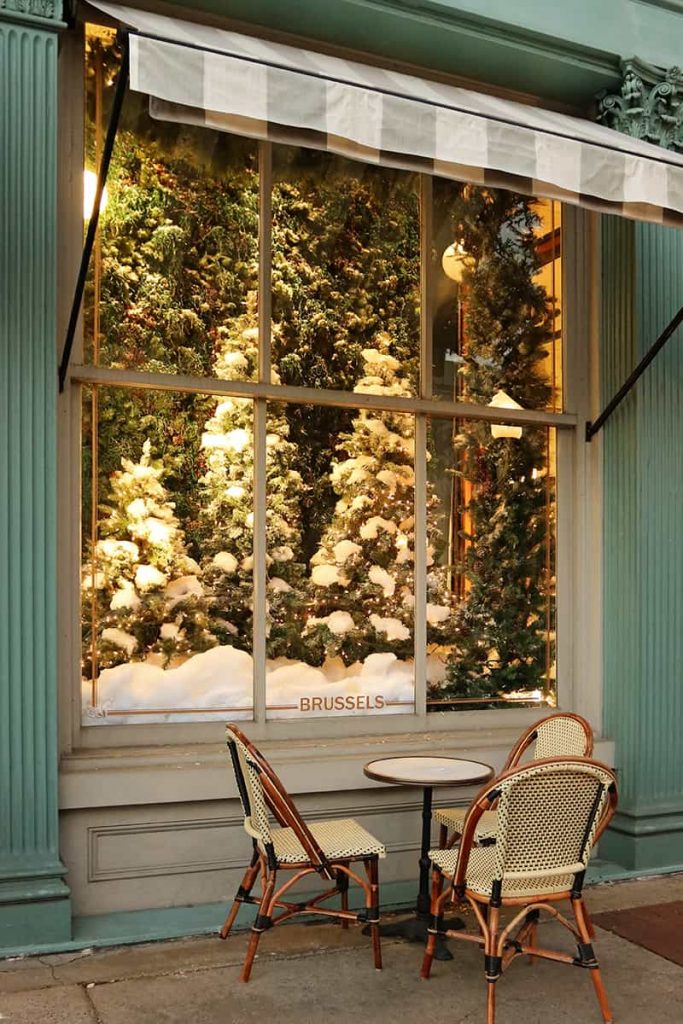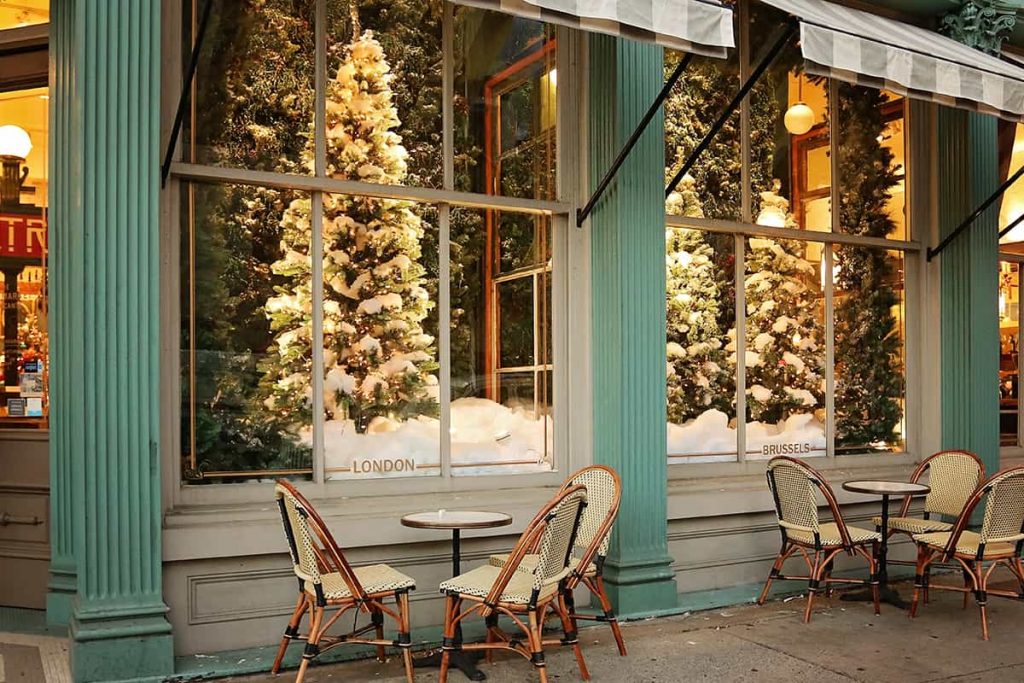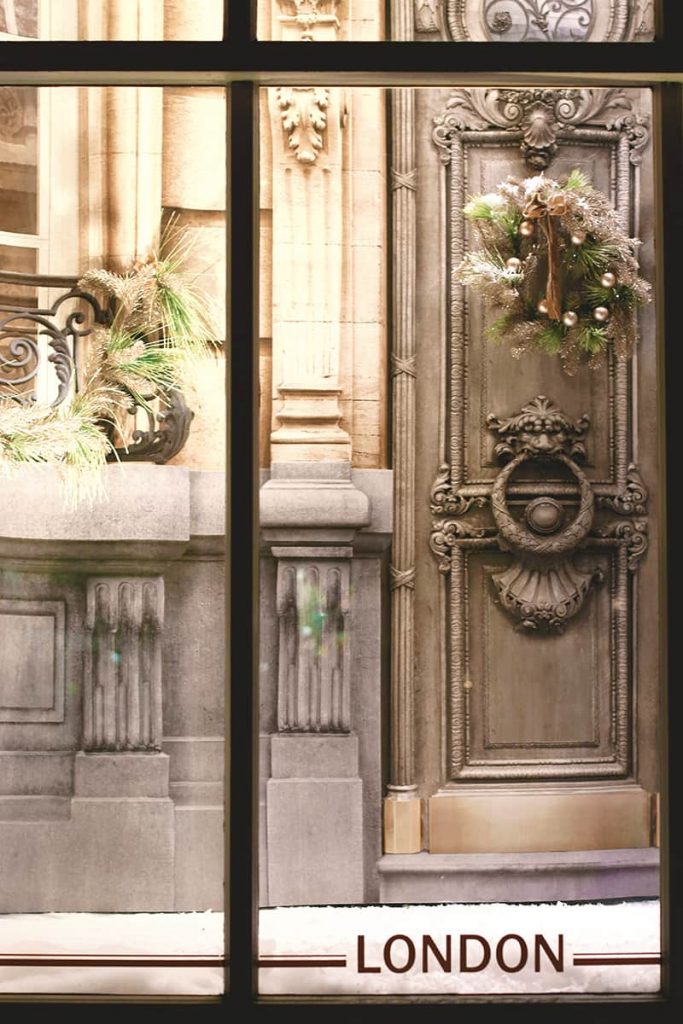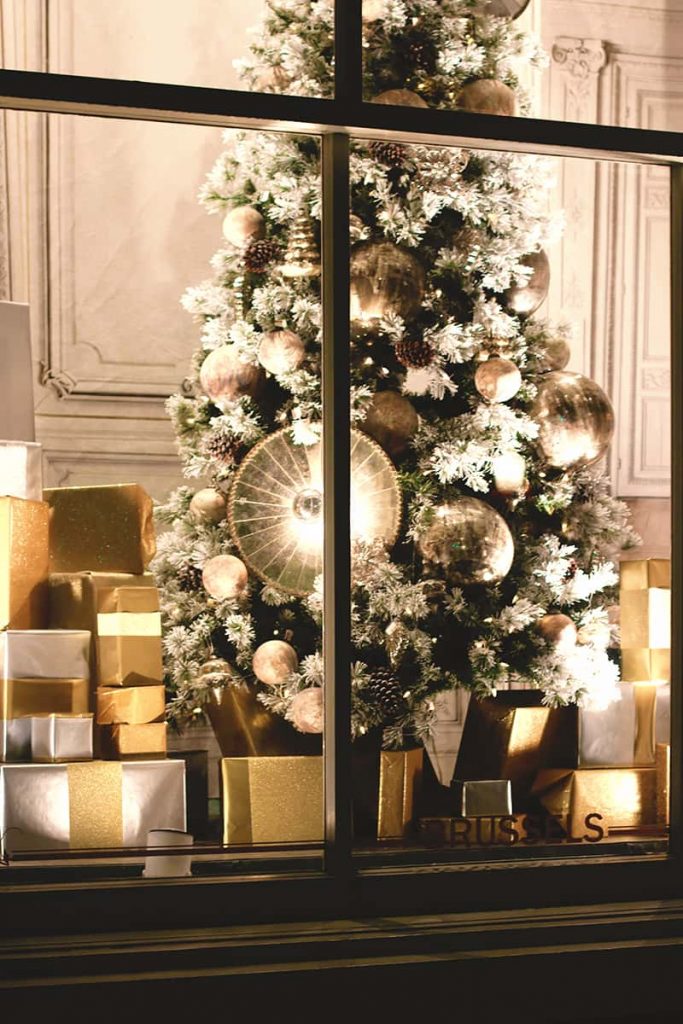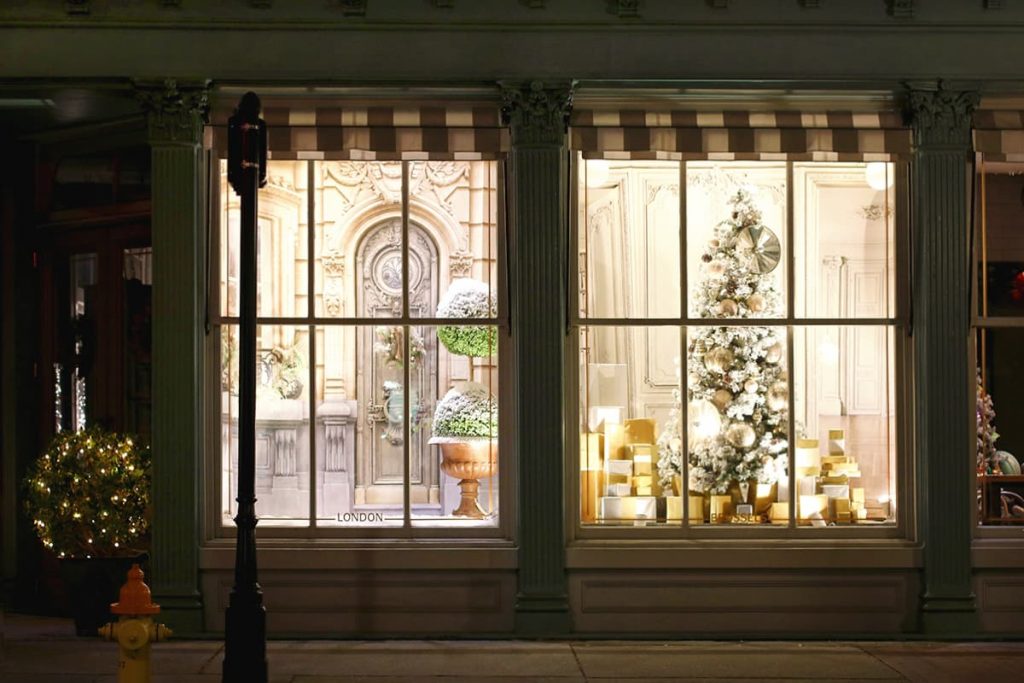 If you're curious, the most photographed spot on Broughton Street is the colorful Leopold's Ice Cream shop with the SCAD sign in the background.
SCAD usually posts a very simple holiday message on their marquee. (In the photo above it says "Happy Holidays".)
Insider Tip: City crews install the Christmas tree the day before Thanksgiving each year, and it takes them all day and into the night. The lighting ceremony takes place the Friday after Thanksgiving.
Cathedral Basilica of St. John the Baptist
The Cathedral of St. John the Baptist is the perfect place to get into the Christmas spirit. Church members hang wreaths on all of the massive columns, there's usually greenery on the pews, and the cathedral is decorated with beautiful red trees made entirely of poinsettias.
If you're looking for a place to attend Christmas mass, this is the spot! All are welcome. They typically host a musical event, as well, known as Christmas at the Cathedral. Choir members sing seasonal favorites and are often joined by the handbell ensemble. Due to Covid, I'm not sure if that event will take place this year, but you can check their website for updates.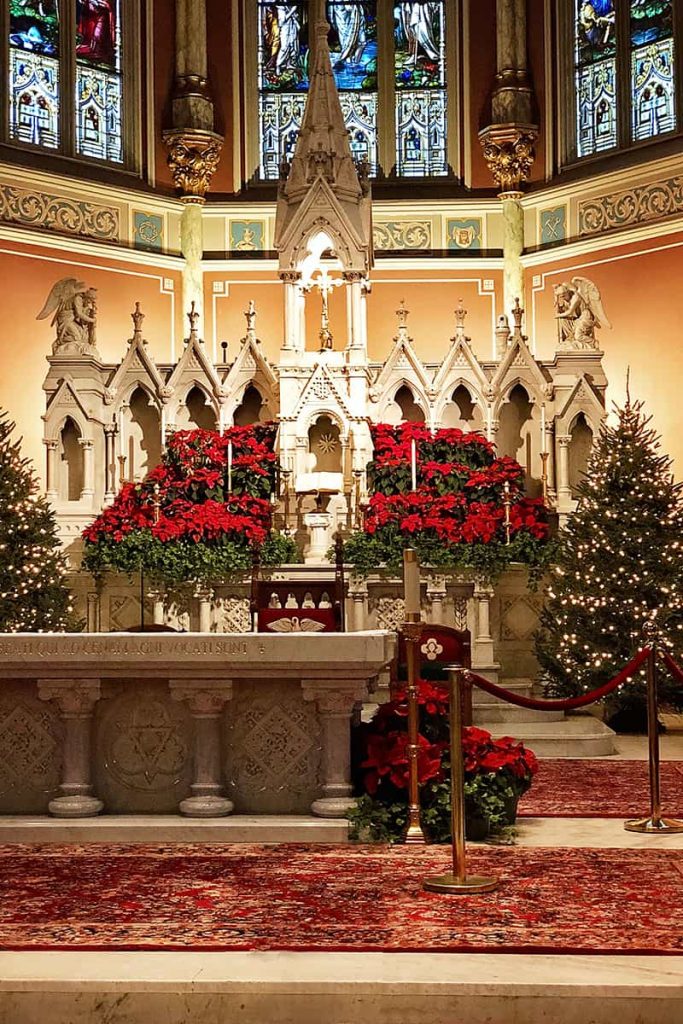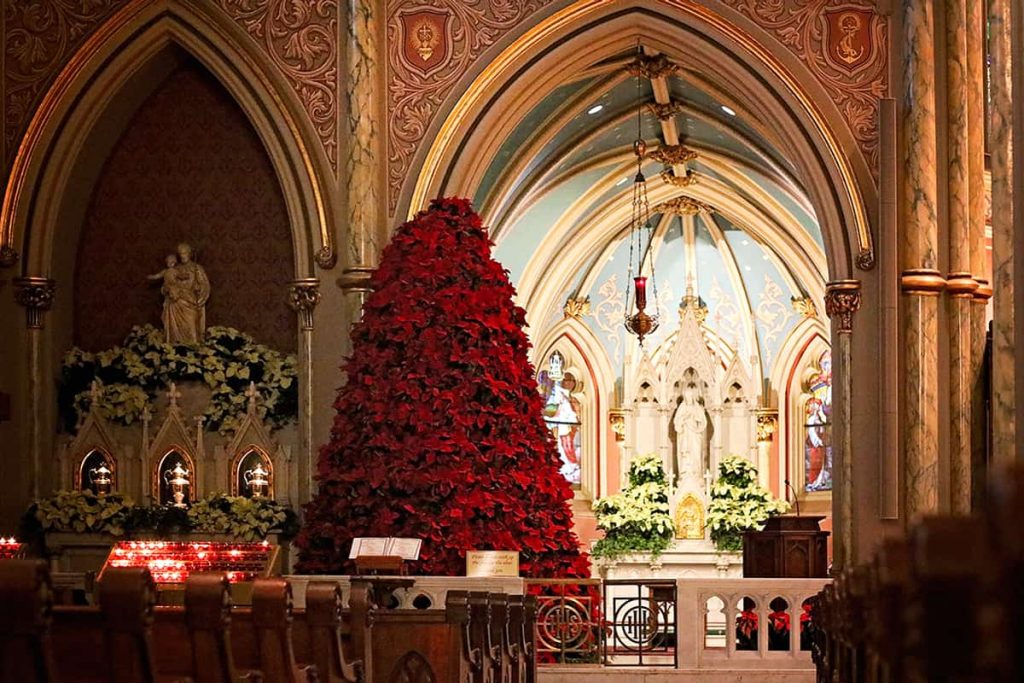 Insider Tip: The nativity scene (also known as the Crèche scene) will be installed beginning December 9, 2020. It takes a few days to complete it, and it's 100% worth seeing in person.
City Market
City Market is an open-air shopping pavilion that's popular with tourists. It looks very festive during the holidays! The market consists of two large blocks, and you'll find a Christmas tree in the center of each.
You'll also spot garlands and wreaths throughout the area, as well as unique decorations in many of the stores. Savannah Candy Kitchen usually has two oversized nutcrackers standing guard at their entrance.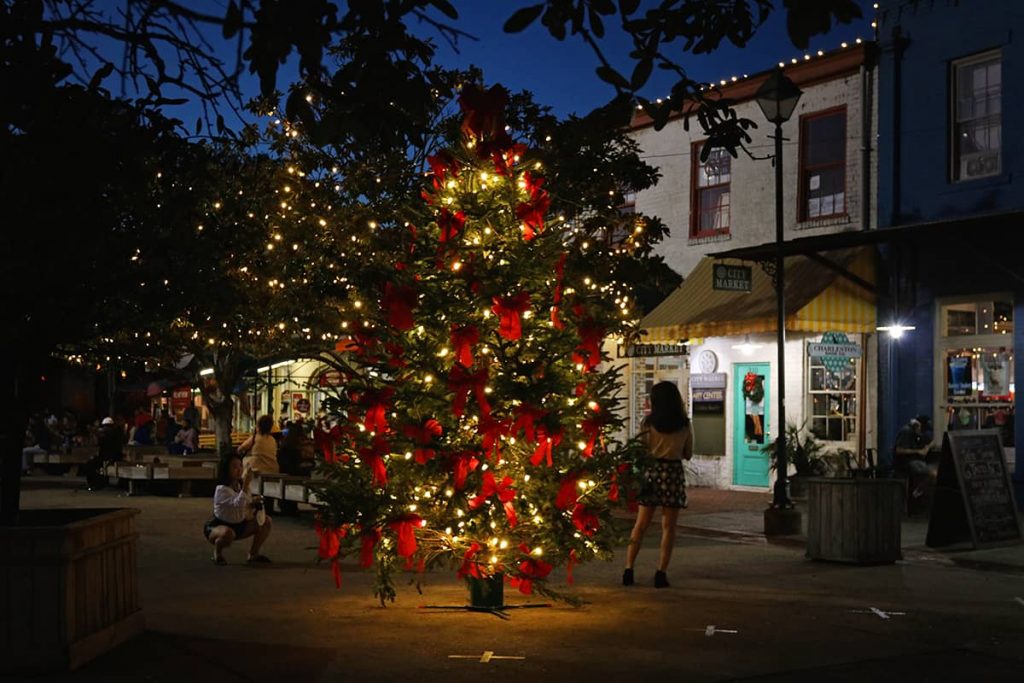 Are you beginning to sense how magical Christmas in Savannah is yet? Keep reading, because there's so much more to experience!
Insider Tip: The decorations in City Market usually switch from fall-themed to Christmas mid-week during the week of Thanksgiving. (Which means if you're visiting for Thanksgiving, you'll find Christmas decor!)

Related Reading: Where to Find All the Best Christmas Lights in Savannah
Savannah GA Christmas Events
I thought more activities would be cancelled this year due to COVID-19, but there are still a surprising number of Christmas events planned for the Historic District (and beyond).
As a reminder, the mask ordinance is active here in Savannah, so please wear one and do your part to avoid crowds. If you attend any of the following events, please try to find a way to attend safely. For example, if you're watching the boat parade, try to find a viewing point along the river that is located away from the crowds.
Here are a few of the bigger events planned for this year…
Boat Parade of Lights
Savannah's Christmas parade is a little different from most cities, because ours happens on the water. That's right: Santa arrives by boat in Savannah!
You can line up anywhere along River Street to watch the parade of boats float by — decked in their most festive holiday lights — but I expect the Plant Riverside District to be the most crowded point. They partnered with the Savannah Harbor Foundation to host the event and will have other associated activities in the area to accompany it.
There will be a huge fireworks show over the river to end the event! (It wouldn't be Christmas in Savannah without fireworks on the river.)
Event Date: November 28, 2020, from 7 – 10 pm
Insider Tip: If you prefer to watch the parade from a rooftop bar, try one of these spots along the riverfront: Top Deck at The Cotton Sail, Electric Moon at Plant Riverside, or Rocks on the Roof at The Bohemian. You can also experience the event virtually via SavannahCams.com.
Christmas on the Ogeechee Lighted Boat Parade at Fort McAllister Marina in Richmond Hill is a similar lighted boat parade. It takes place December 5th, 2020, from 6 – 9 pm. The Grinch and Santa both make appearances there!
Savannah Christmas Market at Plant Riverside
Expect visits from Santa, live music, street performers, a vendor market, and more at Plant Riverside's Christmas Market. Tickets aren't required for any of these events.
Tree Lighting Ceremony | 11.27.20 from 6 – 7:30 pm There will be a live reading of The Night Before Christmas, a performance by the Savannah Children's Choir, and the tree lighting ceremony — starring Santa. This will be held at Plant Riverside Montgomery Park.
Savannah Cirque Holiday Show | 11.27.20 at 9 pm Savannah Cirque's acrobats and aerialists will perform next to water displays at the Plant Riverside Fountains. Consider it our own little "mini Vegas" event.
Santa Meet & Greet + Photos | 11.27.20 & 11.28.20 Bring the kids to Plant Riverside Montgomery Park to meet Santa and have their pictures taken with him. A professional will be on hand, or you can bring your own camera. He'll be there from 7:30 – 9 pm on the 27th, from 1 – 3 pm on the 28th, and from 6:30 – 8:30 pm daily thereafter until Christmas Eve.
Holiday Fountain Show | 11.28.20 at 10 pm This will be a choreographed light and water display at Martin Luther King, Jr. Memorial Park.
The Christmas Market vendors and many of the events will run from November 27, 2020 to January 3, 2021
Plant Riverside District | 400 W River Street, Savannah, Georgia 31401
Savannah Gingerbread Trail
Another event that lets you get out and about in the city is the Savannah Gingerbread Trail. Competitors build gingerbread houses that are showcased at different hotels, shops, and venues throughout the city.
You can "Sip & Stroll" through the Historic District to enjoy the displays of the completed homes. My personal favorite is the gingerbread and candy version of the Cathedral of St. John, which is on display in the Old Savannah Tours lobby. There's also an incredibly detailed Victorian home on display that I love!
You can see the entries and cast a vote for your favorites at this link. (The Cathedral is #3 and the Victorian home is #11.) The official judges have already voted and selected their favorites, but the contest to determine the "people's favorite" will run until December 25th.
I suggest starting at The Desoto, where you'll find the 1st place finisher and the largest number of displayed houses. You can request a map there. The 2nd place finisher is displayed at Plant Riverside, and the 3rd place finisher is on display at Perry Lane Hotel.
No tickets necessary to see the gingerbread houses on display.
Event Dates: November 28 – December 25, 2020
The DeSoto | 15 E Liberty Street, Savannah, Georgia 31401
Holiday Tour of Homes
One of the events I look forward to most each year is the Savannah Holiday Tour of Homes. The Historic District is always decorated beautifully for Christmas, and this event offers an opportunity to peek into homes you wouldn't normally be able to see.
It's hosted by the Downtown Neighborhood Association (DNA) and raises money for the community.
Event Dates: Cancelled for December 2020 due to COVID-19.
Holiday Tour of Homes | Savannah Historic District, Savannah, Georgia 31401
A Christmas Tradition
Head to the Historic Savannah Theatre to watch this 2-hour live performance, which celebrates seasonal favorite songs and dances. When audience members get in on the festivities, that's when everyone starts laughing. This event is always cheerful!
Tickets vary between $20 – $50.
Event Dates: November 26, 2020 at 8 pm & December 24, 2020 at noon
Historic Savannah Theatre | 222 Bull Street, Savannah, Georgia 31401
December Nights & Holiday Lights Drive-Thru
The Coastal Georgia Botanical Gardens at the Historic Bamboo Farm is hosting a socially-distanced holiday event this year. Tickets are $25 per carload, so you can bring the entire family along to celebrate together.
Event Dates: Begins November 27th, but dates vary.
Coastal Georgia Botanical Gardens | 2 Canebrake Road, Savannah, Georgia 31419
Davenport House Tours by Candlelight
For two special nights in December, you'll be able to tour the Davenport House by candlelight to see what it would've looked like back in the mid-1800s. They'll have light refreshments, music, and dancing, and there will be interpreters there to guide you through the historic home.
Tickets cost $12 in advance, $15 at the door.
Event Dates: December 26, 2020 at 6 pm & December 30, 2020 at 8:30 pm
Davenport House Museum | 324 E State Street, Savannah, Georgia 31401
Holiday Open House in City Market
Explore the courtyard at City Market, which will be lit by more than 500 luminaria. The event includes delicious treats, Christmas melodies, and a visit from Father Christmas.
There is no cost to attend.
Event Dates: December 4, 2020 from 6 – 9 pm
City Market | 219 West Bryan Street, Savannah, Georgia 31401
Savannah Souvenirs: Where to Buy Christmas Presents
Savannah is the perfect place to do your Christmas shopping for family and friends. There are so many unique shops where you can find a one-of-a-kind gifts.
The Paris Market & Brocante
This gorgeous store is a favorite for gifts year-round, but WOW is it spectacular during the holidays! There are so many beautiful ornaments, unique home decor items, and one-of-a-kind gifts that you'll have no trouble finding something special — even for those "hard to please" folks on your list.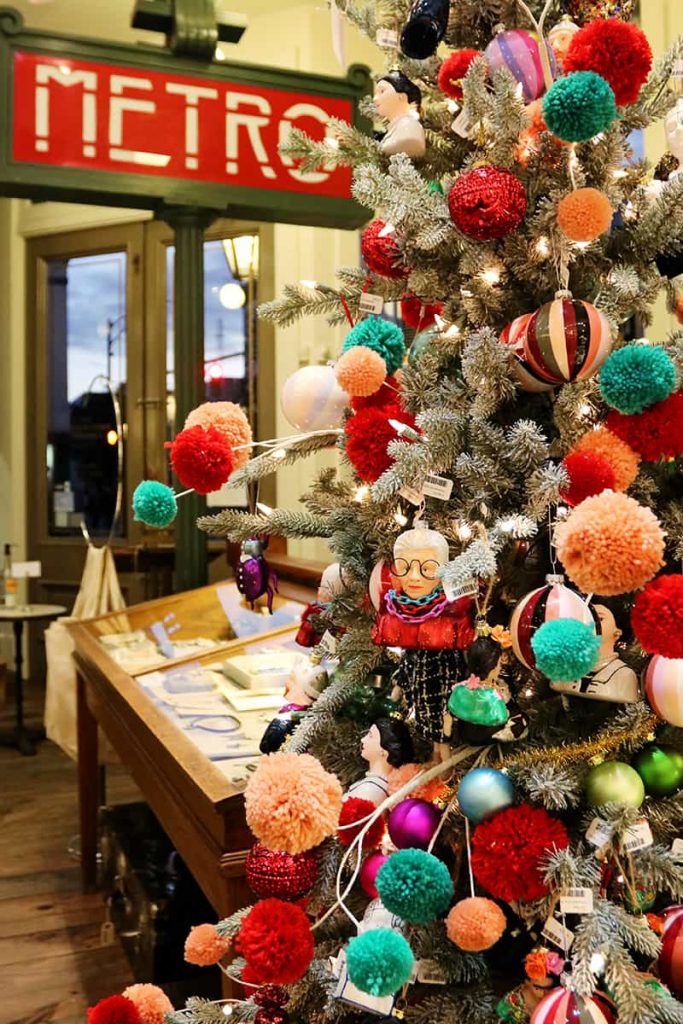 One of my favorite gifts is their Savannah candle, which is exclusive to the store. It's designed to evoke "memories of mystery, magic, and Spanish moss". They also offer some really unique jewelry pieces. The owners travel the world to curate items specifically for the store. (Talk about a dream job!)
Insider Tip: The Paris Market is hosting a holiday wreath workshop December 3rd and December 8th at 6:30 pm. Space is limited, so register in advance via their Facebook page.
The Paris Market | 36 W Broughton Street, Savannah, Georgia 31401
Savannah Bee Company
This popular local store has all different kinds of honey and items made with honey: beauty products, beeswax candles, books…you name it!
The Tupelo Honey and Acacia Honey are two of my favorites. I also love their Raw Honeycomb. They offer lots of holiday gift sets!
Savannah Bee Company | 104 W Broughton Street, Savannah, Georgia 31401
Byrd Cookie Co.
You can't go wrong with a gift of food! Head to Byrd Cookie Co. for some of the sweetest treats in town. The Key Lime Coolers are their most popular option and are my personal favorite. I also love the Salted Carmel Cookies (the perfect combination of salty and sweet), the Cupcake Cookies and the Georgia Peach flavor. Their cheese biscuits and jalapeño biscuits are also delicious.
OK…everything they sell is delicious!
They offer gift tins and holiday cookie jars, or big spenders can opt for a "Cookie of the Month" subscription. Their stores always look really merry during the Christmas season.
They have a new location in Plant Riverside District, another great shop in City Market, a smaller store on River Street, and their flagship store is located on Waters Avenue.
Byrd Cookie Company | 213 West Julian Street, Savannah, Georgia 31401
Cozy Restaurants in Savannah
If you're looking for restaurants that get into the holiday spirit, there are a few I recommend. These are cozy spots that usually have pretty holiday decorations.
Six Pence Pub
Six Pence is an authentic British Pub, which makes it an ideal spot to cozy up with a drink. The menu consists of both British and American comfort foods, and the dark wooden interior makes for an inviting atmosphere during the winter months.
For the holiday season, they add a Christmas tree to the famous red telephone booth by their front door and hang festive glass ornaments in the windows.
Six Pence Pub | 245 Bull Street, Savannah, Georgia 31401
The Olde Pink House
This restaurant is a favorite year-round, but it looks even more beautiful during the holiday season. Although they've served dinner on Christmas Day in the past, they announced they're discontinuing that tradition in 2020.
I'm sure lots of families will be disappointed to hear that news, but at least they'll still be open Christmas Eve! I always suggest making reservations well in advance for this popular spot.
They serve lots of Southern-style dishes and are known for their Fried Green Tomatoes and Fried Lobster Tail, amongst others.
The Olde Pink House | 23 Abercorn Street, Savannah, Georgia 31401
17Hundred90 Inn & Restaurant
The restaurant at 17Hundred90 Inn is a very warm and toasty spot for a winter meal. As a bonus, they're one of only a handful of restaurants in Savannah actually open and serving meals on Christmas Day.
The ambiance is rather romantic, with low wood-beamed ceilings and chandeliers throughout the dining area. I recently wrote a post about the haunted aspect of the inn, and the post includes a few shots of the restaurant.
Related Reading: Is 17Hundred90 Inn Haunted by the Ghost of Anna?
17Hundred90 Inn & Restaurant | 307 E President Street, Savannah, Georgia 31401
Where to Grab a Toasty Drink
What could be better than a cup of hot tea or a frothy cappuccino on a cold winter's day? Here are a couple places I recommend…
Gryphon Tea Room
This SCAD-owned establishment is located in the historic Scottish Rite building, which once served as an apothecary. You'll love the cozy atmosphere of the tea room, with its Tiffany-style lamps, intricate stained-glass details, and dark mahogany bookcases.
Their sandwiches and soups are just the right size so you'll leave feeling full, but not stuffed. They offer traditional tea service, so it's an ideal spot for true tea fanatics. Visit for high tea in the afternoon and enjoy a tiered platter full of scones and delicious treats, plus a steaming pot of tea.
Gryphon Tea Room | 337 Bull Street, Savannah, Georgia 31401
Artillery Bar
If you're looking for unique craft cocktails in an elegant, inviting setting, look no further than Artillery Bar. The building was originally constructed in 1896 to house artillery for the Georgia Hussars, and the details on it are incredible.
The stunning exterior is decorated with intricate gold columns set against a white marble background, while the interior has exposed brick walls and a beautiful marble bar.
Now…you won't find inexpensive drinks at Artillery, but you will be served delicious craft cocktails with complete attention to detail in a drop-dead gorgeous setting!
Artillery Bar | 307 Bull Street, Savannah, Georgia 31401
Obviously there are tons of things to do in Savannah in December! It's the perfect place to get into the holiday spirit. Make sure to bookmark this post so you can find it again, since I'll continue to update it with new events and photos.
Savannah Vacation Planner
If you're ready to start planning your trip and found this post helpful, I've created some additional resources to help you out…
Don't forget to grab a copy of my Savannah First-Timer's Guide. It includes all of my best insider tips and must-see places in Savannah!

Do you have any questions for me about Christmas in Savannah? Let me know in the comments below!