Wondering which famous Savannah restaurants are truly worth the hype and which ones aren't? I'm going to answer that question today as I always do…honestly.
It probably won't come as any surprise to learn that the most well-known restaurants aren't always the best. After all, that's the way it works in many cities!
Sometimes they're simply the ones that have been around the longest. In other instances, they're the ones that are best at making the news … and not always for the best reasons.
Savannah has a mix of popular restaurants that deserve the attention … and a few that don't. We're going to discuss them all below.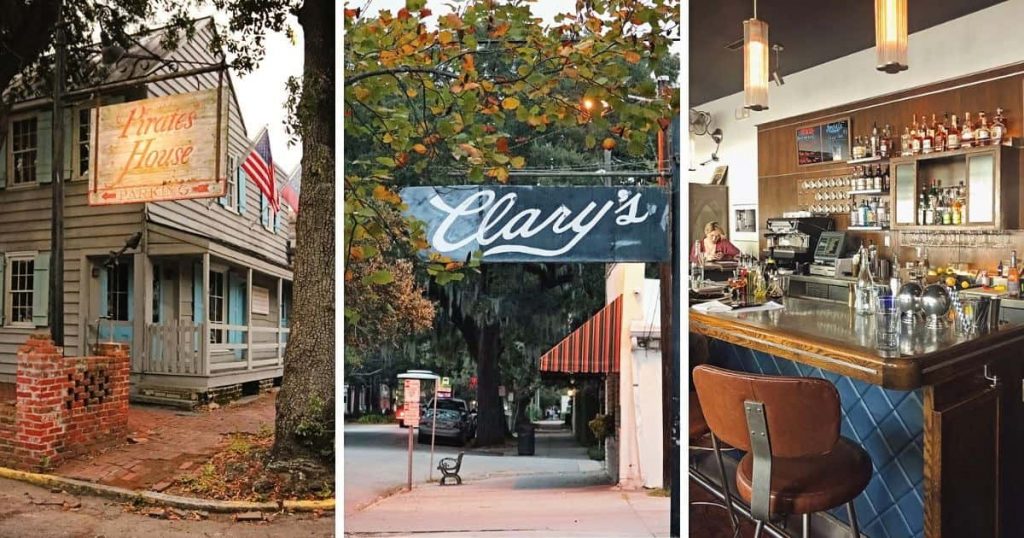 Note: This guide contains affiliate links to my trusted travel partners.
If you're new around here, first of all … allow me to extend a warm welcome!
My name is Erin, and I authored the Savannah First-Timer's Guide. It combines my top tips from this site into one handy downloadable guide.
You might also be interested in:
🍔 An Insider's Guide to Savannah's Best Restaurants
🍤 Where to go for Incredible Seafood in Savannah
🍳 A Local's Guide to the Best Breakfast in Savannah
---
The Most Famous Savannah Restaurants
Before we start, I wanted to mention two things…
I've written a separate list of all the best restaurants in Savannah.
Because the restaurants below are so well known, it's best if you make reservations well in advance. The Old Pink House, The Grey, and Husk are the ones you'll need to book the furthest out — usually at least two months in advance.
The Olde Pink House
The Olde Pink House was constructed in the late 1780s and has been operating as a restaurant since 1971.
It's a classic Savannah restaurant that's consistently popular amongst tourists and locals. (I think it says a lot about a place when locals brave the crowds to visit.)
Pros: The food is very good, but the setting is the real draw.
Your server will invite you to explore the restaurant so you can see each of the beautiful rooms inside the home, and they're definitely worth checking out!
Cons: The tab is a bit pricey, but people are obviously willing to pay the going rate since they stay booked solid for weeks — if not months — in advance.
If you're afraid of ghosts, make note that The Olde Pink House is one of the most haunted restaurants in Savannah!
VERDICT: You can consistently count on a quality dining experience at The Olde Pink House.
The Olde Pink House | 23 Abercorn Street, Savannah, Georgia 31401
Insider Tip: The food in the basement-level bar, Planters Tavern, comes from the same kitchen as the restaurant, and you don't need reservations to dine there. The tavern has a fantastic vibe!
---
The Pirates' House
The Herb House portion of the Pirates' House is one of the oldest structures in the entire state of Georgia.
The building was first established in the early 1750s as an inn and tavern.
It became a popular Tea Room in 1953, and the've been serving customers in one form or another since then.
It's also one of the most haunted restaurants in Savannah.
Pros: Some of their dishes are really tasty, and the pirate theme isn't too cutesy or over-the-top. I consider it one of those "do it once for the experience type of places."
Thanks to the pirate theme, it's a very memorable spot for kids.
Cons: They've had their ups and downs through the years, so at times the food (and servers) are better than others.
VERDICT: Go to enjoy the historic aspect of the restaurant and to make the kids happy.
The Pirates' House | 20 E Broad Street, Savannah, Georgia 31401
Insider Tip: The building is a stop on the hop-on/hop-off trolley routes, so lunch tends to draw the crowds. It's better to go for dinner! I highly suggest touring the building while you're there to check out the historic memorabilia throughout the restaurant.
---
Mrs. Wilkes Dining Room
The Wilkes House was constructed in the 1870s and is located on one of the prettiest streets in Savannah.
Sema Wilkes began operating her popular family-style dining room in the early 1940s out of what was once a boarding house, and it's still going strong today!
If you grew up having large meals at your grandmother's house after church, then you'll feel right at home at Mrs. Wilkes.
Guests sit at a large round table and pass dishes around to strangers. Each person is free to scoop out a big helping of Mac n' Cheese and fill their plate with delicious Southern staples.
Pros: The food is consistently good, and the family dining aspect is an additional perk.
President Obama even dined there when he visited Savannah!
You'll truly understand the concept of Southern-style dining after eating at Mrs. Wilkes.
Cons: With Covid issues still making the news, you might want to weigh your options and decide if "pass-the-dish" dining is best for you.
If not, you can always order a meal to go and have a picnic in one of the squares.
VERDICT: Go if you've never experienced round-table Southern-style meals; it's a great way to meet fellow travelers.
Mrs. Wilkes Dining Room | 107 W Jones Street, Savannah, Georgia 31401
Insider Tip: This is one restaurant that is VERY generous with the serving sizes. If you order your meal to go, you can order for one and it will generally feed two. Afterwards, take a stroll down Jones Street or through nearby Forsyth Park to burn off all the calories you just consumed.
---
The Lady and Sons
The Lady and Sons is well known because Paula Deen is good at making the news — and not always for positive reasons.
Her restaurant operates out of a former warehouse near City Market, and the building it's housed in is more than 200 years old.
Love her or hate her, Paula Deen has been slapping butter on biscuits for decades, and she's earned the title of one of the most famous chefs in Savannah.
Pros: The Lady and Sons offers up loads of Southern-style dishes, so if you're a fan of hearty meals, you can find plenty of options.
Cons: Personally, I'm not a fan of the restaurant. It doesn't feel very welcoming, it's old (but not in a way that feels historic — more like it's in need of an update), and has a bit of a cafeteria feel.
You'll be disappointed if you expect to find Ms. Deen in the kitchen, since she's rarely there.
VERDICT: I consider this one more of a tourist-trap than anything else, so it's only for die-hard Paula Deen fans.
The Lady and Sons | 102 W Congress Street, Savannah, Georgia 31401
Insider Tip: There are plenty of incredible restaurants in Savannah! You can keep your taste buds satisfied for a full week or more without ever stepping foot inside The Lady and Sons.
---
The Grey
The Grey is new(ish) on the scene, but it's been around long enough to be considered one of the most famous restaurants in Savannah.
It's popular because Chef Mashama Bailey clearly knows what she's doing!
She's garnered numerous recognitions — including coveted James Beard awards in 2018, 2019, and 2022.
The Grey operates out of a beautifully restored late 1930s Art Deco-style Greyhound bus station.
The interior design is spectacular, but it does tend to get a little loud inside.
Pros: Unlike at the Lady and Sons, if you're hoping to have your meal cooked by a famous chef in Savannah, you have a really good chance of that happening at The Grey.
It's not at all uncommon to spot Chef Bailey slinging food in the kitchen!
Cons: It tends to get a little loud in the dining room (I guess that's to be expected in a former bus station), and it's such a popular place that it can be difficult to get reservations.
VERDICT: I've personally never had a bad meal at The Grey. It's a great spot for foodies!
The Grey | 109 Martin Luther King Jr. Blvd., Savannah, Georgia 31401
Insider Tip: Try to make reservations a month or two in advance. If you sit in the bar area near the front windows, you'll have a great view and you can sometimes luck out with same-day seating. That room is actually my favorite place to dine! You'll have a nice view into the kitchen from there, too.
---
Clary's Cafe
Clary's has been around for decades in Savannah, but it gained fame when it was featured in the movie, "Midnight in the Garden of Good and Evil."
In fact, the back wall of the restaurant is lined with autographed photos of the cast and crew hanging out in the restaurant!
Pros: You'll get a lot of food at a reasonable price. Breakfast is the most popular meal they serve, so it's a great place to start your day — especially if you follow my advice regarding where to stay in Savannah.
Cons: It's not a fancy restaurant, so don't expect any frills.
VERDICT: If you want to hang out where many of the locals go and enjoy an inexpensive meal, this is a good place to do so. It's a friendly little mom and pop type of restaurant.
Clary's Cafe | 404 Abercorn Street, Savannah, Georgia 31401
---
More Famous Restaurants in Savannah
The restaurants I've listed above are the most well-known spots, but there are a few additional places that tend to regularly make the news.
Husk Savannah
Husk is very well-known, but I consider it more of a Charleston restaurant than a Savannah one.
The flagship location is in Charleston, and it has long been one of the most popular restaurants in that city.
The Savannah location opened in 2018, and it's pretty much on-par with the Charleston location in popularity.
You know what that means: Make your reservations about two months in advance, if possible.
The restaurant's founder, Chef Sean Brock, is a very famous chef, but Chef Christopher Hathcock runs the Savannah location. I'm a huge fan of Husk!
Husk Savannah | 12 W Oglethorpe, Savannah, Georgia 31401
---
Back in the Day Bakery
Oh how I adore Back in the Day Bakery — and not just because it's a restaurant near me (I live in Savannah's quirky Starland District).
It's one of my favorite places to go in Savannah for sweet treats and for tasty quiche.
Chef Cheryl Day and her husband, Griffith Day, have authored multiple cookbooks.
I'd say she's another of the most well-known chefs in Savannah. She was a James Beard nominee in 2015 and again in 2022.
The food is fantastic at Back in the Day, but the hours aren't as accommodating; they're only open a few days a week — usually on weekend mornings.
(They appear to be focusing more on their online offerings these days.)
Definitely call before going to make sure they're open! No reservations needed.
Back in the Day Bakery | 2403 Bull Street, Savannah, Georgia 31401
---
Savannah Visitor Guide
As mentioned above, I'm very fortunate to live in Savannah, and I write about the city regularly. In addition to my ebook about Savannah, I've also created a few other resources to help you out…
Free Resource Library – Join my email list to stay in touch and get a printable list of 50 Things To Do On Foot in the Historic District — No Car Necessary, plus other helpful checklists.
Restaurants in Savannah – This helpful post includes a list of the best restaurants in Savannah and includes helpful advice like a checklist of restaurants that don't require reservations.
If you're in the beginning phase of planning your trip, my Savannah Georgia Vacation Guide will provide a brief overview of the city to get you started.
---
Have you visited any of these famous Savannah restaurants? If so, let me know your thoughts in the comments below!