If there's one word no one would ever use to describe Savannah, it's "boring." In case you've never visited the city before, allow me to be the first to tell you: Savannah is downright weird.
Even better, it's a city that celebrates its own quirkiness!
Eccentric personalities thrive here, mainly because they feel right at home amongst so many other peculiar characters.
Being a bit of an oddball myself, I tend to gravitate towards the unusual.
I like to seek out lesser-known attractions, and it's always a goal of mine to discover as many hidden gems as possible… and then share them with you.
For that reason, don't expect this to be a generic bucket list of things to do in Savannah. I've already created a list of "must-see" spots in Savannah that covers the basics. Instead, the list below is unique and a bit goofy — just like many Savannahians!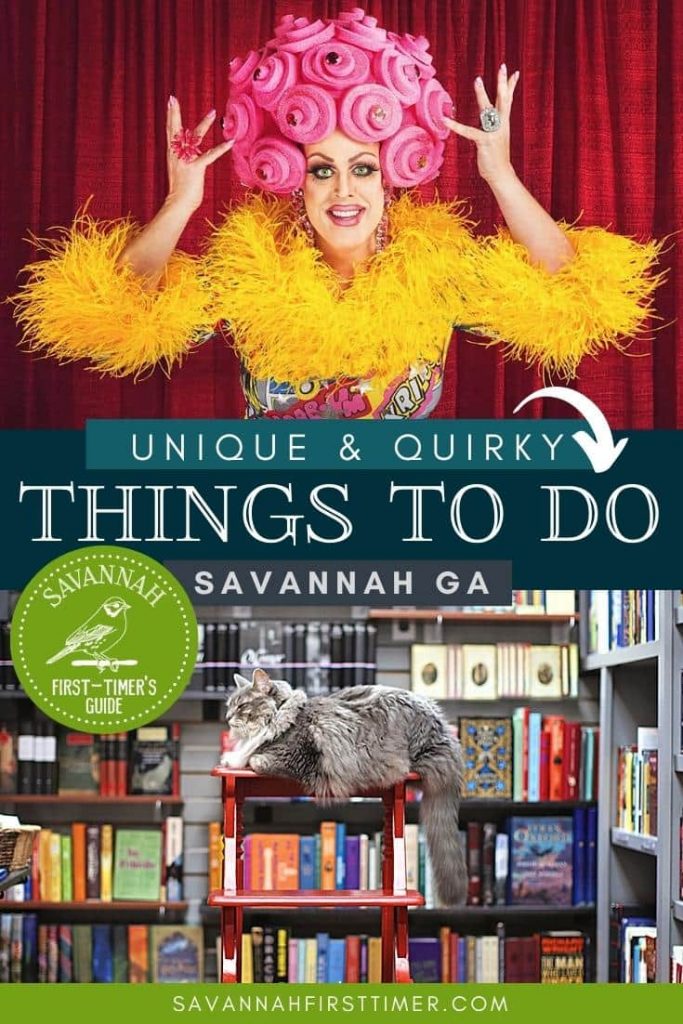 Note: This guide contains affiliate links to my trusted travel partners.
---
Fun Things To Do in Savannah GA
As I mentioned above, Savannah is a city made for entertainment. After all, we're known for covering our historic statues in googly eyes and for being home to Tik Tok's most beloved baseball team, the Savannah Bananas.
Ready? Let's get to the fun stuff!
---
Pose with Gangsters at Prohibition Museum
Visiting American Prohibition Museum is one of my favorite things to do in City Market!
The museum is the only one in America that focuses on the history of the 18th Amendment to the U.S. Constitution. It details the many ways in which Southerners (in particular) survived dry times during the Prohibition era.
You'll learn about speakeasies, Rum Runners, hooch, and the art of makin' moonshine.
The exhibits are very informative and display authentic items from the era, such as wooden Tommy Guns, moonshine stills, and "prescription" whiskey bottles.
You'll also learn the role of gangsters during Prohibition and will discover how mobsters disrupted the KKK. You'll even learn how the ban on alcohol actually contributed to spread of organized crime.
Part of the fun of the museum is that it's rather interactive. For example, you can pose in a lineup next to Al Capone or learn how to dance The Charleston. (There's a funny element to the dance that you'll discover during the tour.)
The wax figures throughout the museum are some of the most realistic I've ever seen!
At the end of the tour, there's an option to visit the museum's on-site speakeasy. However, in a true throwback to the Prohibition era, they don't sell alcohol on Sundays.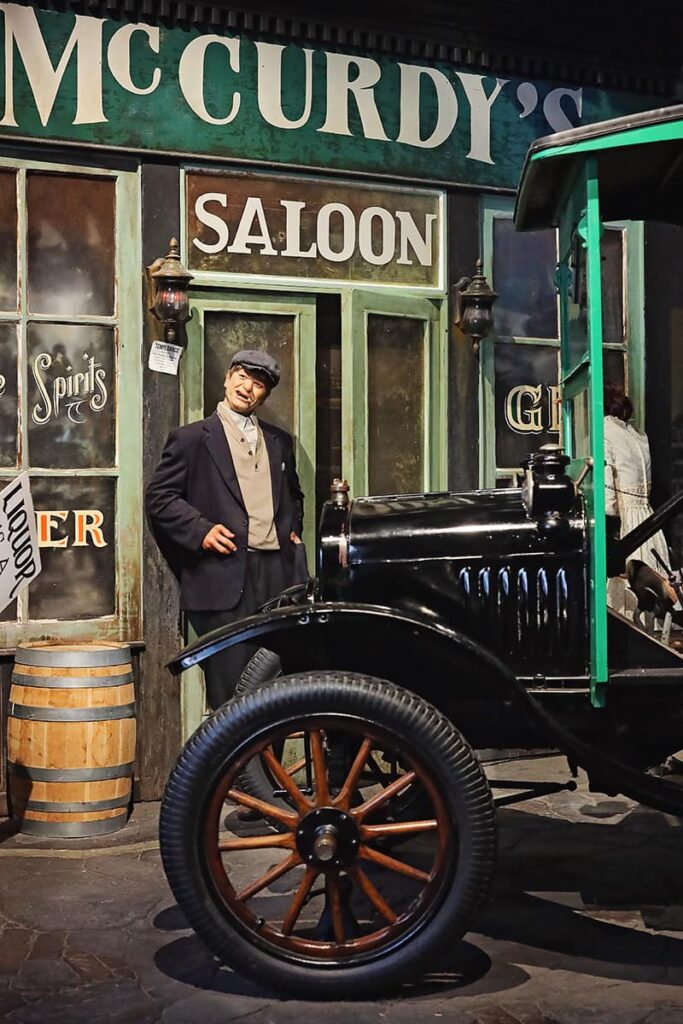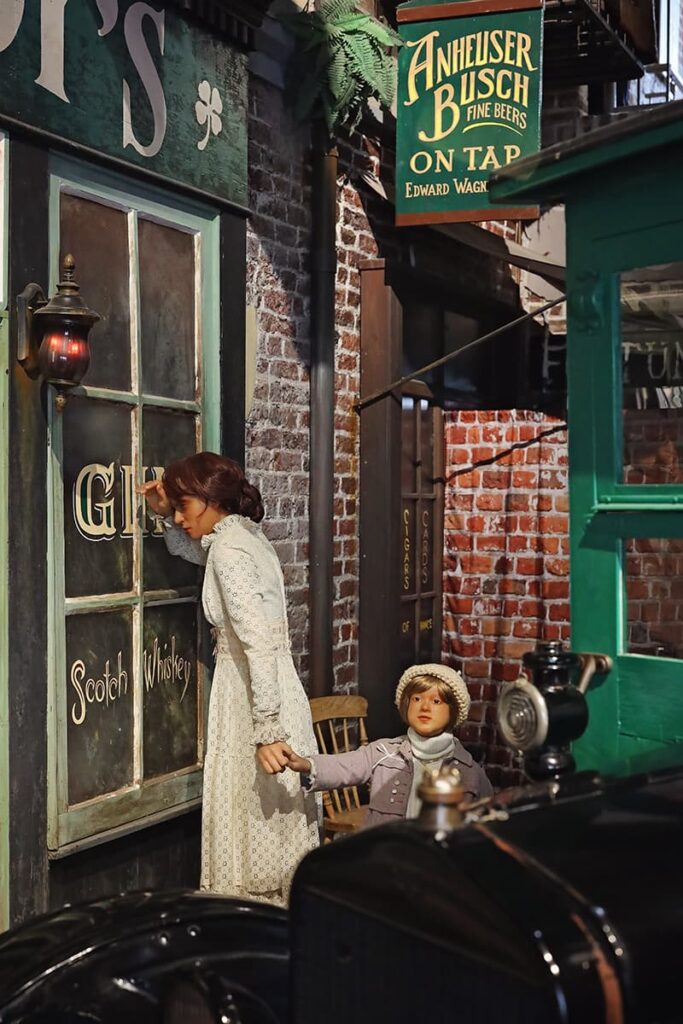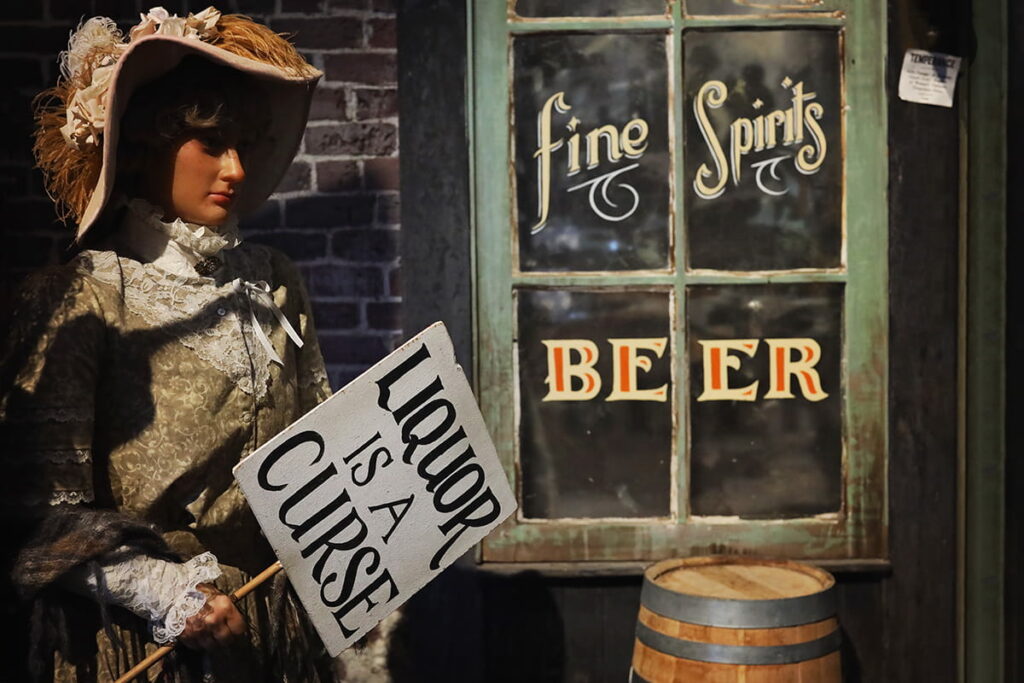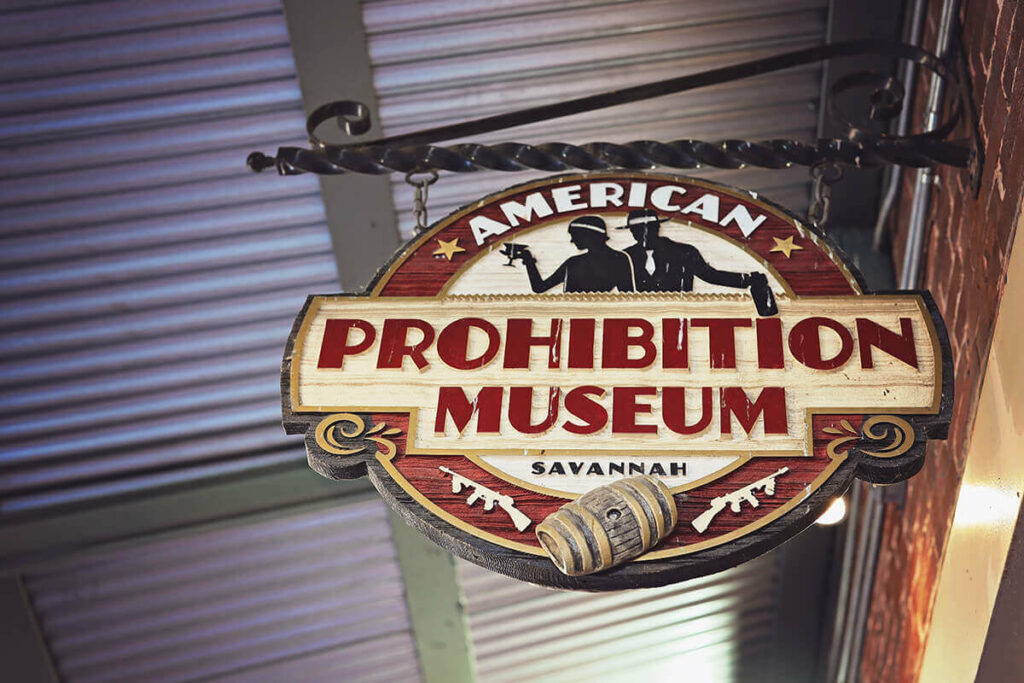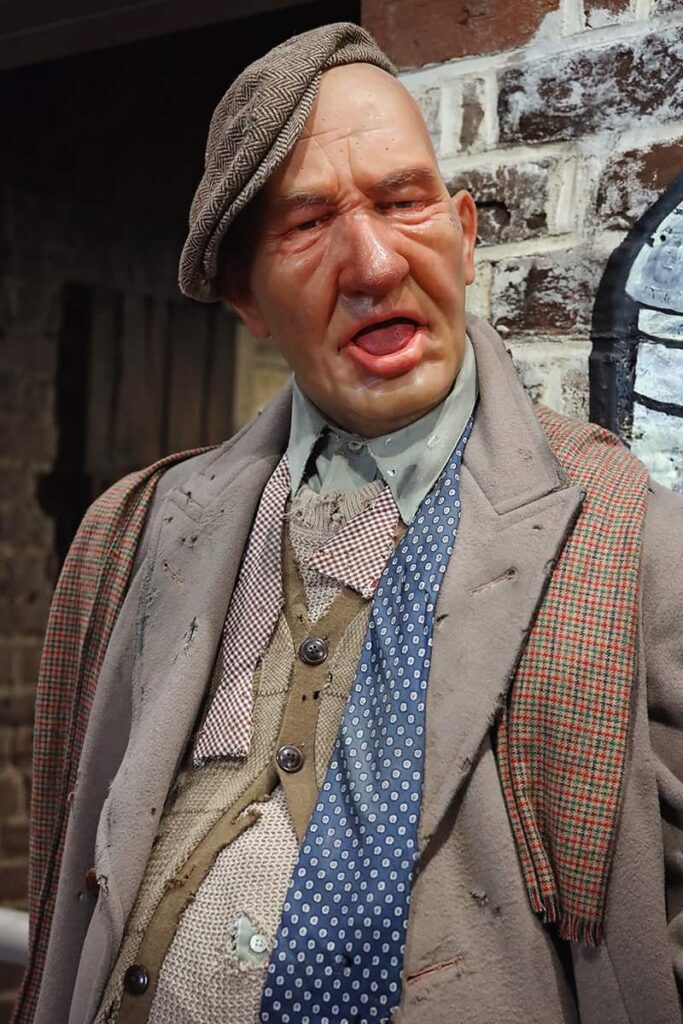 Once, during Prohibition, I was forced to live for days on nothing but food and water."

~WC Fields

Time to Allot: 30 minutes to an hour (more if stopping by the speakeasy)
Cost: $15-25/person for the museum + speakeasy (drinks extra)
Best For: Families with teens or young adults, or as a rainy day activity
Prohibition Museum | 209 W Saint Julian Street, Savannah, GA 31401
Related Reading: Savannah Trolley Tour Reviews: Which One is Best?
---
Create Custom Drinks at a Speakeasy
As mentioned above, if you decide to visit Prohibition Museum, they'll invite you into their authentic 1920s-era speakeasy, Congress Street Up, at the end of the tour.
You can also sign up to take a separate cocktail class with one of their mixologists. Their talented bartenders will give you a hands-on lesson in cocktail creation.
You'll get to sample a variety of cocktails, will learn a bit of history about the craft, and then you'll get to work creating your own delicious concoctions.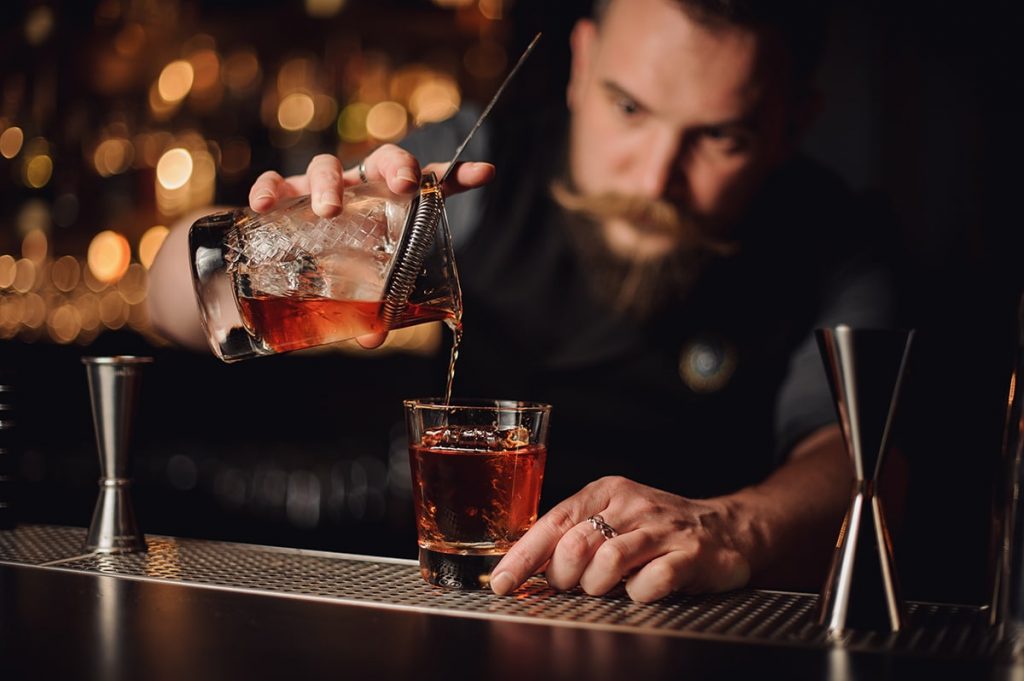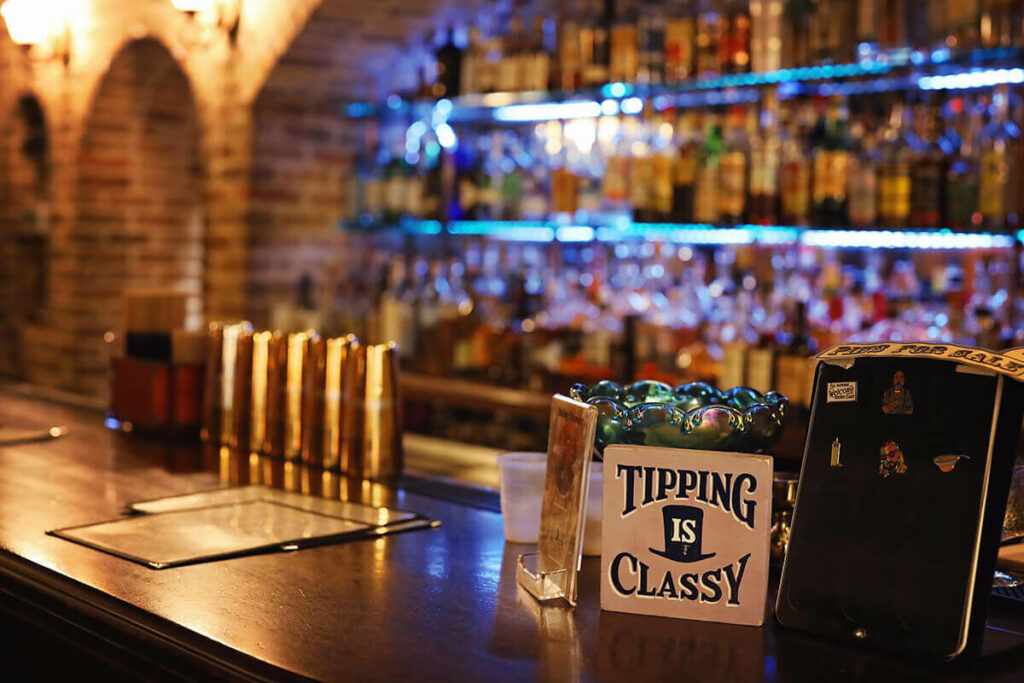 Time to Allot: 1-2 hours
Cost: Varies, depending how thirsty you are
Best For: College graduation party, date night, bachelor/bachelorette parties
Congress Street UP | 220 W Congress Street
---
Visit a Serial Killer Museum
Yes, you read that right; Savannah has a serial killer museum!
It's a passion project started by murderabilia collectors Ryan Graveface and Chloe Manon, and I'd say it's one of the more unique places to go in Savannah.
Ryan, in particular, is slightly obsessed with the macabre. He's been stockpiling a collection of all things serial killer-related for decades.
The couple used to house their collection at Graveface Records — their funky vinyl shop located in the heart of the Starland District.
However, as they amassed more oddities, they finally took the plunge and opened a separate two-story museum along Savannah's touristy riverfront area.
I was a Patreon supporter during the planning stages of the museum, and one of my favorite membership perks was watching sneak peeks as Ryan unboxed packages of John Wayne Gacy's creepy clown artwork.
The behind-the-scenes stories he told during the unboxings were incredible!
He spoke of trips to visit serial killers in prison and described conversations he'd had with death row inmates — one of whom even insinuated "where the bodies were buried."
Crazy.
Graveface Museum is where you'll currently find Ryan and Chloe's ever-growing collection of oddities. They rotate the displays on regular basis, so there's always something new to see.
The museum is divided into separate rooms — each with a unique theme. In addition to serial killer memorabilia, you'll find displays on UFOs, cults, roadside attractions, and circus sideshow freaks.
One of the rooms is even full of vintage pinball machines. You'll get unlimited pinball play time (during business hours) for 24 hours with your museum ticket purchase.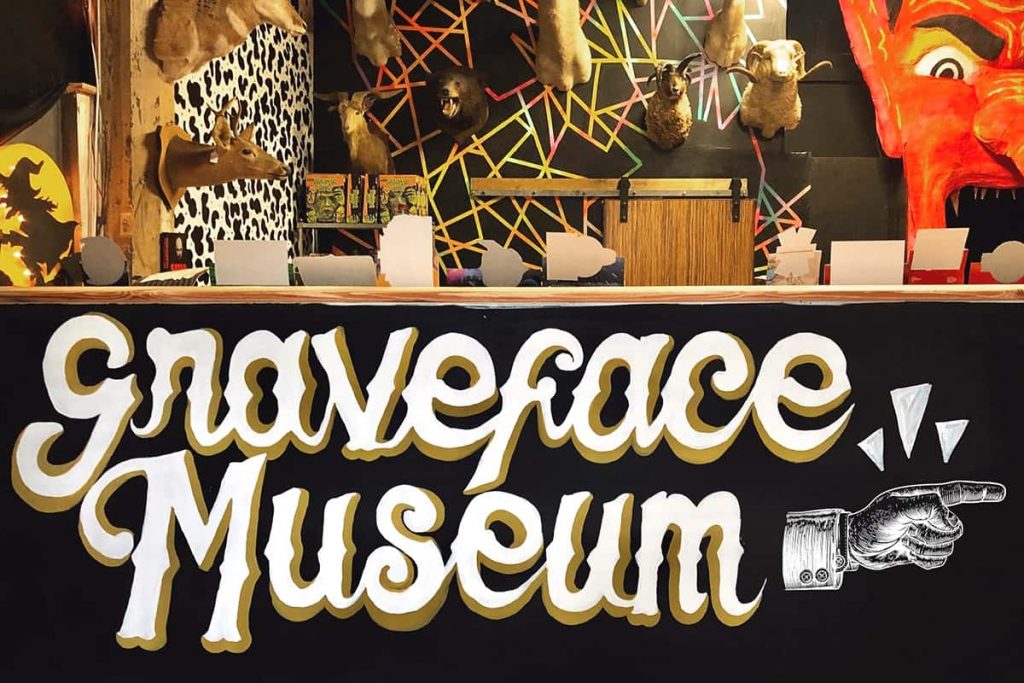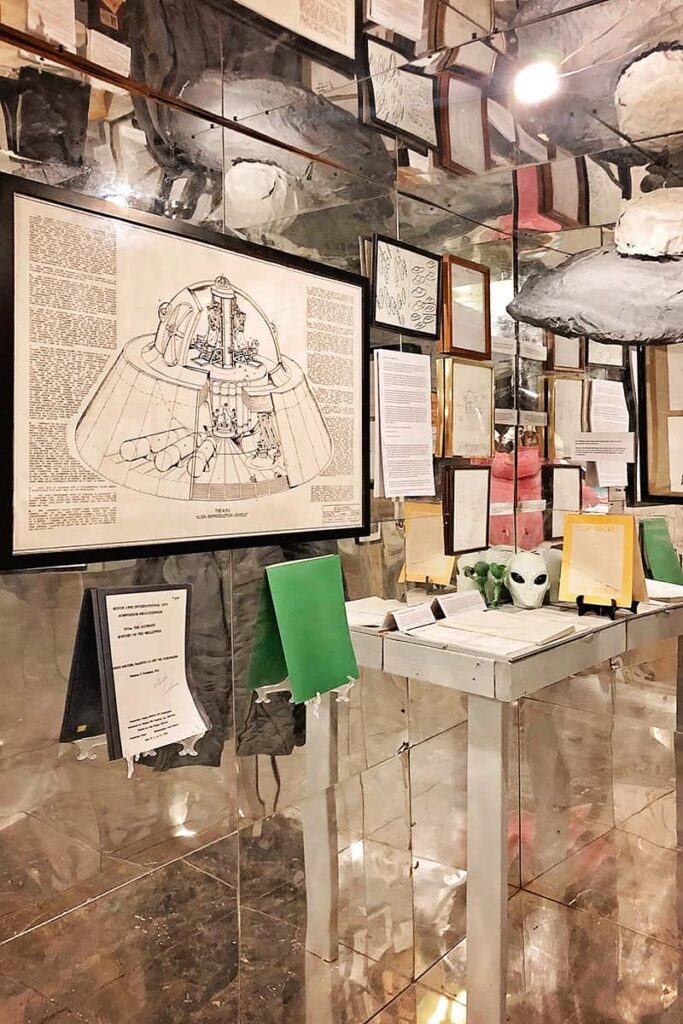 Time to Allot: From 1.5 to 3 hours
Cost: Approximately $20 per person
Best For: True Crime fanatics or as a rainy day activity
Graveface Museum | 410 E Lower Factors Walk, Savannah, GA 31401
Related Reading: 21 Photos That'll Make You Want to Visit Factors Walk
---
Take a Comedy Trolley Tour
If you prefer your history served with a side of knee-slapping laughter, you're going to want to add the Savannah for Morons trolley tour to your itinerary.
It's a high energy tour, and the comedic geniuses who run it will keep you in stitches for nearly 90-minutes straight.
The self-labeled "Morons" interact heavily with trolley participants, and also have a habit of spilling their antics out into the streets of the Historic District.
While the Morons do add a few tidbits of Savannah history into the mix, overall it's much more of a comedy tour than a true history tour.
Make Note: Since the tour is interspersed with bits of inappropriate humor, it's not for the place for "Trudy McPrudy" types (aka: anyone with an extremely conservative personality).

Time to Allot: 1.5 Hours
Cost: Approximately $60 per person
Best For: Bachelor/bachelorette parties, group activities
Savannah for Morons | 223 Martin Luther King Jr. Blvd, Savannah, GA 31401
---
Support an Indie Bookstore
Did you know Savannah became the popular tourist mecca it is today thanks in part to a book?
The folks working in Savannah's tourism industry should be forever grateful to John Berendt for penning "Midnight in the Garden of Good and Evil," since it's still driving visitors to the city today — decades after it was first published.
You can pick up your own copy of "The Book" at one of our fantastic local indie bookstores. The Book Lady and E. Shaver Bookseller are two that I recommend.
E. Shaver is my personal favorite. They offer a fantastic selection of books authored by locals, and they also have a nice selection of bestsellers, rare indie finds, and local souvenirs.
While you're exploring the shop, don't be surprised if you stumble across one of the resident cats lounging around on the floor or taking up a spot in that oh-so-comfy chair you were hoping to sink into.
They currently have four friendly felines that have full run of the place: Mr. Eliot, Skimbleshanks, Bartleby, and Morticia. Here's what a typical day looks like for Mr. Eliot and Bartleby: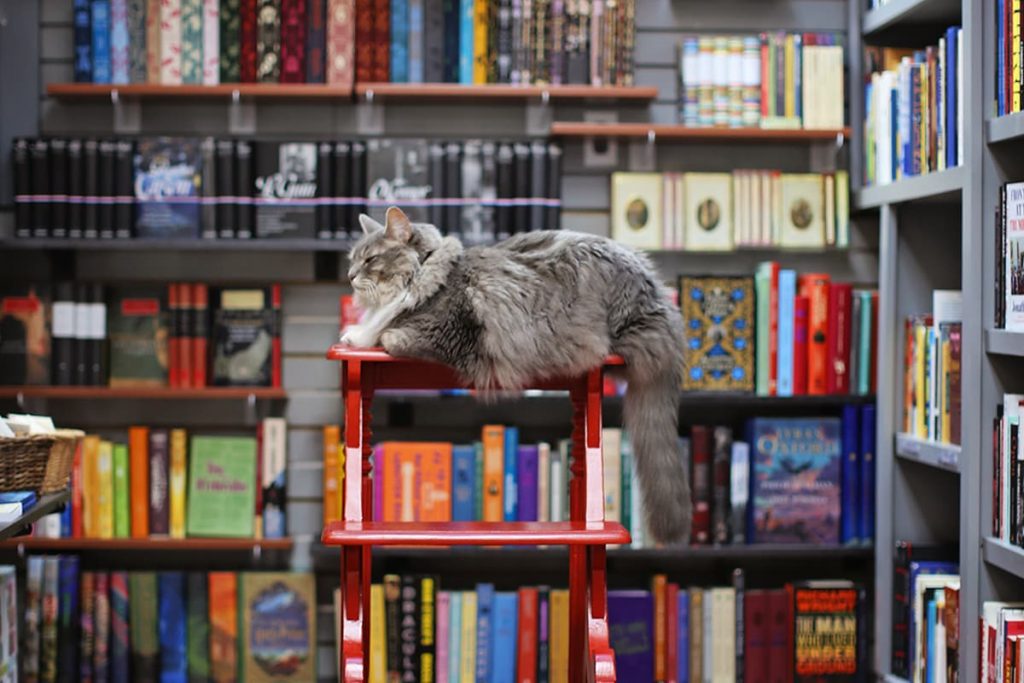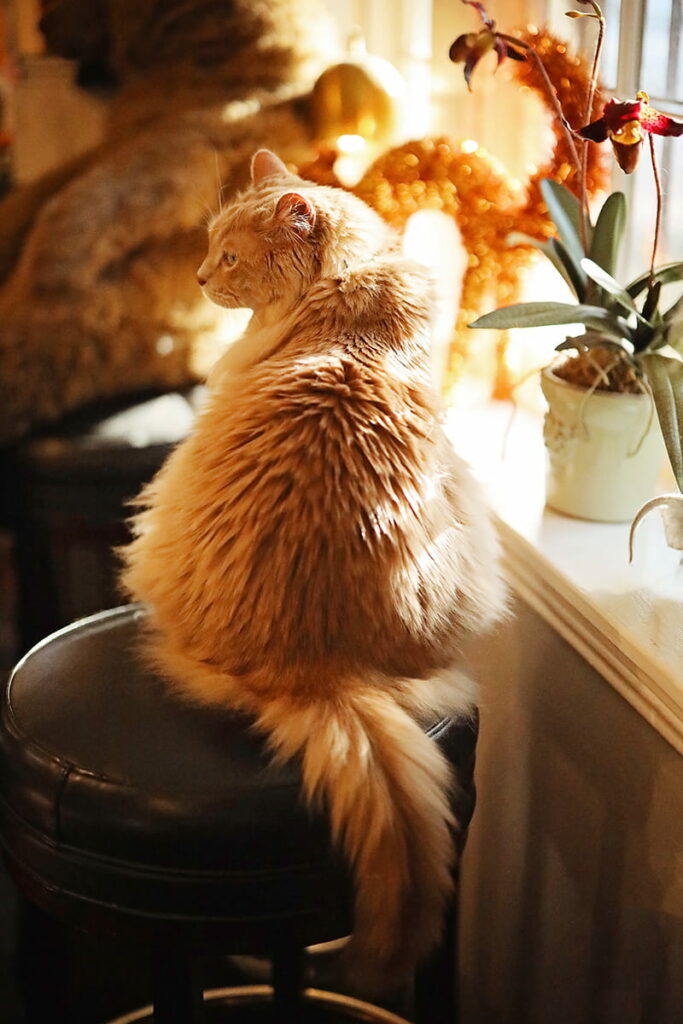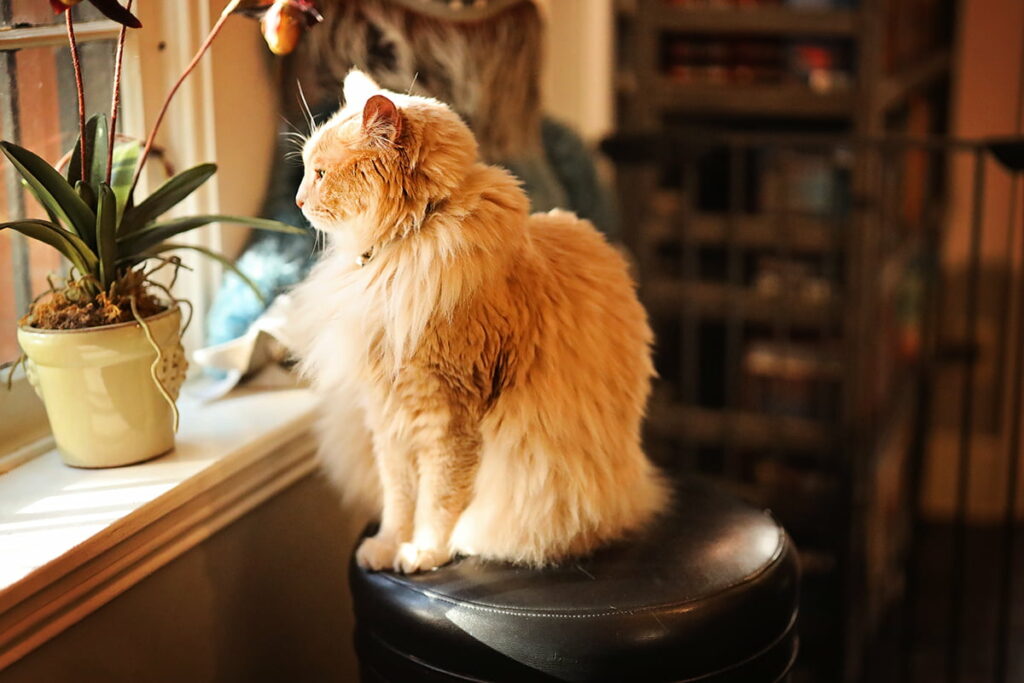 Time to Allot: 1-2 hours (or more!)
Cost: As little or as much as you spend on books and collectibles
Best For: Bibliophiles, solo travelers, or as a rainy day activity
E. Shaver, Bookseller | 326 Bull Street, Savannah, GA 31401
---
Sing Along at a Dueling Piano Bar
If you've never experienced a dueling piano bar before, you're in for a real treat at Savannah Smiles Dueling Piano Bar.
The bar features two musicians who "duel" to outperform one another. They each have a goal to win the crowd over.
The pianists don't perform from a standard set list, but instead take requests from the audience. Feel free to pick your favorite upbeat song and make a request!
The bar is 21+, and they stay open until 3 a.m. — although they stop serving food at 2.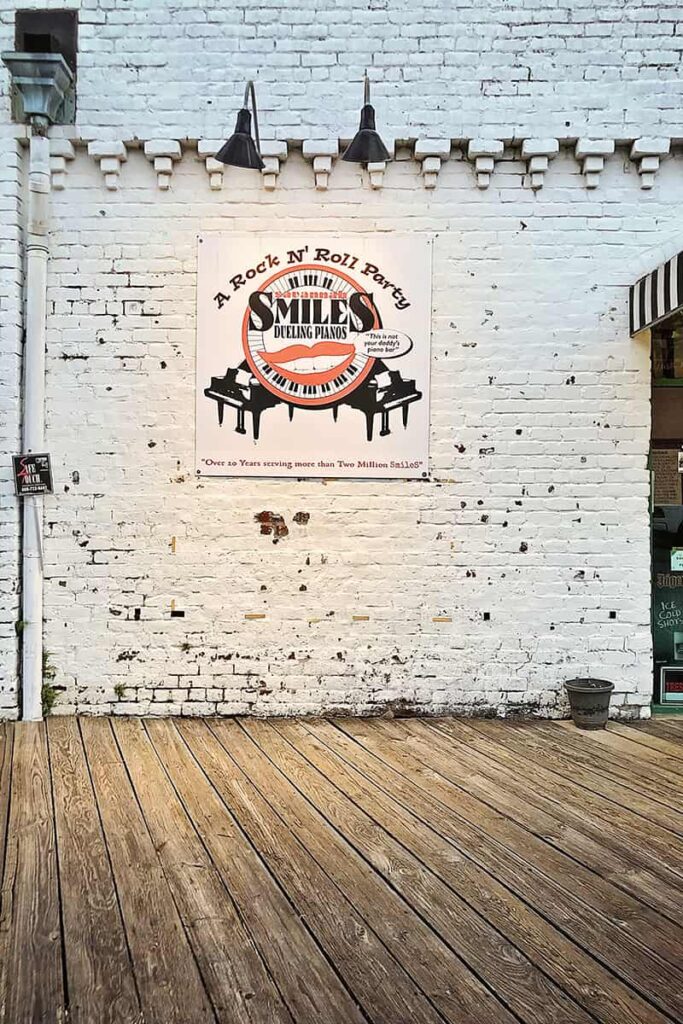 Time to Allot: 1-3 hours
Cost: Varies, depending on drinks and alcohol purchased
Best For: Bachelor/bachelorette parties, birthday parties, anniversary celebrations
Savannah Smiles Dueling Piano Bar | 314 Williamson Street, Savannah, Georgia 31401
---
Catch a Drag Show
Thanks in part to the original diva, the one and only, the incomparable Lady Chablis (I would say "may she rest in peace," but I truly hope she's still stirring up trouble somewhere), Savannah has quite the thriving drag scene.
You can experience the fun for yourself by going on a pub crawl led by one of Savannah's sassy drag queens. They'll even give you a drag name of your own for the night!
The tour starts out with drinks at El Rocko, and then ventures by popular karaoke spots like Club One — where Lady Chablis was a fixture for years.
Thanks to Savannah's open-container policy, you can carry to go cups with you from bar to bar while exploring the city's entertainment zone.
The tour ends with the group dancing the night away at the Tree House in City Market, but the fun doesn't have to stop there…
W Congress Street, Whitaker/Broughton/Bay streets, and the Plant Riverside District are all active nightlife zones within easy walking distance — just in case you decide to keep the party going.
Yassss, Queen!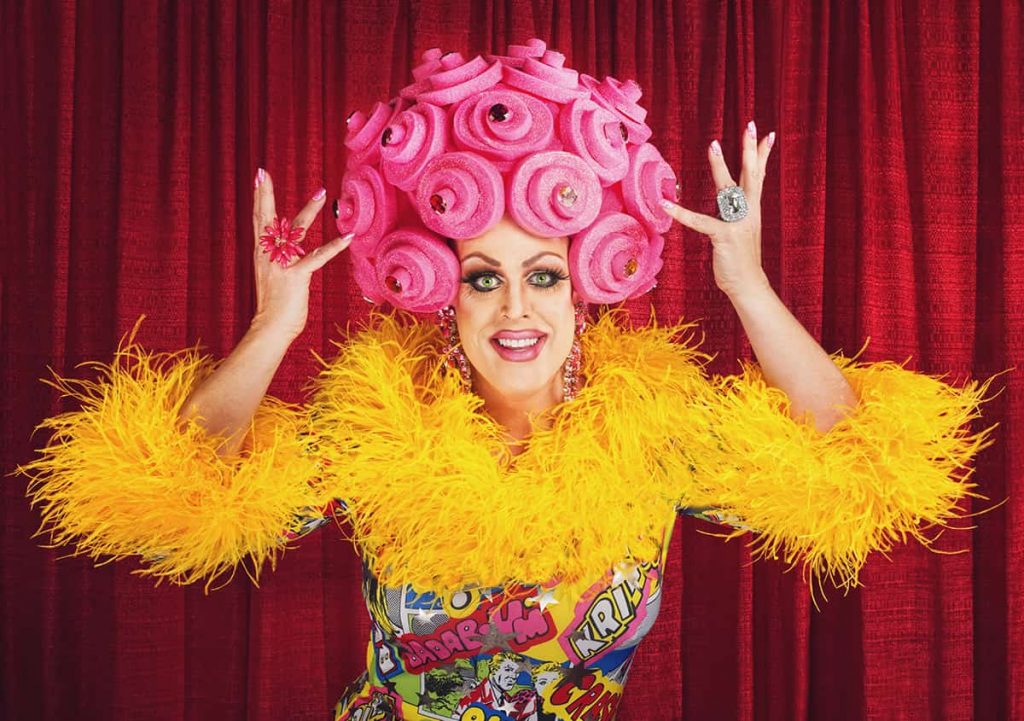 Time to Allot: 2 hours
Cost: Approximately $35
Best For: Bachelor/bachelorette parties, girl trips
Club One | 1 Jefferson Street, Savannah, GA 31401
---
Snuggle with Kittens at Pounce Cat Cafe
Pounce Cat Cafe is another unique concept! It's a combination of a cat shelter and adoption agency + wine and snack bar.
Sound intriguing? It is!
It's a great place to score some kitten cuddle time while also supporting a very worthy cause.
Instead of having cats locked up in cages in a shelter, the cafe gives them a safe place to relax and enjoy human interaction while waiting to be adopted.
Here's how it works:
Make a reservation online.
Show up at the provided time.
Head to the bar and choose from a selection of alcoholic and non-alcoholic drinks. You'll have to pay for the wine, but one non-alcoholic drink is included with your entry fee. If you're hungry, you can also take your pick of a handful of yummy sweet treats provided by a local favorite, Foxy Loxy.
Find a cozy spot to sit down, and then wait patiently.
Enjoy feelings of blissfulness as kittens surround you to snuggle, purr, play, and do all the cute things that kittens generally love to do.
All of the cats in the cafe have been rescued from local shelters, provided with health checkups plus the necessary shots, and are available for adoption.
Visiting the cafe is a great way to test your compatibility with a potential future companion before taking one home.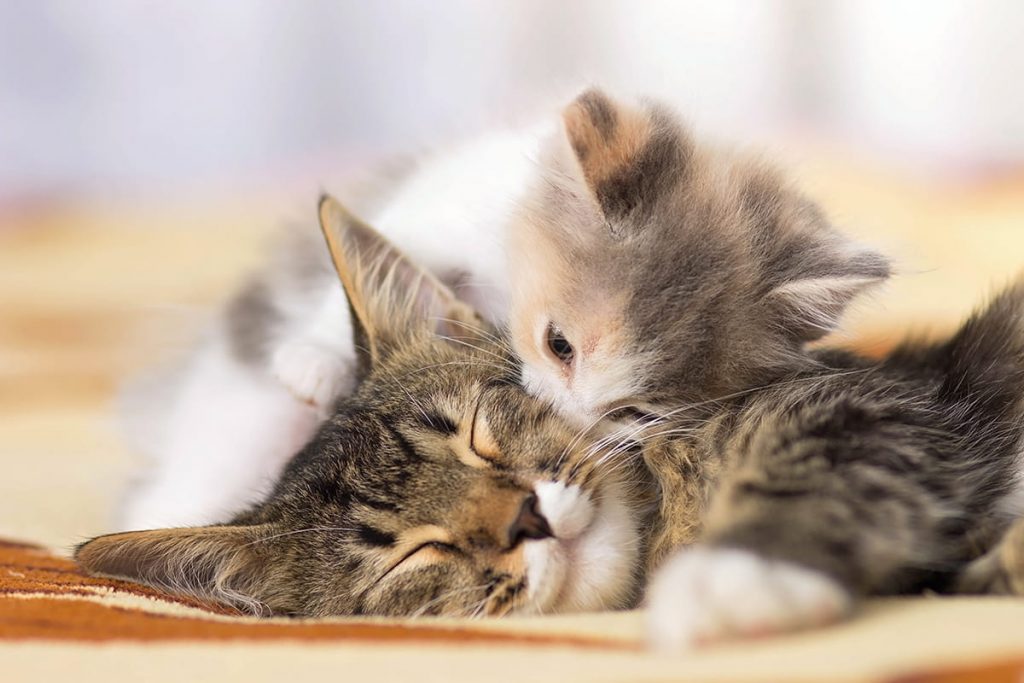 Time to Allot: One hour
Cost: Approximately $15 per visit (plus $3 for wine)
Best For: Teens, mother/daughter experiences, or as a rainy day activity
Pounce Cat Cafe | 404 W Broughton Street, Savannah, GA 31401
---
Catch a Comedy Show at Front Porch Improv
Front Porch Improv is home to Savannah's most popular comedy group.
The building is located along the southern end of the Starland District, and it makes for a great date night spot (after having dinner at one of Starland's incredible restaurants, of course).
Just as the title suggests: expect improv! The skits are spontaneous and fast-paced, and the performers will keep you entertained for the duration of the show.
The folks from Savannah for Morons (mentioned above) often get in on the act, so if you've experienced their trolley tour before, you can expect the same high energy levels at Front Porch Improv.
Unlike some improv acts, you won't be pulled on stage and embarrassed during the show. Sometimes the performers will ask questions to spur audience participation, but it's not the type of place where they make anyone feel uncomfortable in the name of "comedy".
Front Porch Improve offers reasonably-priced alcoholic drinks, and they provide popcorn to snack on during the show. Overall, it's a pretty laid-back experience and perfect for a casual evening out!
Make Note: While the show isn't overtly raunchy, it is better suited for adults than kids.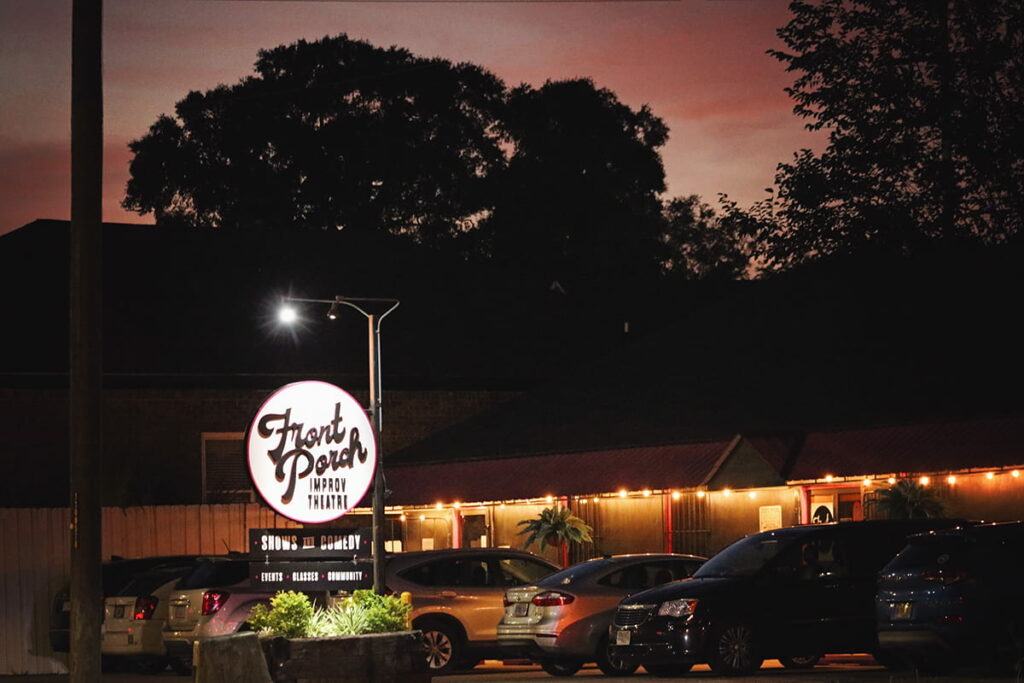 Time to Allot: 2-3 hours
Cost: Approximately $10 (plus inexpensive drinks)
Best For: Date night, small group activity, or as a rainy night activity
Front Porch Improv | 210 W Victory Drive, Savannah, GA 31405
---
Cruise Around Town in a Vintage Car
If you want to explore the city in style, try booking a private guided tour in a vintage burgundy and black Citroën.
The Citroën's owner, Daniel Richardson, is both a vintage car aficionado and a Savannah history buff. He'll happily share his knowledge on either subject as he chauffeurs you around the area.
Just let him know in advance if you'd like to customize the tour in any way, and he'll do his best to tailor it to your specifications.

Time to Allot: 1 hr 30 min
Cost: Approximately $125 for 2 people
Best For: Couples, anniversary celebration, sightseeing
Vintage Car Tour | Meet at any location in the Historic District or have Daniel pick you up at your hotel.
---
Plan a Savannah Scavenger Hunt
Who doesn't love a scavenger hunt?! It's a fantastic way to stay entertained while you're making memories in a new city.
A scavenger hunt is also a great way to keep kids busy! After all, while parents enjoy strolling along Savannah's prettiest streets to admire all the beautiful architecture, the kids… not so much.
Here are a few things to look for during a scavenger hunt:
Horse Hitches: You can find them throughout the Historic District. There are many on the south side of Emmet Park, and they can also be found in front of homes and businesses.
Fishy Downspouts: You'll notice these throughout the Historic District, as well. The can be found on Jones Street, Taylor Street, near The Olde Pink House, and in many other areas. Some people refer to them as "trout spouts."
Pineapples: Pineapples are symbol of Southern hospitality (unless they're upside down, which indicates a whole 'nother level of hospitality!), and they're a popular decor item in Savannah. You can spot them atop wrought iron fences, carved into doors, and used as decorative lighting.
Panhandle Slim Art: Panhandle Slim is a popular folk artist in Savannah. You can spot his colorful paintings on the sides of homes and businesses throughout the area — perhaps most predominantly in Starland and the Victorian District.
The City of Savannah website includes helpful printable educational scavenger hunt activities for kids.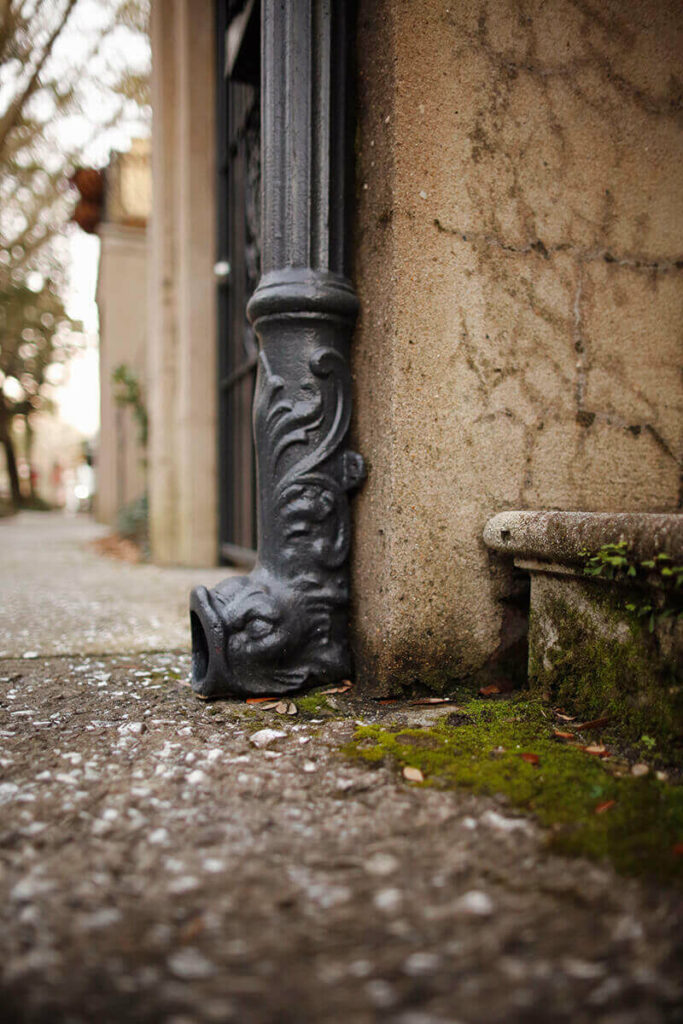 ---
Visiting Savannah Georgia: Helpful Resources
If you're planning a trip to Savannah, I've created a few resources to help you out.
Savannah Georgia Vacation Guide: This is the place to start if you don't know much about Savannah and want a brief overview of the city.
Free Resource Library: When you join my email list you'll gain access to helpful printables, like my checklist of 50 things to do on foot in the Historic District (no car necessary).
Savannah First-Timer's Guide: If you're the type of traveler who wants all of your information in one handy guide, my ebook is the best way to go. It's the easiest way to start planning your trip!
---
Looking for More Things To Do in Savannah?
There are so many fun things to do around here; I don't think it's possible to get bored in Savannah! Here are a few additional posts you might want to check out:
---
What are your favorite fun things to do in Savannah Georgia? Drop a comment below!
---
Love this post? Pin it now to save for later!