Wondering which Bonaventure Cemetery Tour is the best — or if you should even tour it at all?
Whenever friends and family come for a visit, I always insist that Bonaventure is one of Savannah's must-see spots. It's easily one of the most beautiful cemeteries in Savannah.
Today I'm going to show you what makes it so special and give you some insider tips to help with your planning.
As usual, I'll include plenty of my favorite photos of Bonaventure! That way, even if you aren't able to travel to Savannah anytime soon, you can still enjoy a virtual visit.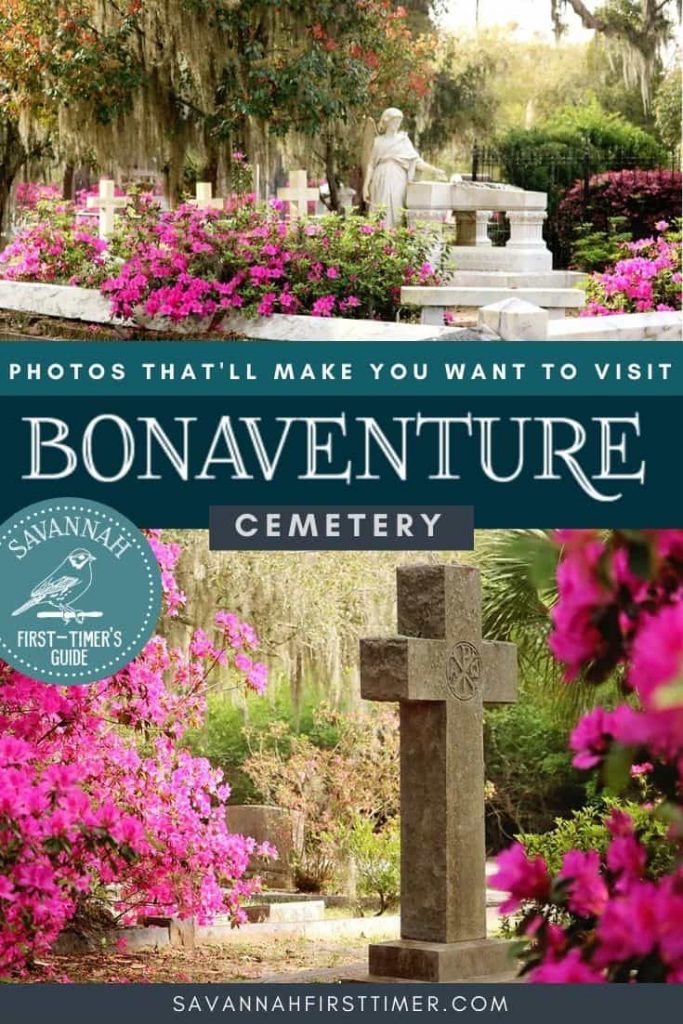 Note: This guide contains affiliate links to my trusted travel partners.
If you're new around here, first of all…allow me to extend a warm welcome!
My name is Erin, and I authored the Savannah First-Timer's Guide. It contains everything you need to plan the perfect trip to Savannah.
You might also be interested in:
🎟️ A Local's Take on the Best Things To Do in Savannah
Things to Know Before You Go
Bonaventure is located three miles from the Historic District.
Even if you enjoy walking long distances, the main road to get there is very busy and many areas don't have sidewalks. Therefore, I think it's best to go by car.
There ARE public restrooms on the grounds at Bonaventure. They're located just inside the entry gates, to the right. You can find a couple porta-potties scattered throughout the grounds, too.
If you visit anytime between April and September, it's likely to be hot and humid with a strong possibility of mosquitos and/or gnats. Bring bug repellant and plenty of water to stay hydrated!
There are a few dedicated parking spaces within the cemetery grounds. If you enter the cemetery and hug the right-hand side of the road all the way down until you see the water, you'll find a small parking lot just as the water comes into view. (When viewing Google maps, the lot is where Greenwich Road has a sharp bend in it along the waterfront.) There are three or four spaces near Little Gracie's grave, too.
If you'd like, you can pay and download the Bonaventure Historical Society app prior to your visit. Proceeds benefit preservation efforts at the cemetery. Apple | Google Play
Cemetery hours are 8 am to 5 p.m. daily.
The thing that every stranger in Savannah goes to see, as a matter of course, is Bonaventure."

Harriet Beecher Stowe, Palmetto-Leaves, Printed by Rand, Avery, & Co., 1873
Bonaventure Cemetery | 330 Bonaventure Road, Thunderbolt, GA 31404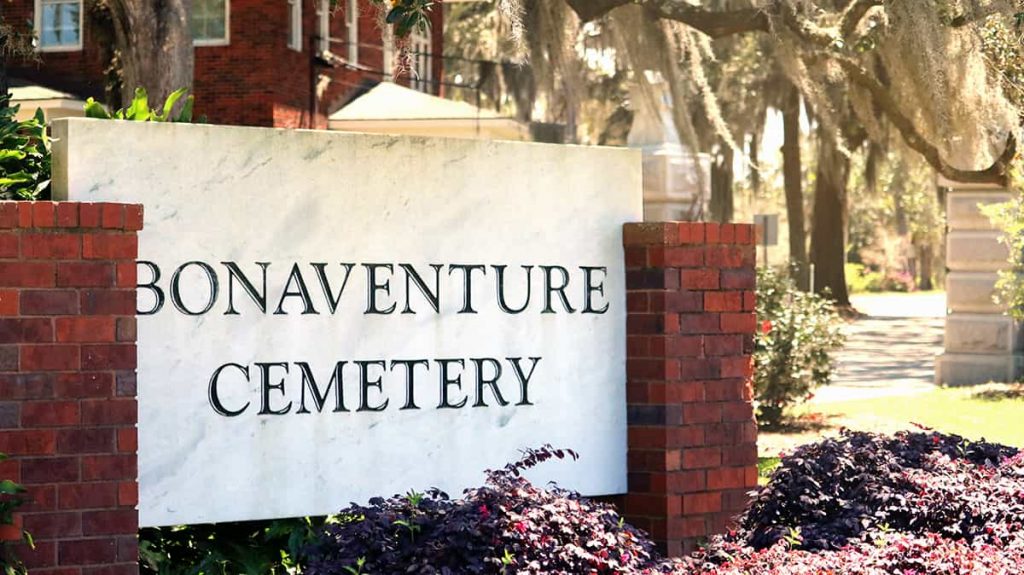 Bonaventure Cemetery Etiquette
Before I venture too far into this post, I want to cover a few important do's and don'ts for the cemetery.
I say this because I'm truly grateful for the opportunity to visit Bonaventure, and I hope I'll always be able to do so. In order for that to happen, we all need to be respectful when we visit!
Be sympathetic. Please remember that it's an active cemetery, and respect anyone who is there to grieve a family member or friend.
I don't know of any specific rule that prohibits visitors from parking on the side of the road, but the designated parking lots are a better option to ensure you don't accidentally damage the landscaping or any plots.
Please don't litter!
It's common cemetery etiquette to at least try to avoid walking atop a grave.
Dogs are welcome at Bonaventure, but please keep them leashed and pick up after them.
You're welcome to explore Bonaventure Cemetery on your own, either on foot or by car.
However, you'll have a far more enjoyable experience if you go with an experienced guide!
These are the two I recommend…
Bonaventure Cemetery Tour: Bonaventure Don
This popular tour is led by Don Teuton, who was previously the Vice-Chairman of the Bonaventure Historical Society. He still volunteers with them regularly.
His parents, grandparents, and great-grandparents are all buried at Bonaventure, so he has a deep connection to the place.
Mr. Teuton is very respectful of the cemetery's history, so you won't hear ghost stories and rumors during his tour. He focuses on the facts, which I appreciate.
As I say in the introduction of my Savannah First-Timer's Guide, this city is interesting enough on its own; there's no need to tell tales!
His tour is ultimately a history tour of Savannah and the many special people who built this city.
Aside from his wealth of knowledge, the biggest perk of Mr. Teuton's tour is that it's on a "name your price" basis — which means he has good incentive to make sure you love your time spent in Bonaventure!
Bonaventure Don Tour Details
One tour daily, offered six days a week (no tours on Monday)
Time to Allot: Plan to spend two and a half to three hours (You'll wish this tour was longer, too!)
Cost: Name your price
Don was awesome! He knows his stuff! The cool thing about him is that he has a long line of relatives that are laid to rest there. He is real and has an answer to every question. He comes prepared with water bottles, umbrellas, and pop up chairs, if you'd like. You pay him what you think he is worth for the tour, and if I could give him a million dollars I definitely would. You wont be disappointed.

Ana G. (via my Savannah First-Timer's Guide private Facebook Group)
Reservations Required! Book your Bonaventure Cemetery tour with Bonaventure Don here
---
Bonaventure Cemetery Tour: Bonaventure Dash
The owner of Bonaventure Dash, Tim Rowell, has lived in Savannah his entire life.
In fact, he's a sixth generation Savannahian — which is something few can claim. (Savannah is a surprisingly transient city; people come and go, but few put down long-term roots.)
Tim has a history degree and a lengthy background in the hospitality industry, both of which make him an ideal host for a stroll around Bonaventure.
He'll tell you all about the local legends who are buried in the cemetery, and you'll receive a mini Savannah history lesson from a trained historian!
One of the biggest perks of his tour is that Tim will pick you up at your hotel and provide round-trip, air-conditioned transportation (a huge plus during Savannah's sweltering summer heat!) to Bonaventure and back.
His is a one-man show, so he keeps the tours small. That means you get a highly personalized experience.
Bonaventure Dash Tour Details
Daily tours at 10 a.m. and 2 p.m. (2 p.m. only during the winter months)
Plan to allot two and a half to three hours total (that's including the stops at hotels for pickups)…and you'll probably end up wishing it was longer!
Cost: Approximately $35 and that includes transportation!
Just finished the Bonaventure Cemetery tour with Tim from Bonaventure Dash. He was fantastic! Wasn't so much like a structured tour, as it was a friend showing you around. Would 100% recommend!

Krista H.R. (via my Savannah First-Timer's Guide private Facebook Group)
My family and I have taken Tim's tour twice, and it's been a pleasurable experience both times. First off, him picking you up and dropping you back off at your hotel is a really nice deal. (He also plays music from Savannah's own Johnny Mercer on the trips.) The tour itself runs two hours or so and is done at a very smooth and manageable pace, and he'll pause to let stragglers get done taking pictures. He's a sixth generation Savannahian and a trained historian, so he knows of what he speaks. He presents stories about the cemetery, the city, and the area in a very detailed but understandable fashion, and he's one of the friendliest folks you'll ever meet, to boot. Highest possible recommendation.

Greg B. (via my Savannah First-Timer's Guide private Facebook Group)
Reservations Required! Book your Bonaventure Cemetery Tour with Bonaventure Dash here
---
Bonaventure Cemetery Photos
As much as I'd like to, I can't keep the beauty of this place to myself. Here are some of the photos I've taken during my many visits to Bonaventure.
As you can see, it's incredibly beautiful.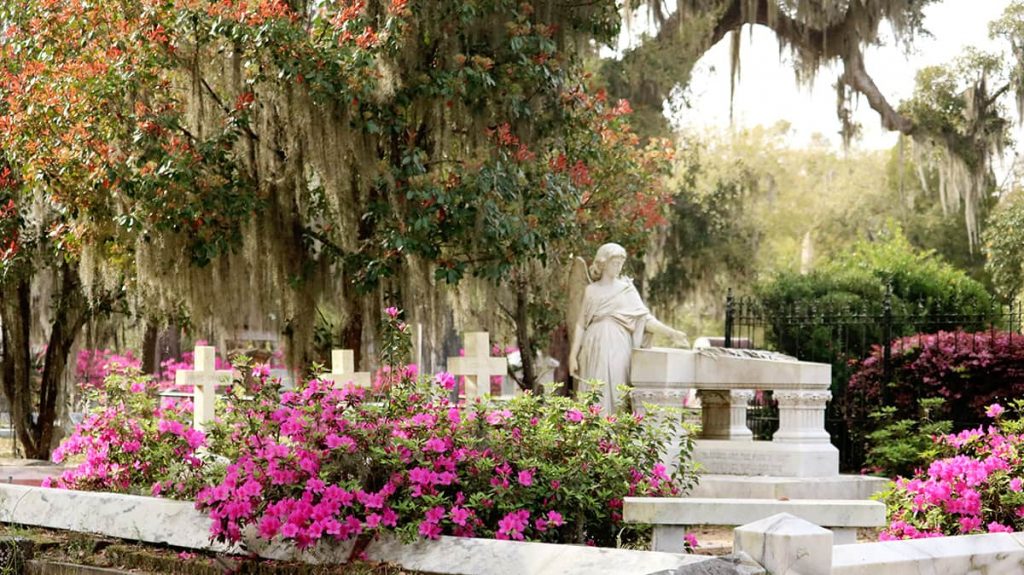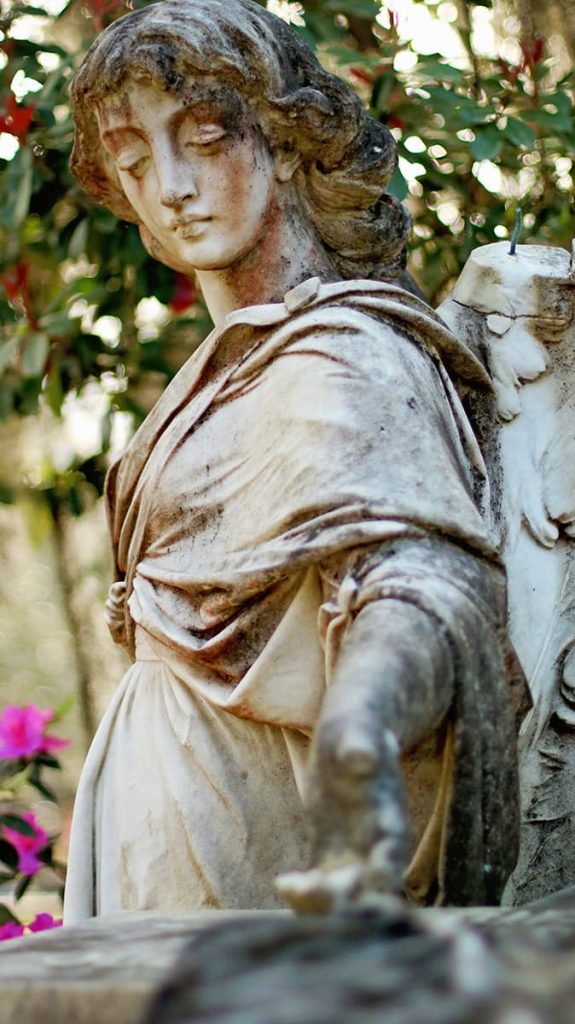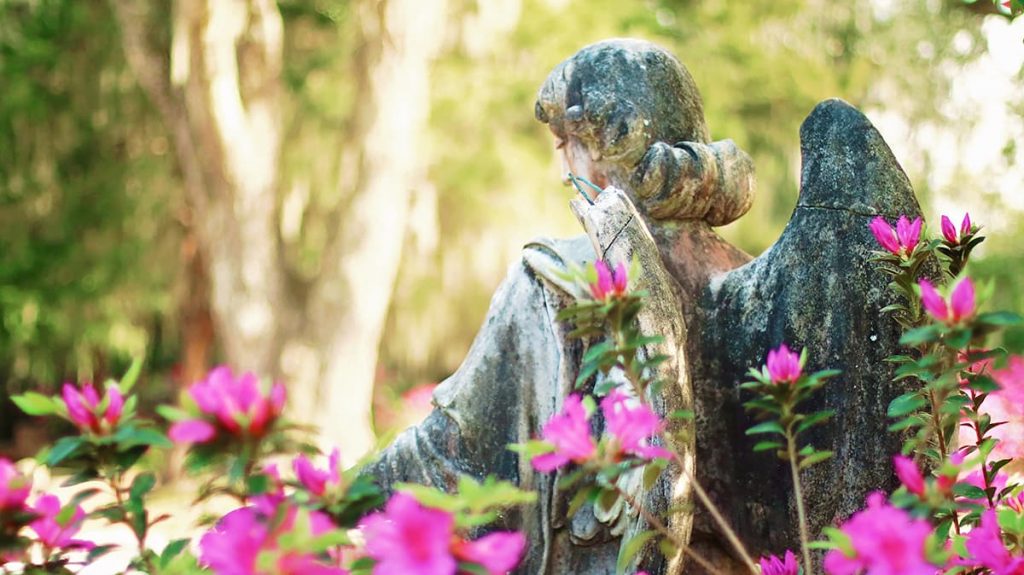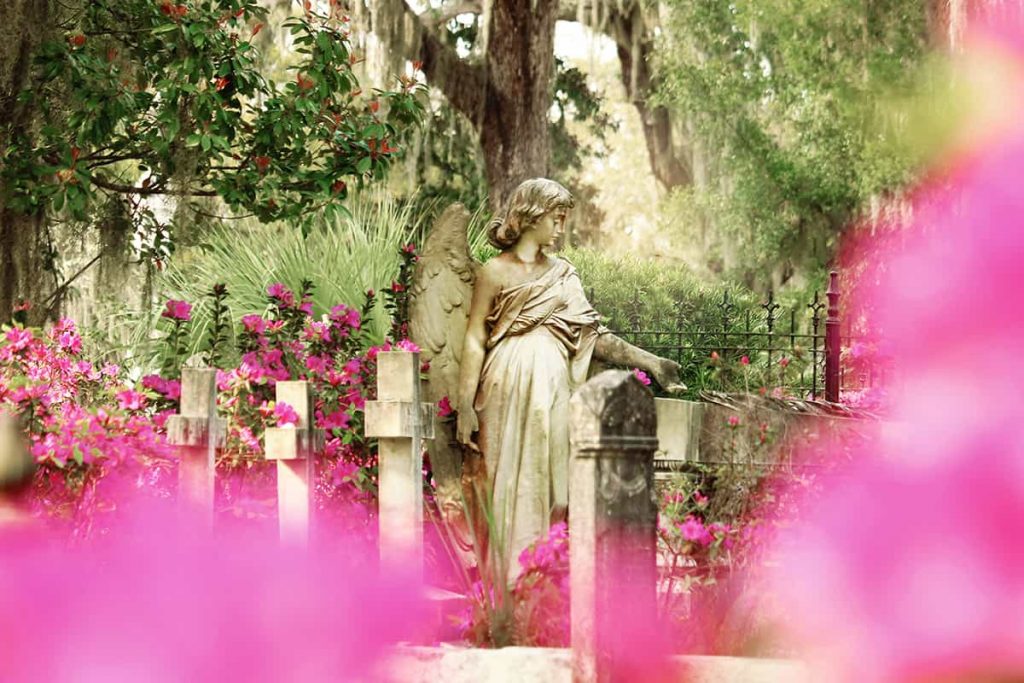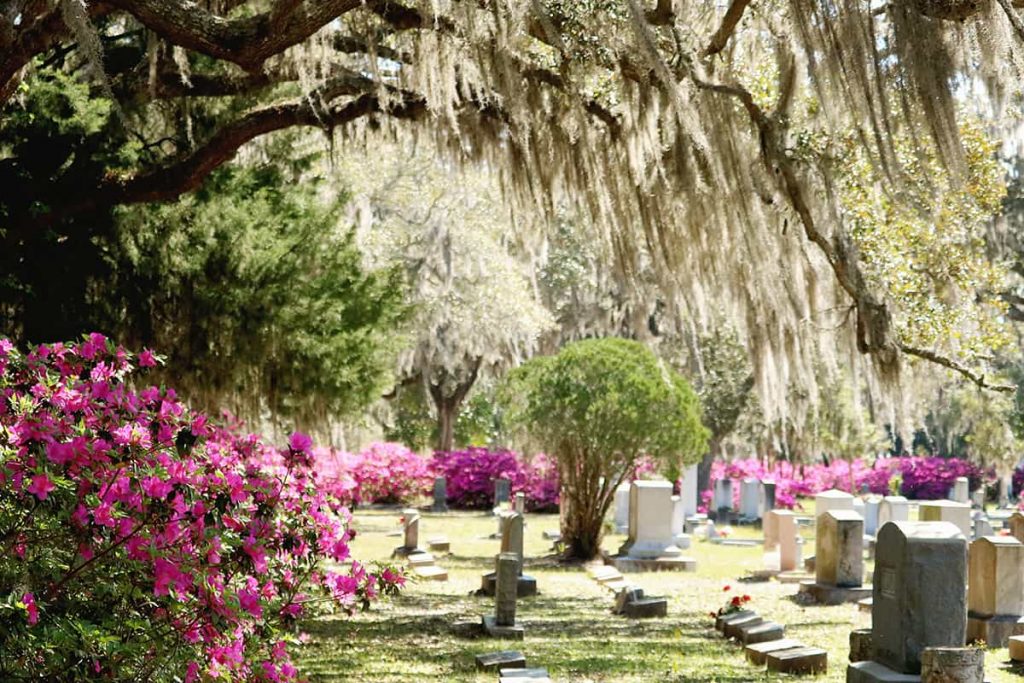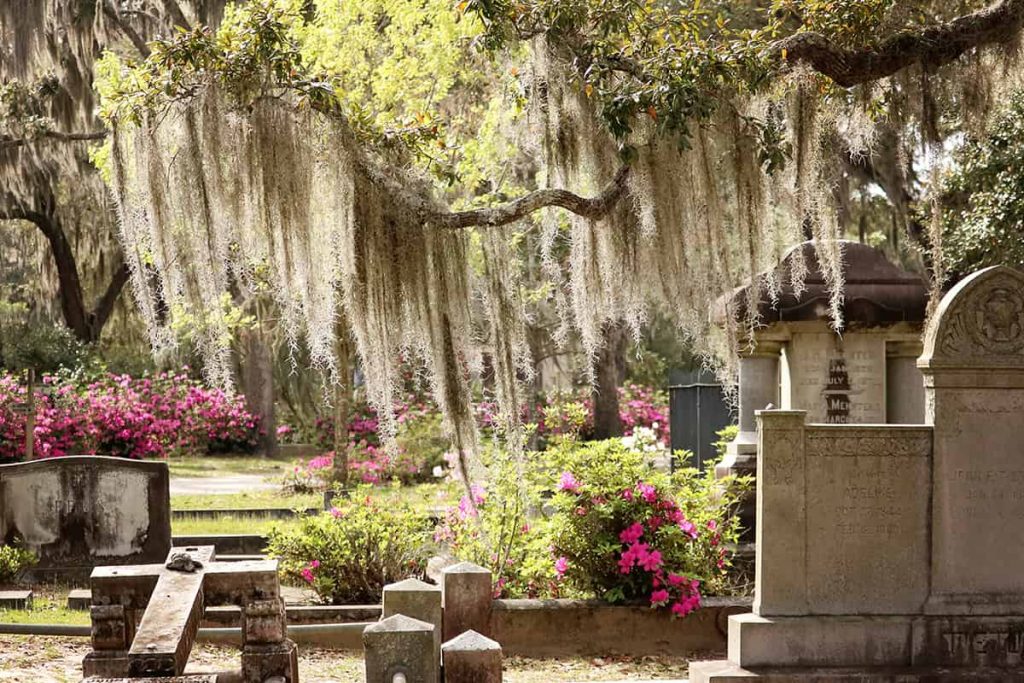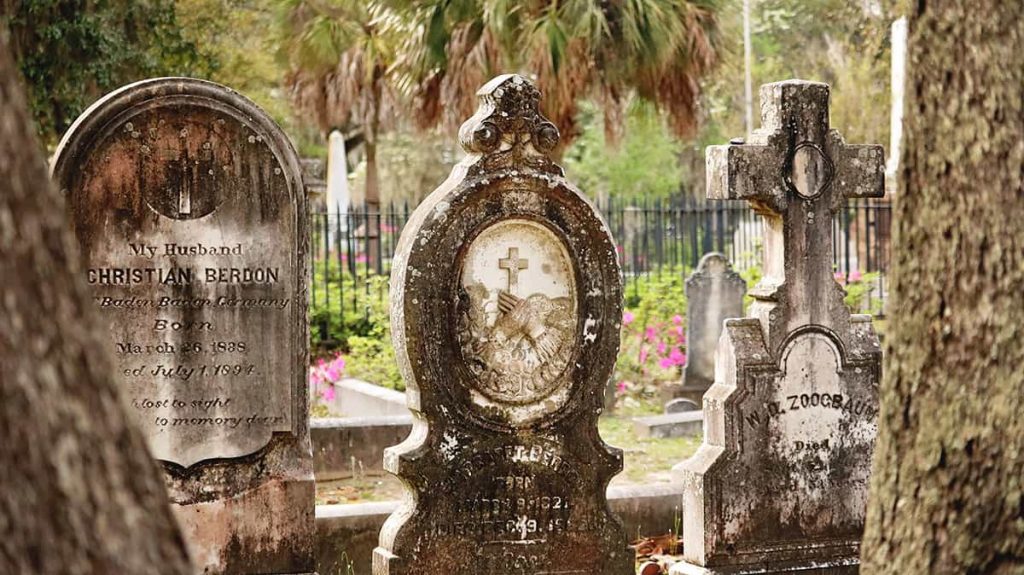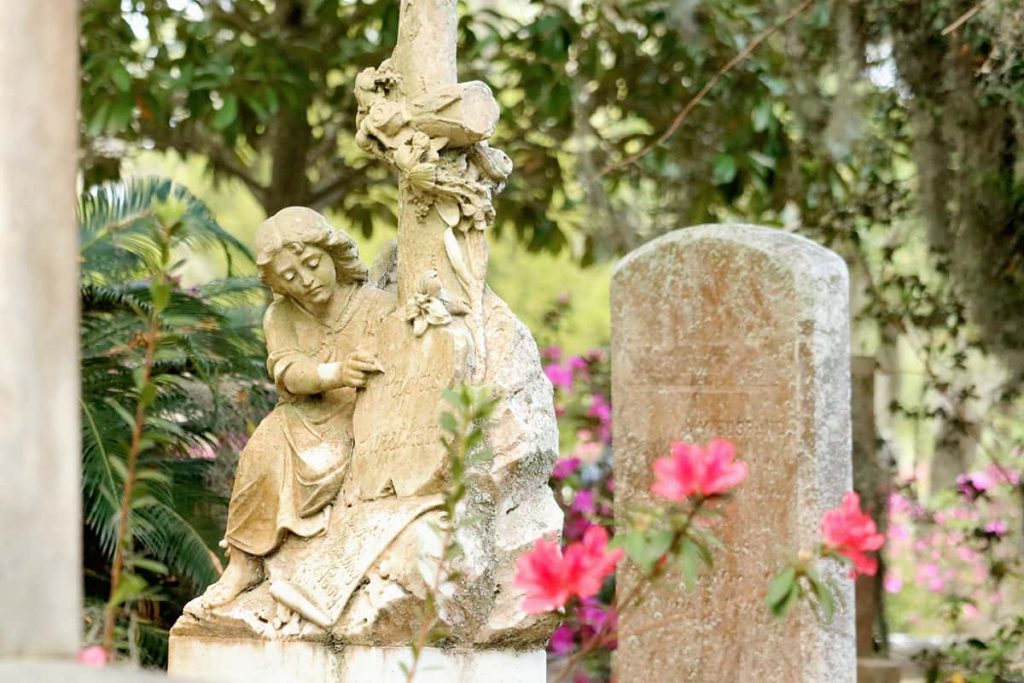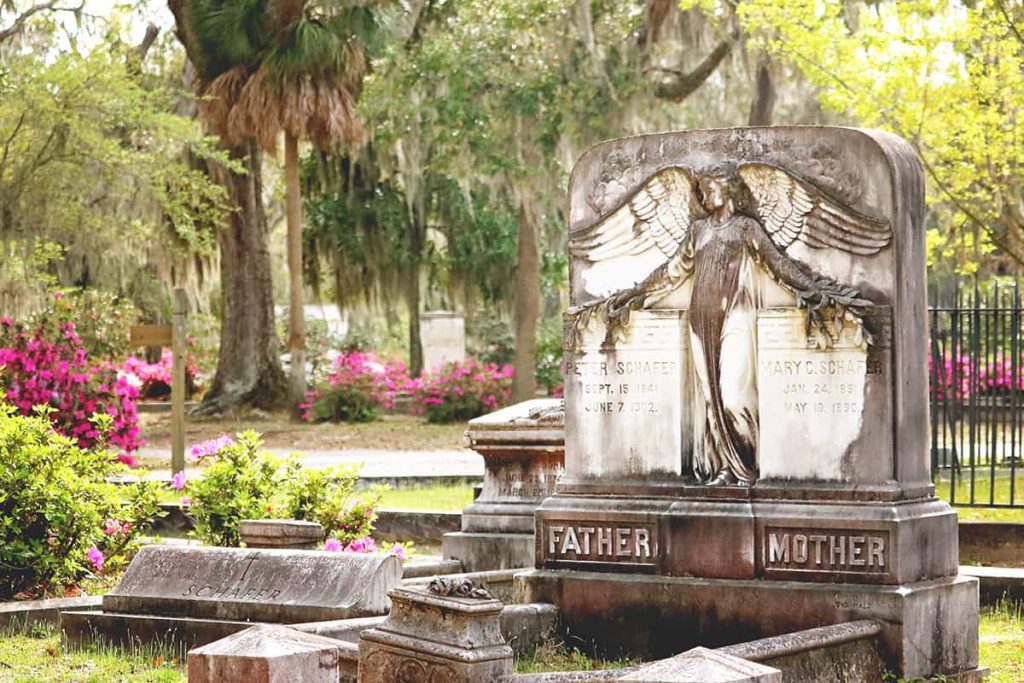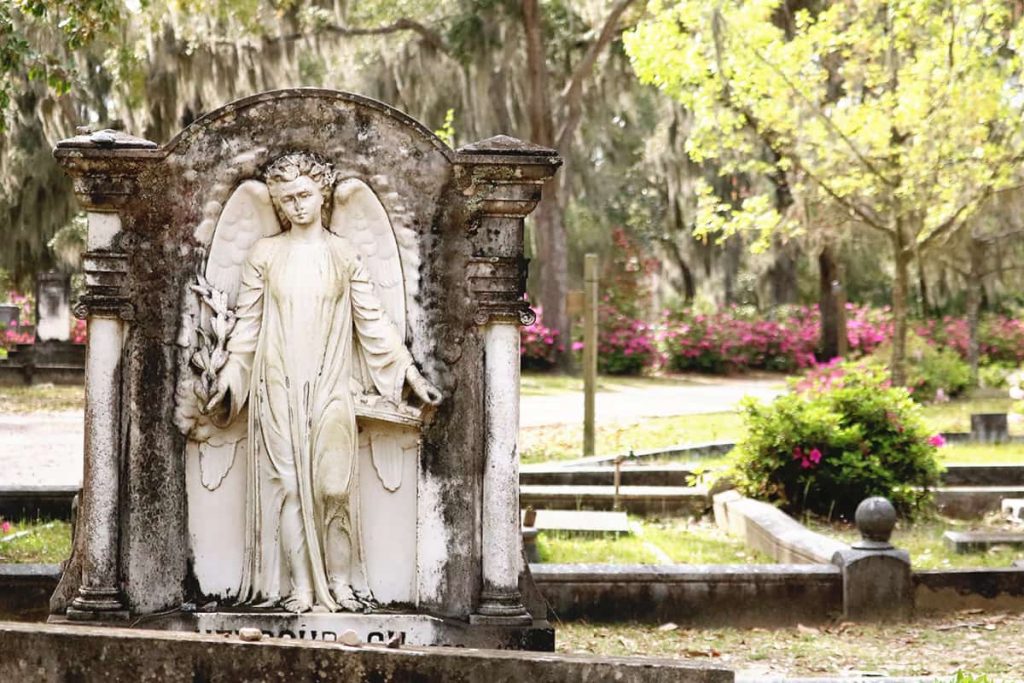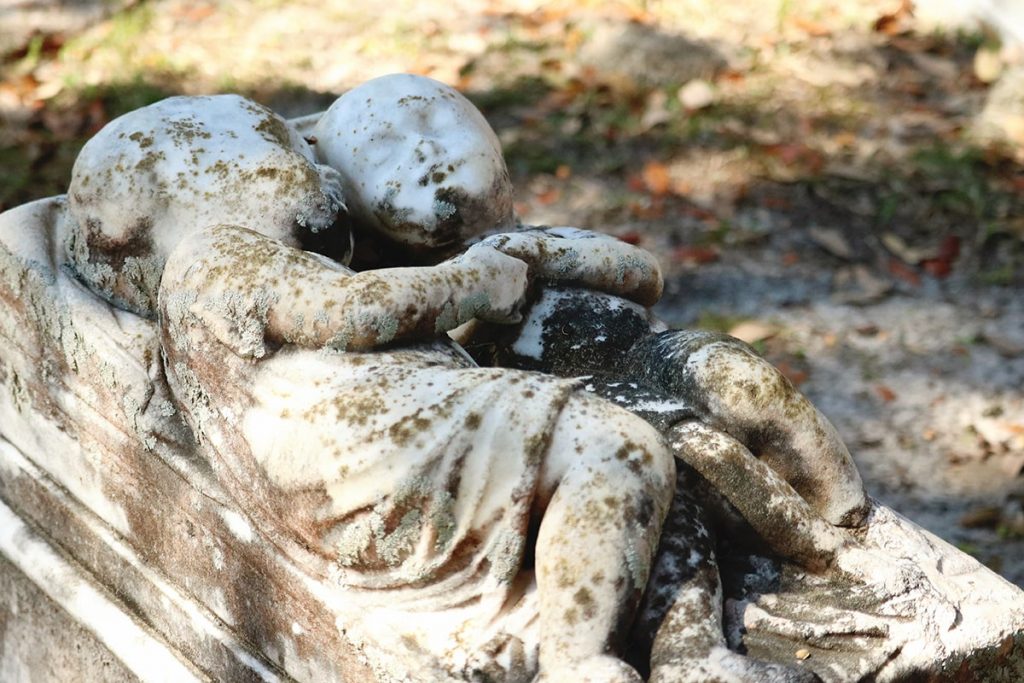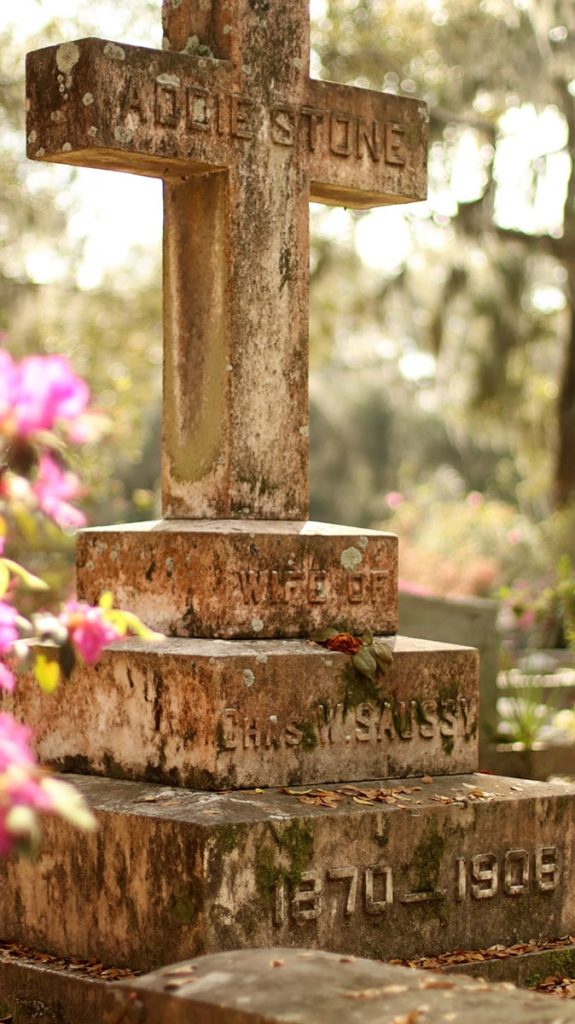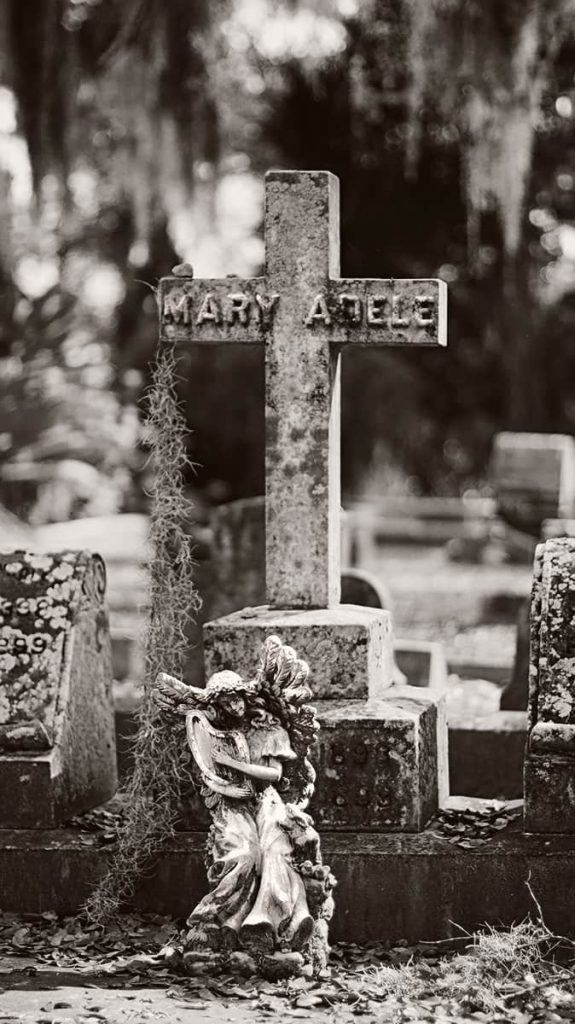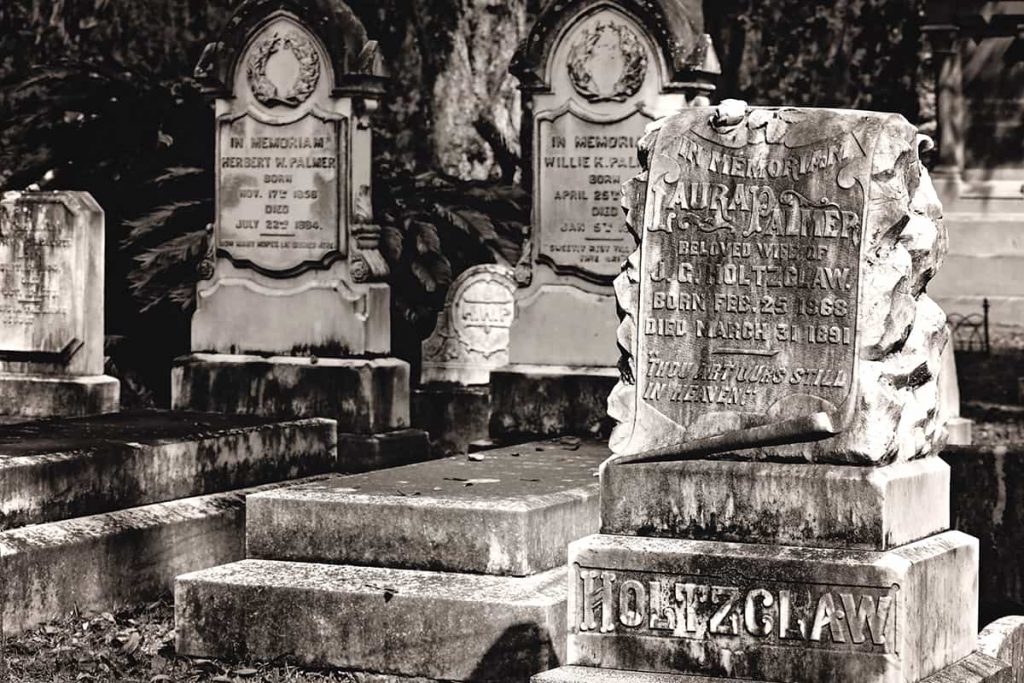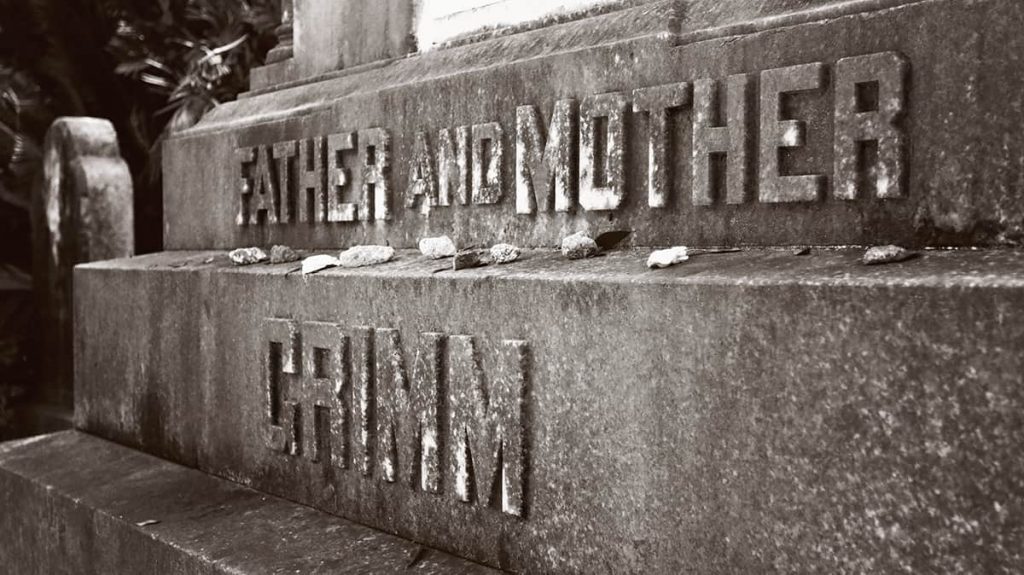 Landscaping at Bonaventure Cemetery
Much of what makes Bonaventure so beautiful is the land it sits upon.
The cemetery faces the Wilmington River, and it's quite a sight to behold when a soft coastal breeze stirs the Spanish moss dripping from those massive Southern oaks.
Sometimes I get chills even on the hottest of Savannah days when I'm out there!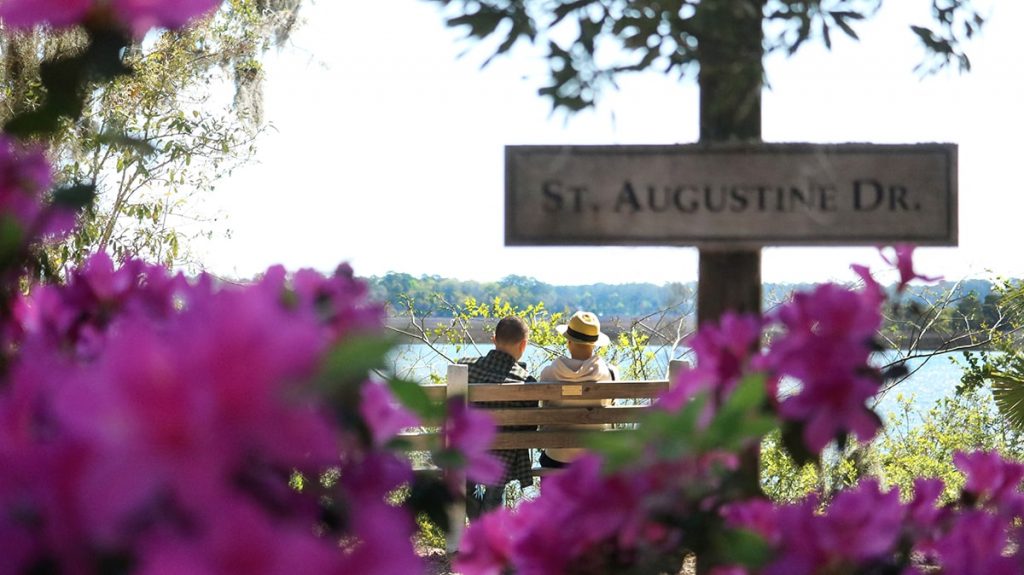 American author Harriet Beecher Stowe describes the scene much better than I ever could in her book, Palmetto-Leaves…
How shall we give a person who has never seen live-oaks or gray moss an idea of it?

Solemn avenues of these gigantic trees, with their narrow evergreen leaves, their gnarled, contorted branches feathered with ferns and parasitic plants, and draped with long swaying draperies of this gray, fairy-like moss, impress one singularly. The effect is solemn and unearthly; and the distant tombs, urns, and obelisks gleaming here and there among the shadows make it more impressive.

Harriet Beecher Stowe, Palmetto-Leaves, printed by Rand, Avery, & Co., 1873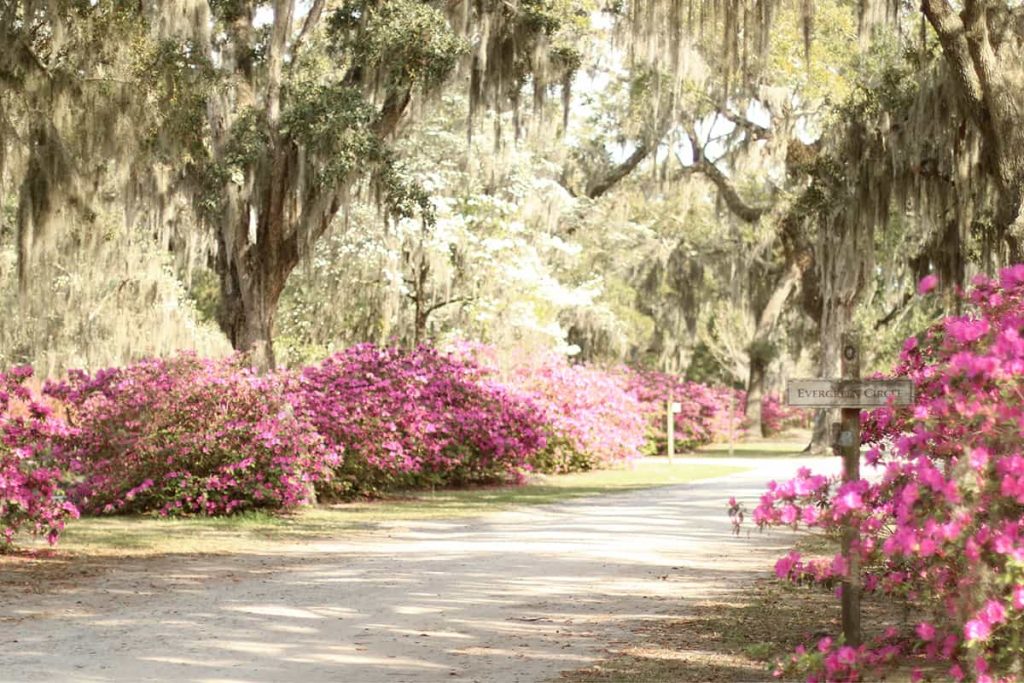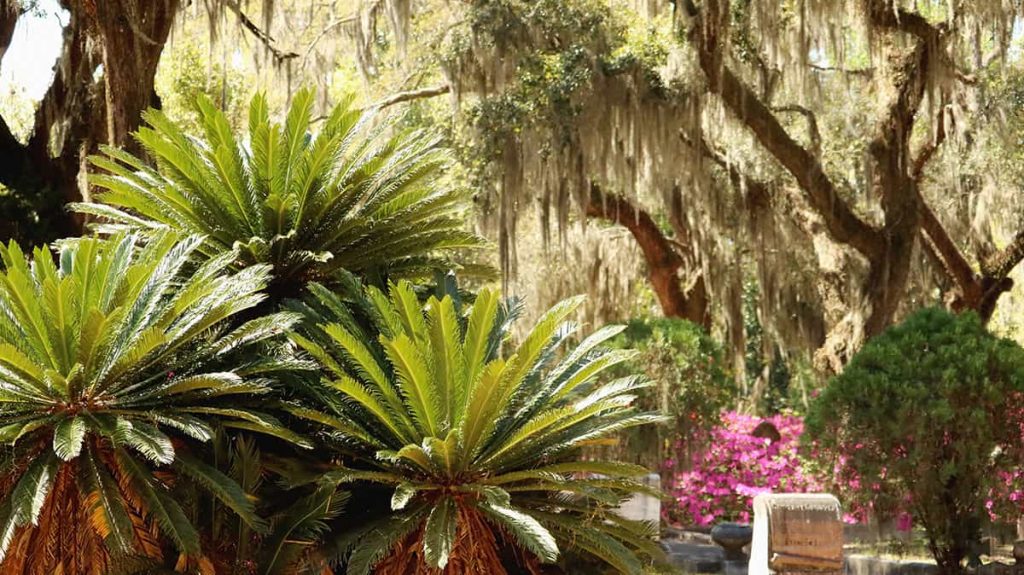 Bonaventure Don's tour is a good one to take if you want to learn more about the landscaping and how the cemetery has evolved over time.
He has been described as a walking encyclopedia on the topic!
Azaleas in Savannah
Of course, the most incredible time of year to visit Bonaventure Cemetery is when the azaleas are in full bloom. (It's also one of the best times of year to visit Savannah in general.)
The azaleas start blooming as early as late February and sometimes stretch into the first week in April.
Mid-March is usually peak azalea season in Savannah.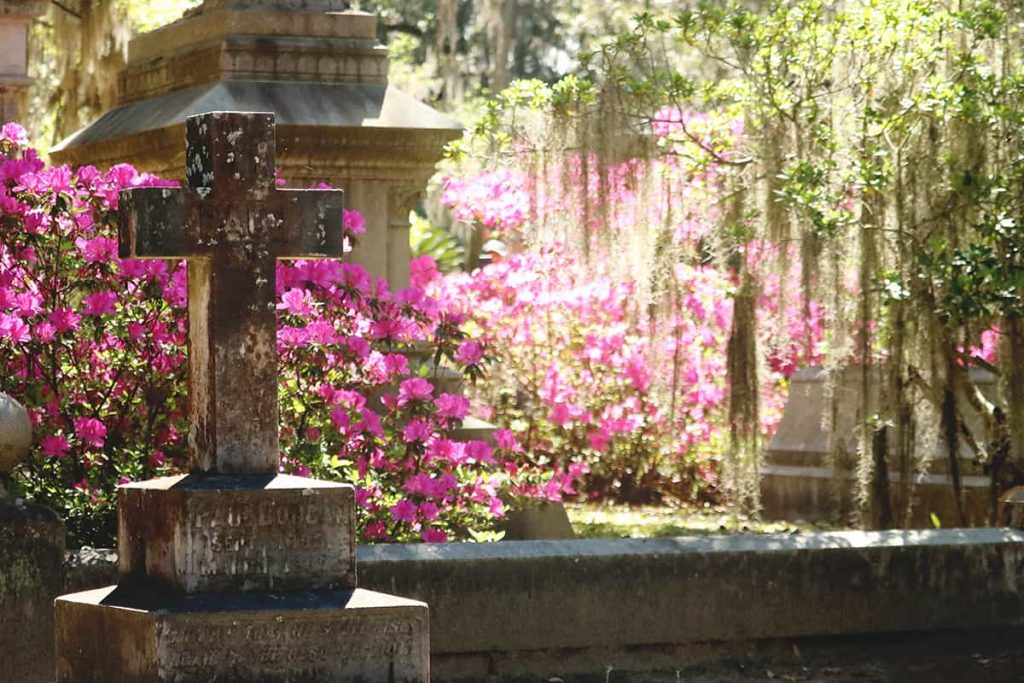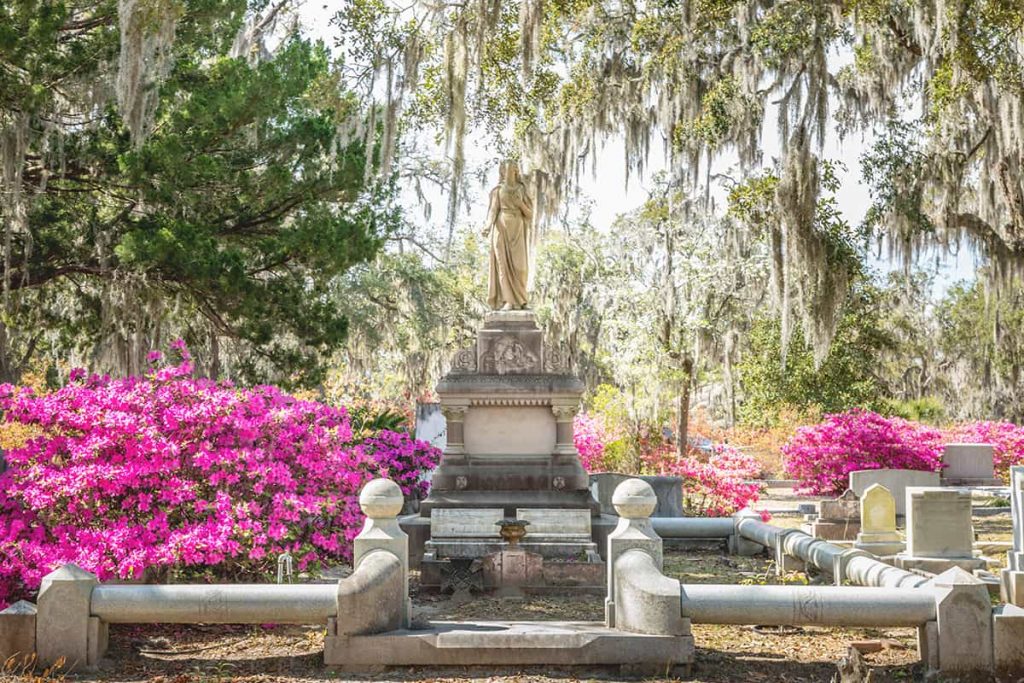 When people say the cemetery looks like a sea of pink during azalea season, they aren't kidding.
Hot pink azaleas dominate the grounds, and many of them grow six feet high — or taller.
I've spoken to older Savannah residents who have told me the azaleas used to grow as high as a house!
These days the landscapers keep them trimmed to a more respectable level.
In addition to the azaleas, you'll also find camellias, dogwoods, and magnolias throughout the grounds.
Related Reading: When is the Best Time of Year to Visit Savannah?
---
Famous Statues in Bonaventure Cemetery
Plenty of famous people have been buried in Savannah, and a tour of Bonaventure Cemetery will give you a behind-the-scenes peek into many of their lives.
Here are a few of the cemetery's more well-known residents…
Little Gracie Watson Grave
Gracie Watson, or "Little Gracie," as she's affectionately known, has become more famous in death than she was in life.
That's thanks to the local ghost tour guides who often include her story when weaving tales about Savannah.
According to them, Little Gracie was quite popular with guests at the Pulaski House hotel, which her dad managed.
The hotel faced Johnson Square and was considered one of the best hotels in all the land. (Do I sound like a tour guide yet?)
Gracie was said to be a friendly little child who often sang and danced in the hotel lobby to entertain guests.
She was beloved by locals, visitors, and her parents…right up until her untimely death.
Sadly, Little Gracie died of pneumonia when she was only six years old.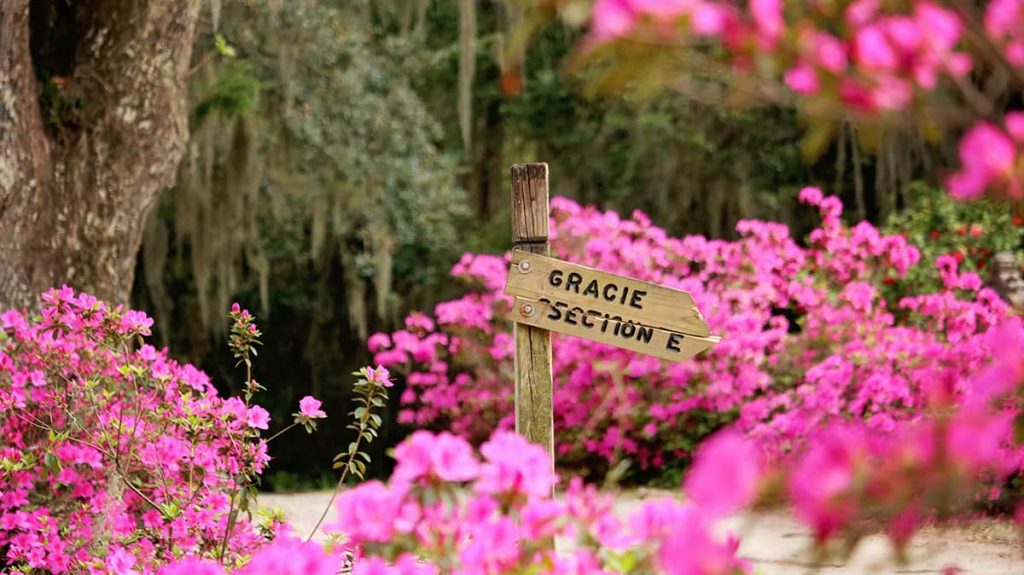 When she passed away, her father sunk into a deep depression.
He gave a photograph of Little Gracie to a sculptor who had just arrived in Savannah, and that sculptor created a rather life-like monument based off of it.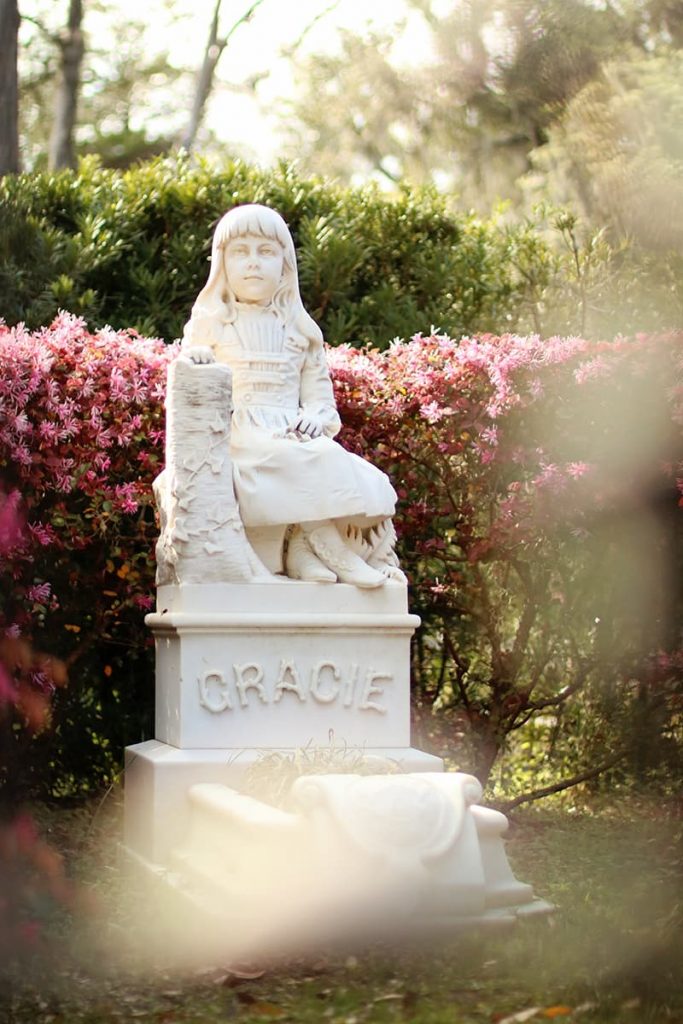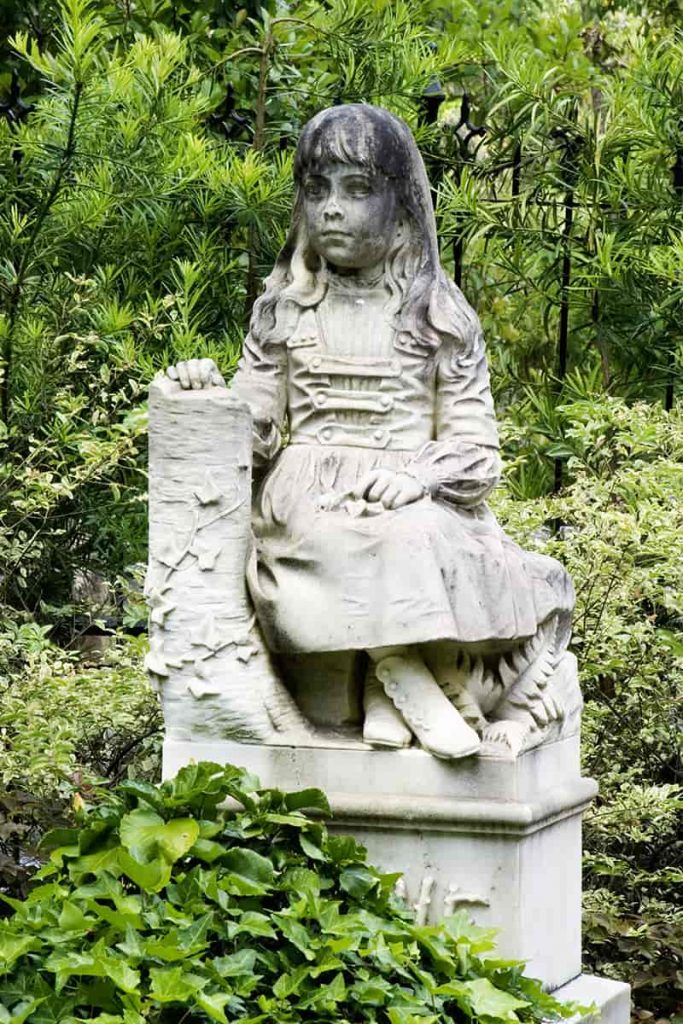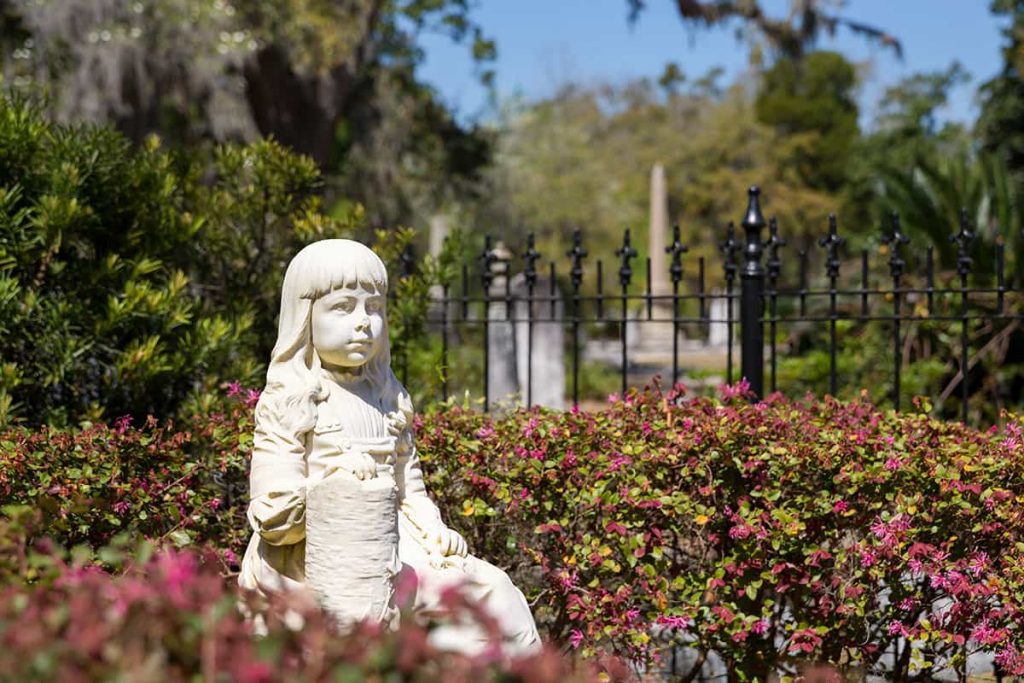 Eventually, Gracie's parents moved back to their hometown in New England, leaving Gracie all alone at her plot in Bonaventure Cemetery.
Tour guides claim Gracie's spirit still dances around Johnson Square.
Sometime shortly after the stories of Gracie became commonplace, a tradition began of visitors leaving presents at her gravesite to comfort her.
These days, there's a fence around her plot, but people still leave gifts just inside the iron gate.
Related Reading: Discover the 11 Most Haunted Places in Savannah
Johnny Mercer Grave
Johnny Mercer was born in Savannah in 1909 and went on to become a famous singer, songwriter, and composer.
He won multiple Academy Awards, Oscars, and Grammys before his death in 1976.
My favorite song of his is "Moon River", which was made famous by the Audrey Hepburn movie, Breakfast at Tiffany's.
I also love "In the Cool, Cool, Cool of the Evening" (the Bing Crosby version).
It makes me happy that so many of his lyrics are so cheerful.
Moon River is located south of Savannah, near Pin Point Heritage Museum and Butter Bean Beach.
Those just happen to be two of my favorite places in Savannah to catch a sunset!
Side Note: Pin Point is also one of the top tours I recommend in my Savannah First-Timer's Guide ebook. It's a fantastic place to learn about the Gullah-Geechee people.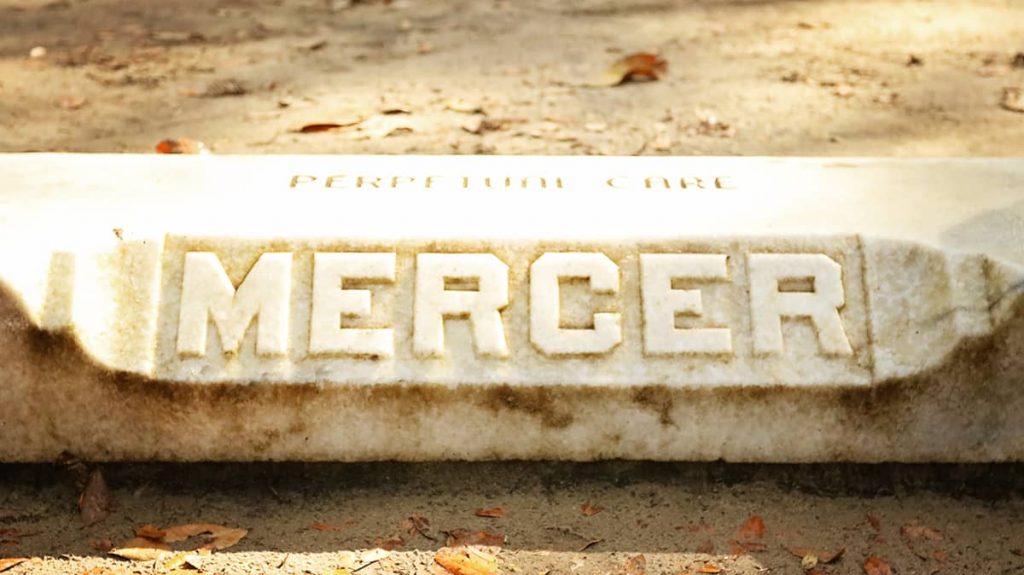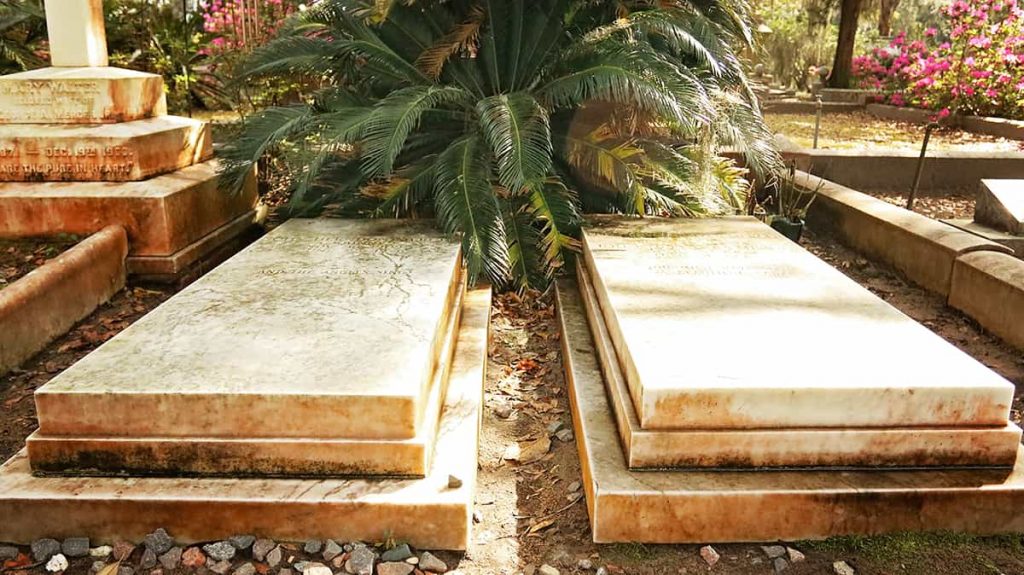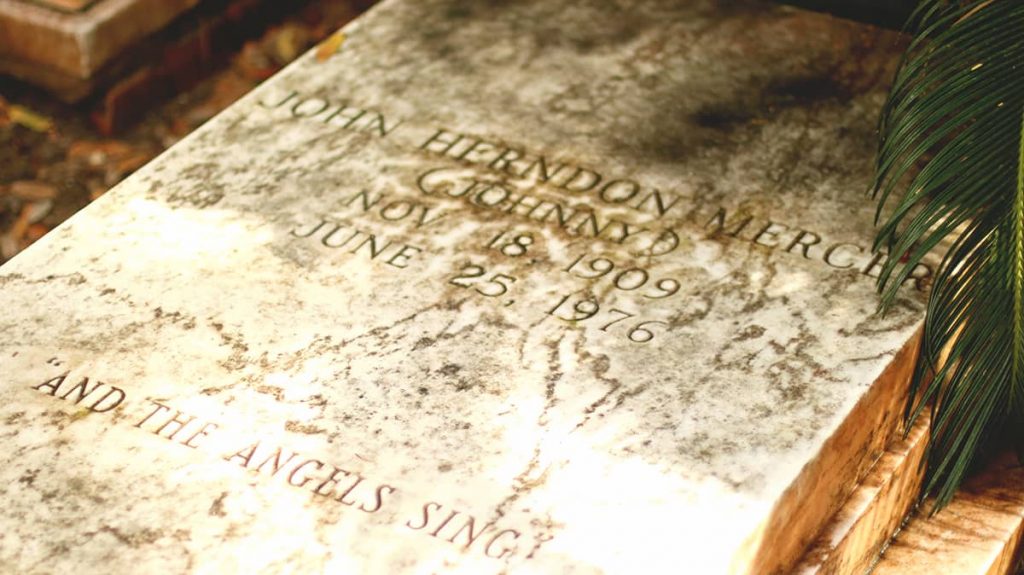 Mercer is credited with writing or co-writing approximately 1500 songs during his lengthy career.
I'm a big proponent of positive thinking, so I've always appreciated the lyrics to his song, "Ac-Cent-Tchu-Ate the Positive".
You've got to accentuate the positive
Eliminate the negative
Latch on to the affirmative
Don't mess with Mister In-Between

John "Johnny" Herndon Mercer – Lyrics from "Ac-Cent-Tchu-Ate the Positive", 1944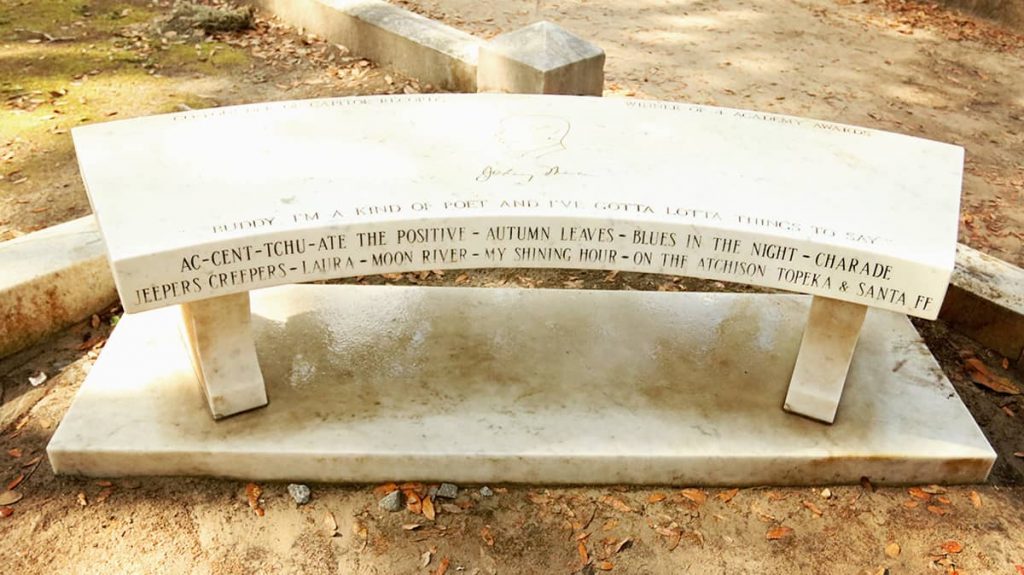 Historic Marker: You can find the historic marker for Johnny's childhood home in Savannah's Historic District at 226 E. Gwinnett Street — kitty corner from the Kroger.
Conrad Aiken Grave
Conrad Aiken was perhaps best-known for his poetry; he served as U.S. Poet Laureate from 1950 to 1952.
Aiken was born in Savannah in 1899, but had to move up north to live with relatives when his father tragically killed his mother and then committed suicide.
Instead of a traditional headstone, his grave is marked by a bench which visitors can use to rest and take in the beauty of Bonaventure.
Like many of Savannah's most well-known destinations, his final resting place reached notoriety after a mention in John Berendt's bestseller, "Midnight in the Garden of Good and Evil".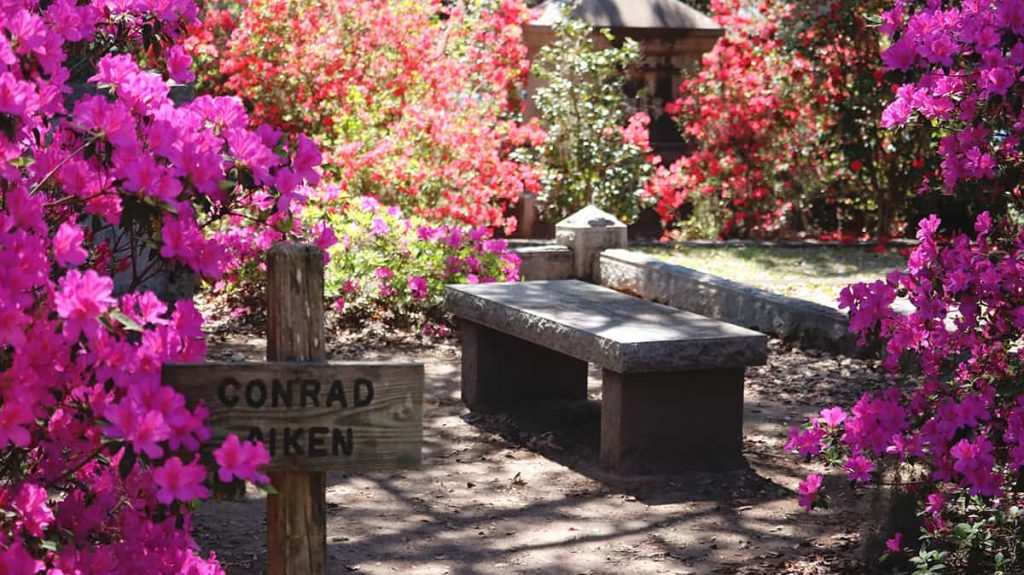 The poignant inscription on it reads, "Cosmos Mariner – Destination Unknown | Give My Love to the World."
He shares his tombstone with his third wife, Mary Hoover Aiken, who was an artist. The Metropolitan Museum of Art currently owns two of her pieces.
The Bird Girl Statue
The Bird Girl Statue, aka: "Little Wendy", became famous in 1993 when Jack Leigh photographed her as dusk enveloped one of the family plots at Bonaventure.
His photograph ended up gracing the cover of John Berendt's book, "Midnight in the Garden of Good and Evil".
After the book became a New York Times Best Seller, people visited Bonaventure Cemetery in droves to see The Bird Girl statue.
The family donated the statue to Telfair Museum, and it currently resides at Jepson Center of the Arts.
---
Bonaventure Cemetery FAQs
What time does Bonaventure Cemetery close?
Bonaventure Cemetery is open from 8 am – 5 pm daily. The gates close at exactly 5 pm, so make sure you head towards the exit at least 15 minutes before closing.
How far is Bonaventure Cemetery from the Historic District?
Bonaventure is located three miles from downtown Savannah. While you could walk or bike to get there, driving is by far the easiest method. The neighborhoods closest to the cemetery don't have sidewalks, so they aren't very pedestrian-friendly.
Should I book Bonaventure Cemetery tickets in advance?
You don't need a ticket to enter Bonaventure Cemetery. It is free to enter and drive or walk around on your own. You only need to purchase a ticket in advance if you want to go on a guided tour.
Who is Gracie in Bonaventure Cemetery?
When people talk about Little Gracie, they're referring to Gracie Watson, who is buried in Bonaventure Cemetery. Her plot is one of the most visited in the cemetery, thanks to the many ghost tour guides who like share her story. She was born in 1883 and died in 1889, and it's often said her spirit can still be found roaming Johnson Square.
Which section of Bonaventure is Gracie in?
You can find little Gracie Watson in Section E of Bonaventure Cemetery. There's a wooden sign pointing directly towards her plot. There are a few individual parking spots not far from her grave.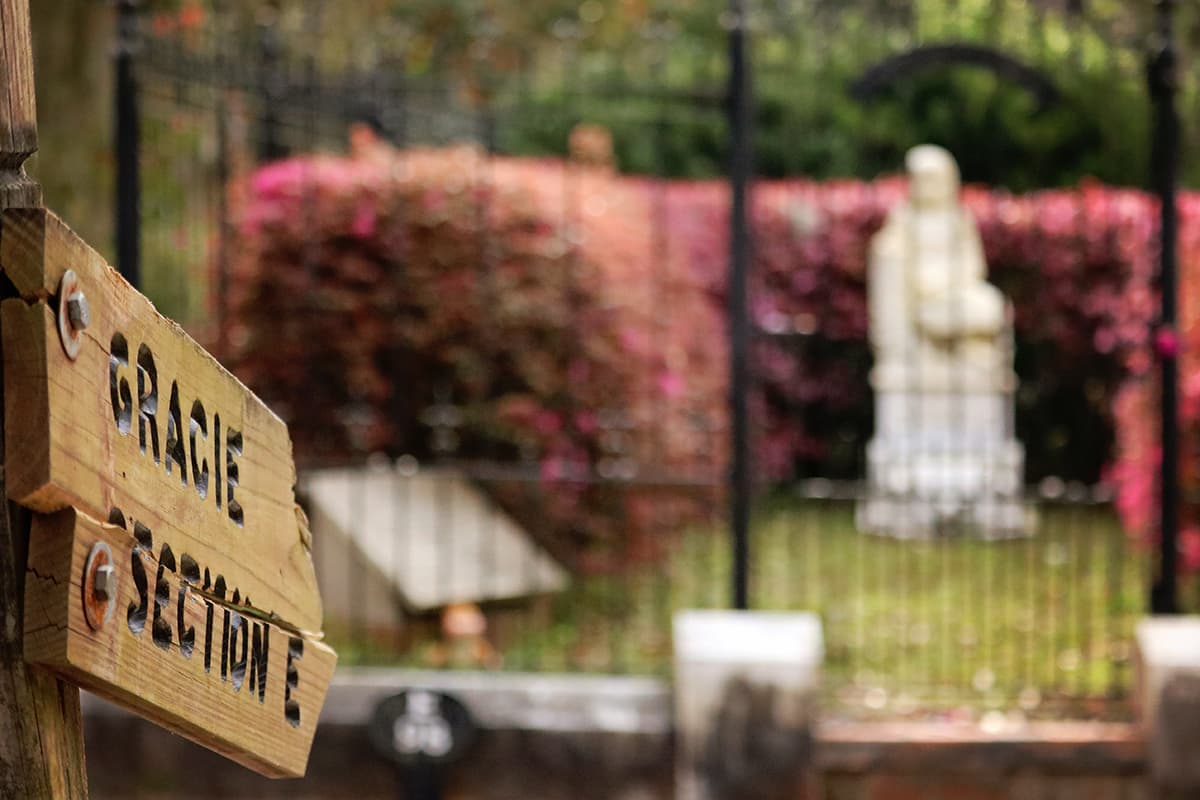 Where is the Bird Girl statue in Bonaventure Cemetery?
The Bird Girl Statue, which was made famous by the book Midnight in the Garden of Good and Evil, is long gone from Bonaventure Cemetery. It was removed after the book became wildly popular and drove massive numbers of tourists to the cemetery. It now resides at the Jepson Center.
Related Reading: Discover the Most Authentic Black History Tours in Savannah
---
Final Reminders When Visiting Bonaventure Cemetery
Don't forget to book your tours in advance, and don't forget bug repellant and water, unless your tour guide provides them.
If you want to download the app, do that before you head out to the cemetery. Finally, don't forget your camera! You're going to want to take lots of photos.
---
Savannah Travel Guide
Want more photo inspiration for your trip to Savannah? Check out these popular posts…
Finally, don't forget to purchase a copy of my Savannah First-Timer's Guide ebook. It has all the information you need to plan your trip.
You'll also gain access to my private Facebook group for first-time visitors, where you can pick my brain and read reviews from other recent travelers.
---
Love this post? Pin it now to save for later!