Wondering what to expect for Halloween in Savannah? I'll be perfectly honest with you — it's cool, but it's not nearly as spectacular as you'd expect from a city dubbed one of the "Most Haunted Cities in America."
That's just my opinion, though, so yours may differ. I've included my reasoning below. As always, I've also included plenty of my favorite Halloween photos from various areas around the city!
Note: This guide contains affiliate links to my trusted travel partners.
Halloween in Savannah
I'll be brief and give you a quick rundown of the top pros and cons of Halloween in the city…
Pros: There are at least a couple dozen ghost tours in Savannah on any given night of the week, the bars in the city's "entertainment zones" are fun places to show off wild and crazy costumes, Wag-O-Ween is a cute way to get into the spirit (while also raising funds for a good cause), and the team behind Graveface Museum consistently comes up with a plethora of events to ring in the spooky season.
Cons: The downtown area (lookin' at you, Savannah Historic District) has become the land of absentee Airbnb hosts, which means homes that once went all out for Halloween no longer do so. Downtown has also lost much of its sense of community along with the departure of its full-time residents, so most locals head to neighborhoods further south for trick-or-treating. The ever-present Savannah safety factor and understaffed police department also makes it feel a bit iffy to be out roaming the streets downtown late at night, but it is where you'll find the biggest party scene.
OK, let's get to the main areas of Savannah where you can find Halloween decorations and activities!
Historic District
The Historic District is where most visitors tend to stay in Savannah. However, as mentioned above, the decorations in the area have gotten pretty slim in recent years.
Because of that, if you visit and stick to the Historic District, you'll see some beautiful homes — but only a small handful will be decorated for Halloween. Some might stick a few pumpkins on the porch, but for all-out spooktacular decorations, I'd guess less than 25 homes in the entire district offer that.
You will, however, find a decent party scene in the "entertainment zones" within the Historic District. Those areas include City Market, River Street, and the Plant Riverside District.
Graveface Museum is located between River Street and Factors Walk, and it has a good Halloween vibe! It's definitely the place to go if you're a true crime fanatic.
Related Reading: Savannah Georgia in October: Events and Things To Do
---
Ardsley Park Wins Halloween!
As far as I'm concerned, Ardsley Park wins Halloween in Savannah every year.
It's a neighborhood located south of the Historic District, Victorian District, and Starland District. If you check out a map, the Ardsley Park area starts south of Victory Drive.
The homeowners come up with really creative decorations (like the spooky circus theme, pictured below) and hand out the good candy, and the area has more of a neighborhood feel to it than the downtown area, which — let's be honest — is starting to feel overwhelmingly like Disneyland with all the haunted trolleys, ghosts tours, and hearses hauling tourists around.
Ardsley Park is the closest area to the Historic District where kids actually go from door-to-door trick or treating and families really get into the Halloween spirit!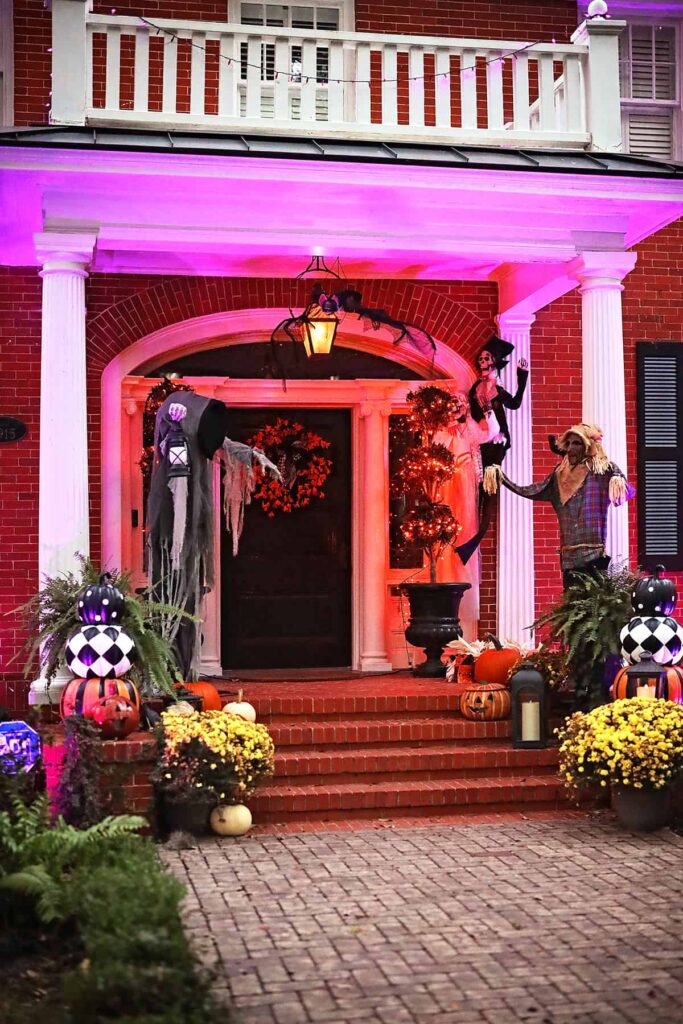 I hope my little summary of Halloween in Savannah was helpful. I'll add more photos next year!