Savannahians love to celebrate all things spooky, so it should come as no surprise that the Historic District is loaded with fun activities in October — especially ghost tours.
I can just picture it now: Groups of wide-eyed visitors packed into Wright Square, listening intently as their tour guide weaves tales of Savannah being "built upon its dead"…the clippety-clop of a horse drawn carriage echoes through the night while clumps of Spanish moss sway gently in the trees…and then a shadowy figure emerges from the dark to say, "That'll be $30 — cash, check, or Venmo."
Mwahhahaaa. Such a creepy city!
But seriously, if you're not into chasing spooky spirits, Savannah also has fall festivals, pumpkin patches, a film festival, PRIDE events, pub crawls, costume contests, seafood festivals, and more. I've gathered them all together for you and created the ultimate list of things to do in Savannah in October!
If you're new around here, first of all…welcome! My name is Erin, and I authored the Savannah First-Timer's Guide. I have a lot of fun helping newbies plan their trips to Savannah.
You can use this handy table of contents if you want to skip to a specific section…
October in Savannah GA
Anyone who knows me knows that fall is my favorite time of year! In fact, I frequently tell visitors it's the best time to visit Savannah. I know most people love spring, but hear me out…
Savannah is known for this horribly frightening thing called H U M I D I T Y (trust me, it's much scarier than ghosts!), but towards the end of October the swampy air finally begins to dissipate and the morning air turns crisp and clear. Late October means there are six months of mild weather ahead, and that's a very good thing.
FYI: If you're planning a visit to see the fall color, that doesn't usually happen until November…sometimes later.
---
Fall Festivals in Savannah
I've tried to sort all of the events by category to help you out. I'll also update this post regularly and add new events as I hear of them.
NOTE: Savannah PRIDE has been cancelled for October of 2021, but you can still see the After Dark Cabaret (which is also a fundraiser).
---
Pumpkin Patches in (or Near) Savannah
Savannah's Historic District is too small and crowded to allow for pumpkin patches, so you'll have to venture beyond the outskirts of the city for that. These are the best options…
Poppell Farms | 1765 Hyma Poppell Loop, Odum, GA 31555
Open October 2 – 31, 2021
Family Friendly!
Poppell Farms features a huge 10-acre corn maze, a pumpkin patch, wagon rides, a petting zoo, pumpkin chunkin', catch-n-release fishing, pony rides, Farmer Brown's Playground for the littles, and more. They also have after dark haunted activities.
Learn More: Poppell Farms Fall Festival 2021

Madrac Farms | 580 Ralph Rahn Rd, Rincon, GA 31326
Every Sat & Sun in October
Family Friendly!
The pumpkin patch includes a pumpkin patch, pumpkin picking, a corn maze, farm animals, a big pumpkin display, and a rotten tomato sling shot.
Learn More: Madrac Farms Pumpkin Patch 2021

Holiday Farms | 10884 Grays Hwy, Ridgeland, SC 29936
Open October 1 – 31, 2021 | Thursday – Sunday
Family Friendly!
Their great pumpkin patch includes pumpkin picking, concession stands, a General Store, a petting barn, wagon rides, and more.
Learn More: The Great Pumpkin Patch at Holiday Farms 2021
---
Fall Food Festivals in (and around) Savannah
Savannah Greek Festival | Hellenic Community Center, 14 W Anderson St, Savannah, GA 31401
October 7 – 9, 2021
Family Friendly!
This popular annual event is being held online this year. Head to their site to order your spanakopita, baklava, gyros, (and more!), and then drive through the Hellenic Center to pick up your goodies.
Learn More: Savannah Greek Fest

Great Ogeechee Seafood Festival | 521 Cedar Street, Richmond Hill, GA 31324
October 15 – 17, 2021
Family Friendly!
This massive 3-day event is filled with incredible seafood, drinks, and live music. There's a carnival with amusement rides, plus arts and crafts for the kids. Expect crowds, since people travel from throughout the South to attend!
Learn More: Great Ogeechee Seafood Fest

HHI Gullah Seafood Festival | Gullah Museum of HH, 12 Georgianna Dr, HHI, SC 29926
October 30, 2021 | 11 am – 4 pm
Family Friendly!
This annual cultural event celebrates traditions of the Gullah community of the Lowcountry. You'll find seafood, song and dance, Gullah stories, and face painting events for the kiddos.
Learn More: Gullah Seafood Fest

---
FTC Disclosure: This post contains affiliate links, which means I may receive a commission, at no extra cost to you, if you purchase through one of my links. Please see my full affiliate disclosure for additional information.
---
Ghost Tours in Savannah
In a city that celebrates spirits year-round, it should come as no surprise that October has ghost tours galore! From walking tours to trolley tours to hearse tours, you'll find plenty of ways to connect with Savannah's spookiest spirits.
Q: What's the scariest thing about a ghost tour in Savannah?

A: The price tag!!

Hehe. A little Savannah humor for ya. ~Erin
There are far too many ghost tours to list here, so I'm going to create a separate post and divide them up by walking tours, haunted house tours, trolley and hearse tours, self-guided tours, and more. I'll post the link here as soon as the post is live! In the meantime, I'll just list some of my favorites, plus a few that are popular with readers.
---
Halloween Events in Savannah [For the Grown-Ups]
In a city known for open-container laws and year-round bar crawls, there are plenty of options to toss on your favorite costume and grab an alcoholic beverage or two (or three or four…)
---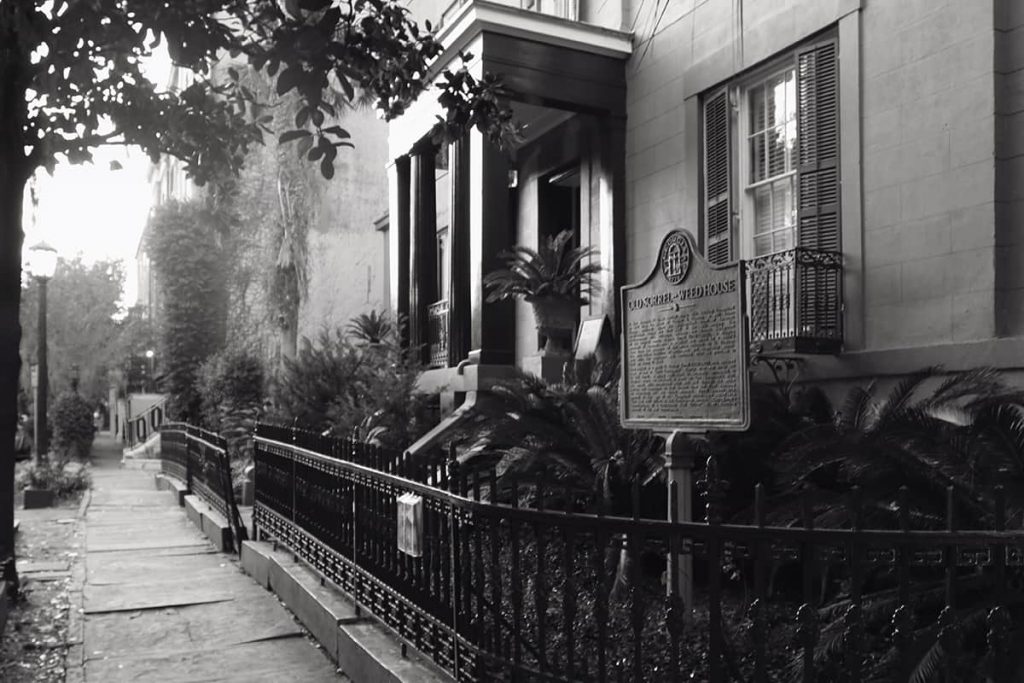 Haunted House Tours in Savannah
You can tour haunted houses year-round in Savannah. In fact, there are so many that I decided to write a separate post about them, as well. I'll link to it here as soon as it's live. In the meantime…
Sorrel-Weed House | 6 W Harris Street, Savannah, GA 31401
Ongoing throughout October
Sorrel-Weed is known for being one of the most haunted houses in Savannah. They offer nightly ghost tours of the property, or –if you're brave enough — you can opt for the After-Hours Paranormal Lock-In.
Sorrel-Weed House Tickets

Living History: Yellow Fever in Savannah in the 1820s | 324 E State Street, Savannah, GA 31401
Every Fri & Sat Night in October | 7 pm
The Davenport House Museum presents a dramatic recreation of the Great Yellow Fever Epidemic, where guests can learn about the psychological effects of the disease that caused death and ruin throughout 19th Century Savannah.
Davenport House Tickets
Related Reading: 432 Abercorn Street: Haunted Mansion…or Just a Rumor Mill?
---
Trick-or-Treating in Savannah
Trick-or-Treating in Savannah is something you need to be cautious about — especially if you aren't familiar with the area. It's not exactly safe to wander around knocking on doors in many neighborhoods in Savannah.
Trunk or Treat on Skidaway Island | 52 Diamond Causeway, Savannah, GA 31411
October 30, 2021 | 1 – 8 pm
Family-Friendly!
This Georgia State Parks fall festival includes pumpkin carving, coloring activities, carnival games, a dog costume contest and parade, a Halloween-themed film (for all ages), and trunk-or-treating activities.
Learn More: GA State Parks Skidaway Island Trunk or Treat 2021

Oatland Halloween Hike | Oatland Island
October 15 & 16 | 5 – 8 pm
Family-Friendly!
Take your trick-or-treaters for a stroll down the forested trail to meet friendly animals and collect some treats along the way. Mother Earth will be there, too.
Learn More: Oatland Island Halloween Hike

Savannah Harley-Davidson | 1 Fort Argyle Road, Savannah, GA 31419
October 30, 2021 | 9 am – 6 pm
Family-Friendly!
Bring your kids in for safe trick-or-treating at the dealership.
Learn More: Savannah Harley-Davidson
If you want to take the kids trick-or-treating downtown, make sure you pick a family-friendly neighborhood (Ardsley Park is a popular one). Many churches in the area host trick-or-treating events, and sometimes the police precinct does, as well.
Related Reading: Is Jones Street Really the Prettiest Street in Savannah?
---
Haunted Forest Trails
Savannah isn't exactly known for its forests, so you're going to have to head outside the city limits for most of these options.
Wicked South Productions Haunted Forest | 3001 Lawrence Church Rd, Pembroke, GA 31321
Various Weekend Dates in Oct
Get spooked as you encounter zombies in an abandoned carnival encampment deep in the woods of Pembroke, GA. Creepy characters might chase after you, so be prepared to run!
Learn More: The Haunted Forest 2021

Poppell Farms Haunted Trail | 1765 Hyma Poppell Loop, Odum, GA 31555
Open October 2 – 31, 2021 | Fri & Sat Nights in October
Family-Friendly!
Wander along Poppell Farms 800-foot walking trail through the woods…if you dare. It's filled with ghosts and goblins that are spooky, but not too spooky for the whole family to enjoy.
Learn More: Poppell Farms Haunted Trail 2021

Alee Shriners Terror Plantation | 100 Eisenhower Drive, Savannah, GA 31406


Oct 1 – 30, 2021

| Every Fri & Sat in October
Get spectacularly scared exploring the haunted house at Terror Plantation. This one benefits charity!
Learn More: Alee Shriners Terror Plantation


---
Cemetery Tours in Savannah
There are cemetery tours year-round in Savannah, but it's fairly rare to find a ghost tour that actually ventures into the cemetery after-hours. In fact, I only know of one…
Bonaventure Cemetery After-Hours Walking Tour | 330 Bonaventure Road, Thunderbolt, GA 31401
Ongoing throughout October
Learn taboo tales about the Illuminati and history of the occult from Shannon Scott as he guides you through beautiful Bonaventure Cemetery after dark.
Purchase Tickets
Savannah's cemeteries are beautiful, but they're known more for their history than for their haunted factor. If you don't need the spooky stories, I highly suggest a daytime guided tour. Here are a few to try…
Bonaventure Cemetery Daytime Tours | 330 Bonaventure Road, Thunderbolt, GA 31401
Ongoing throughout October
There are a couple fantastic tour guides who tell the history of Bonaventure, and I've written an entire post about the (highly recommended) experience.
Bonaventure Cemetery Tours

Colonial Park History Tours | 200 Abercorn Street, Savannah, GA 31401
Ongoing throughout October
I haven't been on this tour yet, but I plan to try it soon. I just wanted to mention it since there are very few tours that actually focus on the facts, while this one does.
Colonial Park Guided Tour
Related Reading: Is Colonial Park the Best Place to Spot a Ghost in Savannah?
---
---
Savannah Travel Blog
If you're just here for the ghosts, I created a haunted Savannah guide where you can find all of my ghost posts in one central area. But if you're trying to plan a trip, I've created plenty of resources to help you out…
My Savannah First-Timer's Guide is the most helpful resource you'll find for planning your trip. It has all of my top tips all wrapped up in one easy-to-read guide, and then you can pick my brain in the Facebook group if you have any additional itinerary questions!
---
Are you headed to Savannah Georgia in October? If you have questions, drop them in the comments below!