Spring in Savannah is one of the most popular times of year to visit, and it only takes one look at the photos to understand why! Between the azaleas, climbing roses, jasmine, magnolias, and agapanthus, Savannah is bursting with color all season long.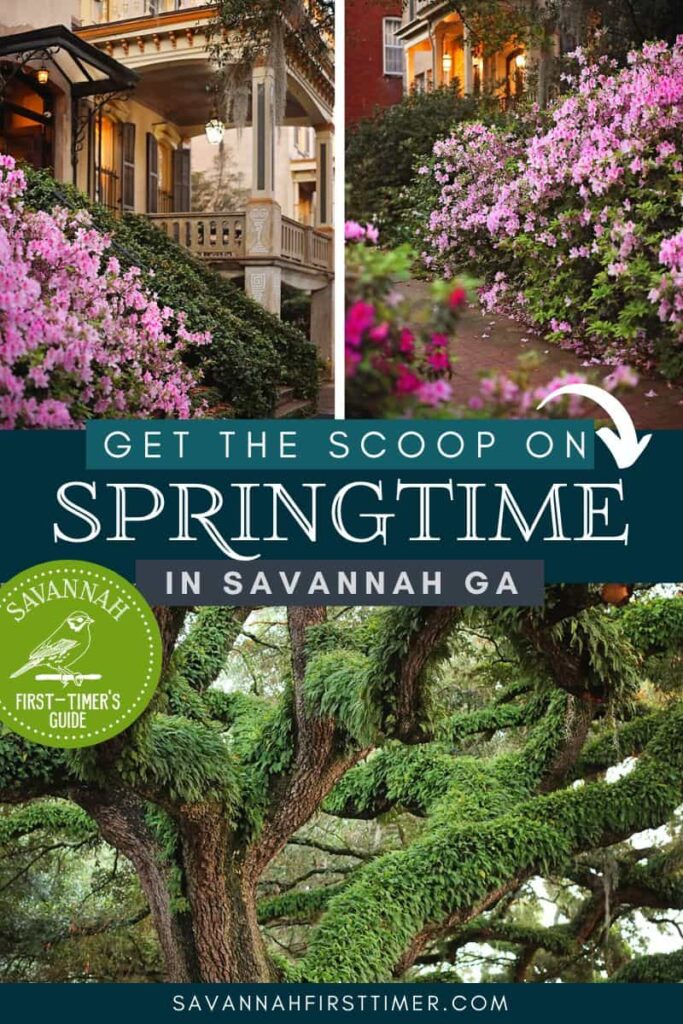 If you're new around here, first of all … allow me to extend a warm welcome!
My name is Erin, and I authored the Savannah First-Timer's Guide. It combines my top tips from this website into one handy downloadable guide.
You might also be interested in:
🌳 The Best Time to Visit Savannah (According to a Local)
🌸 Savannah Weather in March: Azaleas, Pollen, and What to Wear!
Spring in Savannah
The best places to go to see all of the beautiful flowers around the city include the cemeteries in Savannah (particularly Bonaventure Cemetery and Laurel Grove Cemetery), the squares and neighborhoods in the Historic District, and the Savannah Botanical Gardens.
What's Blooming in Savannah?
Here is a very general timeline to help you with your planning…
March: This is prime azalea season! Dogwoods also begin blooming in March, and you can often spot yellow climbing roses in gardens throughout the Historic District. Sometimes the camellias are fading away, so you might catch remnants of them, too.
April: This is the time for dogwood blossoms. Sometimes the jasmine begins blooming late in the month. The Spanish moss gets tiny blossoms on it starting around this time of year.
May: Jasmine is the star of the show during May, and it looks (and smells) heavenly! Southern magnolias bloom in May, too. Bright purple agapanthus starts to bloom at the end of spring and lasts into the summer months.
Related Reading: Savannah Weather by Month (Includes a List of What's Blooming Each Month!)
Savannah Azaleas
If you can time your trip to coincide with azalea season, it's by far the prettiest time of year to visit Savannah. The entire city seems like it's covered in pink and white blossoms!
Allow me to present photographic evidence of this phenomenon…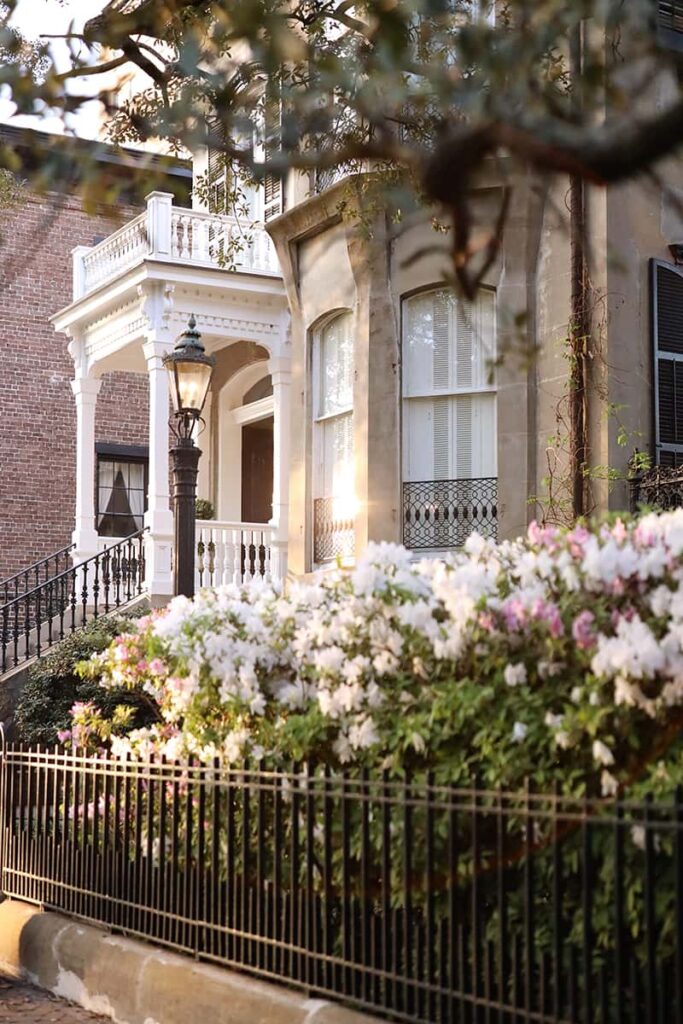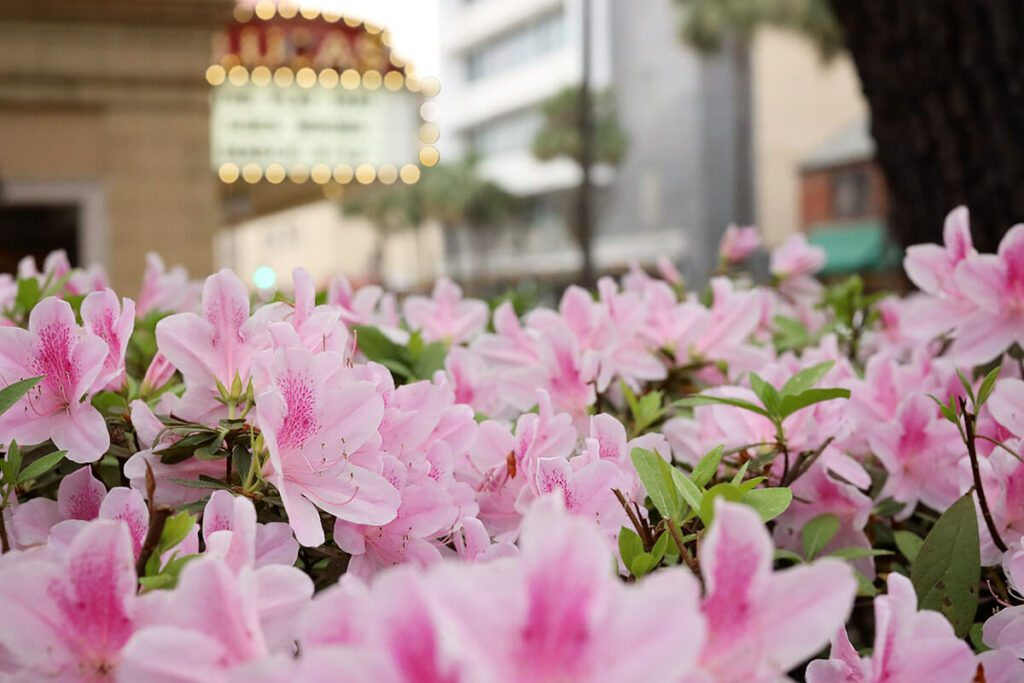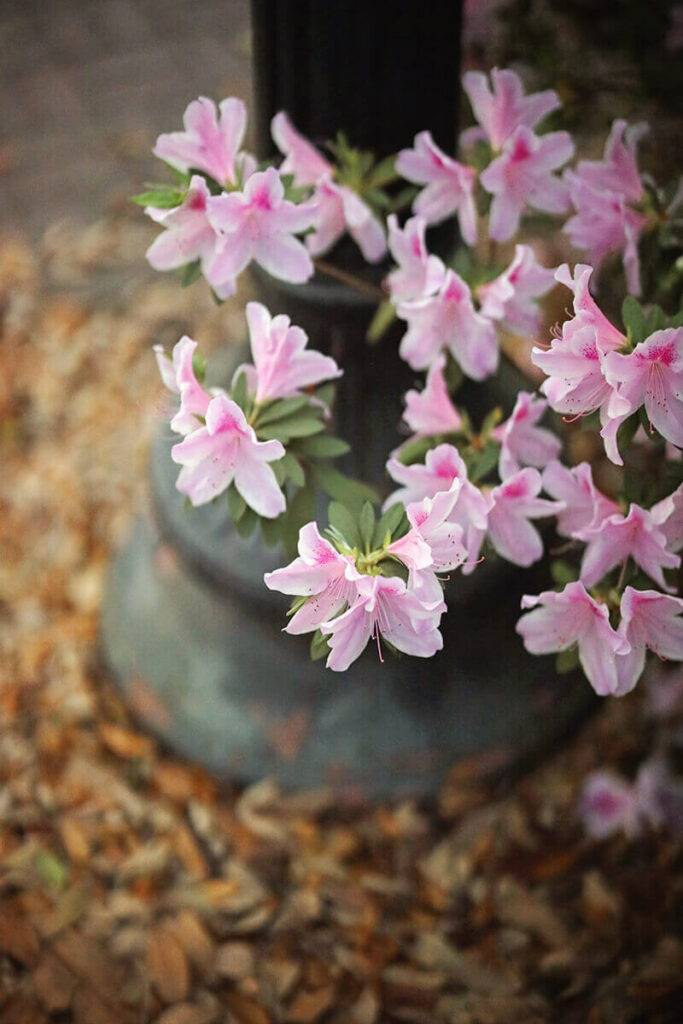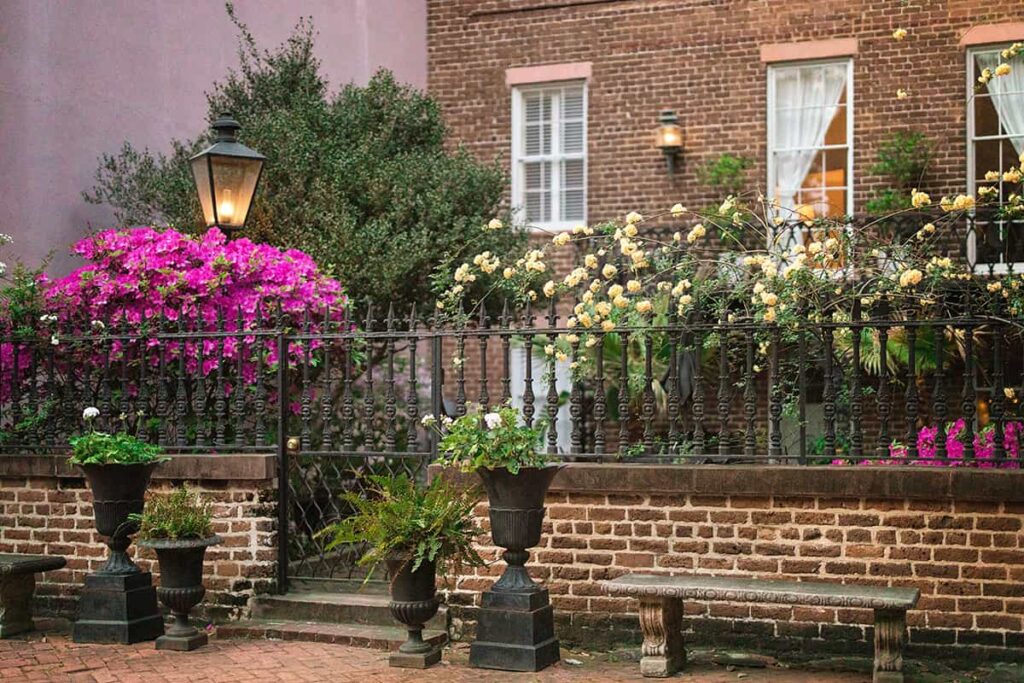 Resurrection Fern
Let's pause for a brief break from all the pink so I can show you a sight that's even more stunning than the azaleas. Behold the beauty of Southern live oaks covered in resurrection fern…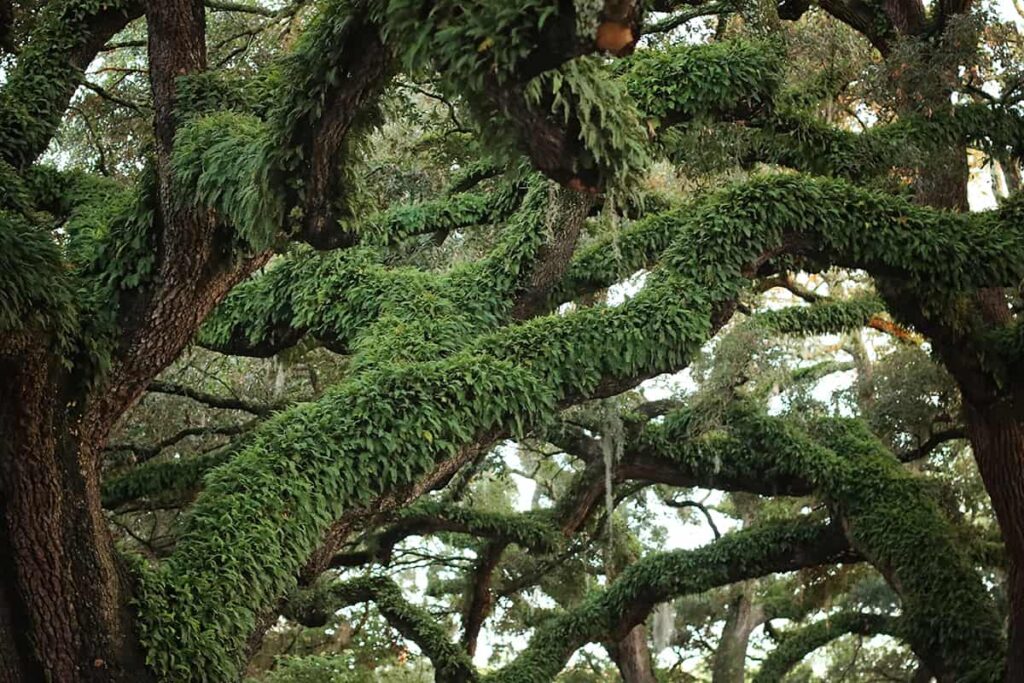 Resurrection fern is a type of fern that lies dormant for much of the year. However, as soon as it rains in Savannah the fern "resurrects" and puts on quite a show in all its fluffy green glory!
📸 Photography Tip: If you're a photographer, you're definitely going to want to shoot in Savannah just after a fresh rainfall. In addition to the resurrection fern, there are many areas that flood downtown, and you can capture some excellent reflection shots!
---
FAQs
What is spring like in Savannah Georgia?
Spring in Savannah, Georgia, is a very pretty time of year. The weather is usually mild, with lows in the 60s to 70s and highs in the 70s to upper 80s. Flowers bloom throughout the season, beginning with azaleas in early March, then magnolias and jasmine in April and May.
What do people wear in Savannah in the spring?
If you're wondering what to wear in Savannah during the spring, plan on packing layers. It's often cool in the mornings and evenings, but the temperatures warm up significantly midday. Note that it's often a few degrees cooler along River Street due to the breeze blowing in off the river.
Why is it called resurrection fern?
Resurrection fern gets its name because it shrivels up and turns brown when the weather is dry, but as soon as a significant amount of rain falls, the plant "resurrects" and springs to life with bright green fronds.
---
Savannah Travel Guide
If you're planning to a trip to Savannah, here are a few additional resources I've created to help you out.
Free Resources Library – When you sign up for my email list, you'll get a checklist of "50 Things To Do On Foot in the Historic District (No Car Necessary)" and other helpful printables.
Savannah First-Timer's Guide – My ebook combines my most helpful Savannah travel tips from this website in one handy downloadable guide.
When you purchase my ebook, you'll also gain access to a private Facebook group where you can ask questions about your trip and get advice from others who have recently visited.
---