Savannah, Georgia is home to some of the most beautiful architecture and prettiest streets in the country (seriously…just wait until you see the Historic District in person!), and today I'm sharing some of the must-see places in and around the city.
Consider this a summary of the "best of the best" attractions in Savannah; these are the places every first-time visitor should consider adding to their bucket list.
I know, I know…posts like this are highly subjective.
However, when my friends and family come for a visit and ask about things to do in Savannah, these are the places I take them to explore first.
While this isn't necessarily the same list I'd give to someone who has visited multiple times, these locations consistently impress first-time visitors.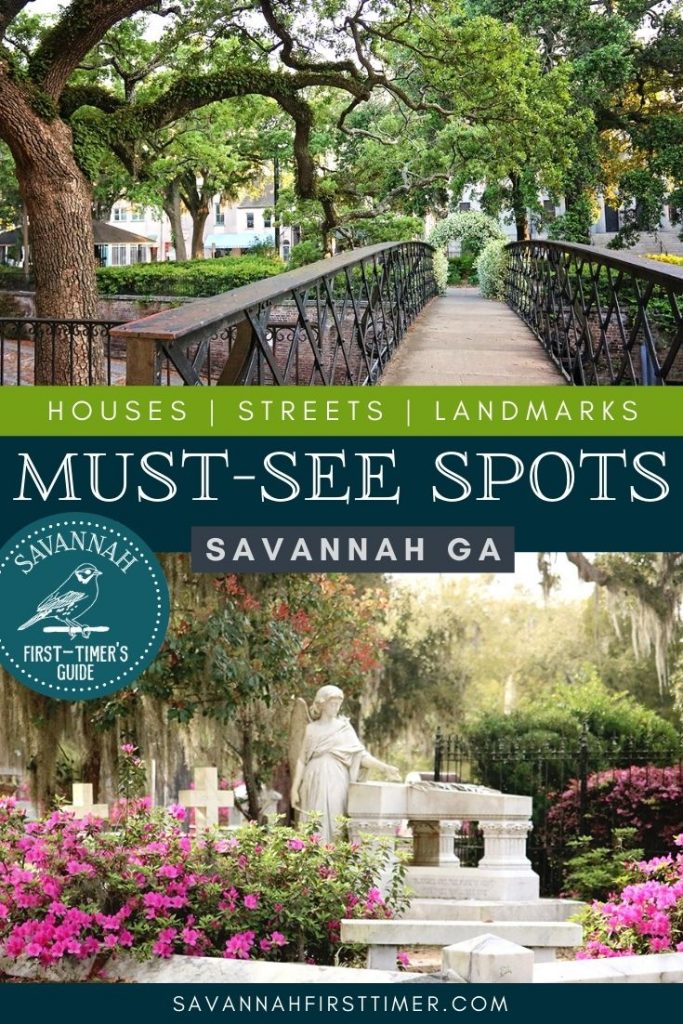 Note: This guide contains affiliate links to my trusted travel partners.
If you're new around here, first let me extend a big welcome! Thanks for stopping by.
My name is Erin, and I authored the Savannah First-Timer's Guide. It combines my top tips from this website into one handy downloadable ebook.
Table of Contents | Click to Expand
Savannah Georgia Must-See Attractions
I've tried to include a good variety of landmarks and attractions, and most of the locations listed below are open to the public and free to explore without any entry fees.
If there is a cost involved, I've made note of it.
Ok, take a peek at these incredible spots for yourself…
Cathedral Basilica of St. John the Baptist
Address: 222 E Harris Street, Savannah, Georgia 31401
Cost: $3 Donation Suggested
The Cathedral of St. John the Baptist is stunning, and it easily tops my list of must-see places in Savannah, Georgia!
Whenever you see photos of the Savannah skyline, you can't miss its two iconic steeples reaching towards the heavens. They're particularly impressive at night when they're all lit up.
Be sure to check out the "Great Rose Window". It's a 20-foot circular stained glass medallion that features St. Cecilia, the patroness of music, in the center.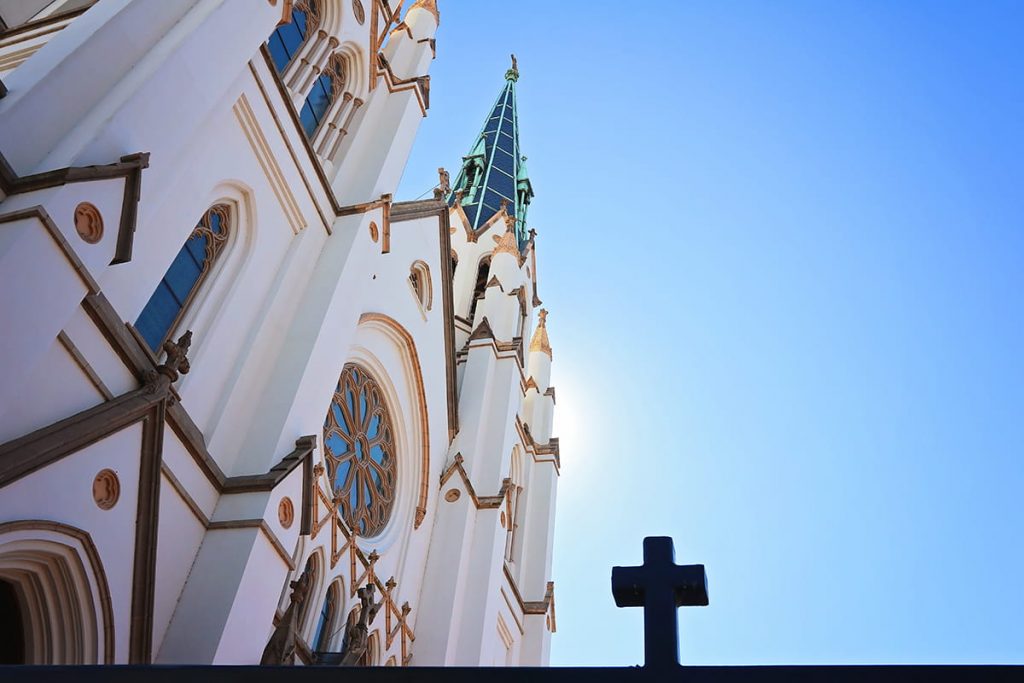 As pretty as it looks on the outside, the interior is even more beautiful. Definitely venture inside if you get the chance!
All are welcome inside, and you can even take photos, but please remember it's an active house of worship and be respectful while you're there.
Make note of the Stations of the Cross, which line the north and south-facing walls. They were each hand-carved and are incredibly detailed.
The stations are designed to help worshippers visualize Christ's last day on earth.
The murals that cover the interior of the Cathedral were painted on canvases in New York in the early 1900s and then transported to Savannah, while the massive 9,000 pound marble alter and 8,000 pound marble baptismal font were designed in Italy.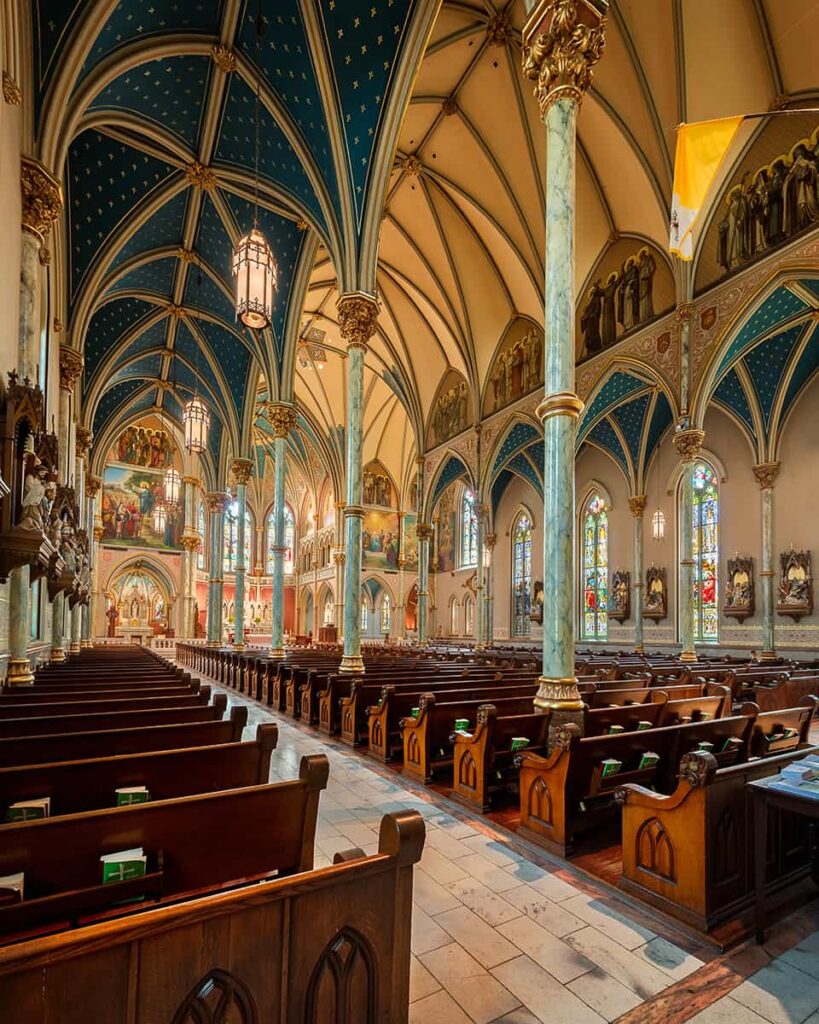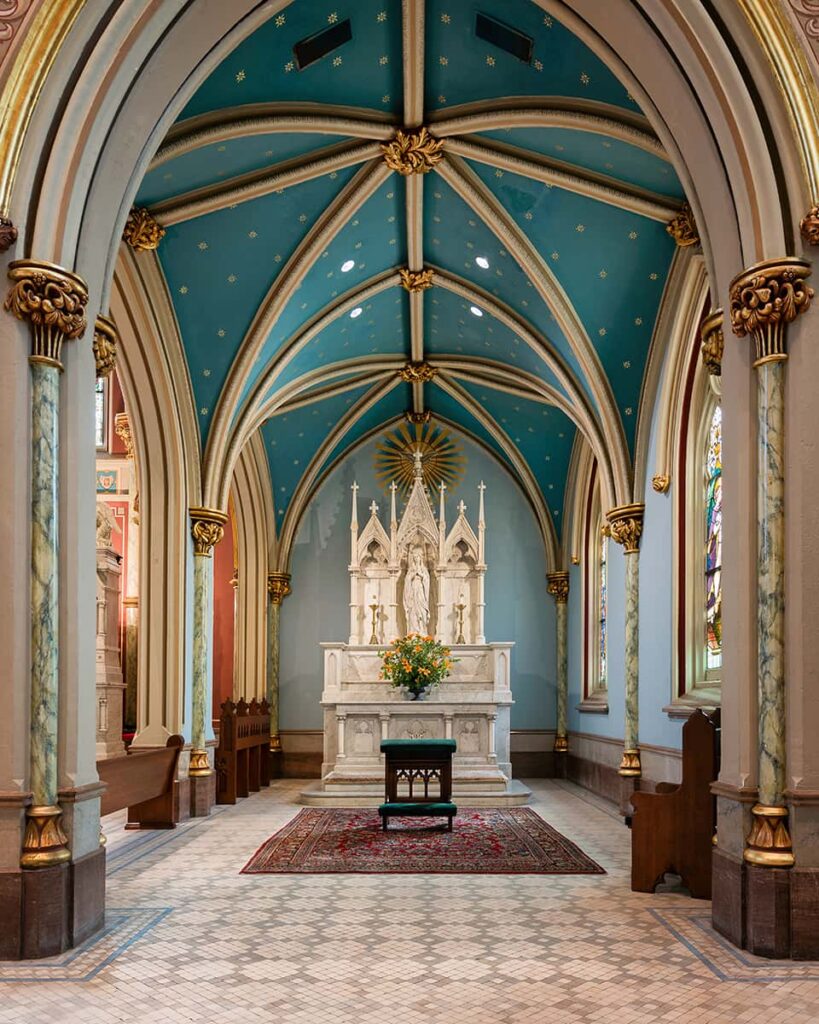 There are so many stunning details to see in the church that you really just need to go in person to take it all in!
If you find yourself with some extra time, here are two additional must-see historic places of worship in Savannah…
➡️ Book the top Savannah tours here: Viator Tours
---
Bonaventure Cemetery
Address: 330 Bonaventure Road, Thunderbolt, Georgia 31404
Cost: No entry fee
Bonaventure is the only spot on this list that's not within walking distance of the Historic District, but I had to include it because it's so spectacular!
(If you can't make it, no worries, I included another pretty cemetery further down on the list.)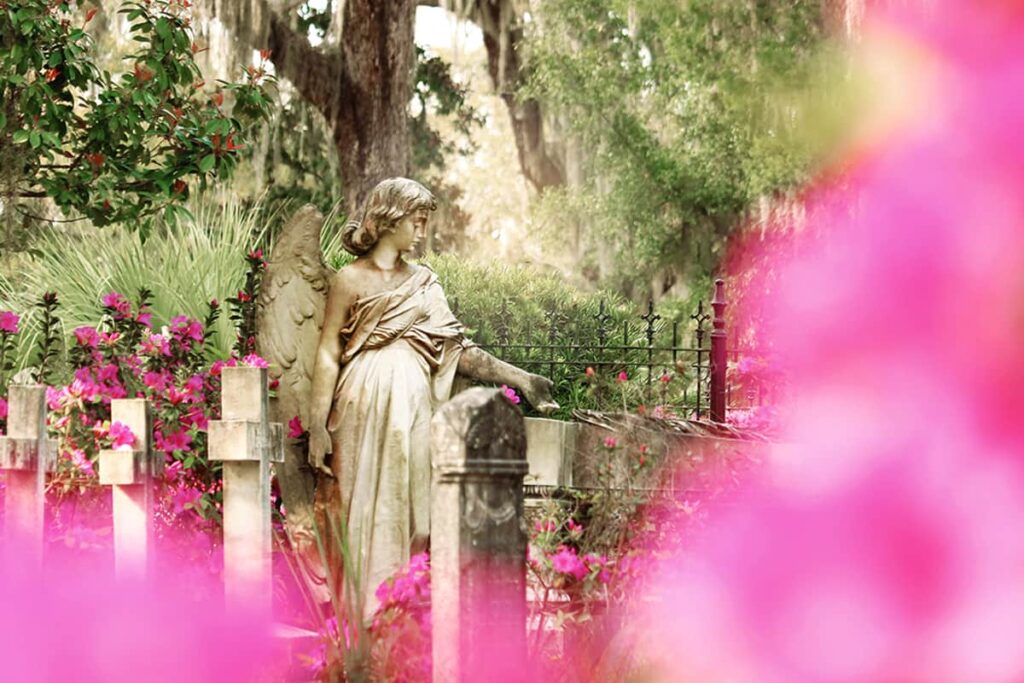 Now, I realize you might be thinking, "Why would I want to visit a cemetery?!"
Trust me, this isn't just a cemetery.
It happens to be one of the most beautiful cemeteries in the world, and the history you'll find hidden within its gates is fascinating.
If you decide to go, definitely check out my top tips and must-see spots in Bonaventure Cemetery.
There are some stunning photos in that post! (Am I allowed to say that about my own photography? Ha! It's the location that makes it beautiful, much more than the skills of the person behind the camera.)
I highly suggest taking a guided tour from a native Savannahian so you can learn some of the insider secrets that make the place so special.
The Bonaventure Historical Society hosts free walking tours the second Sunday of every month at 2 pm.
Please note that it's an active cemetery, and be respectful of any families there to honor loved ones.
---
River Street
Cost: Free
Since River Street is one of the most well-known sections of the city, you might be tempted to make a beeline to the area when you arrive in Savannah.
I can't argue with that!
It's rather touristy, but it's also loaded with history and is quite unique.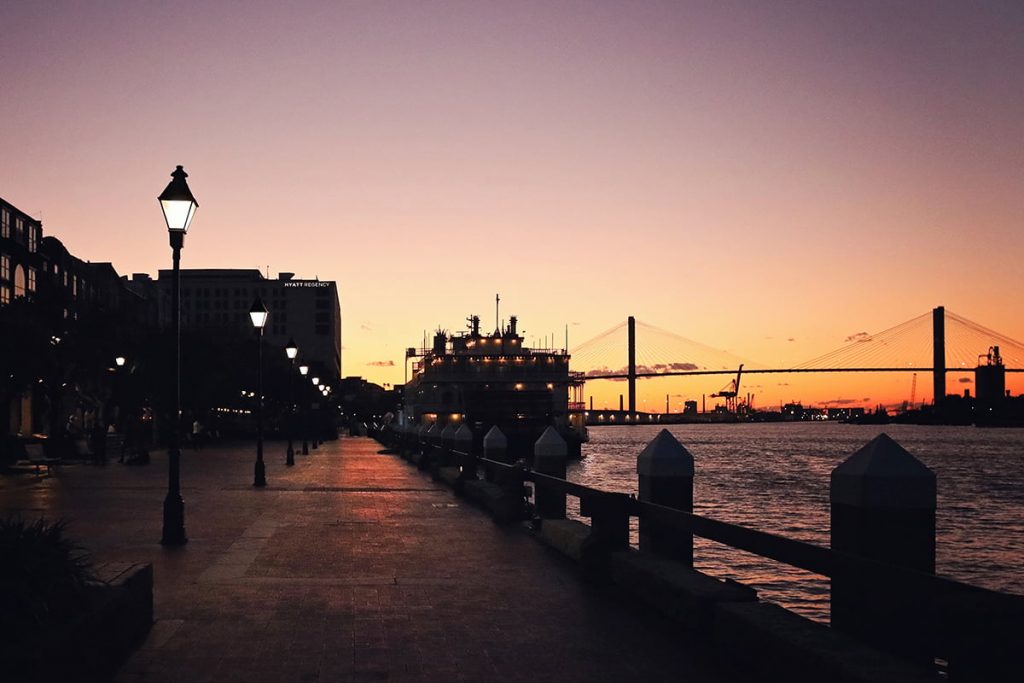 It's really fun to watch the giant container ships come into port along the river. They're so massive they're almost shocking for first-time visitors to see.
The ships are taller than most of the buildings lining the river, and it seems like they get bigger every year.
Maybe they do?!
The CMA CGM Marco Polo was the largest ship to ever visit the East Coast, and it stopped by the Port of Savannah at least twice in 2021.
I walked down to the river both times to see it, since it was such a rare event.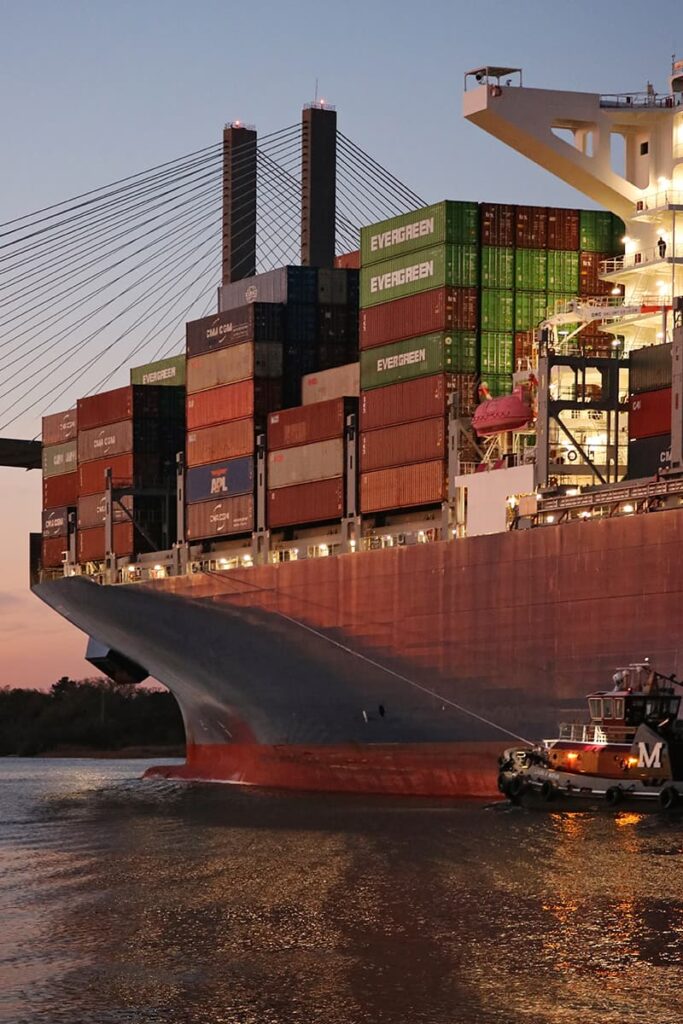 You'll also find the old-timey Georgia Queen Steamboat docked along River Street, as well as the Savannah Belles Ferry.
The latter is a free ferry you can use to venture across the Savannah River to Hutchinson Island and back.
The Waving Girl Statue, African American Monument, 1996 Olympic Cauldron, and the World War II Monument (aka: "Cracked Earth") are also located on River Street.
The far west end of River Street is considered part of Savannah's "Entertainment District", and it's loaded with bars, restaurants, and shops.
Here are a few photos that'll make you fall in love with River Street, and my popular one-day Savannah itinerary also covers River Street.
The Plant Riverside District is a popular new(ish) section along the waterfront.
---
Factors Walk
Cost: Free
I'm on a mission to make more people aware of one of my favorite areas in Savannah — a section near the waterfront known as Factors Walk.
If you're at all familiar with Savannah's highly recognizable Cotton Exchange building and the lion statue standing guard in front of it, that's where Factors Walk is located.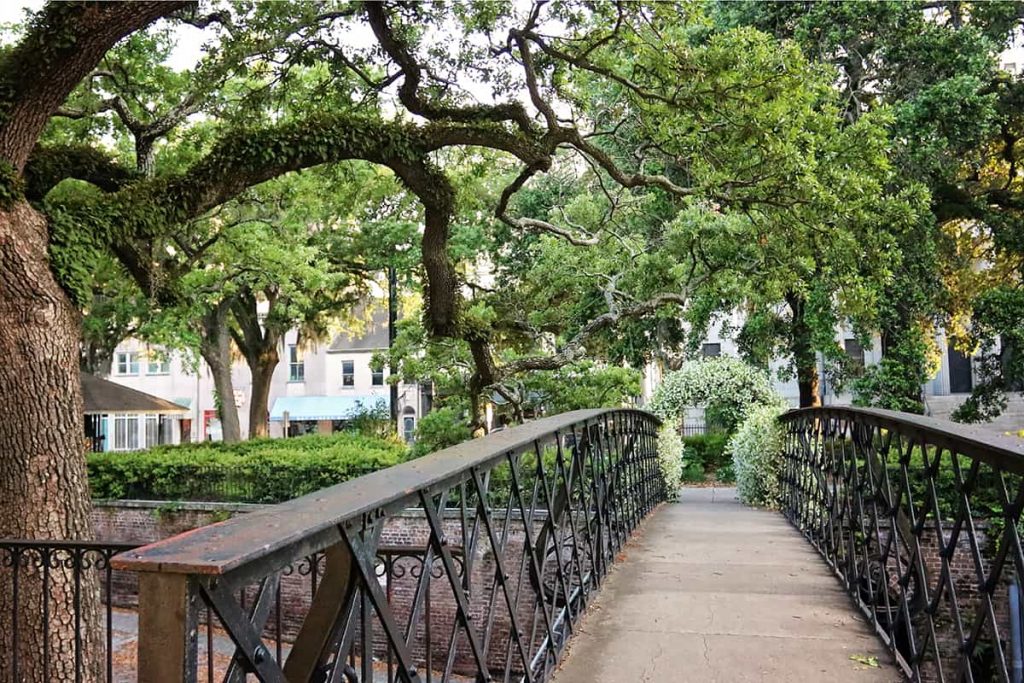 Factors Walk is a system of back alleys and bridges that connect the warehouses along the river to the bluff located behind River Street.
The area is difficult to explain, but since a picture is worth a thousand words, you might want to check out my post 21 Photos That'll Make You Want to Visit Factors Walk to see it for yourself.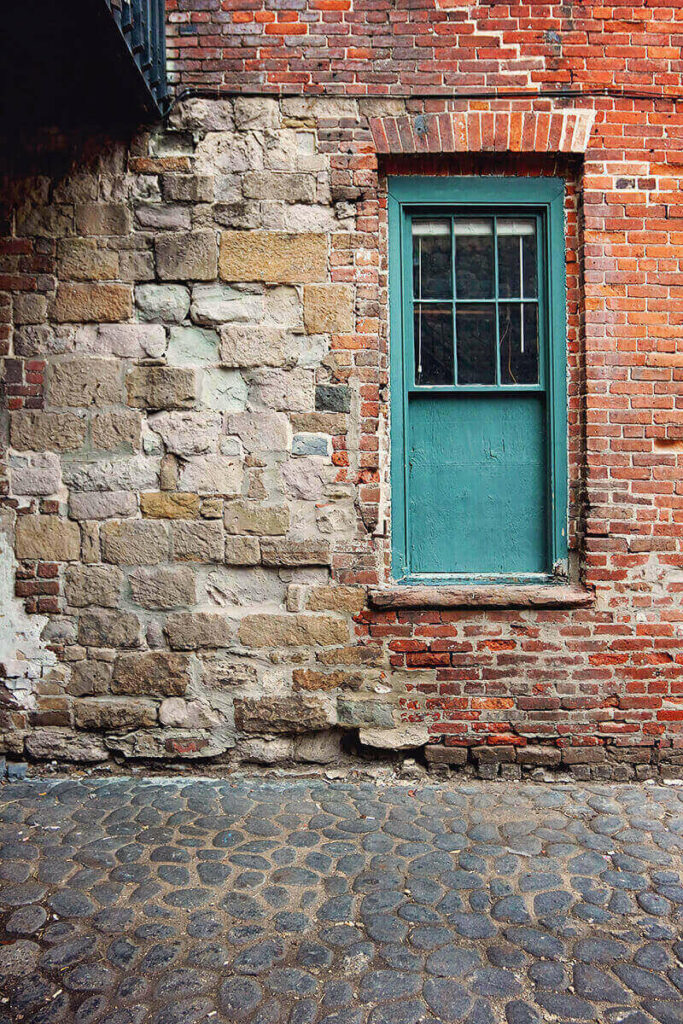 In addition to the Old Cotton Exchange building, you'll also find the Cluskey Vaults, a few mysterious sealed-off tunnels, phantom windows, and plenty of evidence of what Savannah looked like "back in the day" along Factors Walk.
I never get tired of exploring the area!
---
Jones Street
Cost: Free
Jones Street is the quintessential charming Savannah street paved with historic bricks and lined with gorgeous live oaks and Southern-style mansions.
If you have a romantic notion of Savannah neighborhoods in your head, Jones Street probably fits the bill in every way imaginable!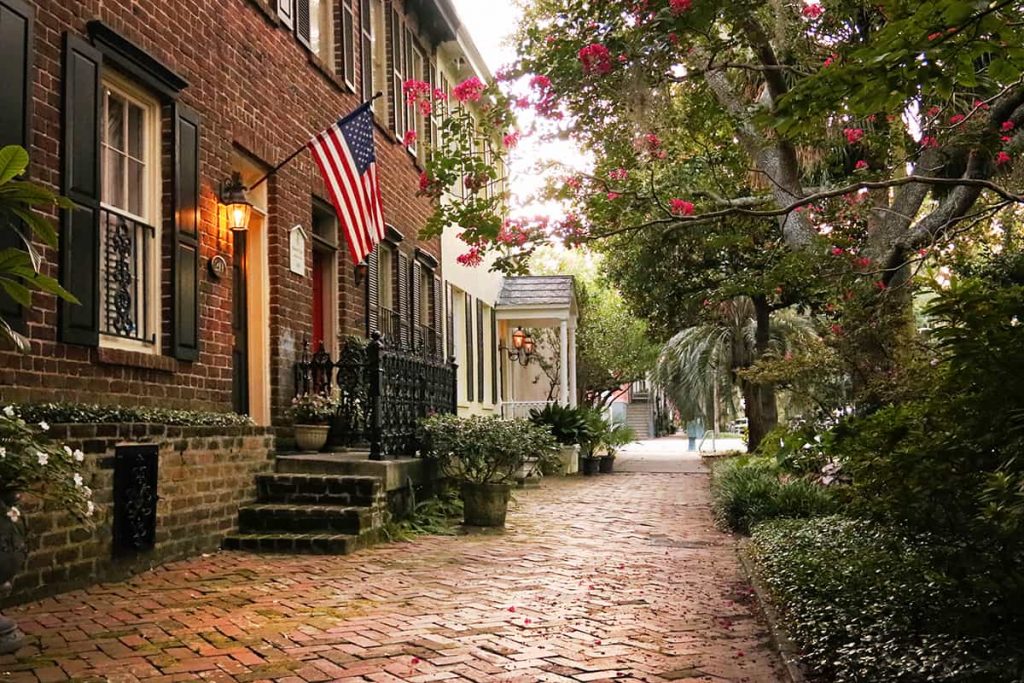 The area is residential and quiet, so it's the perfect place to go for a relaxing sunset stroll.
The majority of the homes on Jones were built in the mid-1800s, and many feature historic markers near the front doors listing the names of the original owners.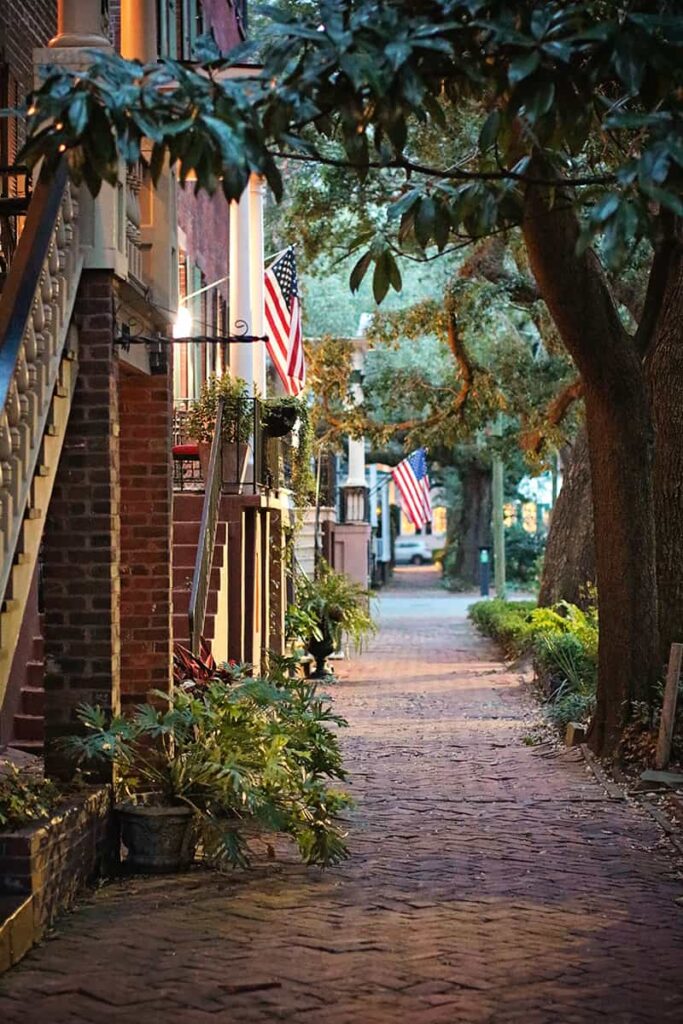 Jones Street is considered one of the prettiest streets in America, and it lives up to the expectations — especially if you visit after a recent rainfall when everything looks lush and green.
➡️ Book the top Savannah walking tours here: Viator Tours
---
Forsyth Park
Address: 2 W Gaston Street, Savannah, Georgia, 31401
Cost: Free
How have I made it this far into a post about must-see places in Savannah, Georgia without mentioning Forsyth Park?! Shameful.
The famous Forsyth Park fountain is an iconic photo spot.
It's quite common to spot couples getting engaged or eloping in front of it.
The fountain has also been featured in numerous movies and TV series.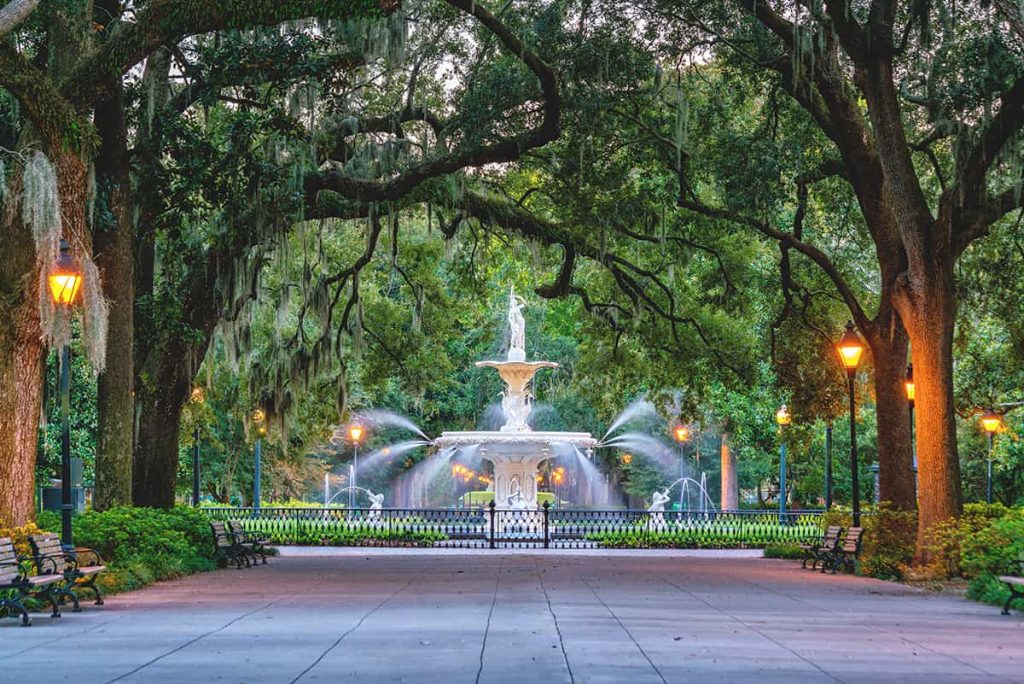 The homes surrounding Forsyth Park are beautiful, as are the enormous Southern live oaks lining the edge of the park.
Don't miss the 300-year-old Candler Oak, which faces the park on the NE side!
It's always a treat to spot owls and hawks hanging out in the park's tree canopy.
You'll find a good mix of locals and tourists hanging out in the park, and it's an excellent place to meet people and/or get some exercise.
There's a popular restaurant and a playground in the center of the park, plus tennis and basketball courts towards the southern end.
Here are some of my favorite photos of Forsyth Park to help you get a better feel for it.
---
Colonial Park Cemetery
Address: 200 Abercorn Street, Savannah, Georgia 31401
Cost: Free
If you can't make it out to Bonaventure, try checking out Colonial Park Cemetery instead.
It's located right in the heart of the Historic District, and it has quite an interesting history.
Colonial Park is the oldest intact cemetery in the city, it (possibly?) once served as dueling grounds, and it was a mass burial site for Yellow Fever victims.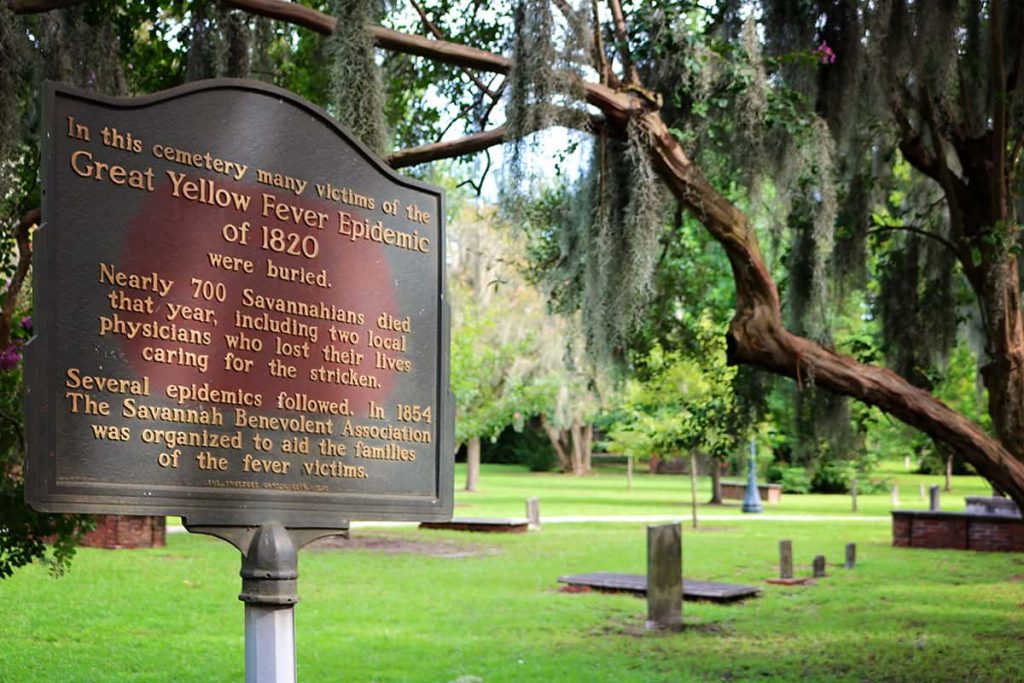 A few of the headstones were desecrated by Union soldiers who camped out in the cemetery during the Civil War.
If you look closely, you can still spot a couple of the altered headstones today. (There's one along the east wall.)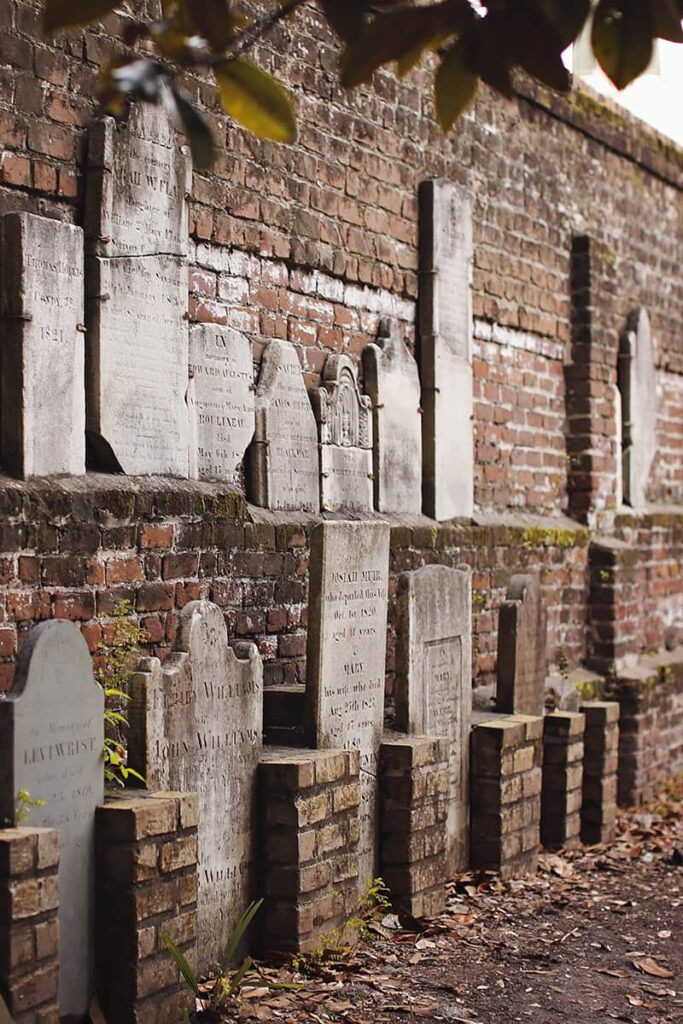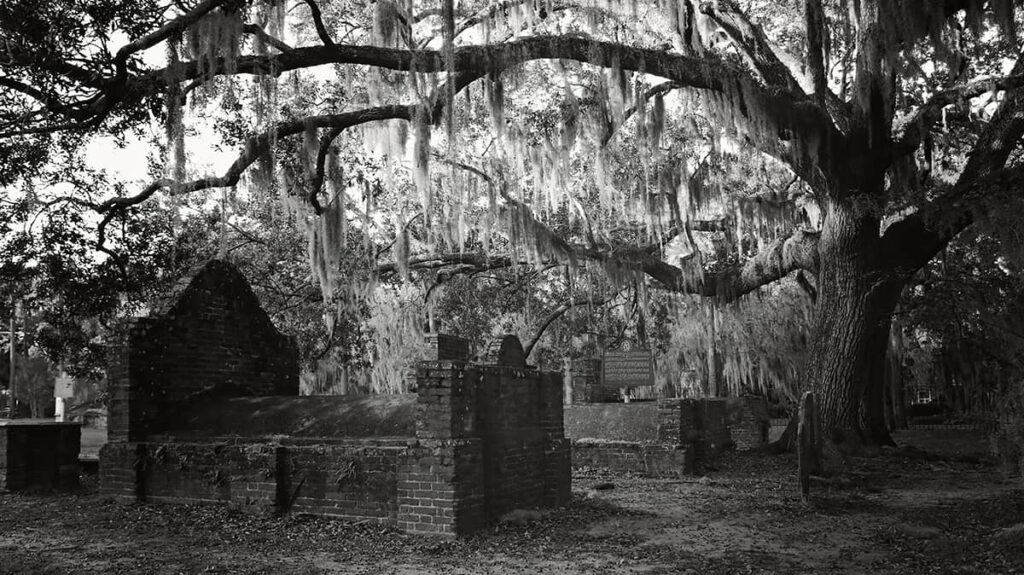 Many people think the cemetery is haunted, and it's definitely a popular spot ghost tours! (It does look rather spooky after dark.)
No one is allowed in the cemetery after 8pm, but that doesn't stop folks from hanging around the exterior to peek through the fence in search of spirits.
Colonial Park Cemetery used to be a common spot for hoodoo rituals, which is another reason why it's closed after dark.
---
Chippewa Square
Address: Intersection of Bull Street and W McDonough Street, Savannah, Georgia 31401
Cost: Free
Savannah is known for its squares, but Chippewa is the easily the most famous one.
That's all thanks to a popular guy by the name of "Forrest Gump". Perhaps you've heard of him?
He's a sweet fella! He loves chocolates, his mama, and a girl named Jenny — although not in that particular order.
Forrest narrated the tale of his life while sitting on a bench located on the northwest side of Chippewa Square.
People still go searching for his bench to this day!
The bench was just a movie prop, though, so it's not actually located in front of the square.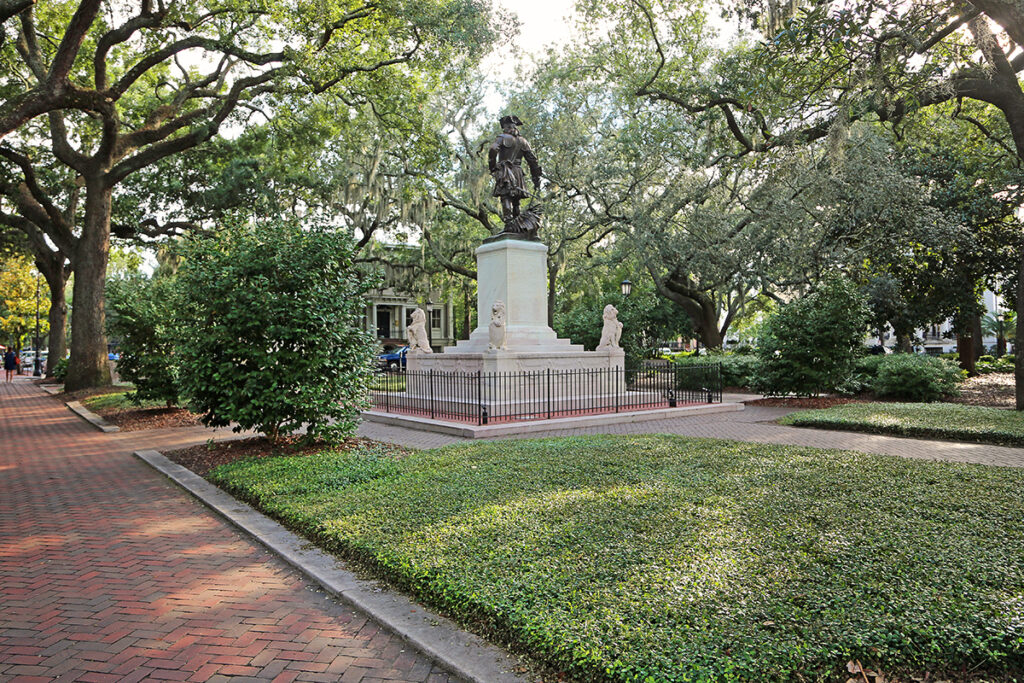 The square is surrounded by beautiful homes, churches, and B&Bs, as well as the historic Savannah Theater.
You can get a better idea of the surroundings if you check out my one-day Savannah itinerary. (You'll find it under Stop #2, appropriately named "Chippewa Square".)
---
Mercer Williams House
Address: 429 Bull Street, Savannah, Georgia 31401
Cost: Varies from $8 – $12.50
We're coming to the end of my list of must-see Savannah spots!
I saved one of the most iconic landmarks for last: the beautiful Mercer Williams House.
It was made famous by the book, "Midnight in the Garden of Good and Evil" — a riveting true crime story that sold more than three million copies (and counting).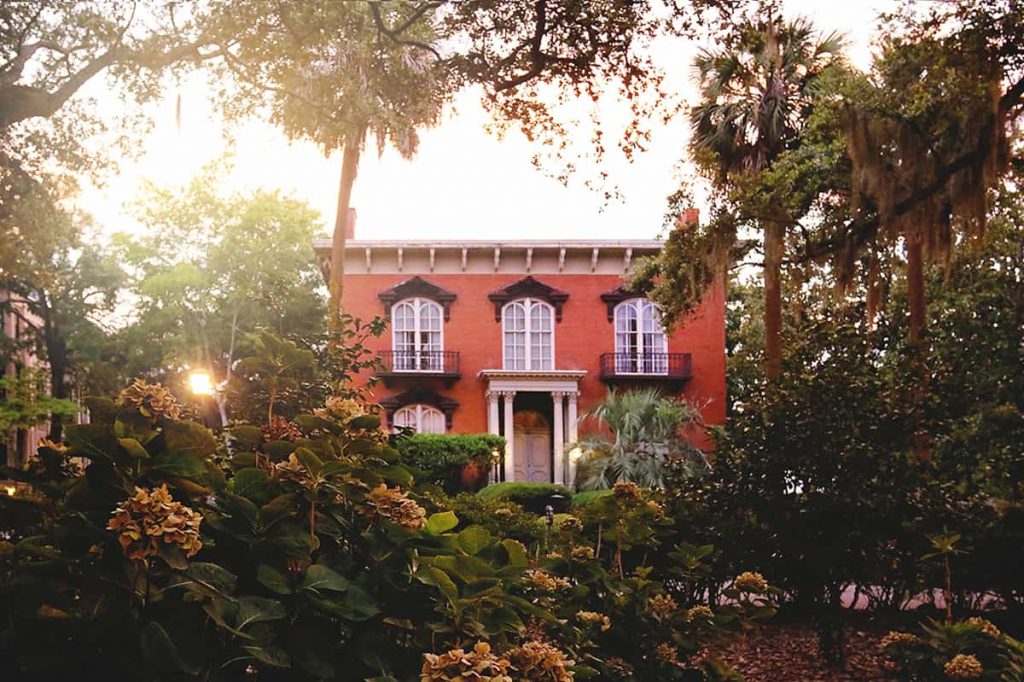 Visitors love photographing the house known as the "scene of the crime" for the most famous shooting to ever occur in Savannah.
If you aren't familiar with the story, check out my post, The Mercer Williams House: Savannah's Most Notorious Home. It's loaded with photos and interesting details about the home.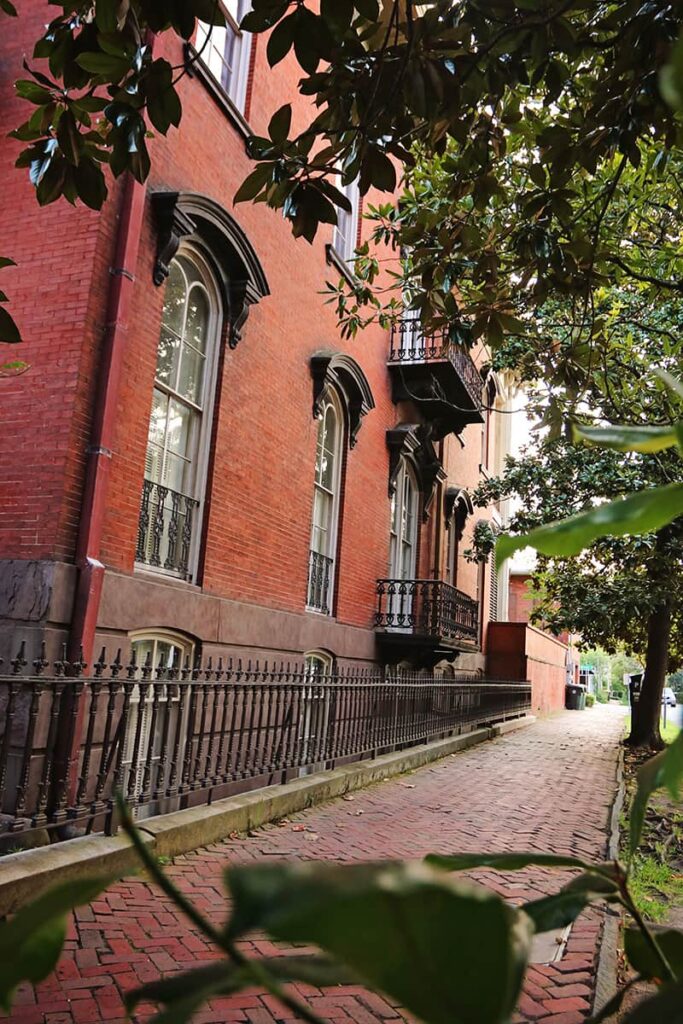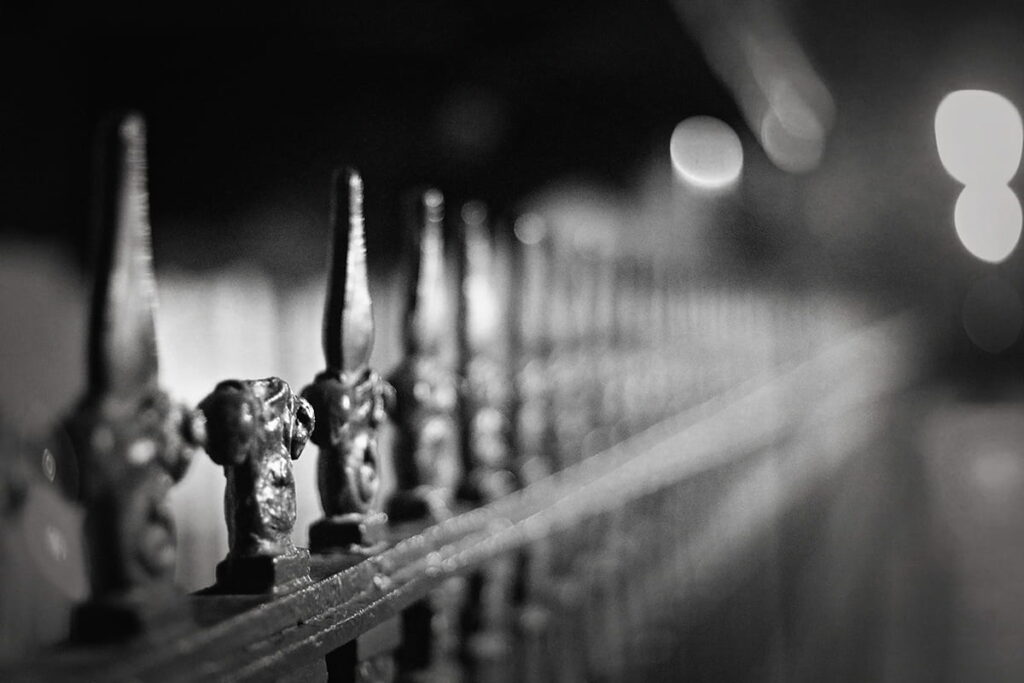 If you're curious…yes, the home is currently open for touring.
The owner's family still lives there, so you can only wander through a handful of rooms on the ground floor. (That's better than none, though!)
The Mercer Williams House is so infamous, I feel like I'd be remiss not to include it on a must-see Savannah list.
➡️ Book historic walking tours of Savannah here: Viator Tours
---
Savannah Travel Guide Info
If you're planning a trip to Savannah and need help beyond figuring out the must-see attractions, I've created lots of handy resources.
If you're completely new to the area, start with my Savannah Vacation Guide. It'll give you a quick overview of the city.
Savannah FTG Free Resources Library – Get a free printable list of 50 Things To Do On-Foot in the Historic District (no car needed!), plus more fun goodies when you join my email list. I'm terrible about staying in touch, so I definitely won't spam your inbox.
Savannah First-Timer's Guide – My ebook has all of my best insider tips in one place. It's the only resource you'll need when planning your trip to Savannah!
---
Do you have any questions about these Savannah Georgia must-see spots? Let me know in the comments below.
---
Love this post? Pin it now to save for later!