There are few things on earth more eerily captivating than a cemetery — especially one set amongst a backdrop of Southern live oaks and wispy Spanish moss. If you're trying to determine which cemeteries in Savannah deserve your attention, hopefully this overview of three of the most popular options will help you decide.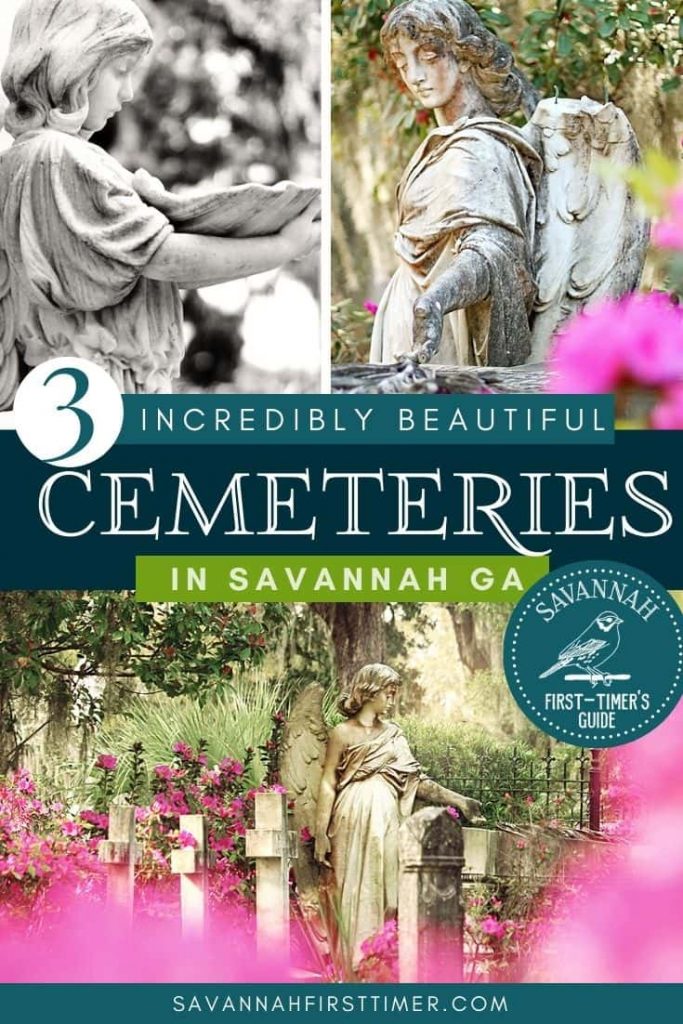 Note: This guide contains affiliate links to my trusted travel partners.
If you're new around here, first of all…allow me to extend a warm welcome!
My name is Erin, and I authored the Savannah First-Timer's Guide. It contains my most helpful tips from this website combined into one handy downloadable ebook.
---
Bonaventure Cemetery
Bonaventure Cemetery is located on the outskirts of Savannah in the cute nearby town of Thunderbolt. You can drive there from the Historic District in approximately 15 minutes.
The cemetery is quite large, and the headstones range in age from the 1700s to modern day. It takes a few hours to properly explore the grounds.
For that reason, I think it's best to take a guided tour of Bonaventure. There's so much history to uncover that it's really best to have a knowledgeable guide explain it's secrets!
If you're interested in a tour of the cemetery, I've written in-depth about the experience and share my top photos and tips in this post: Bonaventure Cemetery Tours: Which Ones are Best?
Why Bonaventure is Worth Visiting
Bonaventure is considered one of the most beautiful cemeteries in the world. It goes without saying that the photo opportunities are incredible.
The cemetery gained fame when its Bird Girl statue was featured on the cover of John Berendt's bestselling book, "Midnight in the Garden of Good and Evil." (That statue has since been moved to a museum.)
Bonaventure is where many of Savannah's elite preferred to be buried, so you'll find notable names and elaborate monuments throughout its grounds.
The setting of the cemetery along the banks of the Wilmington River is peaceful and … oddly alluring.
Insider Tip: The cemetery looks prettiest during March and April when the azaleas are in peak bloom.
Bonaventure Cemetery Need to Know
Address: 330 Bonaventure Road, Thunderbolt, GA 31404
Hours: 8 a.m to 5 p.m.
Getting There: Drive, take Uber or Lyft, or pre-schedule a tour that picks you up
Famous People Buried in the Cemetery: Conrad Aiken, Johnny Mercer, Little Gracie Watson
Nearby Landmarks: Wormsloe Historic Site
Where to Eat: Erica Davis Lowcountry or Finches Sandwiches & Sundries
Recommended Tours: Bonaventure Dash (pickup from your hotel), Bonaventure Don (reader favorite!), Savannah Cruzers (mobility-impaired option)
---
Colonial Park Cemetery
This is the "downtown" cemetery, so it's the easiest one to get to if you're staying in the Historic District. It's within easy walking distance from most downtown hotels.
More than 9000 people — including 666 Yellow Fever victims — were interred in the cemetery from the 1750s until Colonial Park was closed to burials in 1853.
You won't see nearly that many headstones there today, but the ones that remain are timeworn and interesting to peruse.
Some people think the cemetery is haunted, so the sidewalks surrounding Colonial Park are a popular gathering spot for many of Savannah's ghost tours after the sun goes down.
Why Colonial Park Cemetery is Worth Visiting
It's the oldest of the three cemeteries and the easiest option for tourists to explore. The location is convenient, the size is small, and it has paved walking paths.
I've written extensively about the history of the cemetery, the reasons it's considered haunted, and the history of voodoo rituals inside its gates. You can get the inside scoop here: Is Colonial Park Cemetery the Best Place to See a Ghost in Savannah?
Insider Tip: The east wall of the cemetery holds a unique collection of "misplaced" headstones secured to a brick wall.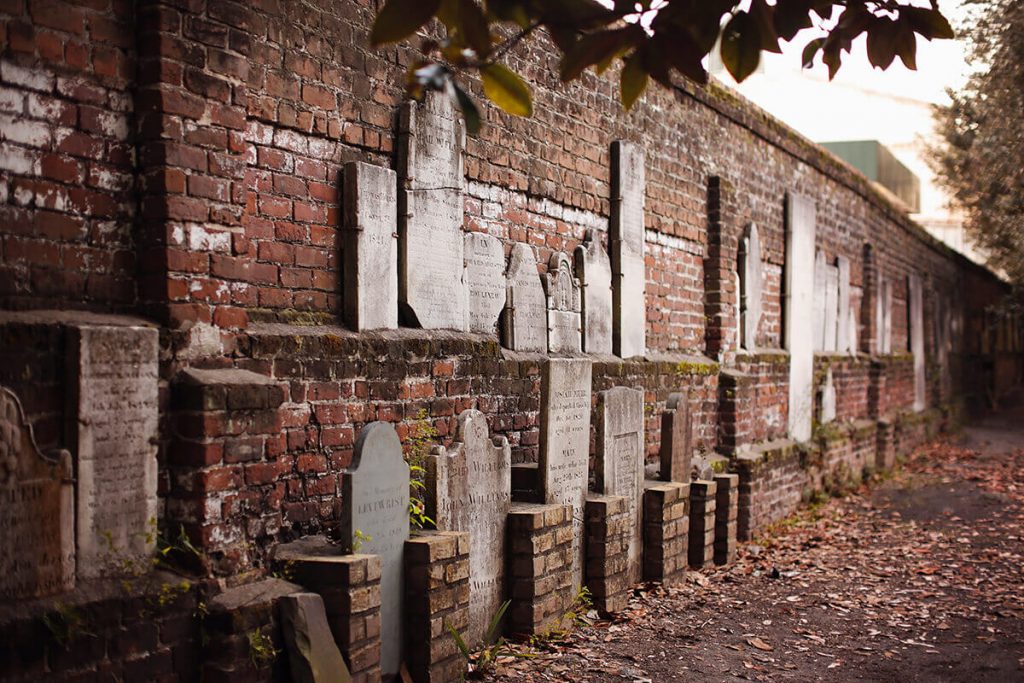 Colonial Park Cemetery Need to Know
Address: 200 Abercorn Street, Savannah, Georgia, 31401
Hours: 8 a.m. to 5 p.m.
Getting There: Walk or access it from the hop-on/hop-off trolley tours
Famous People Buried in the Cemetery: Button Gwinnett, Lachlan McIntosh, James Habersham
Nearby Landmarks: The Cathedral Basilica of St. John the Baptist is within a 5-minute walk
Where to Eat: Fox & Fig Cafe (vegetarian), The Collins Quarter, or E-Tang
Recommended Tours: Colonial Park Cemetery Walking Tour (historically accurate), Enocha Edenfield Tours, or a Private Medical History Tour
---
Laurel Grove Cemetery
Laurel Grove Cemetery opened in the 1850s when Colonial Park and other smaller local cemeteries neared capacity.
If you look at an aerial view of Laurel Grove, you can see it's split in two visually by the Hwy 16 connector ramp.
The northern section of the cemetery is where white residents were buried during the Victorian era in Savannah, while Laurel Grove South is where enslaved and freed people of color were buried.
The name "Laurel Grove" originates from the many Laurel Oaks that once dotted the land.
Laurel Grove North
The northern section of the cemetery is home to railroad tycoons, cotton merchants, and owners of enslaved individuals. It includes a fairly large Jewish section, as well.
A few notable Savannahians buried in Laurel Grove North include:
Florence M. Martus, aka "The Waving Girl"
Juliette Gordon Low, founder of the Girl Scouts
Mary Marshall, original owner of The Marshall House
James Lord Pierpont, the lyricist who wrote "Jingle Bells"
Charles Green, builder of the Green-Medrim House
Laurel Grove North is also the final resting place of more than 100 Confederate soldiers who died during the battle at Gettysburg. The statue "Silence" (pictured below) watches over them.
The "Stranger Grounds" section is home to more than 4,500 bodies, many of whom were indigent and couldn't afford proper burials.
The northern section is also home to orphans from the Bethesda Home for Boys, two infant burial grounds, the Hebrew Stranger Grounds, and a Gentile burial ground.
Why Laurel Grove North is Worth Visiting
This section of the cemetery has one of the largest collections of Victorian-era markers in the Southeast. It's lesser-known than the two cemeteries listed above, so it's usually quiet and peaceful.
Laurel Grove South
When Savannah's Old Negro Burial Grounds neared capacity, the City of Savannah reserved four acres in Laurel Grove as a final resting place for members of the city's African American community.
That section has grown over time and currently encompasses approximately 90 acres.
A few notable Savannahians buried in Laurel Grove South include:
W. W. Law, one of the most significant figures in Savannah's Civil Rights movement
Andrew Bryan, an early founder of First African Baptist Church in Savannah
Henry Cunningham, a long-time pastor at Second African Baptist Church in Savannah
Laurel Grove South is also the final resting place for a number of enslaved individuals. The section is marked by a wooden sign etched with the simple inscription, "Slaves Burials."
Why Laurel Grove South is Worth Visiting
To get a comprehensive picture of Savannah's history, it's important to visit Laurel Grove South to learn about the contributions of the African American community in Savannah.
It's not really a tourist destination, but it is quiet, peaceful, and well worth a visit.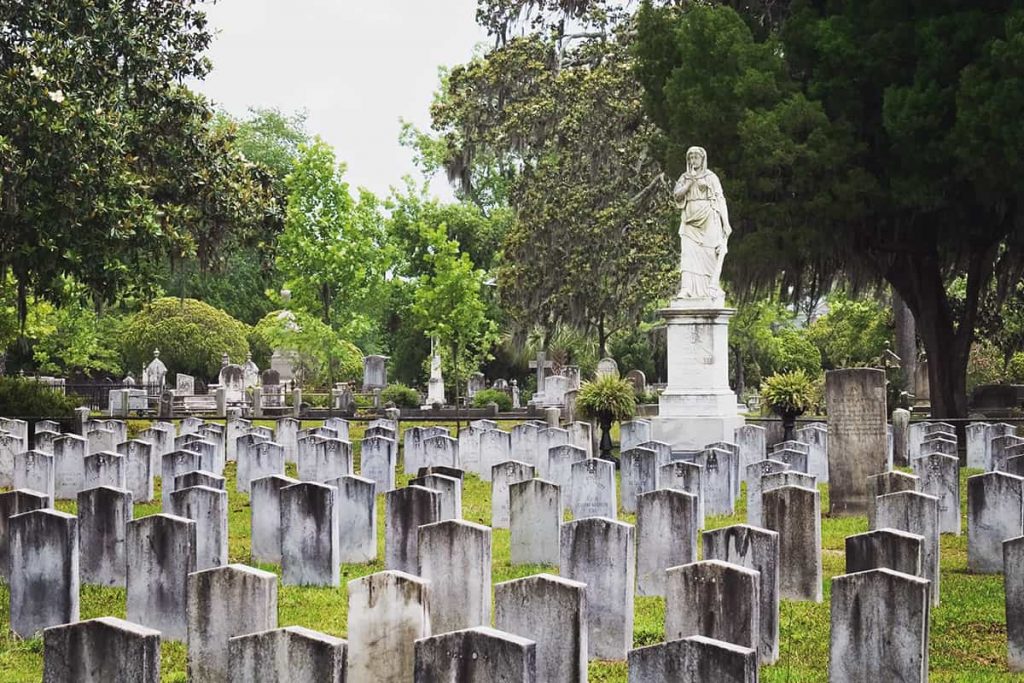 Laurel Grove Cemetery Need to Know
Entrance to Laurel Grove North: 802 W Anderson, Savannah, GA 31401
Entrance to Laurel Grove South: 2101 Kollock Street, Savannah, GA 31401
Hours: 8 a.m. to 5 p.m.
Getting There: Drive or take an Uber/Lyft
Famous People Buried in the Cemetery: Juliette Gordon Low, Mary Marshall, W. W. Law, Florence Martus (aka "The Waving Girl"), James Lord Pierpont, Jason "Camoflauge" Johnson
Nearby Landmarks: Historic Cuyler-Brownsville, The Kiah House
Where to Eat: 2 Chefs Gullah Geechee Soul Food, Quicky's Famous BBQ, or Munchies BBQ & Subs
Recommended Tours: Try a self-guided walking tour while following the audio and map instructions found here: Benevolent Burials
Related Reading: A Local's Guide to Savannah's Laurel Grove Cemetery
---
Etiquette for Cemeteries in Savannah
Here are a few things you need to know before visiting any of Savannah's beautiful cemeteries.
Some of the cemeteries are active, so please be respectful towards anyone visiting a recently-passed family member or friend.
Please refrain from walking atop graves, littering, or doing anything that would cause damage to any plots.
Wear mosquito repellent and bring lots of water during the summer months.
Ghost tours aren't allowed inside municipal cemeteries in Savannah, but historic tours are allowed. I linked to recommended tours in each section above.
The municipal cemeteries are not for sensational or entertainment purposes. Any tours marked as haunted, paranormal, or involving ghosts, spiritualists, or mediums are strictly prohibited from any of the municipal cemeteries.

Section 10.02: Restricted Activities, City of Savannah Cemetery Rules and Regulations
---
Savannah Cemeteries FAQs
What is the famous cemetery in Savannah?
Bonaventure Cemetery is the most famous cemetery in Savannah. It's known as one of the most beautiful cemeteries in the world. It was made famous by John Berendt's New York Times bestseller, "Midnight in the Garden of Good and Evil" and Clint Eastwood's movie, which was based on the book. A few famous people who are buried in the cemetery include poet Conrad Aiken, singer/songwriter Johnny Mercer, and Georgia's first governor, Edward Telfair.
Where is the Bird Girl statue in Savannah?
The Bird Girl statue was featured on the cover of John Berendt's New York Times best-selling book, "Midnight in the Garden of Good and Evil." It was originally located in Bonaventure Cemetery, but it had to be relocated to Telfair Academy.
---
Related Reading
---
Savannah Travel Guide
If you're planning to a trip to Savannah, here are a few additional resources I've created to help you out.
Free Resources Library – When you sign up for my email list, you'll get a checklist of "50 Things To Do On Foot in the Historic District (No Car Necessary)" and other helpful printables.
Savannah First-Timer's Guide – My ebook combines my most helpful Savannah travel tips from this website in one handy downloadable guide.
When you purchase my ebook, you'll also gain access to a private Facebook group where you can ask questions about your trip and get advice from others who have recently visited.
---
Do you have any questions about any of these cemeteries in Savannah? Please let me know in the comments.