If you're looking for the best breakfast places in Savannah, I've got you covered with a few top spots that are popular with visitors and locals. Best of all, they're each located in the Historic District! That means you won't need a car to get to them.
In a few instances, I've recommended alternate options in case these popular spots are too busy. I only did that when there's a similar restaurant in the same price range with the same style of food that's also located in the Historic District.
I included a helpful map at the end of the post so you can see how close each restaurant is to your hotel!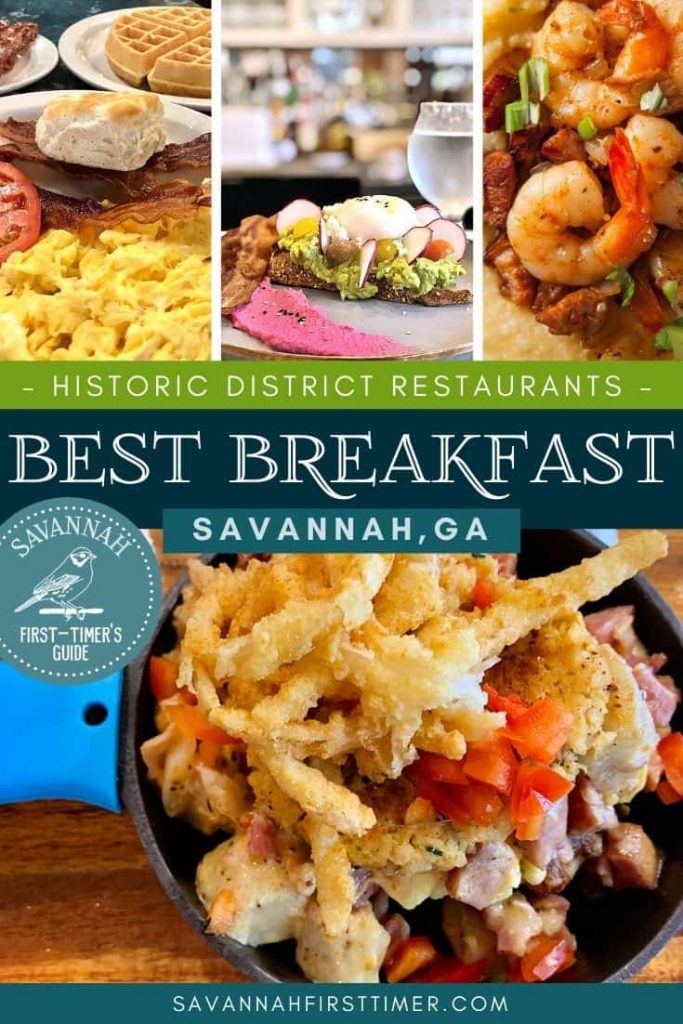 Note: This guide contains affiliate links to my trusted travel partners.
If you're new around here, first of all…welcome! Thanks for stopping by.
My name is Erin, and I authored the Savannah First-Timer's Guide. It combines all of my top tips from this website into one handy downloadable guide.
You might also like:
🍔 An Insider's Guide to the Best Restaurants in Savannah
🦐 A Local's Take on the Best Seafood in Savannah
🍖 3 Spots to Add to Your Savannah BBQ Bucket List
---
So…What's the Best Breakfast in Savannah?
There are plenty of incredible options, but I'm not going to overwhelm you with too many choices.
Since I live here and get to test out restaurants the Historic District whenever I want (I know, I know…lucky me!), I'm only going to list the best of the best.
In fact, I'm only focusing on restaurants located within the actual Historic District, so these are ones you can easily walk to from your hotel. I know how overwhelming it can be when you visit a new city, so I always try to make things as easy as possible for you!
If you plan to do a hop-on/hop-off trolley tour, I've actually created a helpful one-day Savannah itinerary that will help you plan out your entire day, and it includes the best restaurant stops directly along the trolley route (a few of which are listed below).
Insider Tip: Savannah is such a foodies city. My top tip for you when picking a breakfast place in Savannah is to avoid the chains! I always do my best to suggest family-run or locally owned places.
OK, now…let's get to my favorite breakfast spots in Savannah's Historic District…
Huey's on the River
Huey's on the River | 115 E River Street, Savannah, GA 31401
This popular spot is located along River Street, and it has a very New Orleans type of vibe.
I'm thoroughly convinced they have the best beignets east of Louisiana! They're fried perfectly, with a slightly crispy, light brown outer shell, and then dipped in just the right amount (read: way too much) powdered sugar.
I'm drooling just thinking about them! They serve them nice and warm, too, so they practically melt in your mouth.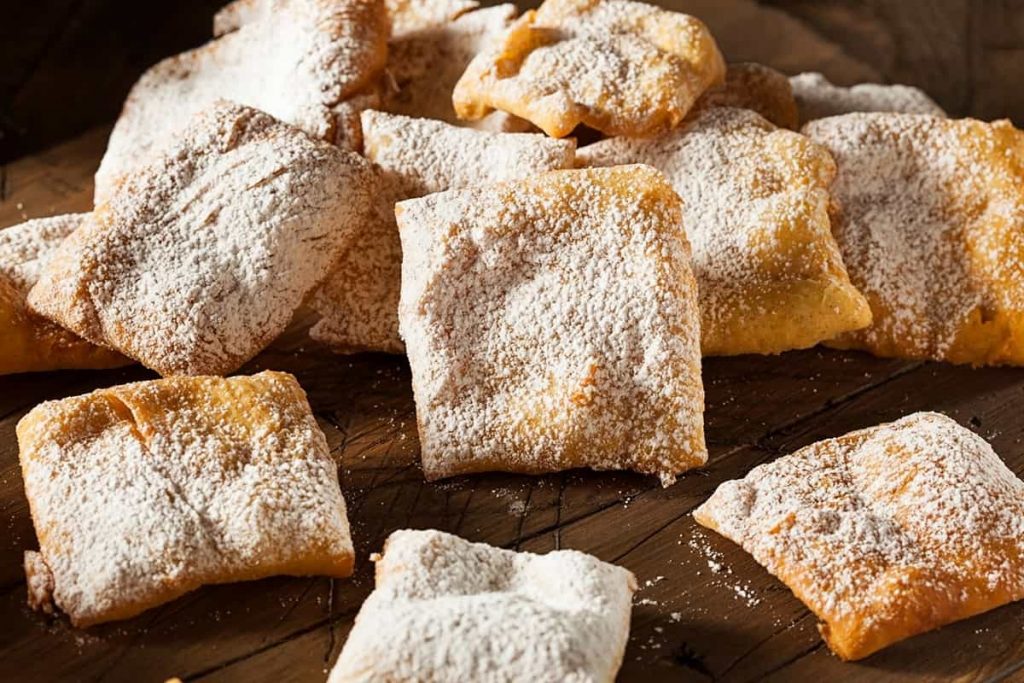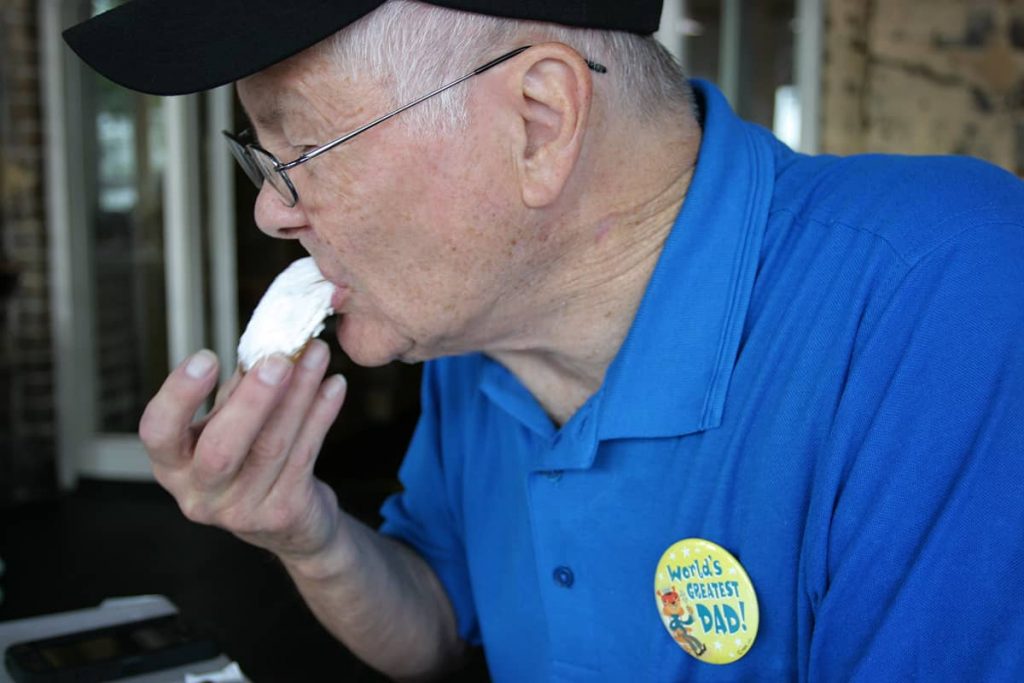 As for their brunch options, they provide very hearty servings and you'll definitely feel full when you leave. I usually opt for the build-your-own omelette option and then save room for beignets for dessert. They also have a good Crab Cake Benedict!
One of the neatest things about eating at Huey's is that you'll have a fantastic view of the river from almost any table, so it's pretty common to see huge ships coming into port while you eat. It's an amazing experience, and one I never tire of seeing.
If you aren't familiar with the views, here are some of my favorite photos of River Street.
Most Known For: Those world-famous beignets! Unless you're diabetic, don't leave without trying them!
---
Clary's Cafe
Clary's Cafe | 404 Abercorn Street, Savannah, GA 31401
This charming old-timey spot is one of the most classic breakfast restaurants in all of Savannah!
It's been a locals' favorite for decades, and it gained even more popularity after "Midnight in the Garden of Good and Evil" was filmed in the area. Many of the actors ate in the restaurant during filming, so you can see their autographed photos lining the back wall.
The character of Luther Driggers, aka: "that guy with the flies," regularly stopped in Clary's as part of his daily routine — and yes, Luther was a real person. His actual name was Laurice Fetzer, but he went by the nickname, "Mo".
Like many of the well-known locals from "The Book", he has since passed on. He's buried in beautiful Bonaventure Cemetery.
I can easily say Clary's is one of my favorite places in the Historic District to grab a bite to eat! It consistently ranks as one of the top ten restaurants in my Savannah First-Timer's Guide.
The historic building started out as a pharmacy in the early 1900s, then it served as a soda shop in the 1950s, and now it's one of Savannah's most famous Southern diners.
First of all, you can't beat the location! It's at the corner of Jones and Abercorn, and Jones Street is widely considered one of the prettiest streets in America.
The cozy family-style restaurant offers indoor and outdoor seating, which means you can take in views of beautiful mansions while you eat.
I love sitting at their outdoor tables when the weather is cool. A little people-watching over breakfast is always fun — especially in quirky Savannah!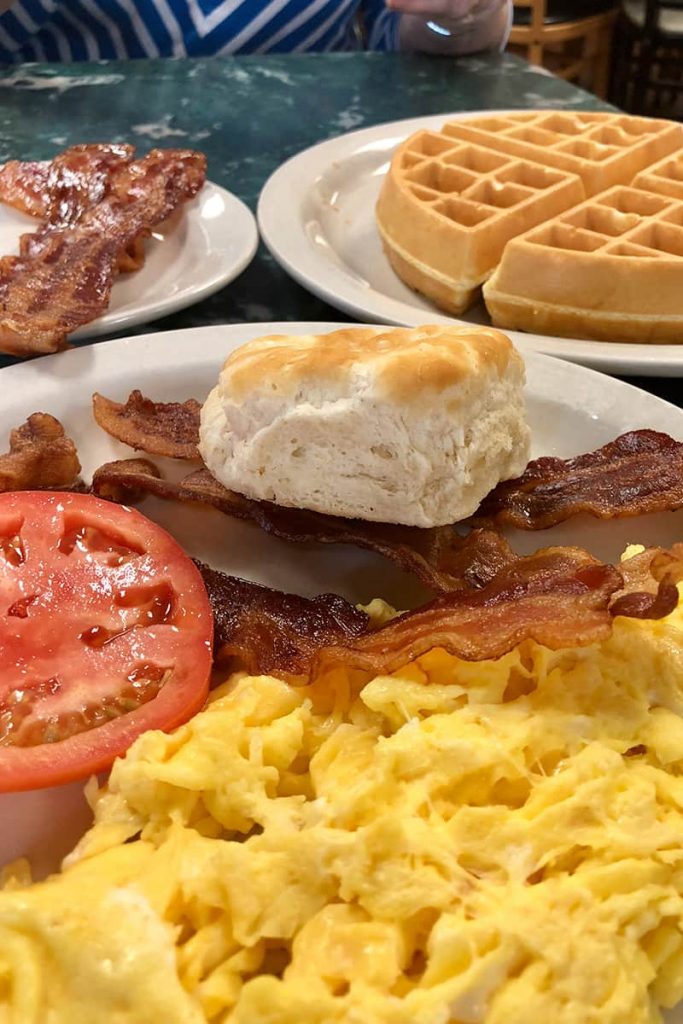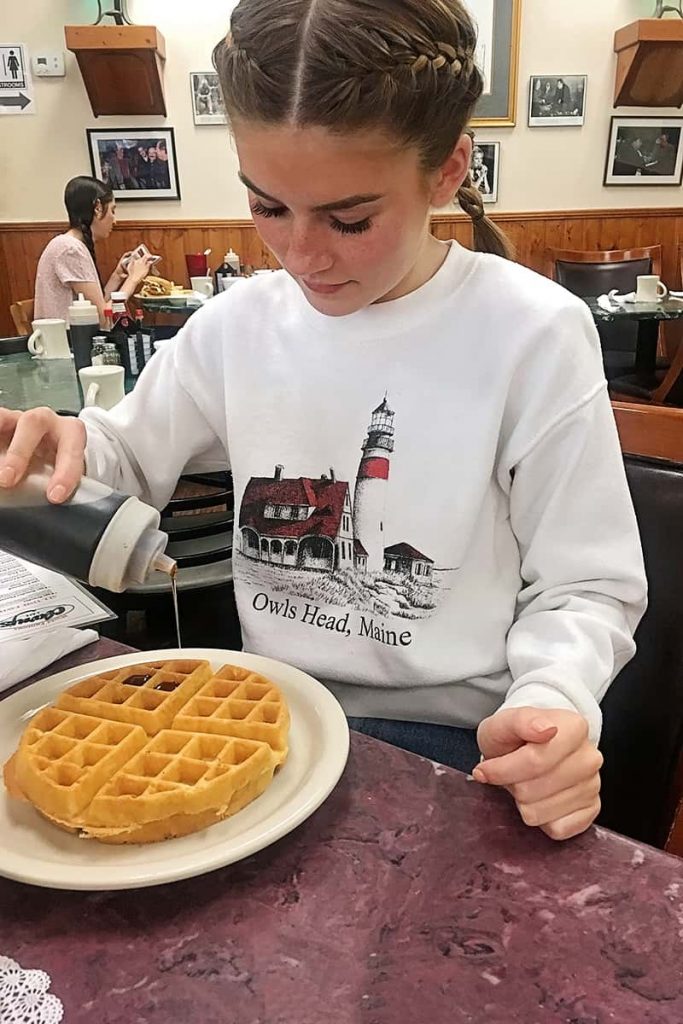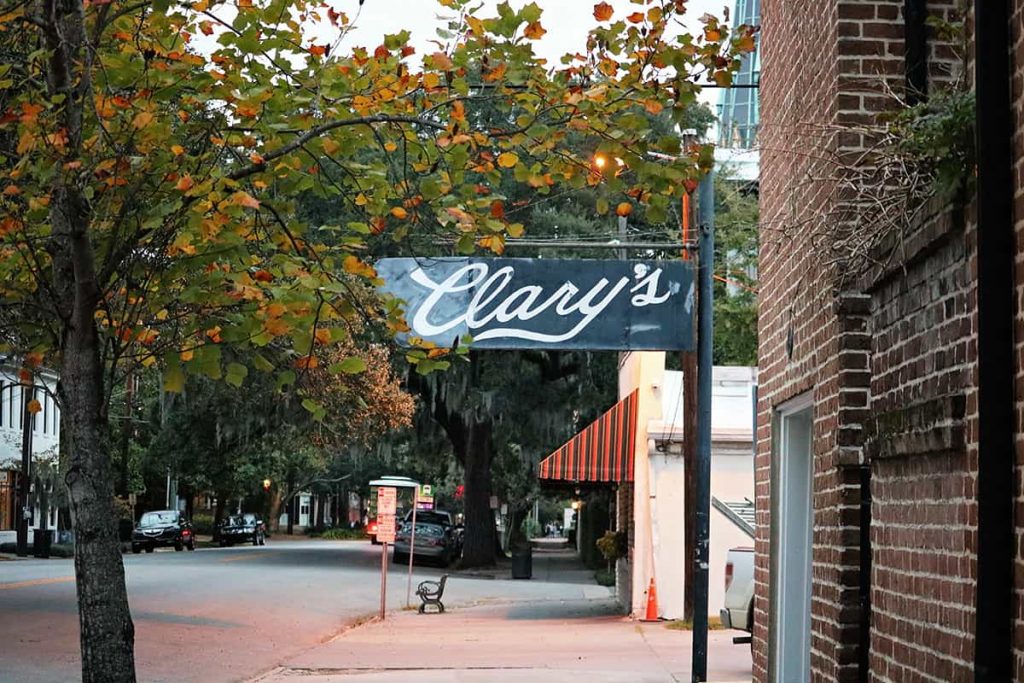 Clary's is a no-frills kind of place; it's filled with good people and classic menu items. You definitely won't leave hungry, since their portion sizes are huge!
Try the the stuffed French toast, Eggs Benedict, waffles, or anything else that suits your fancy. It's all good, and their sweet tea is some of the best in Savannah!
Most Known For: Their corned beef hash, which is made fresh from scratch daily.
Alternate Options: If Clary's is too busy, try Debi's Restaurant or Henry's Restaurant instead.
---
Double Wide Diner
Double Wide Diner | 135a W Bay Street, Savannah, GA 31401
This casual restaurant is the newest addition the popular Treylor Park family. If you've purchased my ebook, then you know Treylor Park has been one of my top ten restaurant picks for the past three years running.
Their dishes are always creative, and the vibe is super casual and fun.
Double Wide is an ideal spot for those of you who, like me, prefer to sleep in and have breakfast a little later in the morning. They serve breakfast all day!
One of my closest friends was recently in town for a visit and tried the "Lowcountry". It includes shrimp, corn, sausage, crab meat, diced red peppers, onion, lots of butter, and too many other yummy things to list. It's all served over scrambled eggs and a waffle fry hash. He loved it.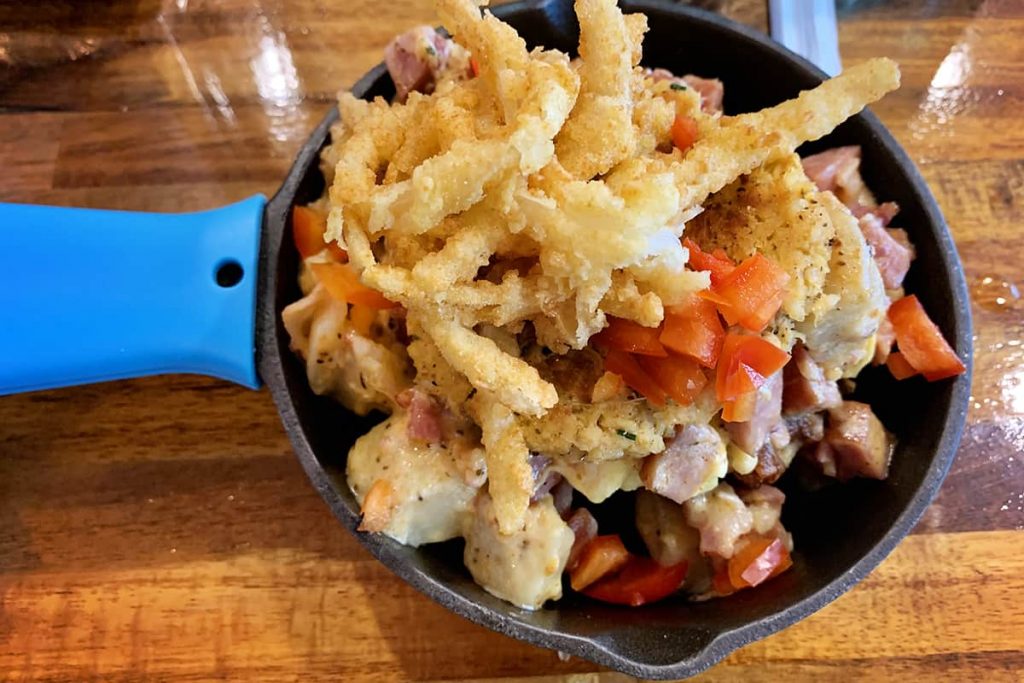 I'm a big fan of their chicken pancakes, which can best be described as taco shells made from pancakes with chicken and strawberries stuffed inside and a delicious aioli sauce drizzled atop.
Most Known For: Their unique food combinations; it's clear the chefs definitely aren't afraid to take risks. Treylor Park's owners have even described their menu as "elevated drunk food" and a "nicer Waffle House". Ha!
---
The Collins Quarter
The Collins Quarter | 151 Bull Street, Savannah, GA 31401
Collins Quarter is yet another of the top ten restaurants in my Savannah First-Timer's Guide. I include them year after year, because I just love their restaurant so much.
They serve breakfast, lunch, and dinner, but they're most known for their Sunday brunch…which is very popular with locals.
The Collins Quarter has two locations. Their original one is located on Bull Street and the newer one is in Forsyth Park.
Each location has a slightly different menu. I'm slightly partial to the original, because they serve my favorite breakfast — the Avocado Smash — at that location.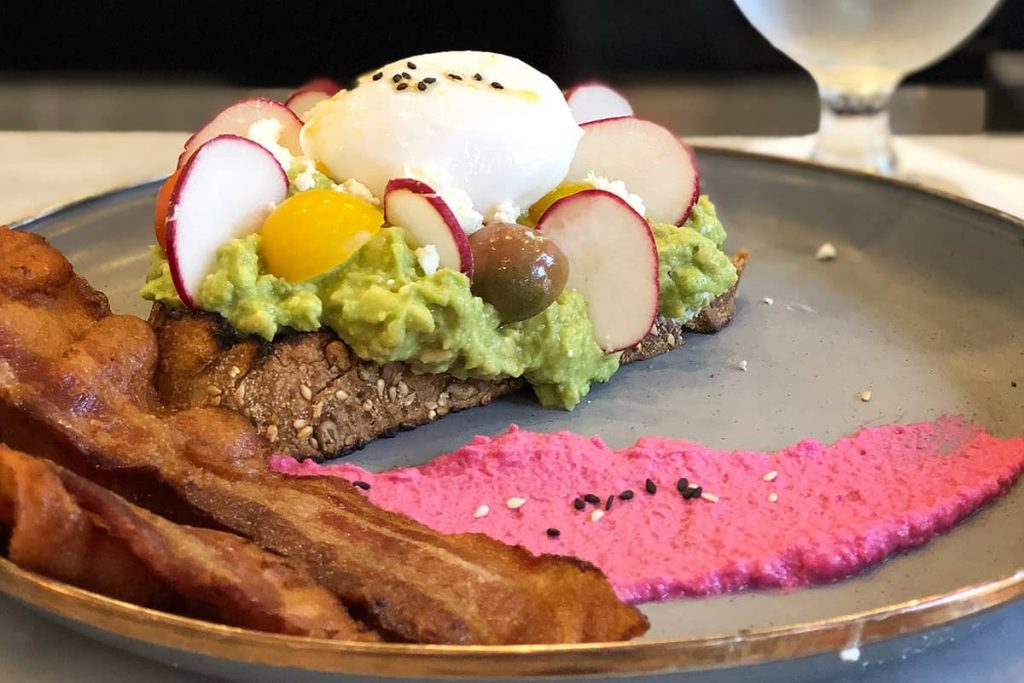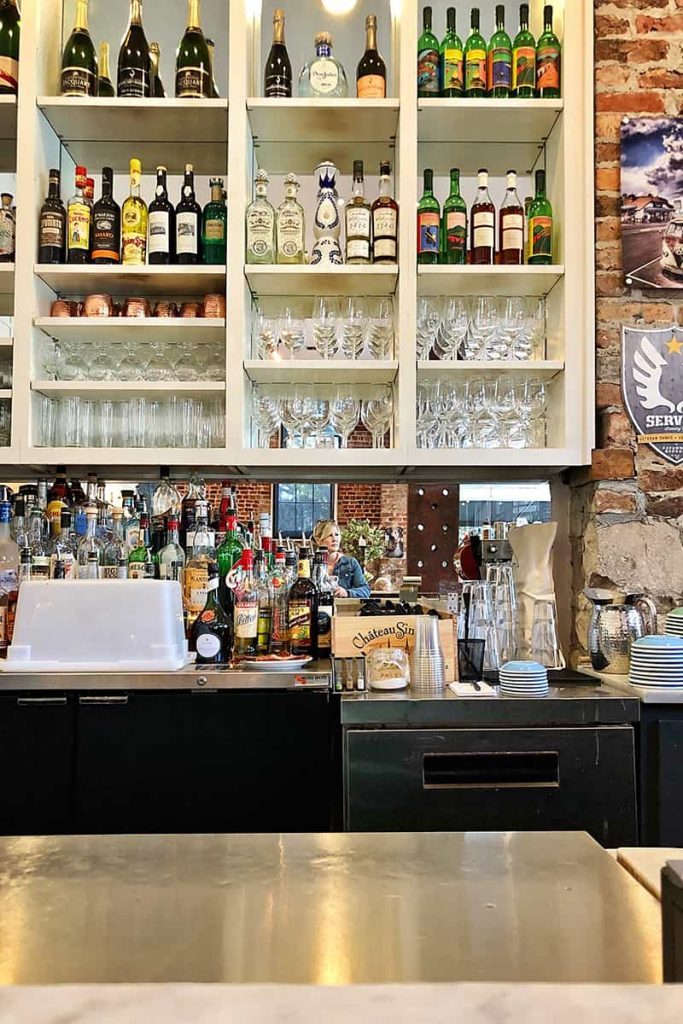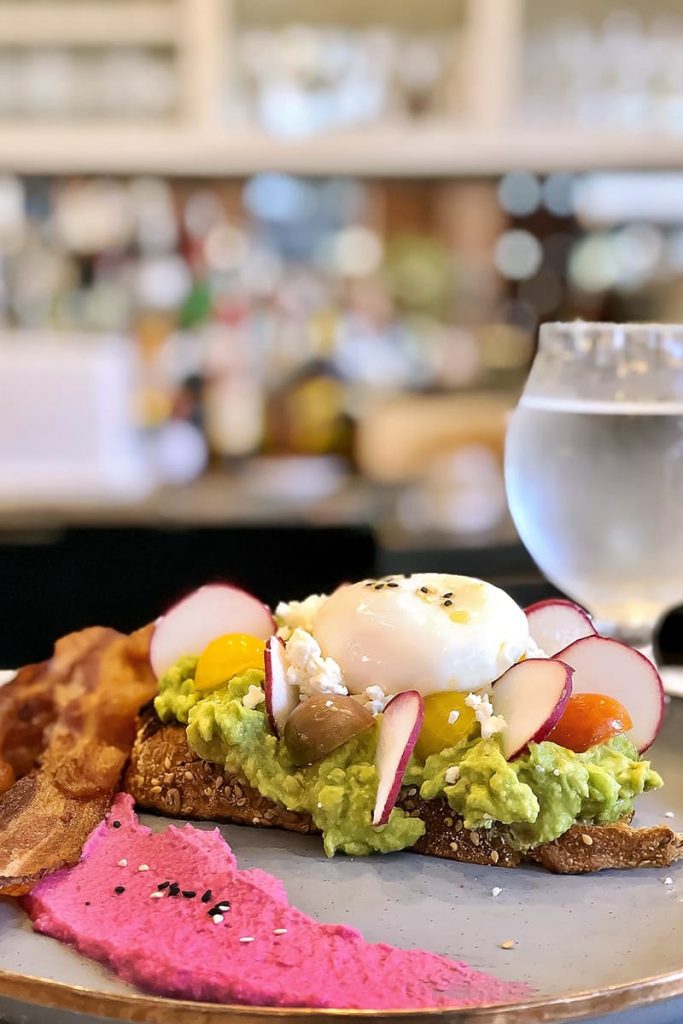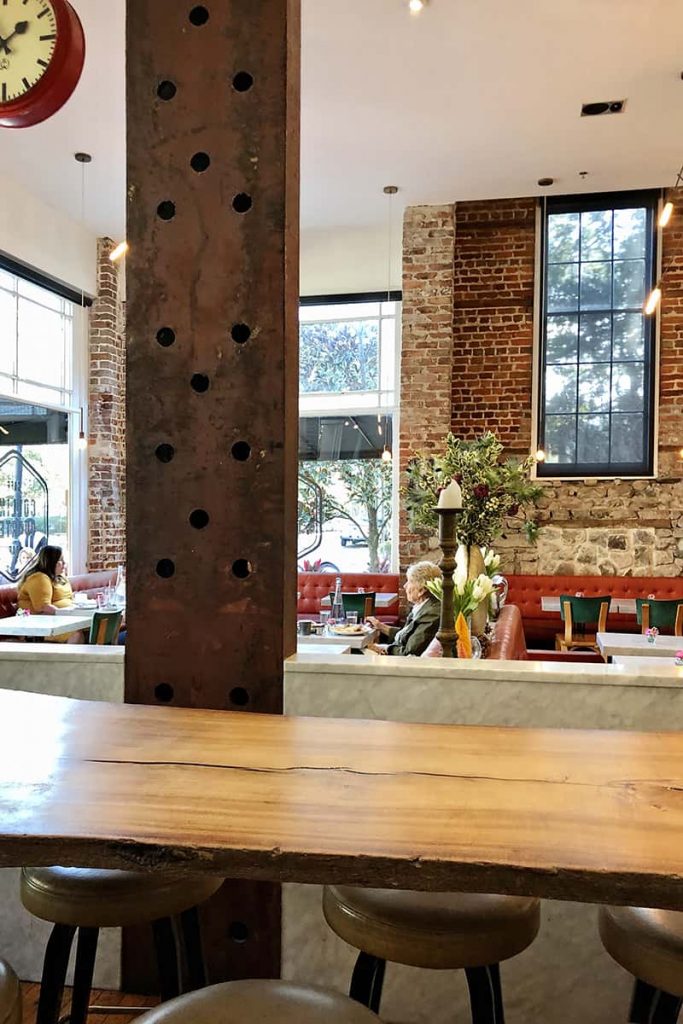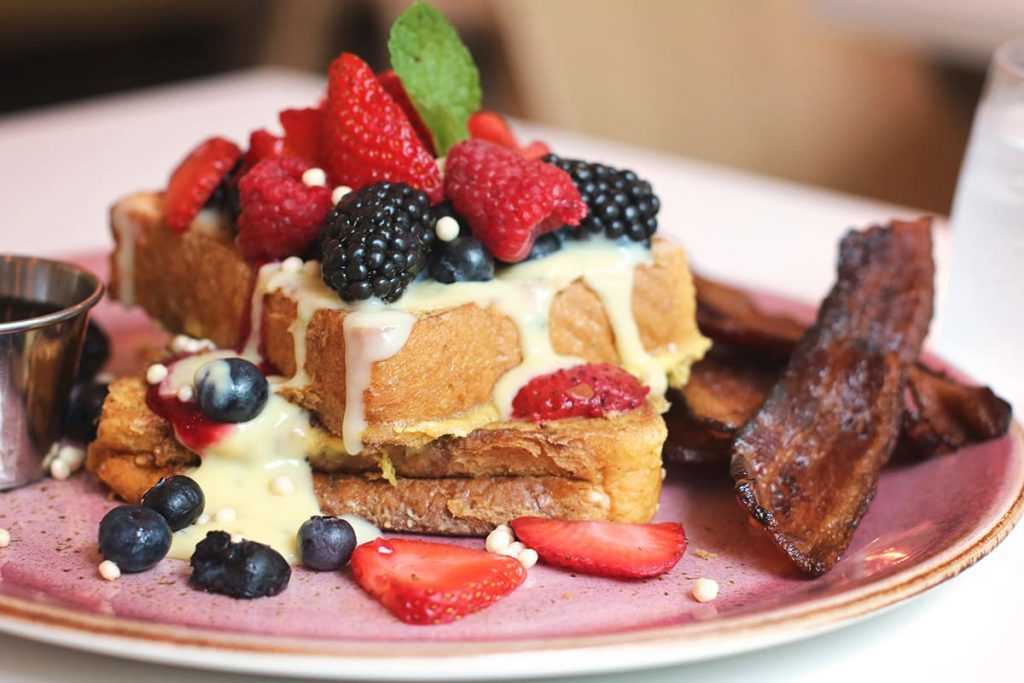 Most Known For: The Avocado Smash (Bull Street location) and the Raspberry French Toast (Forsyth Park location)
---
Little Duck Diner
Little Duck Diner | 150 West Saint Julian Street, Savannah, GA 31401
The Little Duck Diner is my second "breakfast all day" pick. It's such a cute restaurant! If you're visiting Savannah for the 'gram, I'd say this is the most Instagrammable option on the list.
The setting is very vintage/retro with touches of brass and lots of B&W tile throughout. They also have a cute duck theme going on.
You'll spot dashing little ducks throughout the restaurant, including a brass one in the tile right as you walk through the front door. They also have cute rubber duckies as window decor and add them to the alcoholic drinks as a decorative touch.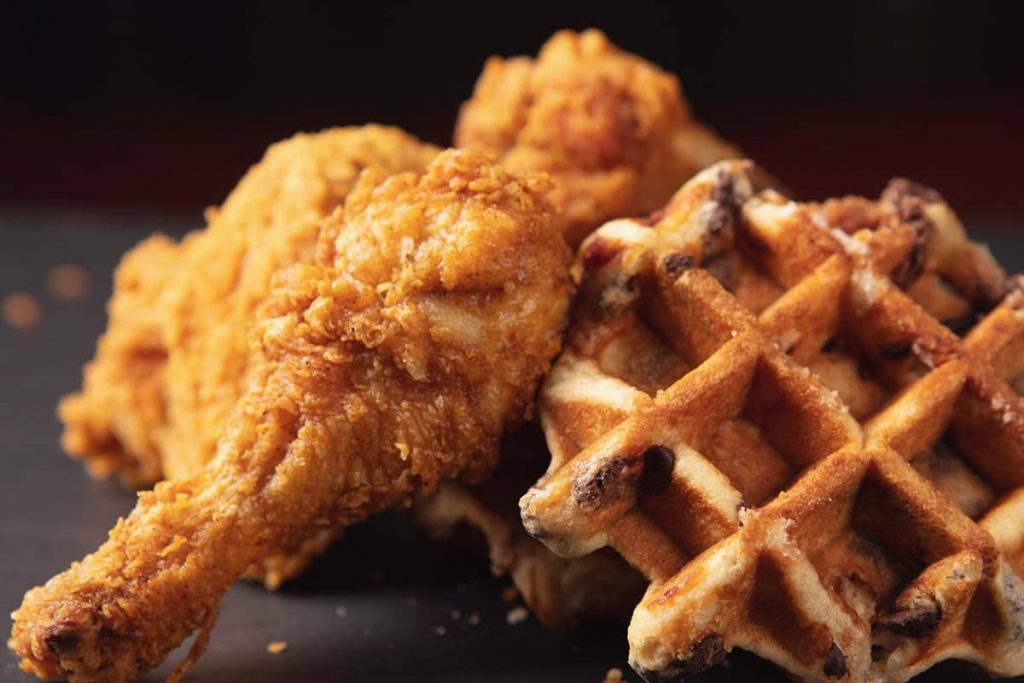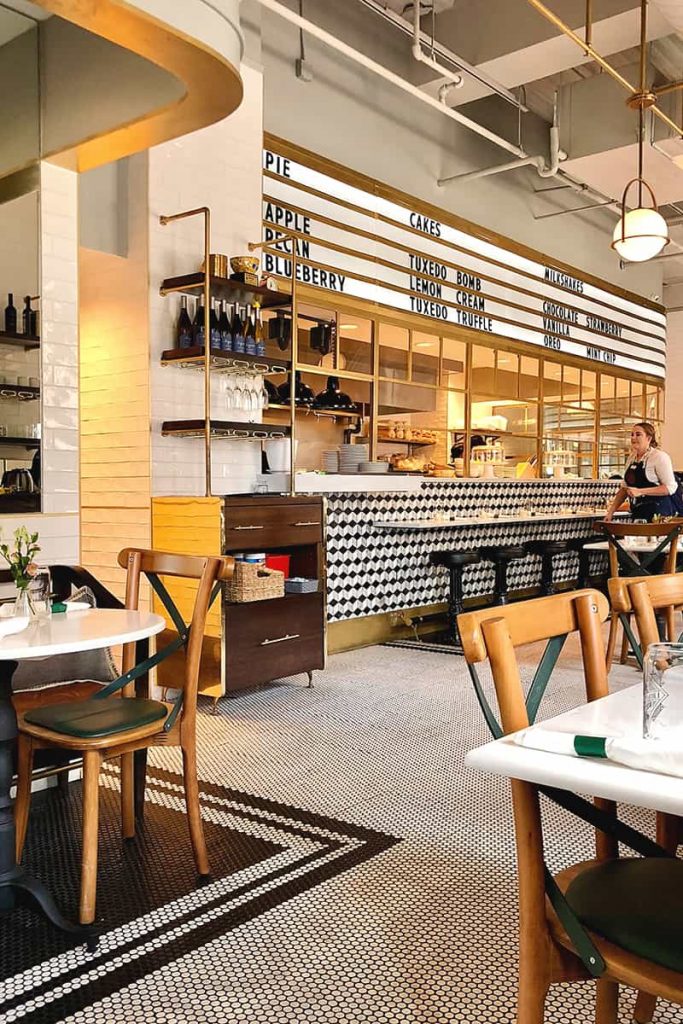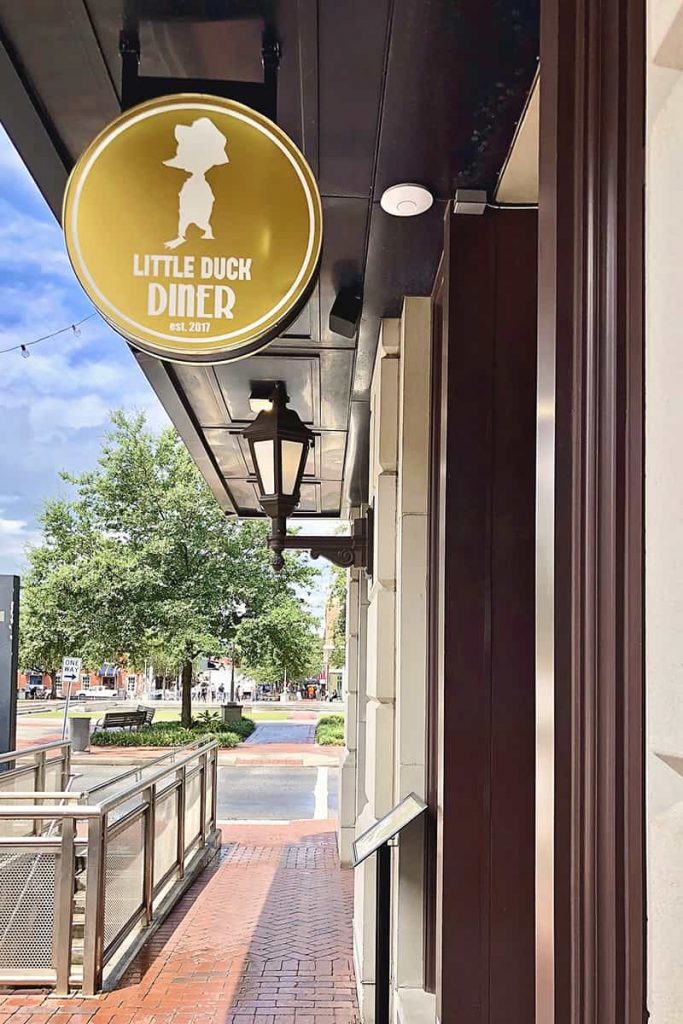 I don't think you can go wrong at Little Duck Diner, since everything on the menu is good.
They have Chicken 'n Waffles, French toast, pancakes, and plenty of egg options, so they have something for even the pickiest of eaters. They serve mimosas, too.
Most Known For: They're most known for their lunch items, which include numerous gourmet grilled cheese options that pair well with their award-winning tomato soup. The Risotto Balls are also wildly popular!
---
B Matthew's Eatery
B Matthews Eatery | 325 E Bay Street, Savannah, GA 31401
If you're looking for a great breakfast spot with a little something for everyone, look no further than B. Matthew's Eatery.
They offer Southern staples like fried green tomatoes, biscuits and gravy, and shrimp and grits, but they also have some really tasty veggie-only options for the more health conscious.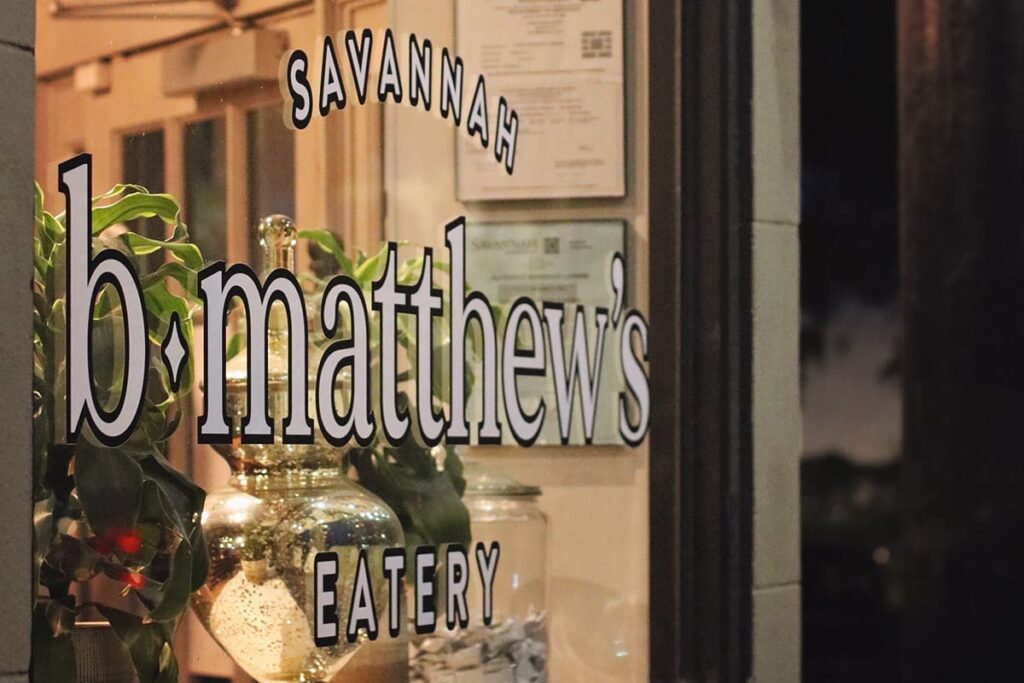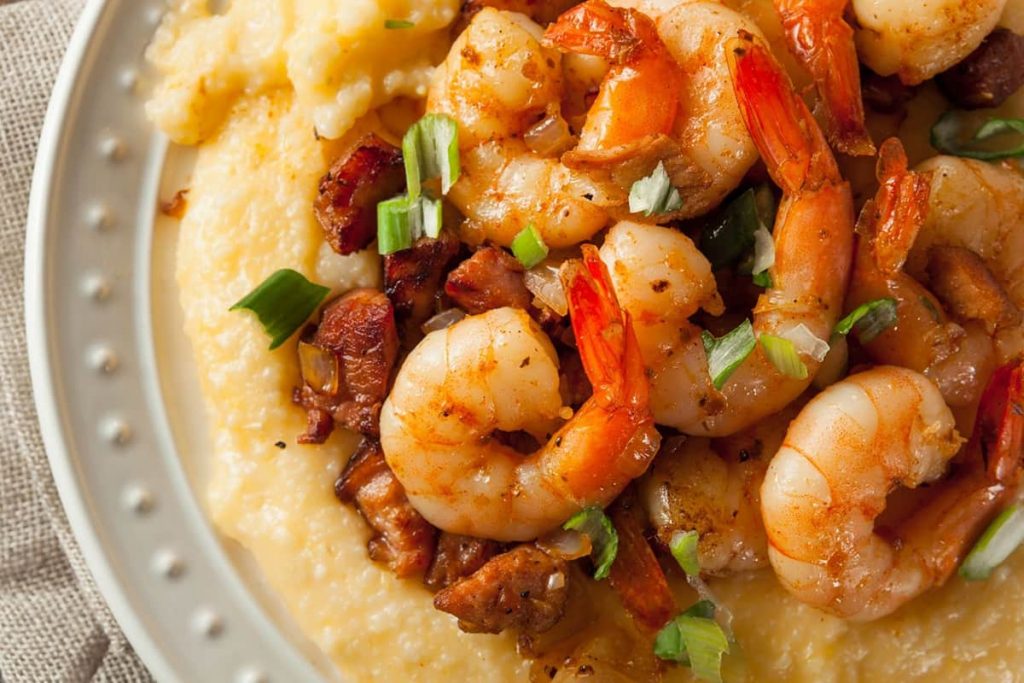 Most Known For: Try the Chicken n' Biscuits or the popular Fried Green Tomato & Crab Cake Benny (which features their hand-breaded blue crab cakes).
Alternate Option: If B. Matthew's is too busy, try J. Christopher's instead.
---
Café M
Café M | 128 E Bay Street, Savannah, GA 31401
A Parisian cafe right here in Savannah? Yes, please! Café M has such a charming vibe.
It's located on the back side of River Street along a really unique area known as Factors Walk. They offer indoor and outdoor seating options.
This is one of my favorite places to go when I want a breakfast that's a little on the lighter side. They excel in French pastries, such as baguettes and croissants, but they also make really fluffy eggs.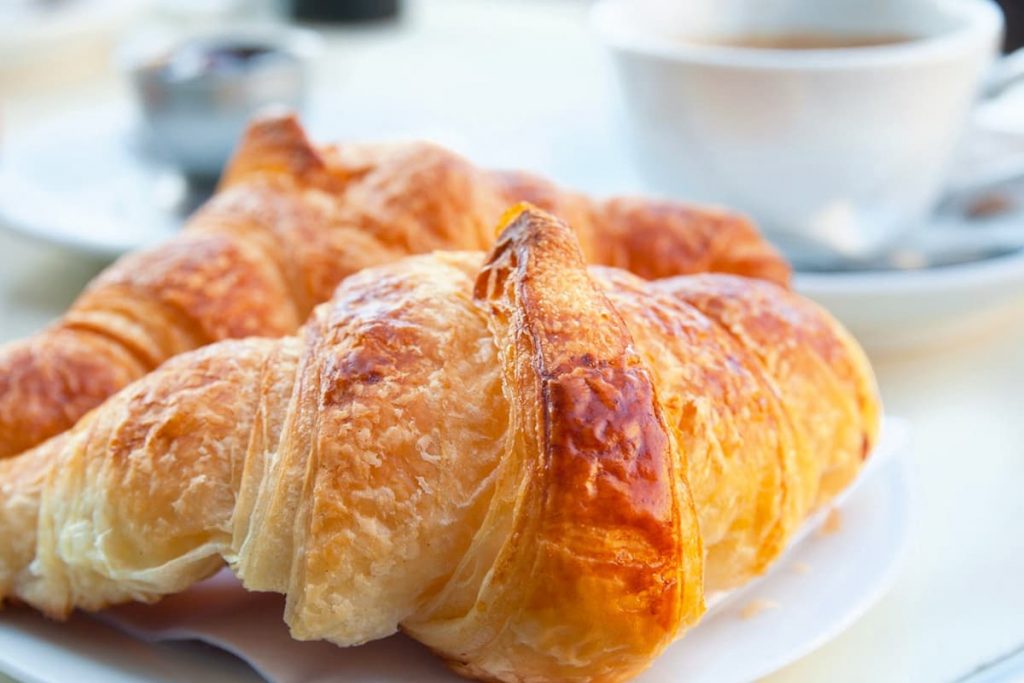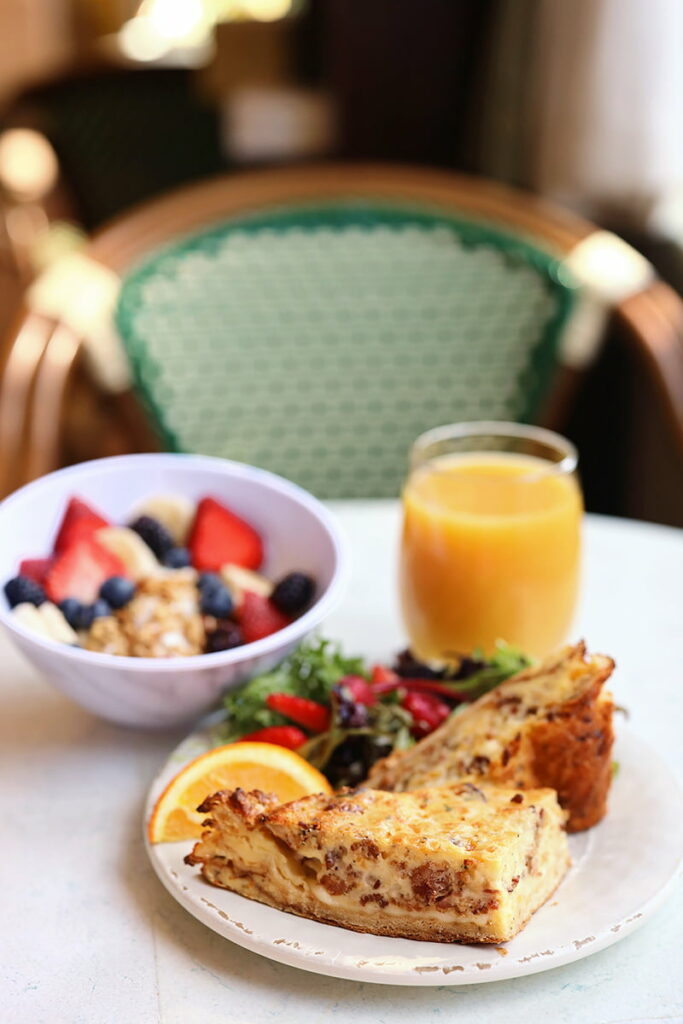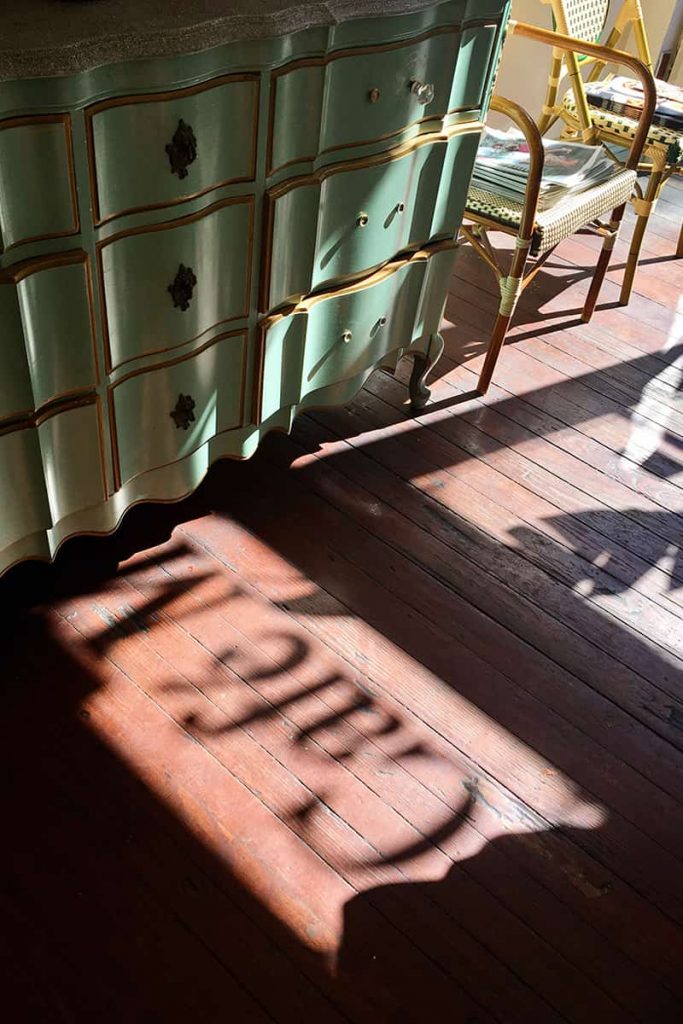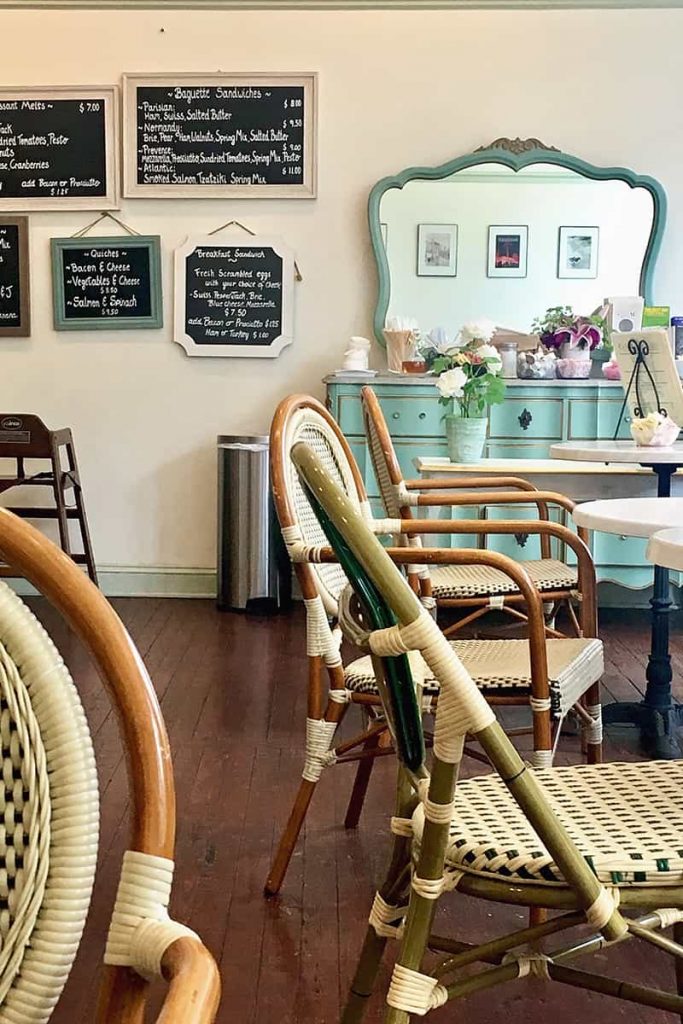 Most dishes come with a side of fresh, seasonal fruits. I'm not a coffee fanatic, but my daughter gives their PERC coffee — a locally-owned roaster — two thumbs up. They also serve mimosas!
Most Known For: Signature Scrambled Eggs and the Chocolate Croissant
Alternate Option: If Café M is too busy, try Goose Feather's Café & Bakery.
---
Map of the Best Savannah Breakfast Restaurants
As promised, I created a helpful map so you can see where these restaurants are located in relation to your hotel. You can also download the interactive map to save to your phone.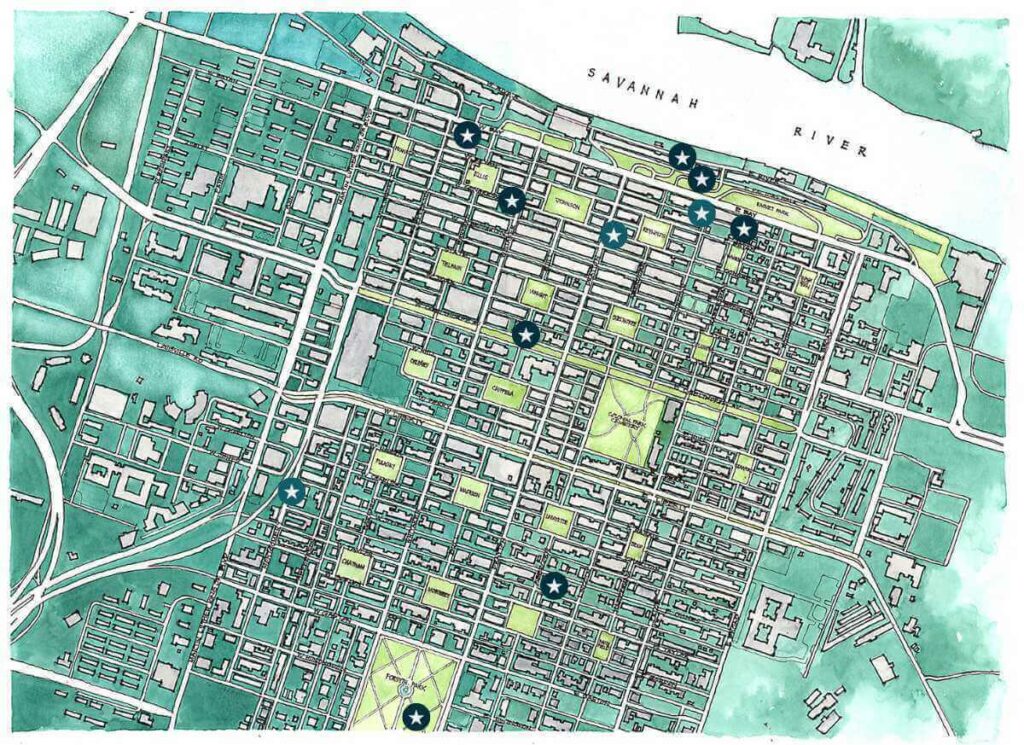 ---
Savannah Food Tours
If you're a total foodie, here are a few tours where you can sample some delicious Southern cooking (or spirits)…
Food tours are a great activity to try if you're a solo traveler and don't want to eat alone or if you just want to sample a variety of restaurants before deciding where to have a big meal!
Related Reading
Looking for more food-related posts? Check these out…
Savannah is a great place to pig out, because it's such a walkable city that you can easily burn off all of your calories after you eat!
It's very easy to get 10,000+ steps just strolling around the Historic District.
---
Savannah Travel Blog
Still need help figuring out what you're going to do while you're in Savannah? No problem! Here are some additional resources to check out…
---
Hopefully you have a good feel for the best breakfast in Savannah after reading this. As always, if you have any questions, just let me know in the comments below!
---
Love this post? Pin it now to save for later!