If you want to check "ghostly dinner party" off your bucket list, I've got you covered with a list of my favorite haunted restaurants in Savannah! After all, it's practically a tradition to dine with a spooky spirit at least once during your visit.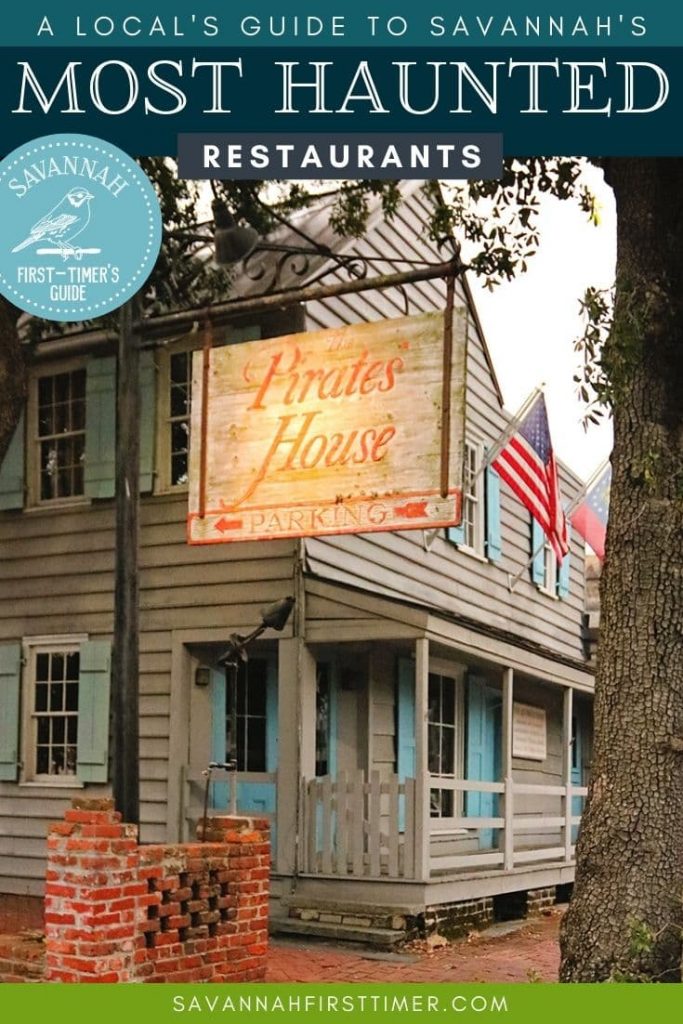 Note: This guide contains affiliate links to my trusted travel partners.
If you're new around here, allow me to extend a warm welcome!
My name is Erin, and I authored the Savannah First-Timer's Guide. It's a helpful ebook that combines my best tips for planning a vacation in Savannah.
---
Table of Contents | Click to Expand
The Most Haunted Restaurants in Savannah
This haunted restaurant guide combines two of my favorite things…ghosts and good ol' Southern cooking! What could be better?
You might also be interested in:
👻 A Local's Take on the Best Ghost Tours in Savannah
🏚️ Haunted Savannah Guide
🍔 The Best Restaurants in Savannah, According to a Local
OK, let's move on to the most haunted restaurants in this spooky city!
---
The Olde Pink House
The Olde Pink House Restaurant | 23 Abercorn Street
This is easily one of the most popular and most famous restaurants in Savannah. In fact, it's so busy that you sometimes need to make reservations at least two months in advance — if not more!
It's busy for good reason, though; the setting is beautiful, and the food is consistently yummy.
Of course, one major draw for the restaurant is that it's considered haunted. It seems like nearly everyone comes to Savannah in search of ghosts!
The Olde Pink House History
I won't go into a ton of detail, but the house was built in 1771 for James Habersham, Jr. and was originally called the Habersham House. He lived there until his death in 1799.
In 1811 the house was converted into Planters' Bank, the first bank in the state of Georgia. At that time two massive cast iron vaults were added to the building.
Back then, the colonists stored their vast fortunes inside those vaults, but today they serve as wine cellars for the restaurant.
You can actually dine inside a vault if you want!
During the Civil War era, General York used the home as his temporary headquarters.
There's no telling how many high-ranking officers from the Union army strolled through the building's imposing front door!
From the late 1800s to the late 1900s, the home changed ownership many times and served a variety of uses.
It was a bookstore, an office space, and the Fowlkes' Georgian Tea Room.
Around that time, it began to fall into disrepair from many years of neglect.
In the early 1960s, preservationist Jim Williams, of "Midnight in the Garden of Good and Evil" and Mercer-Williams House fame, came to the rescue and began renovating the home.
The William Balish family took ownership in 1992 and continued restoring it into the shining jewel you see today.
Is The Olde Pink House Haunted?
Why yes, as a matter of fact. It is!
That's what all the ghost tour guides tell me, at least, and they're a believable bunch. Hehe.
It's reportedly haunted by the ghost of the original owner, James Habersham, Jr.
There are even a few rumors (likely untrue) that he hung himself in the basement.
Servers in the restaurant tell tales of Habersham tidying up the place whenever they leave anything out of order; he tucks chairs back under the tables, straightens the silverware, and he even lights candles.
I personally consider any ghost with OCD as my kindred spirit!
A few other ghosts seem to enjoy hanging out in Planters Tavern, which is located in the basement area of the restaurant.
Bar patrons there have reported seeing an apparition who raises his glass as if to toast them, but then claim that he disappears right before their very eyes!
The Planters Tavern spirit reportedly dresses in military garb and looks like a Revolutionary soldier, which leads to a funny story…
Since the ghosts are frequently dressed in period attire, bar patrons often mistake them as characters from one of the Hop-On/Hop-Off trolley tours — until they fade away into thin air!
Popular Dishes at The Olde Pink House
My personal favorite dish is probably the lump crab cake with fried green tomatoes.
Their fried green tomatoes are perfectly tart on the inside with just the right amount of flaky crust and seasoning on the outside.
Here are a few options you should try. Some recommended by me, others by readers in my Savannah Facebook group:
Appetizers: Pan-Seared Jumbo Lump Crab Cake
Appetizers: Mac and Cheese Jalepeño Poppers
Soup: She Crab Soup (a Lowcountry tradition!)
Salad: The "BLT" Salad
Dinner: Crispy Scored Flounder (their signature dish)
Dinner: Pecan-Crusted Chicken Breast
Dessert: Praline Basket
Dessert: Praline and Peanut Butter Mousse Bomb (when available)
I'm getting hungry just thinking about the food! Remember to make your reservations a couple months in advance.
If you forget, you can try showing up at the side bar entrance to get on their wait list in case there's a cancellation. The wait list opens at 4:45 pm, so try to arrive around 4:30.
If nothing else, the food at the bar is the same as in the restaurant, so you might be able to grab a spot there.
FAQ: Why is The Olde Pink House pink?
The home is made of bricks with a white plaster overlay, and — no matter how often it was painted — the pink from the brick always bled through and stained the white plaster. It reportedly annoyed the heck out of the original owner, James Habersham, Jr. (The man did NOT want to live in a pink house, so he constantly repainted it!) In the early 1900s, the owner at the time finally gave in and painted it the beautiful shade of pink you see today.
Related Reading: Which Famous Savannah Restaurants are Actually Worth Visiting?
---
The Pirates House
The Pirates' House Restaurant | 20 E Broad Street
This historic establishment has long been known as one of the most haunted restaurants in Savannah!
It's a very popular stop for tourists. Some locals also love to eat there, while others consider it a tourist trap.
I enjoy going, but I prefer it during off hours when it isn't as busy. It's nice to sit at the bar to eat.
History of The Pirates' House
The Herb House portion of The Pirates' House was constructed in 1734, which makes it one of the oldest surviving structures in the entire state of Georgia!
In 1753, the inn and tavern were added as a place for sailors to stay and hang out when they were docked in Savannah. Today, the buildings still look very much like they did back in the old days.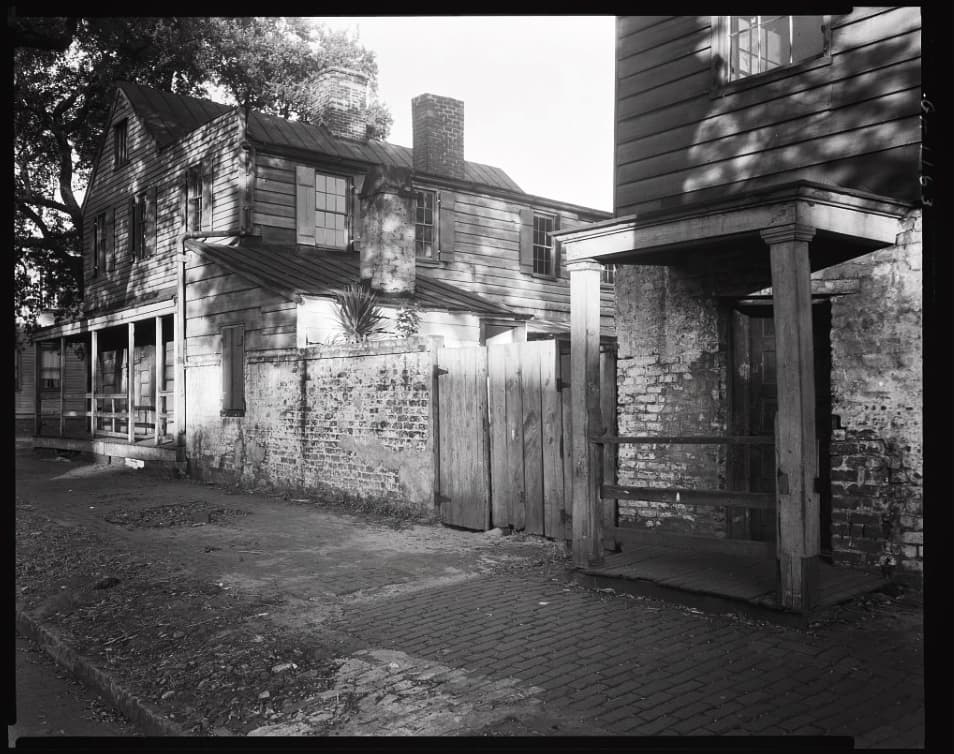 Like many buildings in Savannah, it's rumored that there are tunnels beneath the restaurant that lead out to the Savannah River.
In the mid-1800s, privateers reportedly targeted drunken sailors in the tavern and would knock them over the head, and then carry them out through the tunnels.
The men were then forced to work aboard pirate ships as imprisoned sailors. If they didn't comply, they risked being tossed overboard.
Is The Pirates' House Haunted?
That's an excellent question!
I've eaten in the restaurant, explored the building, and I've even wandered around the property at night to peek in the windows after dark.
I haven't personally spotted any ghosts there, but others have had a few spooky experiences.
Employees have reported hearing moaning sounds originating from the tunnels and have heard the sound of boots walking across wooden floor planks — even when they're the only ones in the building.
They've also reported feeling as if they're being watched, and then said they came face-to-face with someone who looks directly at them and then fades into thin air.
Intriguing.
Whether any of that is true or not, I have no idea. In my Savannah First-Timer's Guide ebook, I always try to debunk the myths, but this one has some potential.
U.S. Naval records indicate that there were pirate attacks occurring in nearby waters as late at the mid-1800s, so there could be shanghaied ghost spirits wandering the property.
Popular Menu Items at The Pirates' House
The award-winning Honey Pecan Fried Chicken dish is their most popular dish. They also tend to do well with their seafood options.
Bread: Biscuits with Marmalade or Honey Butter
Appetizers: Fried Green Tomatoes w/Pimento
Soup: She Crab Soup (a must!)
Salad: Fried Green Tomato Salad
Dinner: Honey Pecan Chicken (their most popular dish)
If you decide to do a Hop-On/Hop-Off tour, The Pirates' House is one of the stops along the tour route.
I created a helpful one-day Savannah itinerary based around the trolley tour. Be sure to check it out!
---
17Hundred90 Inn and Restaurant
17Hundred90 Inn and Restaurant | 307 E President Street
Of the three restaurants listed on this post, I'd say this spot is the most popular with locals.
17Hundred90's restaurant is a cozy little spot; it's rustic, charming, and loaded with ambiance.
The best way I can describe it is to say you'll feel welcomed as soon as you sit down.
Is 17Hundred90 Inn's Restaurant Haunted?
Absolutely! In fact, I'm pretty sure I even captured a ghost on in one of my photos the last time I was there to pick up food.
Check it out for yourself and see what you think…
Spooky, right?
I took that photo in the bar area, which is adjacent to the restaurant.
I've been back since then, but I was on a ghost tour so I was with a huge group of people. I didn't notice anything at that time, but I wouldn't expect to with such a large crowd around me.
I definitely consider it one of the most haunted restaurants in Savannah!
The ghost stories about 17Hundred90 Inn abound.
So much so, in fact, that I wrote an entire post about the place: Is 17Hundred90 Inn Really Haunted by the Ghost of Anna?
Popular Dishes at 17Hundred90 Inn & Restaurant
The restaurant is popular with locals and visitors, so you know that means it's a good spot.
The fried green tomatoes are crispier and more deeply fried here than at the two restaurants listed above. (My favorites are at The Olde Pink House.)
This is one of those spots where I have a really hard time not filling up on bread as soon as I sit down. They serve hot biscuits drizzled (smothered) in honey and…oh my gosh, they are heavenly!!
17Hundred90 Inn's signature dish is their Rack of Lamb.
Bread: Honey Biscuits
Appetizer: Crab Cakes w/Remoulade
Appetizer: Fried Green Tomatoes
Salad: 1790 Signature Salad
Dinner: Rack of Lamb (their specialty)
Dessert: Pecan Pie (w/fresh Georgia Pecans!)
Here's an insider tip for you!
If you want to sample some world-famous Leopold's Ice Cream, but don't want to stand in the insanely long line in front of their Broughton Street store, you can order it by the scoop in 17Hundred90's restaurant.
---
Haunted Savannah Restaurants: Food Tours
If you're interested in doing a food tour, they're a nice way to sample a variety of restaurants (haunted or otherwise).
Here are a few I recommend…
The first four options are walking tours, which means you'll burn off some calories between each stop.
If I'm not mistaken, I believe that means you can eat more during the tour!
---
Savannah Travel Blog
If you need help planning your trip to Savannah, I've got plenty of resources for you…
Thanks for visiting, and maybe I'll run into you next time you're in town! I'm always out and about in the Historic District with my camera.
---
Have you been to any of these haunted restaurants in Savannah? Drop a comment below if you had a spooky experience!
Historic Photo Citations:
The Olde Pink House: Historic American Buildings Survey, C. (1933) Habersham House, Reynolds Square Vicinity, Savannah, Chatham County, GA. Savannah Georgia Chatham County, 1933. Documentation Compiled After. [Photograph] Retrieved from the Library of Congress, https://www.loc.gov/item/ga0023/.
The Pirates' House: Johnston, F. B., photographer. (1939) Pirates House, Broad Street, East, Savannah, Chatham County, Georgia. Savannah United States Georgia Chatham County, 1939. [or 1944] [Photograph] Retrieved from the Library of Congress, https://www.loc.gov/item/2017886404/.