Since I'm often asked the best restaurants in Savannah, I thought I'd break down the different options and list my personal favorites to help you decide where to go!
My #1 piece of advice when it comes to dining out in Savannah is to avoid the chains and always choose a local spot.
We have plenty of incredible options to keep you satisfied — even if you eat out for every single meal during an entire weeklong vacation!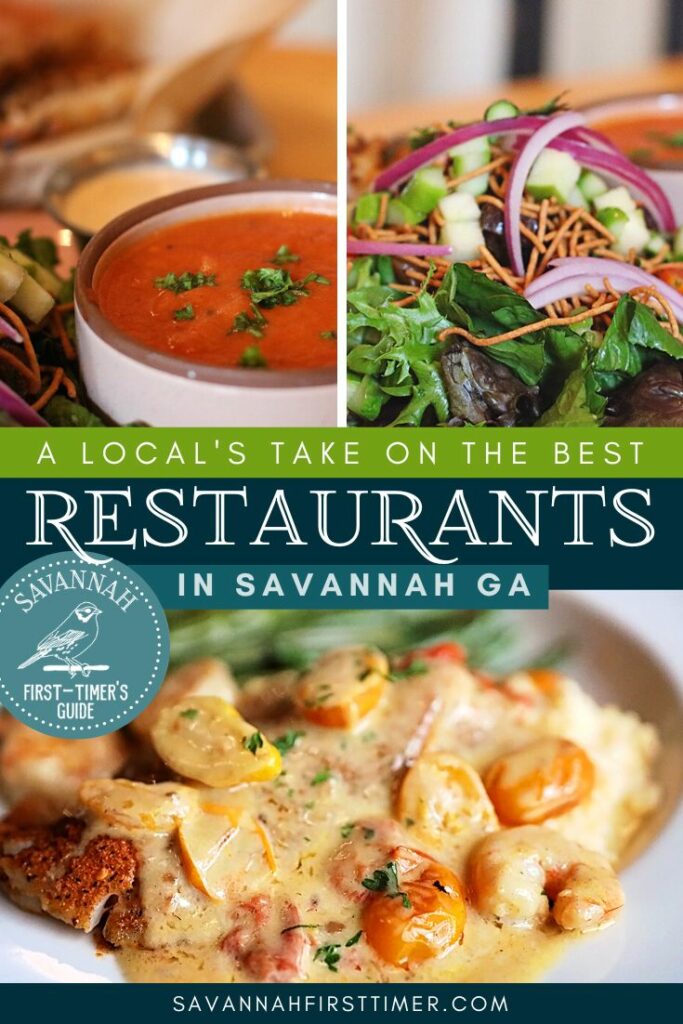 Note: This guide contains affiliate links to my trusted travel partners.
If you're new around here, first of all…allow me to extend a warm welcome!
My name is Erin, and I authored the Savannah First-Timer's Guide. It combines my top tips from this website into one downloadable guide.
---
Famous Savannah Restaurants
There are some popular restaurants in Savannah that everyone seems to know about, so you might hear them mentioned over and over again.
As is the case in many cities, the most well-known restaurants aren't always the best.
Sometimes they're simply the ones that have been around the longest. In other instances, they're restaurants that make the news frequently…and not always for the best reasons.
These are a few of the most famous restaurants in Savannah:
The Olde Pink House
The Pirates' House
Mrs. Wilkes Dining Room
The Lady & Sons
The Grey
Husk
Back in the Day Bakery
Anytime you see a "related reading" link on my site, like the one below, you can click on it to read in-depth about that particular subject.
For example, in the post linked below, I tell you which famous restaurants are worth visiting and which ones are simply overhyped tourist traps.
Related Reading: Which Famous Savannah Restaurants are Worth the Hype?
---
Best Restaurants in Savannah Georgia
This was tough, but I've compiled a list of the current best places to eat in Savannah — in my opinion. (Yes, this list is subjective.)
These restaurants are consistently incredible! I've tried to include options in a variety of price ranges — not just the fanciest spots.
Here are my current top ten all around favorites, in alphabetical order:
Alligator Soul
Brochu's Family Tradition
Common Thread
Crystal Beer Parlor
Erica Davis Lowcountry
Geneva's Famous Chicken and Cornbread
Green Truck Pub
Starland Cafe
Sweet Patricia's
The Collins Quarter
I should probably note that my favorites change frequently, so I'll update this list on a regular basis!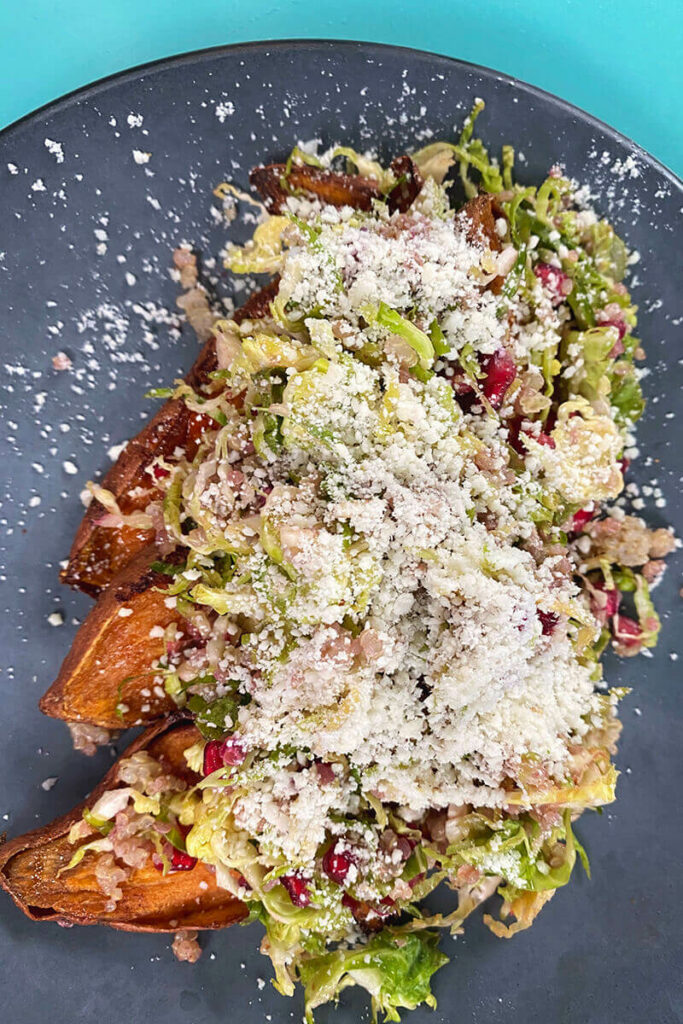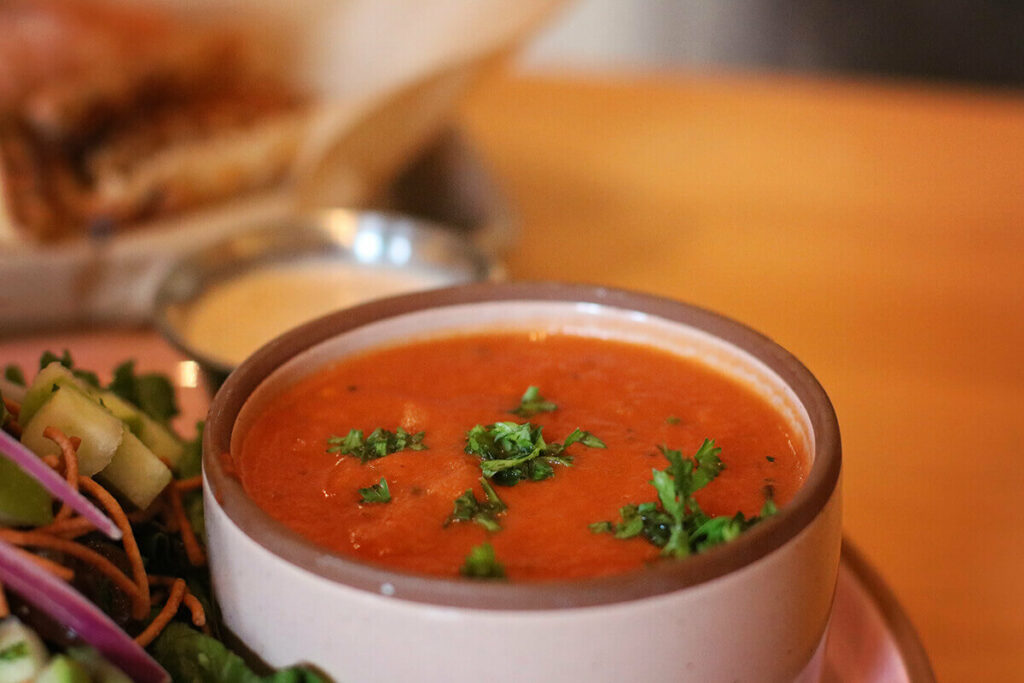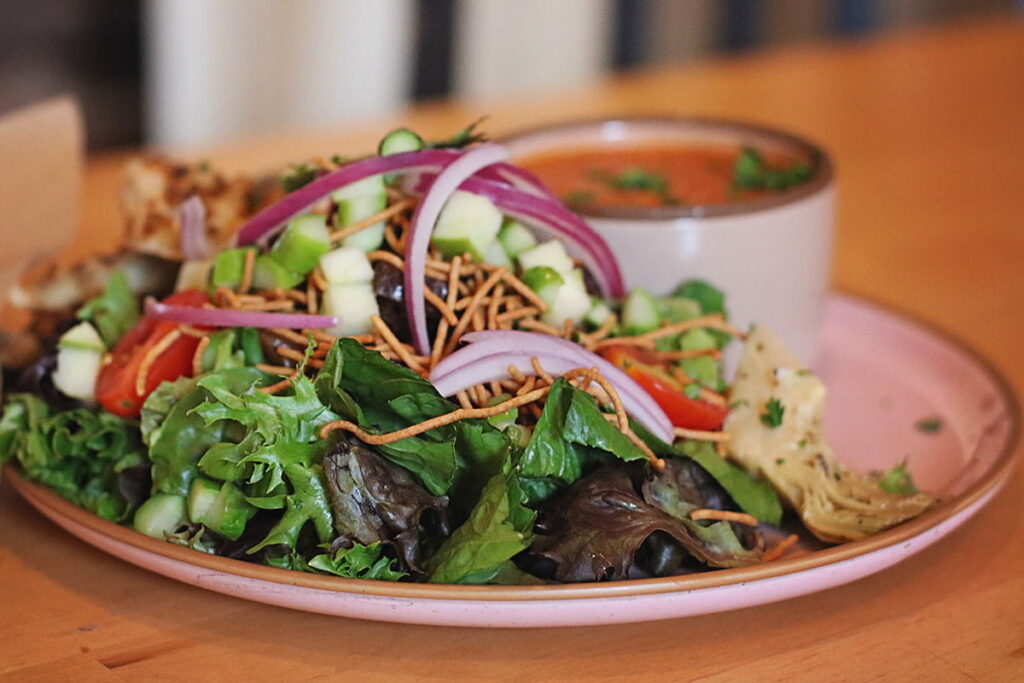 Try a Food Tour: Savannah Culinary & Cultural Walking Food Tour
---
Breakfast Restaurants in Savannah
Whether you're looking for a hearty Southern-style breakfast or you prefer to load up on pastries from a bakery, there are plenty of yummy breakfast places in Savannah.
Here are ten of the most popular options, in alphabetical order:
Alexander's Bistro
Auspicious Bakery
B Matthews Eatery
Big Bon Bodega
Clary's Cafe
Huey's on the River
Husk
Narobia's Grits & Gravy
Sweet Patricia's
The Collins Quarter
My personal favorite is probably The Collins Quarter for their delicious Avocado Smash, but I'll forever be a fan of Clary's and Narobia's for their hearty meals and friendly, down-home atmosphere.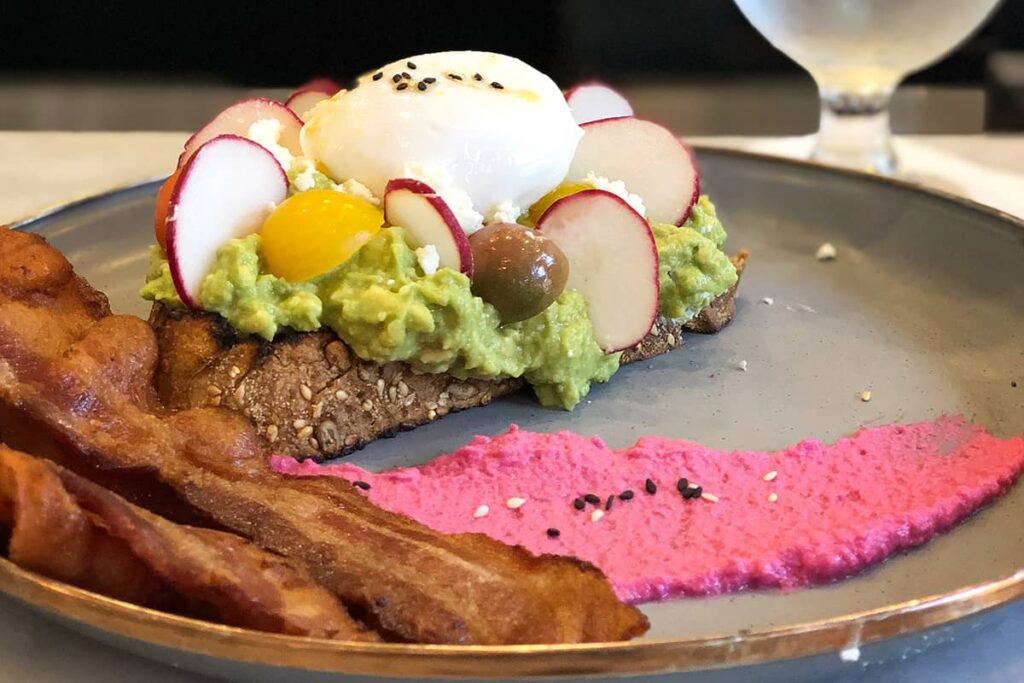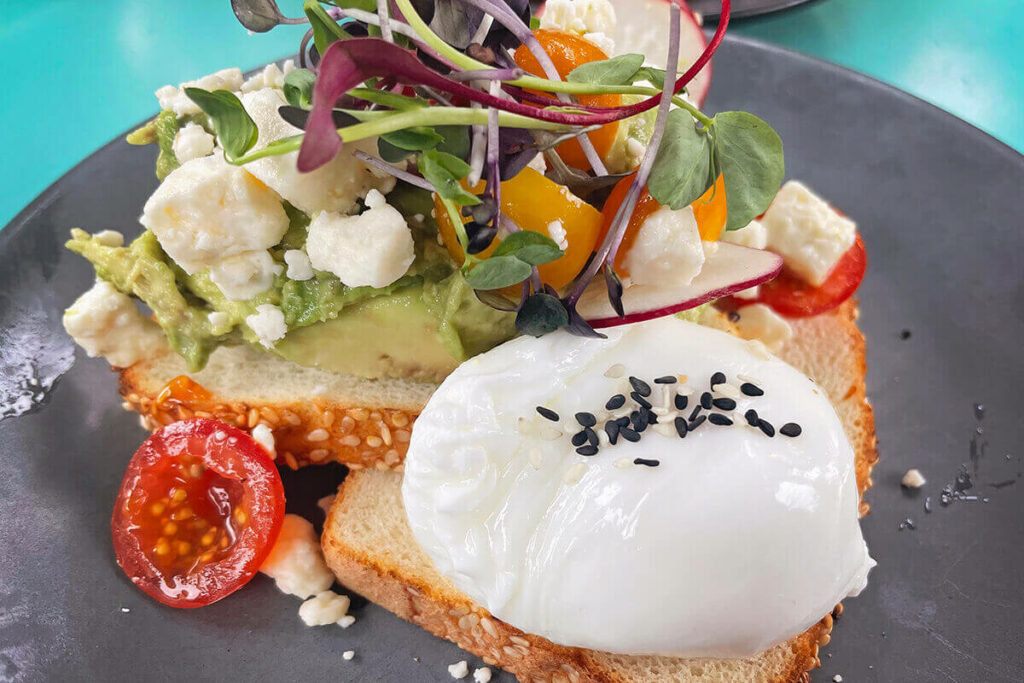 Historic District Breakfast
Since the majority of people who visit Savannah stay downtown, I've written an entire post about the best places to go for breakfast in the Historic District.
Each one is within easy walking distance of downtown hotels.
Here are my top five, in alphabetical order:
B. Matthew's Eatery
Clary's Cafe
Double Wide Diner
Huey's on the River
The Collins Quarter
The post linked below includes lots of food photos and has some additional yummy breakfast spots in addition to the five options listed above.
Related Reading: A Local's Guide to the Best Breakfast in Savannah
Starland District Breakfast
Since I live in Starland, and since breakfast is my favorite meal of the day, I thought it might be fun to also include a few favorite breakfast spots near me.
A couple of these are hidden gems you might not hear about otherwise.
Narobia's Grits & Gravy
Sweet Patricia's
Troupial Savannah
Sweet Patricia's is my current favorite, but make note that they only offer breakfast on Sundays.
FYI, if you're looking for Back in the Day Bakery, the owners sold the building in late summer of 2023 — so you'd better get there while you still have the opportunity! They do sell their cookbooks online, so you can try to recreate the magic at home.
Related Reading: 11 Incredible Starland District Restaurants (and 5 Hidden Gems!)
---
Best Fried Chicken in Savannah
Fried chicken is a staple in the South, and Savannah has some solid options if you happen to get a craving for it during your visit.
Here are my top five picks, in alphabetical order:
Brochu's Family Tradition
Geneva's Famous Chicken and Cornbread
Mrs. Wilkes Dining Room
Savannah Fried Chicken
Sisters of the New South
I say this all the time, but I realize the term "best" is highly subjective.
That's true whether you're referring to the best restaurants, tours, places to stay — or really anything, for that matter.
However, I can tell you beyond a shadow of a doubt that my personal favorite spot for the best fried chicken in Savannah is Geneva's.
In fact, I love it so much that I hate to even list it here! I wish I could keep Ms. Geneva's all to myself. Her fried chicken reminds me of Sunday dinners at my Nana's house.
The folks at Brochu's are solidly in the #2 spot for me. Their chicken tastes completely different from Geneva's — but in a good way. The coating is lighter and flakier, and the seasoning is unique (and slightly) addicting. The chicken is brined first, then fried.
Brochu is a James Beard-nominated chef, and his restaurant was listed as one of the Best New Restaurants in the U.S. in 2023.
---
Savannah's Top Seafood Spots
Since Savannah sits along the beautiful Georgia Coast, we're lucky to have our choice of fresh seafood year round.
Let me tell you, there's something pretty special about plate full of fresh-caught wild Georgia shrimp!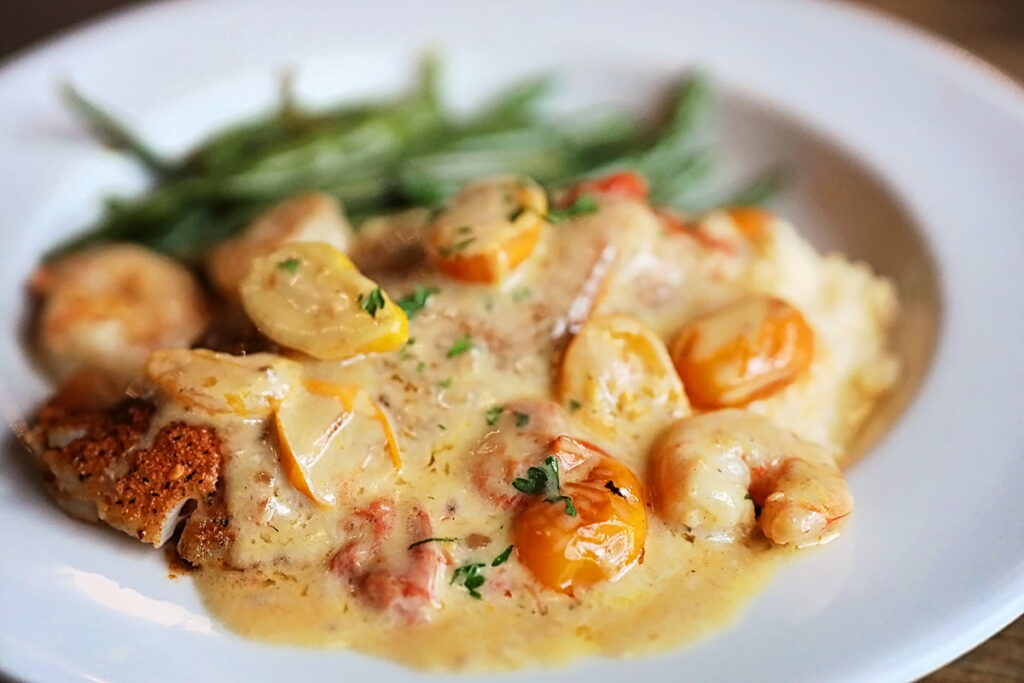 Here are my top five picks, once again in alphabetical order:
a.Lure
Chive Seabar and Lounge
Driftaway Cafe
Erica Davis Lowcountry
The Wyld Dock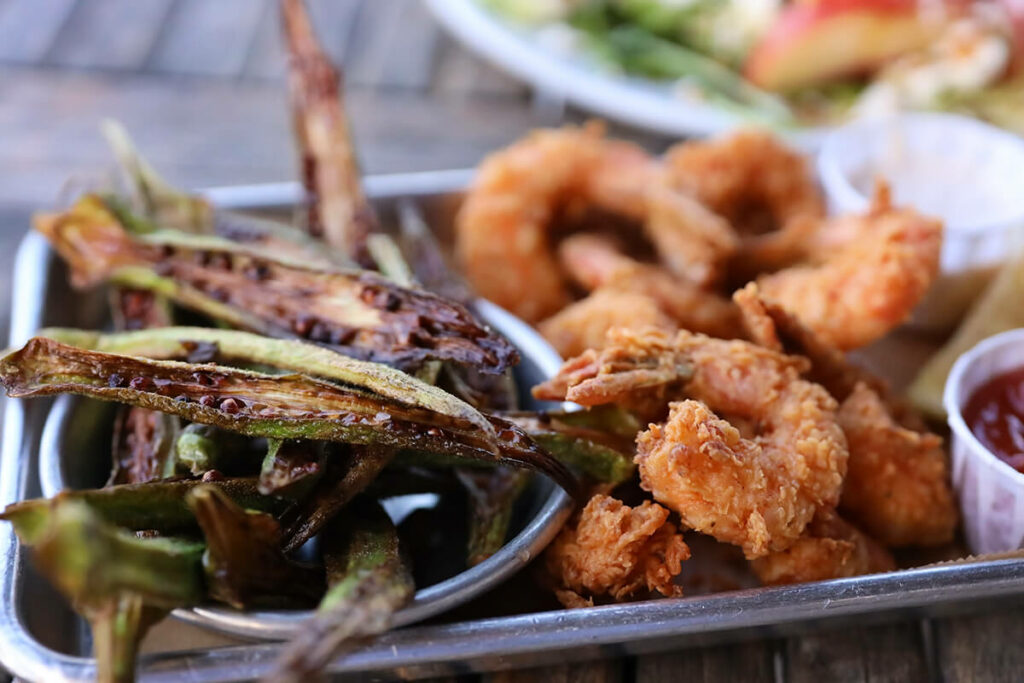 I should also probably include a special shoutout to Crystal Beer Parlor and B. Matthew's Eatery in this section for serving up some of the best shrimp and grits in Savannah.
Related Reading: A Local's Guide to the Best Seafood in Savannah
---
The Best Burger in Savannah
Few restaurants in Savannah seem to create burgers worth writing home about, so that makes this an easy category to complete.
Here are my top picks, in alphabetical order:
Alexander's Bistro
Betty Bombers
Crystal Beer Parlor
Green Truck Pub
Over Yonder
Sly's Sliders and Fries
The best of the best are Alexander's Bistro, Over Yonder, Green Truck Pub, and Crystal Beer Parlor.
I get a burger nearly every time I go to Crystal Beer Parlor, and I don't believe I've ever tried anything other than a burger at Green Truck Pub.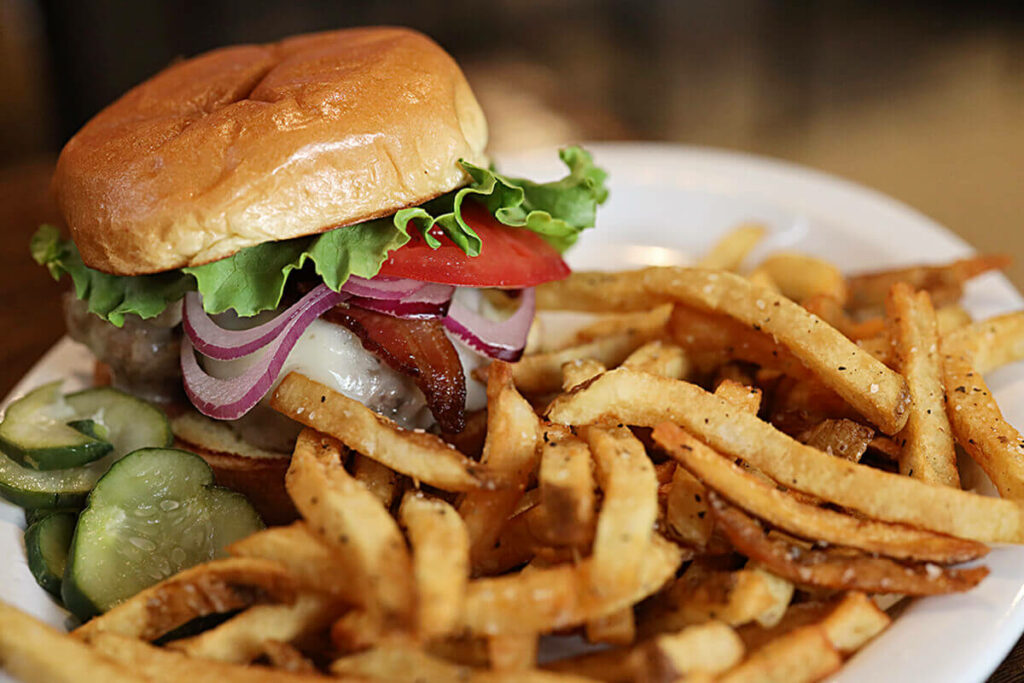 You can't go wrong with any of these restaurants — although some people might tell you to steer clear of the ketchup at Green Truck. It has a sweetness to it, so it's a bit of an acquired taste! (I like it.)
Green Truck has won "Best Restaurant in Savannah" awards from various local publications for at least ten years in a row. Their (many) certificates line the walls in the dining area.
One of the things I appreciate most about Green Truck is that they'll serve my burger "bloody." (I'm a savage, what can I say?)
I love that, because I typically only eat half — since I pig out on the fries. The other half can be warmed in the oven the next day and still be juicy.
PS: I should give a shoutout to The Public Kitchen & Bar in this section, because I hear their grass-fed burgers are incredible. I just haven't tried one yet. They're next on my list!
---
The Best BBQ in Savannah
My all-time favorite type of barbecue is good ol' Texas brisket straight off the smoker, but I appreciate a wide variety of BBQ styles. Luckily, Savannah has a few BBQ spots that rival my favorites in Texas.
Here are my top picks for the best BBQ in Savannah, in alphabetical order:
Erica Davis Lowcountry
Munchie's BBQ
Randy's BBQ
Sandfly BBQ
Slow Fire BBQ
Trick's BBQ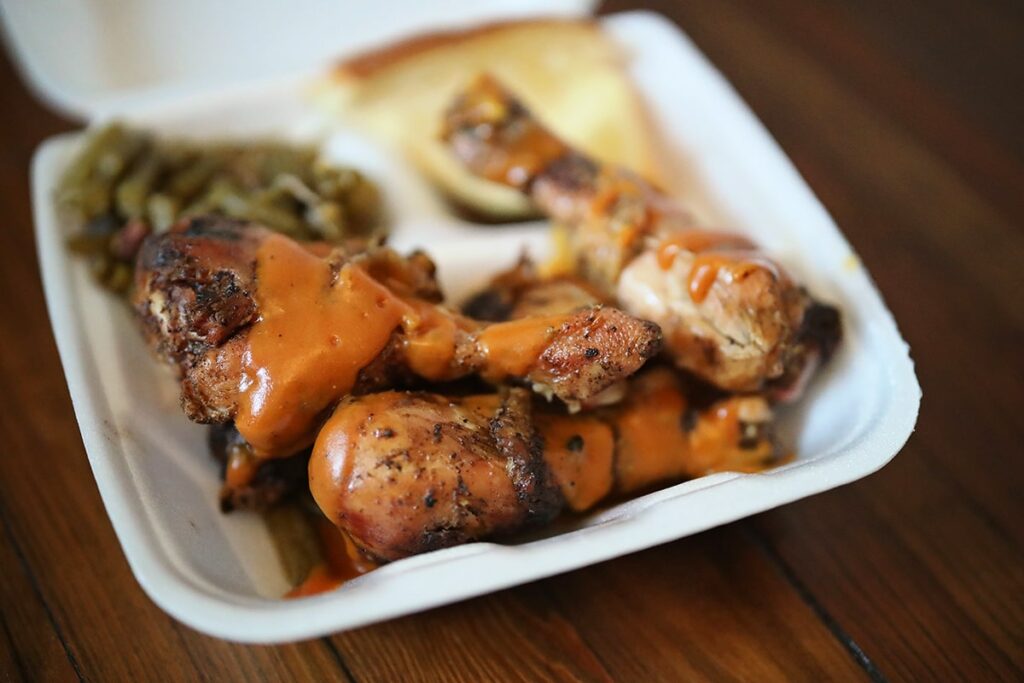 As picky as I am about some good ol' Texas brisket, I admit I absolutely love the brisket plate at Erica Davis Lowcountry. Their pulled pork is also pretty spectacular.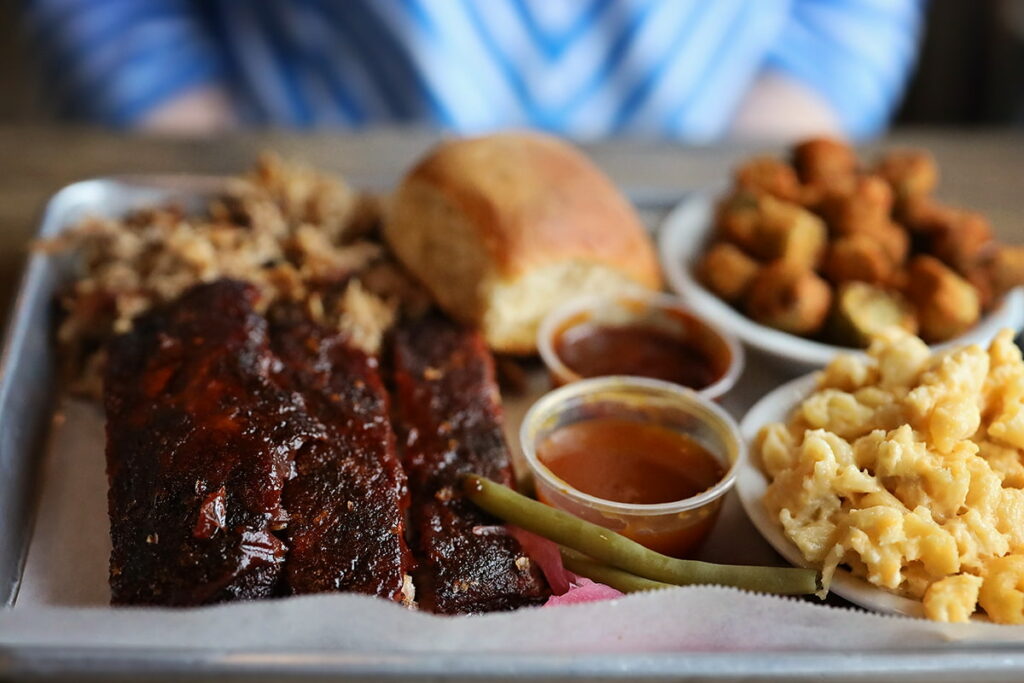 Related Reading: Add These 3 Restaurants to Your Savannah BBQ Bucket List
---
Restaurants that NEED Reservations in Savannah
There are a few restaurants in Savannah that are so popular they're consistently booked for weeks — sometimes months — in advance.
If you plan to visit any of the following, I highly suggest making reservations asap!
The Olde Pink House
The Grey
Common Thread
Husk
Alligator Soul
Trust me, the earlier you reserve your table, the better!
For example, the Olde Pink House is sometimes booked solid for two to three months in advance during peak tourism season.
Insider Tip: You can often find seats at Planters Tavern, located in the basement of The Olde Pink House, on a walk-in basis. They serve the same food as the restaurant. At The Grey, you can often grab a seat at the front bar — even when the restaurant is booked!
---
No Reservation Restaurants in Savannah
During the many years I've spent passing advice off to tourists, I've learned there are two distinct types of travelers:
Travelers who plan their daily activities around restaurant reservations to ensure dining at a "must-eat" spot
Travelers who prefer to go with the flow and not be restricted to eating at a certain time
For those of you who fall in the second category, the restaurants below include ten top spots that operate on a first come, first served basis — no reservations necessary:
Crystal Beer Parlor
Double Wide Diner
Green Truck Pub
Huey's
Little Duck Diner
Starland Yard
The Ordinary Pub
The Vault
Treylor Park
Vinnie Van Go Go's
---
Savannah Travel Guide
If you're in the beginning phase of planning a trip to Savannah, here are some handy resources I've created to help you out:
Savannah Vacation Guide: If you aren't familiar with the city at all, begin with this helpful post. It'll give you a brief overview of the city.
Free Resources: When you sign up for my email list, you'll gain access to printable checklists, photos of Savannah, and more.
Savannah First-Timer's Guide: My ebook combines all of my most helpful Savannah travel tips from this entire website into one handy downloadable guide.
Finally, if you're traveling with a pet, there are plenty of places where you can enjoy a meal out. Here's a list of dog-friendly restaurants in Savannah and the must-try dishes at each spot.
---
Do you have any questions about restaurants in Savannah? As always, let me know in the comments below.
---
Love this post? Pin it now to save for later!