The Historic District is the most popular section of Savannah for first-time visitors to explore, but there's so much to take in that it can feel a little overwhelming at times.
No worries; I'm going to help you get a better feel for it the best way I know how…through photos!
I'll be perfectly honest with you…
Sometimes visitors walk through the Historic District and comment that it almost seems fake — like something out of a movie set instead of real life. It's that picturesque.
In actuality, it has been the setting for quite a few popular TV shows and feature films. If you find yourself walking around thinking, "this seems familiar", then there's probably good reason for that!
Note: This guide contains affiliate links to my trusted travel partners.
If you're new around here, first of all…allow me to extend a warm welcome!
My name is Erin, and I authored the Savannah First-Timer's Guide. It's a helpful ebook that's filled with some of my favorite tips about the area.
You might also be interested in:
🏠 Get the Inside Scoop on Savannah's Victorian District
🏨 5 of the Best Savannah Historic District Hotels – As Voted by Readers!
➡️ Is Savannah's Plant Riverside District Really Worth Seeing?
---
Savannah Historic District Map
My cartography skills aren't the best, but I wanted to create a map of the Historic District to help you visualize the areas I'll be referring to in this post. I hope it's helpful!
Searching for Accommodations? I highly suggest reading through this post before making your decision: Where to Stay in Savannah. It takes a deep dive into each section that appears on this map.
FAQ: What is Considered the Historic District in Savannah?
The official boundaries of the Landmark Historic District are as follows:
North: River Street (or technically the Savannah River)
East: E Broad Street
South: Gwinnett Street
West: Martin Luther King, Jr. Blvd.
Sometimes people are surprised to learn that Savannah's Historic District only covers 2.031 square miles!
It's very small and walkable, so you don't need a car to explore it.
The entire area is laid out in a grid pattern, which is broken up every few blocks by small parks known as "squares". The squares are beautiful!
They're ideal places to stop and relax when you're out exploring.
To help you get a better feel for the Historic District, I'm going to talk about two distinct zones in this post: the Historic District North Zone and the Historic District South Zone.
I'll explain each in detail and will include lots of photos so you'll know what to expect in each one.
---
Savannah Historic District North
If you're trying to decide where to spend your time while you're in Savannah, you'll find the northern section of the Historic District appealing if you like being in the center of all the action.
The northern section of the Historic District is generally considered more of an entertainment zone than a residential area. It's filled with hotels, restaurants, bars, businesses, and shops.
To narrow things down even further, the northwest section of the Historic District sees the most action!
The northeastern side feels a little homier, but still — many of those homes are short-term vacation rentals and not places where residents live year round.
---
River Street
River Street is the street located furthest north, and it's probably the most well-known street in Savannah.
Hundreds of thousands of visitors come to party on River Street each year during the city's popular St. Patrick's Day celebration.
During the week surrounding St. Patrick's, River Street is very similar to Mardi Gras in New Orleans. Meaning…it's a crowded drunkfest.
Almost any other time of the year, it's a fairly family-friendly environment.
River Street is popular for its ballast stone streets, giant container ships that sail into port down the Savannah River, and rows of old cotton warehouses that have been converted into restaurants, shops, and bars.
Some of the most notable landmarks along River Street include the African American Monument, the WWII "A World Apart" Monument (aka: Cracked Earth), the Waving Girl Statue, and the Olympic Cauldron from the 1996 Summer Olympics.
The Georgia Queen Steamboat is also usually docked along River Street.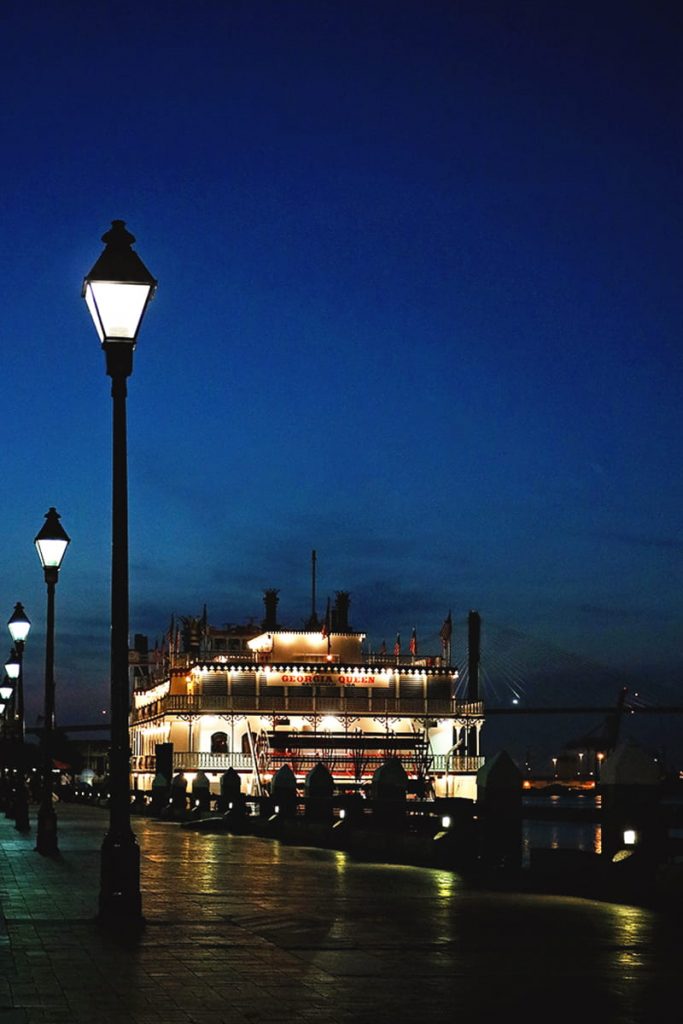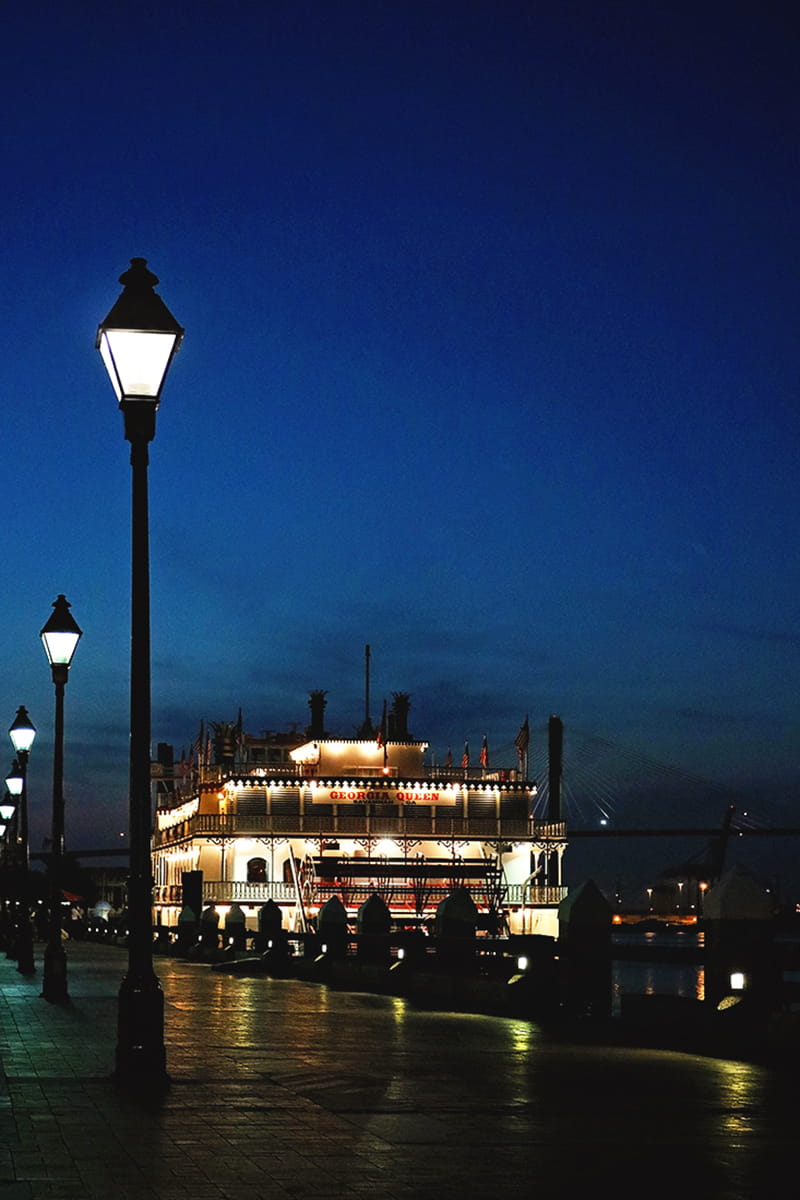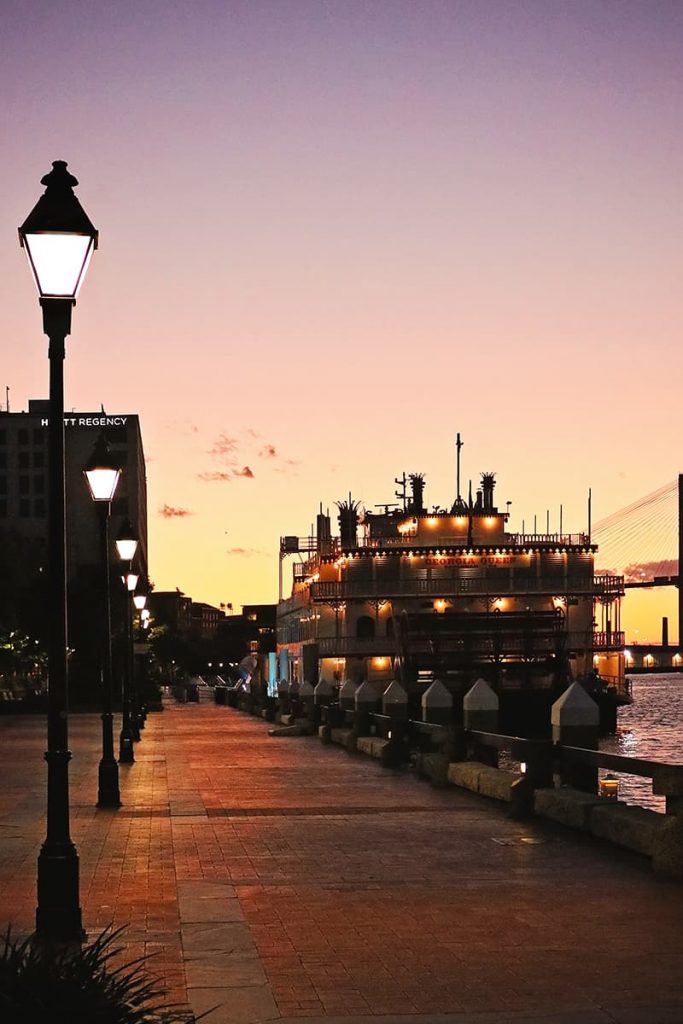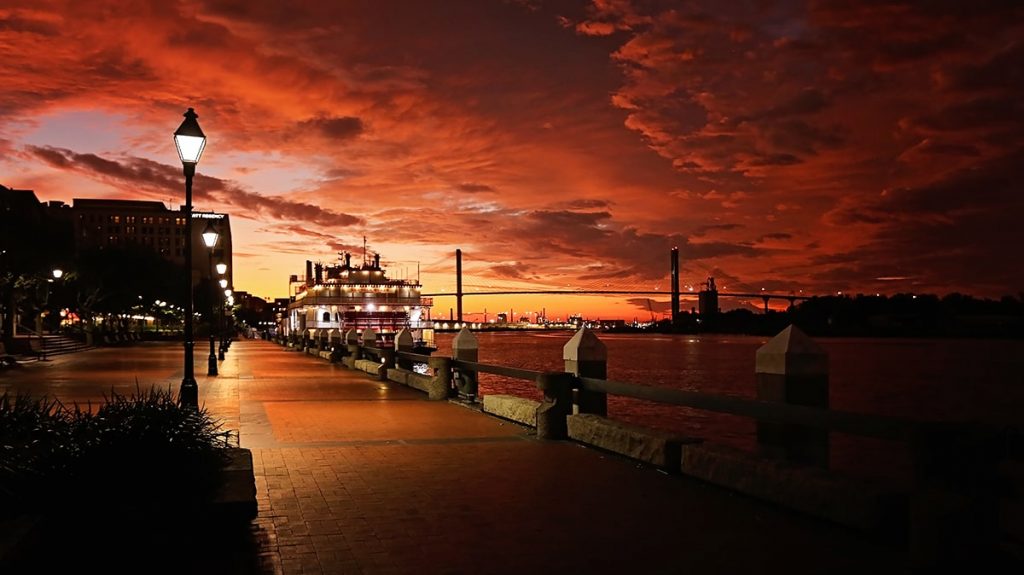 The most popular local shop along the riverfront is River Street Sweets.
Their pralines are delicious, and they give out free samples all day long.
I don't think I've ever visited River Street without stopping in River Street Sweets for a fresh praline!
Related Reading: 11 Photos That Will Make You Fall in Love with River Street
---
Factors Walk
As you head south into the Historic District from River Street, the next street you'll come across is Bay Street.
However, in between River Street and Bay Street, you'll find a really unique area known as Factors Walk.
Factors Walk is truly a hidden gem in Savannah.
It's loaded with history, and much of it still looks like it did 250 years ago!
It's not really a street so much as a series of bridges and alleyways.
If you want to get a feel for the Savannah of yesteryear, Factors Walk is a good place to do it.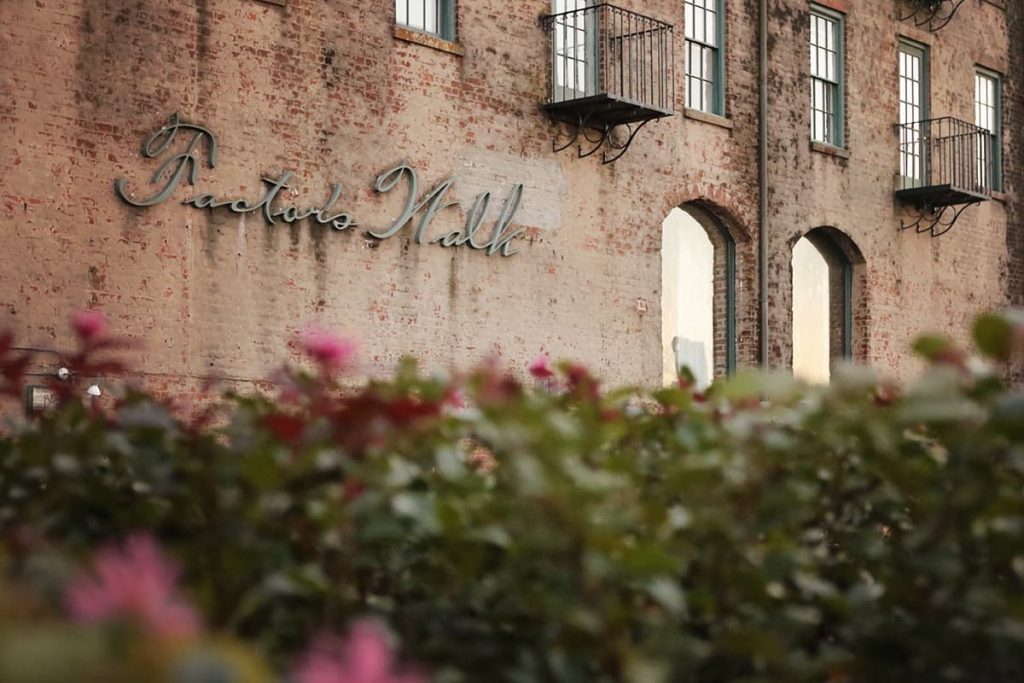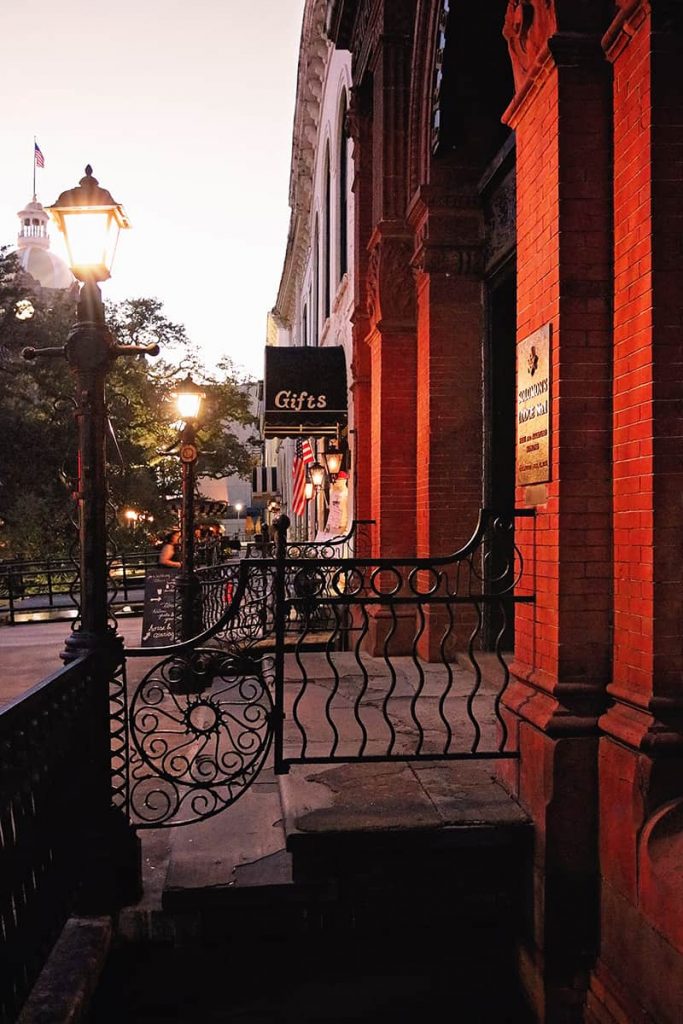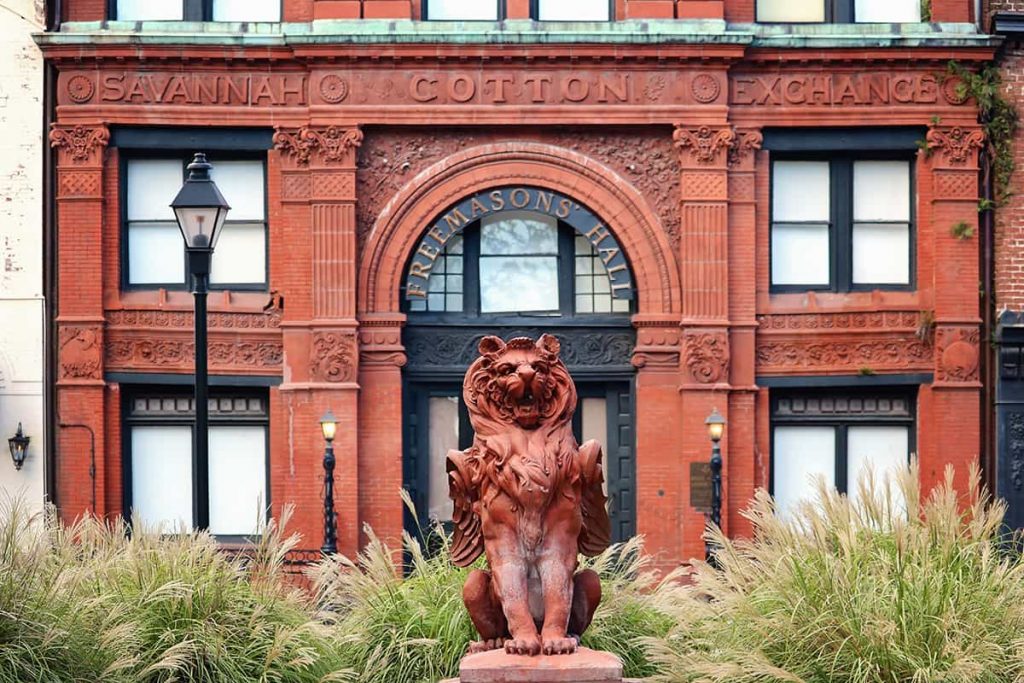 The most notable landmarks along Factors Walk include the old Cotton Exchange Building and the winged lion statue that stands guard in front of it, as well as the Cluskey Vaults.
The most popular restaurants on Factors Walk are Vic's on the River and Cafe M.
I think Graveface Museum gets my pick as the most interesting place to visit along Factors Walk, but the entire area is loaded with hidden (and not-so-hidden) history.
Related Reading: 21 Photos That'll Make You Want to Visit Factors Walk
---
City Market
City Market is a popular spot amongst tourists. Locals rarely go there.
It's located in the northwest section of the Historic District.
It consists of two blocks filled with open-air markets, shops, restaurants, bars, and art studios.
It's common to find live music in City Market, and there are some neat attractions in the area that make it worth visiting.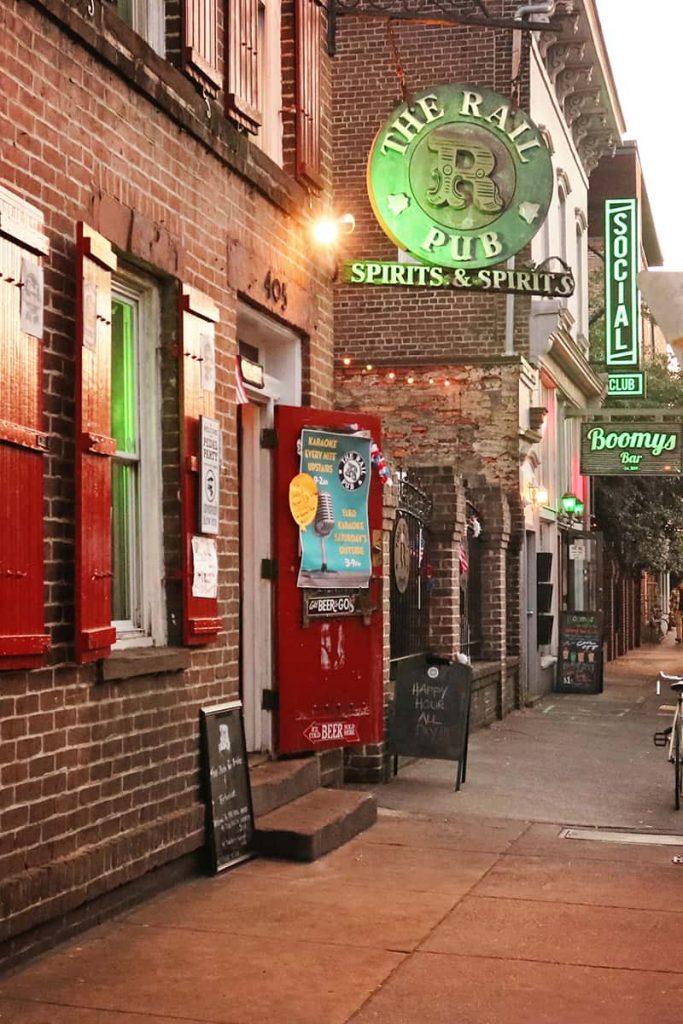 The most popular restaurants in City Market are Vinnie Van Go Go's Pizza (my fave) and Belford's Seafood and Steaks.
Byrd Cookie Company and Savannah Candy Kitchen are the top snack spots.
Prohibition Museum gets my pick as the most interesting place to visit, but it's also fun to tour the artists' studios on the upper level of City Market.
You can watch artists while they work, ask questions about their process, and even purchase finished pieces.
Be sure to tour nearby First African Baptist Church while you're in the area.
It's adjacent to City Market and is loaded with historical significance.
The church was constructed by enslaved individuals and is one of the oldest active congregations in Savannah.
At night, the vibe in City Market flips from being a relaxed, family-friendly spot to being more of a nightlife zone.
When the bars close down around 2 am, City Market has a reputation for getting rather rowdy.
There have been multiple shootings in the area in recent years, and every reported incident happened after midnight (most occurred after 2 am).
Here is my Savannah Crime Map, which I update daily with current statistics.
Related Reading: City Market Savannah: What to See and What to Skip!
---
Broughton Street
Broughton is Savannah's primary shopping street.
Since the city doesn't have an official "Main Street," I guess you could say Broughton is it!
Broughton Street has some fantastic local shops, such as The Paris Market, Savannah Bee Company, Capital Bee Company, Nourish, and the world-famous Leopold's Ice Cream.
Unfortunately, many of the locally-owned establishments are being priced out, which means the boring national chain stores are starting to take over.
If you want to help keep Savannah authentic, please shop local as much as possible!
NOTE: Much of Broughton Street is undergoing an extensive facelift, which started in 2021. Expect some construction equipment and torn-up streets for the foreseeable future.
---
Historic District (North) Residential Areas
As I mentioned above, there are probably more businesses than homes in the northern section of the Historic District, but you'll still find plenty of residences.
There are apartments located above the shops on Broughton Street and River Street.
However, many of those are Airbnbs and not really what I'd classify as true residences, since people don't actually live there full-time.
The northeast section is the most residential section of the Historic District North Zone. Although many of the homes in this section operate as Airbnbs, a decent number of homes actually have full-time residents still living in them!
I love that, because it actually looks and feels like a neighborhood when people live in the homes year-round.
Many of the homes in the area are historically significant.
You'll find a few of the oldest homes in Savannah in this section of the Historic District, as well as the tiniest home.
Some of the houses were constructed in the late 1700s to the early 1800s.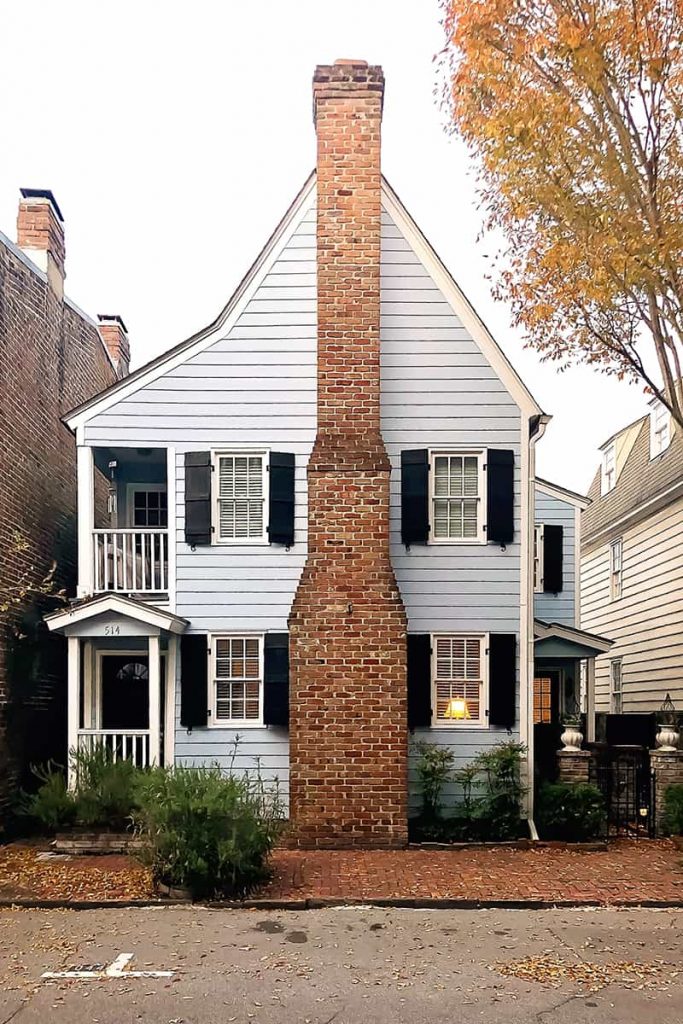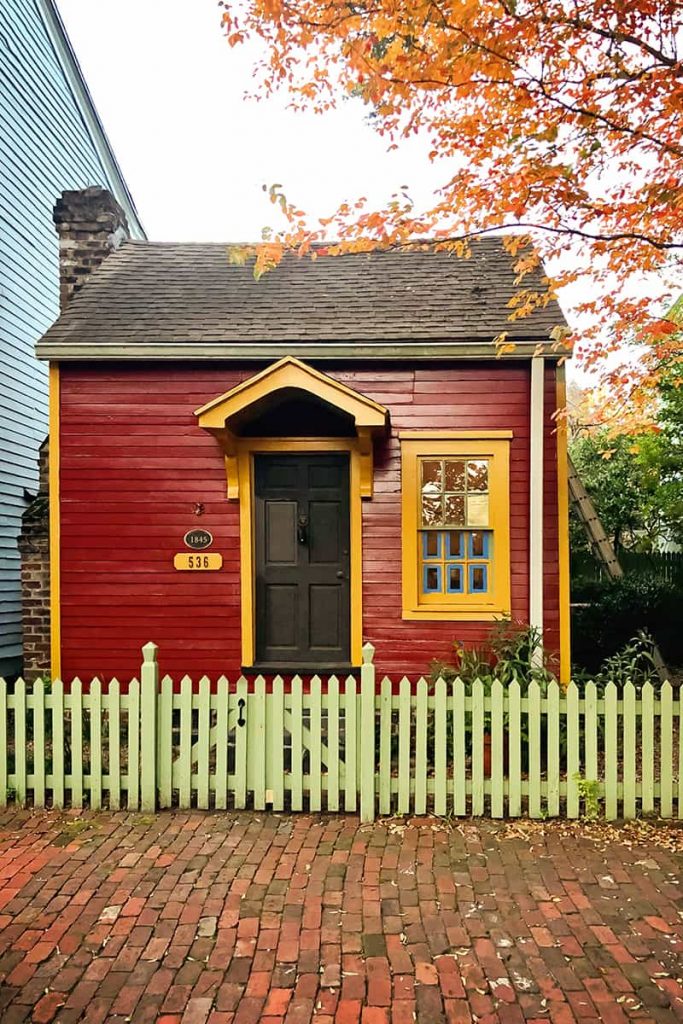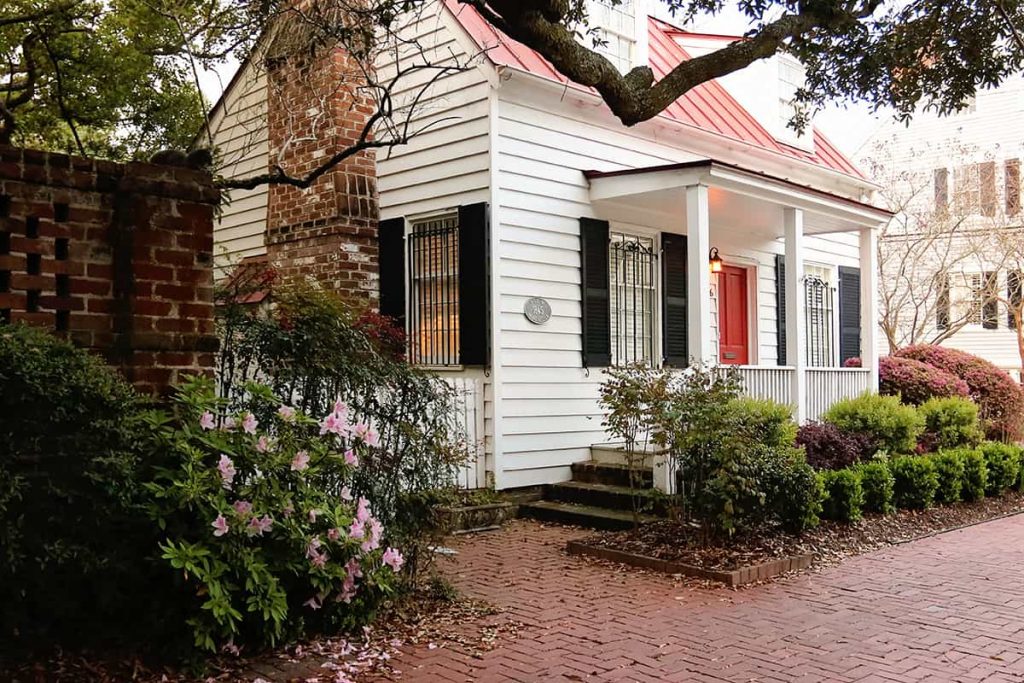 If you enjoy walking around in quiet neighborhoods, the northeast section of the Historic District makes a nice place to go for a stroll.
While it's not as quiet as what you'd find in a typical suburb, it's fairly quiet for city living!
---
A Note on Homelessness
Since visitors are sometimes surprised at the number of homeless people sleeping on benches in the squares or along River Street, I want to mention that you'll find members of the homeless community throughout the northern zone of the Historic District.
They're usually harmless — although they might ask you for money or cigarettes.
Sometimes they may ask if you want to buy a palm rose, too.
Every now and then you might run across someone who is mentally ill or is causing a disruption.
In that case, my suggestion is to steer clear.
You can call the police if they truly appear to be a threat to themselves or others, but otherwise…just move along.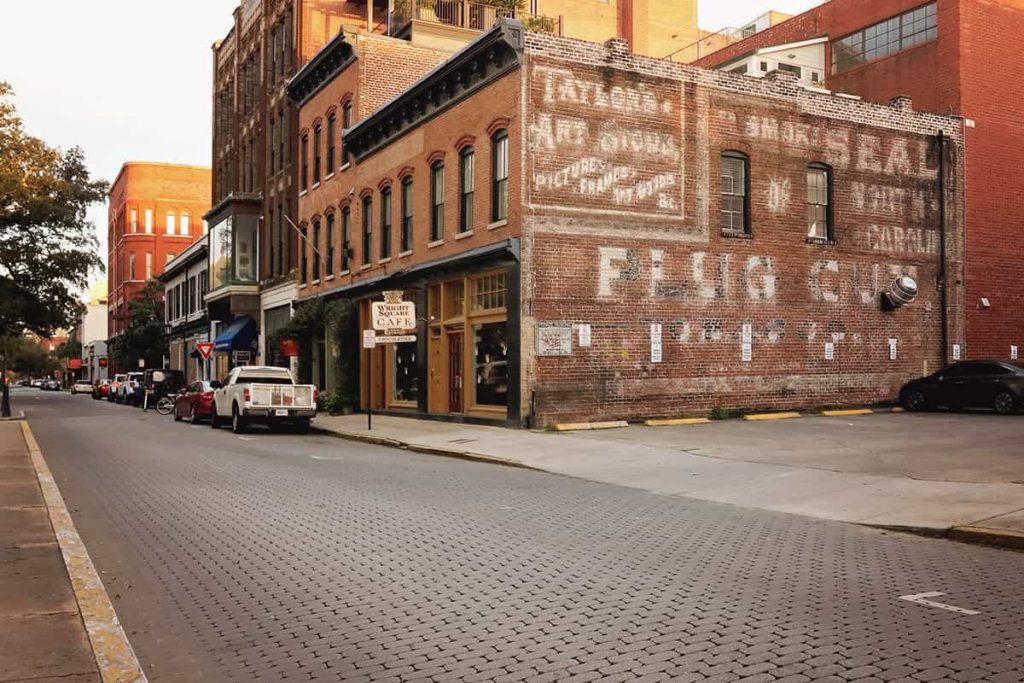 ---
Savannah Historic District South
OK, everything I just listed above was in the northern section of the Historic District. Now let's get into the southern section of the Historic District.
This section has a very residential feel.
Although you'll find a few businesses here and there, the area mainly consists of historic homes, churches, squares, and plenty of beautiful old oaks dripping in Spanish moss.
It's no secret that I love this section of the Historic District!
Crime is low, the homes are beautiful, and there are still enough full-time residents that it doesn't feel like it's completely sold out to Airbnbs and short-term vacation rentals.
Here's what you can expect in the southern zone…
Cathedral Basilica of St. John the Baptist
The Cathedral of St. John the Baptist is easily one of the most noticeable landmarks in the area.
Its twin spires reach high into the sky and are very easy to spot.
I wander inside pretty frequently when I'm out on my walks and can honestly say the interior is even more breathtaking than the exterior.
I truly think it's one of the prettiest places in all of Savannah — and that's saying a lot!
In fact, I wrote a list of the top must-see places in Savannah, and it easily made the cut.
Need photographic evidence? I've got proof…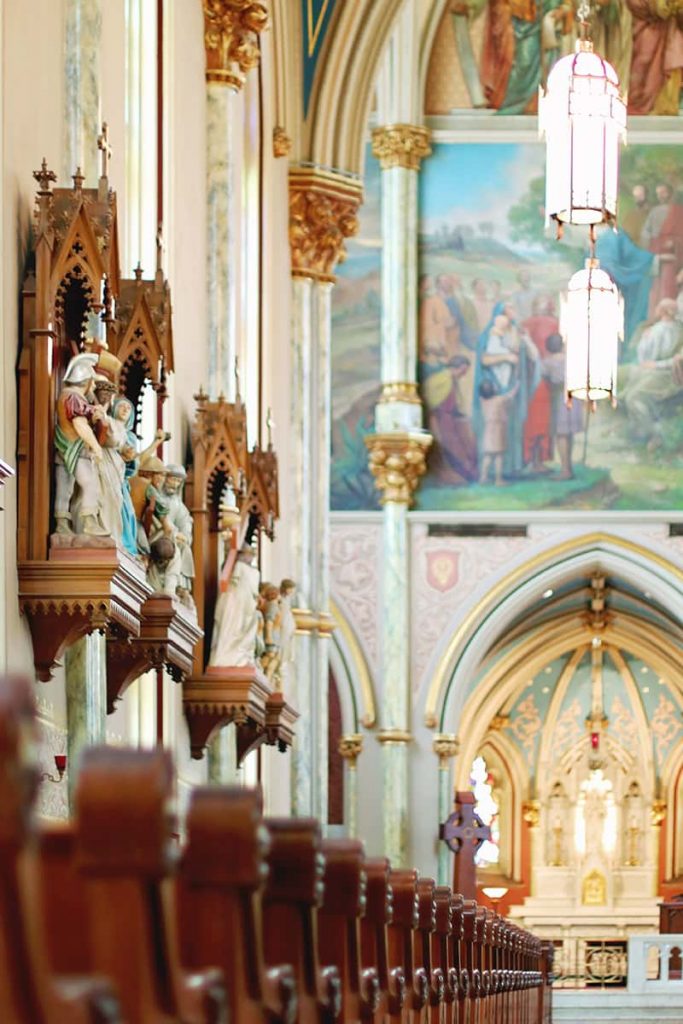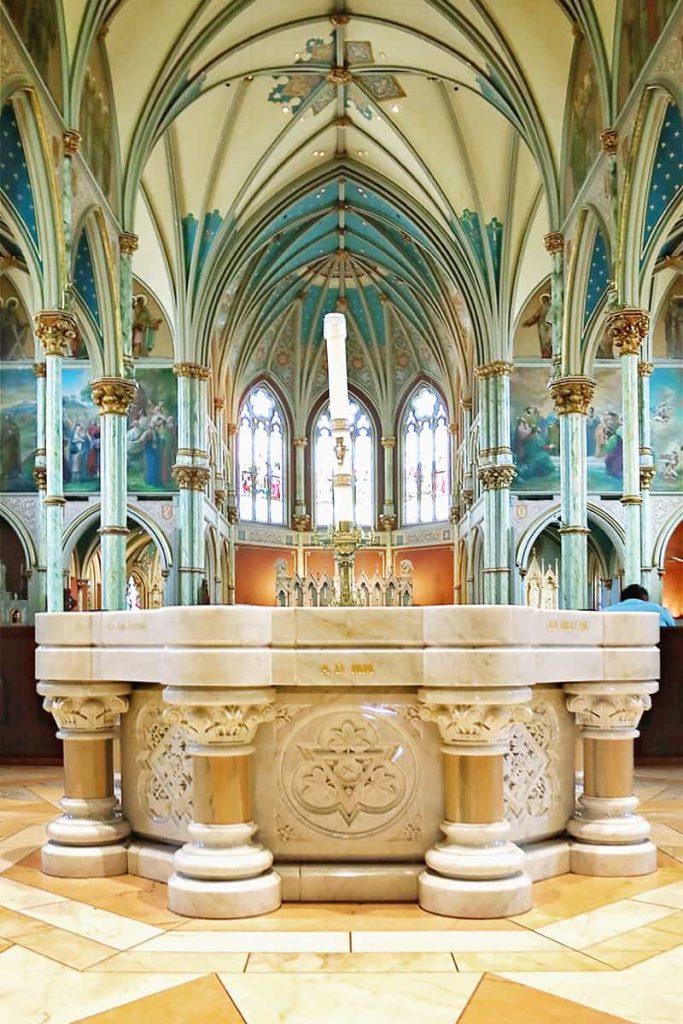 Sometimes docents are available to give guided tours, but even if they aren't, you're free to explore any areas that aren't roped off on your own.
There's a donation box near the door with a suggested amount of $3.
The Cathedral is an active place of worship, so I always like to remind visitors to be respectful towards parishioners who are visiting the Cathedral for prayer, confession, or reflection.
---
Colonial Park Cemetery
This unique cemetery is where you'll find some of Savannah's oldest residents.
There's no cost to enter, and it's open year-round from 8 a.m. to 8 p.m. (6 p.m. from December to February).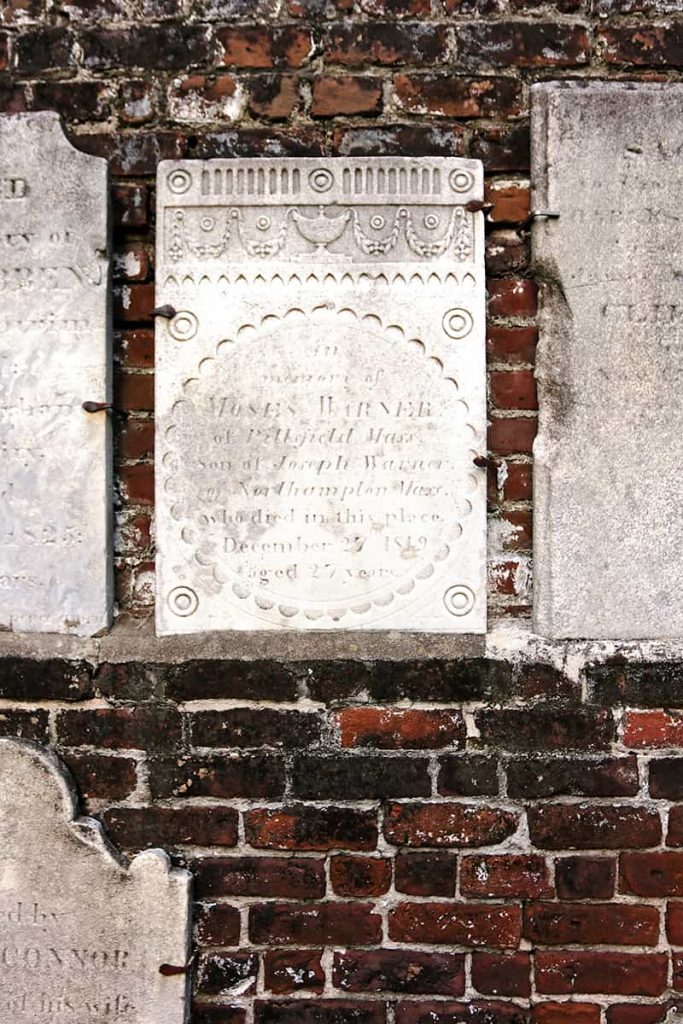 The cemetery became a city park in the late 1800s, and it's really relaxing to stroll through it or relax on one of the benches within its gates.
I've even had picnics with friends inside the cemetery!
There are some unique trees inside the cemetery, including one that looks rather twisted and evil. (It's located near the Yellow Fever sign in the NE section of the cemetery. You'll know it when you see it.)
The history of the cemetery is fascinating.
From Revolutionary War heroes to an original signer of the Declaration of Independence, you can learn a lot about who is buried there from reading the historic markers placed throughout its grounds.
Just FYI, anytime I include a "Related Reading" link in one of my posts, it means I've written in-depth about a specific landmark.
I like to write about the quirkier side of history, and I try to include haunted info for the ghost hunters.
I always include my favorite photos, as well.
Related Reading: Is Colonial Park Cemetery the Best Place to See a Ghost in Savannah?
---
The Squares
There are so many beautiful squares in the southern section of the Historic District that it's hard to even pick my top five.
However, because I know you'll ask, I'll try to narrow them down to a few that I love.
Chippewa Square is probably the most well-known square in the southern portion of the Historic District.
That's because it's where the bench scenes in Forrest Gump were filmed. His bench was only a movie prop, but the square is beautiful and surrounded by fantastic architecture.
It's pretty common to find artists painting or playing instruments in the squares.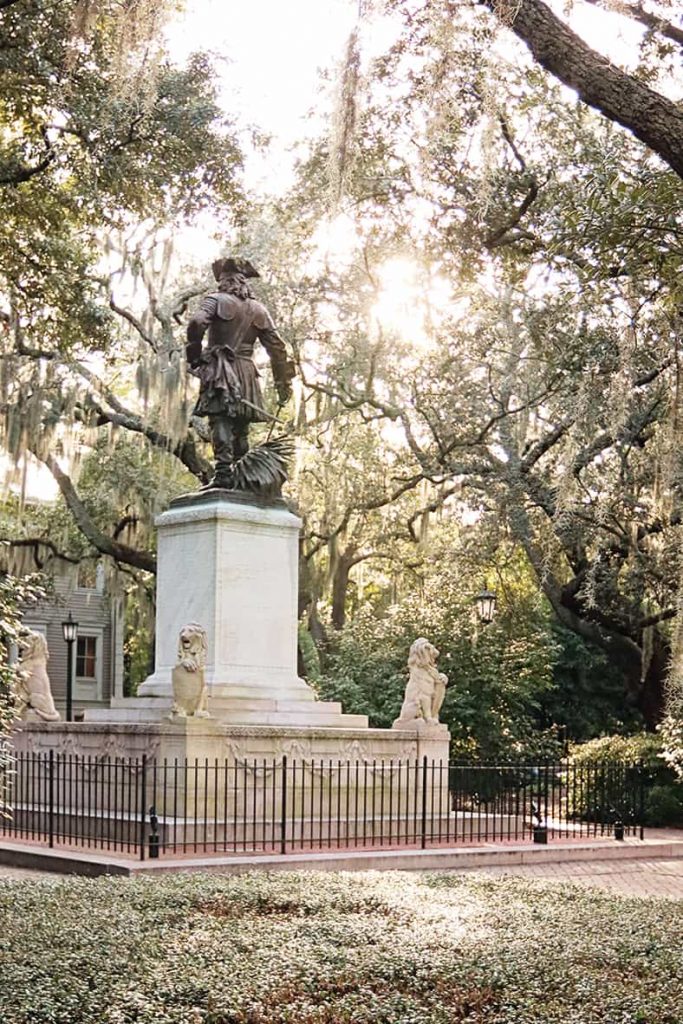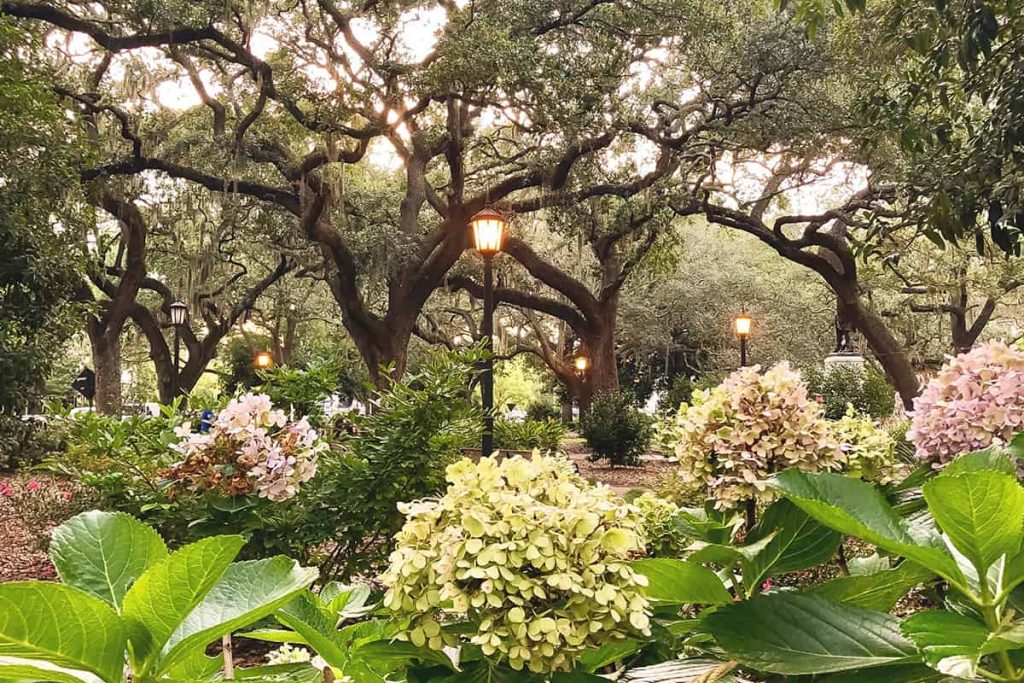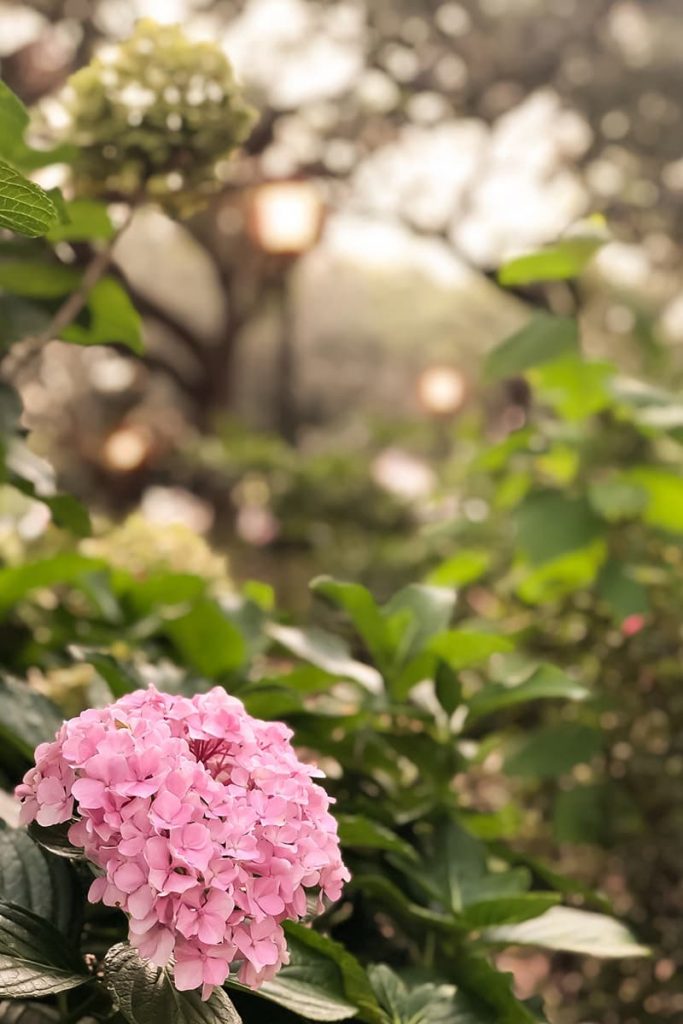 These are the squares I tend to favor most in the southern section of the Historic District, in case you're short on time and can only visit a few:
Chippewa Square
Monterey Square
Madison Square
Calhoun Square
Troup Square
I mentioned the homeless community earlier, but you'll also find transient folks in the squares in the southern portion of the Historic District — although not as many.
NOTE: You can find a replica of Forrest's bench in the Savannah History Museum, which is located inside the Visitor Center on Martin Luther King Jr. Blvd.
---
Mercer Williams House
The Mercer Williams House was made famous by the book, Midnight in the Garden of Good and Evil.
The house was the scene of the most scandalous shooting to ever occur in Savannah.
Even though the shooting happened back in 1981, people still love to stop by Monterey Square to see the Mercer House.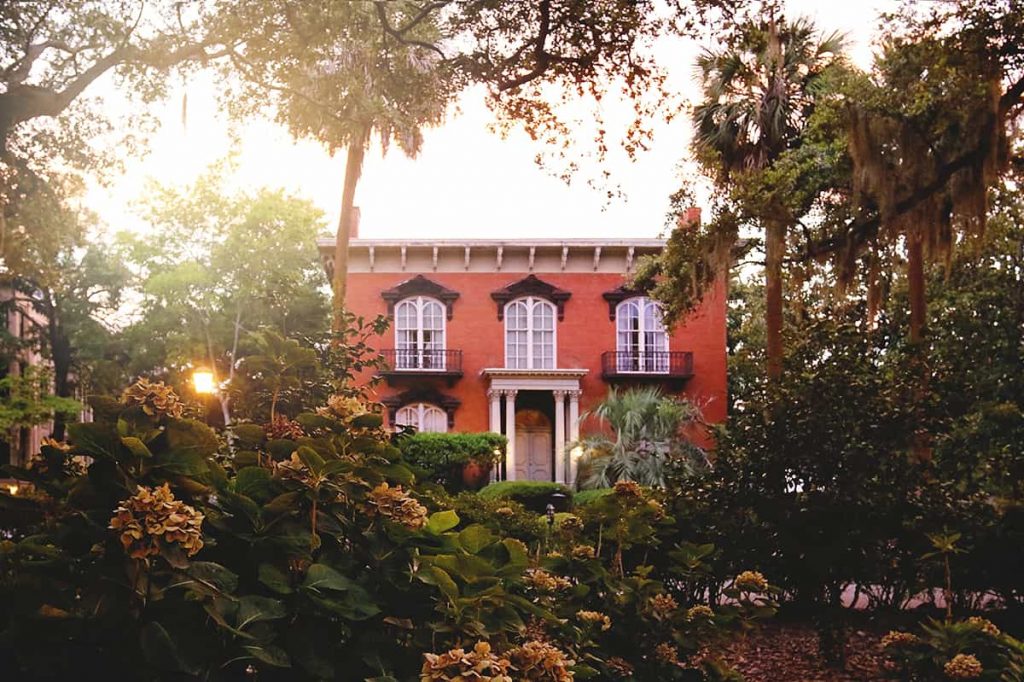 Related Reading: Mercer Williams House: Savannah's Most Notorious Home
---
Jones Street
It's long been said that Jones Street might be one of the prettiest streets in America, and I'm not going to dispute that statement.
I think it's gorgeous, and I love going for strolls there in the morning or early evening as the sun is setting.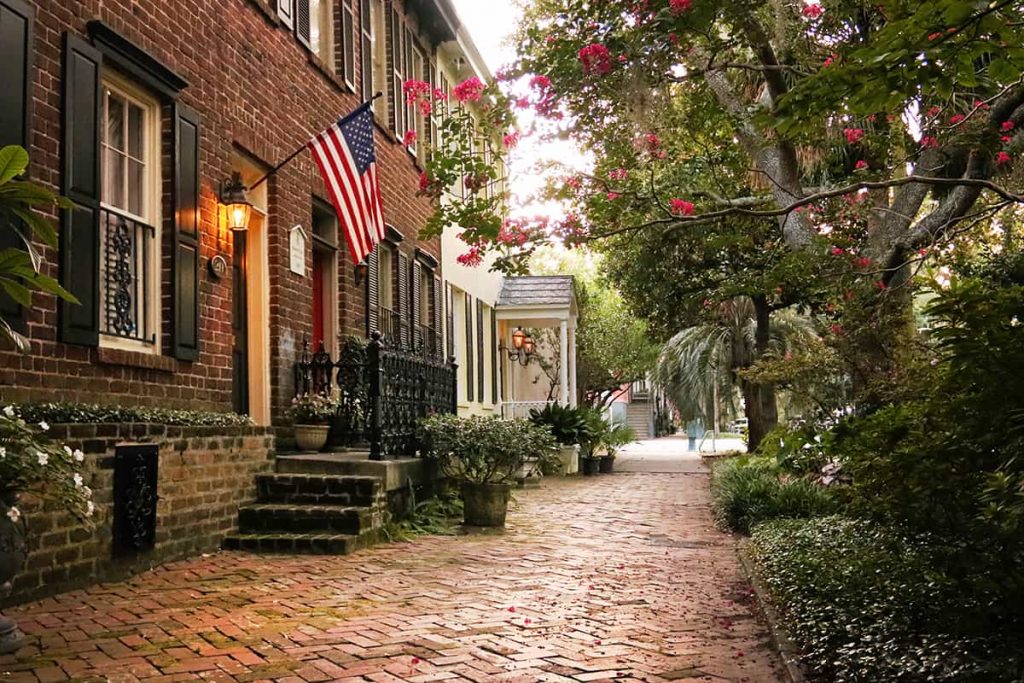 A good portion of Jones Street is still paved with historic red vitrified bricks, and the street is really wide and lined with beautiful old oak trees.
If you have an image in your mind of the quintessential Southern Savannah street, there's a good chance you're picturing Jones Street.
Related Reading: Is Jones Street Really the Prettiest Street in Savannah?
---
North of Gaston
The streets just north of Forsyth Park are some of the most beautiful in the entire Historic District.
In fact, it's somewhat of an unspoken rule in Savannah that the most desirable place to live downtown is in the area directly "north of Gaston Street," aka: NOGS.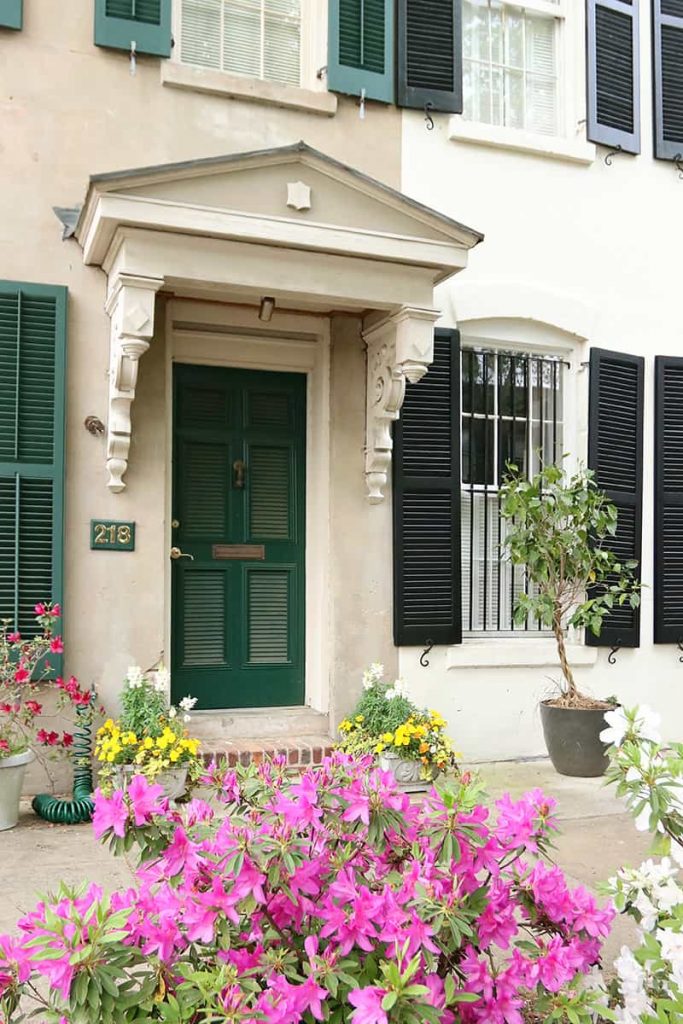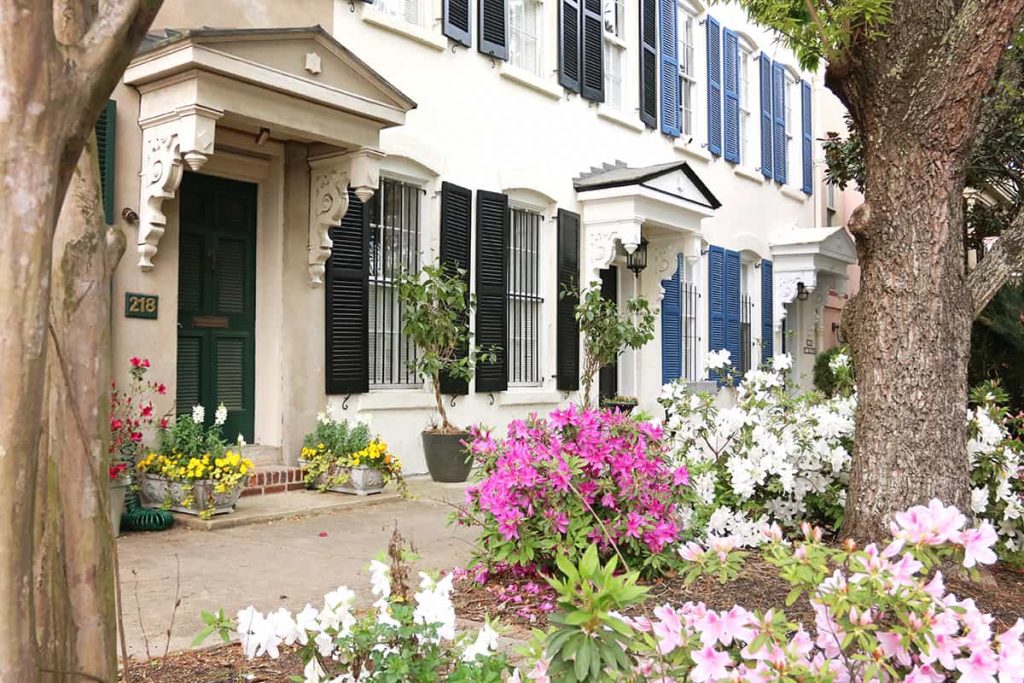 The Garden Club of Savannah even hosts an annual fundraising tour called the NOGS Tour of Hidden Gardens.
The event allows you to peek behind the gates of some of the fanciest homes in the Historic District.
---
Forsyth Park
The Forsyth fountain is one of the most iconic symbols of Savannah.
It's located in Forsyth Park, which is on the far southern end of the Historic District.
Once you walk past the fountain, it means you've reached the southern end of the Historic District and are entering the Victorian District.
Related Reading: 21 Photos That'll Make You Want to Stroll Through Forsyth Park
If you want to take a tour of the Historic District, check out this epic one-day Savannah itinerary I created. It makes use of the Hop-On/Hop-Off trolleys to cover a lot of ground so you'll be able to see most of the landmarks I mentioned above!
Summary of Savannah's Historic District
I hope this post was helpful. Want to stick around? That makes me happy! Here are some of the places I mentioned above that you might want to explore more in-depth…
Historic District North
Historic District South
Beyond the Historic District
---
Do you have any questions about the Historic District? If so, let me know in the comments below!