Today I'm sharing a few of the best seafood restaurants in Savannah. Being so close to the ocean, you'd expect to find some pretty incredible seafood here in the city, right?
Fortunately, you won't have to search too hard.
These options are popular with visitors and locals, and I've separated the list out based on location.
The first section includes restaurants located within Savannah's Historic District, so they're good options if you're staying downtown and don't have a car.
The second set of options stretch from the southern section of downtown out towards the islands. You'll need a car or will have to arrange for Uber or Lyft to visit those.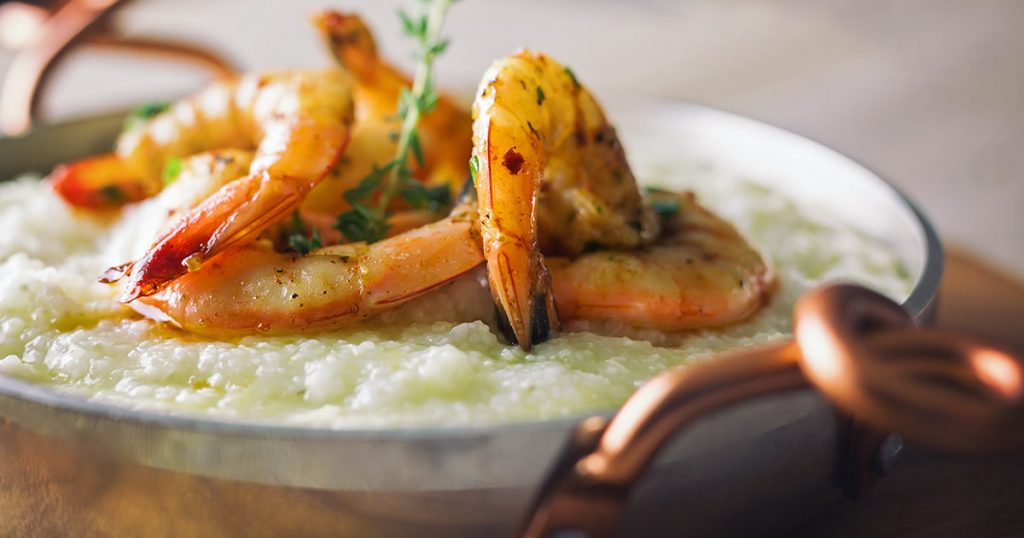 Note: This guide contains affiliate links to my trusted travel partners.
If you're new around here, first of all … allow me to extend a warm welcome.
My name is Erin, and I authored the Savannah First-Timer's Guide. It combines my top Savannah travel tips from this website into one handy ebook.
I live in the artsy Starland District, which is just south of Forsyth Park, and I'm always happy to help new visitors learn their way around the city.
You might also like:
🍔 A Local's Guide to the Best Restaurants in Savannah
🍳 Where to Find the Best Breakfast in Savannah's Historic District
🍖 3 Spots to Add to Your Savannah BBQ Bucket List
---
Table of Contents | Click to Expand
So…What Are the Best Savannah Seafood Restaurants?
Let's start with the Historic District options…
Just so you know, I always do my best to support small, family-run, and locally-owned businesses.
I usually try to include at least one hidden gem in these "best of" posts, as well.
I've also made note of any spots where you need to make reservations far in advance.
---
Chive Sea Bar & Lounge
The friendly staff, fantastic bartenders, and decadent menu options (Lobster on the Ritz anyone??) make Chive a solid choice amongst visitors and locals.
The restaurant's convenient location on Broughton Street is a perk, too — especially if you're making your way around Savannah on foot.
I'd say the vibe inside the restaurant leans heavily towards romantic — especially at night. The lighting is low and the seating feels intimate.
They also offer outdoor seating options, just make note that the tables are on a busy sidewalk with plenty of hustle and bustle and street traffic in the area.
The food is presented beautifully and consistently cooked to perfection.
Even visitors who aren't a big fan of mussels rave about the ones they serve at Chive!
The service here is always top-notch, too.
This is one of those places where you can't go wrong.
Chive Seafood | 4 W Broughton Street, Savannah, GA 31401
Location: Historic District
Most Known For: Mussels & Chilean Sea Bass
Hours: Mon – Sat 11 am – 3 pm & 5 – 10 pm | Sun 5 – 10 pm [ Call to confirm ]
Reservations: First come, first served
---
The Grey
If you consider yourself a foodie and are on the hunt for award-winning cuisine in an upscale atmosphere, then The Grey is the spot for you.
Executive Chef, Mashama Bailey, grew up in NYC but spent much of her childhood right here in Savannah, Georgia.
Her parents were even married at the Chatham County Courthouse, which is located on the block directly across the street from the restaurant!
The Grey is located inside an Art Deco-style former Greyhound bus station.
It operated during the Jim Crow era in Savannah, which means — like in many Southern establishments — the bathrooms and waiting areas were once segregated. You can still see signage indicating the rules.
The place has come a long way since then.
The restoration of the building is impeccable, and it's fun to spot all of the vintage design details.
Make note that it gets a little noisy inside, so the vibe is more "place to be seen" vs. "intimate dinner spot".
The Grey was Eater's Restaurant of the Year in 2017, one of TIME's World Greatest Places in 2018, and then in 2019 Chef Bailey brought home the coveted James Beard Foundation's Best Chef: Southeast award. She won top honors as Outstanding Chef in 2022.
It's definitely a favored spot for the best seafood in Savannah!
The Grey | 109 Martin Luther King Jr. Blvd., Savannah, GA 31401
Location: Historic District
Most Known For: Tuna Crudo & Steak Tartare
Hours: Wed – Sat 5 – 10 pm | Sun 11 am – 3 pm [ Call to confirm ]
Reservations: Available via the restaurant only, not on OpenTable. Make reservations well in advance! You can sometimes find walk-in seating in the secondary bar located near the front windows.
---
a.Lure
This is another upscale and award-winning seafood restaurant located right in the heart of Savannah's Historic District. It's conveniently adjacent to the City Market area, which is a popular spot amongst tourists.
The dining room is small and intimate, and I'd say the atmosphere is elegant without feeling stuffy.
Executive Chef Bryce Knott is known for his farm-to-table style of service and contemporary spin on Southern cuisine.
The restaurant serves seasonal wild Georgia shrimp, local crab meat, and Savannah clams.
One of my pickiest foodie friends claims the shrimp & grits at a.Lure are the best he's ever had! (The shrimp and grits at Crystal Beer Parlor give them a good run for their money, though.)
a.Lure | 309 W. Congress, Savannah, GA 31401
Location: Historic District
Most Known For: Shrimp & Grits & Rabbit Ravioli
Hours: Daily | 5 – 10:30 pm [ Call to confirm ]
Reservations: Can be made via Opentable
---
Now let's move on to the outskirts of Savannah…
Erica Davis Lowcountry
While this one is a new(ish) restaurant to the Savannah scene, it's worth making the short trek out to Thunderbolt to give it a try!
It ranks near the top of my personal favorites list for the best seafood in Savannah.
The Davis family is no stranger to food, since they've had a popular catering business in the area for 15+ years.
As Dwight (the husband half of the team) tells me, most of their dishes are family recipes that have been passed down through the years and customized over time.
The building has three large roll-up garage doors, so in nice weather they can open those to let a little bit of the outdoors in.
They have plans to expand their outdoor area to increase seating capacity.
This is one of those places that just exudes Southern hospitality. I'd classify it as upscale casual and a very family-friendly spot.
As a bonus, it's very close to Bonaventure Cemetery and on route to Tybee Island, so it's nice to pair it with a visit to one of those locations.
Most Known For: Everything. Seriously…close your eyes and pick any item on the menu.
Location: Thunderbolt
Hours: Wed – Sat | 11 am – 9 pm [ Call to confirm ]
Reservations: First come, first served
Erica Davis Lowcountry | 3209 E. Victory Drive, Savannah, GA 31404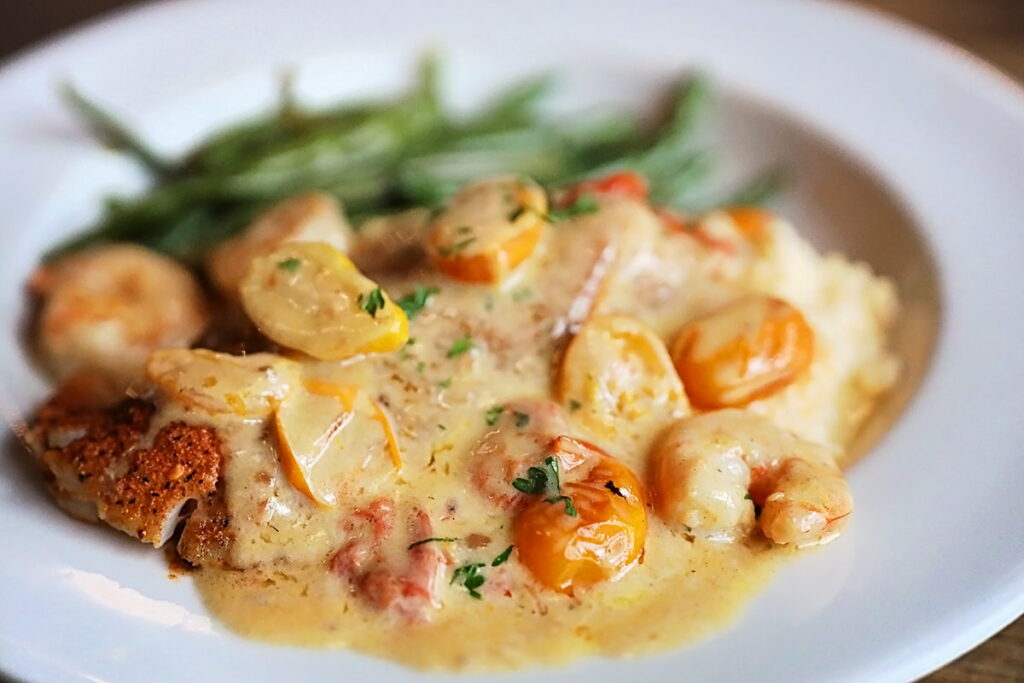 ⭐ Insider Tip: Ask to take a peek at their Charlie Teeple book while you're there to see what the building used to look like.
---
The Wyld
With delicious food, a casual atmosphere, and gorgeous sunset views over the marsh, you can't go wrong at The Wyld Dry Dock (aka: Wyld Dock Bar, Wyld Dry Dock, or most simply… The Wyld).
In fact, this is one of my favorite spots to eat during the summertime months. I just can't get enough of the gorgeous sunset views overlooking the water!
There's even a dock for those of you arriving by boat.
The Wyld is a popular spot for families, since they have plenty of room in their outdoor game area for kids to run around.
It's nice place for a casual date night, as well. Oh, and did I mention it's a dog-friendly restaurant? So many perks.
The restaurant offers plenty of outdoor seating.
Tables include umbrellas and misters in the summertime and the occasional heater or two during the winter months.
This is a great spot if you want a relaxing, casual dinner where you can watch the boats come and go.
Insider Tip: If you feel like you're lost on the way there, that means you're on the right track. You'll have to take a traffic circle, cut through a neighborhood, and then head towards the sign at the back of a dead-end road to find it.
Most Known For: Fish Tacos
Location: Southeast Savannah
Hours: Tues – Sun | 12 – 5 p.m. [ later during the summer months ]
Reservations: First come, first served
The Wyld | 2740 Livingston Avenue, Savannah, GA 31406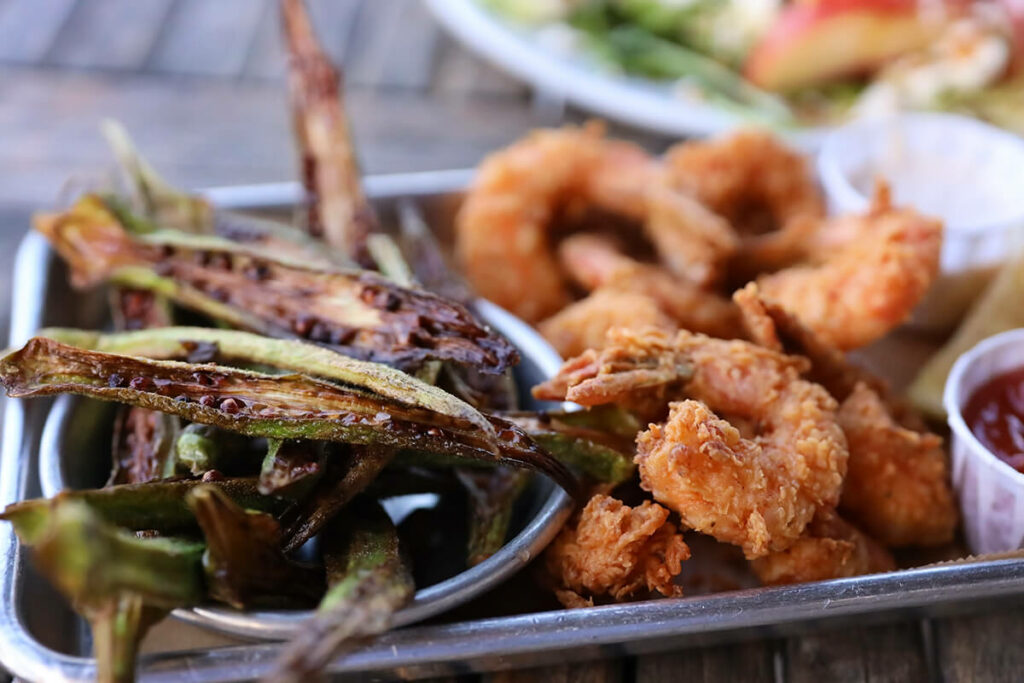 ---
Driftaway Café
Here's another casual spot outside the city that's very popular with locals.
If you're visiting Wormsloe Historic Site or Bluff Drive on Isle of Hope then this is the perfect place to stop for a meal.
Driftaway Café is a classic seafood restaurant, with good service, great food, and fun drinks.
Their outdoor seating area in the back makes you feel like you're tucked away in a private garden!
(Although — if the mosquitoes find you as tasty as they do me — you might want to bring some bug spray when you sit back there.)
If you visit for brunch, you can try the Crab Cake Benedict or "The Wayne" — their catch of the day with two scallops served on cheese grits.
Most Known For: Catch of the Day and Firecracker Shrimp
Location: Near Isle of Hope
Hours: Mon – Sat 11 am – 10 pm | Sun 10 am – 9 pm [ Call to confirm ]
Reservations: First come, first served
Driftaway Café | 7400 Skidaway Road #E, Savannah, GA 31406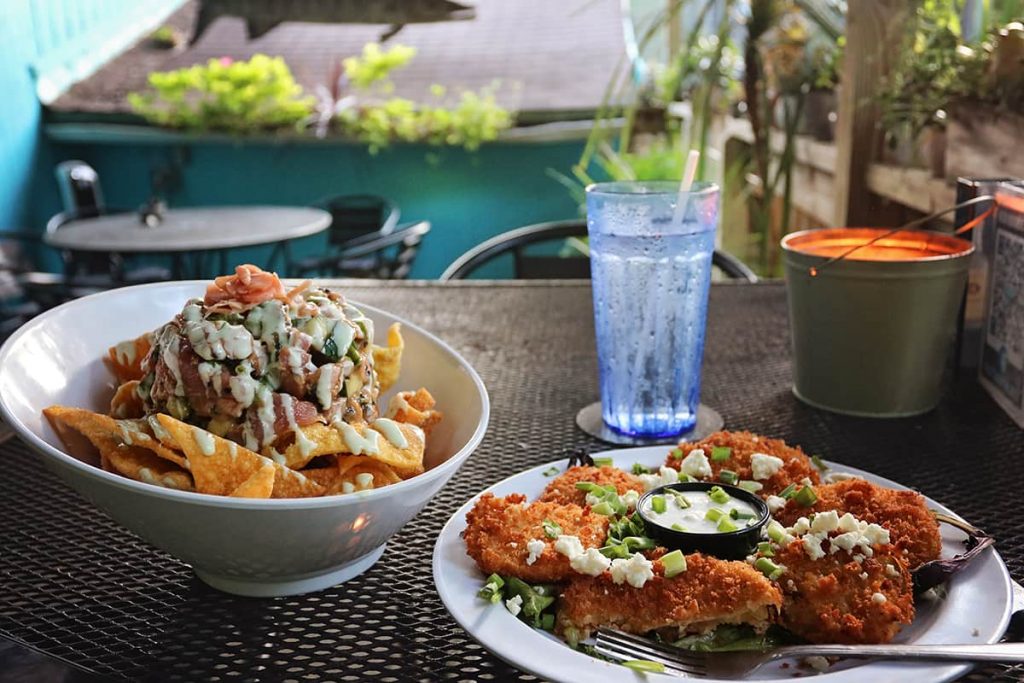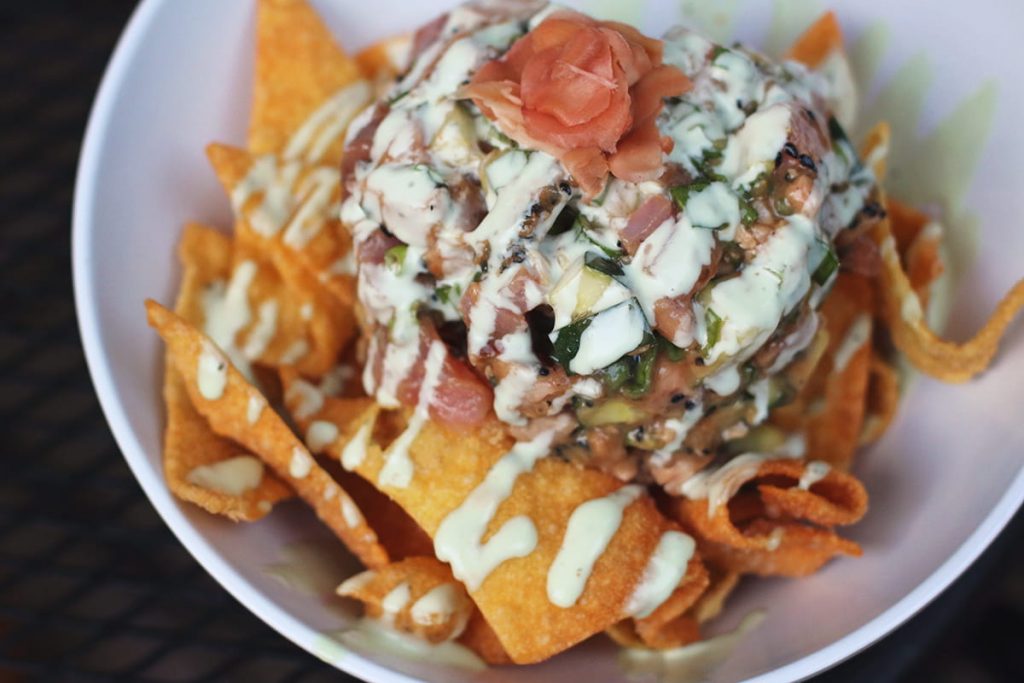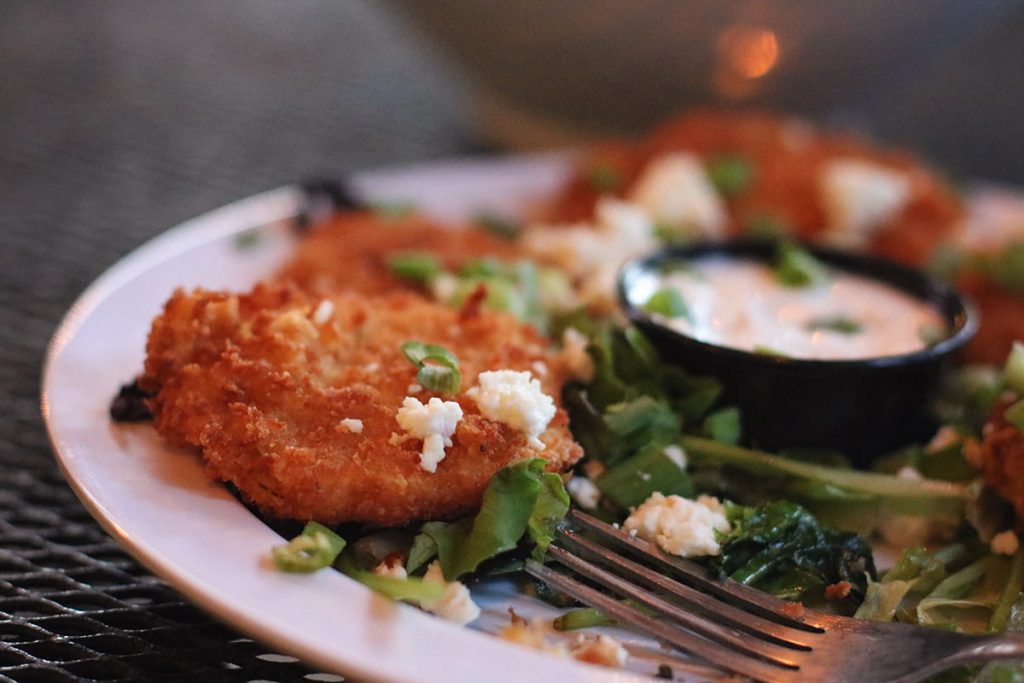 ---
When is wild Georgia Shrimp in season?
The Georgia Department of Natural Resources regulates the shrimping season along the Georgia coast, and they typically allow it from June through December. (Shrimp harvesting in federally-regulated waters further off the coast is allowed year-round.)
Where can you buy fresh, local shrimp in Savannah?
If you're staying downtown, Russo's (in the Starland District) is one of the closest spots. If you have a car, try Dubberly's near the Vernon River.
---
Book a Savannah Food Tour
If you're interested in sampling a variety of restaurants while you're in Savannah, a food tour is a great way to do just that!
Here are a few popular options…
The thing I love most about food tours is that you can eat, then walk to burn off some calories, and then head to the next spot to eat some more!
---
Savannah's Best Seafood Summary
Now…I realize these "best of" types of posts are always subjective, so I encourage you to check around and not just go off my opinion.
While I'm a Southern girl who enjoys seafood, I don't classify myself as a true a "foodie." (Generally, if I don't have to cook it, I'm happy.)
The website Eat It and Like It is a good place to start.
Owner Jesse Blanco stays on top of all the latest restaurant happenings here in Savannah and throughout the Coastal Empire and South Carolina Lowcountry.
However, if you're enjoying my tips and want to stick around, here are a couple other food-related posts I've written…
You might want to read that last one if you're considering a trip to Paula Deen's restaurant.
---
Savannah Travel Guide
If you're planning a trip to Savannah and are feeling overwhelmed with all there is to see and do, I've created a few resources to help you out…
Savannah Georgia Vacation Guide: Start here if you don't know much about Savannah and want a brief overview of the city.
Free Resource Library: When you join my email list you get access to helpful printables, like my checklist of 50 Things To Do on Foot in the Historic District (No Car Necessary!)
My Savannah First-Timer's Guide has everything you need to start planning your trip! It includes helpful maps, photos, checklists, and insider tips.
---
Do you have any questions for me about the best seafood in Savannah? If so, let me know below!
---