Are you searching for travel inspiration these days? If your wanderlust has kicked in as much as mine, I'm willing to bet these incredible photos of River Street in Savannah, GA, will have you dreaming of your next getaway!
Just imagine strolling down the ballast stone streets of Savannah's riverfront….watching as giant cargo ships pass by while the golden rays of the sun dance over the water. Sounds pretty dreamy, doesn't it? I know the feeling; I live in Savannah, and I'm still drawn to River Street on an almost daily basis.
Note: This guide contains affiliate links to my trusted travel partners.
By the way, if you're new around here — welcome! I'm Erin, and I authored the Savannah First-Timer's Guide.
I love introducing visitors to the city, and River Street makes a great place to start. Plenty of locals consider it a touristy area (and it is!), but I think it's absolutely beautiful and a photographer's dream.
River Street Savannah GA
The area along Savannah's waterfront is probably one of the busiest areas in the entire city. The Savannah River has nearly as much traffic as the city's crowded streets and sidewalks! It's common to see huge container ships sailing into port, as well as smaller tugboats…and the occasional fancy yacht.
---
Rousakis Plaza
The early morning hours are always the quietest time to visit River Street. Most of the shops open around 9 or 10 am. If you arrive before then you'll find locals arriving for work, a few early-bird tourists, and the usual joggers who use the waterfront area for their daily route. River Street gets the most crowded with tourists in the late afternoon and evenings, thanks to its fairly active restaurant and bar scene.
---
The Georgia Queen Steamboat
To get a shot of River Street from the water, you can pay to take a cruise on the Georgia Queen Steamboat or take the free Savannah Belles Ferry, which departs from two locations on River Street and then crosses the water to drop passengers at Hutchinson Island.
If you choose the steamboat tour, I suggest selecting a sunset cruise for the best photo opportunities. While there's not a lot to see from the water, you'll get a unique perspective of River Street and will cruise past Fort Jackson. You might even spot a few dolphin if you're lucky!
I don't usually recommend the food cruises, since you'll find much tastier food elsewhere in Savannah, but many readers in my Savannah Facebook group tend to love it. You can also purchase drinks during the cruise! (River Street is synonymous with alcohol, if you haven't guessed that yet. More than half a million people attend the second largest St. Patrick's Day festival in the United States each year, and River Street where it's held.)
Savannah Riverboat Cruise Options
Since there are so many riverboat cruises available, I thought I'd post all of the options here to help you out.
Sunset cruise was very nice. We had a wonderful time the food was amazing and the music was pretty good as well.

~ Gail D-F, via Savannah First-Timer's Guide private Facebook Group
---
Factors Walk
Factors Walk is easily one of the most unique places to take pictures in the Historic District. The bridge above is a popular spot for wedding portraits and graduation shots. It looks prettiest in April when the Confederate Jasmine is in full bloom. That's when I took this shot.
The Factors Walk area also takes one of the top spots in my list of The 11 Most Haunted Places in Savannah, GA. The lowest level of Factors Walk feels particularly spooky after dark! (Like much of Savannah, it's beautiful by day and slightly sinister by night.)
Related Reading: 11 Photos That Will Make You Want to Visit Factors Walk
---
The Cluskey Vaults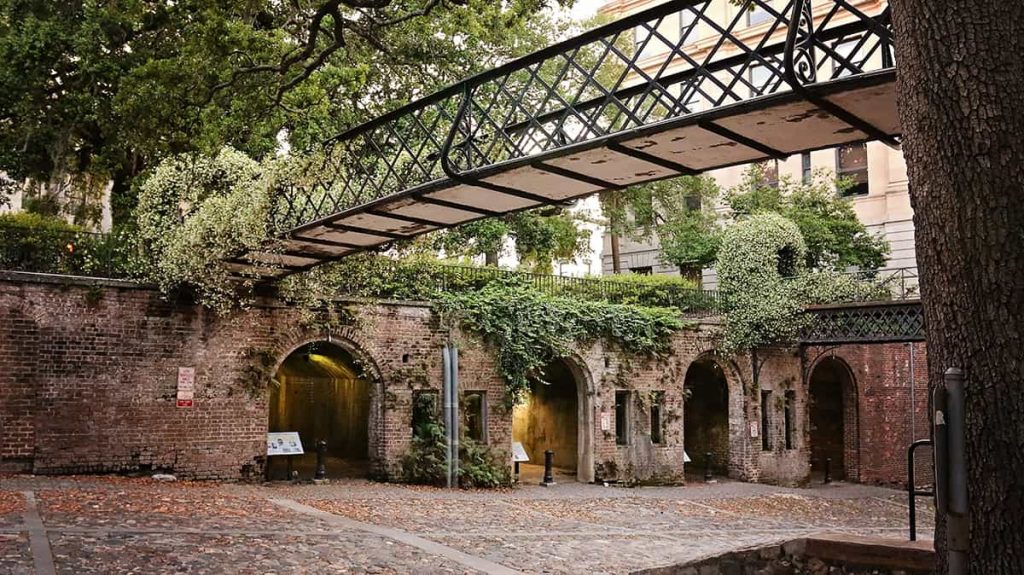 The Cluskey Vaults look (and feel) a little eerie on the inside, but the lighting makes for some fantastic portraits. The vaults are a popular stop on many of the local ghost tours. Click here to see a list of my favorite tours in Savannah.
The story behind the vaults is rather interesting, so make sure you read the markers located at the entrance to each opening. In short, some people (myself included) have speculated they were once used to house enslaved individuals.
---
The Old Cotton Exchange Building
Back in the 1800s, Savannah was known for exporting more cotton than any other port on the entire East Coast. In fact, Savannah was the second largest exporter of cotton in the world. Millions of bales of cotton moved through the city each year, and the old Cotton Exchange building was the epicenter of all the activity.
To see the old Cotton Exchange building today, you'd probably be surprised at how little it has changed in appearance since it was completed in 1887. It almost appears untouched — especially if you look closely at its crumbling facade and the sagging support beams near the base of the structure.
Unfortunately, no one is allowed inside except freemasons who are there to attend their monthly meetings.
---
Sunsets on River Street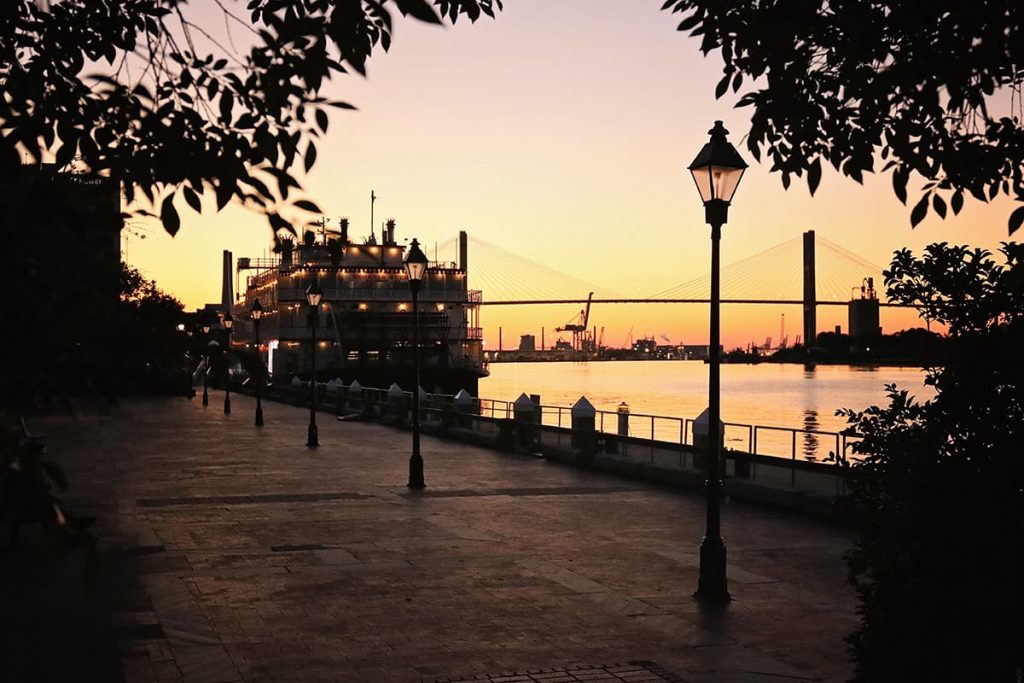 My favorite time (by far!) to take pictures on River Street is during a sunset. It's breathtakingly beautiful, especially if the water is still and you're able to capture a good reflection. The lampposts turn on automatically at dusk, and photos usually look prettiest if you wait until just after they turn on.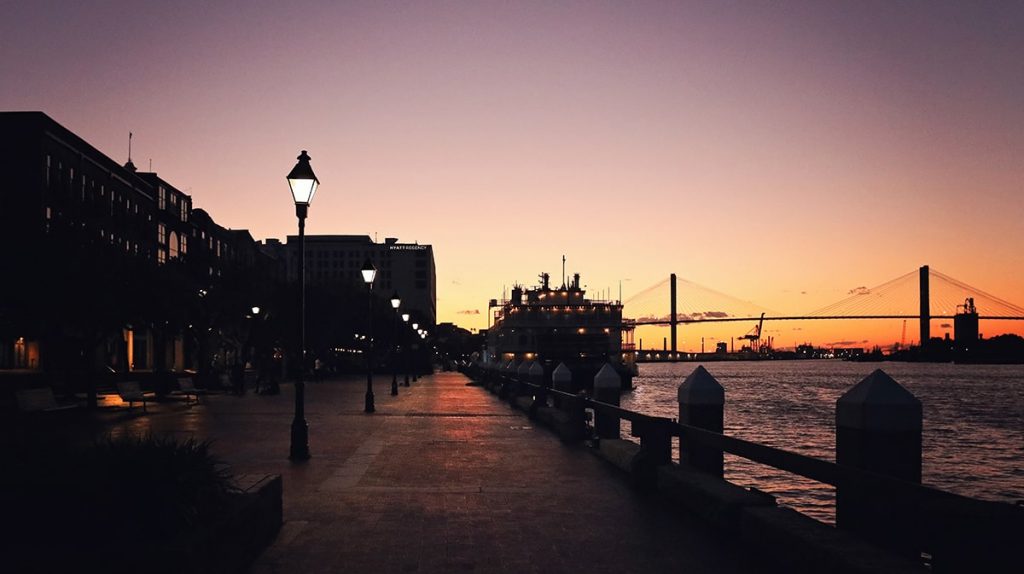 On a clear night, you'll usually get varying shades of purples, oranges, and yellows, like you see in the two photos above. The sun sets behind the Talmadge Bridge (also known at the Savannah Bridge), which connects Savannah to Hutchinson Island and then the border of S.C.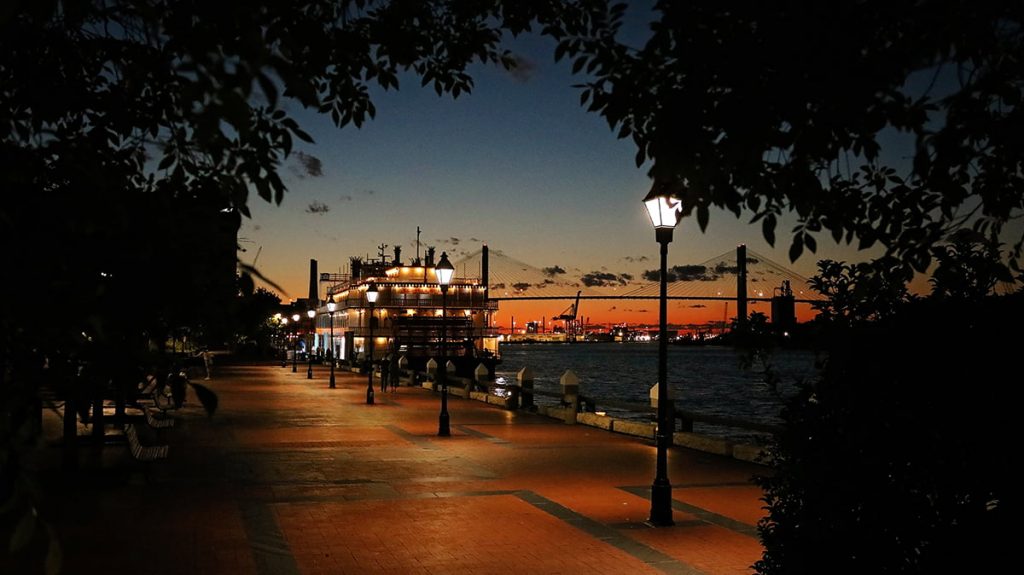 Sometimes I like to place items in the foreground of my photo to frame a particular scene or add dramatic effect. Make sure you're not too skittish if you try this method with bushes and trees like I did in the photo above. The river rats tend to come out at dusk, and they lurk in the shrubbery. They're pretty big. And fast. And they'll run over your feet if you're in their path. (Don't say I didn't warn ya!)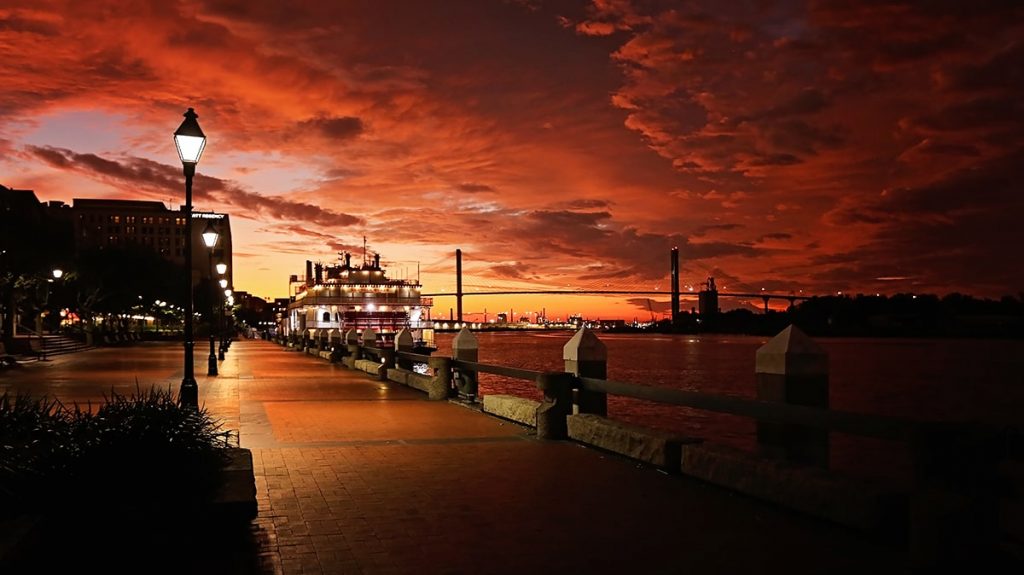 I don't recommend staying in Savannah during a mandatory hurricane evacuation just so you can snag a good photo, but…I'll admit that I've done it a few times. Those shots (like the one above) usually end up being my all-time favorite photos of River Street!
One thing you should note about sunset photos on River Street is that it's nearly impossible to get a shot without people. You either have to be really patient or go during a time when no one wants to be near the water (ie: when a hurricane is coming or when it's really cold out).
In addition to the hurricane shot above, I took most of the others during the mandatory COVID-19 "shelter indoors" orders.
Related Reading: When is the Best Season to Visit Savannah, GA?
---
River Street Sweets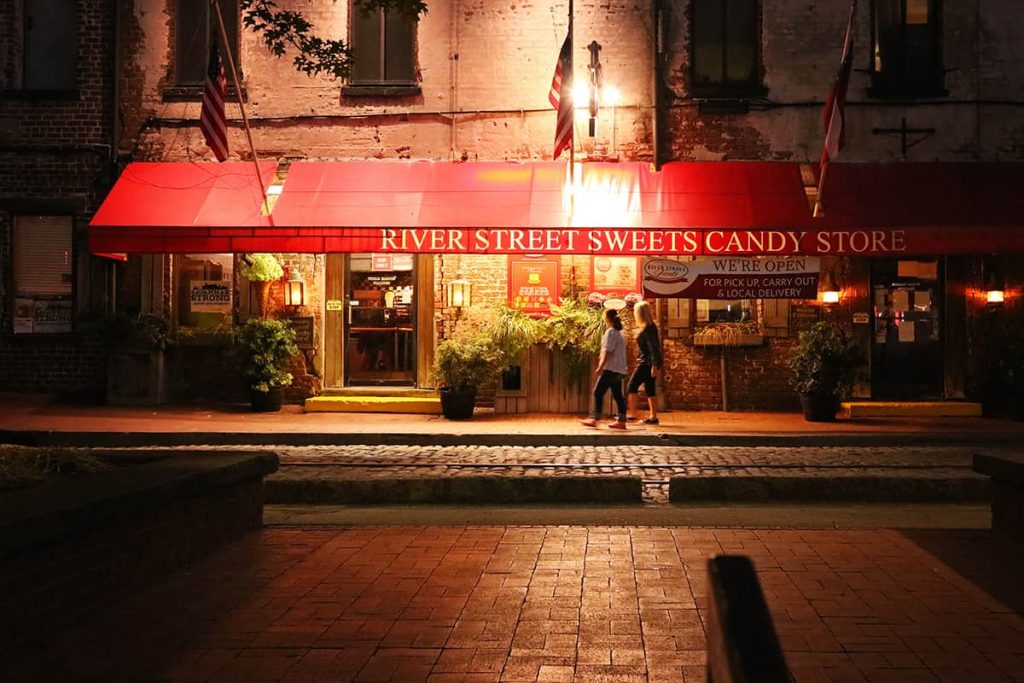 River Street Sweets is one of the most popular shops along Savannah's riverwalk area — and for good reason! It's a nostalgic little candy shop, with warm, friendly vibes and some of the most incredible sweets you'll ever put in your mouth. Make sure you sample their pralines and Bear Claws, as well as the candied nuts. (Ok…just sample everything you can get your hands on. Trust me on this.)
If you're a foodie, you'll quickly discover that Savannah is a pretty awesome place to hang out. However, the best restaurants aren't located on River Street, but further into the Historic District. Treylor Park, Little Duck Diner, and The Collins Quarter are a few of my current favorites.
You can also sample a variety of restaurants by going on the Famous and Secret East Side Food Tour or the 3-Hour Culinary & Cultural Walking Tour.
---
River Street Savannah GA at Night
There are lots of bars and restaurants that stay open late along River Street, so you can usually find plenty to do. The entire street is an open container zone, so you might want to go elsewhere if you're traveling with kids.
I tend to get a lot of inquiries about whether or not River Street is safe at night. Personally, I think it's better to walk around with a buddy than it is to walk alone. I don't suggest wandering around on the middle and lower levels of Factors Walk late at night, since those areas are less trafficked and some members of the homeless community tend to camp out there.
Insider Tip: My general rule of thumb in Savannah is this: If you see lots of other people out and about, then you're usually good to go. Once others head inside, it's a good idea to follow suit. Visitors who aren't familiar with the area shouldn't be caught alone on the streets of Savannah late at night. Review my Savannah Crime Map for current statistics.
Having mentioned all that, you can get some really incredible photos of River Street and Factors Walk once the sun goes down. Consider yourself doubly lucky if you're in the area after a fresh rainfall, since the lights reflecting off puddles between the cobblestones add a nice little touch to photos.
---
The Stone Stairs of Death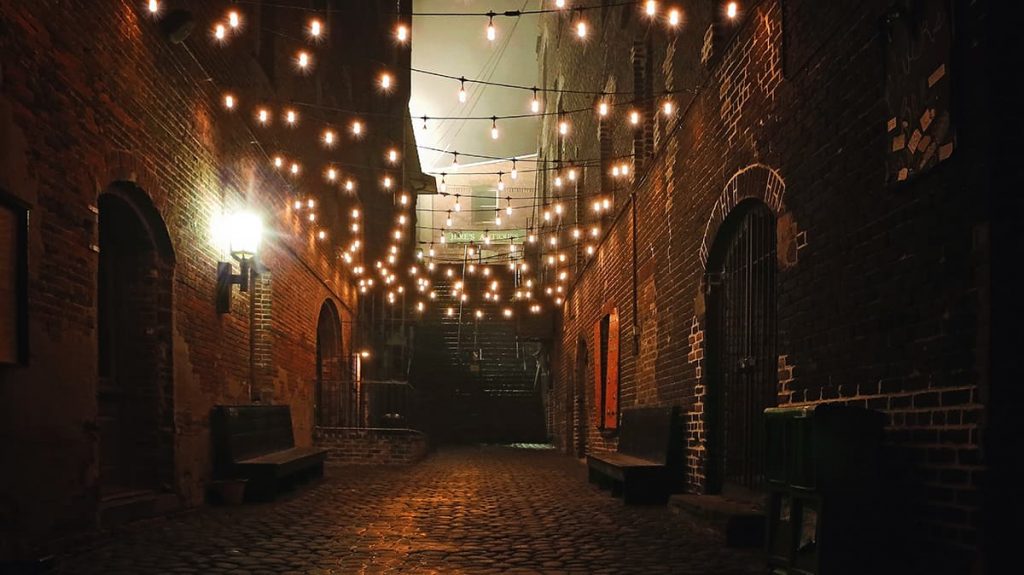 I had to save the best for last…the Stone Stairs of Death always make a great photo op! They're impressive day or night. They're located on the west end of the river between River Street and Williamson Street — just below the Jere's Antiques sign.
Related Reading: Is Jones Street Really the Prettiest Street in Savannah?
---
Savannah Riverfront Hotels
If you want to stay on River Street and have a direct view of the water, here are a few hotels I recommend:
The newest hotel to the Savannah riverfront area is the JW Marriott Kessler Plant-Riverside, which is located on the recently-developed far west end of River Street.
Related Reading: Best Accommodations in Savannah
---
Savannah Travel Guide Info
If you're planning to a trip to Savannah, here are a few additional resources I've created to help you out.
Free Resources Library – When you sign up for my email list, you'll get a checklist of "50 Things To Do On-Foot in the Historic District (No Car Necessary)" and other helpful printables.
Savannah First-Timer's Guide: My ebook combines my most helpful Savannah travel tips from this website in one handy downloadable guide.
When you purchase my ebook, you also get access to a private Facebook group I created where you can ask questions about your trip and get advice/see photos from others who have recently visited.
---
So…which of these River Street photo spots do you want to visit first? Let me know in the comments below!
---
Love this post? Pin it now to save for later!