I love a good ghost story! When my brother and I were little kids, we got so excited when our dad would tell us spooky ghost stories before bedtime. We grew up hearing tales of The Gray Man of Pawley's Island and the sad story of Alice Flagg and her lost engagement ring.
Luckily for me, I get to call one of the most haunted cities in America my home. In fact, if you haven't read it yet, you should check out my list of the most haunted places in Savannah!
Note: This guide contains affiliate links to my trusted travel partners.
If you're new around here, first of all…welcome!
My name is Erin, and I authored the Savannah First-Timer's Guide. It contains everything you need to plan the perfect trip to Savannah.
Since this is a rather lengthy post, I created a handy table of contents you can click on to jump to specific sections of interest…
Table of Contents | Click to Expand
Haunted Bed and Breakfast in Savannah GA
Once you learn how haunted Savannah is, it's only natural to want to book a trip, right?
I've listed my top four choices if you're hoping to stay in a haunted bed and breakfast below, and I've explained why (or why not) I think they're haunted.
You might also be interested in:
🏚️ The Top 3 Most Haunted Hotels in Savannah Georgia
👻 The 11 Most Haunted Places in Savannah Georgia
---
Kehoe House
The beautifully renovated Kehoe House faces Columbia Square and is often referred to as the best B&B in Savannah. (Y'all already know it's one of my favorite options!)
I can't stress enough how elegant this house is and how much I love the location.
It's situated in the northeastern zone of the Historic District, which is more peaceful and residential than the touristy northwestern zone.
Kehoe House is listed on the National Register of Historic Places and is most known for its delicious Southern-style made-to-order breakfasts, which are served to guests on silver platters.
History of the Kehoe House
The home was built by an Irish immigrant named William Kehoe and was completed in 1892.
When Kehoe moved to the U.S., he knew he needed to learn a trade, so he decided to apprentice as an iron worker. As his skills grew, he eventually opened his own foundry called Kehoe's Iron Works.
In time, he became one of Savannah's most prominent business owners. He was very sought after for his intricate iron balconies, stairways, and railings.
Kehoe met and fell in love with a Savannahian named Anne Flood, and the two married and ended up having ten children together. William utilized his advanced iron-working skills to construct the stately Kehoe House for his large family.
The home is a total showpiece of his skills as an ironworker! Look closely and you'll discover that all the areas that appear to be wood on exterior of the home are actually made of iron. (The one exception is the front door, which actually is made of wood.)
Even if you don't stay in the home, you should check out that grand front entry — and maybe even pose for a picture in front of it? It's a very memorable spot!
Of Note: Football star Joe Namath purchased the house in the early 80s. He bought it because he planned to convert it into a disco-style nightclub! However, after much resistance from the neighbors, he abandoned his plan and sold it in 1989.
Is Kehoe House Haunted?
Some say yes, some say no. I say…. maybe?
The most persistent tale surrounding the home is a story about the Kehoe's twin boys.
Legend has it the two youngsters were playing hide-and-seek when they got the brilliant idea to climb into the chimney of one of the home's fireplaces.
As they climbed higher into the space, they soon found themselves stuck.
When they tried calling out for help, ashes fell into their tiny lungs, causing them to suffocate. Their mom found their bodies days later by following the stench of rotting flesh to the chimney.
Terrible tale, right?
I don't think it's true, thank goodness. The genealogy chart in this research paper about William Kehoe doesn't show any record of twin boys who died at a young age.
However, when I dug deep into TripAdvisor reviews for the Kehoe House, I did find one guest back in 2011 who claimed to have heard the sounds of children laughing and calling out for "mommy" — even though no children were allowed in the B&B at the time.
Intriguing.
Once William and Anne passed away, their family members inherited the house.
The home eventually sold outside of the family unit and operated as a boarding home for a short period of time.
For nearly five decades after that, it served as a funeral parlor.
I'd imagine any home that held dead bodies for close to 50 years probably has a decent chance of having a few ghosts in it…wouldn't you? For that reason, I'm listing it as a maybe.
If you ever stay there and experience any paranormal activity, please be sure to let me know!
Kehoe House | 123 Habersham Street, Savannah, GA 31401
---
Hamilton-Turner Inn
The Hamilton-Turner Inn is another luxurious bed and breakfast option.
It's located facing Lafayette Square, which is just steps away from the magnificent Cathedral of St. John the Baptist.
If you're seeking stunning interior design in a home, this one is my top choice!
Check out this video where House Beautiful interviewed interior designer Linn Gresham about her choices for the home. That blue wallpaper in the parlor gets me every time!
In my Savannah First-Timer's Guide ebook, I divided the Historic District into 5 distinct zones, and I break down the advantages and disadvantages of staying within each zone.
Hamilton-Turner is situated in the "Historic District South Zone," which is such a charming area! I highly recommend it.
Hamilton-Turner Inn History
The Hamilton-Turner Inn was completed in 1873, and it was built for the Samuel Pugh Hamilton family.
Hamilton served as an officer in the U.S. Navy before retiring to work as an alderman (city council officer) in Savannah.
Much like William Kehoe, he was a well-respected local businessman.
Hamilton owned a jewelry business in the Historic District, but he sold it in the late 1890s so he could work for Brush Electric & Light Power Company.
He was eventually elected as president of the power company.
Due to his elevated position within the company, the Hamilton-Turner house became the first home in Savannah to get electricity!
It was an exciting moment for the residents of Savannah, who often gathered in Lafayette Square to see the house all lit up in the early evenings.
(The reason they stood across the street instead of on the sidewalk was because many feared the house might explode!)
Of Note: Hamilton-Turner was one of the few homes in this section of Historic District to survive the great fire of 1898. It nearly destroyed the nearby Cathedral of St. John the Baptist. The destruction of the city wasn't caused by the invention of electricity as residents feared, but was instead caused by a hay fire.
Dr. Francis Turner moved into the home after the Hamilton estate sold it, and his family lived there for 11 years.
During the era of the Great Depression, the home operated as a boarding house and as a home for nurses.
In the 1940s, the Turner family moved in again.
After the Turners moved out, the home was abandoned and soon fell into disrepair.
The Historic Savannah Foundation rescued it, and now it's one of the most spectacular places to stay in all of Savannah!
Is Hamilton-Turner Inn Haunted?
I vote… yes.
Guests have reported hearing the sound of footsteps echoing across otherwise empty rooms and have reported feeling an otherworldly presence lurking about.
Some have heard the sound of billiards rolling across the floors, as well.
It's even been rumored The Hamilton-Turner House inspired Walt Disney's Haunted Mansion attraction! He was often seen doodling on his sketchpad from a bench across the street in Lafayette Square.
Apparently, according to those "in the know," Harper Goff's original sketches of the Haunted Mansion looked strikingly similar to this haunted Savannah bed and breakfast inn! (It's the first sketch included in this haunted mansion blog post.)
Visitors aren't allowed to tour the property, so you have to stay there to see the interior.
Even if you don't spot a ghost, it's easily one of the most luxurious and stunning B&Bs in Savannah.
Hamilton-Turner Inn | 330 Abercorn Street, Savannah, GA 31401
Related Post: When is the Best Time of Year to Visit Savannah, GA?
---
Foley House Inn
The Foley House Inn is one of the only B&Bs on this list that actually had a murder occur on-site, so you know I have to include it on the list!
Like the Hamilton-Turner House, it's also located in the Historic District South zone and faces beautiful Chippewa Square, which is one of the prettiest squares in Savannah.
This is probably the least "fancy" option on this list.
However, they do allow kids and dogs, which is a no-no in most B&Bs in Savannah.
Foley House Inn History
The Foley House was built in 1896 for a widow named Honoria Foley.
She built the home to function as an inn, so it was common for boarders to come and go from the place.
Honoria ran the inn successfully for many years and even expanded the home after a short period of time.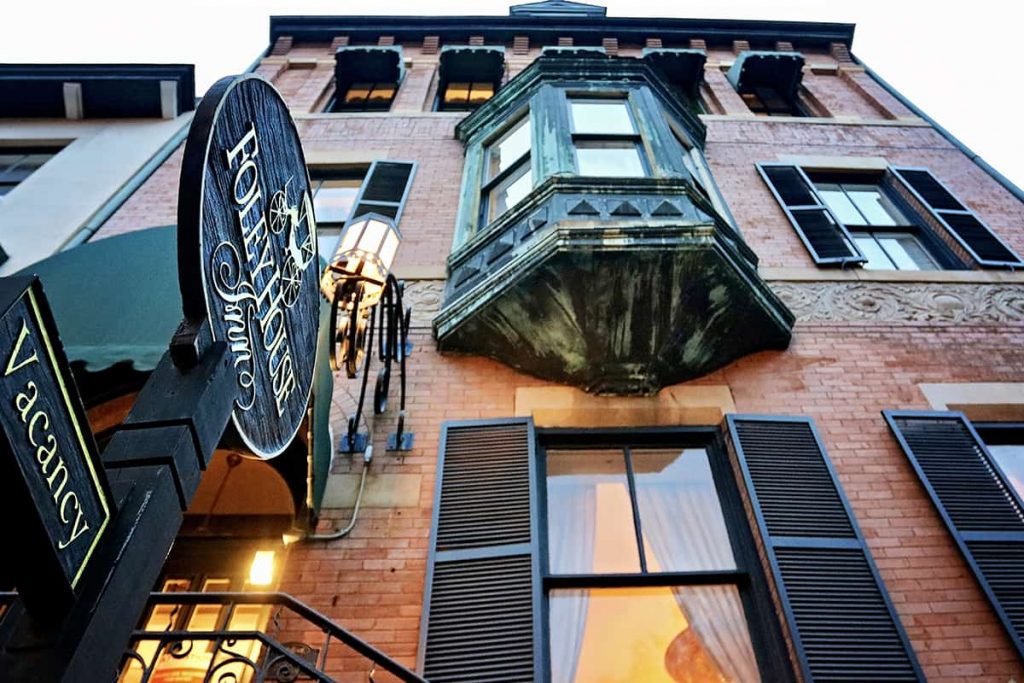 At one point, a wealthy boarder stopped in to stay and is said to have developed a crush on Honoria.
She wasn't too interested in the guy, but he was the type who wouldn't take no for an answer.
As the story goes, he invited himself into Honoria's bedroom one night while she was sleeping.
She woke up and — in her frightened state of mind — she hit him over the head with a heavy candlestick, killing him.
She panicked and enlisted the help of another male boarder, a "friend" (wink, wink) who just so happened to be a carpenter.
As local storytellers would have you believe, they came up with a plan to hide the body inside a wall to cover up what happened.
Is the Foley House Inn Haunted?
I vote… yes.
The most compelling reason stems from the fact that construction workers discovered a skeleton in the wall in 1987.
That's right…they actually found human remains inside one of the walls! The skeleton was uncovered during renovations to the property.
That, along with the fact that the boarder was never heard from again, tend to support the tale of a murder and subsequent coverup.
The most common paranormal sighting in the home is one of a man wearing an old-timey hat — like a top hat.
Guests also report feeling a sudden rush of air inside the house and have heard unexplained noises.
Foley House Inn | 14 Hull Street, Savannah, GA 31401
---
Eliza Thompson House
The Eliza Thompson House was the first residence built on Savannah's beautiful Jones Street, which is often listed as one of the prettiest streets in America.
Like the Hamilton-Turner Inn, the Eliza Thompson House is also located in the Historic District South Zone.
I personally love staying in this area! It's not as crowded as the River Street Zone, and it feels much more romantic.
Whenever I stroll along Jones Street, I can actually imagine what Savannah was like back in the day.
Eliza Thompson House History
The house was built in 1847 for Eliza and Joseph Thompson, who had seven children together.
An addition to the home was completed around 1870.
Joseph worked as a cotton dealer, back when cotton was the top export from Savannah, so that meant their family was very wealthy.
Joseph died shortly after the home was built, but Eliza stayed there and hosted lots of fabulous parties out of the house.
Because air conditioning didn't exist at the time, she hosted many of her events in the courtyard, which features an original Ivan Bailey fountain and koi pond.
Is Eliza Thompson House Haunted?
I vote… maybe.
I couldn't find any reviews on TripAdvisor saying it was haunted.
The only blog posts I found supporting the claim were from bloggers who run ghost tour sites. (Which means they might benefit from blog traffic by saying it's haunted.)
However, owners of the inn claim there have been sightings of a young girl wearing a white dress. They also mention sightings of the spirit of a Confederate soldier.
If you book it, I'd suggest staying there for the awesome location and the incredible history of the home. Consider it a perk if a ghost decides to make its presence known!
Eliza Thompson House | 5 W Jones Street, Savannah, GA 31401
---
Savannah Travel Guide Info
If you're planning a trip to Savannah and need additional help, I've created lots of great resources. Here are a few to get you started…
Savannah First-Timer's Guide – Be sure to pick up a copy of my ebook to get all of my best insider tips in one place. It's the only resource you'll need when planning your trip to Savannah! You'll also gain access to my (very active) private Facebook group with your purchase. You can use it to pick my brain about your upcoming travel plans and to read trip reviews from others who have recently visited.
The Top Tours in Savannah – I've rounded up a list of my favorite fun and educational tours. (My personal favorites are the food tours!)
Savannah FTG Free Resources Library – Get a free printable list of 50 Things To Do On-Foot in the Historic District (no car needed!), plus more fun goodies.
---
So…would you stay in a haunted Bed and Breakfast in Savannah GA? Tell me your favorite in the comments below!
---
Love this Post? Pin it now to save for later!