If you dream of sipping hot chocolate while strolling along the river to check items off your holiday wishlist, then you're probably going to want to head to the Savannah Christmas Market!
It's the city's own little version of a traditional German Christmas market — only with palm trees instead of snow — and it's cute as can be.
You'll find it in the Plant Riverside District, which is located along the riverfront. It's close to the port, so it's fairly common to see giant container ships cruising past. Check out some of my favorite photos of River Street to see what I mean.
Note: This guide contains affiliate links to my trusted travel partners.
If you're new around here, first of all … allow me to extend a warm welcome!
My name is Erin, and I authored the Savannah First-Timer's Guide. It combines my top Savannah travel tips from this website into one downloadable guide.
You Might Also Like:
🤶🏻 Christmas in Savannah: Get the Scoop From a Local
🎄 Where to Find the Best Christmas Lights in Savannah
---
Table of Contents | Click to Expand
Plant Riverside District
If you're new to Savannah, or if you haven't visited in a few years, I should probably explain exactly where the Plant Riverside District is located.
It's a fairly new(ish) development along the far west end of River Street.
If you're strolling along the riverfront and look west towards the Talmadge Bridge, you can't miss it; just look for the two colorfully lit smokestacks reaching towards the sky.
Those smokestacks belong to the JW Marriott Plant Riverside, which was constructed from an abandoned electric power plant.
Even if you don't stay in the hotel, you should definitely check out the lobby! It's a natural history museum that features a chrome recreation of the largest dinosaur ever discovered.
The reproduction is 135 feet long and hangs overhead, surrounded by massive flying pterodactyls (which are also reproductions, of course).
Plant Riverside is known as Savannah's Entertainment District, so you'll find plenty of shops, restaurants, bars, art, and music venues in the area.
Related Video: The Adaptive Reuse of a Power Plant: Renovation of Savannah's Plant Riverside
---
Savannah Christmas Market
Plant Riverside District | 400 W River Street, Savannah, GA 31401
Dates: 11.24.23 – 01.01.24
Hours: TBD, but here's my guess based on years past: 11.24.23 – 12.17.23 open Thursday – Saturday from noon to 8 p.m. and Sundays from 2 p.m. to 8 p.m, then beginning on 12.23.22 they will likely be open 7 days a week from 2 p.m. to 10 p.m.
NOTE: On Christmas Eve they are open from noon to 6 p.m. The market is CLOSED on Christmas day.
Although the Plant Riverside District leans towards the trendy side (think Vegas-style LED lighting displays), you can still find traditional Christmas decor in some areas. The Savannah Christmas Market is a prime example!
As you stroll along the riverfront, you'll notice lampposts wrapped in greenery and topped with cheery bright red bows.
The JW Marriott sign and most of the restaurants are draped with garlands covered in red, green, and gold ornaments.
Vendors come from popular local shops like Savannah Bee Company, River Street Sweets, and Nourish. It's a nice spot to buy Christmas gifts and souvenirs!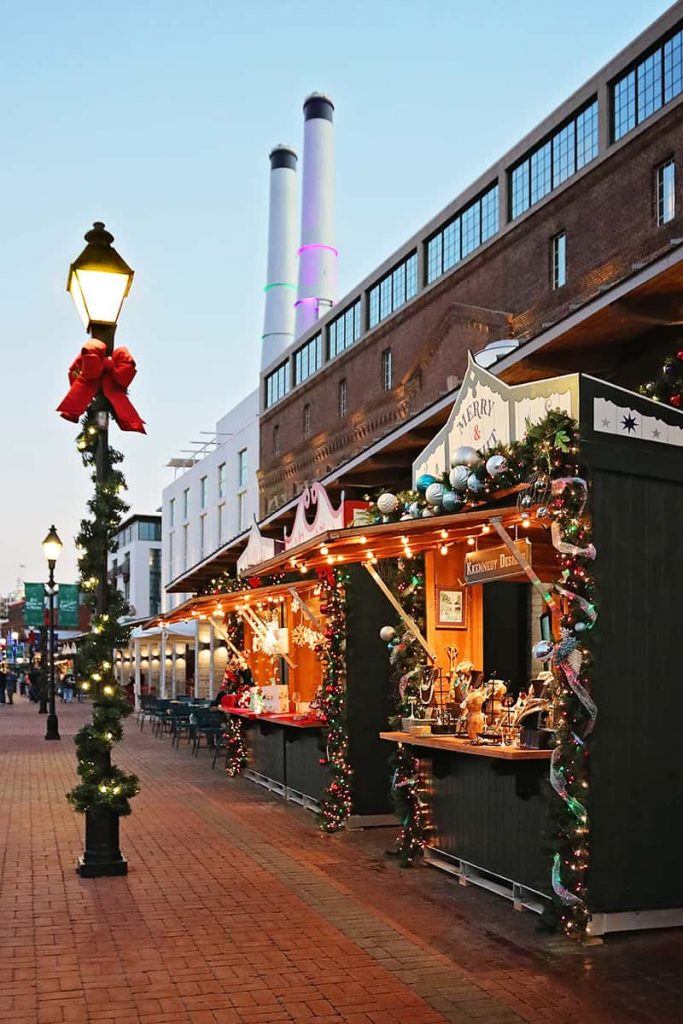 A few of the booths serve snacks and drinks, and it's definitely nice to sip on something toasty while you shop on a chilly day!
You'll find hot chocolate, cider, coffee, and even a small variety of alcoholic beverages.
NOTE: The market is closed on Christmas day.
---
Plant Riverside District Christmas Events
Expect visits from Santa, street performers, live music, and more at Plant Riverside's Savannah Christmas Market. Make note that tickets are required for a few of these events.
Here are some of the events and activities to expect this year at the Savannah Christmas Market.
Santa Meet & Greet + Photos
Bring the kids to Plant Riverside's Montgomery Park to have their pictures taken with Santa. The jolly guy is there daily from Thanksgiving week until Christmas Eve. Just bring your own camera or cell phone and hand it to one of Santa's helpers to snap the photo.
Kid's Corner
The kiddos can decorate ornaments and Gingerbread cookies, write letters to Santa, and create felt garlands.
Tree Lighting Ceremony
This event features a performance by the First Baptist Church Choir, a live reading of The Night Before Christmas, and a tree lighting ceremony starring Santa. It's held at the Plant Riverside Amphitheater.
Miracle on Swing Street: A Holiday Soiree
Enjoy live a performance by the Fabulous Equinox Orchestra. Tickets available via Ticketmaster or at the door.
Cirque Divina Aerialist Performances
Every Friday and Saturday Night | 8:30 p.m. & 9:30 p.m. [confirmed]
Cirque Divina perform every Friday and Saturday in the area near the fountains. The show is free!
---
Plant Riverside Christmas Decor
As I mentioned above, the decorations in the area look rather traditional during the day. Plant Riverside features a pretty floral mural you can pose by to snap selfies, if you're into that kind of thing. Plus, there are colorful fountains and plenty of shops where you can look for gifts.
At night the area takes on a different vibe. There are plenty of LED lights and neon, so it looks much more Vegas-y and lives up to its "Entertainment District" reputation.
Where to Eat in the Area
If you're looking for an upscale place to eat, Stone and Webster Chophouse is a popular spot for steak-loving tourists in the Plant Riverside District. As a bonus, it's one of only a handful of restaurants in Savannah that typically stays open on Christmas and NYE.
I suggest making reservations as far ahead as possible!
My husband and I are foodies and this was by far the greatest food we have EVER had. Definitely pricey, but 100% worth it. Not only that, but exploring the JW Marriott's geode/fossil/power plant museum & gallery was an amazing experience in itself.

~Brittany L. via my Savannah First-Timer's Guide Facebook group
Want more information about what to expect during the holiday season in Savannah? Check out these related posts…
I update that second post each year once the decorations start going up, so you might want to bookmark it to see exactly which squares (or Forsyth Park, or the Cathedral, etc) look festive.
It's updated regularly from Thanksgiving through mid-December!
Check Rates: Based on comments from travelers in my private Facebook group, the JW Marriott Plant Riverside and other Savannah hotels that decorate for Christmas fill up FAST! Travelers typically start booking for Christmas during July.
---
Ethical Tourism in Savannah
Those of you who stop by my site regularly know I always try to mention how tourism affects the locals, and today I want to talk about those giant container ships you see along River Street.
They're a huge part of what makes River Street so special! Some of the ships are so big they're often taller than the historic warehouses and buildings lining the river.
The port is one of the largest employers in Savannah, so it brings numerous jobs to the area.
However … with the good, comes the bad.
Those massive container ships aren't so good for the environment, and they're often hauling tons of mass-produced products from as far away as China.
You might've noticed recent headlines from the New York Times and Associated Press discussing massive shipping delays and supply chain issues in American port cities. The messages often include warnings to "buy your Christmas presents early to avoid delays."
You know how to avoid shipping delays? Buy local!
There are plenty of incredibly talented makers right here in Savannah, and you'll support the local economy when you purchase handcrafted gifts from them.
In addition to the Savannah Christmas Market, you can find local artisans in City Market and in the shops along DeSoto Avenue in the Starland District.
---
Savannah Travel Blog
As mentioned previously, I really enjoy helping visitors plan their trips to Savannah. In addition to my Savannah First-Timer's Guide, I've created a few other resources to help you out…
Thanks again for stopping by! I'm pretty easy to track down if you need help figuring out your travel plans. Send an email, post in the Facebook group, or just drop a comment below.
---
Do you have any questions about the Savannah Christmas Market? If so, let me know in the comments below!
---
Love this post? Pin it now to save for later!