If you're wondering where to find the best Christmas lights in Savannah, I have a few ideas for you. I truly love this time of year! This city looks so beautiful decorated in its holiday best. I've included a map at the end of the post in case you want to try a self-guided tour.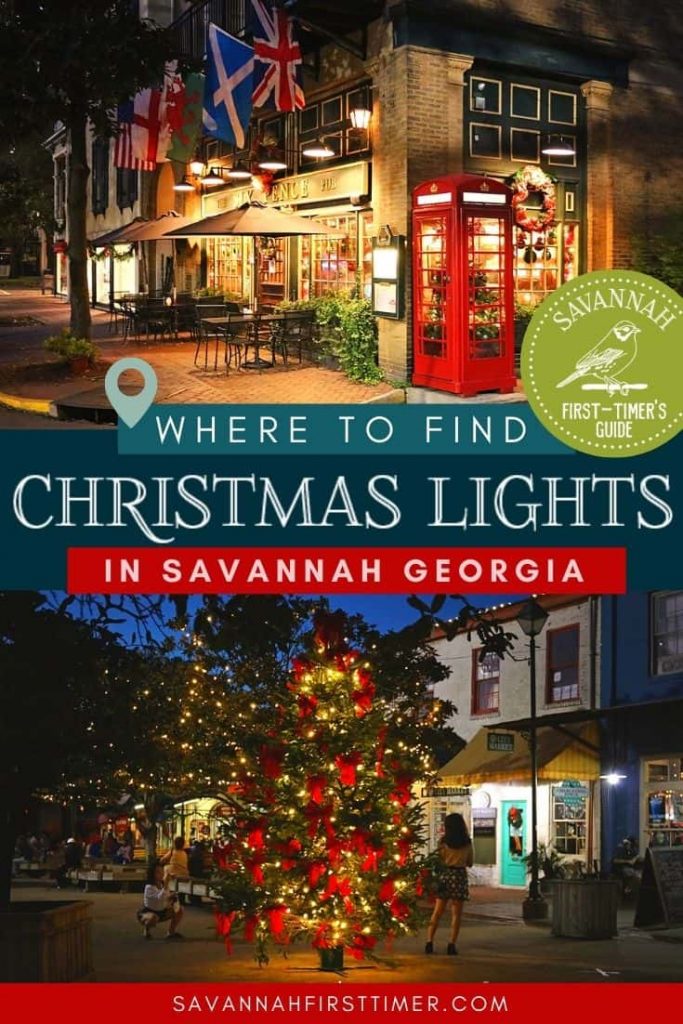 FTC Disclosure: This post contains affiliate links, which means I may receive a commission, at no extra cost to you, if you purchase through one of my links.
If you're new around here, first of all…welcome! I'm Erin, and I authored the Savannah First-Timer's Guide. It's a helpful travel guide that contains everything you need to plan the perfect trip to Savannah. You can purchase and download it instantly right here…

Since this is a rather lengthy post, I created a handy table of contents you can click on to jump to specific sections of interest.
Savannah Georgia Christmas Lights 2021
There are multiple areas throughout the city that are known for their beautiful Christmas displays. I'm going to attempt to list as many as possible, beginning with my favorites…
The Historic District
If you want to feel like you've crossed into a real-life Dickens novel, try going for a stroll through the Historic District during the holiday season. I kid you not…I've actually stumbled upon carolers strolling from door to door with candles in-hand. It's such a heartwarming sight.
The historic homes, flickering gas lanterns illuminating the cobblestone streets, and Spanish moss hanging from giant Southern live oaks all combine to create a picture-perfect scene in Savannah year-round…but the Historic District looks even more charming during the holiday season!
My favorite areas to explore are the far NE section of the Historic District and the streets directly north of Forsyth Park.
If you haven't guessed by now, the majority of the decorations in the Historic District are very classic in nature. You won't see tacky yard displays or gaudy balloons downtown. (Although I did spot one giant Olaf from Frozen balloon by Forsyth Park in recent years.)
Savannah Historic District Home Rentals
If you like the way the Historic District looks, I suggest booking a vacation rental next holiday season so you can experience it for yourself. Be sure to book months in advance, since the best rentals fill up quickly!
Check all available Savannah Historic District home rentals here.
If you purchase a copy of my ebook, you'll gain access to my private Facebook group where you can get personalized help planning your trip. It definitely helps to have a local's input when you're trying to find the best home rental location!
Related Reading: Where to Stay in Savannah Georgia: Get the Scoop From a Local!
Savannah Historic District Christmas Tours
Want to go on a tour to see the holiday decor in the Historic District? No problem. Here are a couple options for you:
Both are great options, it just depends on whether you prefer to walk through the Historic District or have someone drive you around. The trolley has a convertible top, so you'll have an open view to see all the pretty trees and lights.
I also suggest visiting the Christmas Market at Plant Riverside so you can explore, shop, and enjoy some hot chocolate (or other toasty drinks).
Broughton Street
It's so easy to get in the holiday spirit on Broughton Street! You'll find the city's official Christmas tree at the intersection of Broughton and Bull Streets, adjacent to Levy's Jewelers. It's smack-dab in the middle of the road, so you can't miss it!
The twinkle lights draped from one side of the street to the other look like a scene from a Hallmark movie, and the greenery and ribbons on all of the old-timey lampposts just add to the effect. The annual holiday tree lighting was held on Friday, November 26, 2021 at 5:30 pm at the intersection of Bull and Broughton. It's always a free event!
If you take a stroll down Broughton Street in the early evening hours as the lights begin turning on, you'll get the full effect of the extravagant holiday window displays at stores like The Paris Market. They change their display every year, and it's always fun to see what they'll come up with next.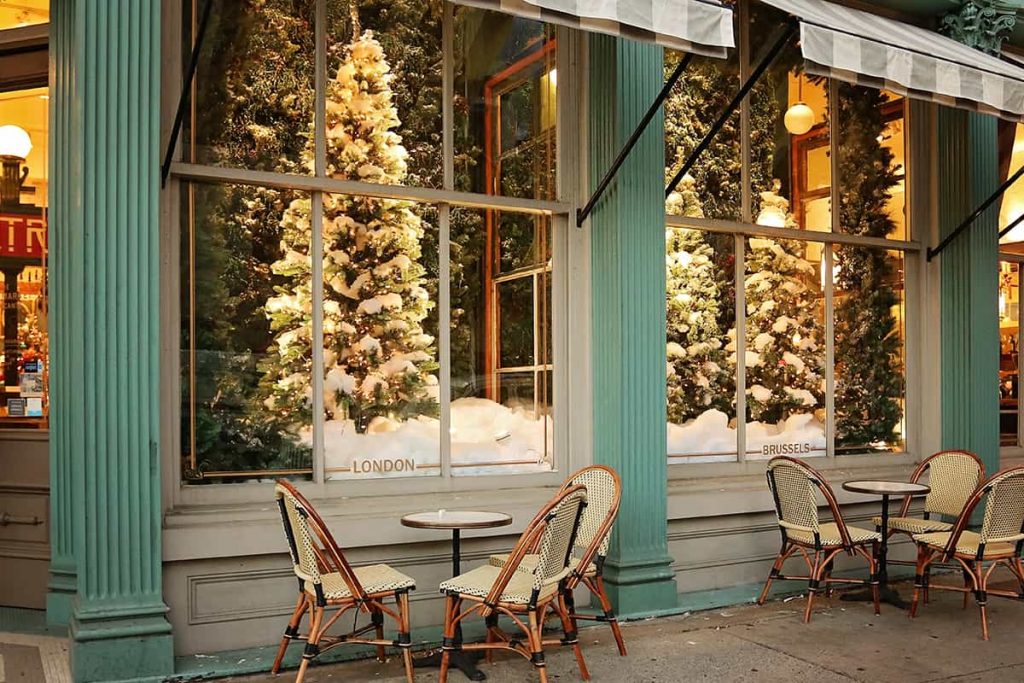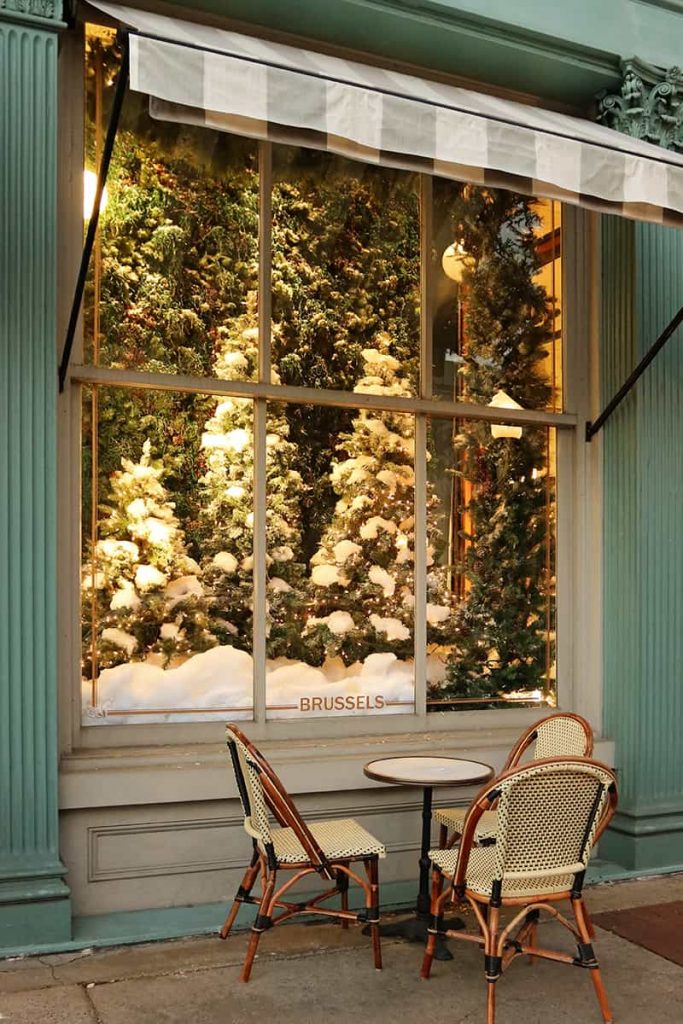 Can't-Miss Shops on Broughton Street
Here are a few places where you can pick up Christmas gifts while supporting local businesses at the same time. They're all really great places to shop! The Paris Market and Nourish are two personal favorites of mine.
Want to stay in a gorgeous historic property on Broughton Street? I highly recommend The Marshall House.
Related Reading: Christmas in Savannah: It's the Most Magical Time of the Year!
City Market
City Market is an open-air market covering two blocks in the Historic District. It's a bit of a hotspot for tourists thanks to its many restaurants, bars, and shops. There's also a steady stream of live music.
During the holidays, it's a festive place to see the Christmas lights. Each block has a Christmas tree in the center that's decorated with white lights and bright red ribbons.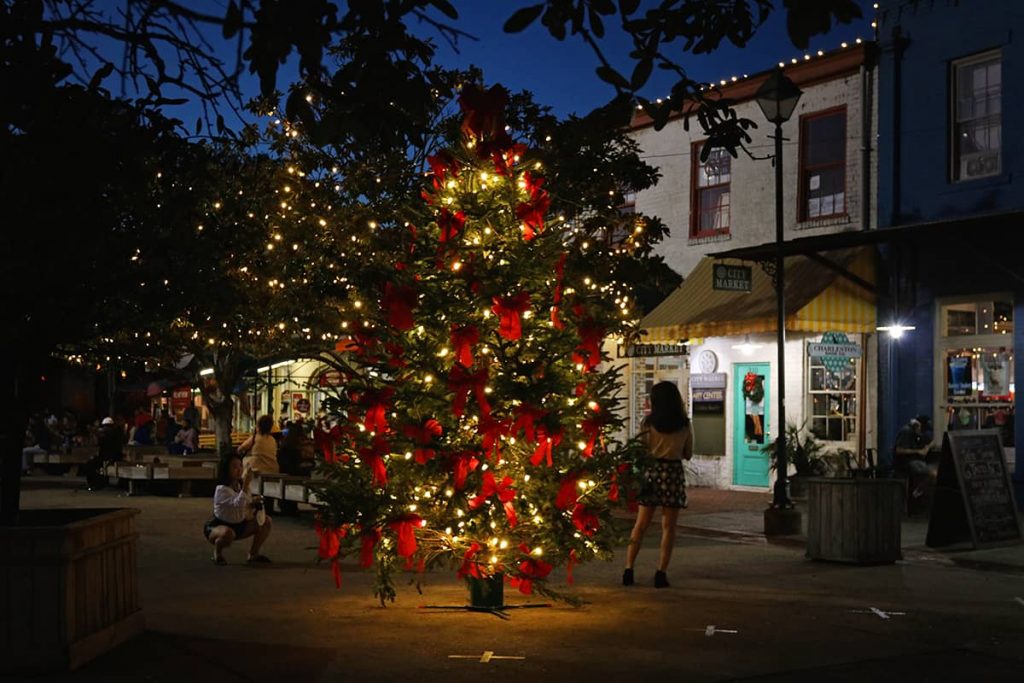 The shops and art studios also get into the act by decorating with greenery, wreaths, and colorful trees in the windows.
City Market is hosting a Holiday Open House to celebrate Christmas in Savannah in 2021 and will have more than 500 luminaria lining the courtyard. They'll also have carolers available to serenade guests. Santa is supposed to make an appearance, too!
Can't-Miss Spots in City Market
Again, it's great to support local businesses, so I want to list a few popular spots in the area…
American Prohibition Museum
Belford's Seafood and Steaks
Byrd Cookie Company
Savannah Candy Kitchen
The Bar Bar
Vinnie Van Go-Go's Pizza
Vinnie Van Go-Go's and Byrd Cookie Co. are tied as my two favorite spots in City Market, and the Prohibition Museum tour is tons of fun. Be sure to check out all of the talented artists in the area, too.
City Market | 219 W Bryan Street, Savannah, Georgia 31401
The Cathedral Basilica of St. John the Baptist
The cathedral hosts numerous Christmas events, including their annual Christmas at the Cathedral event. It's always a joyful spot and one I like to visit each year.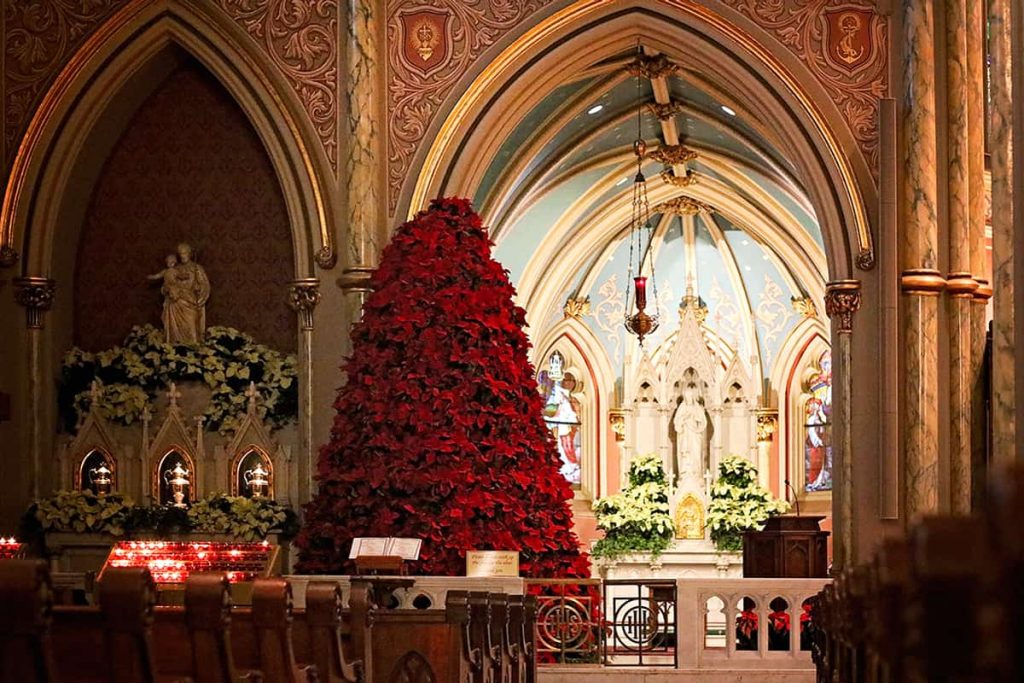 They have a beautiful and very detailed nativity scene (Crechè scene) that guests can walk through to see up close. As of Sunday, December 6, 2021, their Christmas decor is in the process of being placed!
The Squares
If it's traditional Christmas decor you're after, try exploring the squares throughout the Historic District. The Downtown Neighborhood Association (DNA) and the folks who live in the homes surrounding each square decorate them annually with holiday greenery to celebrate the season.
The squares on the eastern side of the Historic District are usually the prettiest. I keep a running list of the squares that are decorated and update them below. Check back in early December to see the 2021 dates!
Calhoun Square – Decorated for 2021
Chatham Square – Decorated for 2021
Chippewa Square – Decorated for 2021
Columbia Square
Crawford Square – Decorated for 2021
Franklin Square – Decorated for 2021
Greene Square – Decorated for 2021
Johnson Square – Decorated for 2021
Lafayette Square
Orleans Square – Decorated for 2021
Madison Square – Decorated for 2021
Monterey Square – Decorated for 2021
Pulaski Square – Decorated for 2021
Telfair Square – Decorated for 2021
Troup Square – Decorated for 2021
Warren Square – Decorated for 2021
Washington Square – Decorated for 2021
Whitefield Square
Wright Square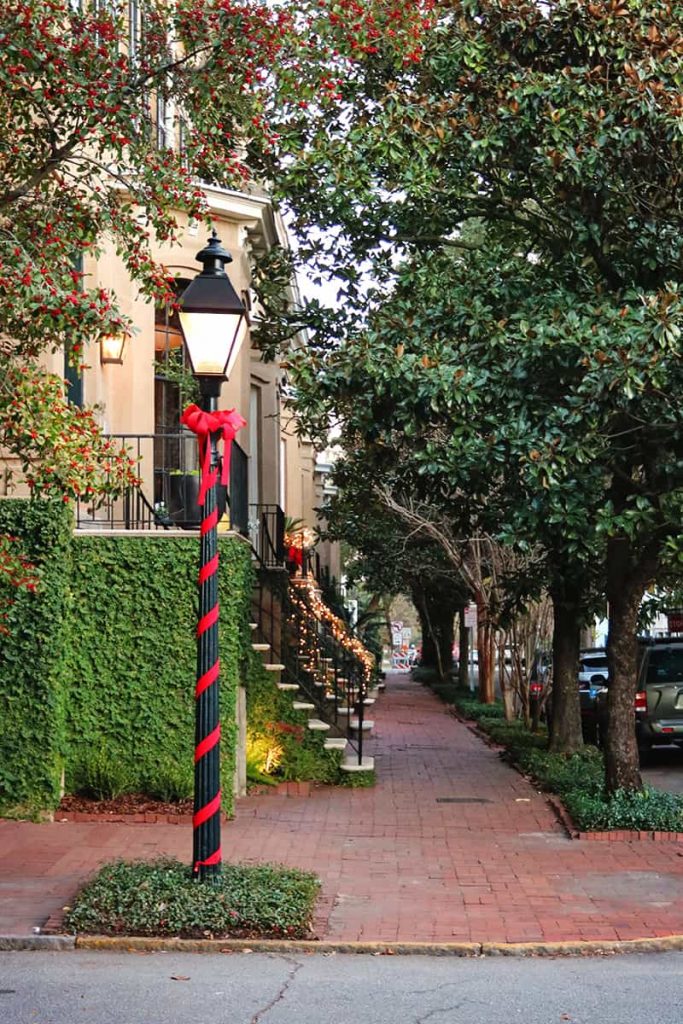 Troup Square is one of my personal favorites. They add beautiful red ribbons on all of the lamp posts, and they even decorate the trash cans in the square!
Make note that not all of the squares participate. Oglethorpe Square and Wright Square didn't decorate last year, for example.
Insider Tip: It's ok to wander through the squares at dusk as you're admiring the Christmas lights in Savannah, but I don't recommend exploring them after dark — unless you're with a local who knows the area. Check my Savannah Crime Map for updated crime statistics.
The cemeteries sometimes get in on the act, too! The decorations along the gate for Colonial Park Cemetery usually go up the first week in December.
Gaston, Taylor, and Jones Streets
I've written plenty about the historic homes on Jones Street, so it's probably no surprise to learn that they're decorated beautifully for the holidays.
If you're in the mood for a romantic evening stroll, try walking from the Tattnall intersection all the way to E. Broad and back on Gaston, Taylor, and Jones Streets to see the pretty lights and decorations.
Related Reading: Is Jones Street Really the Prettiest Street in Savannah?
Forsyth Park
You won't find a Christmas tree or many holiday lights in the park, but the famous Forsyth fountain gets an annual holiday makeover with greenery and red bows.
The lamp posts surrounding the fountain get the same treatment. It's an iconic place to take photos in Savannah, so I had to mention it!
The holiday decor is typically placed on the fountain the first week in December and stays up all month. True to form, the greenery and ribbons went up on December 4th this year (2021).
Insider Tip: If you take photos by the fountain, it's courteous to get your shot and then move on to a nearby bench. That way others can take their photos without having tons of people in the background.
While you're in the area, be sure to stop by the Armstrong-Kessler House which is just north of Forsyth Park at the intersection of Bull and Gaston. Mr. Kessler tends to go all-out with his holiday decor.
Landscape crews added lights to all of the magnolia trees in his yard on November 23, 2021, and I posted a live video of it in my Facebook group. You're welcome to join the group if you're planning a trip to Savannah!
---
Beyond the Historic District
As beautiful as Savannah's Historic District is, some of the outlying areas are even more incredible. You'll need a car to get to most of these.
Victory Drive
This beautiful street is located south of the Historic District and is one you'll probably want to drive to see. It's a rather busy street, but many of the homes along Victory Drive are spectacular. A few of them have really elaborate holiday decor!
Victory Drive is notably different from many streets in Savannah, because it's lined with more than 300 palm trees. The street was named to honor the many soldiers, sailors, and Marines who lost their lives in WWI.
Ardsley Park
This beautiful neighborhood is located south of Victory Drive and is listed on the National Register of Historic Places. Most of the homes in Ardsley Park have larger yards than the homes in the Historic District, which are typically much closer together.
The neighborhood hosts a holiday decorating contest, which runs the two weeks surrounding Christmas. That's the best time to see the lights on full display!
Insider Tip: Ardsley Park is bordered by Victory Drive on the north and 55th Street to the south. The east/west boundaries are Bull Street and Waters Avenue.
Isle of Hope
Bluff Drive on Isle of Hope is another location I always make a point to visit for the holidays. The road is very narrow. As a result, there's really only room for one car at a time driving in any particular direction. You can also park near the marina and walk if it's not too cold. (That's what I usually do!)
The homes on Bluff Drive face the water and sit on beautiful oversized lots featuring old — and massive — Southern live oaks. I enjoy this drive any time of year, but it's extra magical during the holiday season. As a bonus, you'll drive right past beautiful Wormsloe Historic Site on your way there.
Isle of Hope Marina | 50 W Bluff Drive, Savannah GA, 31406
---
More Savannah GA Christmas Lights
This list is getting pretty far outside Savannah, so I'll end it with a few final suggestions for those who still need more ideas — including one "all-out" option.
The Coastal Georgia Botanical Gardens at the Historic Bamboo Farms hosts a drive-thru Christmas light show to keep things Covid-safe. Get additional details on the Botanical Gardens website.
Richmond Hill, GA, hosts an annual Christmas home decorating contest. It includes an entry for the most "The Griswold Award" (honoring the most Griswold-like holiday decor), as well as the best use of inflatables and the best animated yard.
Head to Southbridge Boulevard off Dean Forest Road and explore the Southbridge neighborhood, which has a good number of homes decorated for the season.
OK, that about wraps up my Savannah GA Christmas lights roundup for this year. Have fun out there! Here's a map to help you find them all..
If you'd rather do a guided tour, I highly suggest doing one of the Hop-On/Hop-Off trolley tours! I created a one-day Savannah itinerary based on the Old Savannah Tours route, and it covers the majority of the places listed above. It's a fantastic tour to do in the daytime during the holiday season.
---
FAQs
When do Christmas lights go up in Savannah GA?
A few businesses begin decorating the week of Thanksgiving, but the majority wait until the weekend following Thanksgiving. The squares are usually the last areas to get in the holiday spirit, since they're often decorated with live greenery.
When is the Forsyth Park fountain decorated for Christmas?
The greenery and ribbon were placed on the fountain on December 4th and will remain up through Christmas week in 2021. Check back on this post in December of 2022, and I'll update when they're up!
What restaurants are open Christmas Day in Savannah 2021?
Many of the restaurants attached to hotels will be serving food on Christmas Day in 2021. Try The Emporium at Perry Lane, the 17Hundred90 Inn and Restaurant, Edgars Proof & Provisions at The DeSoto, and Stone & Webster Chophouse at Plant Riverside. The Chart House, Flock to the Wok, Flying Monk, and The Vault Kitchen & Market will all also be open.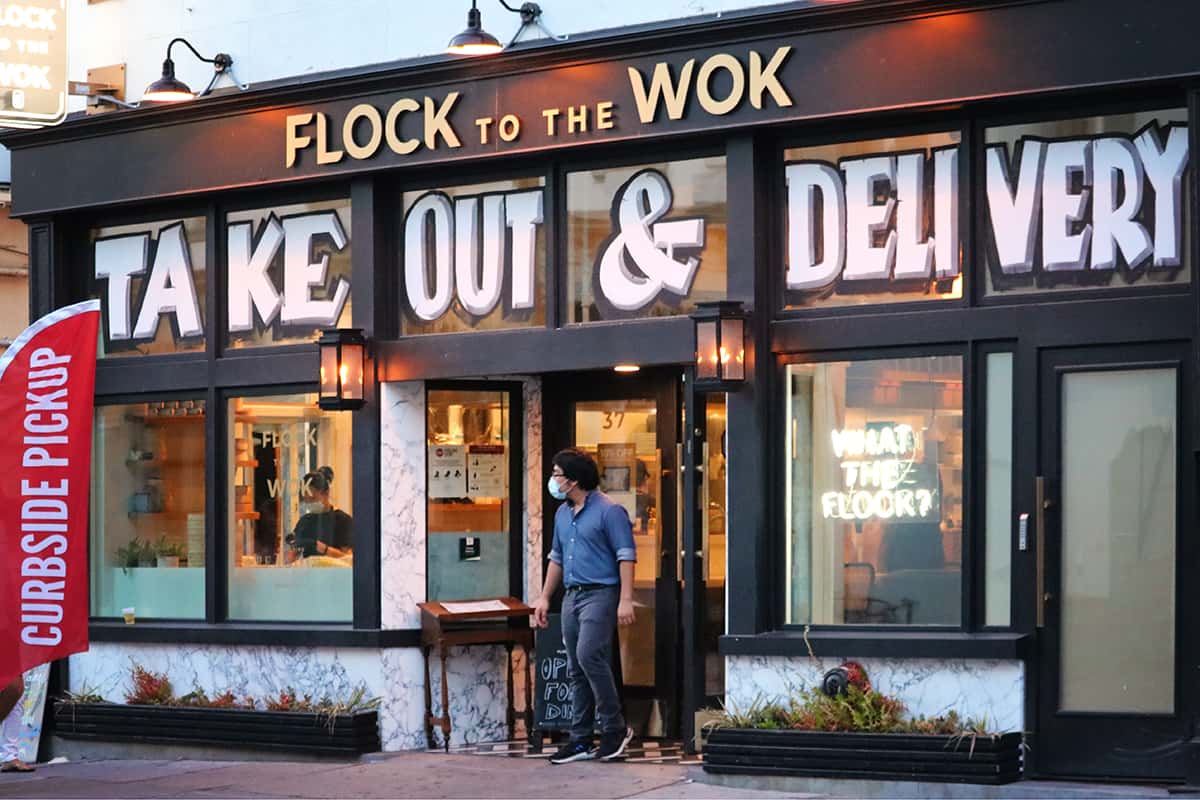 What's open Christmas Eve in Savannah 2021?
A good number of restaurants and bars will be open on Christmas Eve. I suggest The Olde Pink House for a classic meal — just be sure to make reservations well in advance. Six Pence Pub makes a great spot for a nightcap!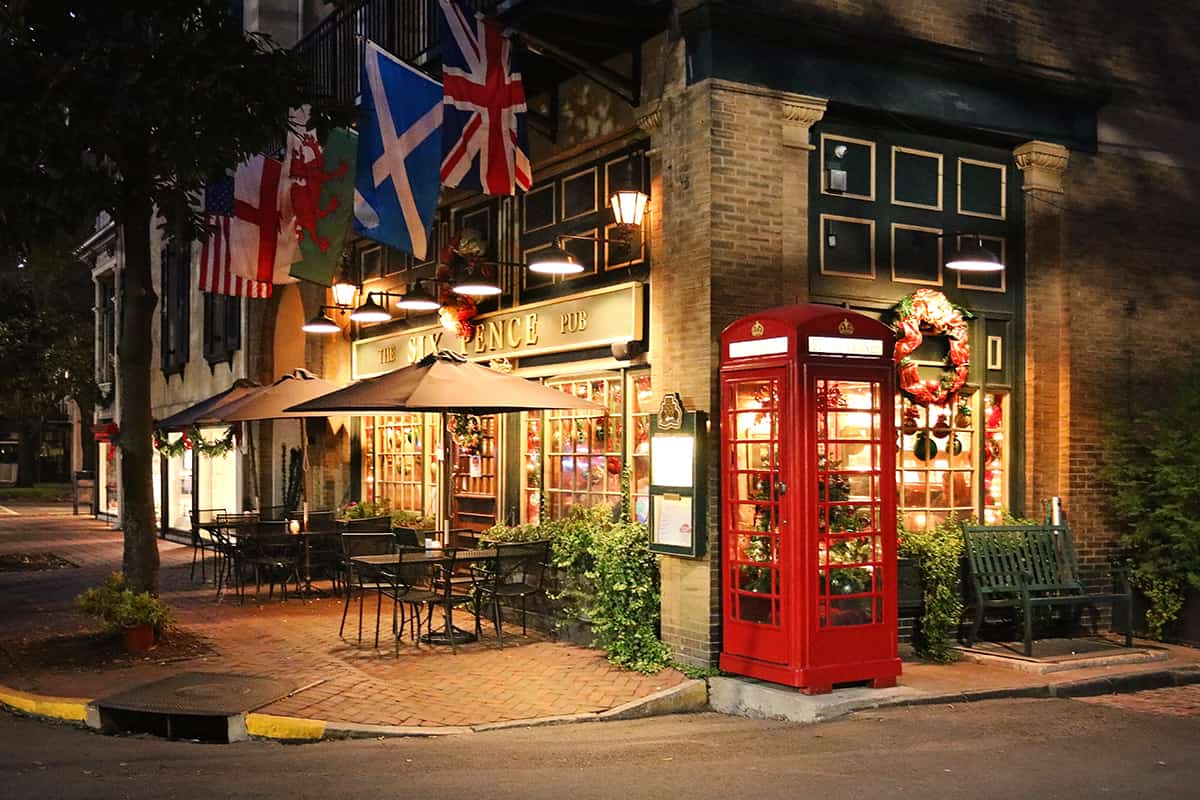 ---
Savannah Vacation Guide
If you're planning a future trip to Savannah and found this post helpful, I've created some additional resources…
Savannah First-Timer's Guide – Be sure to pick up a copy of my ebook to get all of my best insider tips in one place. It's the only resource you'll need when planning your trip to Savannah! You'll also gain access to my (very active) private Facebook group with your purchase. You can use it to pick my brain about your upcoming travel plans. You can also read trip reviews from others who have recently visited.
The Top Tours in Savannah – I've rounded up a list of my favorite fun and educational tours. (My personal favorites are the food tours!)
The Best Accommodations in Savannah – Discover which B&Bs and hotels I recommend most, and learn why I like them.
Savannah FTG Free Resources Library – Get a free printable list of 50 Things To Do On-Foot in the Historic District (no car needed!), plus more fun goodies.
Do you have any questions for me about where to find the best Savannah GA Christmas lights? Let me know in the comments below!
Love this post? Pin it now to save for later!