It's always spooky season here in Savannah, aka: the most haunted city in America.
I live just south of Forsyth Park, and I can confirm that the city is very beautiful by day — but it turns into something far more sinister by the light of the moon.
Trust me…there's a reason many of the locals head indoors once night falls!
If you're the type of person who enjoys getting scared silly, then you've come to the right place. My haunted Savannah guide will help you figure out the spookiest places to stay, eat, and play!
Here are some of my favorite haunted tours, haunted houses, and haunted places in Savannah.
Note: This guide contains affiliate links to my trusted travel partners.
If this is your first time here…allow me to extend a warm welcome!
My name is Erin, and I authored the Savannah First-Timer's Guide. It's a helpful ebook that combines my best tips about Savannah in one central location.
Just FYI, this post is about haunted locations. If you're more interested in tours, you can find those on this post: The Best Ghost Tours in Savannah.
---
Contents
Haunted Houses | Haunted Hotels | Haunted B&Bs | Haunted Restaurants | Cemeteries | Haunted Bars | Haunted Squares
---
Haunted Homes in Savannah
The list of haunted mansions in Savannah is a long one.
Some are private residences that you can't tour, while others are open to the public. You can even go inside one of the homes at night — if you dare!
These are three of the most well-known haunted houses in Savannah…
---
432 Abercorn Street
The Benjamin Wilson House | 432 Abercorn Street
Tours: No. It's a private residence.
This house was considered one of the most haunted homes in Savannah for almost half a century!
The tales behind it are truly WILD, so there's good reason why the ghost stories about the home, which is also known as the Benjamin Wilson House, have persisted for so long.
They include narratives of a local resident who killed his own daughter in an attempt to punish her, a gruesome dismemberment of three children, an attempt to convert the home into the headquarters of the Church of Satan, and more!
I've written all about them and attempt to debunk some of the craziest tales in this post: 432 Abercorn Street: Haunted Mansion…or Just a Rumor Mill?
It's currently a private residence, so you can't tour it. However, that doesn't deter ghost tour guides from bringing crowds to adjacent Taylor Square (formerly Calhoun Square) to gawk at it night after night after night.
---
The Mercer Williams House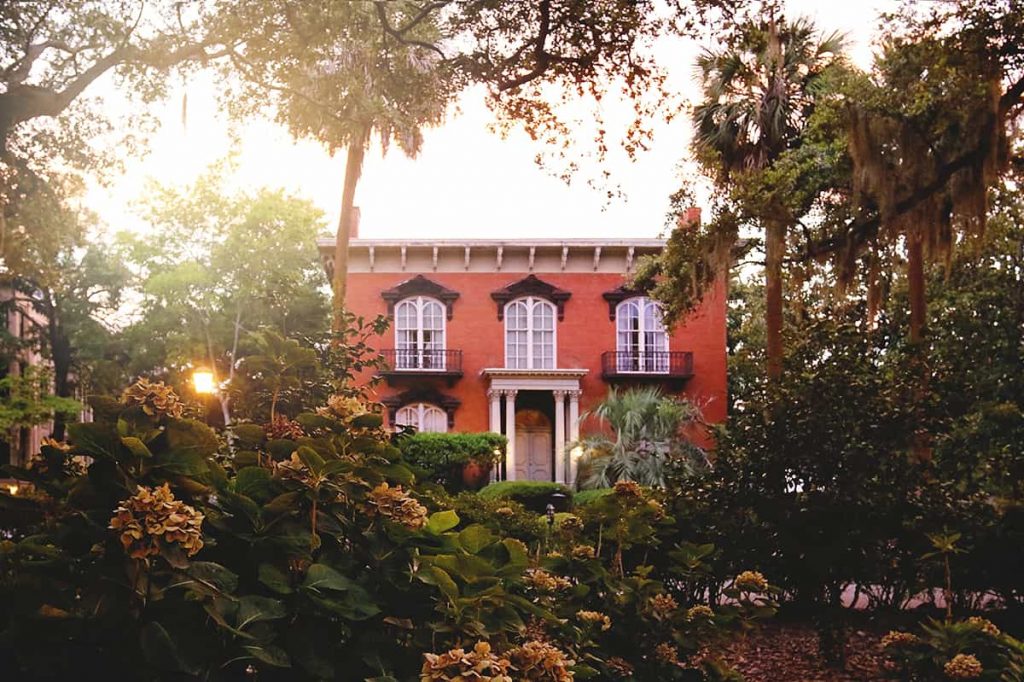 The Mercer Williams House | 429 Bull Street
Tours: Yes. The tours focus on the historic aspect of the home.
Hours: Monday – Saturday 10 a.m. to 5 p.m. | Sunday 11:30 a.m. to 4:45 p.m.
Anyone who has ever read "Midnight in the Garden of Good and Evil" knows this now-infamous home was the scene of the crime for Danny Hansford's alleged murder.
After Jim Williams was tried four times for the murder, he was finally acquitted — only to return to his home and die of natural causes in nearly the same spot where Hansford lost his life.
The Mercer Williams House is a stunningly beautiful home, and the owners are kind enough to allow visitors inside to explore a few main rooms and the carriage house, which currently operates as a gift shop.
While they don't focus much on ghosts during the house tour, it is neat to explore such a famous property — if not a bit gruesome to stand in the same spots where others have died.
I've written all about the house and included lots of photos in this popular post: The Mercer Williams House: Savannah's Most Notorious Home
---
The Sorrel Weed House
Sorrel-Weed House | 6 W Harris Street
Tours: Yes. The home is open for daytime history tours and evening ghost tours.
Hours: Sunday – Friday 11 a.m to midnight | Saturday 10 a.m. to midnight
The Sorrel Weed House is a very popular stop for spirit seekers.
Tourists have reportedly captured images of ghosts reflected back at them in the elaborate mirrors inside the home, and some people claim to feel a very evil and mysteriously draining energy in the basement.
You can do historic tours there during the day and ghost tours at night. They even offer paranormal investigations on weekend nights that run until 2 a.m.
It's one of the few historic homes in Savannah where they really go all out and let you check nearly every nook and cranny for spirits!
I've written all about its spooky history in this in-depth post: The Sorrel Weed House: Let the Debunking Begin!
---
Haunted Hotels in Savannah
In a city as old as Savannah, it probably won't surprise you to learn there's no shortage of haunted places to stay!
Here are a few of my favorite (rumored-to-be) haunted hotels in Savannah…
---
17Hundred90 Inn
17Hundred90 Inn | 307 E President Street
Location: Historic District
The vibe at 17Hundred90 is very cozy, and they have a fantastic restaurant on site.
Their tavern is the only place in Savannah where I'm about 99% positive I actually captured a dark spirit on camera! You can see the photo in this post: Is 17Hundred90 Inn Really Haunted by the Ghost of Anna?
---
The Marshall House
The Marshall House | 123 E Broughton Street
Location: Historic District
Check Rates
In a city chock full of historic properties, The Marshall House is easily one of the most historic of all.
It opened in the mid-1850s and has seen all kinds of sordid uses through the years.
For example, it operated as a temporary hospital during multiple horrific Yellow Fever epidemics and General Sherman commandeered it to treat wounded soldiers during the Civil War.
These days, the customer service at The Marshall House is top notch, and it's one of my most recommended places to stay in Savannah.
A few of my blog readers have had truly fascinating and spooky experiences there, so I added some of their stories to this post: Is the Marshall House Really the Most Haunted Hotel in Savannah?
---
East Bay Inn
East Bay Inn | 225 E Bay Street
Location: Historic District
Check Rates
The longer the history, the higher the chances of a property being haunted… and East Bay Inn was built way back in 1852.
Rumor has it there's a mischievous spirit nicknamed "Charlie" who occasionally makes his presence known to believers who stay at the inn.
Haunted-ness aside, it's a charming little place to stay. In fact, it's one of the top Savannah Historic District hotels. I adore all of the exposed brick throughout the inn!
You can find more details about all three of the above-mentioned hotels on this post: The Top 3 Most Haunted Hotels in Savannah, Georgia
---
Haunted B&Bs in Savannah
If you prefer to live like a local and stay in a haunted house, I've also got the scoop on the most haunted B&Bs in Savannah's Historic District.
---
Foley House Inn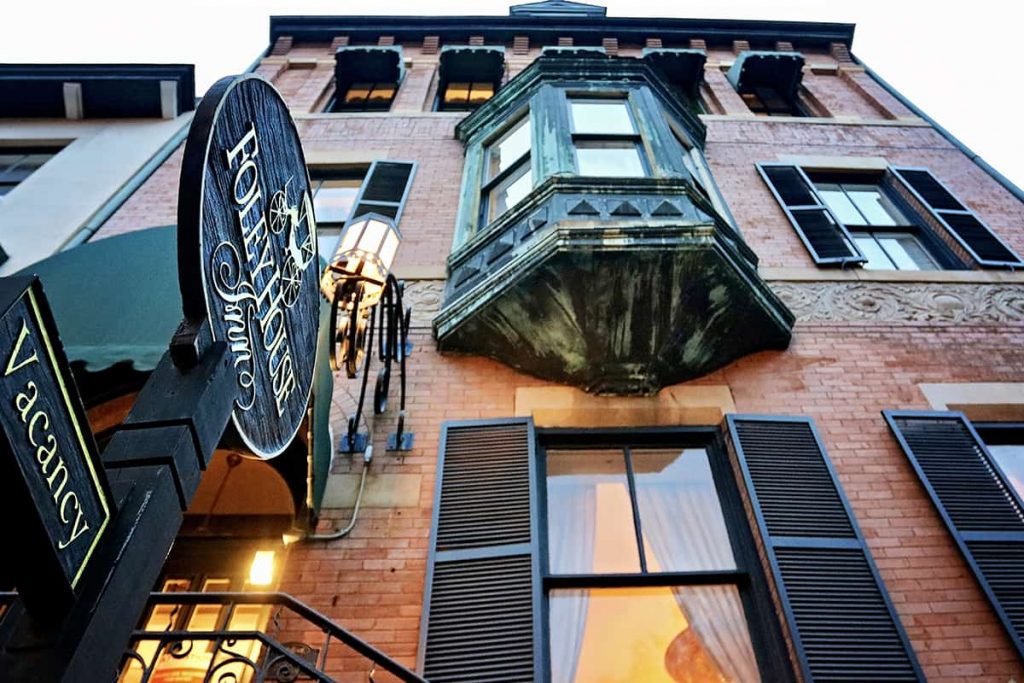 Foley House Inn | 14 Hull Street
Location: Historic District
Check Rates
You honestly can't go wrong with any of Savannah's bed and breakfast options, but if it's a haunted house you're after… it's hard to beat the Foley House.
Construction crews once discovered a human skeleton inside the walls of the home! It truly doesn't get much spookier than that.
If you go on any of Savannah's ghost tours, there's a good chance the guide will lead you past the Foley House to share the tale of Honoria Foley and the murder she committed after a man snuck into her bedroom late one night.
Personally, I'd give her a pass and classify it as self defense. However, I guess if you stuff the body behind a wall and then seal the wall up, that might translate more to malice murder? Who knows?!
---
Hamilton-Turner Inn
Hamilton-Turner Inn | 330 Abercorn Street
Location: Historic District
Check Rates
The Hamilton-Turner Inn is my favorite splurge option!
The interior design is incredibly beautiful, and the location is fantastic, too. It's within easy walking distance to the beautiful Cathedral Basilica of St. John the Baptist.
Every now and then guests will report hearing the sound of billiards rolling across the floor or the echo of footsteps when no one is visible.
---
Kehoe House
Kehoe House | 123 Habersham Street
Location: Historic District
Check Rates
The Kehoe House is another excellent choice if you're hoping to stay in a haunted mansion!
It's a luxurious property that's rumored to be haunted by two twin boys who reportedly fell to their deaths inside the chimney.
The Kehoe House served as a funeral home for a period of time in the 1900s, so I say it has a good chance of being haunted based on that fact alone!
I've written in detail about the history and the ghost stories associated with the Kehoe House, Hamilton-Turner Inn, and the Foley House in this post: What's the most Haunted Bed and Breakfast in Savannah?
---
Haunted Restaurants in Savannah
Once you arrive in Savannah, you know you're going to want to sample some of our delicious Southern cooking. There are plenty of amazing restaurants in Savannah.
As luck would have it, you can enjoy a yummy meal with a side of "spirits" at a few locally owned — and potentially haunted — restaurants.
---
The Pirates' House
The Pirates' House | 20 E Broad Street
Must-Try Dishes: Award-Winning Honey Pecan Fried Chicken, Fried Green Tomatoes, and She Crab Soup
The Pirates' House has a reputation of harboring spooky spirits whose footsteps echo across the building late at night and ghosts who appear to be real humans, that is — until they disappear into thin air!
The pirate aspect is rather fascinating, and the Herb House portion of the building is one of the oldest surviving structures in the state of Georgia. It was built in 1734.
The Pirates House is known as one of the most haunted restaurants in Savannah.
---
The Olde Pink House
The Olde Pink House | 23 Abercorn Street
Must-Try Dishes: Mac 'n Cheese Poppers, Crispy Scored Flounder, Fried Green Tomatoes, and the Praline Basket for dessert
The Olde Pink House is said to be haunted by the ghost of the original owner, James Habersham.
He's the ideal type of ghost to have around, since he tidies up after guests and hangs out in the tavern with patrons.
This spot is one of the most famous restaurants in Savannah, in addition to being one of the most haunted. You need to make reservations at least a couple months in advance!
---
17Hundred90 Inn Restaurant
17Hundred90 Inn & Restaurant | 307 E President Street
Must-Try Dishes: Biscuits Drizzled w/Honey, the Rack of Lamb is their most popular dish, the Neptune, and Key Lime Pie for dessert
17Hundred90 Inn ranks as one of the most haunted hotels, restaurants, and bars — thanks to the many ghosts who reportedly live on the property.
The restaurant is where the meanest ghost is said to hang out. He tosses items at the kitchen staff, makes a lot of noise, and is generally just a sourpuss.
Related Tours: Try Savannah's Secret East Side Food Tour or go on the 3-Hour First Squares Food Tour. You'll get your fill of good Southern cooking with either one!
---
Cemeteries in Savannah
I'm convinced the cemeteries in Savannah are some of the most hauntingly beautiful in the country — if not the world! I don't know if they're haunted, but they sure look spooky.
If you visit one of these locations, please remember to be respectful. A few are still active cemeteries where relatives still go to mourn recently departed loved ones.
Savannah's cemeteries aren't ghost tour playgrounds. In fact, the City of Savannah has a law against anyone hosting haunted tours inside cemetery grounds.
The municipal cemeteries are not for sensational or entertainment purposes. Any tours marked as haunted, paranormal, or involving ghosts, spiritualists, or mediums are strictly prohibited from any of the municipal cemeteries.

Section 10.02: Restricted Activities, City of Savannah Cemetery Rules and Regulations
---
Colonial Park Cemetery
Colonial Park Cemetery | 200 Abercorn Street
Many of the ghost tours stop by the exterior gates of Colonial Park Cemetery, since it's considered the most haunted cemetery in the area.
It is interesting to explore its grounds during the daytime and to peek over the iron fence in search of ghosts after dark.
I've written extensively about its history and the haunted factor in this post: Is Colonial Park Cemetery the Best Place to Spot a Ghost in Savannah?
---
Bonaventure Cemetery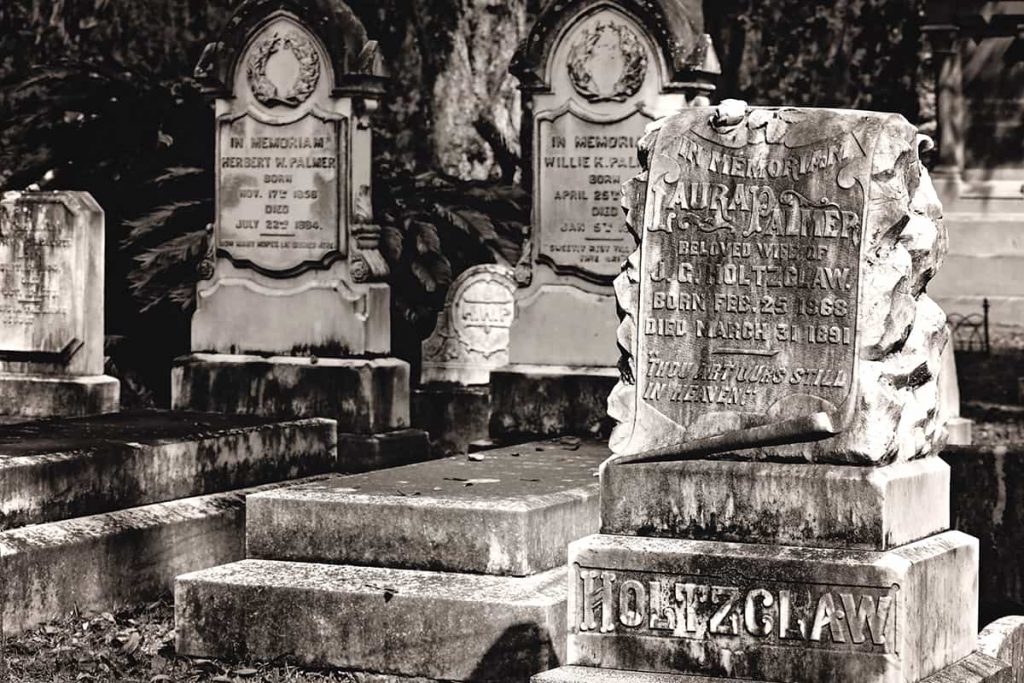 Bonaventure Cemetery | 330 Bonaventure Road, Thunderbolt, Georgia 31404
This absolutely stunning cemetery is located on the outskirts of Savannah, so you'll need a car to get to it — but it's well-worth the trip.
Some of the ghost tour guides like to mention Bonaventure's haunted factor when discussing the ghost of Little Gracie Watson. Her father was the proprietor at a local hotel and Gracie was popular amongst the guests.
Unfortunately, she died from pneumonia at a young age. Her family eventually moved back north and left Gracie in Bonaventure Cemetery all alone.
If you're interested in stopping by to see her, here's a very detailed post I wrote about it: Bonaventure Cemetery Tour: Top Tips & Must-See Spots
---
Haunted Bars in Savannah
I don't drink, so the haunted bar scene isn't exactly my forté, but I still know a few places where you can drown your sorrows with some spirits (haunted or of the liquid variety). Hehe.
Here are a couple places to start…
---
Moon River Brewing
Moon River Brewing | 21 W Bay Street
Location: Historic District
Must-Try Dish: Expect typical pub fare. There are better places to eat in Savannah.
Drinks: They serve plenty of options, from beer to wine to mixed drinks.
The folks at Buzzfeed: Unsolved and The Travel Channel's "Ghost Adventures" have both done investigations at the brewery.
Moon River is said to be haunted by angry spirits. Don't be surprised if you feel pockets of icy cold air or have items knocked off your table while downing a drink there!
Because it's so well-known, I included it on my post about The 11 Most Haunted Places in Savannah.
---
Six Pence Pub
Six Pence Pub | 245 Bull Street
Location: Historic District
Must-Try Dish: The Shepherd's Pie
Drinks: Single Malt Scotch
Six Pence reportedly has the kind of spiritual energy that guests can actually feel! It's a very cozy little British pub, but employees complain about light bulbs bursting and similar electrical issues.
Since I'm someone who has a very odd effect on lights myself, I happen to love the vibe! It's a nice place to duck into on a cold or rainy day.
---
17Hundred90Inn Tavern
17Hundred90 Inn Tavern | 307 E President Street, Savannah, Georgia 31401
Location: Historic District
Must-Try Dish: Not sure…I've never eaten in the tavern.
Drinks: Choose from beer or liquor
Did you notice 17Hundred90 made the list three times? Like I mentioned above, it's the only place in Savannah where I think I captured a spirit with my camera.
The haunted pub tour guides seem to agree that it's a spooky spot. Many of them stop by the tavern during their tours.
---
Haunted Squares in Savannah
Remember in the intro when I said Savannah is beautiful by day, but it's much more sinister at night?
The squares are a good example of that.
If you stroll through any of the squares during the day, you'll probably think they're really peaceful and pretty. However, it's totally normal to catch yourself peering over your shoulder at night!
The dim lanterns combined with all the Spanish moss dangling in the oaks cast spooky shadows in the dark.
---
Taylor Square (Formerly Calhoun Square)
You won't find any historic markers pointing out this history, but Taylor Square is located near land that was used as an unmarked slave burial ground.
It stands to reason that there might be some pretty dark energy in an area where formerly enslaved men and women were unceremoniously buried.
The Benjamin Wilson House also borders this square, as does the (reportedly) haunted Espy House.
---
Wright Square
Some of Savannah's earliest criminals were put to death in Wright Square, including the city's first murderer: Alice Riley. Her ghost reportedly wanders the square at night.
Get the Scoop: Savannah in October: Epic Events and Fun Things To Do!
---