It's always spooky season here in Savannah, aka: the most haunted city in America. I live just south of Forsyth Park, and I can confirm that the city is very beautiful by day — but it turns into something far more sinister by the light of the moon.
Trust me…there's a reason the locals head indoors once night falls!
If you're the type of person who enjoys getting scared silly, then you've come to the right place. My haunted Savannah guide will help you figure out the spookiest places to stay, eat, and play!
Here are some of my favorite haunted tours, haunted houses, and haunted places in Savannah.
FTC Disclosure: This post contains affiliate links, which means I may receive a commission, at no extra cost to you, if you purchase through one of my links.
If this is your first time here…welcome! My name is Erin, and I authored the Savannah First-Timer's Guide. It's a helpful ebook that combines all of my best tips about Savannah in one central location.
FYI: This post is about haunted locations. If you're more interested in tours, you can find those on this post: The Best Ghost Tours in Savannah: Tips from a Local!
---
Haunted Hotels in Savannah
The first thing you'll need to do when you're planning your trip is figure out your accommodations. In a city as old as Savannah, there's no shortage of haunted places to stay. Here are a few of my favorite haunted hotels…
The Marshall House
123 E Broughton Street
Savannah, GA 31401
East Bay Inn
225 E Bay Street
Savannah, GA 31401.
The vibe at 17Hundred90 is very cozy, and they have a fantastic restaurant on site. Their tavern is the only place in Savannah where I'm about 99% positive I captured a ghost on film! You can see the photo in this post: Is 17Hundred90 Inn Really Haunted by the Ghost of Anna?
In a city chock full of historic properties, The Marshall House is easily one of the most historic of all. Their customer service is top notch, and it's probably my most recommended place to stay in Savannah. A few of my blog readers have had truly spooky experiences there, so I added some of their stories to this post: Is the Marshall House Really the Most Haunted Hotel in Savannah?
The longer the history, the higher the chances of a property being haunted…and East Bay Inn was built way back in 1852. Charlie is the name of their resident ghost. Haunted-ness aside, it's a charming little place to stay. I adore all of the exposed brick throughout the inn.
---
Haunted B&Bs in Savannah
If you prefer to live like a local and stay in a haunted house, these are a few of the most haunted B&Bs in Savannah's Historic District. The first one even had a body stuffed inside its walls!
Hamilton-Turner Inn
330 Abercorn Street
Savannah, GA 31401
Kehoe House
123 Habersham Street
Savannah, GA 31401
All of the haunted bed and breakfast options listed above are incredibly beautiful places to stay. The Hamilton-Turner Inn is my favorite splurge option, but Kehoe is a close second if you like to stay in luxurious properties.
You honestly can't go wrong with any of them, but if it's a haunted house you're after…it's hard to beat the Foley House. Construction crews discovered a human skeleton inside the walls of the home!
See more photos of each one and check out the ghost stories in this post: What's the most Haunted Bed and Breakfast in Savannah?
---
Haunted Restaurants in Savannah
Once you arrive in Savannah, you know you're going to want to sample some of our delicious Southern cooking. As luck would have it, you can enjoy a yummy meal with a side of "spirits" at a few locally-owned — and potentially haunted — restaurants.
The Pirates' House
20 E Broad Street
Savannah, GA 31401
Must-Try Dish: Their Award-Winning Honey Pecan Fried Chicken (it's awesome!), Fried Green Tomatoes, and the She Crab Soup.
The Olde Pink House
23 Abercorn Street
Savannah, GA 31401
Must-Try Dish: Mac 'n Cheese Poppers, Crispy Scored Flounder, Fried Green Tomatoes, and the Praline Basket for dessert.
17Hundred90 Inn & Restaurant
307 E President Street
Savannah, GA 31401
Must-Try Dish: Biscuits Drizzled w/Honey, the Rack of Lamb is their most popular dish, the Neptune, and Key Lime Pie for dessert.
I've eaten at each of these restaurants many times, and I enjoy them all. Sure, they're a little touristy…but I love that they're located in such historic buildings. They're worth visiting for that aspect alone!
They each have a very different vibe, and they're all quite popular with visitors. Just make your reservations well in advance — especially for The Olde Pink House.
Related Tours: Try Savannah's Famous & Secret East Side Food Tour or go on the 3-Hour First Squares Food Tour. You'll get your fill of good Southern cooking with either one!
---
Haunted Homes in Savannah
The list of haunted mansions in Savannah is a long one. Some are private residences that you can't tour, while others are open to the public. You can even go in one at night, if you dare! These are a few of the most well-known…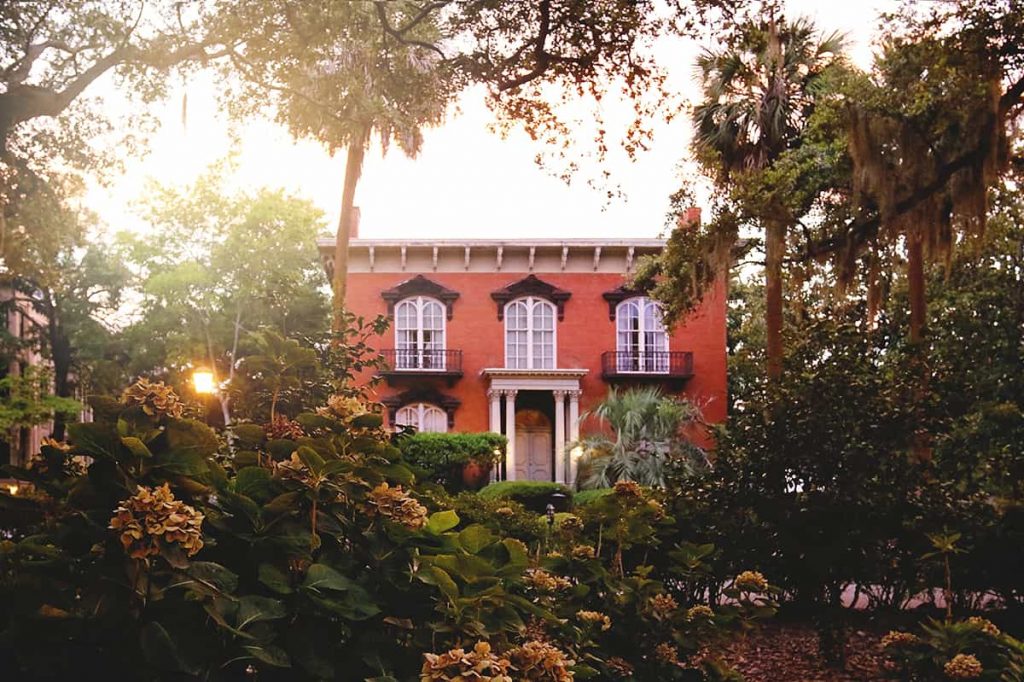 Mercer Williams House
429 Bull Street
Savannah, GA 31401
Sorrel Weed House
6 W Harris Street
Savannah, GA 31401
The current owners of 432 Abercorn want folks to know the spirits have moved on. That doesn't change the fact that it was considered one of the most haunted homes in Savannah for almost half a century, though, and plenty of rumors still abound about it! 432 Abercorn is a private residence, so you can't tour it. That doesn't deter ghost tour guides from bringing huge crowds to adjacent Calhoun Square to gawk at it.
The Mercer Williams House is open for touring, and it's a stunningly beautiful home. If you've read "Midnight in the Garden of Good and Evil", then you know it was the scene of the crime for Danny Hansford's alleged murder.
The Sorrel Weed House is also open for touring, and it's a very popular stop for spirit seekers. You can do architectural tours there during the day or opt for ghost tours and paranormal investigations at night.
Get the Scoop: Savannah in October: Epic Events and Fun Things To Do!
---
Cemeteries in Savannah
I'm convinced Savannah's cemeteries are some of the most hauntingly beautiful in the country — if not the world! If you visit one of these locations, please remember to be respectful since visitors may be there to mourn recently departed loved ones.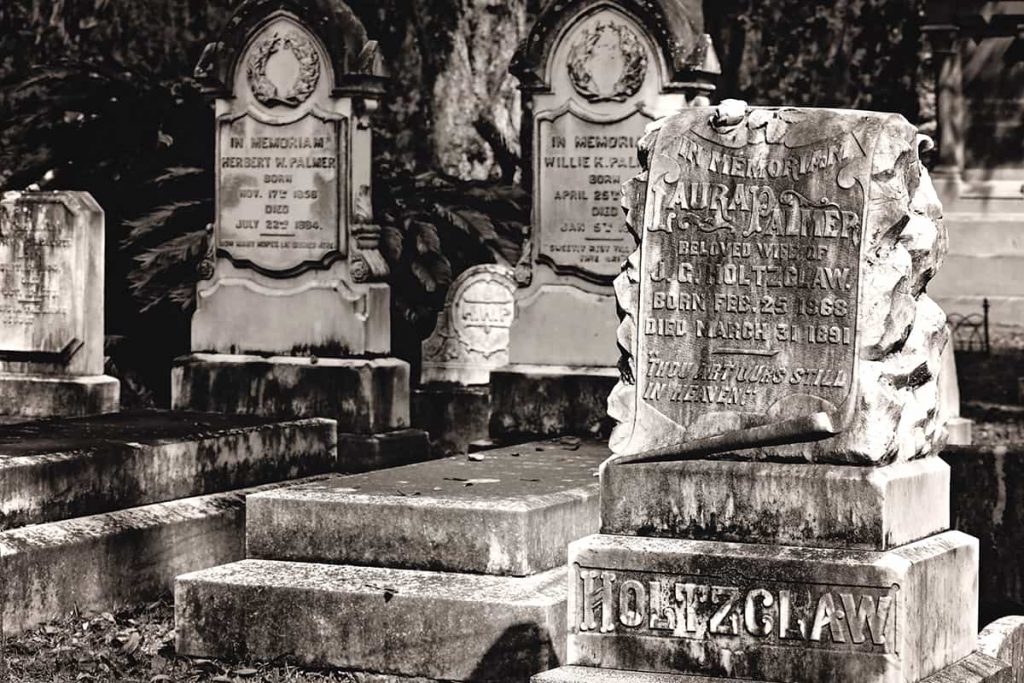 Bonaventure Cemetery
330 Bonaventure Road
Thunderbolt, GA 31404
Colonial Park Cemetery
200 Abercorn Street
Savannah, GA 31401
Laurel Grove Cemetery
802 W Anderson Street
Savannah, GA 31401
Bonaventure tops many "most beautiful cemeteries in the world" lists, and it's one the stops in Savannah I recommend most. (I consider it a must-see!) The sheer beauty of Bonaventure during the springtime when thousands of pink azaleas are in bloom is breathtaking.
Colonial Park is a more touristy cemetery, in my opinion, but that's because it's located in the heart of the Historic District. Many of the ghost tours stop by Colonial Park Cemetery, since it's considered the most haunted cemetery in the area.
Laurel Grove consists of Laurel Grove North and Laurel Grove South. The northern section is filled with Victorian-era plots, while freed and enslaved men and women were interred in the southern section. Both are beautiful!
---
Haunted Bars in Savannah
I don't drink, so the haunted bar scene isn't exactly my forté, but I still know a few places where you can drown your sorrows with some spirits (haunted or the liquid variety). Hehe. Here are a couple places to start…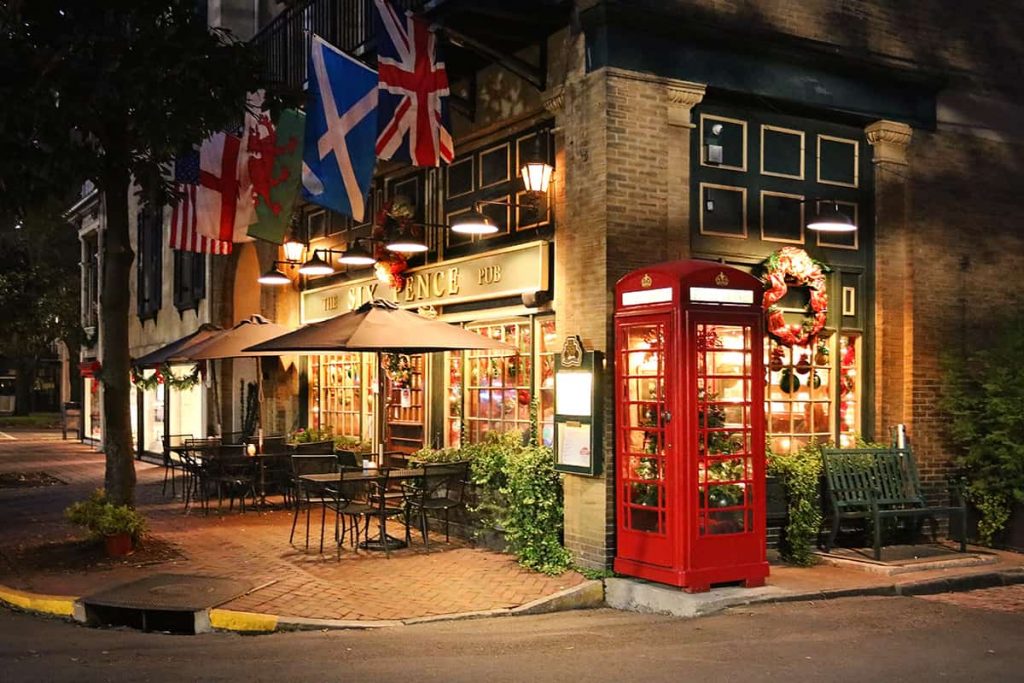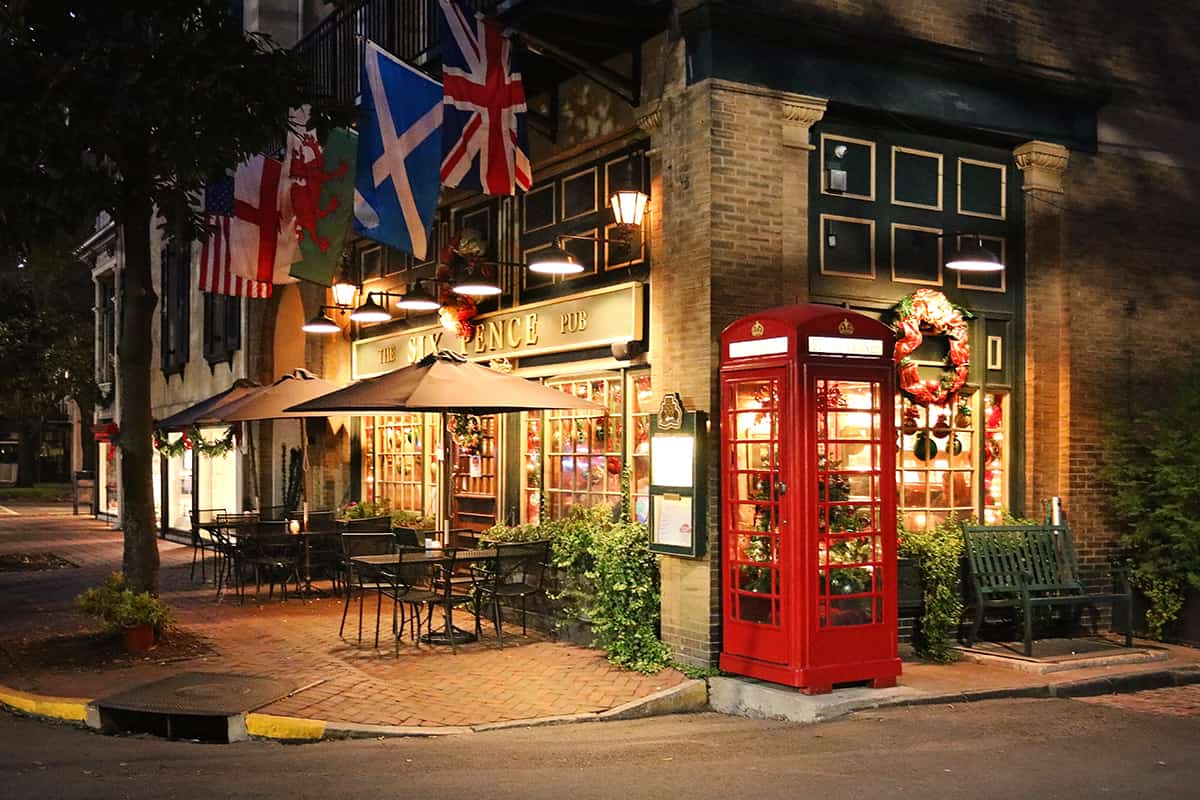 Six Pence Pub
245 Bull Street
Savannah, GA 31401
17Hundred90 Inn & Restaurant
307 East President Street
Savannah, GA 31401
Moon River tops many of the city's most haunted charts — and it's haunted with angry ghosts, no less. You might feel pockets of icy cold air or have items knocked off your table while downing a drink there.
Six Pence has the kind of spiritual energy that guests can actually feel! It's a very cozy little British pub, but employees complain about light bulbs bursting and similar electrical issues. I'm someone who has a very odd effect on lights myself, so I happen to love the vibe!
Did you notice 17Hundred90 made the list three times? Like I mentioned above, it's the only place in Savannah where I've captured a spirit with my camera. The haunted pub tour guides seem to agree that it's haunted, since many of them stop at the inn's tavern.
---
Haunted Squares in Savannah
Remember in the intro when I said Savannah is beautiful by day, but much more sinister at night? The squares are a good example of that.
If you stroll through any of the squares during the day, you'll probably think they're really peaceful and pretty, but it's totally normal to catch yourself peering over your shoulder at night! The dim lamplights combined with all the Spanish moss dangling in the oaks tend to cast spooky shadows in the dark.
Wright Square
Madison Square
Calhoun Square is considered haunted because it's the site of an unmarked slave burial ground. Formerly haunted 432 Abercorn also borders this square, as does the reportedly haunted Espy House.
Some of Savannah's earliest criminals were put to death in Wright Square, including the city's first murderer: Alice Riley. Her ghost reportedly wanders the square at night.
---