The Marshall House is a beautiful historic hotel in Savannah, GA, but…is it actually haunted? That's the million dollar question! Visitors from all over the world travel here to try and catch a glimpse of the ghosts that reportedly roam its halls.
If you're feeling adventurous, I'd say a stay at this historic hotel in Savannah should definitely be on your radar. But be prepared; it isn't for the faint of heart!
FTC Disclosure: This post contains affiliate links, which means I may receive a commission, at no extra cost to you, if you purchase through one of my links. Please see my full affiliate disclosure for additional information.
If you're new around here, first of all…welcome! I'm Erin, and I authored the Savannah First-Timer's Guide. It contains everything you need to plan the perfect trip to Savannah. I'm honored you stopped by, and I hope you'll find some helpful advice on this little site of mine.
Since this is a fairly lengthy post, I created a handy table of contents that you can click on to jump to specific sections of interest…
The Marshall House History – The Early Years
Before getting into whether or not it's haunted, I need to tell you a little bit about its past.
The Marshall House has quite an impressive history! Back in the mid-1800s, Savannah's population doubled in size — from 11,000 to 22,000+ in a span of 20 years! — and a highly successful developer named Mary Marshall seized the opportunity to capitalize on all those potential new visitors by opening her namesake hotel. The Marshall House opened in 1851.
In fact, one of the first things you'll notice when you check in is an oil painting of Mary Marshall behind the reception desk. Employees are fond of saying she's "still greeting guests" after all these years!
The hotel had a brief stint as a hospital during Savannah's disastrous 1854 and 1876 Yellow Fever outbreaks, and again when Union soldiers commandeered it towards the end of the Civil War for use as a Union Army hospital.
Other than those few brief takeovers, the building operated as a popular hotel for the majority of its existence — although at times the name changed to reflect the current proprietor.
The End of the Marshall Era
Mary Marshall died in 1877, and the hotel eventually changed ownership. Minnie Geiger owned it for a time and renamed it the Geiger Hotel. An investor from Florida named Herbert W. Gilbert leased the property in the early 1930s. He changed its name to the Gilbert Hotel.
Want to Visit Mary's Gravesite? She's buried in the Marshall Family Plot in Laurel Grove Cemetery (Lot 133).
It was a sad day in the late-1950s when the hotel finally closed its doors. It shut down because management at the time couldn't meet the current fire code standards.
That was a slightly ironic twist of fate, since Mary Marshall helped form the Marshall Hose Company (fire department) to protect the hotel from the devastating fires known to ravage Savannah.
Yesterday was a gala day with the new organization, The Marshall Hose Company. The company met at Fireman's Hall, and at half past three, preceded by the Washington Cornet Band, marched from the hall along the route designated. On arriving in front of the house of Mrs. Marshall, the lady patroness of the company, they halted.

Daily Morning News, 27 August, 1867
The upper levels of the building sat empty and abandoned for more than 40 years, but the main floor along Broughton Street was maintained for the shopkeepers occupying space at the time.
---
Recent Years – The 1990s Renovation
Finally, in 1998, a group from Atlanta came along to restore Broughton Street's most famous hotel to its former glory! They purchased the then-derelict property for $555,000 and spent 10.5 million on the renovation.
Nearly 150 years passed from the time The Marshall House first opened its doors until the time the name was reclaimed and it was renovated to become the modern and updated property it is today.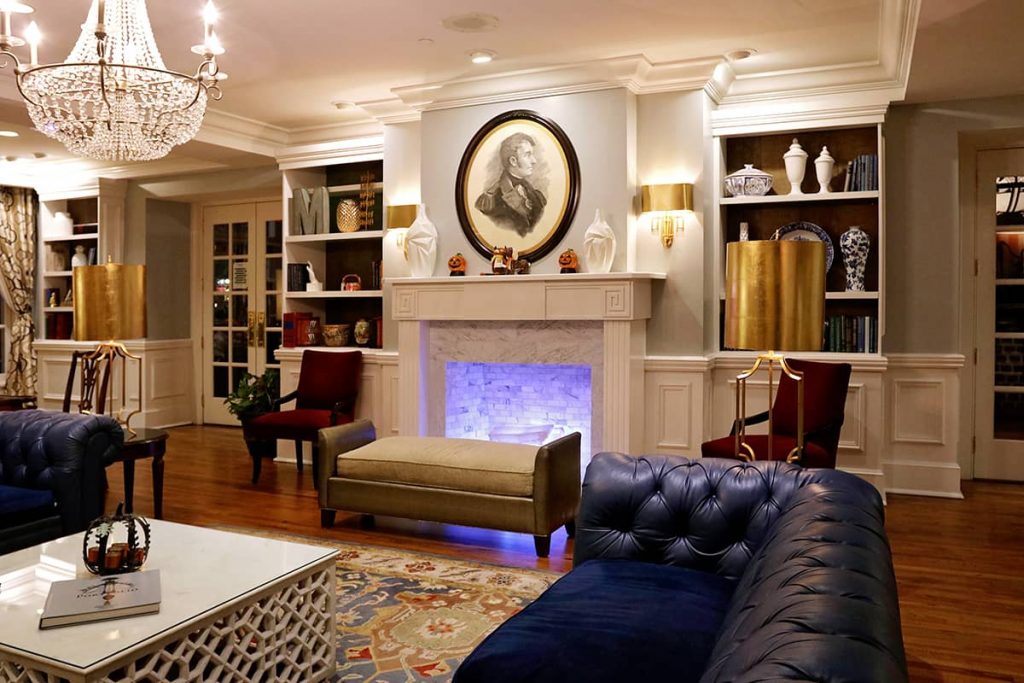 During the hotel's renovation, workers discovered various artifacts such as old tools, albums, signs, Starland Dairy milk bottles, and much more. Many of those items are currently on display in the upper levels of the hotel.
One of their rumored discoveries was so strange that they reportedly had to halt the renovation work so the area could be marked as a crime scene! (More on that below.)
While the hotel has quite a unique past, it's also really beautiful. I consider it the perfect place to combine your love for history and mystery!
---
So is The Marshall House Savannah Haunted?
My Magic 8 Ball says… signs point to yes. There's a pretty decent chance this hotel is actually haunted, mainly due to it's long and multifaceted history. Members of my private Facebook group about Savannah seem to think so, too. I've posted about some of their experiences below.
Visitors and employees who have spent time at The Marshall House also say there have been plenty of occurrences that certainly make it seem haunted. For example…
Bones Beneath the Floorboards
When the renovation in the late 1990s was halted, rumor has it the work was stopped because workers discovered human skeletal remains beneath some of the floorboards!
As the story goes, the area was marked as a crime scene, and renovations were put on hold while various body parts were sent out to the crime lab.
When the lab results came back, the paperwork stated the bones were from the Civil War era. Local ghost tour guides will tell you historians concluded the body parts were concealed under the floorboards during the years when the building was used as a Union Army hospital and were likely the amputated limbs of soldiers.
Now…is any of that true?
I haven't found any newspaper clippings to support it, but I'm still on the hunt! You'd think something so remarkable that happened as recently as the late '90s would've been mentioned in the Savannah Morning News, wouldn't you?
I'm guilty of spreading the rumor myself, since I mentioned it in early versions of my Savannah First-Timer's Guide ebook. But after researching it, I've yet to find definitive proof.
I'd be happy to be proven wrong, though!
Others certainly seem to think it's a possibility, since many guests claim they've spotted the ghosts of soldiers with missing limbs roaming the halls.

Unexplained Sights, Sounds, and…Smells?
Guests and employees have encountered faucets turning off and on for no apparent reason. They've also reported random flickering lights.
If you listen closely during the night, you might hear the laughter of children at play and the sound of marbles rolling down the hall.
My husband and I stayed in Room 313. Facing the building, it was the room just above the letter "O". Every morning around 3 am it sounded like a ball rolling above our heads, down the hall, and down the steps. Then the sound would go back up the steps and we'd hear the rolling again. It woke us up every night we were there. [We] thought it was totally awesome and would 100% stay there in the same room again!

Krista H.R. (via my Savannah First-Timer's Guide private Facebook group
In addition to the strange occurrences listed above, some guests have also reported an odd aroma in a few specific rooms…
When the hotel was being renovated in the late 90s, the staff claimed there were terrible odors emanating from Rooms 214, 314, and 414. The smells were so "evil" (reportedly like rotting flesh), that they resorted to group prayer and blasting round-the-clock gospel music in those rooms to help eliminate the odor.
Related Reading: The 11 Most Haunted Places in Savannah, GA
---
Marshall House Room 414 & 420
Back in the Civil War era, when someone had a limb amputated, it wasn't anywhere near the "pleasant" experience it is today. Anesthesia wasn't readily available in the mid-1800s, so they usually gave soldiers a swig of alcohol and then held them down while they sawed off the injured body part. Afterwards, they stuffed it with sawdust to soak up the blood.
Good times.
According to some accounts, the uppermost floor of the hotel was the preferred area for amputations, since it was the furthest from street level and people passing by below wouldn't hear the screams injured patients.
Since so many gruesome events reportedly occurred on that floor, it has the most haunted reputation. Guests have pegged Room 414 as one of the most haunted rooms in the entire hotel!
I stayed in Room 414 for four nights and brought a doll hoping that somebody would play with her or move her, but they did not. However, when reviewing my recordings I heard them asking more than once if they could play with her. I loved my experience there! At one point I can share that the room did have a bad smell to it. I caught some really good EVPs [Electronic Voice Phenomenon], including one that said "here is the nurse".

Michael T. (via my Savannah First-Timer's Guide private Facebook group)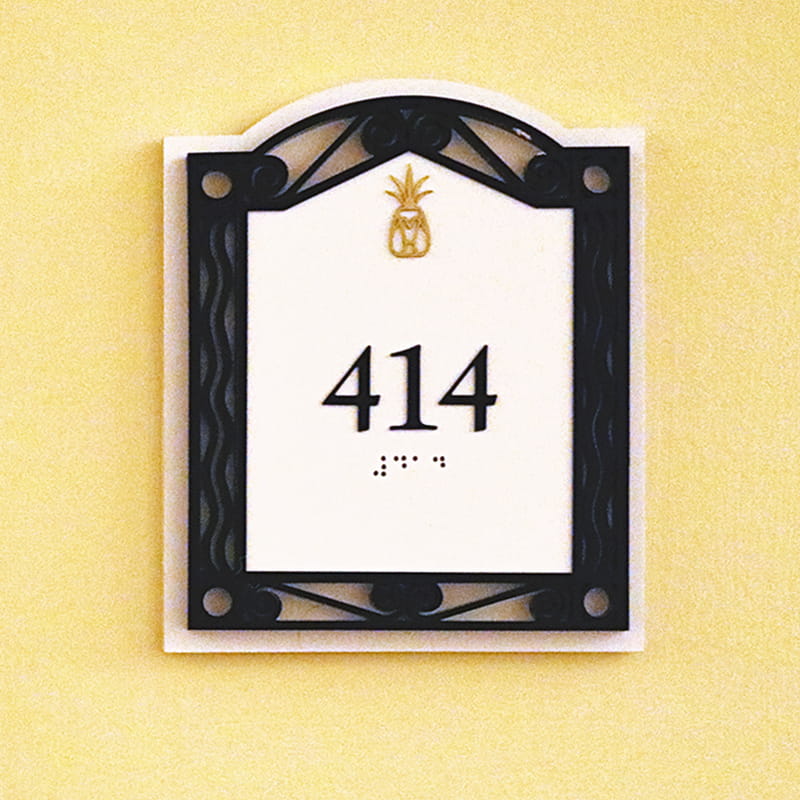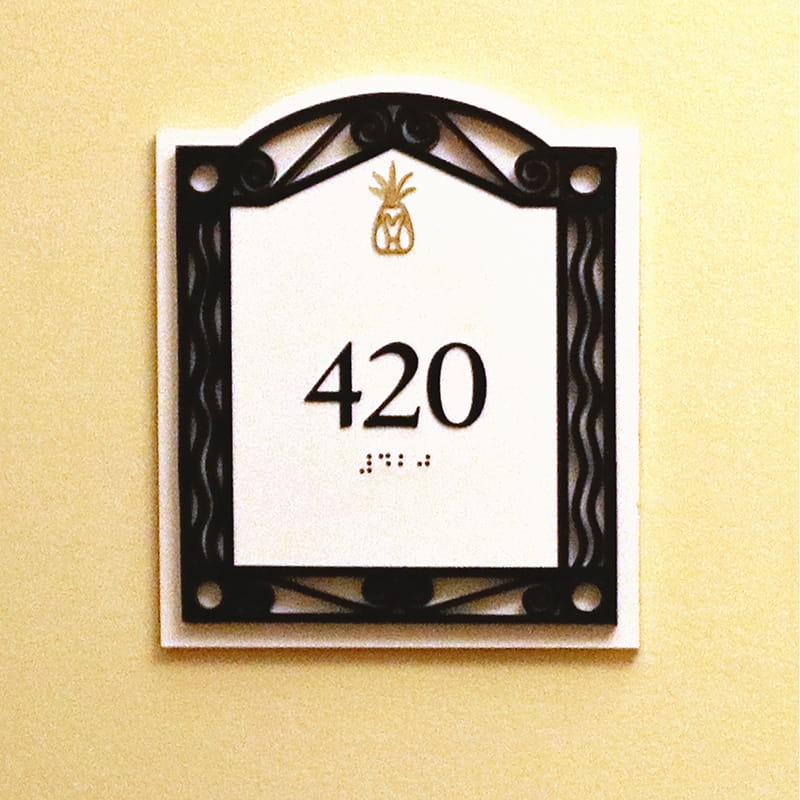 Room 420 is another that's sometimes mentioned, like in this old TripAdvisor review. Be sure to comment below if you've ever stayed in either and had a spooky experience!
Related Reading: What's the Most Haunted B&B in Savannah, GA?
---
Marshall House Savannah Reviews
I'm always interested in hearing what guests say after staying at The Marshall House. One of the ladies in my private Facebook group about Savannah posted this review after visiting in February of 2020…
The Marshall House….WE LOVED IT!!!! We arrived to champagne, balloons and cookies in our room for my birthday. The location of the hotel was great and every single staff member that we encountered was super friendly and helpful. The breakfast buffet was one of the best we've had in any hotel. Wine and cheese and coffee and cookies were provided in the lobby each night. We loved the nightly entertainment as well. One night they had guitarists and one night they had a harpist. There even was a history talk one evening. We loved the character of the building and while walking down the halls we tried to envision what it was like years ago. Despite the age of the hotel, everything was spotless. The concierge arranged for the trolley company to pick us up at the hotel and take us to the Visitor's Center.

– LeeAnne, Savannah First-Timer's Guide reader
There are hundreds of reviews online that point out the spooky hotel's fantastic location towards the center of Broughton Street. I love that it's within easy walking distance to everything in the Historic District!
All the opportunities for free food included with your stay are another major perk. Each nightly stay includes a complimentary breakfast at Bistro45. The evening wine and cheese reception mentioned in LeeAnne's review is also really popular. It's held from 5 – 6:30 pm.
The person she references who provides the nightly history talk is currently working as a bellman. He doesn't give his talks on a regularly scheduled day anymore, due to the pandemic. However, he often pops into the nightly reception to provide fascinating insight from a historian's point of view.
I also think this is one of the most beautiful hotels in Savannah during the holiday season. It always looks festive! Their lobby includes a unique Christmas tree that's shaped like a pineapple — a symbol of Southern hospitality.
Finally, let's not forget the haunted factor! Many reviewers who came here looking for a scare felt like their money was well-spent. The Marshall House consistently gets "5-stars" for spookiness.
The Marshall House | 123 E Broughton Street | Check Rates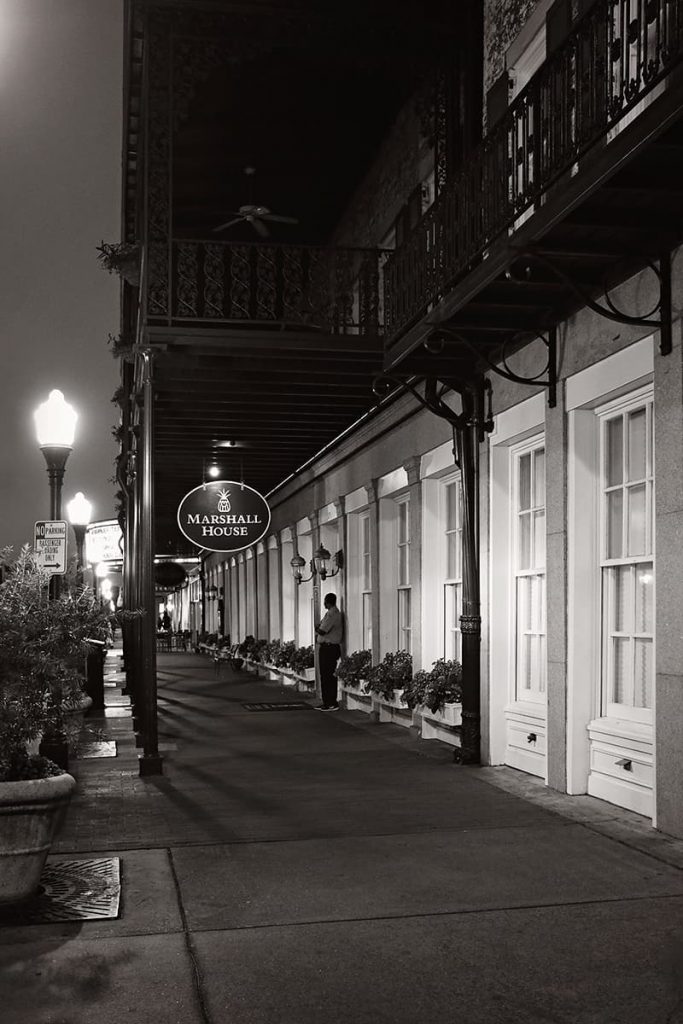 ---
Hotels in Savannah GA Downtown
Click below to search for the best rates on hotels in Savannah's Historic District. I always recommend staying within the boundaries of the Historic District if it's within your budget!
---
---
Savannah Vacation Planner
If you're planning a trip to Savannah and need additional help, I've created lots of great resources. Here are a few to get you started…
Savannah First-Timer's Guide – Be sure to pick up a copy of my ebook to get all of my best insider tips in one place. It's the only resource you'll need when planning your trip to Savannah! You'll also gain access to my (very active) private Facebook group with your purchase. You can use it to pick my brain about your upcoming travel plans. You can also read trip reviews from others who have recently visited.
The Top Tours in Savannah – I've rounded up a list of my favorite fun and educational tours. (My personal favorites are the food tours!)
Savannah FTG Free Resources Library – Get a free printable list of 50 Things To Do On-Foot in the Historic District (no car needed!), plus more fun goodies.
Do you have any questions about The (haunted) Marshall House? If so, let me know in the comments below!
Love this post? Pin it now to save for later!