If you were to ask visitors — or locals — to name the prettiest street in Savannah, they'd probably quickly respond with "Jones Street." It's easily in my top five, and I'm about to show you a few of the reasons why it's so special!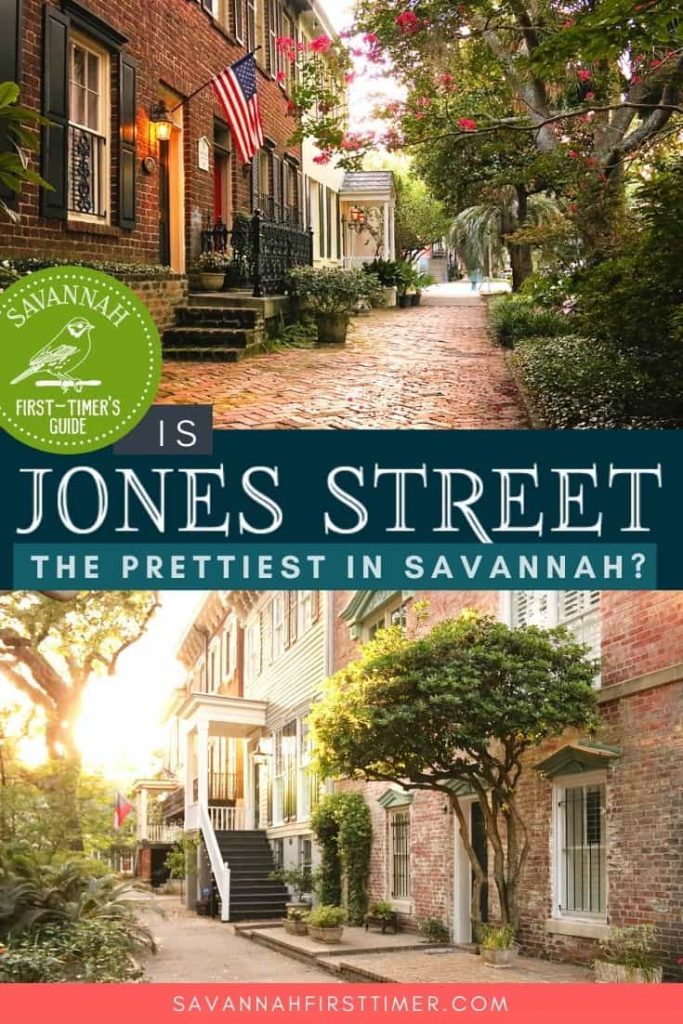 Note: This guide contains affiliate links to my trusted travel partners.
If you're new around here, first of all… welcome! I'm Erin, and I authored the Savannah First-Timer's Guide. It contains everything you need to plan your first trip to Savannah.
I hope you'll find some helpful advice on this little site of mine.
Where is Jones Street in Savannah?
Let's get the logistics out of the way first. Jones Street is located deep within the heart of Savannah's Historic District and is just a few blocks north of Forsyth Park.
If you're staying anywhere within the Historic District, it's easy enough to walk to Jones Street. (The Historic District is surprisingly small and walkable!)
For anyone with mobility issues, I suggest taking a pedicab at a suggested cost of $1 per block.
If you're driving, you can park for FREE on any of the blocks surrounding Forsyth Park south of Gaston Street, and then take a scenic 3-block stroll from the north end of the park.
Insider Tip: Metered parking directly on Jones Street is free after 5 pm. Here are more tips regarding parking in Savannah.
OK, so what makes Jones Street one of the most beautiful streets in America? See for yourself…
Wide Brick-Paved Streets and Sidewalks
Did you know that many of the beautiful streets in Savannah are paved with vitrified brick? And did you know that the majority of those beautiful brick-lined streets have been covered over with asphalt? Such a travesty.
But not so on beautiful Jones Street!
The entire western half of Jones Street is still paved with its beautiful, original red vitrified bricks, from the Drayton Street block all the way to Tattnall Street. It's so pretty!
The majority of the eastern half is paved with asphalt blocks, which are gray and not quite as picturesque — but still pretty.
I can confirm that both make for some very bumpy bike rides.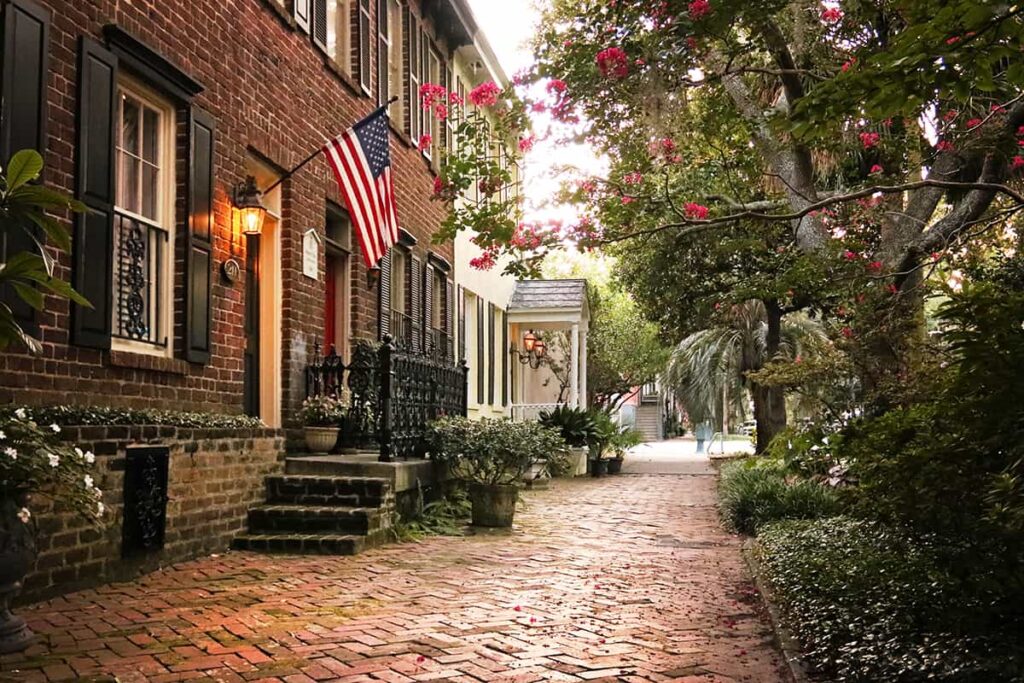 The sidewalks are also really wide on Jones Street, and many sections are designed with historic bricks just like the street. That's one of many reasons it's a great area for strolling!
---
Historic Houses on Jones Street
There are lots of beautiful historic homes on Jones Street. They practically line the entire street!
It really hasn't changed much in appearance over the past 150 years. The trees have grown bigger and there have been minor additions like parking meters, but otherwise…Jones Street still very much resembles photos from the old days.
The oldest homes are typically found closer to the center dividing line of Bull Street, while slightly newer homes are located along the eastern end of the street.
The 100 and 200 blocks (east and west) are good places to look for older homes, while the 400 and 500 blocks of East Jones offer a mix of old along with newer properties.
I've written an entire post about some of the most historic homes on Jones Street, so be sure to check that out if you want to see more photos.
---
Patriotism on Display
Another reason to love Jones Street is because it gives off such an all-American vibe. The homeowners are very patriotic and frequently have flags on display.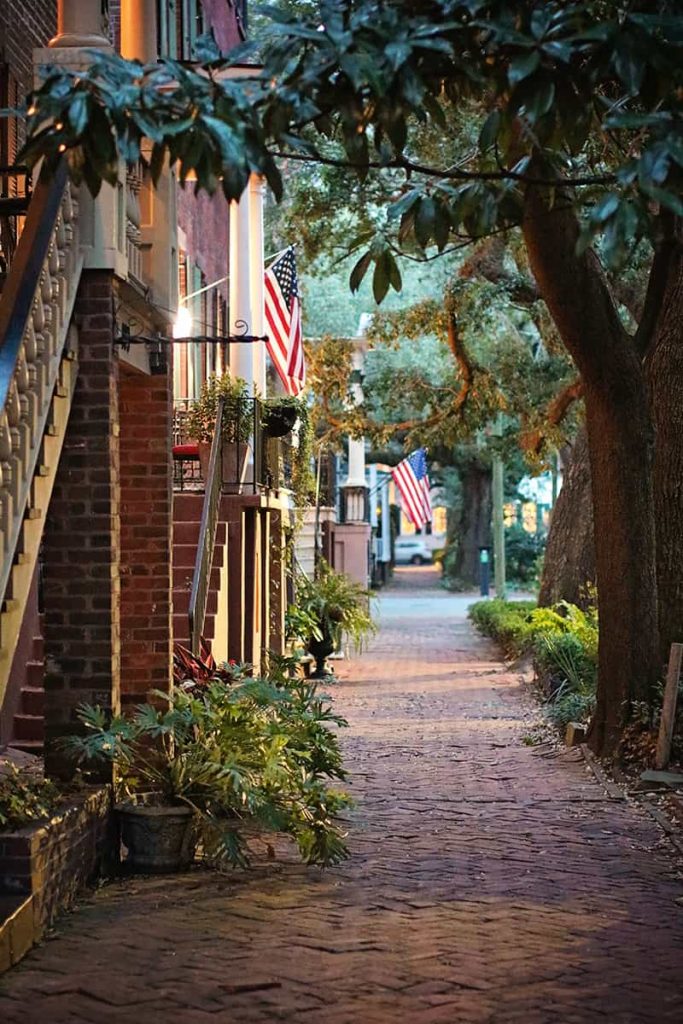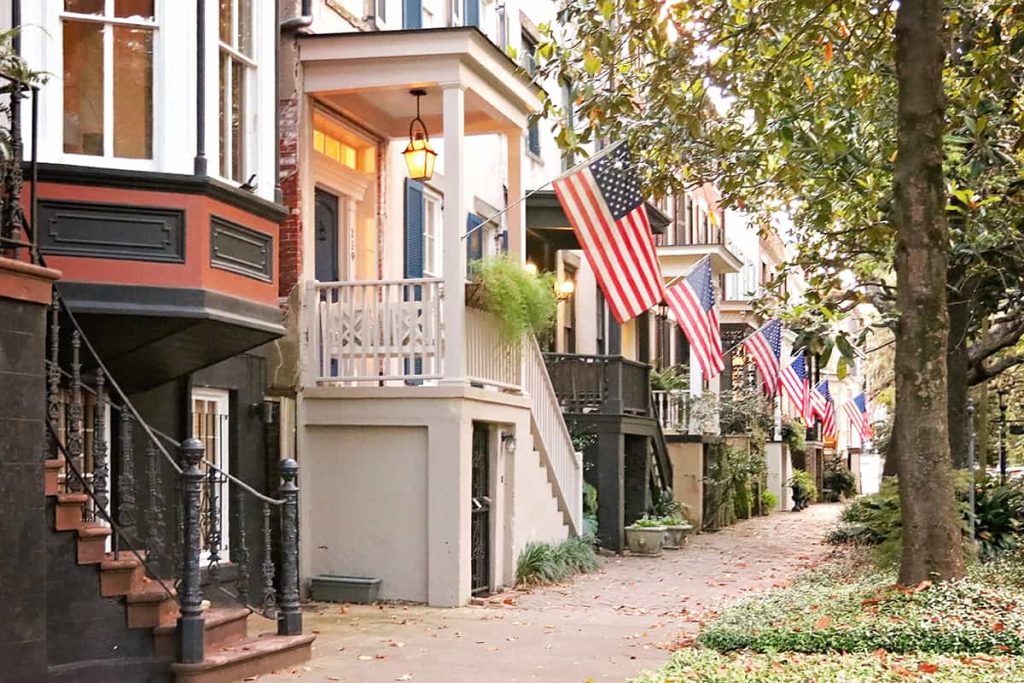 See what I mean? Flags everywhere. The 100 block of E Jones Street is where you'll spot the highest concentration of flags all lined up in a row.
---
Unique Street Signage
I always tell visitors that the best way to explore Jones Street is on foot, since that's how you'll notice all the small details that make it so unique.
Amongst those fun details are the street signs, like this one at the corner of Barnard and Jones…
There's another unique sign at the intersection of Jones and Lincoln. I'm guessing the homeowners had it custom-made at some point in time, since it's the only one like it I've ever noticed in Savannah.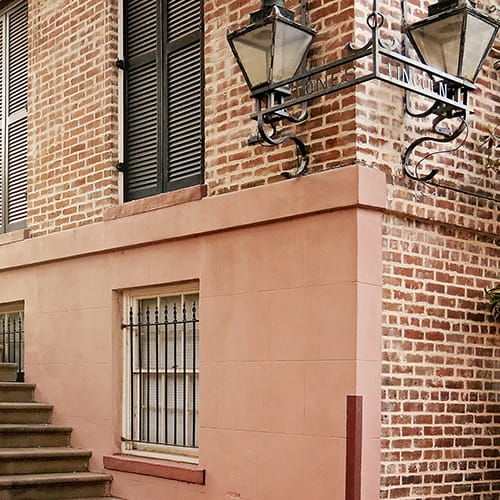 You just don't spot details like this when you're driving! This is also why it's important to look up, down, and all around when you're out strolling. You'll find interesting details everywhere.
---
Secret (and not-so-secret) Gardens
The landscaping along Jones Street is absolutely gorgeous! Confederate Jasmine and similar vines cling to anything and everything, and all the greenery makes for some rather picturesque scenes.
While there's not much room for gardening, many homeowners make the most of their tree lawns. That's the official name for the tiny green space between the sidewalk and the road.
Container plants are another a popular way to add color to a front entry. Since most homes are built all the way to the edge of the sidewalk, a container is often the only way to add greenery by the front door.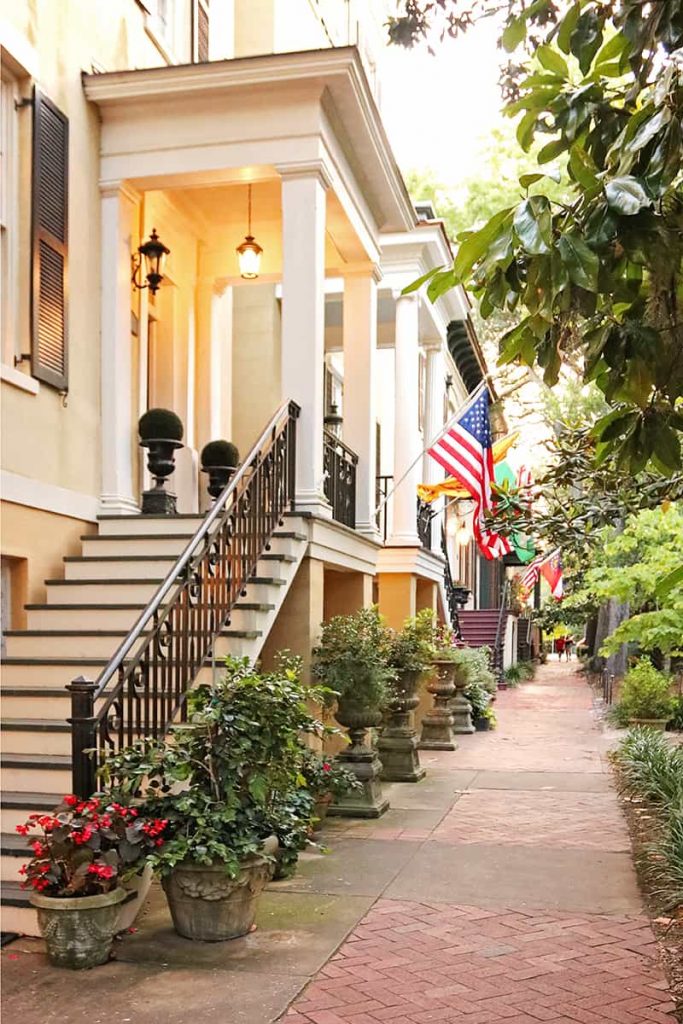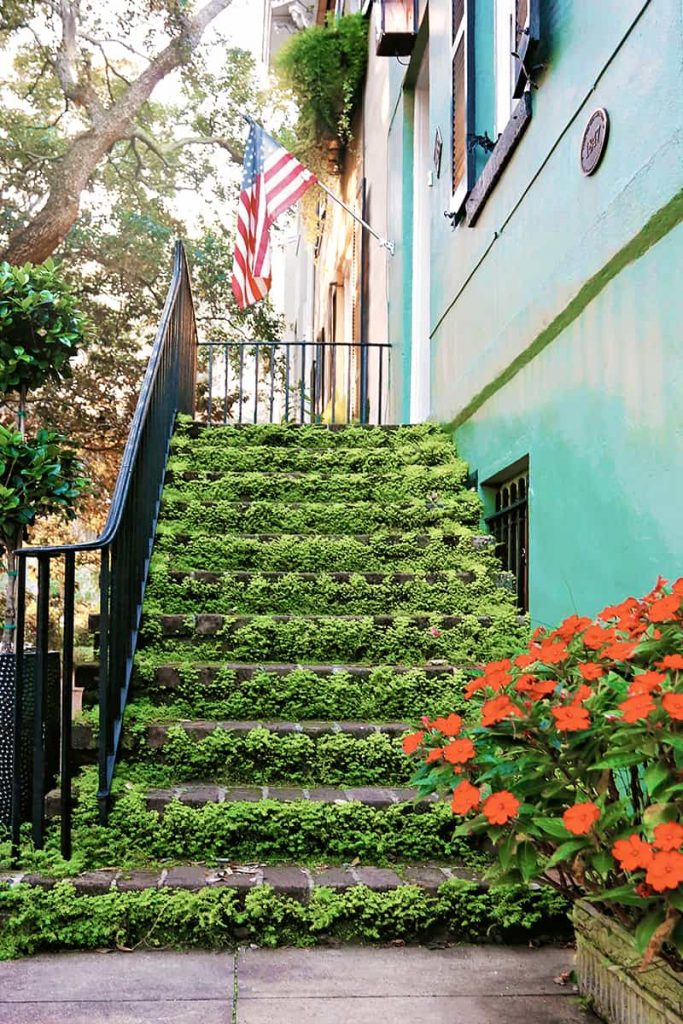 You might also occasionally spot a window box or two, but they aren't nearly as widespread as what you'd find in places like Charleston.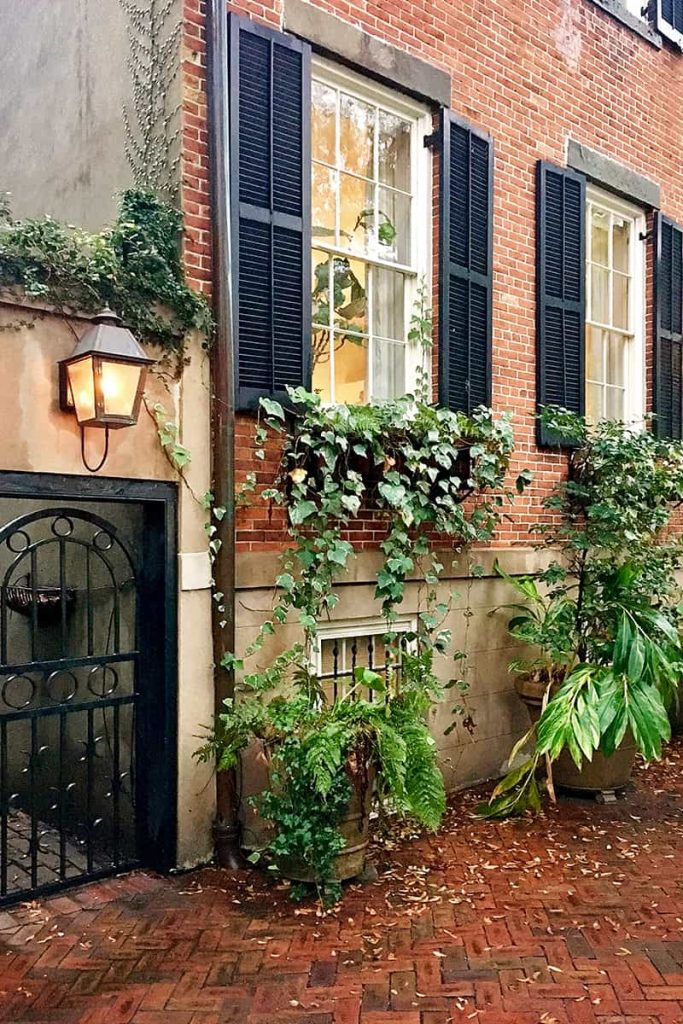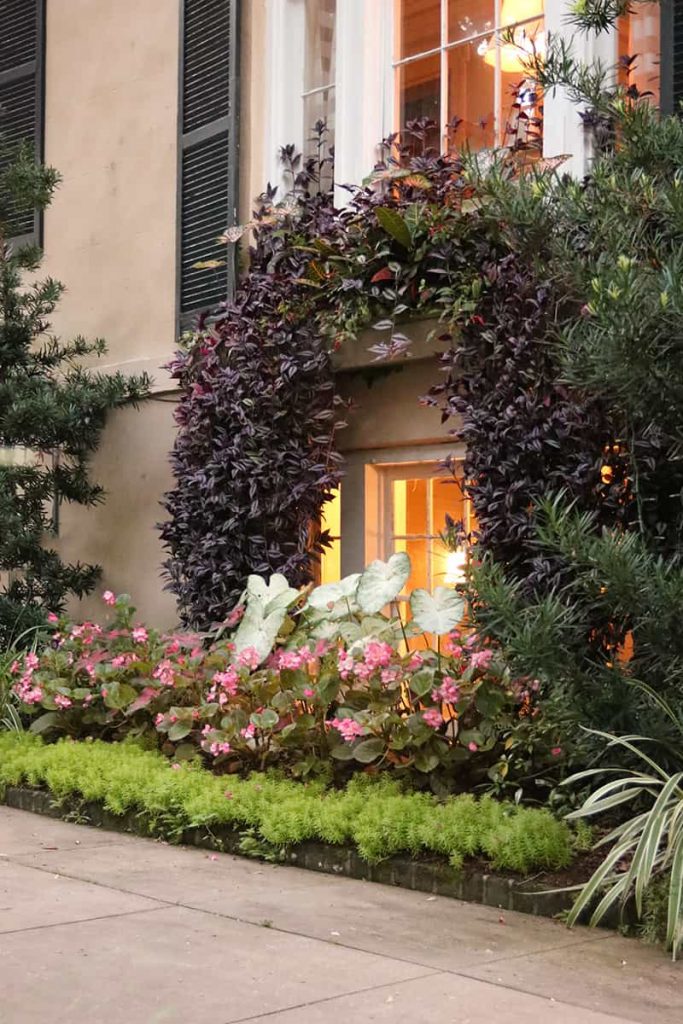 Finally, it's a real treat when you catch a glimpse into someone's secret garden along Jones Street. The landscaping is always incredible, and you'll usually find pretty fountains, sculptures, and water features.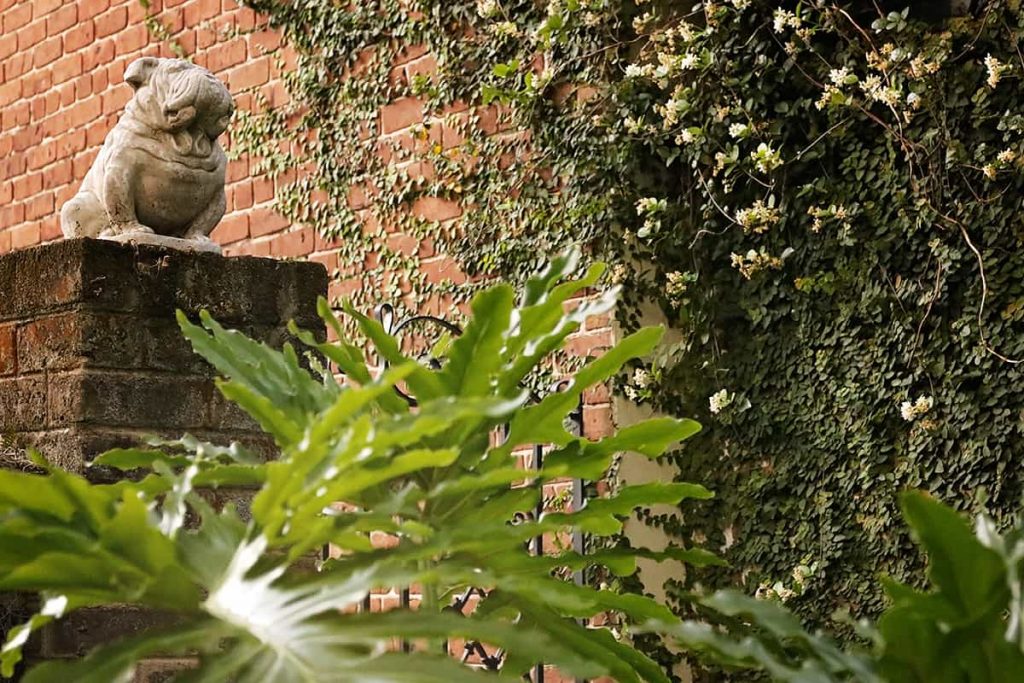 ---
Gorgeous Sunsets
Photography is a major hobby of mine, so you can often find me out "chasing light." If you enjoy doing the same, Jones Street is a good place to do it.
Jones Street is an east/west street, so the sun sets at the Tattnall end and casts long shadows down the street and sidewalks.
Related Reading: 11 Photos That Will Make You Fall in Love with River Street
---
Beautiful Southern Live Oaks
It seems I can't write a post about the beauty of Savannah without mentioning the trees, but they're probably my favorite thing about the Lowcountry.
Jones Street is lined with plenty of beautiful Southern live oaks — many of them dripping in the long strands of Spanish moss that grow so abundantly around here.
Shoutout to the City of Savannah's Greenscapes Division for always keeping the trees trimmed so beautifully. Trust me when I say the trees in Savannah are gorgeous!
Are you beginning to see why Jones Street is one of the prettiest streets in Savannah? Wait 'til you see it when the azaleas are blooming…
---
Azaleas in the Springtime
It's fairly common knowledge that springtime is one of the best times to visit Savannah, and that's largely due to all the azaleas that bloom around the city. You'll find plenty of them in front of the historic homes along Jones Street!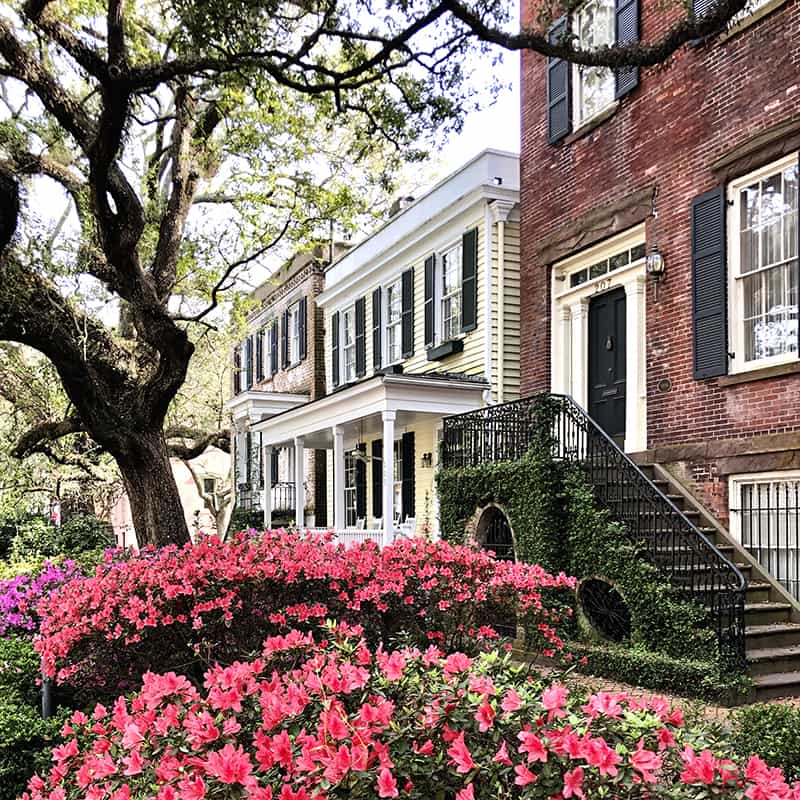 One minor detail people often don't notice about Jones Street is that none of the city's famous squares are connected to it.
If you want to wander through the squares, you'll have to head one block north to Charlton Street or one block south to Taylor Street. I highly recommend doing just that when the azaleas are in bloom. Be sure to stroll through Forsyth Park, too!
---
Restaurants on Jones Street
If you work up an appetite from strolling around, here are three classic Savannah restaurants I recommend trying…
Clary's Cafe is a great spot for breakfast. It's one of my top 10 favorite restaurants in my Savannah First-Timer's Guide!
Mrs. Wilkes Dining Room is where you'll find one of the heartiest lunches in the entire city. The Southern-style dishes are served round-table style. Basically, imagine sitting at your grandmother's table for a hearty Sunday meal after church… only with strangers.
Crystal Beer Parlor makes a classic spot to enjoy dinner. The walls are lined with local memorabilia, and it has a very relaxed vibe. I love their "Gawgia" Peach Cobbler for dessert!
If you prefer a tour, here are the top three that I recommend:
Food tours are a great way to enjoy an easy stroll through the beautiful Historic District, meet fellow foodies, and sample some of the best dishes from a variety of restaurants. You can't go wrong with any of the options listed above!
---
Where to Stay on Jones Street
The Eliza Thompson House is a historic B&B located directly on Jones Street. The rates are reasonable, the home is beautiful, and their service is top-notch!
If you want to truly experience Savannah the way it's meant to be seen, I always recommend staying in a historic home. They don't come much more historic than the Eliza Thompson House. It was the first home built on Jones Street!
---
Savannah Travel Guide
If you're ready to start planning a trip to Savannah, here are additional resources to help you out…
Savannah Vacation Guide – If you don't know anything about Savannah, I suggest beginning with my "quick start" overview of the city.
Savannah First-Timer's Guide – Be sure to purchase my ebook to get all of my best insider tips in one place. It's the only resource you'll need when planning your trip to Savannah!
Savannah FTG Free Resources Library – When you join my email list you'll get a free printable list of 50 Things To Do On Foot in the Historic District (no car needed!), plus more fun goodies.
---
Related Posts: