Let's get this straight from the start; it's called the South Carolina Lowcountry, not the "Low Country".
That little space makes a big difference! No space tells me you're local, while the added space says, "You're not from around these parts, are ya?"
The Lowcountry got it's nickname for a couple reasons; it's located in the lower region of the state, and the land is, quite literally, low-lying ground.
Much of it falls along coastal regions where the elevation is within ten to twenty feet of sea level.
Note: This guide contains affiliate links to my trusted travel partners.
If you're new around here, first of all … welcome!
My name is Erin, and I authored the Savannah First-Timer's Guide. It combines my top tips from this website into one handy downloadable guide.
The beautiful Lowcountry is just across the bridge from Savannah, and that area is much like a second home to me. If I'm not in Savannah, there's a good chance you'll find me hanging out somewhere in the Lowcountry!
Lowcountry South Carolina
The three primary destinations that make up the South Carolina Lowcountry are Beaufort, Charleston, and Hilton Head Island.
Although the Lowcountry includes other smaller cities and towns, I'm going to focus on those three main hubs. I'll also tell you about the cool spots surrounding each destination so you can plan your day trips accordingly. (Some of the smaller destinations — St. Helena Island, for example — are even more intriguing than the bigger cities.)
No matter where you go in the Lowcountry, there's one common denominator you can consistently count on; the area has some of the most breathtakingly beautiful massive Southern live oaks you can imagine.
Whether you're walking down a dirt road on untamed Hunting Island or driving through "The Point" in Beaufort's elegant Historic District, you'll spot live oaks dripping in Spanish moss nearly everywhere you turn.
Here are some things all three of these three cities have in common: massive Southern live oaks, Spanish moss, fading Gullah Geechee communities, big bridges, waterfront areas, historic districts, incredible architecture, container ships, palmettos (trees and bugs), beautiful churches, alligators, sand gnats, gas lanterns, and porches with ceilings painted in pale shades of haint blue.
---
Contents
Beaufort | Charleston | Hilton Head Island
---
Beaufort, South Carolina
Distance from Savannah to Beaufort: It's approximately 40 miles, but plan for an hourlong drive — depending on traffic.
Best for: Beaufort can be a day trip, a good stopover on the way to Charleston, or a nice weekend trip.
When I think of Beaufort, I picture antebellum mansions with perfectly manicured yards, church grounds scattered with centuries-old headstones, stunning sunsets along the Henry C. Chambers Waterfront Park, row after row of charming local shops lining Bay Street, and the cover of nearly every Pat Conroy novel I've ever read.
Beaufort is a mid-sized city with a very small-town feel. Of the three cities on this list, Beaufort is my favorite. It hasn't completely sold out to developers, so it still retains many of the historic details that make it so charming.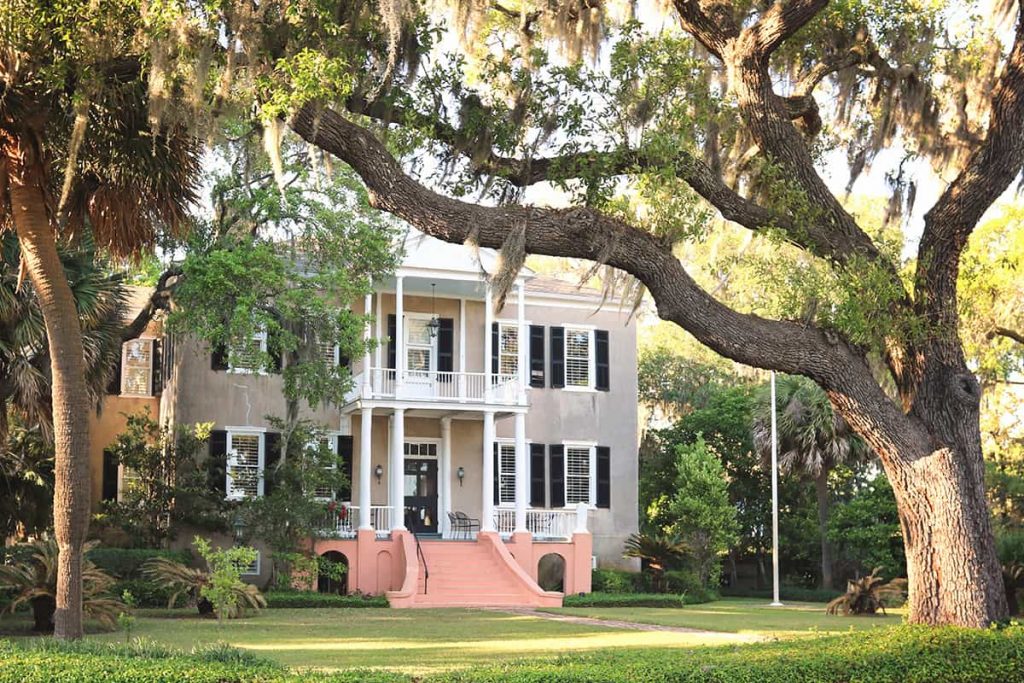 Architecture in Beaufort
Once you've lived in the Lowcountry long enough, it's easy to differentiate each area by its style of architecture.
The homes in Beaufort's historic Old Point area consist of a mixture of beautiful mansions, like the Tabby Manse (pictured above), alongside smaller homes that typically feature metal roofing, wood siding (often painted white or a classic shade of yellow), and black shutters.
In fact, the black shutter game is so strong in Beaufort that I sometimes wonder if homeowners get a bonus if their home includes black shutters (as well as a front porch with an American flag on display).
Tabby construction is something you'll see pretty often in the old section of Beaufort. Many of the structures in that area were made from a mixture of sand, lime, ash, and crushed oyster shells.
Here are some of the most famous homes in Beaufort:
The Robert Smalls House
Tidalholm, aka the Edgar Fripp House
Tidewater, aka the William Fripp House
Tabby Manse
The Thomas Hepworth House
The Castle
Beaufort Restaurants
A few of the top restaurants in Beaufort include Plums, Panini's, Fish Camp, Black Sheep, Magnolia Bakery Cafe, Wren, Saltus, and Hemingway's Bistro.
I enjoy supporting restaurants with ties to the local community, so I'm going to suggest you hop on over to nearby St. Helena Island to try Foolish Frog or The Gullah Grub Restaurant. Bill Green and his wife, Sara, operate the latter, and they specialize in fresh seafood and rice dishes.
Things To Do in Beaufort
The best things to do in Beaufort include a stroll around the historic Old Point area, a visit to at least one of the city's many beautiful churches, and a walking tour that delves into the history of Robert Smalls and/or the Gullah culture.
If you're a movie buff, this unique tour will take you past many of the film locations in the area!
You can find more of the top things to do in Beaufort here on Viator.
These are the must-see spots near Beaufort:
Hunting Island State Park
Lady's Island
St. Helena Island | Penn Center
---
Charleston, South Carolina
Distance from Savannah to Charleston: It's approximately 110 miles and takes around 2.5 hours.
Best for: Since the drive is longer and there's so much to see and do in Charleston, I think it's better as an overnight trip than a day trip. Plan to spend at least one day, if not a full weekend.
When I think of Charleston, I picture pastel-colored homes, window boxes full of colorful flowers, secret alleyways that allow glimpses into perfectly-manicured private gardens, row after row of fancy shops along King Street, the smell of pluff mud and the sting of the sea breeze along The Battery, the sound of horse-drawn carriages clippety-clopping down cobblestone streets, and the glowing nighttime lights of the Arthur Ravenel Bridge.
One thing that's unique about Charleston is that the area still has plantations you can visit and tour. If that's something that interests you, I would suggest doing your research first and choosing a tour that provides education about the lives of the enslaved individuals who maintained the plantation properties.
Something that isn't as prevalent in Charleston as in the other Lowcountry cities, is the presence of beautiful old oaks covered in Spanish moss. While Charleston does have many stunning oak trees, some of the oldest and most stately ones were wiped out when Hurricane Hugo swept through the city in 1989.
Style of Architecture in Charleston
I can differentiate a Charleston home from almost any other style of home in the Lowcountry within seconds. The architecture in Charleston is very distinctive!
Charleston homes are generally very tall and thin, and many have porches that extend down the entire length of one side of the home. Due to Charleston's proximity to the coast, most homes have functioning shutters to protect from hurricane-strength winds. It's also very common for downtown homes to have decorative window boxes filled with flowers. The homes are often painted in pastel hues.
Downtown Charleston has a French Quarter District, so the historic homes and buildings in that area remind me of what you'd see in New Orleans (only Charleston's are cleaner and prettier).
Charleston Restaurants
A few of the top restaurants in Charleston include Husk, Leon's Oyster Shop, 167 Raw, Hall's Chophouse, Lewis BBQ, Home Team BBQ, and Daps.
Things To Do in Charleston
Charleston is a shopper's paradise, so you'll want to set aside plenty of time to check out the city's high-end boutiques. You can also find lots of locally handcrafted goods in the market.
It's a fantastic city for photographers, since there's a picturesque scene around nearly every corner. Rainbow Row is one of the most-photographed spots, as well as the iconic pineapple fountain and the adorable (and historic) pink house on Chalmers Street.
Finally, it's such a foodies city that you'll want to spend as much time as possible sampling different restaurants to get a taste of some of the best Southern-style food in the region.
Try a walking food tour or a small group walking tour of the hidden alleyways and historic sites.
You can find more of the top things to do in Charleston here on Viator.
Here are the must-see spots near Charleston:
Edisto Island
Folly Beach
John's Island
Kiawah Island
---
Hilton Head Island, South Carolina
Distance from Savannah to Hilton Head: It's approximately 30 miles, but plan for an hourlong drive — possibly more during peak traffic times.
Best for: Hilton Head makes a great day trip from Savannah if you're craving some beach time.
When I think of Hilton Head Island, I picture of miles and miles of golf courses, families cycling down winding bike trails, gated vacation properties (too many of which still regrettably feature "plantation" in the names), protected sea turtle nesting grounds, fading remnants of once-thriving Gullah communities, celebratory fireworks in Shelter Cove, tasty seafood, and the instantly-recognizable red and white stripes of the Harbour Town Lighthouse.
My family has owned property on the island in some form or another since the 1950s, so it's been a special place for as long as I can remember. My parents even chose Hilton Head for their honeymoon!
I've seen a lot of changes on the island through the years, and I freely admit I'm part of the older generation that is nostalgic for days gone by.
Even though Hilton Head has been overtaken by tourism, there are some positive aspects that accompany the influx of visitors…
The pros: You'll find plenty of restaurants and family-friendly activities on the island, and it's very easy to get around with helpful transportation options like the free Breeze Trolley.
The cons: It's next-to-impossible to get seated at some of the most popular restaurants (lookin' at you Skull Creek Boathouse), traffic on the island — and on 278, which leads to the island — can be terrible, and there are times when the beaches are seriously overcrowded.
Style of Architecture in Hilton Head
The style of architecture in Hilton Head can best be described as…nondescript. (Ha! I speak the truth, though.) Homes and resort properties in many areas are designed to blend into the landscape, so they're often painted a dull brown with matching brown or cream-colored trim.
There are at least a few sections of the island that feature more "beachy" pastel hues on the exterior. Overall, though, it seems like the majority of the homes have been stripped of all personality so they can serve as 25k per week short-term rental properties.
Hilton Head Island Restaurants
Some of the most popular restaurants on the island include Skull Creek Boathouse, The Crazy Crab, Old Oyster Factory, Frankie Bones, Charlie's Coastal Bistro (L'Etoile Verte to us old-timers), Fish Camp, Black Marlin, and Bullies BBQ.
I prefer recommending smaller, independent restaurants — especially those with Gullah Geechee roots — so I suggest trying Red Stripes Caribbean Cuisine. The owner, Lakesha Daley, is a native of nearby Daufuskie Island, and her partner and co-owner, Ezron Daley, is from Jamaica. They place a heavy focus on Caribbean-style dishes.
Things To Do in Hilton Head
Spending a day on the beach with loved ones is the main draw on Hilton Head Island. The beaches are clean and very family-friendly. Since much of the island is protected by sand bars, the waves are usually small and not the least bit threatening.
Because it's such a tourist destination, there are lifeguards spaced regularly throughout much of the coastline during peak tourism season, and they keep a sharp eye out for rip tides and sharks.
If you're looking for some mild adventure, the island has miles and miles of bike trails to keep you busy, and it's also fun to go on a group sunset dolphin tour (or a private one!) or head out to the vanishing island. The most popular (and crowded) beach is Coligny Beach.
You can find more of the top things to do in Hilton Head here on Viator.
These are the must-see destinations near Hilton Head:
Bluffton
Daufuskie Island
Yemassee | Old Sheldon Ruins
Pinkney Island National Wildlife Refuge
---
Visiting Savannah Georgia
For those of you who are new around here, I'm based out of Savannah, Georgia, so it's the area I write about the most.
Here are a few resources I've created to help you plan your trip to Savannah.
Savannah Georgia Travel Guide – If you aren't familiar with the city at all, this "quick start" guide will get you started! It provides a basic overview of Savannah.
Free Resources Library – When you sign up for my email list, you'll get a checklist of "50 Things To Do On Foot in the Historic District (No Car Necessary)" and other helpful printables.
Savannah First-Timer's Guide – My ebook combines my most helpful Savannah travel tips from this website in one handy downloadable guide.
When you purchase my ebook, you'll also gain access to a private Facebook group where you can ask questions about your trip and get advice from others who have recently visited.
---
Do you have any Lowcountry South Carolina questions for me? Let me know in the comments below!