Let me guess….you're trying to find the best ghost tours in Savannah, but you're having a hard time deciding which to choose because there are just too many options?
I hear ya! That analysis paralysis sets in quickly once you see how fun they all look.
I can help, though!
I've divided the options into categories to help you figure out which tour might be best for you.
You'll find sections below for trolley tours, hearse tours, walking tours, and pub crawls, as well as a list of adults-only tours and family-friendly options.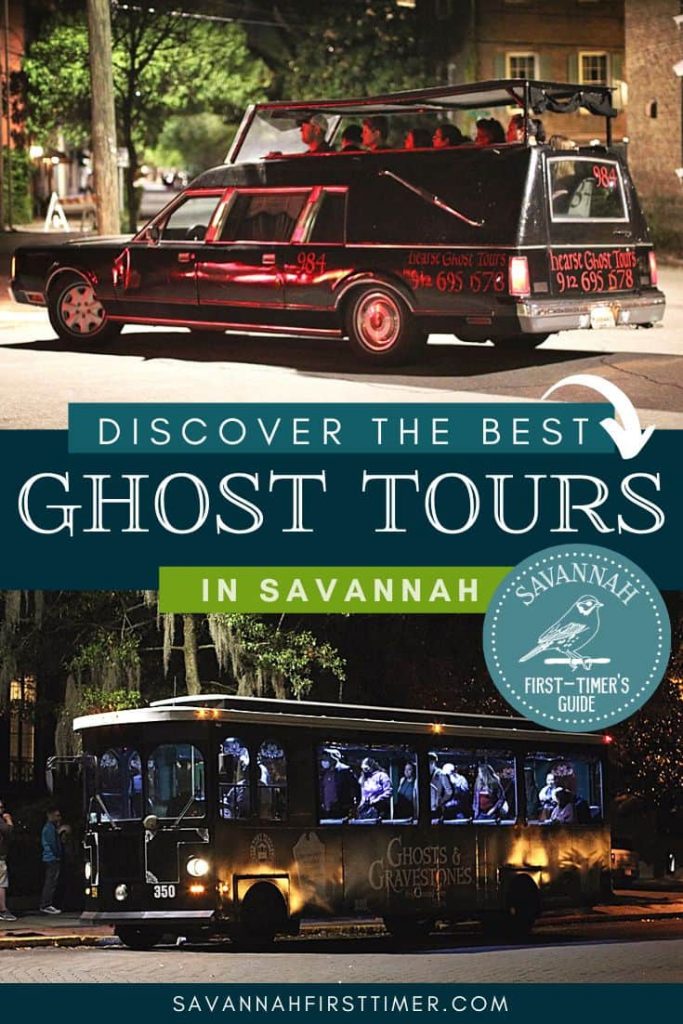 If you're new around here, first of all…allow me to extend a warm welcome! My name is Erin, and I authored the Savannah First-Timer's Guide.
I've certainly done more than my fair share of ghost tours through the years! It's usually the top activity friends and family want to experience when they visit.
To start you off, here a few favorite posts you might want to check out:
🏚️ 432 Abercorn Street: Haunted Mansion…or Just a Rumor Mill?
👻 The 11 Most Haunted Places in Savannah Georgia (Map Included!)
🏚️ The Mercer Williams House: Savannah's Most Notorious Home
---
Contents
Walking Ghost Tours | Haunted Pub Crawls | Hearse Tours | Haunted Trolley Tours | Paranormal Tours | Haunted House Tours | True Crime Tours | Age 18+ Ghost Tours | Family-Friendly Ghost Tours
Note: This guide contains affiliate links to my trusted travel partners.
---
Savannah Walking Ghost Tours
If you're on the hunt for the scariest ghost tours in Savannah, the nighttime walking tours are by far the best option.
There's simply no comparison for being on foot to experience the Historic District's most haunted locations. It will truly give you the heebie-jeebies!
Pros of a Nighttime Walking Ghost Tour
Here's the thing…
When you're on foot you can get up close and personal with the spirits of the night — much more so than when you're riding around in a hearse or trolley with the loudspeakers blaring.
If I learned anything from watching Scooby Doo as a child, it's that you have to be quiet to sneak up on ghosts. Zoinks!
The Spanish moss that looks so whimsical during the day casts ominous shadows over the Historic District at night, and the dimly lit cobblestone streets majorly add to the spook factor.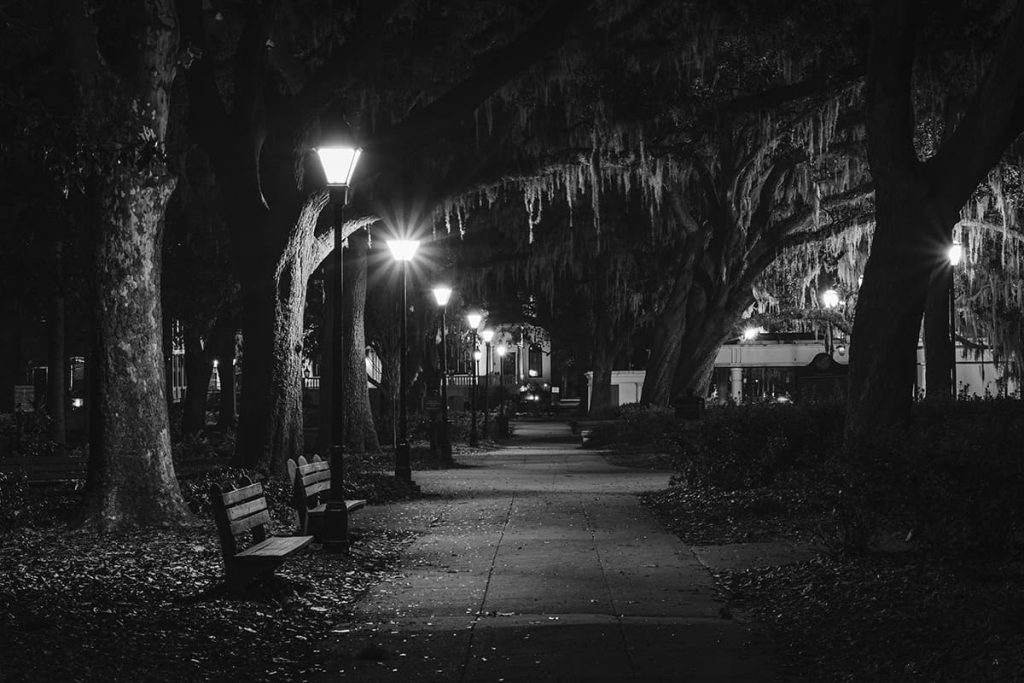 Cons of a Savannah Walking Ghost Tour
Of course, the walking tours have their downsides, too.
The ghost tour groups can sometimes be large and loud, which makes it difficult to hear your guide.
The max number of guests allowed per tour is 30, but I've seen larger groups than that wandering around the Historic District.
The pace can also be slow, since the group has to move at the speed of the slowest person.
Finally, since much of Savannah's Historic District is an open-container zone, sometimes you'll get people who are drinking on the tour, and they can get obnoxious and ruin things for everyone else.
Fortunately, the majority of the heavy drinkers tend to stick to the pub crawls, which I've separated into their own category further below.
Best Walking Ghost Tours in Savannah GA
I tend to favor Genteel & Bard's tour, because they hand out earbuds so you can hear the guide.
That's nice, because you won't miss out on the ghost stories even when the streets are noisy.
Or, if you're like me, you won't miss anything even when you start wandering off to take photos!
Plus, TC is a good storyteller, and he and his family live downtown(ish). I love supporting local Savannah businesses!
VERDICT: If you're physically able, the walking tours are the way to go! They're the spookiest option, and they're much better for the environment than the alternatives.
---
Savannah Haunted Pub Crawls
It doesn't get much more "Savannah" than chasing spirits while you're sipping on spirits!
Since you'll be bar-hopping your way through the Historic District, Haunted Pub Crawls are typically limited to people who are 21+.
Pros of a Savannah Haunted Pub Crawl
During a pub crawl, you'll visit three to five bars during a two-hour time period, and you'll be able to order a drink at each spot.
It's a nice way to experience a few popular watering holes to decide which you like best.
Pub crawls are also an excellent way to meet people in a new city!
Plus, they make a good option for the ever-popular bachelor and bachelorette parties that are always happening in Savannah.
Thanks to the city's generous open container policy, if you aren't finished with your drink when it's time to leave, you can take your alcohol to go…aka "take a traveler".
Cons of the Haunted Pub Crawls
Make note that the cost of alcohol is NOT usually included in the purchase of your ticket.
There are a few exceptions to that rule, and those are starred below.
Also, as noted above, people who don't know their limits can ruin the fun for everyone.
It's up to the individual guide to maintain crowd control.
Savannah Pub Crawl Ghost Tours
The most popular option amongst my private FB group is definitely Spooky Savannah Haunted Pub Crawl & Walking Tour.
Spooky Steve is a total hoot, and he'll keep you laughing while filling you in on all the local lore.
This option is perfect for groups!
Haunted Pubs You'll Likely Visit
Bars you'll visit during the haunted pub tours include Moon River Brewing, the pub at 17Hundred90 Inn, and Tondee's Tavern.
Moon River Brewing originally housed a hotel, post office, bank, and bar — all under one roof. It's widely considered one of the most haunted places in Savannah.
At the haunted 17Hundred90 Inn, you might see the ghost of Thaddeus – a young boy who leaves behind shiny pennies for guests to pick up.
The restaurant also has a more sinister spirit who likes to make startling noises and throw things at the staff.
Tondee's Tavern is reportedly haunted by a few different ghosts.
The building has a long history to it — including a brief stint as the city's headquarters after General Sherman took hold of Savannah during the American Civil War.
NOTE: You're not required to order drinks on the haunted pub tours, so don't feel obligated. You're welcome to just listen in on the stories and enjoy visiting the locations.
---
Savannah Hearse Tours
Few things screams "I'm a tourist" faster than riding around Savannah in a beat-up old hearse while a tour guide blasts stories at you over a loudspeaker.
Still, the tours are popular — and rightly so since you get to ride around in a real hearse that's been converted to "carry the living instead of the dead."
Pros of the Hearse Tours
You can book an entire hearse for a private tour, so they make a great option for anyone who is trying to social distance and wants personal space.
Another perk of the hearse tours is that you can make requests if there's a specific spot you want to see.
That means that if you want to head into the Starland District or if there's a place you'd like to check out that isn't on any other ghost tour, the hearse tours will likely take you there.
Cons of a Savannah Hearse Tour
The biggest downside is that the hearses are old and not very comfortable.
Maybe that's part of the experience?
Since you'll be listening to your guide through a speaker system, their tours don't feel as personable.
In my opinion, the hearse tours are more for entertainment and aren't nearly as spooky as the walking tours.
They fall on the cheesy side, but intentionally so.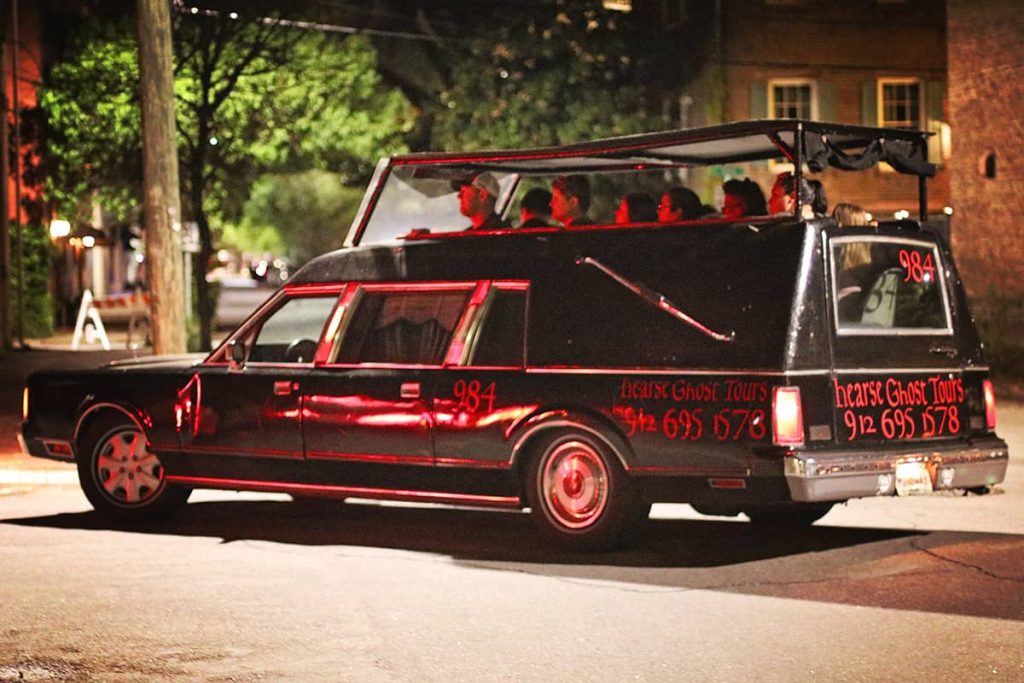 VERDICT: If you want a personalized tour or want to stick with your small group then these are a good choice. However, if you want to be scared silly, go on one of the walking tours instead.
---
Savannah Haunted Trolley Tours
Trolley tours offer somewhat of a middle-ground between the walking tours and the hearse tours.
They aren't very spooky, but if you have mobility issues or have young kids in tow, they're much more comfortable than the hearse tours.
The trolley tours will cart you around past many of Savannah's haunted locations, and you'll even get to go inside a few places — although that list varies based on which trolley tour you take.
Savannah Haunted Trolley Tour Options
A perk of the Ghosts & Gravestones tour is that they offer two exclusive stops that you're only able to experience on their haunted trolley tours.
They include a nighttime tour of the historic Andrew Low House and a stop at Perkins & Sons Ship Chandlery.
You'll hear the stories of the ghosts that reportedly inhabit those buildings.
One perk of Old Savannah Tour's Grave Encounters Trolley is that they'll pick you up at your hotel.
The tour also has costumed actors that jump on board to help narrate the stories of the ghosts they portray, so that makes it more entertaining for kids.
You can purchase just the trolley tour or upgrade to the tour plus dinner.
The combo ticket includes dinner at The Pirates' House, where you'll get a tour of the original rum cellar where real pirates used to hang out.
The Pirates' House is considered one of the most haunted restaurants in Savannah!
The Savannah Underground Tour includes a neat interactive show where actors narrate three true-crime tales that occurred during Savannah's early days.
VERDICT: Choose a haunted trolley ride if you have mobility issues but still want to experience the haunted side of the city. Expect the trolley tours to fall on the cheesy side! (Don't say I didn't warn you.) Read my Savannah ghost tours trolley post for recent reviews.
---
Savannah Paranormal Tours & Experiences
Want to try your hand at searching for ghosts? Savannah's a great place to do it!
There are a few tours in the city that lend you ghost hunting equipment, teach you how to use it, and then send you off to find a ghost of your own.
These tours use equipment like dowsing rods, EVP recorders, and EMF sensors to track down any ghosts in the area.
The Witching Hour Paranormal Ghost Tour is led by Brigid, a self-described clairvoyant, plus a few of her paranormal-enthusiast friends.
She and her team focus on the use of dowsing rods in an attempt to communicate with known spirits in places like Colonial Park Cemetery.
Hers is a family-friendly tour, and she even offers a sage cleansing at the end to ensure no spirits follow you home.
Got Ghosts! Paranormal Activity Tour is led by Patrick Burns, host of the TV show "Haunting Evidence." His tours are about two hours long.
You'll hear all about Patrick's first-hand spiritual encounters, and he brings EVP recordings that you can listen to during a few of the stops on the tour.
VERDICT: Paranormal activity tours work best when you go into them with an open mind. You have to believe anything is possible when it comes to communicating with Savannah's spirits.
---
Savannah Haunted House Tours
While there are a plethora of different options for ghost tours in Savannah, you may be surprised to hear that there aren't that many haunted house tours in the city.
Most of the tours listed above walk or drive past Savannah's haunted houses but don't go inside.
The Sorrel Weed House is rare because you can explore the home's interior while a guide explains its unusual history.
They even offer a paranormal investigation so you can try your hand at using some ghost hunting equipment inside the home.
VERDICT: I always say it's good to take the opportunity to tour Savannah's historic homes while they're open to the public, since they could revert back to private use at any time.
---
True Crime Savannah Ghost Tours
If you're a fan of true crime podcasts, these tours might be just your speed.
Instead of communicating with spirits or photographing orbs, you'll hear about real life crimes of passion that have occurred in Savannah.
You'll learn about the notorious Mercer Williams House, the skeleton found inside the walls of the Foley House Inn, the hanging of Alice Riley in Wright Square, and many other spooky Savannah stories.
VERDICT: As far as I'm concerned, every street in Savannah has been the scene of a crime at least once. Case in point: Savannah Crime Map 2021 and Current Savannah Crime Map.
---
Spooky Savannah Ghost Tours (Ages 18+)
I recently decided to create a separate category to keep track of some of the scariest ghost tours in Savannah.
Whenever readers tell me about a tour that falls more on the scary side, I'll add it to this list.
These tours are for the 18+ crowd, and — although they don't necessarily stop in bars for drinks — they usually don't mind if you tote your own to go cup along the route. (If you're of legal age, that is.)
VERDICT: Choose these tours if you're into the macabre and are hoping to get spine-tingling chills and/or goosebumps at least once during your outing.
---
Family-Friendly Savannah Ghost Tours
I realize some of you have kids in tow and need family-friendly options to provide an hour or two of entertainment. I totally get that!
After all, I experienced my first Savannah ghost tour when I was in my more impressionable years.
That was back in the days when tour guides still paraded groups past the beautiful Hampton Lillibridge House — one of the only homes in Savannah where an actual exorcism was performed.
It was also before there were vast numbers of ghost tours to choose from like there are today.
That tour certainly made a lasting impression on me, and I'm willing to bet a similar one will probably do the same for your kids!
The Top Family-Friendly Ghost Tours in Savannah
VERDICT: Family-friendly ghost tours are a fantastic way to keep the kids entertained while also guaranteeing they won't soon forget their trip to Savannah.
---
Best Ghost Tours in Savannah: Summary
I hope I haven't overwhelmed you with all the options for ghost tours in Savannah! There are just so many.
The intent here was for you to be better prepared to make a choice of the best tour for you.
Each type of tour has its pros and cons, but they're all in good fun and all part of the weird and wacky Savannah experience.
Just embrace the supernatural, and let your imagination run wild.
You never know…you might get home and find you've captured a ghost in one of your photos!
---
Love this post? Pin it now to save for later!