City Market is an open-air market in Savannah filled with restaurants, art galleries, bars, and shops. It even has a unique museum that houses a Zagat-rated speakeasy!
The area is very active day and night, and it's a popular spot for first-time visitors to the city.
As I tend to do on this site, I'm going to give you the scoop on what's worth seeing vs. what to pass up.
I'll also include some safety tips and will fill you in on the rarely shared (because it's so horrific) history of the market.
We'll discuss crime and homelessness in the area, too, since the've become more prevalent in recent years. After all, I'm known for sharing both the pretty and the gritty sides of Savannah.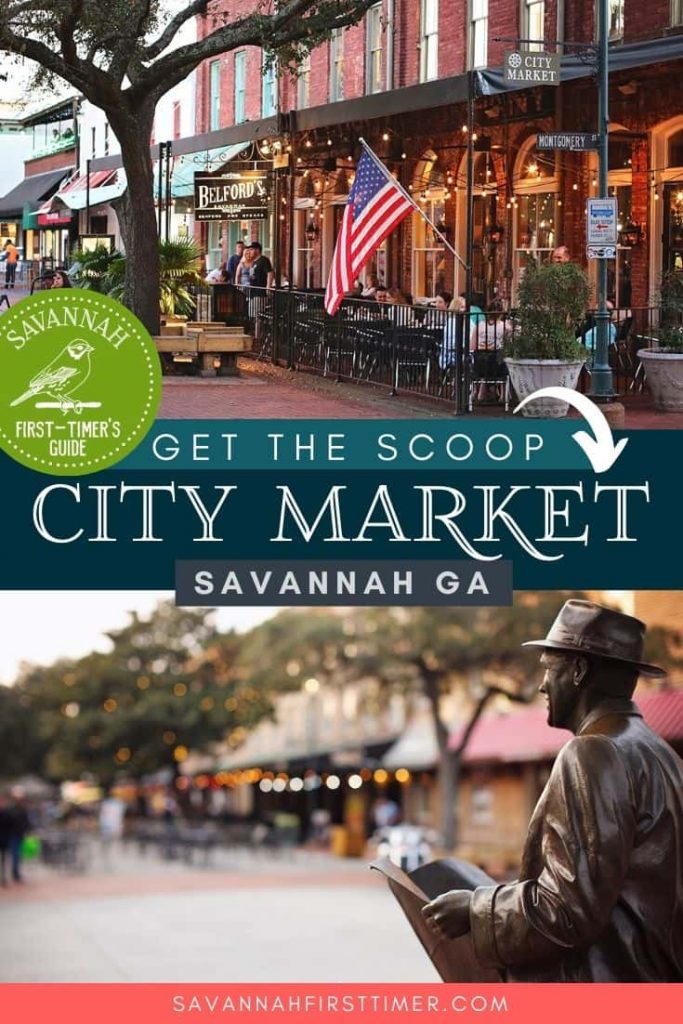 Note: This guide contains affiliate links to my trusted travel partners.
If you're new around here, first of all … allow me to extend a warm welcome!
My name is Erin, and I authored the Savannah First-Timer's Guide. It combines my top tips from this website into one downloadable guide.
You might also be interested in these popular areas:
🚢 11 Photos That Will Make You Fall in Love with River Street
➡️ Plant Riverside: What's Really Worth Seeing in Savannah's Entertainment District?
---
Why Should You Visit City Market?
Anytime I write about a popular section of Savannah, I try to include the pros and cons so you can decide whether or not the area is worth visiting.
While City Market isn't a place I recommend spending a huge chunk of time, there are some spots worth checking out!
The artists in City Market are talented, and the area is home to a yummy pizza joint.
The market also includes a few fantastic spots for souvenirs.
I'll discuss the pros and cons in detail below, but keep in mind these are just my opinions!
---
Where is City Market?
City Market may be a well known area, but it's actually a VERY small subsection of Savannah.
It only consists of two blocks — four if you include adjacent Franklin Square and Ellis Square as part of the market.
These are the boundaries:
North: W Bryan Street
East: Barnard Street (Ellis Square)
South: W Congress Street
West: Montgomery Street (Franklin Square)
---
City Market Hours
Retail Hours | March – December
Monday – Wednesday 10 a.m. – 6 p.m.
Thursday – Saturday 10 a.m. – 8 p.m.
Sunday 1 p.m. – 5 p.m.
Retail Hours | January and February
Monday – Saturday 10 a.m. – 6 p.m.
Sunday 1 p.m. – 5 p.m.
You'll find an active nightlife scene in City Market, and many of the bars stay open until 2 or 3 a.m.
You might not want to stay in the area that late, though! Keep reading to learn why.
---
City Market Savannah Restaurants
As popular as City Market is with visitors, there are only a handful of restaurants located within the actual market.
Here are a few of the most popular — including one of my favorite casual restaurants in Savannah.
Vinnie Van Go-Go's
My go-to restaurant in the area is Vinnie Van Go-Go's!
It's a New York Style pizzeria that serves huge slices on a thin, crispy crust. They make their dough fresh every night, and they're very generous with the toppings.
The vibe there is super casual, so you can just pop in after a day spent exploring Savannah.
Even if they don't have any tables available, you can usually still purchase to-go orders at the door and sit on a bench in City Market to eat.
Popular Menu Items: Every slice tastes good! Just for fun, I'll say Hawaiian pizza with extra pineapple, since that's such a controversial option.
Vinnie Van Go-Go's | 317 W. Bryan Street
NOTE: This restaurant used to be cash-only, but in recent years they've started accepting debit and credit cards.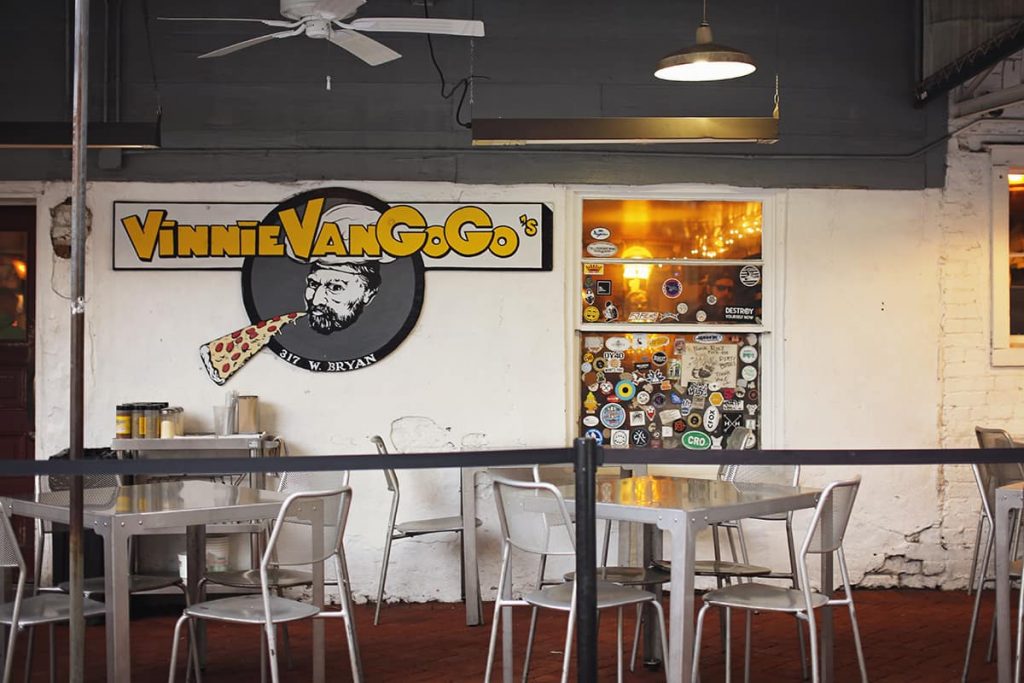 ---
Pie Society Savannah
If you're looking for something hearty, try giving some authentic British food a try!
Pie Society serves beef, chicken, and vegetarian pies with a perfectly flaky, buttery crust.
They stay open late, so that's a bonus! On Friday and Saturday nights the doors don't close until 1am — making it an excellent spot for night-owls.
Popular Menu Items: Try any of the meat pies if you're in the mood for a hearty meal, or opt for a sausage roll if you're not too famished.
I personally like the classic Chicken Pot Pie or their quiche options on a chilly day. The Victorian spongecake is a popular dessert.
The Little Crown by Pie Society | 19 Jefferson Street
---
Belford's in City Market
Belford's Seafood & Steaks is another popular spot in City Market.
Their patio is nice and shady, and it has lots of ceiling fans, so the restaurant makes a good spot to escape the heat.
It's fun to sip on a glass of sweet tea on the patio while doing some people-watching!
Popular Menu Items: They currently offer a champagne brunch on Saturdays and Sundays. The fried green tomatoes are consistently popular, as well as the shrimp and crab cakes.
Belford's Steak & Seafood | 315 West St. Julian Street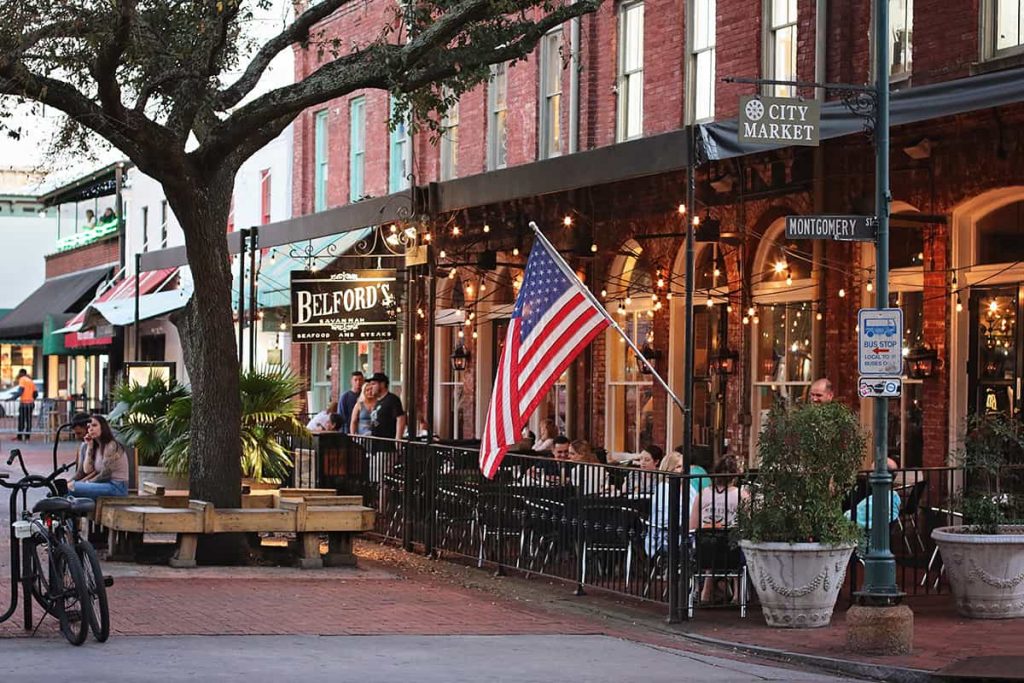 ---
Savannah Souvenirs
City Market is a good spot to pick up souvenirs in Savannah — especially food-related gifts. Here are two of my favorite options…
Byrd Cookie Company
Key Lime Coolers, Georgia Peach, and Salted Caramel are just a few of the flavors you'll find when you walk into Byrd Cookie Company. (OK, those also happen to be my current favorite flavors!)
They have a wide variety of flavors to choose from, including their popular original cookie flavor, Scotch Oatmeal. The recipe has been handed down for more than 95 years!
The store has a popular tasting station, so you can sample every cookie they offer.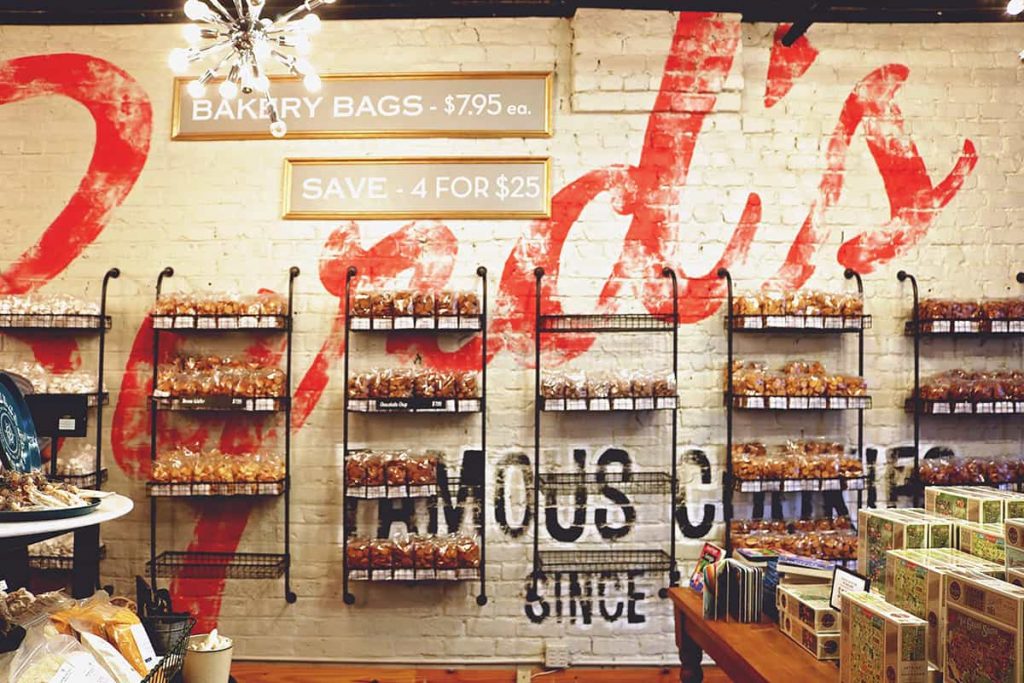 If you prefer salty over sweet, they also make yummy cheddar biscuits and cheese straws.
Byrd's has multiple different gift baskets and gift tins, too.
It's the perfect place to pick up a mid-afternoon snack or grab some souvenirs to take back home.
After nearly 100 years in Savannah, the business is still locally-owned and run by members of the Byrd family.
Byrd Cookie Company | 213 West St. Julian Street
---
Savannah Candy Kitchen
This spot is always a huge hit with kids!
Their specialty is Southern-style sweets, so think pralines loaded with Georgia pecans, "Turtle Gophers" (Georgia pecans topped with caramel and milk chocolate), peanut brittle, and the like.
They have cases full of handmade items, but they also offer packaged gift boxes, baskets, tins, and towers. You name it, they've got it.
One entire room of the store even has a "Giant Wall of Candy" where you can find pretty much any type of candy imaginable.
Savannah Candy Kitchen | 318 West St. Julian Street
---
Things To Do in City Market
I don't want to overwhelm you, so I'm only going to list the top things to do in City Market.
One of the most popular activities is to simply grab a spot on a bench and chill out while listening to live music.
If it's hot out, you can grab a slushy from nearby Wet Willies to enjoy while you relax!
Prohibition Museum
This is one of Savannah's more unique museums, and it makes a perfect rainy day activity. It's also a great way to escape the heat during the summer months.
It's such a fun place! This is probably my favorite activity within City Market.
The American Prohibition Museum traces the history of Prohibition from the rise of the Temperance Movement in 1850, to the ratification of the 18th Amendment in 1919, through the Roaring 20s, and then into the era of the Great Depression.
You'll learn Savannah's role in Prohibition during all of the above!
Some of the fun exhibits include Southern Rum Runners, Moonshine Making, and Crime & Gangsters — where you can post next to wax figures of gangsters like Al Capone, Bugs Moran, and "Machine Gun" Jack McGurn.
To make the experience even more authentic, anyone 21 and up can visit Congress Street Up during the tour. It's the museum's very own on-site (and Zagat-rated!) speakeasy.
In fact, you can even sign up for a fun cocktail class in the speakeasy and learn how to make classic cocktails while sipping on custom-made drinks.
Congress Street Up is open 10 a.m. to 5 p.m. daily for museum visitors and from 6:30 p.m. to 12:00 a.m. on Friday and Saturday nights.
If you want to combine a trip to the museum with a 1-day trolley ticket, Prohibition Museum is stop #7 on the Old Town Trolley Hop-On/Hop-Off tour.
American Prohibition Museum | 209 West St. Julian Street [ Purchase tickets here ]
Related Reading: Savannah Trolley Tour Reviews: Which One is Best?
City Market Art Galleries
I highly recommend stopping by to visit the talented artists in City Market. Did you know Savannah is actually ranked as the top art-buying city in the United States?
Artists form the heart and soul of this city!
There are a few different art galleries in the market, plus an upstairs art center that houses over two dozen active artists' studios.
Some of the art galleries showcase the work of one individual artist, while others feature multiple artists and different mediums in the space.
In the upstairs art center, you can meander around a 19,000 square foot loft and watch any artists who happen to be working that day.
Painters, photographers, and sculptors all have their studios in the space, and it's really inspiring to watch their progress as they work.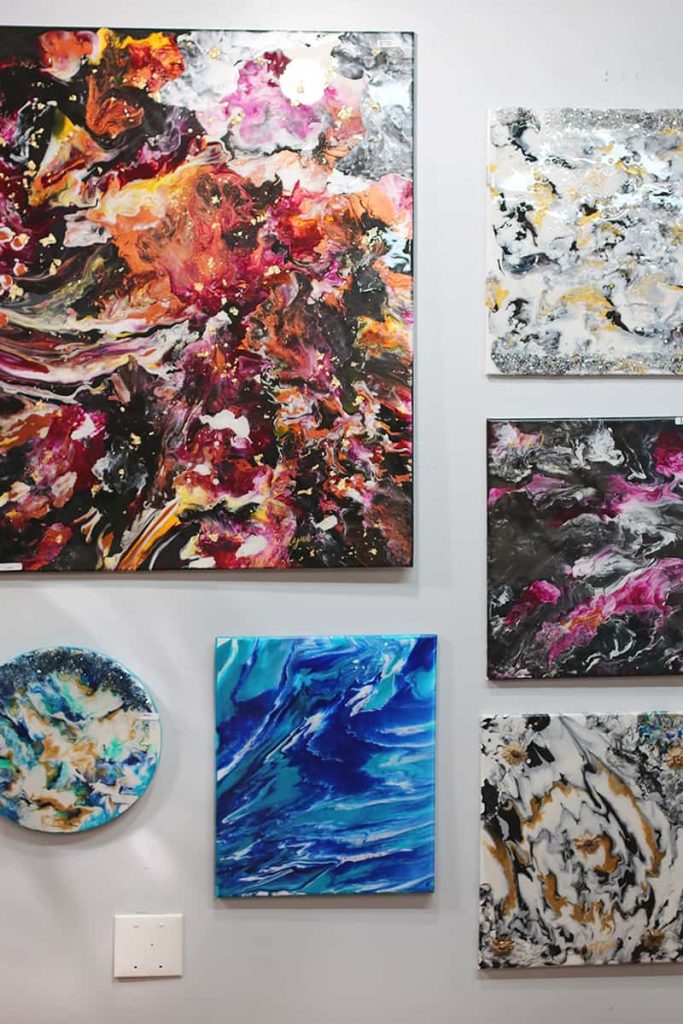 The art studio hours vary, so it's best to call individual artists ahead of time if you want to see someone specific.
---
History of Savannah's City Market
City Market was originally located where Ellis Square currently stands, and it served as a farmers market for the city of Savannah and nearby communities.
Customers could buy fresh fish, oysters, crabs, veggies, fruits, and nuts from local vendors — much like we do today when the Farmers Market sets up in beautiful Forsyth Park each Saturday.
Savannah's first City Market building was a one-story open-air structure.
If you're familiar with Charleston's historic city market building, it looked very similar to that.
Savannah's original wooden market structure was likely constructed in the early 1800s.
In 1876, a larger brick structure was erected in the same spot. Historic images show mule wagons parked in front City Market, women carrying baskets of goods atop their heads, and families gathered to purchase food supplies.
Here's a photo of "Miss Kate" sitting in front of City Market.
She was one of many vendors who sold items such as okra, boiled peanuts, peaches, and sweet potatoes.
Unfortunately, the brick City Market structure was torn down in 1955 to make way for a parking lot in Ellis Square.
As a nod to history, the downtown Kroger located at 311 E. Gwinnett Street and the Publix on Abercorn Street both mimic the style of the original City Market building.
Related Reading: 21 Photos That'll Make You Want to Stroll Through Forsyth Park
City Market's Forgotten History
Although City Market's history as a food market and gathering spot for Savannahians is well known, other parts of its history are much less discussed.
The historic markers scattered around the city only cover so much, so I always try to dig deeper for the rest of the story.
For example, the John Montmollin Warehouse building, located at 202 West Julian Street, houses a rather dark history.
It was owned by John S. Montmollin, who leased the third floor to Alexander Bryan.
Both Montmollin and Bryan were prolific slave traders in Savannah.
Bryan used the basement of the building as a holding pen for enslaved individuals, and he auctioned men, women, and children off on the second and third floors of the building.
It was considered by some to be one of the most evil places in Savannah.
Ulysses Houston was a local minister who operated a butcher shop out of the ground floor of the Montmollin Warehouse.
When he was interviewed at the end of the Civil War, he recalled hearing the anguished cries of African Americans as they were brought up the stairs in chains to be sold into slavery.
A Positive Turnaround…
Fortunately, the history of the building turned to a more positive note shortly after the Civil War ended.
That's when a missionary named Reverend James D. Lynch converted the third floor of Bryan's Slave Mart into a school for freed Blacks. It was known as the Bryan Free School.
According to Vaughnette Goode-Walker, current director of the Ralph Mark Gilbert Civil Rights Museum, the children attending the school practiced their handwriting on the back side of bill of sale receipts for enslaved individuals who had been traded within the building.
When local reporters attended an open house at the building, they expressed appreciation over the transformation of the space from a place of negativity to one focused on educating freed children.
It was a pleasing picture that will long live in the memory of all who were present–this free school exhibition in a hall which not many months since resounded with the cries of the slave dealer as the auctioneer cried down men, women and children, to the highest bidder."

The Savannah Republican, July 7, 1865
Currently, the Montmollin Warehouse building houses a pet store, and there's no historic marker indicating what happened within its walls. Look for Woof Gang Bakery if you want to see the building.
Related Reading: Black History Tours in Savannah: Which Ones Are Best?
---
Is City Market Safe at Night?
While the vibe is very relaxed and family-friendly in City Market during the day, the flip switches in the late evening hours. That's when the area becomes more of a nightlife zone.
I'd say it's less family-friendly as the night wears on.
Nearby W. Congress Street has a high concentration of bars, and there are bars located within City Market itself, as well.
While the area can be fun in the evening, drunken fights occasionally break out in and around the bars.
If that happens, it's best to walk away immediately (fights tend to escalate quickly in Savannah).
I don't consider City Market to be a safe place for first-time visitors to be hanging out after the bars close down.
There are too many crime problems in the area late at night, including numerous shootings and even a few homicides in recent years.
Related Reading: Savannah Crime Map 2021 | Savannah Crime Map 2022
---
Homelessness in City Market
I realize that many visitors come from small towns where homelessness isn't an everyday sight, but it's very common in Savannah.
Members of the homeless community regularly hang out in Franklin Square, City Market, and Ellis Square.
If encounters with the homeless make you uncomfortable, then you might not enjoy City Market — especially at night.
I always like to mention that it's nice to extend a little grace to anyone living on the streets.
If you come across someone who is homeless, a simple hello and a friendly nod go a long way.
However, if a person is yelling, causing a commotion, or otherwise appears unstable, please try to steer clear.
When I chatted with the guys below, they mentioned how much it meant to them that I stopped to talk. They said most people walk past and ignore them, as if they didn't exist.
Sadly, I've heard that from numerous members of the homeless community in Savannah.
NOTE: James, Barry, and Ishmael requested that I take their photos and knew the photos were for use on my website. I would never disrespect a member of the homeless community by taking photos and posting them without permission. Some folks want their stories told, but many don't. Hopefully you'll be considerate, as well!
If you'd like to help with Savannah's homeless situation, I suggest donating to Emmaus House Soup Kitchen.
It's a helpful facility that serves daily meals to the homeless community and offers hot showers and laundry service to the unhoused.
Parker's House | A Home for Women is another much-needed planned development in Savannah.
Currently, a safe space doesn't exist in the Savannah area that is dedicated to women only.
There are multiple shelters for men only and for unhoused women with children.
However, a single woman who doesn't have a child with her will be placed in a mixed gender facility or will have to remain on the streets, and neither situation is ideal.
---
Places to Stay Near City Market
I've written a guide about the different sections of the city that will help you decide where to stay in Savannah.
I only advise staying close to the City Market area if you want to be in the heart of all the action. It's a busy area that tends to get loud at night.
Here are a few nearby hotels:
Andaz Savannah (The closest nice hotel to City Market.)
The Marshall House (My top-recommended hotel within easy walking distance to City Market, but far enough away to avoid the noise.)
You'll also find home rentals in the area. However, due to the over-saturation of short-term rentals and the housing issues they're contributing to, I avoid recommending them on this site.
---
Savannah Travel Guide
If you're ready to start planning a trip to Savannah, I've created a few resources to help you out.
Savannah Georgia Vacation Guide: This is the place to start if you don't know much about Savannah and want a brief overview of the city.
Free Resource Library: When you join my email list you'll gain access to helpful printables, like my checklist of 50 things to do on foot in the Historic District.
Savannah First-Timer's Guide: If you're the type of traveler who wants all of your information in one handy guide, my ebook is the best way to go. It's the easiest way to start planning your trip!
---
Do you have any questions about City Market? If so, let me know in the comments below!
---
Love this post? Pin it now to save for later!
Citations:
Lauren Bussman. "The Montmollin Building."
Clio: Your Guide to History. December 19, 2019.
Accessed February 24, 2022. https://theclio.com/tour/1982/2