If you're looking for a taste of old-school Savannah, the Victorian District makes a great place to start.
The houses in this area date back to the late 1800s and early 1900s, and many have been lovingly restored back to their original glory.
Since it's a popular spot for visitors to explore, I'm going to give you the scoop on some of the best things to do in the area, plus I'll include my top tips on where to stay and eat.
We'll also discuss safety in the Victorian District, since that's a frequently-asked question, and I'll tell you where to find the prettiest Victorian homes!
Note: This guide contains affiliate links to my trusted travel partners.
If you're new around here, first of all … allow me to extend a warm welcome!
My name is Erin, and I authored the Savannah First-Timer's Guide.
I'm honored to have you here, and I hope you'll find some helpful advice on this little site of mine.
---
Why Visit Savannah's Victorian District?
In my opinion, the top reason to explore the Victorian District is to see all of the beautiful architecture!
There are some really pretty homes in the area, and the neighborhood has a very residential feel.
In addition to its impressive architecture, you'll also find a decent variety of restaurants in the Victorian District, plus a few historic landmarks.
Finally, Savannah has developed into a very popular destination for film crews in recent decades, which means there are a couple movie locations worth checking out in the area.
Ready? Let's start exploring…
---
Map of the Victorian District
The Victorian District is located directly south of the Historic District.
The northern boundary is Gwinnett Street and the southern boundary is either Anderson Street or 31st Street — depending on who you ask.
The Victorian District was added to the National Register of Historic Places in 1974 with the original southern boundary listed as Anderson Street.
However, in 1982 the southern boundary was extended to 31st Street.
Some old-timers still say Anderson marks the southern end, but I consider everything down to 31st Street as part of the Victorian District.
Bull Street is the center dividing line. It cuts directly through the center of Forsyth Park. The western boundary is Martin Luther King Jr. Blvd. and the eastern boundary is E. Broad Street.
Related Reading: Savannah Victorian District Map
---
Historic Landmarks in the Victorian District
Forsyth Park is the most well-known attraction in the Victorian District.
The northern half of the park is actually located in the Historic District and the southern half is in the Victorian District.
In addition to the park, there are quite a few historic buildings.
A few of my favorites include Eckburg Hall, the former Mary Telfair Hospital for women, and the Carnegie Library.
Eckburg Hall | 115 W Henry Street
Eckburg Hall is currently owned by the Savannah College of Art and Design (SCAD), and it serves as their primary building for students majoring in Fashion Design.
It was built in 1892 and originally served as the Henry Street Elementary School.
The top floor was a gymnasium, but these days it's filled with mannequins and oversized desks where students can cut fabric.
My daughter minored in Fashion Design, so she and I have had our run of the place in the wee hours of the morning.
It's pretty fun to roam around a historic school at 2 a.m. when no one else is there.
I feel like I've explored practically every nook and cranny of the building.
And before you even ask, I can honestly report that I've never spotted a ghost inside!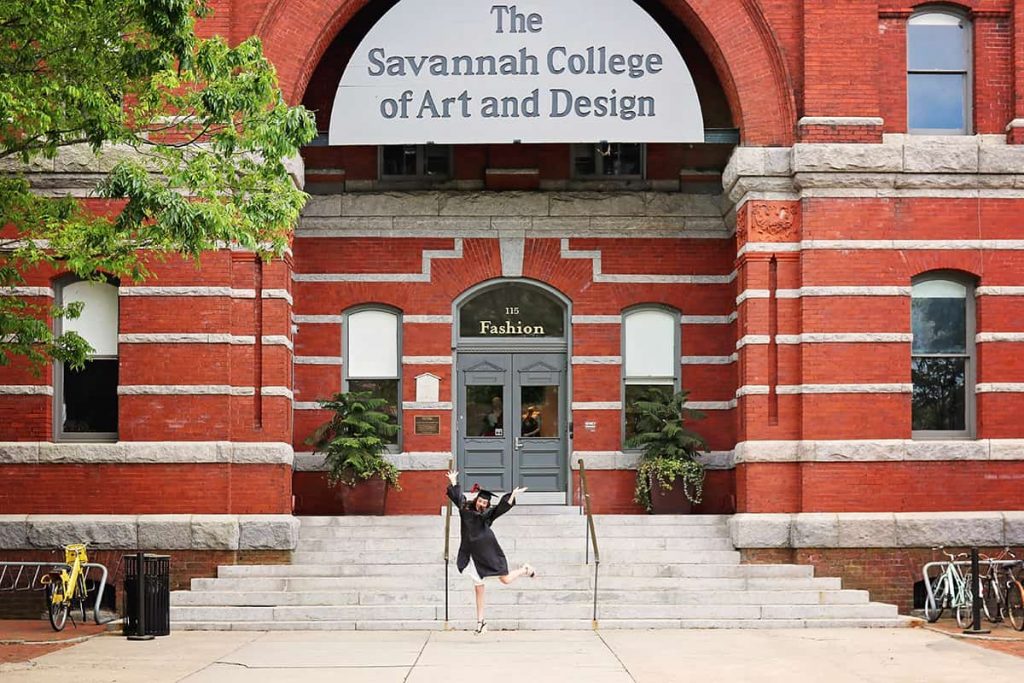 The architectural style is Queen Anne revival, and the building was estimated to cost $30,000 when it was constructed.
Mary Telfair Hospital for Women | 17 E Park Avenue
This former hospital for women is located on the SW corner of Park and Drayton streets, and it faces Forsyth Park.
It was constructed in the mid 1880s and is listed on the National Register of Historic Places.
It's a beautiful building, and it's where many older-generation Savannahians were born.
Some people claim it's even haunted by Mary Telfair herself!
It currently operates as the Telfair Arms Apartments, which offers affordable living for seniors.
As the circle of life goes, it's interesting to think that some of the people who were born in that building might now be living out their later years in the same place.
The Carnegie Library | 537 E Henry Street
The Carnegie Library, also known as the Library for Colored Citizens, is another historic landmark in the area.
It was built in 1914 and was one of the only places in Savannah where Black families could access books during the early 1900s. (The city's main library didn't integrate until 1963.)
Supreme Court Justice Clarence Thomas spent a good bit of time in the Carnegie Library during his young adult years, and he revisits occasionally when he's in the Savannah area.
The library is located in Dixon Park, which is the newest section of the Victorian District.
Related Reading: Black History Tours in Savannah: Which Ones are Best?
---
Things To Do in the Victorian District
Admire the Beautiful Architecture: There are so many stunning homes in the area! I absolutely love strolling around to admire the architectural details. I've said it many times before, but walking is truly the best way to explore Savannah!
Stroll Around Forsyth Park: Even if you're not at all familiar with Savannah, you'd probably still recognize photos of the famous Forsyth Park fountain. It's an iconic symbol of Savannah. The park is Savannah's own version of NYC's Central Park, and it's a popular gathering spot for visitors and locals. It includes a restaurant, playground, tennis and basketball courts, a fragrant garden, plenty of shaded benches for relaxing, and wide open areas that are perfect for picnics or tossing a frisbee around.
Panhandle Slim Pop-Up Art Shows: Panhandle Slim is a local folk artist whose work can be found throughout Savannah. He often hosts pop-up art shows on Saturday mornings along the west-facing wall of the old Sears building on the corner of Bull and E Duffy streets. He bills himself as an "artist for the people". You can even name your own price for his artwork! Follow Panhandle Slim's stories on Instagram for show notifications.
Related Reading: 21 Photos That'll Make You Want to Visit Forsyth Park
---
Top Restaurants in Victorian District
I try not to overwhelm first-time visitors with too many options, so I only include a couple restaurants in these food sections. Here are two tried and true options…
Local 11ten | 1110 Bull Street – This option is slightly on the upscale side and makes a good date-night spot. The chef rotates the menu frequently, so you can often find something new to try. The rooftop dining area, Perch, feels a bit like being nestled in amongst the treetops.
Fork & Dagger | 1402 Habersham Drive – This is a fun pick for the foodies! It's located inside an adorable retro diner (you can't miss the giant neon "Bobbie's" sign on the corner), and it makes a great spot to grab brunch or desserts.
Are you the type who prefers to spend your vacation time hanging out amongst locals? That's one of the best ways to get to know the heart and soul of a neighborhood! Here are two spots I recommend…
The Black Rabbit | 1215 Barnard Street – This totally laid-back spot offers late afternoon lunches, and they serve food until midnight every night except Sunday. For night owls such as myself, it's the perfect place to grab a late-night grilled turkey sandwich or a hearty salad. They have two outdoor seating areas (the front sidewalk and a tiny back courtyard), and you'll find a very chill dive bar inside, too.
Betty Bombers | 1108 Bull Street – This option serves classic All-American fare like burgers, cheesesteaks, BBQ, and subs. It's pretty common to find the locals hanging out in this building, which also houses the American Legion. It's a family-friendly spot that includes a kid's menu.
New Restaurants in the Victorian District
I love it when new restaurants come to Savannah, so I always like to make visitors aware of them. Gotta give the new guys a chance! I'm all about supporting small businesses.
Here's the latest addition to the 'hood:
Alexander's Bistro | 1205 Bull Street – This casual bistro opened in February of 2022. I love that they have a to-go window and offer picnic-style lunches you can take to the park! They make fresh breads and pastries in-house and offer a very popular Sunday brunch.
---
Is the Victorian District in Savannah Safe?
Statistically, the safest area to stay in Savannah is in the southern portion of the Historic District.
However, I think the Victorian District is relatively safe overall.
I frequently walk around the area during the day and in the early evening hours.
I do, however, make a point to never carry cash, and I typically have some form of protection with me — but those two things are standard practice whenever I walk anywhere in Savannah.
It's pretty common to see students riding bikes in the Victorian District, tourists strolling about, and neighbors engaged in that ever-popular Savannah activity known as porch sittin'.
However, like much of Savannah, the vibe in the area tends to get a little sketchier at night.
While the Historic District has lots of nighttime activity to make it feel busy and safe (ghost tour groups milling about, bar-hopping tourists, etc.), you won't find the same level of activity in the Victorian District at night.
If you need to return to your rental after 10 p.m. (or earlier, during the winter months), I'd recommend taking Uber, Lyft, or a pedicab. The free DOT shuttle runs through the Victorian District until 7 p.m.
As always, take all the common safety precautions I usually recommend on this site when you're staying in the Victorian District.
Those include practicing situational awareness, keeping all valuables out of site, always locking your car doors, NEVER leaving a gun in your vehicle, always bringing bicycles inside (or at least locking them up as far out of sight as possible), and try to avoid taking shortcuts down the lanes — especially at night.
Related Reading: Savannah Crime Map 2022 & Savannah Crime Map 2021
---
Best Places to Stay in the Victorian District
I typically recommend staying in a beautiful B&B or historic inn while you're in Savannah.
However, there aren't many of those options located within the true boundaries of the Victorian District.
Luckily, the one that is within the boundaries is a good one.
This home is located one block east of Forsyth Park, and it was built in 1886 by an Irish immigrant and retired Sea Captain named James Ward. It's a beautiful Victorian-style home!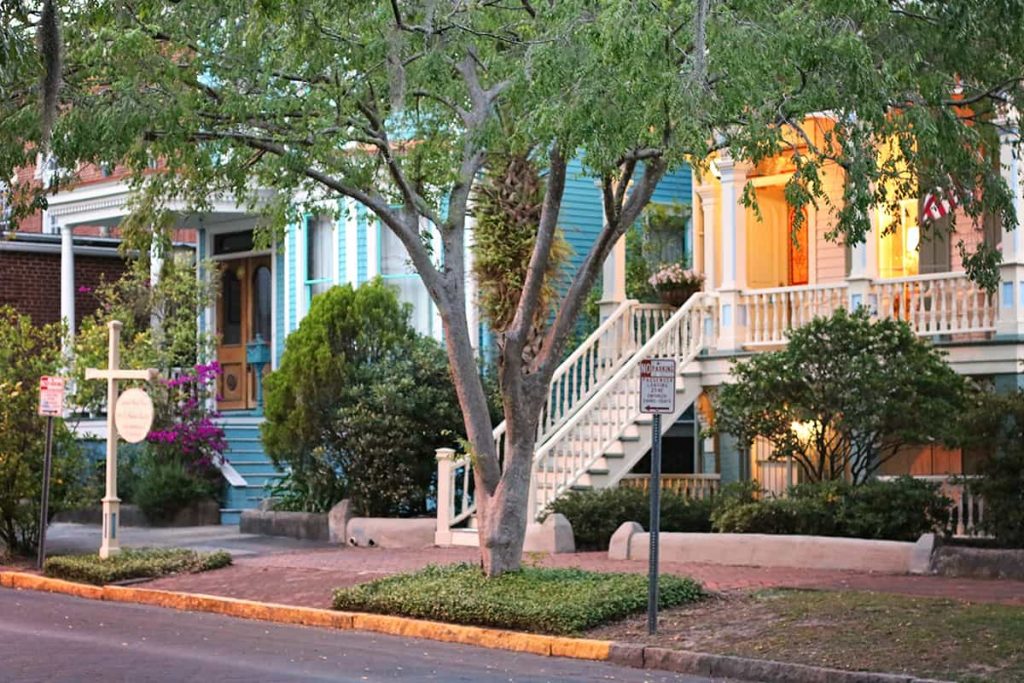 Victorian-Style Accommodations Nearby
Even though there aren't many accommodation options within the true boundaries of the Victorian District, there are plenty of excellent options nearby.
Here are a couple I recommend:
The Mansion on Forsyth | 700 Drayton Street – This hotel is one block north of the Victorian District's northern boundary, and it faces Forsyth Park. It's a beautiful hotel, and it's where many celebrities stay when they're filming in the area. For example, Jamie Lee Curtis recently stayed there while she was filming Halloween Ends.
Amethyst Garden Inn | 402 E Gaston Street – Although the inn is located just north of the Victorian District, this option is the most authentically Victorian-era place you can stay, in my opinion. They don't have TVs in the rooms, and the decor is very true to the time period.
Airbnb and VRBO are also popular choices, but I don't recommend those on this site due to the lack of affordable housing options in Savannah for residents.
(I don't mind home rentals as much when they're truly owner-occupied. Sometimes renting out rooms is the best way for a homeowner to afford the upkeep on an oversized Victorian property!)
Related Reading: Where is the Best Place to Stay in Savannah Georgia?
---
Movie Locations in the Victorian District
I always love it when I'm able to watch movies being filmed in Savannah!
There have been quite a few, but one of my recent favorites was Disney's "Lady and the Tramp."
Lady and the Tramp
The crew filmed scenes throughout the city, but Lady's actual house was located on a beautiful brick-paved street along the southern end of the Victorian District.
I hung out for hours during setup and filming and even got some behind-the-scenes scoop from the crew.
For example, here's a shot of the storyboard for Lady's house that one of the crew members allowed me to photograph…
Pretty neat, right?
I also got to watch as the set crew "dressed" the house and yard to make it look like a magical wintry wonderland.
It was a rather temperate (albeit rainy) week in November of 2018 when they staged it, so it was nowhere near cold enough for snow!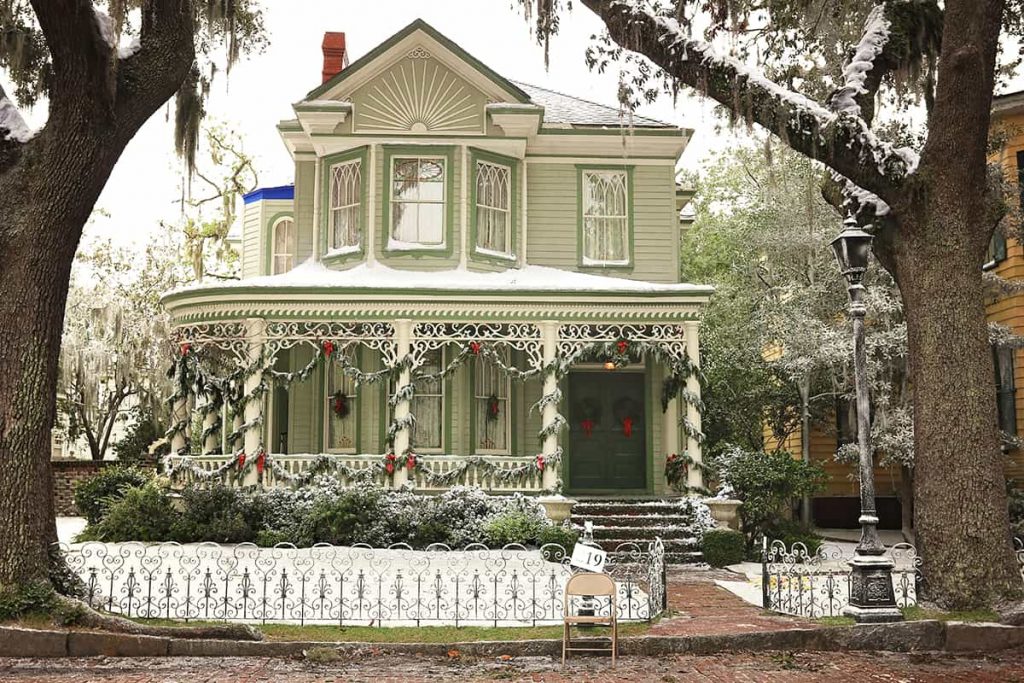 If you look closely at the storyboard image on the left, you'll see that the home actually has a third floor that isn't there in the real life photo on the right.
See that bright blue mark on the roofline near the second floor of the photo on the right? The crew put that there to help out the special effects team.
They added the third floor using Computer-Generated Imagery (CGI).
The staging team also brought in fake grass for some scenes and added elements that aren't normally found on that street, like horse hitches, gas lampposts, and an intricate metal fence.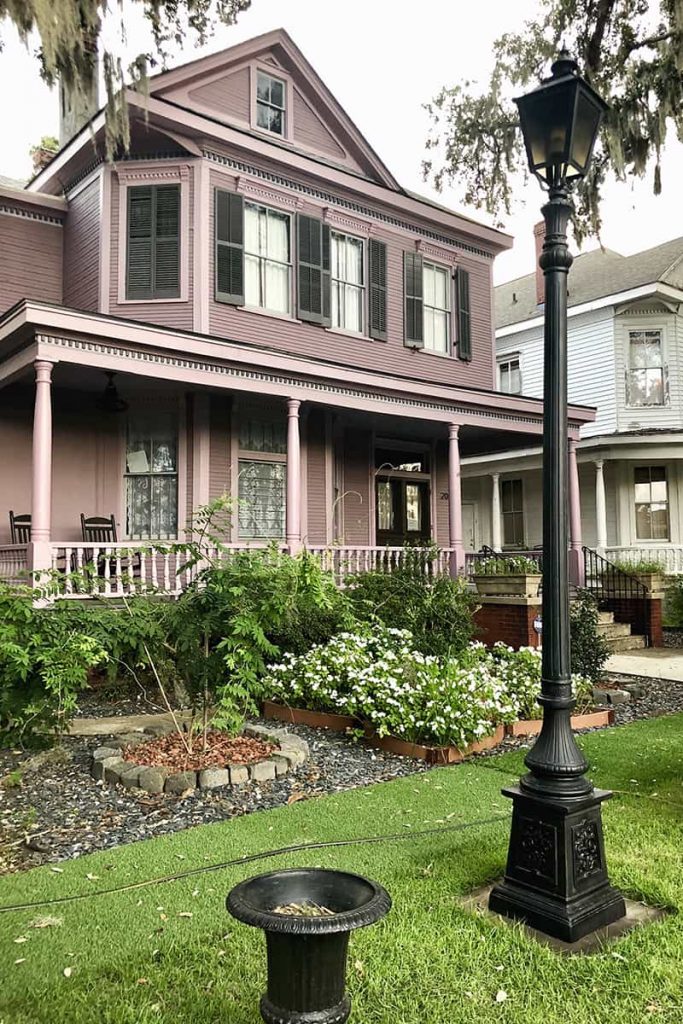 It's so fun to see the Disney magic in person!
I think it's safe to say you can expect to see a movie section on this site at some point. Stay tuned!
Underground Railroad
Amazon's "Underground Railroad" series also filmed many scenes in Savannah, and some of those were shot in Forsyth Park.
For example, in the "Chapter 2: South Carolina" episode, they filmed a fancy reception scene in the area just north of the fountain. Everything looked so magical!
And yes — I realize the area north of the fountain is technically the Historic District, but I still wanted to mention it. (OK, I wanted an excuse to show off my behind-the-scenes photos!)
I was even able to see many of the cast members up close when they strolled past me in the park.
They were all dressed up in their fancy reception attire, and everyone looked very dashing!
Movies Filmed in Forsyth Park
As I mentioned previously, Forsyth Park is an iconic location in Savannah — partially because so many movies have been filmed there.
"Midnight in the Garden of Good and Evil" features many scenes in the park, but it's not the only one. Since I haven't started a YouTube channel yet, here's a fun compilation clip from Logan Social showing scenes filmed in the park.
Lady and the Tramp has a quick scene at the 2:15-minute mark and again at 3:34.
Underground Railroad starts at the 2:53-minute mark. (I was probably hidden away in the distance during those scenes — peering through the trees like a stalker.)
It was kinda spooky on the outskirts of Forsyth Park when they filmed the nighttime scenes of Underground Railroad! They shut off all the street lights in the vicinity, so the area was pitch black.
---
Victorian-Style Homes in Savannah
If you want to see examples of beautiful Victorian-style architecture, I'll list a few favorite streets in the Victorian District.
200 block of W Gwinnett Street (the bubble-gum pink house!)
SW corner of W Gwinnett Street and Whitaker Street (currently being renovated)
200 block of W Waldburg Street (the entire block is a good example)
Zero block of W Duffy (the Victorian Twins you saw in the opening photo on this post)
200 block of E 31st (Lady's House from Lady and the Tramp)
NW corner of E Henry and Lincoln Street (the one on the SE corner is pretty, too)
200 block of E Duffy (the row homes are pretty)
100 block of E Waldburg (the Catherine Ward House, the blue house next door, plus the pink and the bright yellow houses across the street)
500 block of E Waldburg (it's a quirky street, so I had to list it)
SW corner of E Bolton and Habersham (the pink Victorian)
200 block of E Bolton (a mix of well-maintained homes and a few older homes in need of some work)
200 block of E Gwinnett (well-maintained, large Victorian-style homes)
The Victorian District isn't the only place you'll find Victorian-style architecture in Savannah.
My favorite Victorian homes are located on the 400 block of Gaston Street in the Historic District.
I absolutely love the white house located next to Amethyst Garden Inn!
Savannah's famous Gingerbread House is located in the Starland District. That's the neighborhood directly south of the Victorian District.
You can find the Gingerbread House at 1921 Bull Street.
NOTE: It's a personal policy of mine not to include specific addresses unless a house is well-known and can be found via Google search (like the Gingerbread House listed above). Please don't email me to request addresses!
---
Savannah Victorian District Summary
Well, I hope that was a fun little introduction to the Victorian District here in Savannah. I always try to include some personal insight to make things interesting!
Savannah Travel Guide
If you're planning a trip to Savannah and are feeling overwhelmed with all there is to see and do, I've created a few resources to help you out…
Savannah Georgia Vacation Guide: Start here if you don't know much about Savannah and want a brief overview of the city.
Free Resource Library: When you join my email list you get access to helpful printables like my checklist of 50 Things To Do on Foot in the Historic District (No Car Necessary!).
My Savannah First-Timer's Guide has everything you need to start planning your trip! It includes helpful maps, photos, checklists, and all of my best insider tips.
---
Want to stick around? That makes me happy! Here are a few other posts that might be of interest…
---
Do you have any questions for me about the Victorian District in Savannah? If so, let me know in the comments below.