If you're looking for things to do in Savannah, I'd say Colonial Park Cemetery is definitely worth a stroll.
It's one of the oldest cemeteries in Savannah, it currently ranks third on my list for prettiest, and there's plenty of history hidden behind its spiky iron gates. There's no doubt the massive Southern live oaks dotting its grounds are incredibly beautiful.
Like most places in Savannah, there's more to the cemetery than meets the eye; it's also a land where hoodoo ceremonies were performed, graves desecrated, and bodies misplaced.
Of course there are rumors of spiritual residents, too. We ARE talking about Savannah, after all.
Note: This guide contains affiliate links to my trusted travel partners.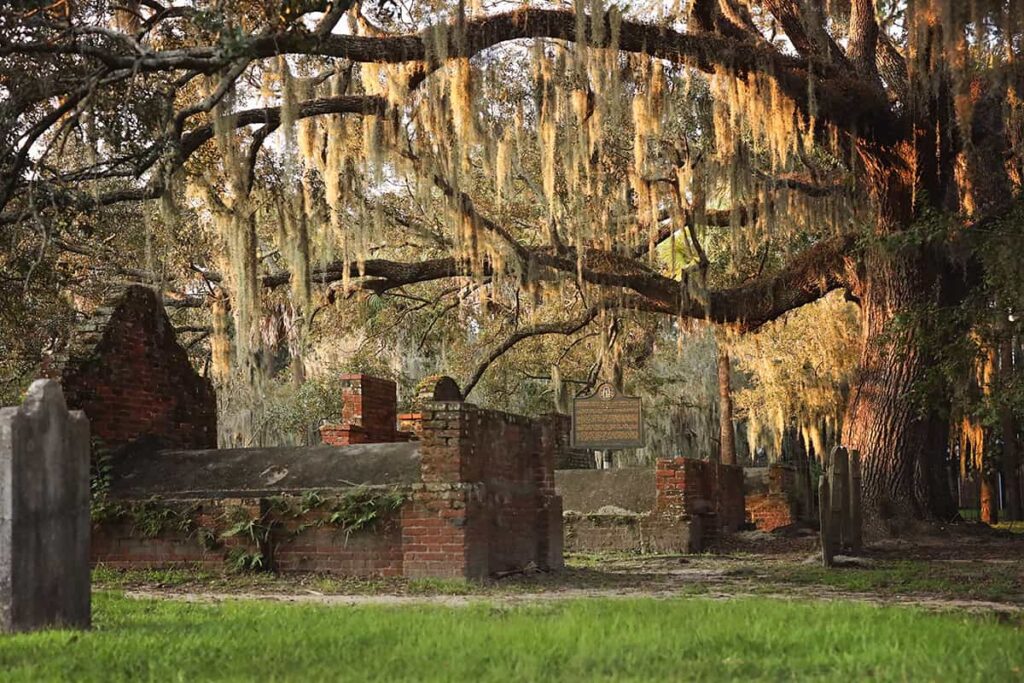 If you're new around here, first of all…welcome!
My name is Erin, and I authored the Savannah First-Timer's Guide.
I live in Savannah's artsy Starland District, and I enjoy helping visitors plan their first trips to the city!
You might also be interested in:
⭐ Savannah, Georgia Must-See Spots for First-Time Visitors
👻 Get Spooked on the Best Ghost Tours in Savannah
History of Colonial Park Cemetery
I know, I know…you probably want to get straight to the haunted parts, right?
First, I'm going to tell you a little about the fascinating history of Colonial Park.
As I mentioned in the intro, it's not actually the oldest cemetery in Savannah. However, it is the oldest intact cemetery that you can still visit.
Before it was a cemetery, Colonial Park was rumored to be one Savannah's earliest dueling grounds.
That was during the 1740s — back when it was popular to shoot someone if you didn't agree with them (an act still practiced by many modern-day Savannahians).
In early maps of the city, Savannah ended at Oglethorpe Avenue, aka: South Broad. That means Colonial Park Cemetery was originally located just outside the city limits.
The first burial in the cemetery was in 1750, so it's where some of Savannah's earliest settlers were laid to rest.
The cemetery stopped accepting interments before the Civil War, so you won't find any Confederate soldiers buried within its gates.
Additional monikers for Colonial Park include The Old Cemetery, Christ Church Cemetery, South Broad Street Cemetery, and the Old Brick Graveyard.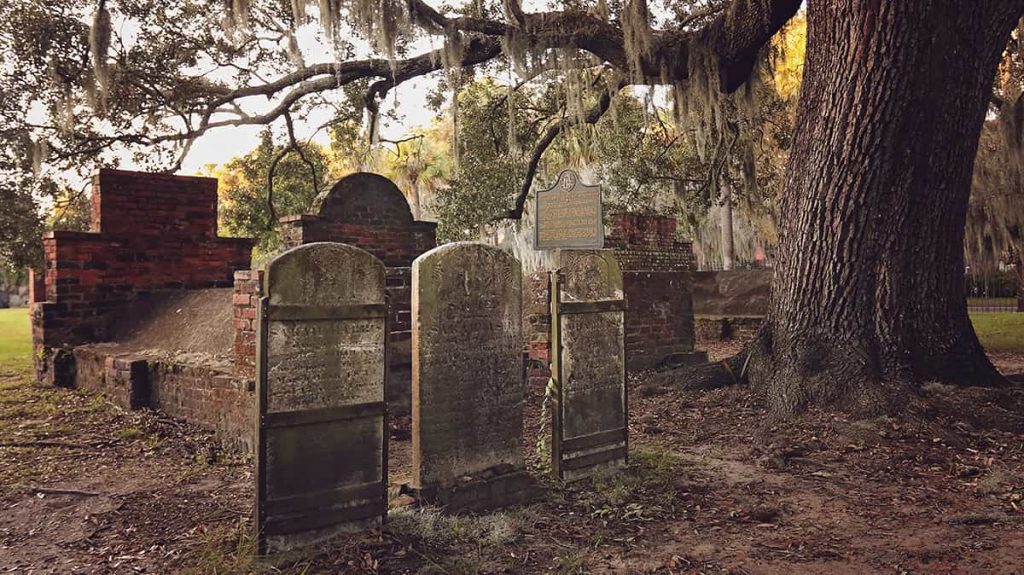 ---
Savannah's Original Cemetery
The city's first public cemetery was actually located on York Street near the SW corner of Wright Square.
There's a small plaque marking the spot at 9 W York.
That original cemetery was used from 1733 to 1750, and then the land was converted to residential use.
It was somewhat of a forgotten burial ground until the mid-1950s. That's when a construction company doing work in the area dug up some bones and everyone suddenly remembered, "Oh yeah, that used to be a cemetery."
It's actually fairly common for construction crews to discover bones whenever any major groundbreaking occurs within the Historic District.
That's because homes, restaurants, shops, and squares were commonly built atop burial grounds.
It's also why you often hear Savannah's ghost tour guides claim the city is "built on its dead".
But I digress. Let's get back to Colonial Park…
---
Yellow Fever Outbreaks
Savannah suffered from at least 15 yellow fever outbreaks, including three major ones in the years 1820, 1854, and 1876.
The last was by far the worst, causing just over 1,000 deaths from the disease.
There were 666 casualties of the Great Yellow Fever Epidemic of 1820.
However, since the faith-driven people of Savannah couldn't have such an evil number permanently etched on a historic marker for all the tourists to see, the sign reads "nearly 700" deaths instead.
And now you know!
Does that mean the cemetery is evil? Doubtful.
There have been way more than 666 bodies buried in Colonial Park through the years, that was simply the number of casualties the first outbreak claimed.
The cemetery stopped accepting interments in 1853, so fatalities from the 1854 and 1876 Yellow Fever outbreaks were buried in Laurel Grove North.
---
Who is Buried in Colonial Park Cemetery?
It's hard to tell! Savannahians have a long tradition of misplacing bodies.
Here are a few of the notable names whose remains may or may not be in the cemetery…
Button Gwinnett (1735-1777) – He's one of the original signers of the Declaration of Independence and a former acting Governor of Georgia. He lost a duel with Lachlan McIntosh and died a few days later. His body may or may not be located beneath its marker… it's questionable.
Lachlan McIntosh (1725-1806) – I guess it's true you can't outrun death! Even though he didn't die during the duel with Gwinnett, McIntosh eventually found his way into a grave located just steps away from his mortal enemy.
James Habersham (1712-1775) – Widely credited with bringing an end to the ban on slavery in Savannah, Habersham owned more than 200 enslaved individuals and made his fortune from his rice plantation. His three sons supported the American Revolution, but he was loyal to the Crown.
James Habersham Jr (1745-1799) – Ever dined at The Olde Pink House? The house was built for him, and his ghost reportedly still hangs out there!
John Habersham (1754-1799) – He was the third son of James Habersham, a US Congressman, customs agent, and owner of Bonaventure Plantation.
Joseph Habersham (1751-1815) – Another son of James Habersham, Joseph was mayor of Savannah and served as US Postmaster General under George Washington.
Archibald Bulloch (1730-1777) – Bulloch was the first governor of Georgia and great-great-grandfather to President Theodore Roosevelt.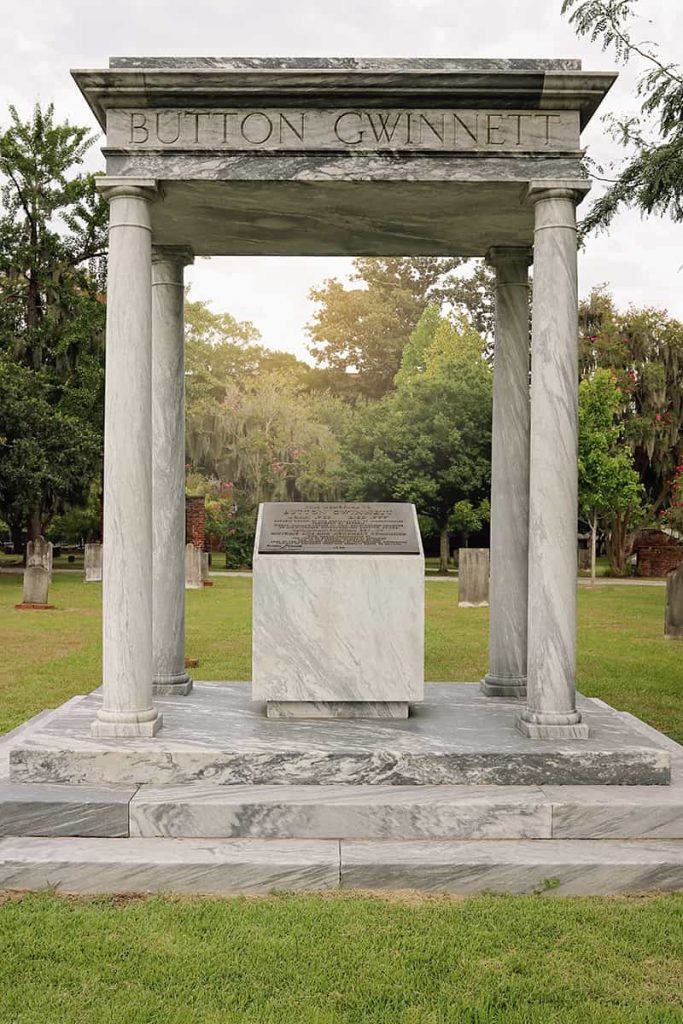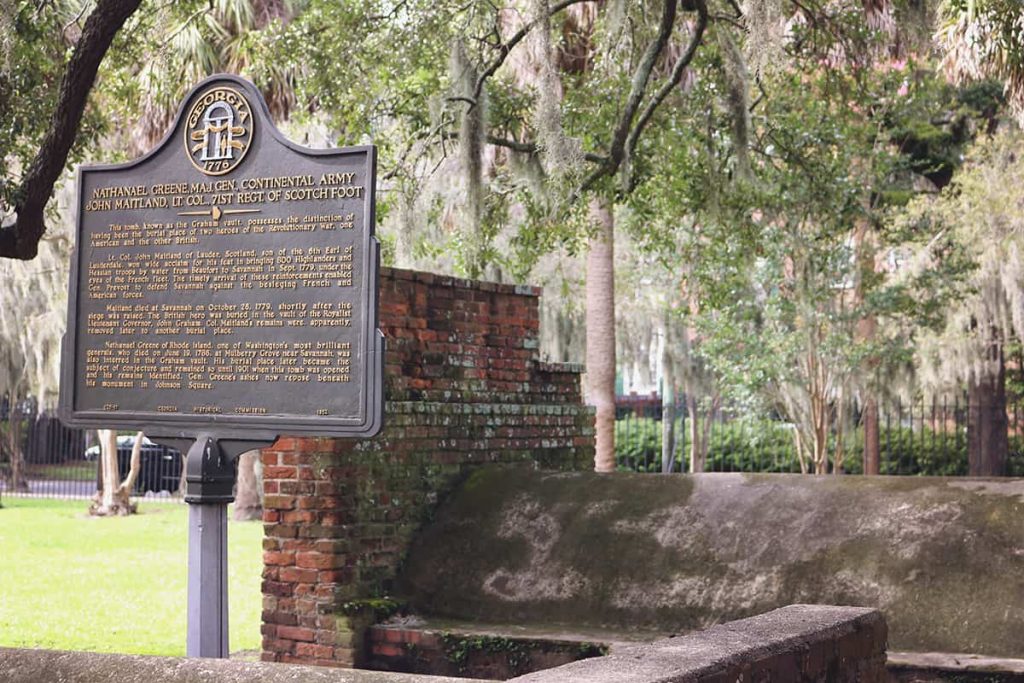 ---
Is Colonial Park Cemetery Haunted?
Boy, is it!
At least, that's what the local ghost tour guides say — and they're always a believable bunch. 😉
Many claim it's one of the most haunted places in Savannah.
During the time it was in use, there were thousands of bodies buried in Colonial Park Cemetery, but there sure aren't that many headstones there today.
Many of the headstones have been intentionally desecrated, broken, or stolen over time, and bodies have even been removed from their tombs.
In fact, some people claim the reason the cemetery is haunted is because those buried within its grounds have been so disrespected through the years.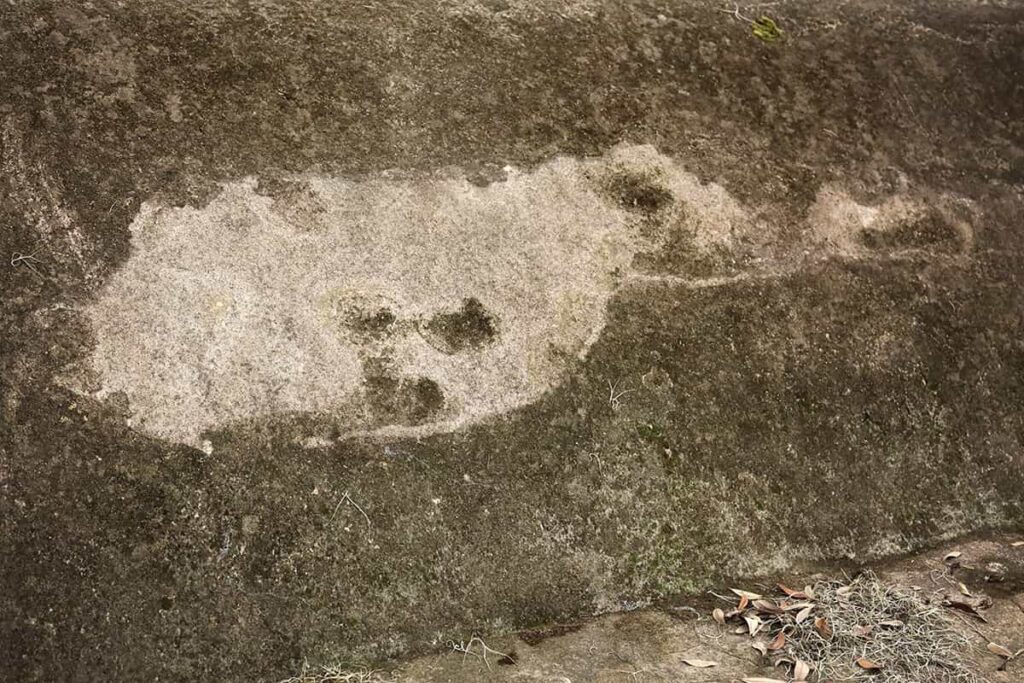 Desecrated Headstones in the Cemetery
When Union soldiers came through Savannah towards the end of the Civil War, many of them camped within the cemetery grounds.
Rumor has it they got bored and took their frustrations out on some of the headstones by changing dates and altering inscriptions.
The've been blamed for much of the damage throughout the cemetery. In case you didn't know, Savannahians love to blame the Yankees for anything and everything they can.
Hehe… I'm kidding!! Kinda.
We are talking about Savannah, though. Shooters gonna shoot. Vandals gonna vandalize.
You can't blame everything on the Northerners.
My personal favorite section of the cemetery is along the eastern section where displaced markers are attached to an old brick wall.
Look for William Coe's marker and check his birthdate to see an example of an altered headstone.
We were taking pictures of the wall of tomb stones and walked up to a stone of a young man named Fredy. I took a picture of it, as we both found it interesting. We returned to our room and went over our day and the wonderful pictures we took. For some reason Fredy's tombstone was not in our pics. We said we'd go back the next day and take another one. The next day we walked up and down that wall reading every tombstone and we could not find Fredy's anywhere. No picture, no tombstone, but we both saw it the day before.

Lori M.S. via the Savannah First-Timer's Guide private Facebook group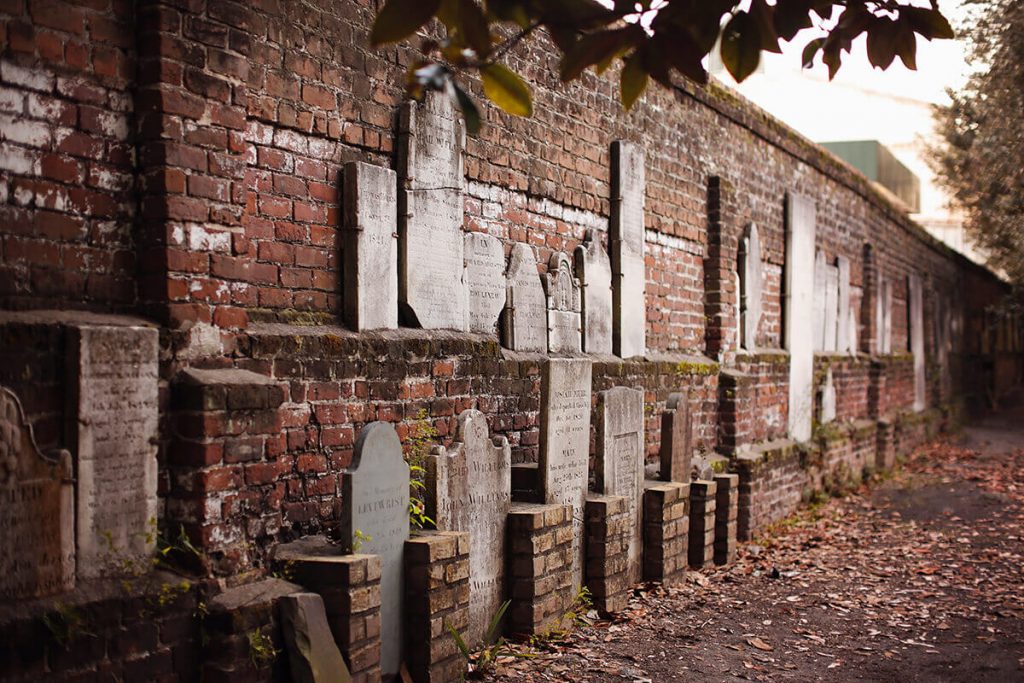 The cemetery's boundaries have diminished through the years, so it is possible you could be walking atop unmarked graves whenever you stroll along the sidewalks and roads surrounding the cemetery.
Punishment for Defacing Headstones
In case you're curious to know the punishment for vandalism in a cemetery in mid-1850s Savannah, here's what you could expect…(this info is straight from the Savannah City Ordinance at the time)
…all persons visiting any of the Cemeteries shall, whilst within the enclosures, conduct themselves in an orderly and correct manner, and any person behaving otherwise, or defacing any tomb, or headstones, or vaults, or enclosures, or trees, or otherwise injuring them, shall, if a white person, be fined in a fee not exceeding thirty dollars, and if a person of color, shall be subject to the same fine, or be punished with not exceeding thirty nine lashes.

1854 Savannah City Code, pg 41
In addition, by city ordinance, half of the collected fine would go to the city, while the other half would go to the informer (aka: the snitch).
---
Ghosts in Colonial Park Cemetery
So, just who are the ghosts of the cemetery?
Apparently there are quite a few. Some are named, while others are just random spirits who occasionally make their presence known — either in person, via EVP, or by showing up in the background of photos and videos.
We were walking the cemetery taking pics. When looking at our pics that evening there was a clear picture of a soldier in one of them. Neither of us saw a soldier walking around the cemetery that day.

Lori M.S. via my Savannah First-Timer's Guide private Facebook Group
I always love hearing stories of paranormal experiences in Savannah!
Even though I'm local, I still enjoy going on ghost tours to see what others experience while visiting the cemetery.
The most recent one I tried was with Brigid, the owner of The Witching Hour Paranormal Ghost Tours. It's a unique tour that includes the use of paranormal equipment like dowsing rods, and Brigid is a total sweetheart!
The Ghost of Rene Rondolier
Many of the tour guides like to tell the story of Rene Rondolier…
Rene was reportedly a large man — nearly seven feet tall — who is said to have murdered one (or more) young girls in Savannah.
The guides will tell you Rene wasn't a very "gentle giant".
He was known for snapping the necks of small animals that he played with as a child, and that's what got him into trouble as an adult.
When a young girl was discovered in Savannah with her neck snapped, the locals assumed Rene was the culprit, so they chased him down and then hanged him from a tree in the cemetery.
I, like many others, have searched historical newspaper sites and haven't found a shred of evidence to those claims.
If something so gruesome occurred, you'd think there would be newspaper accounts about it — even as far back as the 1800s.
After all, there are written accounts of the story of Alice Riley, and her hanging occurred way back in 1735.
Whether it's true or not, you can certainly try searching the cemetery for the ghost of a very tall man.
Most "spotters" claim to see him hanging from a tree towards the south end of the cemetery.
The Jumping Boy
The jumping boy is one of the most well-known spirits ever captured on video in the cemetery.
A teen named Jesse Greathouse was visiting from Ohio in December of 2008 when he took a stroll through Colonial Park with his family. He brought an inexpensive camcorder to record the experience.
Jesse captured video of a small child chasing after someone in the cemetery.
The child leaps straight up in a tree that's well above his head and then mysteriously drops down from the same tree moments later.
Here's the jumping boy video, if you want to judge for yourself.
Someone debunked it, but it's still fun to watch and wonder.
Hoodoo Rituals in the Cemetery
The Lowcountry has long been known as a place where root doctors work their magic.
I'm originally from S.C., so I love exploring places like St. Helena Island and Lady's Island to visit the "land of conjurers".
Dr. Buzzard, aka "Doctah' Buzzard," was the most legendary root doctor in the Lowcountry, but he passed away more than half a century ago.
There are others who still do the work, but I wouldn't post their names or locations here on the internet even if I could.
One must always respect the privacy of the root doctor.
Now…if a root doctor happened to track me down, I might request some chicken feet charms to hang by my doors.
I'd love to ward off the evil spirits lurking near my house in Savannah.
If you've ever watched the movie version of "Midnight in the Garden of Good and Evil," then you're probably familiar with Valerie Fennell Boles, aka: Minerva the Voodoo Priestess.
She was from S.C. and worked as a root doctor throughout the Lowcountry. She helped Jim Williams to hex the outcome of his murder trials in Savannah.
Like most practitioners, Mrs. Boyles didn't want her spirit captured on film, and she avoided most human contact.
The actress Irma P. Hall played her in the movie, and only two known photos of Mrs. Boyles even exist.
It was common for root doctors to use Colonial Park Cemetery to do their work.
That's one of the most interesting aspects of the cemetery to me, so I'm sure I'll write a more in-depth post about it at some point!
There are gates and hidden cameras around the cemetery to deter vandalism and prevent people from digging up grave dirt (known as "goofer dirt") to use when casting spells — a common practice among root doctors.
---
Visiting Colonial Park Cemetery
Address: Colonial Park Cemetery | 200 Abercorn Street, Savannah, GA 31401
Hours:
8 am to 8 pm: March through November
8 am to 6 pm: December through February
Parking: The cemetery doesn't have dedicated parking, so you'll have to use metered parking on one of the surrounding streets.
Download the Park Savannah app to make the process easier. If you park south of Liberty Street and visit after 5pm during the week or anytime on Saturday or Sunday, parking will be free.
Best Time of Year to Visit: I'm partial to springtime in the cemetery, but fall is also pretty incredible. You'll find pops of color during both seasons that make for some really stunning photos.
Related Reading: When is the Best Time of Year to Visit Savannah?
Other Cemeteries in Savannah GA
Want to explore more cemeteries in Savannah? In addition to Colonial Park, these are the most well-known options…
Bonaventure Cemetery
Laurel Grove Cemetery
Greenwich Cemetery
Bonaventure is stunningly beautiful, but I definitely recommend a guided tour if you go. It's so large it can be overwhelming.
Laurel Grove Cemetery is also large, but it is quieter and not as overrun with tourists as Bonaventure.
---
Savannah Georgia Travel Guide
If you want to see the cemetery for yourself, my Savannah First-Timer's Guide is the easiest way to plan your trip.
It includes all of my best insider tips and most helpful Savannah advice. You'll gain access to my private Facebook group when you buy it, so you can get personalized recommendations in the group.
Want to read more about the haunted side of Savannah? Here are a few posts that might interest you…
You might want to consider signing up for my email list, too. You'll get a list of 50 Things To Do On-Foot in the Historic District — No Car Necessary!!
---
Do you have any questions or spooky tales to tell me about Colonial Park Cemetery? Let me know below, and I might add them to the post!
---
Love this post? Pin it now to save for later!