You've probably heard that Jones Street is the prettiest street in Savannah — and possibly even one of the prettiest in America — but did you know it's also loaded with historic homes that were built in the Civil War era?
It gets better…
You can actually stay overnight in some of these historic homes! I've included tips at the end of the post to help you pick the best place to stay.
Note: This guide contains affiliate links to my trusted travel partners.
If you're new around here, first of all…welcome! I'm Erin, and I authored the Savannah First-Timer's Guide. It contains everything you need to plan the perfect trip to Savannah. I'm honored you're here, and I hope you'll find some helpful advice on this little site of mine.
Since this is a fairly lengthy post, I created a handy table of contents that you can click on to jump to specific points of interest…
Where is Jones Street in Savannah?
Jones Street is located in Savannah's Historic District, just north of Forsyth Park. You can park for free anywhere south of Gaston Street and then take a leisurely 3-block stroll to Jones from the north end of the park.
Insider Tip: Metered parking on Jones Street is free anytime after 5 pm. You only have to pay for parking on Jones Street between Tattnall and Abercorn Streets, and anything east of Abercorn is free. You'll find more of my insider tips, plus a full map of the Historic District, in my Savannah First-Timer's Guide ebook.

---
Jones Street Savannah GA: Historic Homes
The majority of the homes on Jones Street were built in the mid to late-1800s. Since General Sherman spared Savannah during his famous "March to the Sea", most of those original homes are still standing and look very similar to when they were first built!
The oldest homes are usually found closer to Bull Street, which is the east/west dividing line of the Historic District. As you move towards the far eastern and western edges of the street, you'll find newer homes.
Israel Keech Tefft House | 1 West Jones
This home sits in a prime location at the southwest corner of Jones and Bull Streets. Tefft was a founder of the Georgia Historical Society back in 1839, and he owned one of the largest autograph collections in the U.S.
Funny story…
Tefft reportedly amassed his extensive autograph collection by appointing many prominent folks as "honorary members" of the Georgia Historical Society. Because they were well-mannered, the honorees felt bound to respond with hand-written letters of acknowledgment — and thus his collection grew. Sneaky fella.
The home has a large Magnolia tree directly in front of the entry and mature oaks loaded with Spanish moss surrounding it, which makes it difficult to get a decent shot of the front facade. Here's my best attempt…
The garden level of 1 West Jones currently operates as an "Exotic Gifts and Home Accents" store called Frieze. You can stroll through that section of the house to shop for gifts and decor. I haven't been yet, but it looks like they have some unique items!
It's fairly common for homeowners in Savannah to live on the upper levels of the home and lease out the garden level as a storefront or vacation rental. Click here to explore vacation rentals in Savannah!
Here is a historic photo of 1 West Jones on the Georgia Historical Society website.
---
Eliza B. Thompson House | 5 West Jones
This was the first home constructed on Jones Street, and it currently operates as a popular B&B. It was built in 1847 for Eliza and Joseph Thompson and their seven children.
A few outstanding features of the home are the courtyard area, with its original Ivan Bailey fountain and koi pond, and the original front parlor and entryway.
View a list of the top B&Bs and hotels I recommend in Savannah. The Eliza Thompson House is one of them…such a perfect location!
Here is a historic photo of 5 – 7 West Jones Street from the Georgia Historical Society.
---
John Scudder House | 11 East Jones
This house is currently popular with Instagrammers and the many tourists who often stroll along historic Jones Street, thanks to its cheery red door and matching landscaping.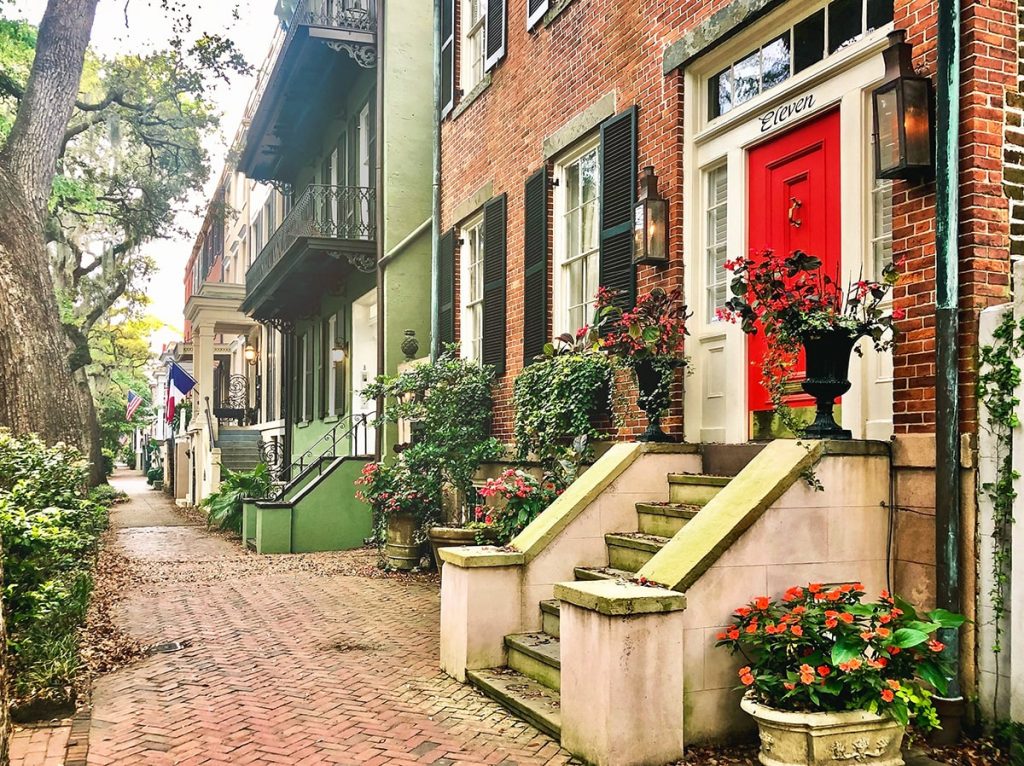 It was originally built by (and for) John Scudder, circa 1849-1851. Scudder was a popular antebellum homebuilder who, along with his brother, Ephraim, built many homes in Savannah.
Actually…according to the Georgia Historical Society, the Scudder brothers used enslaved laborers to construct their homes. They "rented" the workers on a monthly basis and paid a fee to their owners.
Much of Savannah was built by enslaved men and women, and the incredible displays of wealth you see along central Jones Street were dependent upon their work.
History Lesson: In 1860, just prior to the start of the Civil War, Savannah was the largest city in Georgia and had the highest concentration of enslaved families in the entire state. Approximately 35% of the city's residents were enslaved.
Here is a historic photo of 11 East Jones from the Georgia Historical Society.
---
Joe Odom House | 16 East Jones
If you've seen the movie Midnight in the Garden of Good and Evil, you might be interested to learn that 16 East Jones was the residence of Joe Odom — pianist, part-time tax attorney, and full-time rascal. He actually stayed in the carriage house out back, but it's all on the same property!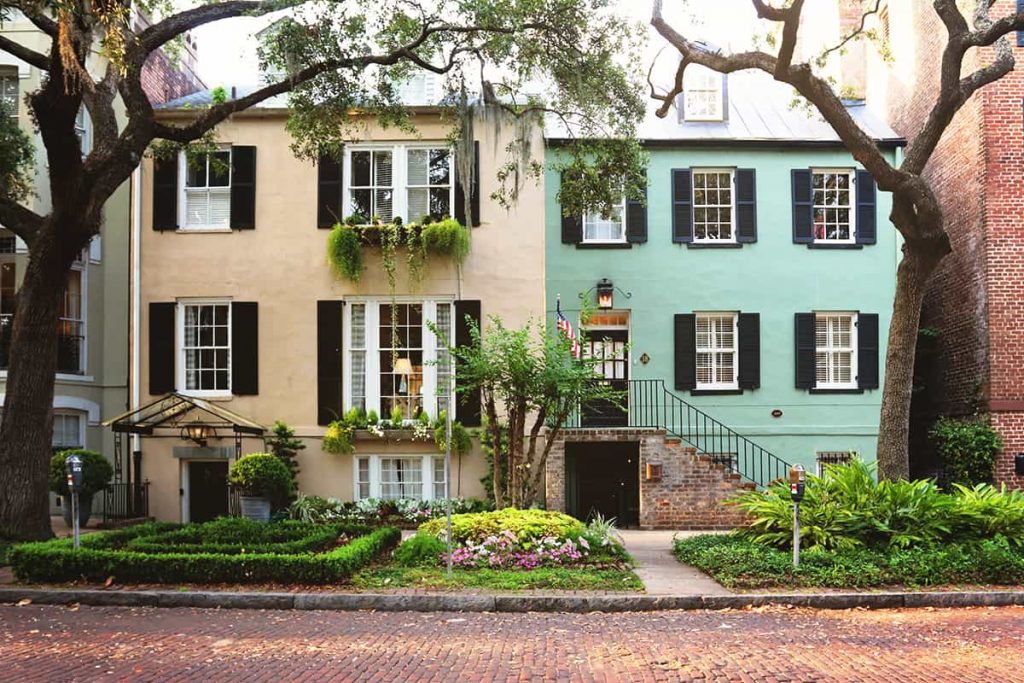 Joe was known for his open-door policy at the carriage house, which was a well-established party zone. If you've seen the movie, then you know he was a social guy. (FYI: The book is so much better than the movie!)
Another of Odom's odd jobs was managing the Hamilton-Turner House back in the 1980s, and he was known for hosting parties there, too. Click here to learn why it's one of the Most Haunted B&Bs in Savannah.
Joe's rule number two: If you have to leave a party, you always take a traveler.

– Joe Odom, Midnight in the Garden of Good and Evil
Fun Fact: A "traveler" is another term for a to-go cup. In many areas within the Historic District, it's perfectly legal to walk around while sipping on alcohol. It's one of the reasons why bachelor and bachelorette parties are so popular here in Savannah!
The home was built in 1847 for Eliza Ann Jewett, and it's one of the few homes along Jones Street where the main entry to the home sits at the garden level instead of the first floor.
Here is a historic photo of 16 East Jones from the Georgia Historical Society.
---
Abram Minis House | 204 East Jones
Now this is a house with an incredible presence! The entry makes such a grand impression when you're standing in front of it. I also love how much the door is set back from the front facade.
I'm in awe every time I stand on the sidewalk and look up towards the entry. You really need to see it in person to appreciate it.
Abram Minis was an alderman in Savannah from 1859-1860. He also had a son named Abram, who was a local attorney. I'm not sure which one lived in the house, so I'll have to do some research once the Georgia Historical Society reopens. (It's currently closed due to construction.)
The house was completed around 1860 and was constructed in the Italianate style. It's listed on the National Register of Historic Places.
Here is a photo of 204 East Jones on the Georgia Historical Society website.
---
Alexander A Smets House | 2 – 4 East Jones
This house is currently owned by SCAD and serves as Morris Hall, which is home to the school's fashion marketing program.
It was constructed in 1853 and attributed to architect John S. Norris. He designed many well-known homes in Savannah, including the Andrew Low House, the Green-Meldrim House, the (in)famous Mercer-Williams House, and the Noah B. Knapp House, which is mentioned below.
The standout feature of the exterior is the cast iron balcony located on the second floor west-facing side of the house. It's very well-preserved!
From the 1880s to 1959, the home served as the Harmonie Club, which was a prominent Jewish men's social club. The club's name is still visible on the tile when you enter the building. I love that SCAD keeps important details like that intact whenever they renovate!
One of the perks of paying a small fortune to SCAD (in the form of tuition) is that I'm able to access the interiors of their buildings, which are off limits to the general public. One of the perks of visiting this blog, is that YOU get to see the pictures I've snagged during my time inside those buildings!
The interior of Morris Hall has an incredible free-standing spiral staircase on the third level of the home. It's the only one of its kind in Savannah, and it leads to a cupola with a unique chandelier on the upper level.
Take a video tour of SCAD's Morris Hall with the school's president, Paula Wallace.
By the way, all of the SCAD buildings are decorated just as fantastically as Morris Hall…if not more so. If you ever get the opportunity to tour one, you should jump on it!
Here is a historic photo of 2-4 East Jones from the Georgia Historical Society.
---
Noah B Knapp House | 10 West Jones
Knapp was a businessman, judge, and one of the wealthier members of Savannah society when his home was completed in 1857. It's attributed to John S. Norris, who was also the architect of Morris Hall.
Owning slaves was an all-too common practice for families of Knapp's status in Savannah in the mid-1800s. Enslaved men and women lived on what is commonly referred to as the garden level of the home, while the Knapp family resided on the upper floors.
The garden level was generally considered the lesser level, because it was noisy and frequently filled with dust from the street. Jones Street is currently paved with red vitrified brick, so fortunately that's no longer an issue! However, the bricks weren't put in place until 1900 or shortly thereafter, so dust used to be a major problem.
Here is a historic photo of 10 West Jones on the Georgia Historical Society website.
---
Savannah Vacation Rentals
Check all current vacation rental availabilities here!

Pro Tip: Here are a few things to keep in mind when reserving a vacation home in Savannah…

Garden-level homes offer the easiest access to the street, but they are often noisiest. You might hear people walking by outside, and it's very likely you'll hear the squeaky footsteps of people walking above you.

Penthouse or top level apartments are usually quietest, but most historic homes don't have elevators. Be prepared to walk up a lot of steps!

With carriage homes, you'll get an entire private space all to yourself, but it's usually in the back of the home and faces the utility lane, not Jones Street.

Entire freestanding houses, townhomes — especially those located on the end with only one adjoining wall space — and penthouses are usually the best options!

There are an overwhelming number of illegal short term home rentals in Savannah, so always ensure a home has an STVR number.
---
Savannah Vacation Guide
If you're ready to start planning a trip to Savannah and need additional help, I've created some handy resources. Here are a few to get you started…
Savannah First-Timer's Guide – Be sure to pick up a copy of my ebook to get all of my best insider tips in one place. It's the only resource you'll need when planning your trip to Savannah! You'll also gain access to my private Facebook group with your purchase, where you can read trip reviews from others and pick my brain about your Lowcountry travel plans.
The Top Tours in Savannah – My personal favorites are the food tours, but they're all good!
Savannah FTG Free Resources Library – Get a free printable list of 50 Things To Do On-Foot in the Historic District (no car needed!), plus more fun goodies.
Do you have any questions for me about these historic homes on Jones Street? If so, let me know in the comments below!
Love this post? Pin it now to save for later!!