If you're looking for the best bbq in Savannah, look no further! I've come up with a handful of yummy places to stop while you're tasting your way through the city.
Those of you who are familiar with the way I share my top restaurants in Savannah on this site know that I don't like to overwhelm newbies with too many choices. For that reason, this list only includes my go-to BBQ spots.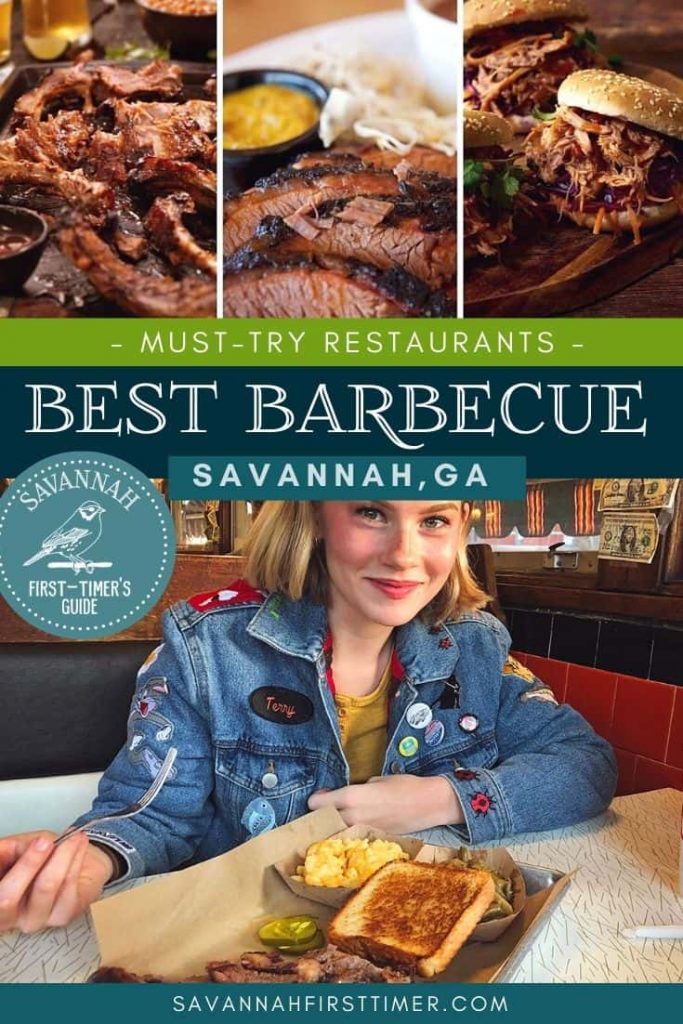 Note: This guide contains affiliate links to my trusted travel partners.
If this is your first time here, first of all…allow me to extend a warm welcome!
My name is Erin, and I authored the Savannah First-Timer's Guide. It's a handy resource full of my best tips for visitors who have never visited the city before.
You might also be interested in:
🍳 Where to Find the Best Breakfast in Savannah's Historic District
🍔 Which Famous Restaurants in Savannah are Worth the Hype?
---
Table of Contents | Click to Expand
Best BBQ in Savannah
I realize the term "best" is a highly subjective — particularly so when it comes to BBQ.
You might be wondering what qualifies me to create this list, and the answer is… nothing, if I'm being perfectly honest.
I'm just a Southern girl who likes BBQ!
I spent more than a decade living in the Texas Hill Country — which is home to some of the best BBQ in the world — so I've sampled a lot of incredible barbecue.
If there's one thing my time in Texas taught me, it's that few foods can beat the taste of a brisket so tender it practically melts in your mouth.
I've also tested some of the more well-known BBQ joints in Nashville and have enjoyed many hearty BBQ meals after hiking in N.C.
I was raised in S.C., so my first taste of BBQ (that I remember) was a mustard-based pulled-pork sandwich from a place called Price's "If it ain't BBQ, it ain't food" in Gilbert, S.C. It hit the spot after a long day on the lake!
What I'm trying to say is this: I appreciate a wide variety of barbecue styles, sauces, and sides. I'll happily volunteer my services at a BBQ cook-off any day of the week!
In case you're curious, here's a key to the differences in regional BBQ sauces throughout the South.
Now, let's move on to the good spots…
---
Erica Davis Lowcountry
This is my current favorite on the list!
According to my taste buds, the team behind Erica Davis Lowcountry can do no wrong.
That won't come as a surprise if you've read my post about the best seafood in Savannah, where they also claim a top spot!
Pros:
For the price, you get a LOT of high-quality food.
I'm a huge fan of both their brisket and the pulled pork. The Davis family has been in the catering business for years, so they know what they're doing.
Their sides are also yummy. The mac n'cheese has just the right amount of creaminess, and I'm pretty sure their brussels sprouts are the only ones I've ever willingly eaten (and thoroughly enjoyed!) in my entire life.
I also enjoy the tangy flavor of their signature sauce, which is a red-based sauce.
I've certainly never left the place feeling anything less than 100% satisfied.
Cons:
None, really…except maybe the fact that they're located on the outskirts of the city, so you'll need a car to get there.
Erica Davis Lowcountry is on the way to both Bonaventure Cemetery and Tybee Island, so I suggest planning a visit to the restaurant you're making a trip to either spot.
Erica Davis Lowcountry | 3209 E Victory Drive, Savannah, Georgia 31401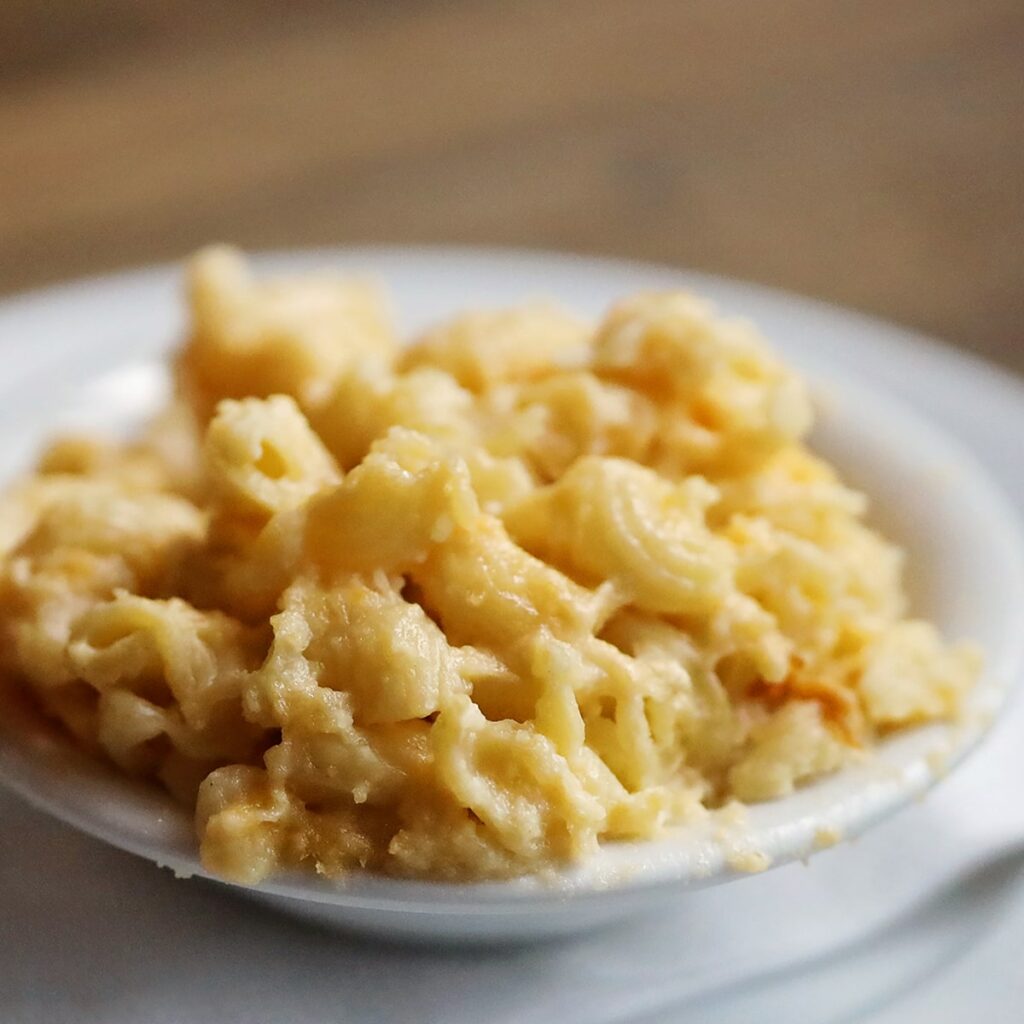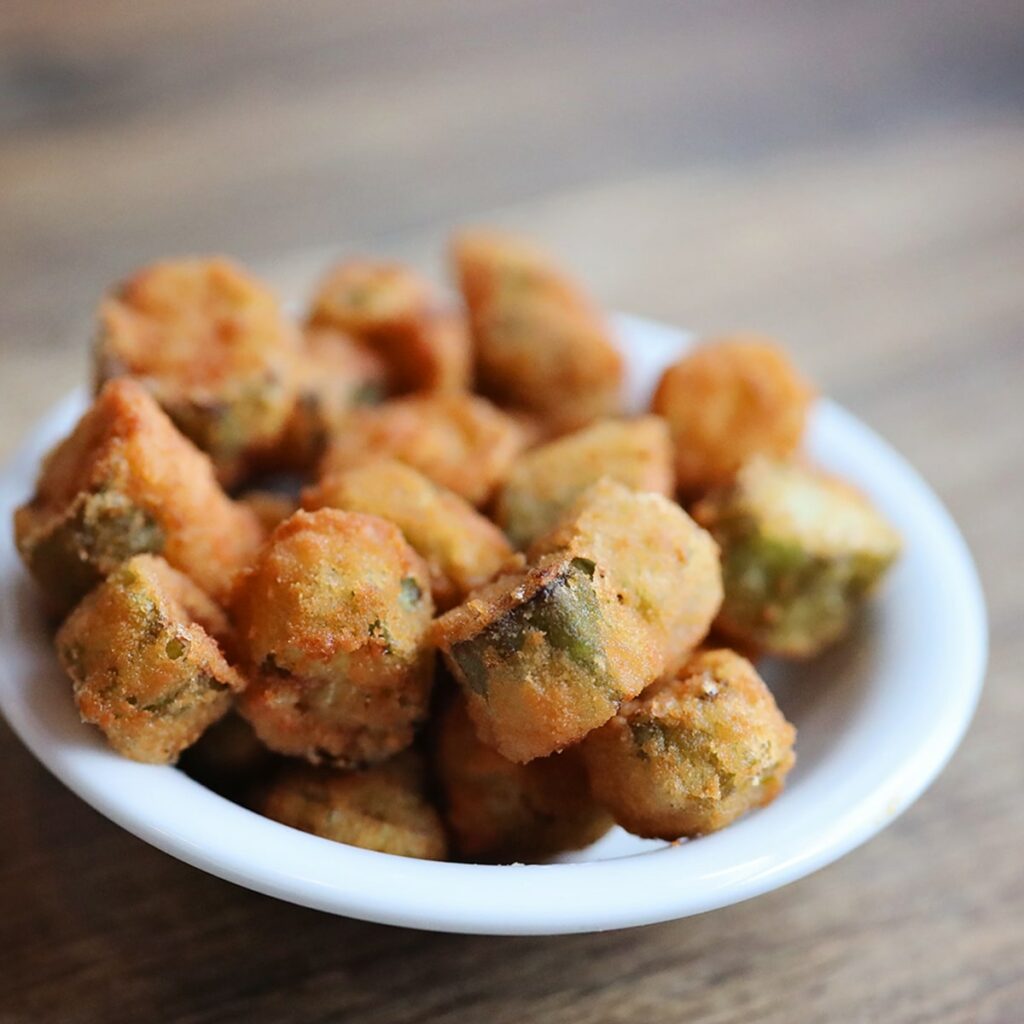 ---
Sandfly BBQ
Sandfly BBQ is the local spot that most closely reminds me of some of my favorite BBQ joints in Texas and North Carolina.
It has a homey "stop in and chat with the folks at the next table" kind of feel to it.
They have a handful of indoor booths, as well as three or four outdoor picnic tables, and the walls are decorated with old license plates and stickers from favorite local hangouts.
Pros:
Even though sausage isn't typically my top choice when ordering BBQ, the sausage at Sandfly is really flavorful! I definitely recommend it.
Sandfly is another of my go-to spots for brisket. Theirs is nice and tender, with a pleasant smoked flavor and the perfect slightly charred outer edge.
Cons:
Sandfly is located on the outskirts of the city, so you'll definitely need a car to get there.
The location is very close to Wormsloe Historic Site and Isle of Hope. If you're making a trip to see the famous oak-lined drive, I highly suggest stopping at Sandfly on your way there.
Sandfly BBQ | 8413 Ferguson Avenue, Savannah, Georgia 31406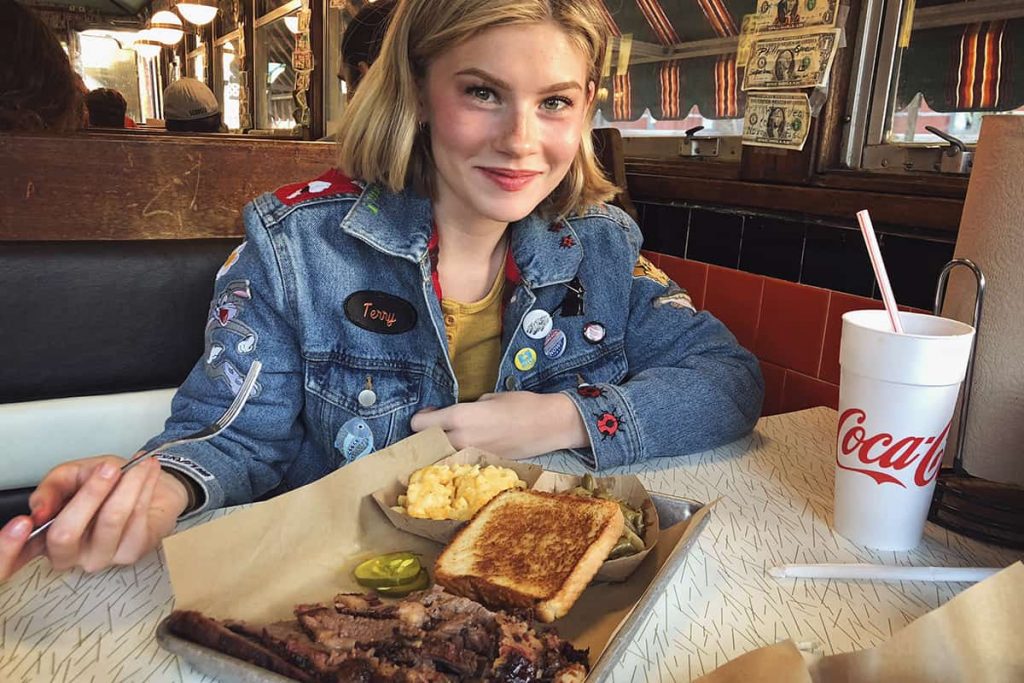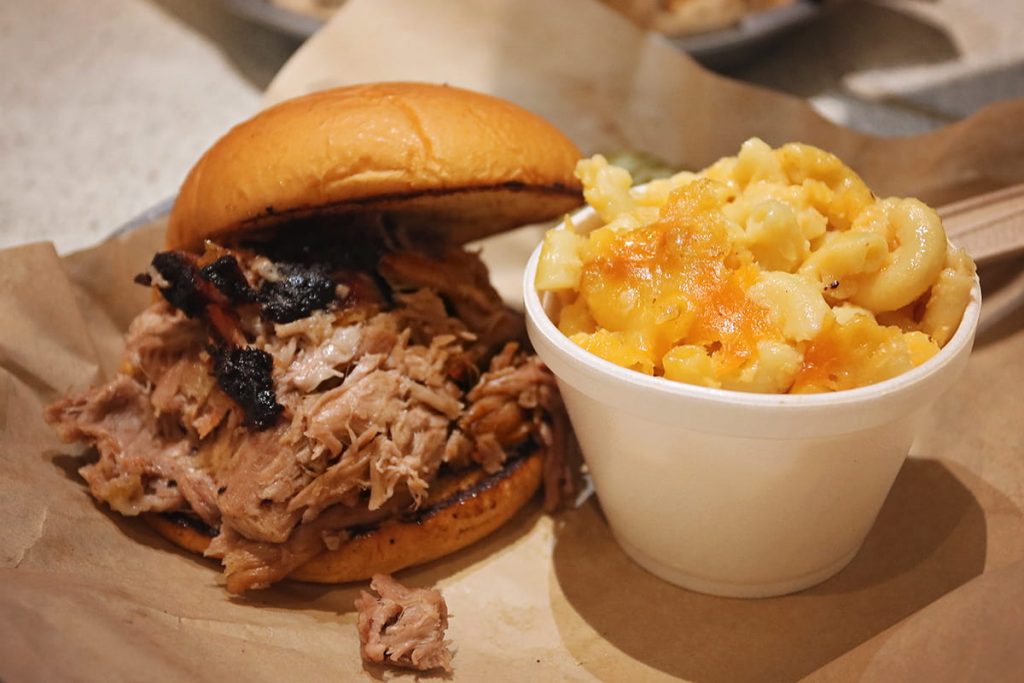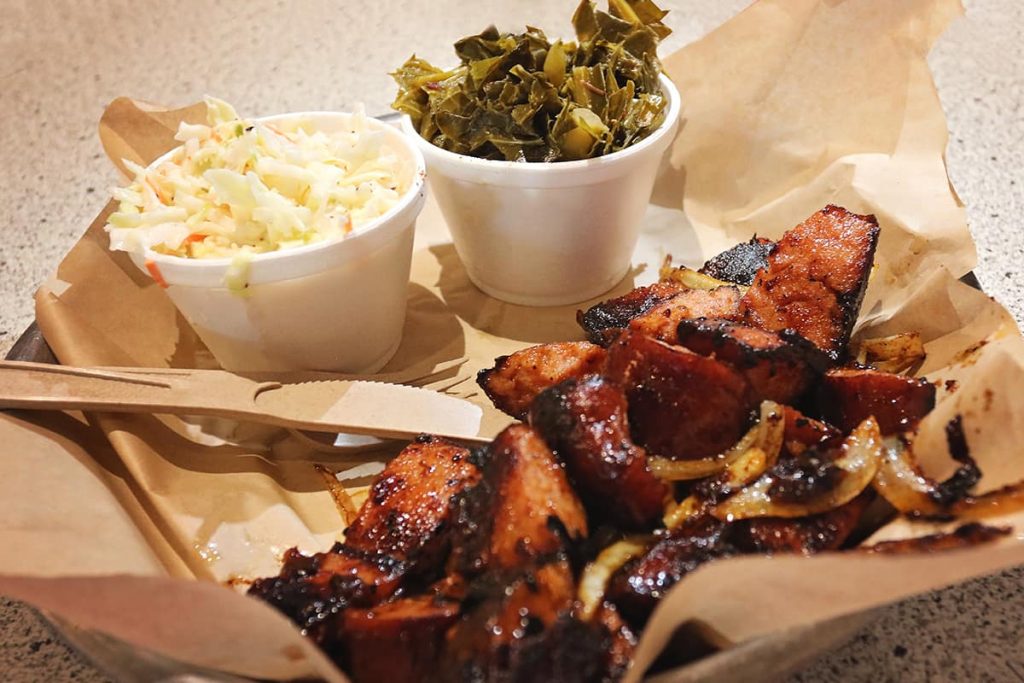 ---
Munchie's BBQ
I always like to pick a restaurant near me when I create these lists, and Munchie's is one of my favorite grab-n-go options in the Starland District.
I generally consider Munchies a takeout spot, but they opened a small indoor dining area in 2022.
The line usually isn't bad, and they have an awning over the outdoor order window so you won't have to suffer in the heat while you wait.
Pros:
The price is right at Munchies!
They give hearty helpings with sides for a very reasonable price tag.
Their cooking is down-home "soul food" style, and they smoke their ribs for hours.
Give their chicken a try, too, since it's always moist and flavorful. The skin is crispy and almost pops in your mouth if you take a bite when it's nice and hot.
They also make their own sauce daily, and it's mustard-based, so that's probably why I'm a fan. I always ask for extra and slather it all over my chicken!
Munchies is also known for their off-the-bone oxtails!
Cons:
When they run out.
Munchies is a first come/first serve restaurant that's popular with locals in Cuyler Brownsville and the Starland District.
That means folks start strolling past to grab food whenever the window opens for the day.
However, as soon as the food is gone, they close up shop and leave.
That's no good if you're staying in the Historic District and venture all the way down to 38th only to discover they've already sold out.
Munchies BBQ | 2110 Montgomery Street, Savannah, Georgia 31401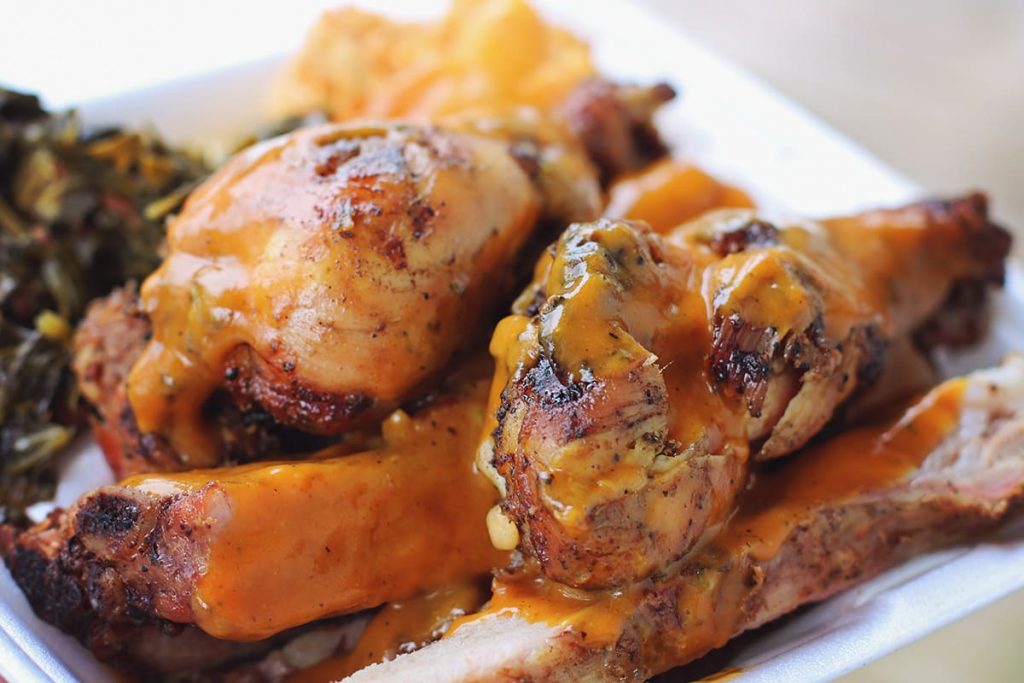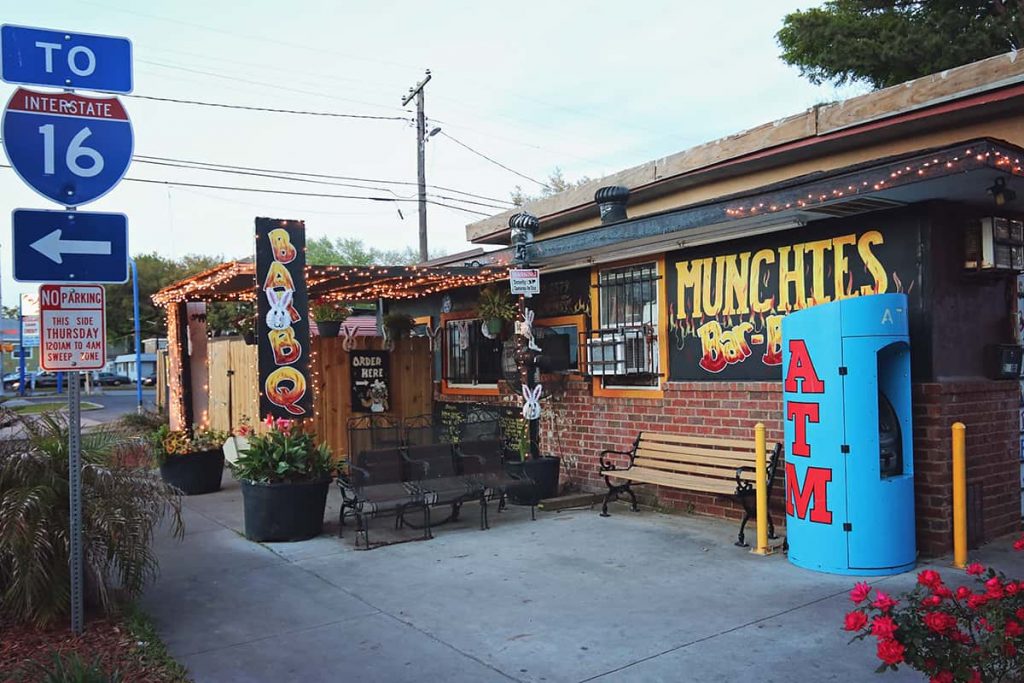 NOTE: Sometimes Munchies is open late at night, but I don't recommend that option for first-time visitors. Trust me, you need to know your way around Savannah before you venture into the no man's land at the corner of 38th and Montgomery after dark.
---
More BBQ Restaurants in Savannah
There are plenty of additional options for BBQ in Savannah, so I'll go ahead and give you a quick rundown of some others.
Make note that the best spots are usually the more authentic hole-in-the-wall locations on the outskirts of the city versus any spot you'll find in the Historic District.
---
Randy's BBQ
Randy's is an authentic little BBQ joint located on Wheaton Street. That's on the city's east side and far from the typical tourist zones.
Just look for the tiny blue building with the long line out front, and you'll know you're there.
Pros:
You get large portions at a great price.
Randy's is one of the OG barbecue restaurants in Savannah, so they've been around long enough to have perfected their craft.
The ribs are the star attraction at Randy's, and you almost always get more than you pay for when you go. You absolutely won't walk away hungry.
Similar to Munchies, you'll find a Carolina gold (mustard-based) BBQ sauce at Randy's.
Cons:
Plan to stand in a very long line while waiting to place your order.
They didn't have shade from the relentless Savannah sun last time I went, so you might want to bring a bottle of water to drink (or to douse yourself) if you go during the summertime.
Think of the line at Randy's similar to the line at Leopold's Ice Cream or Mrs. Wilkes, and use your wait time to get to know the other folks who are hanging out in the hot sun.
Side note, but I really want the TWIN-Monade girls to set up camp outside Randy's when they're out of school during the summertime. They could make bank!
Randy's BBQ | 750 Wheaton Street, Savannah, Georgia 31401
---
Slow Fire BBQ
Slow Fire doesn't have a physical location in Savannah, but they're worth mentioning for their Texas-style BBQ options. Their food truck makes frequent appearances at Starland Yard, so that's where I tend to seek them out.
They source their food responsibly and smoke the meats over an all-wood pit, so that means they're able to achieve that coveted black "bark" on the exterior of their brisket. Allow me to present photographic evidence:
In addition to serving good brisket, their pulled pork is incredible. It's slightly sweet and is obviously from a high quality cut of meat. I follow their FB page and they've posted that they only use heritage breed Duroc pork. I know not what that means, only that my tastebuds approve of it.
Pros: They serve quality cuts of flavorful meat, and I appreciate that they source their foods locally.
Cons: You'll have to track them down, since they don't have a permanent physical location in Savannah.
Slow Fire BBQ | *Starland Yard, 2411 DeSoto Avenue, Savannah, Georgia, 31401
*Check Slow Fire BBQ's social media accounts to see the dates the food truck will be in Starland Yard, since they aren't at that location on a daily basis.
---
If You're Still Not Satisfied…
If I still haven't provided enough options, I'm going to have to assume you want to try all the BBQ spots in Savannah. Here are a few more to add to your list…
Bowtie BBQ [Southside] | 6724 Waters Avenue
District Smokehouse [Plant Riverside District] | 500 W River Street
Quicky's Famous BBQ [West Side] | 2222 Ogeechee Road
Savannah Smokehouse BBQ & Brew [near City Market] | 16 W State Street
Trick's BBQ [Starland District] | 2601 Bull Street
Wiley's Championship BBQ [Whitmarsh Island] | 4700 HWY 80 East
If you're looking for the best BBQ along the Georgia Coast, Southern Soul Barbecue on St. Simons wins that contest every time.
As for my favorite BBQ I've ever tasted? I still haven't found anything on the East Coast that beats Coopers Old-Time Pit BBQ in the Texas Hill Country or Spyke's BBQ in Kingsland, Texas.
---
More About the Food Scene in Savannah
If you're all about supporting small businesses in Savannah (first of all…thank you!), here are some more posts where you can read up about the local food scene:
I also want to give a quick shout out to my favorite local spice company: Mason Jar Money.
I use their Cowboy seasoning to add flavor to everything from green beans to corn to potatoes. It has a little bit of brown sugar in it, so it melts into the butter and adds such a nice kick to my veggies!
---
Savannah Travel Guide
If you're planning to a trip to Savannah, here are a few additional resources I've created to help you out.
Savannah Travel Guide – Start here to get a quick overview of the city.
Free Resources Library – When you sign up for my email list, you'll get a checklist of "50 Things To Do On Foot in the Historic District (No Car Necessary)" and other helpful printables.
Savannah First-Timer's Guide – My ebook combines my most helpful Savannah travel tips from this website in one handy downloadable guide.
When you purchase my ebook, you also get access to a private Facebook group I created where you can ask questions about your trip and get advice/see photos from others who have recently visited.
---
Do you have any questions about these BBQ restaurants in Savannah? If so, please let me know in the comments below.
---