The Starland District is the creative hub of the city and easily wins as Savannah's most eclectic neighborhood. It's where you'll find a thriving art scene and a diverse mix of families, students, and creative professionals — including yours truly.
That's right; I live in the Starland District, so I consider it my home turf in Savannah. I figured it's about time I shared some information about it here on this little site of mine.
FYI: Since it's home to so many funky shops, art galleries, and unique murals, people also call it the "Starland Arts District."
---
Contents
Where Is It? | Starland Map | Getting There | Things To Do | Restaurants | Shopping | Murals | History | Safety
---
Where is the Starland District?
The Starland District is located inside the Thomas Square Streetcar District, which begins south of the Historic and Victorian districts.
Starland is essentially a smaller district that formed within the boundaries of a larger district.
Although it isn't clearly defined, most locals tend to think of the Starland District as the section of Bull Street between Anderson Street (to the north) and Victory Drive (to the south), as well as the two or three blocks directly east and west of Bull Street.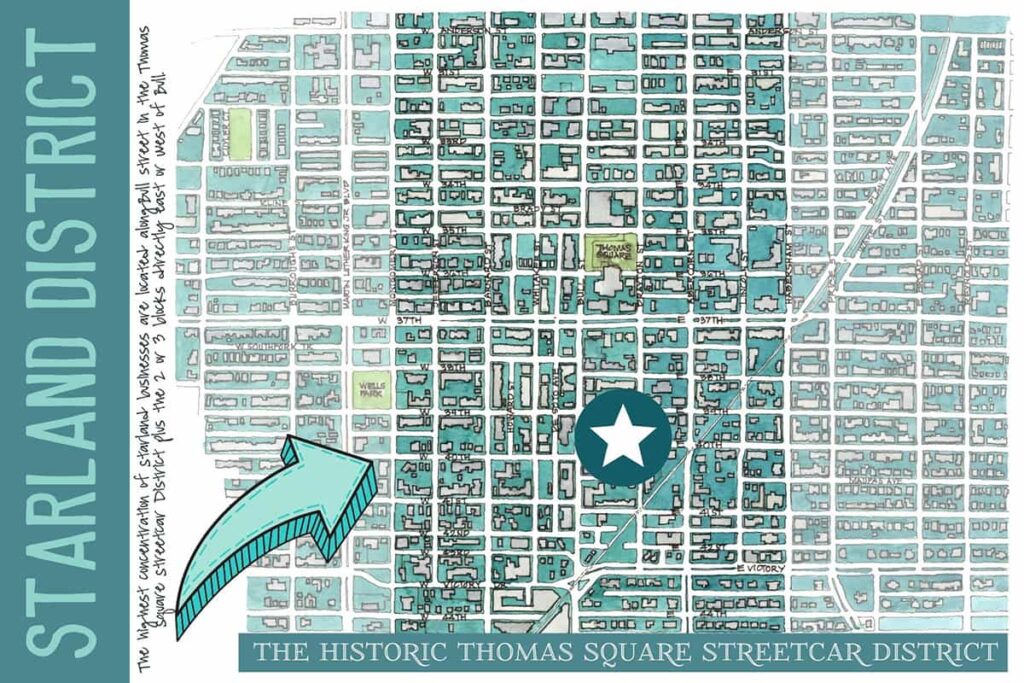 Clear as mud? Ha!
Sometimes locals say anything inside the Thomas Square Streetcar District is the Starland District and consider the two terms interchangeable.
---
Starland District Map
Here's a map to give you a general idea of where the Starland District is in Savannah. The green square in the center is Thomas Square. If you start there and walk south along Bull Street you'll find lots of quirky businesses and hidden gems!
Note: This guide contains affiliate links to my trusted travel partners.
---
How to Get to the Starland District
As long as you don't have mobility issues, the best way to get to the Starland District from the Historic District is by your own two feet!
It takes 30 – 40 minutes to walk it at a leisurely pace.
If you start your journey at City Hall and walk straight down Bull Street, you'll stroll through five beautiful squares. Those include Chippewa Square, aka: "the Forrest Gump square," and Wright Square, aka: one of the most haunted places in Savannah.
You'll also walk through Forsyth Park and right past the famous Forsyth Park fountain.
Alternatively, you can take the free DOT shuttles from River Street to cover half the distance.
DOT is in the process of expanding their route to the Starland District, but they currently only stop as far south as the southern end of Forsyth Park.
If you just want to see the Starland area and don't necessarily need to get out to explore, take this guided trolley tour to get an overview of the downtown area. It starts in the Historic District and winds all the way to Starland and back!
---
Things To Do in the Starland District
There are lots of fun things to do in the area! Here are a few anchor businesses that will give you a good feel for the Starland District:
Foxy Loxy: Coffee and food served in a cozy historic home
Starland Yard: Food trucks, pizza, and beer
Graveface Records: Oddities and rare vinyl
Back in the Day Bakery: Pastries and sweets
Vintage Vortex: Fashion through the decades
Starland Strange: Ice cream, t-shirts, and Starland collectibles
Starland Café: Tasty soup, salads, and sandwiches
The Starland District is also home to Starland First Fridays, which is a walking event designed to showcase small businesses and local artists.
Many Starland establishments stay open late that night. You can walk from art galleries to shops to restaurants while enjoying refreshments and checking out specials in each store.
Be sure to check out the calendar for the DeSoto Street Market, as well. It's a seasonal event that includes live entertainment and food trucks. Local makers set up tents along the street to sell original handcrafted goods in the market.
Finally, the Savannah African Art Museum is one of the hidden gems in the area. The free museum is located at 201 E. 37th Street, and it includes an extensive collection from Central and West Africa.
---
Starland District Restaurants
There's no shortage of restaurants and bars, so you'll find plenty of places to refuel while you're busy exploring everything Starland has to offer.
The highest concentration of restaurants are on Bull Street between 37th and Victory. You'll find everything from casual to trendy to one of Bon Appétit's Top Restaurants of 2022.
Related Reading: 11 Incredible Starland District Restaurants (and 5 Hidden Gems!)
---
Shopping in the Starland District
Starland shopping is fun because there are so many quirky stores in the area. You'll find everything from comic book stores to oddities shops to vintage clothing stores.
Savannah Starland District Murals
I've already mentioned that the Savannah Starland District is also known as the city's arts district, so it probably won't surprise you to learn there are lots of murals in the area. The graffiti is interesting, too!
I don't keep a running list of all the murals, since they tend to come and go, but I suggest keeping an eye out while you're strolling around the area!
My favorite mural is the Georgia Bees mural by artist Mary Lacy. It's barely visible on the side of the the Two Tides building, but if you look closely you'll catch a glimpse of it.
---
History of the Starland District
The Starland District gets its name from the old Starland Dairy. It operated out of a two-story building located on Bull Street between W 40th and W 41st streets.
John Deaderick and Greg Jacobs are the two SCAD grads credited with the revitalization of the Starland District. They purchased the dairy in 1999 with plans to convert it into a gathering place for the community.
The building is still around today, but it's being converted into retail and residential spaces. Its exterior is covered in colorful murals and makes a fun stop if you're going on a photo walk!
Deaderick and Jacobs purchased numerous properties in the area and spent much of their time in the early 2000s trying to convince businesses to move to the Starland District.
Back in the Day Bakery and Graveface Records were two of the first businesses to put down stakes in the area. Starland Café, which Deaderick owns, is another founding business. (It's one of my personal favorite restaurants in Savannah.)
Over the past 20 years, the area has grown and changed significantly. While gentrification is still taking place in the Starland District, it has been a slow process.
As more luxury apartments and a wealthier demographic move into the area, the character and grittiness of the neighborhood are (slowly) becoming distant memories.
---
Historic Landmarks
As I mentioned above, Starland is located in the Thomas Square Streetcar District, which contains more than 1,000 historic homes. There are also a few notable landmarks in the larger district — many of which are listed on the National Register of Historic Places.
Here are some historic buildings you might want to admire as you're exploring the area:
The Gingerbread House | 1921 Bull Street
Starland Dairy | 2425 Bull Street
Bull Street Library | 2002 Bull Street
Historic Fire Station #6 | 2202 Barnard Street (built in 1900)
St. Paul's Academy | 315 W 38th Street
Sacred Heart Catholic Church | 1707 Bull Street
St. Paul CME | 1601 Barnard Street
The Old Church on Bull Street | 2201 Bull Street
Little Sisters of the Poor Convent | 222 E 37th Street | Circa 1890
The Old 37th Street School | E 37th Street | Circa 1912
Many of these historic buildings have adapted through the years to form new uses.
For example, Little Sisters of the Poor Convent is now the Sisters Court Retirement Home. SCAD owns The Old 37th Street School, but they changed the name to Wallin Hall. St. Paul's Academy is entering the luxury apartments market.
The historic home that I own in the Starland District is more than 100 years old! It still has its original hardwood floors, windows, doors, and fireplaces.
I'm in the process of restoring it, but I'm doing it on Savannah time (aka: slow as molasses).
---
Savannah Starland District Safety
I mentioned in the intro that Starland is a very diverse area, and that's one of the things I love most about it. However, like much of Savannah, the Starland District has good sections and bad ones.
Overall, the majority of the district is quite safe during the day.
However, if you venture out to explore the Starland District and decide to stick around after dark, please use Uber or Lyft to get back to your hotel safely.
The Bull Street corridor is the busiest area in Starland and has the highest concentration of restaurants, shops, and bars. While it's not as large as the entertainment zones further north, it's still an active nightlife zone. (City Market and the Plant Riverside District are the city's two main entertainment zones.)
Since it's typically crowded with tourists (and locals) well into the night, it's generally pretty safe. If you see other people are out and about, enjoy yourself and have fun!
However, you should use caution if you park further away from the busy areas and have to walk back to your car late at night.
---
Areas to Avoid
The roughest areas in the Starland District fall along the outer boundaries of the Thomas Square Streetcar District. This is particularly true on the far western side of the district.
For example, Jefferson Street may never shake its reputation as "Hoe Row" (it's the drop-off point for prostitutes in the area), and the Montgomery Street/Wells Park corridor sees blue lights and crime scene tape on a regular basis.
There is some gang activity in the area, as well — although hopefully you'll never notice it. Thankfully, the sound of gunshots are becoming increasingly rare as the revitalization of the area progresses.
Remember to keep your car doors locked and store all valuables out of sight. Also, please never leave a gun in an unlocked vehicle!
---
Homelessness
Even though the gentrification/revitalization of Starland is ongoing, you'll still find a decent number of abandoned and derelict homes in the area. It's also quite common to run across members of the homeless community.
There are multiple missions in the area that serve Starland's most vulnerable residents. The Savannah City Mission on Bull Street, St. Paul CME, and the Salvation Army on Montgomery, to name a few.
Although it may be tempting to give money directly to someone living on the streets, panhandling is actually outlawed citywide in Savannah…
It shall be unlawful for any person to beg or solicit money or aid in his own behalf in any place of business, house or upon any of the streets of the city.

Savannah Code of Ordinances | Personal Conduct | Begging (Code 1977, § 9-1001)
It's better to donate to local organizations that teach life skills to help these individuals get a fresh start. Here is one such organization that directly serves the unhoused in the Starland District:
If you do encounter someone who is experiencing homelessness, please be compassionate about their circumstances. Remember many are veterans or are mentally ill and simply can't afford their medications.
NOTE: You might notice that I recommend small inns and B&Bs on this website over home rentals. That's because the overabundance of short-term rental properties has displaced far too many residents in Savannah, and I try not to contribute to the problem.
---
Savannah Travel Guide
If you're planning to a trip to Savannah, here are a few additional resources I've created to help you out.
Savannah Vacation Guide – Start here if you're in the beginning phase of planning your trip and want a general overview of Savannah.
Free Resources Library – When you sign up for my email list, you'll get a checklist of "50 Things To Do On Foot in the Historic District (No Car Necessary)" and other helpful printables.
Savannah First-Timer's Guide – My ebook combines my most helpful Savannah travel tips from this website in one handy downloadable guide.
When you purchase my ebook, you also get access to a private Facebook group where you can ask questions about your upcoming trip and get advice from others who have recently visited.
---
Savannah Starland District FAQs
Where is the Starland District?
The Starland District is located in Savannah's historic Thomas Square Streetcar District. It is south of the Historic and Victorian Districts. The general boundaries of the Thomas Square Streetcar District are as follows: 31st Street, E Broad Street, Victory Drive, and Martin Luther King, Jr. Blvd. Starland is a smaller area within those boundaries and is concentrated around the Bull Street corridor.
How far is it from the Historic District to the Starland District?
It takes approximately 8 minutes to drive to the Starland District from River Street. If you walk at a leisurely pace, it will take 30-40 minutes.