Y'all … Savannah, Georgia is such a pretty city! In fact, you might say it's deceptively pretty. Sometimes visitors get so caught up in the charm of it all that they feel like they've landed in a storybook setting where nothing bad ever happens. Sorry friends, but I'm here to snap you back to reality! Savannah is a city, not a small town, and as such, it has many of the safety issues you'd associate with any metropolitan area.
Am I telling you this to scare you away from visiting? No.
I'm telling you because I want you to be alert when you visit! It's a picturesque little city, but don't be lulled into a false sense of security.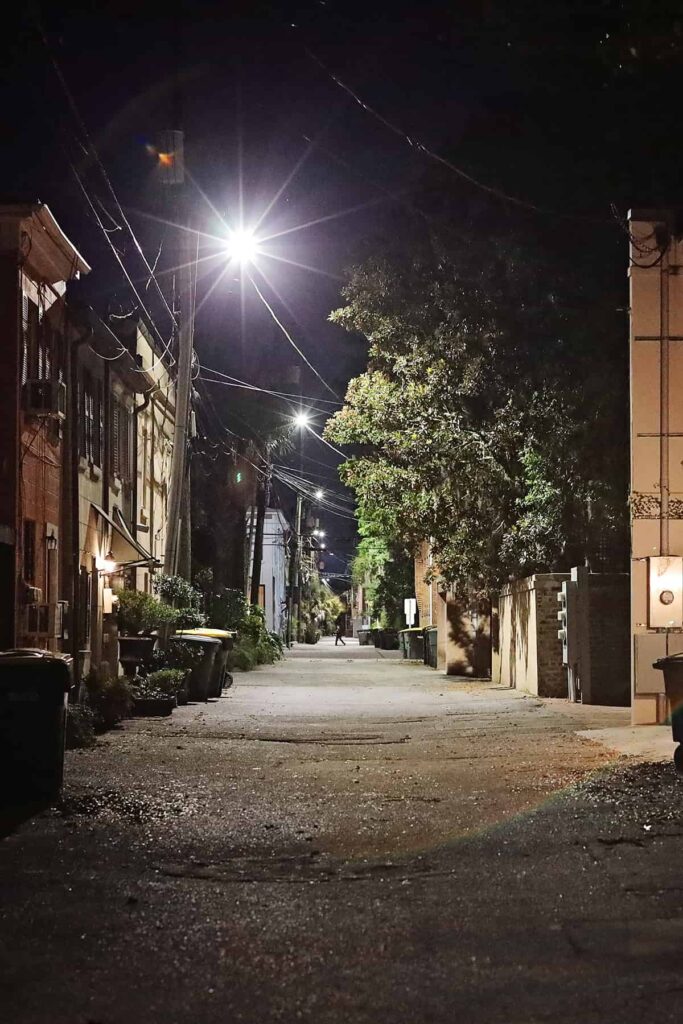 But first, if you're new around here, allow me to extend a warm welcome!
My name is Erin, and I authored the Savannah First-Timer's Guide. It combines my top Savannah travel tips from this website into one handy downloadable guide.
Safety in Savannah
Just so you know, I write from the viewpoint of a solo female traveler.
Whenever I provide safety tips, I think of what I would want someone to tell my daughter if she were traveling alone to a new city for the first time. (She's in her early 20s, for reference.)
These tips are still applicable for men or couples, but they're geared towards ladies traveling alone or in small groups.
Ready? Let's get to it!
---
Savannah Safety Tips: DOs
Practice situational awareness.
Always lock your car — even if you're only stepping away for a moment.
Be on the lookout for bad drivers.
Once others have gone inside for the evening, consider doing the same.
Wear sensible walking shoes.
Let's delve into some of these topics a little deeper, shall we?
I'll try to include some personal anecdotes, since those can be rather amusing. (Maybe not so much when the topic is safety, but still — I like to illustrate my points whenever possible!)
---
Point #1: Practice Situational Awareness
It's always good to be aware of what's going on around you, but that's especially important anytime you're visiting a new city.
Savannah is far too pretty to keep your head buried in your phone anyway.
When it comes to personal safety, I'm a big believer in trusting your instincts! If you see someone acting erratically or if you start to feel uncomfortable by someone's presence, just move away from them. Walk to the opposite side of the street, go to a more populated area, or duck inside a business.
Don't worry about seeming rude; your personal safety is more important!
If someone asks to speak to you from inside a car, either respond from a distance or keep walking. There's absolutely no need to approach the vehicle.
For those of you who like listening to music or podcasts while you walk, keep one headphone in and one out at all times. Leave the volume low enough that you can still hear what's going on around you.
At night, it's a good idea to always be scanning the surrounding area. Look for dark, shadowy doorways or large bushes where someone could be hiding, and steer clear of them.
Personal Anecdote
I recently attended an event in the Starland District and decided to walk there from my house, which was less than five blocks away. The event ended at 9 p.m. and there are usually a decent number of SCAD students and dog walkers out at that time of night, so I figured I'd be safe. As it turns out, Barnard Street was surprisingly deserted for a Monday night in early October!
I noticed a man standing in the shadows ahead of me, leaning against the steps of a home. I had to walk right past him to get to my house, so I decided I'd "walk with a purpose" and make eye contact so he'd know I spotted him. My instincts said the guy was up to no good, so I kept my hand on my pepper spray in case I needed to use it.
Sure enough, as I approached him, he pulled down his pants and started touching himself. As I passed by he said, "Just stop right there while I finish." I ignored him and walked on, but I did look back a few times to make sure I wasn't being followed.
That's not the first time that's happened to me, either, unfortunately. I've had something similar occur when I was walking in Forsyth Park on two separate occasions (both times after dark, but not particularly late). So … always be aware of your surroundings!
---
Point #2: Lock it or Lose It
Take a good look around Savannah the next time you're strolling about. There's a reason residents have locks on their patio furniture and why you see security cameras on nearly every home in the downtown area. If an item isn't nailed down, it's considered fair game.
"Lock It or Lose It" is a mantra the Savannah Police Department reiterates on a regular basis. They even go so far as to post it on most of the parking meters in the downtown area.
That's because would-be thieves regularly walk the streets of Savannah testing door handles on cars. If they find an unlocked car, they'll help themselves to anything of value inside — even something as insignificant loose change or cheap sunglasses.
All those pretty souvenirs you picked up on River Street or in City Market? Believe me; they can be stolen in the blink of an eye if you leave them on the seat of an unlocked car.
The Lock It or Lose It rule applies to bicyclists, too. Don't get too comfortable and leave your bike unlocked even for just a few minutes while you run inside a store to buy a bottle of water. If you leave it, lock it.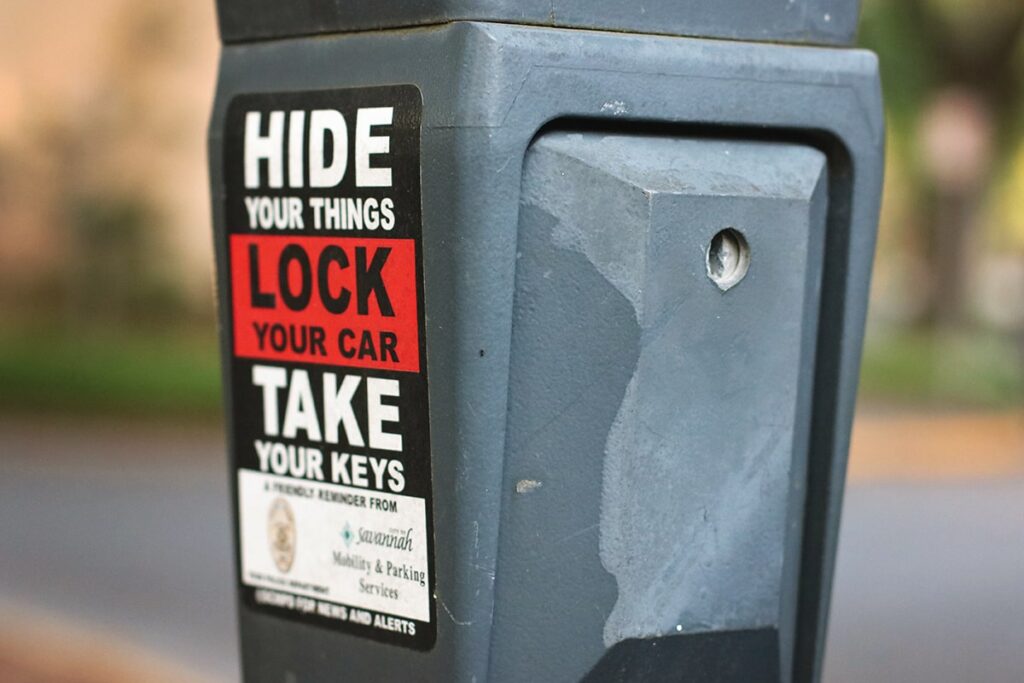 Personal Anecdote
My neighbor forgets to lock his truck pretty frequently and has had multiple "entering auto" incidents as a result. Thieves have taken both high and low-value items.
One time a thief made off with a half-empty bottle of Armor All that was probably worth 50 cents. On a different occasion, someone took a motorcycle that was worth thousands of dollars.
If you speak with representatives from the Savannah Police Department, they'll tell you the number one reason vehicles are broken into is because something of value was left in plain sight.
My home security cameras catch people testing door handles pretty frequently in my neighborhood. I live in the Starland District, but it happens regularly throughout the entire city.
---
Point #3: Watch Out for Bad Drivers
Sometimes tourists get so distracted by all the pretty houses and Spanish moss in the Historic District that they don't see pedestrians until it's too late.
Remember…as you're busy sightseeing, so are many of the drivers!
When you're strolling around Savannah, it's very important to watch out for distracted drivers — especially on busier streets like Bay Street, Drayton Street, 37th Street, and Martin Luther King, Jr. Blvd. Two other trouble spots are Anderson and Henry streets.
In addition to drivers who sightsee from behind the wheel, there are also drivers who ignore stop signs, run red lights, speed, and generally act as if the rules of the road don't exist.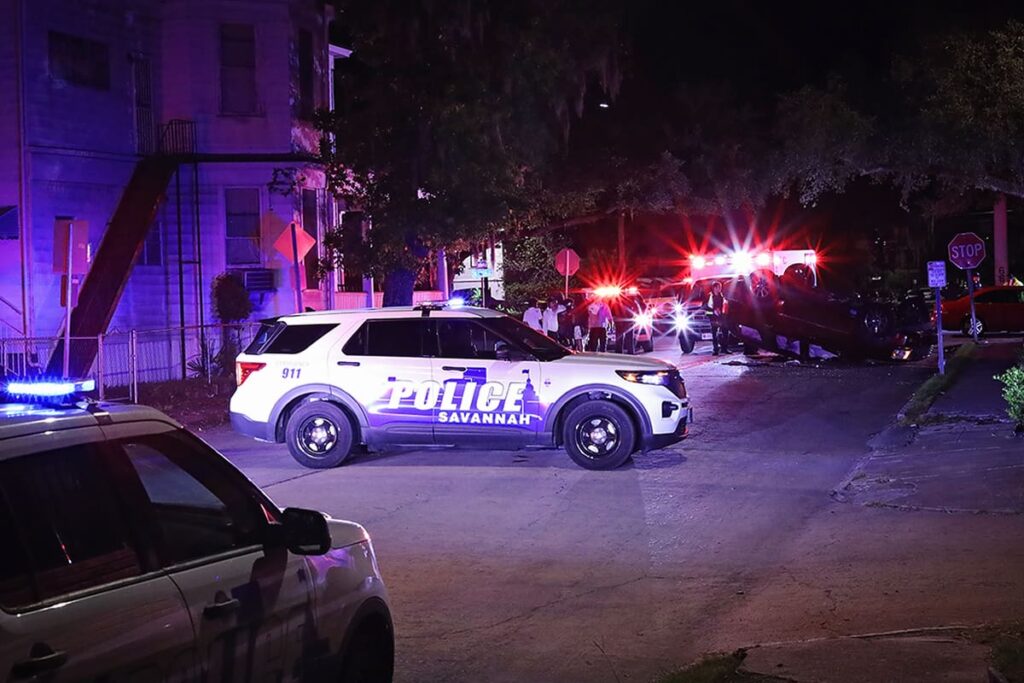 Road rage is a problem in Savannah, too. Far too many Savannah drivers have short tempers and carry loaded weapons. Most locals know better than to chase after someone who has cut them off.
Finally, always look both ways before crossing the street — even if it's a one-way street! I can't tell you how many times I've seen tourists and locals accidentally turn the wrong way down a one-way street.
BOLO Alert: Be on the lookout for the police, too! Sometimes officers from the Savannah Police Department (SPD) and Georgia State Patrol (GSP) conduct high speed chases in the downtown areas. [Case in Point: 01, 02, 03, 04, 05, 06, 07]
Personal Anecdote
I've been hit by a driver while I was out walking, so I'm extra cautious about this one.
I was walking south on a sidewalk along Habersham Street when the driver of a small pickup truck waved for me to cross a lane in front of him. At the time, the driver was on Habersham Street waiting to turn onto E Gaston Lane. When I did as he requested, he stomped on the gas pedal and ran right into me — as if we were in a video game and I was his target.
My rib cage took a good hit from his driver-side mirror and my face bounced off his windshield, but the guy quickly sped off down the lane. I filed a police report, but no one from SPD ever followed up. That one accident resulted in quite a bit of money spent on x-rays, CT scans, and MRIs.
These days, even if someone waves at me to walk in front of them, I won't do it.
---
Point #4: When Others Head Indoors, So Should You
Anyone who knows me, knows that I'm a night-owl… and boy do love Savannah after dark! This city is beyond captivating once the sun goes down. (I guess this is where I should be cheesy and say it's hauntingly beautiful.)
If you want to take part in the city's nightlife scene — go for it! Just use common sense while you're out and about. Some areas stay active late into the night, while others get so quiet and deserted it's downright eerie.
While it might seem romantic to go for a stroll through Forsyth Park or one of the squares late at night, that's not exactly a good idea. Save your strolls for daytime or the early evening hours when others are also in the area.
Whenever I'm doling out advice in my Savannah Facebook group, I regularly repeat this tip: If you start to notice that others have gone indoors for the night, take heed and do the same yourself!
I've also been known to tell people, "If it ain't light out, it ain't right out" — especially when it comes to certain parts of Savannah. (Lookin' at you, Montgomery and 38th.)
In recent months, the City Market area has been a late-night trouble spot within the Historic District, so keep that in mind.
Personal Anecdote
Since I just mentioned my Facebook group, I'll share a story that was relayed inside the group from someone who recently visited Savannah on a girls trip.
This particular group of ladies hung out at the bars in City Market and along River Street until last call at 3 a.m. However, when it was time to head home, they noticed the streets were completely deserted. The words, "ghost town," "creepy," "weird," and "scary" were all bantered about to describe the experience.
They had been drinking and had their to go cups in-hand when they happened to notice that — aside from their group — there were only a few members of Savannah's homeless community out on the streets. There were no other pedestrians, no cars on the street, no police patrolling the area … nothing. Not a peep, anywhere.
Needless to say, they rushed back it back to their rental as fast as they could — which was not an easy feat in high heels! I'm happy to report they arrived safely. However, after their scary experience, one of the girls posted in the Facebook group cautioning others against making the same mistake that her group made.
SAFETY TIP: Please hail a free ride from the Downtowner app or take Uber or Lyft if you've been out drinking and need to get back to your hotel in the wee hours of the morning. I cannot repeat this often enough: Savannah at 3 a.m. IS NOT A SAFE PLACE.
---
Point #5: Leave the Heels at Home
Since I brought up heels in the last tip, let's discuss the dangers of inappropriate footwear…
Many of Savannah's roads, especially along River Street, are made from ballast stones, cobblestones, bricks, or belgium blocks — none of which are very compatible with high heels.
In addition to the random mix of materials, many of the city's streets aren't in the best condition.
Case in point: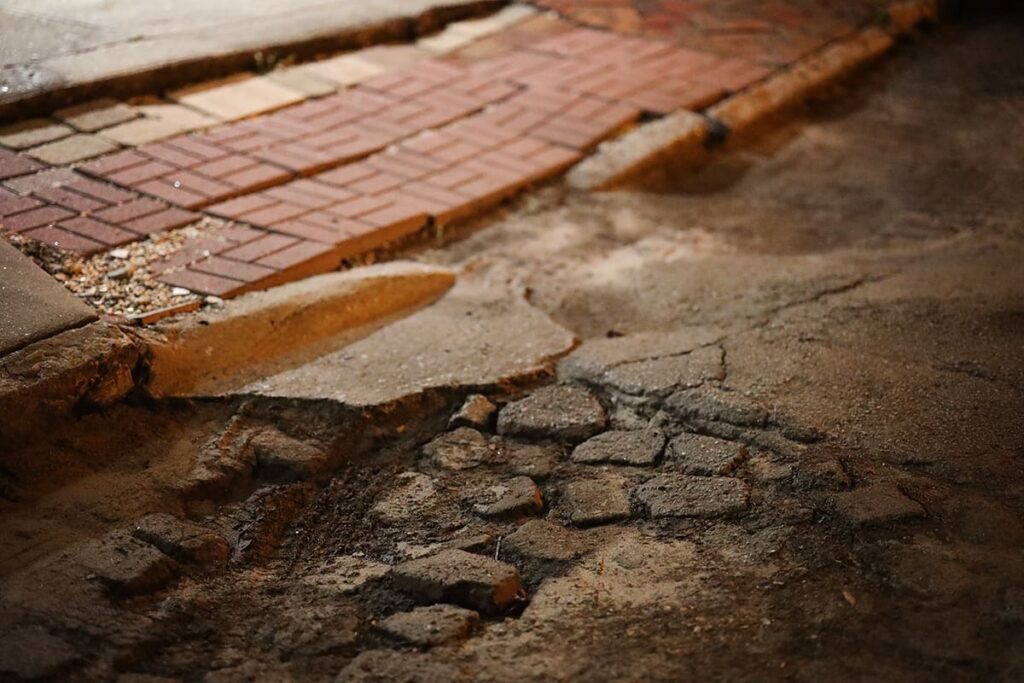 Savannah's sidewalks aren't much better.
While some of the newer sidewalks are nice and smooth, others are made from historic bricks. The stunning Southern live oaks dotted throughout the city tend to have large roots that displace the bricks and create very bumpy sidewalks.
Allow me to present some photographic evidence from my early evening strolls through the Historic District: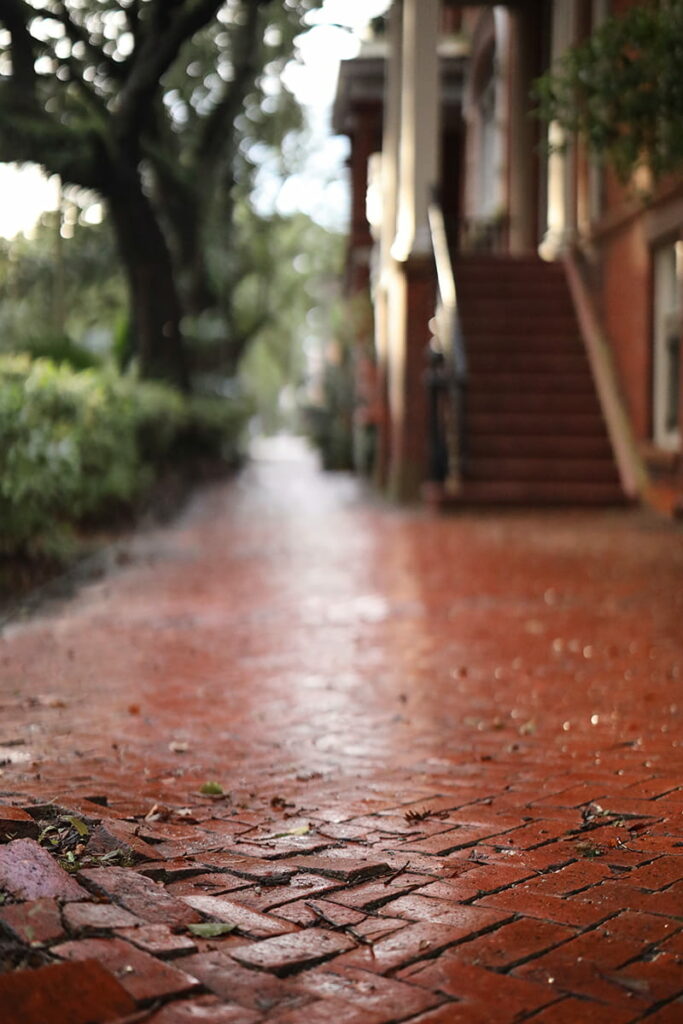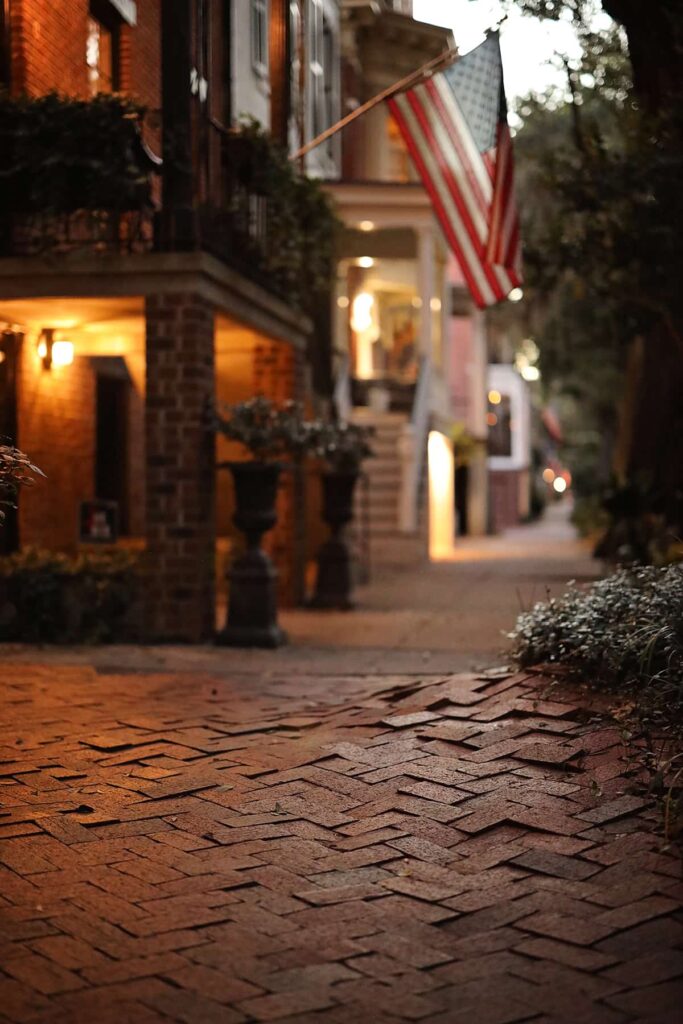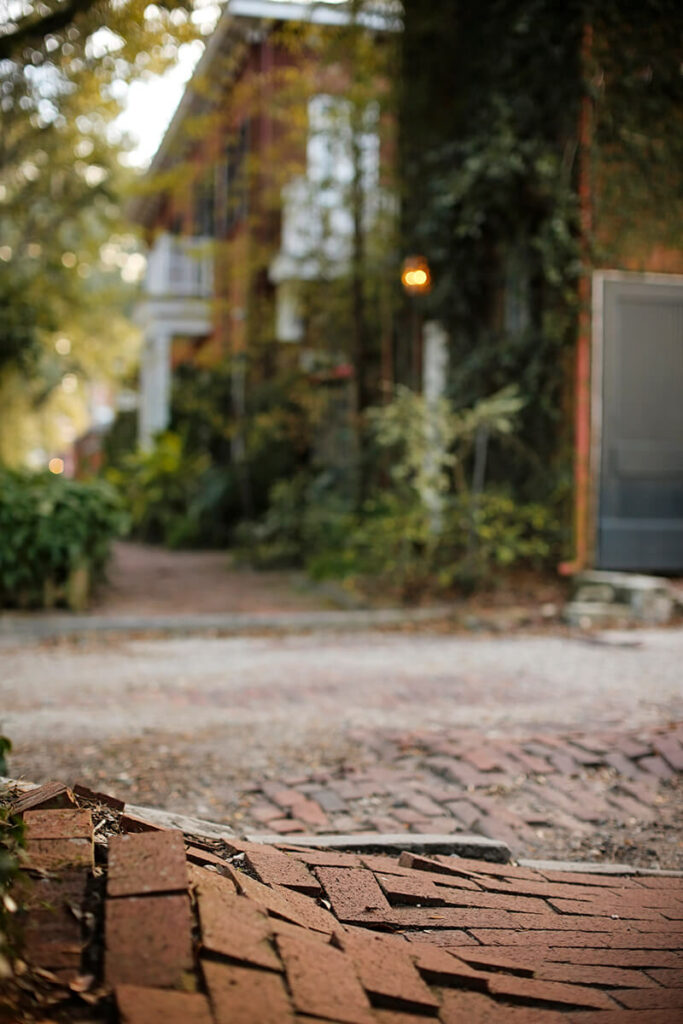 Keeping those points in mind, you might want to rethink your choice of footwear for a night out on the town. If you'll be dropped off at a restaurant or bar and then picked up afterwards, heels are fine (since you won't be doing much walking).
However, if you plan to do a pub crawl or stroll around the Historic District after dinner, you'll fare much better in sensible shoes.
NOTE: The Plant Riverside District is a newer development, and the majority of the sidewalks and stairs in that zone are new. The same goes for the Eastern Wharf District. You can wear heels to wander around in those two areas!
Personal Anecdote
If you want some real entertainment, find yourself a seat with an excellent vantage point somewhere along Factors Walk or River Street during St. Patrick's week or on New Years Eve. Then just sit back, relax, and watch newcomers to Savannah try to maneuver the cobblestones in heels.
Instead of looking sexy, far too many look like drunken baby giraffes wobbling around along the waterfront.
---
Savannah Safety DON'Ts
NEVER LEAVE A GUN IN AN UNLOCKED VEHICLE!!
In fact, don't leave any valuables in plain view inside a vehicle.
Never leave drinks unattended in a bar.
Avoid taking shortcuts down the lanes.
Don't be a "looky loo" when fights break out.
---
Point #1: NEVER Leave Guns Unattended in Vehicles
This is very similar to the Lock It or Lose It tip above, but I wanted to mention it specifically because it happens all too often in Savannah.
I'm begging you, please be a responsible gun owner and do not leave guns in unlocked vehicles.
If you do lock your vehicle and have a gun in it, at least make sure it's in a lockbox and hidden well out of sight. Trust me; would-be thieves know all of the popular hiding spots (glove box, center console, pockets behind the front seats, held under the seat or steering wheel by clips or zip ties, etc.).
The best option, whenever possible, is to take your gun with you. Make sure you check local gun laws first to ensure you can do so legally.
Guns are one of the top items thieves target when searching vehicles in Savannah. Nearly 400 guns are stolen out of vehicles annually, and — spoiler alert — some of those guns are later used to commit crimes throughout the city.
It's a vicious cycle…
Gun owners unintentionally supply criminals with firearms by leaving guns in unlocked vehicles.
Those guns are stolen and end up being used during the commission of violent crimes.
News stations report an uptick in violent crime, which frightens residents and visitors.
In order to feel safe, residents and tourists arm themselves with MORE GUNS.
Those new gun owners get distracted and leave firearms in unlocked vehicle… and the cycle repeats itself.
One simple way to help reduce these issues would be to stop giving criminals easy access to guns.
Personal Anecdote
I've had vehicles on my property broken into multiple times, but the suspect was only captured once. After he was captured, I learned that he had previously been convicted for kidnapping, rape, and sodomy.
Not really the kind of person you want having access to a gun, now is it? (For what it's worth, I didn't have a gun in my vehicle.)
---
Point #2: Don't Leave Valuables in Plain Sight
This one goes hand-in-hand with the "Lock It or Lose It" rule I posted earlier. However, it's so important that it bears repeating multiple times.
If you have something of value, don't leave it out in plain view to tempt fate. Instead, store it in the trunk of your vehicle. It only takes a couple seconds to move items to the trunk, and it's better to be safe than sorry!
While I'm on the subject, it's also important to not leave keys — or kids!! — unattended in a vehicle while you're loading or unloading suitcases.
Personal Anecdote
Since I already covered this point above, I'll just add that it's no fun dealing with police reports while you're on vacation. That's wasted time when you could've been out sightseeing instead!
It's also not fun dealing with broken window repairs. A typical auto insurance deductible costs approximately $250 to $500 — plus you'll lose the monetary value of any items that were stolen.
I think most locals will (wisely) caution you against holding your breath while waiting for the police department to track down your missing items. SPD is understaffed and has been for many years.
---
Point #3: Never Leave Drinks Unattended!
This one should be common sense, but it bears repeating anyway since Savannah has such a popular nightlife scene. Please don't leave drinks unattended in bars!
Have a trusted friend hold your drink when you go to the restroom, watch the bartender while your drink is being made, and hold your hand over your drink to block unwanted additions.
Watch this video closely to see how easy it is to be roofied. (See if you can count how many pills are slipped into the drinks.)
---
Point #4: Avoid Shortcuts in the Lanes
Some people call them alleys, but in Savannah most folks call them lanes. They're the small roads on the back sides of homes and businesses that look like this: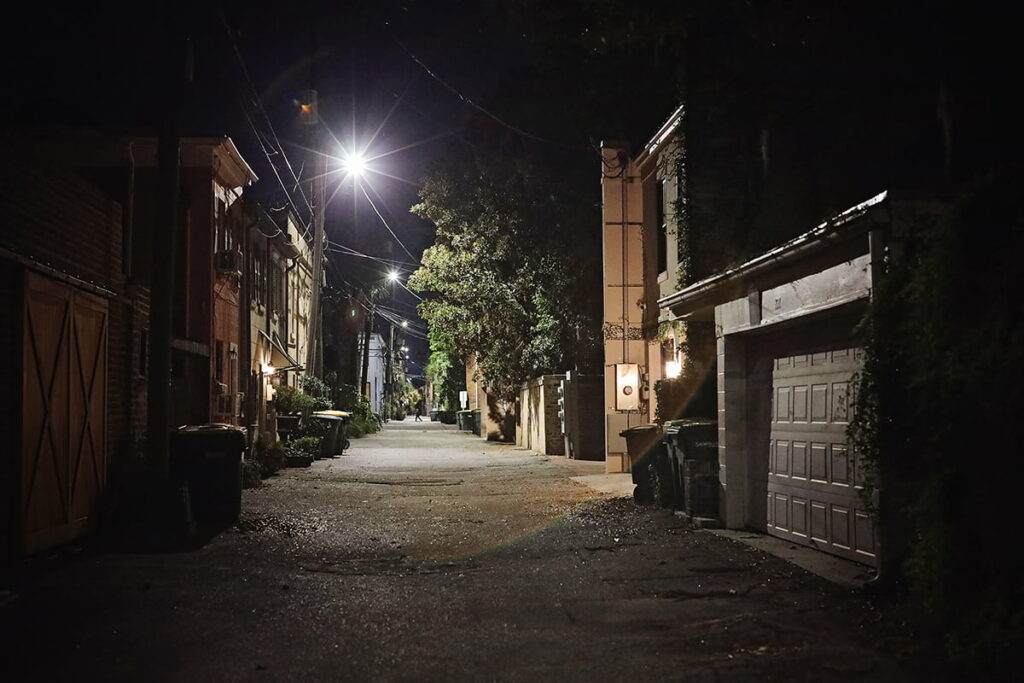 The lanes exist so residents can easily access the back sides of their homes, so Georgia Power employees can maintain the power lines, and so the city's sanitation and recycling trucks can pick up trash.
Although the lanes don't look particularly welcoming, sometimes people are tempted to cut through them as a shortcut. Plenty of urban explorers and SCAD students use the lanes for photo shoots, too.
Guilty as charged, Your Honor.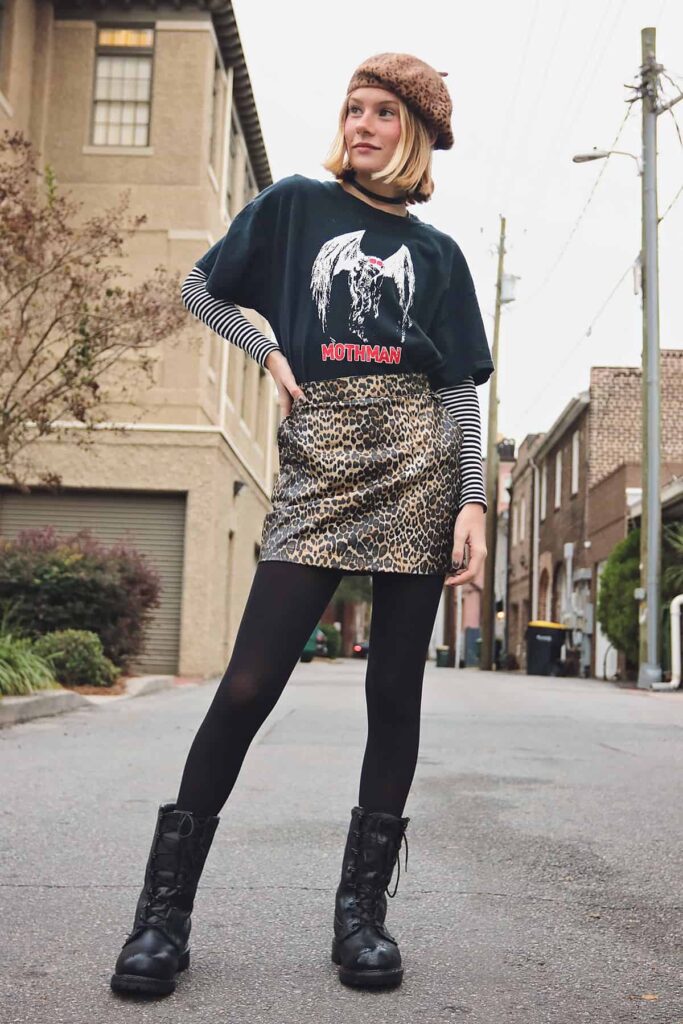 Per city code, it's actually illegal to cut through the lanes unless you're a resident or own a business on that block.
It shall be unlawful for any person to use a lane of the city as a thoroughfare or to traverse or otherwise be located within a lane whether as a pedestrian or by vehicle or other means of transportation except as follows: A public purpose; As authorized by franchise; As means of ingress or to egress from a property abutting thereon.

Code of Ordinances, City of Savannah | Code 1977, § 4-1010; Ord. of 2-13-1997
If you're staying in a carriage house that has an entrance on the lane, no worries; it's ok to be in the lane since it's a means of entry and exit.
Responsible short-term vacation rental (STVR) owners should provide good lighting near carriage house entrances in the lanes, so that's one thing you should look for when you're reading home rental reviews.
SPD rarely enforces this rule. However, if they suspect you of doing something wrong, just know that your presence in the lane gives them a valid reason to stop and question you.
---
Point #5: Don't Be a Looky-Loo
You know how fights break out in public spaces and people will gather around to watch? Sometimes they'll even whip out their phones to start recording the action.
Yeah…don't do that in Savannah.
Fights tend to escalate quickly in this city.
Most of the time they're just dumb drunken brawls, but sometimes guns get pulled. That's when a small altercation can quickly turn into a deadly shooting.
For that reason, if you see a fight break out, walk away from it quickly. That way you won't become a victim — or a witness.
Personal Anecdote
I live in a crime hot spot in Savannah, so I've seen things through the years that I wish I hadn't.
I'm always surprised at how quickly the fire department can hose blood off the street after a shooting and make it look like nothing ever happened.
It's also best not to be involved in a situation that causes you to become a witness to a violent incident, since offenders don't always stay in jail. If you witness a violent crime, just know that when the offender is released from jail, that person will have a restraining order that bars them from coming near you — courtesy of the Chatham County Victim-Witness Assistance program.
However, a restraining order is just a piece of paper and won't help much if someone tracks you down.
Bonus Tip: Don't Flash Your Cash
While it may be tempting to flash your cash (Quando Rando-style) while you're on vacation, you might want to think twice about doing so in a city with an ever-widening wealth gap.
Poverty is an issue that has persisted in the city for generations, and it's not going away anytime soon.
According to the 2020 Census, slightly more than 20% of Savannah's residents live at or below poverty level and Savannah ranks as the second-most expensive area to live in Georgia.
The median income for an individual at the time of the last Census was $24,102 and for a household it was $46,149.
So, while there are some places in the world where it may be ok to display your wealth while traveling, Savannah (in my opinion) is not one of them.
---
Savannah Safety Tips Summary
I hope this post has been helpful!
Overall the Historic District is relatively safe — especially the southern portion of the Historic District. It just has a few trouble spots.
When you're reading through my personal anecdotes and Savannah safety tips above, just remember that I've lived in the city for quite some time. I also spend a good chunk of time out exploring (day and night), so those factors increase my likelihood of experiencing something negative.
I've had plenty of positive experiences, too, and the majority of this website is filled with those experiences.
---
Visiting Savannah Georgia
If you're planning your first trip to Savannah, here are a few additional resources I've created to help you out.
Free Resources Library – When you sign up for my email list, you'll get a checklist of "50 Things To Do On-Foot in the Historic District (No Car Necessary)" and other helpful printables.
Savannah First-Timer's Guide – My ebook combines my most helpful Savannah travel tips from this website in one handy downloadable guide.
Savannah Georgia Vacation – This quick-start guide will give you an overview of the city.
When you purchase my ebook, you'll also get access to a private Facebook group where you can ask questions about your trip and get advice from others who have recently visited.
---
Do you have any questions about safety in Savannah? As always, let me know in the comments below.
---