Coligny Beach is one of the most popular (and most crowded) public beaches on Hilton Head Island. TripAdvisor even named it one of the best beaches in the United States!
Even though it's my least favorite beach on the island, I can certainly see why it draws so many people. It has all the necessary amenities you'd want in a public beach — from plenty of parking and clean public restrooms to lots of shops and restaurants within walking easy distance.
There are also plenty of things to do nearby to keep an entire family happy — whether you're traveling with toddlers, teens, or grandparents. In other words, it's an ideal beach for multigenerational travelers.
I'm going to cover the pros and cons of Coligny Beach, so you can decide whether or not it's the right Lowcountry beach for you.
Ready? Let's get to it!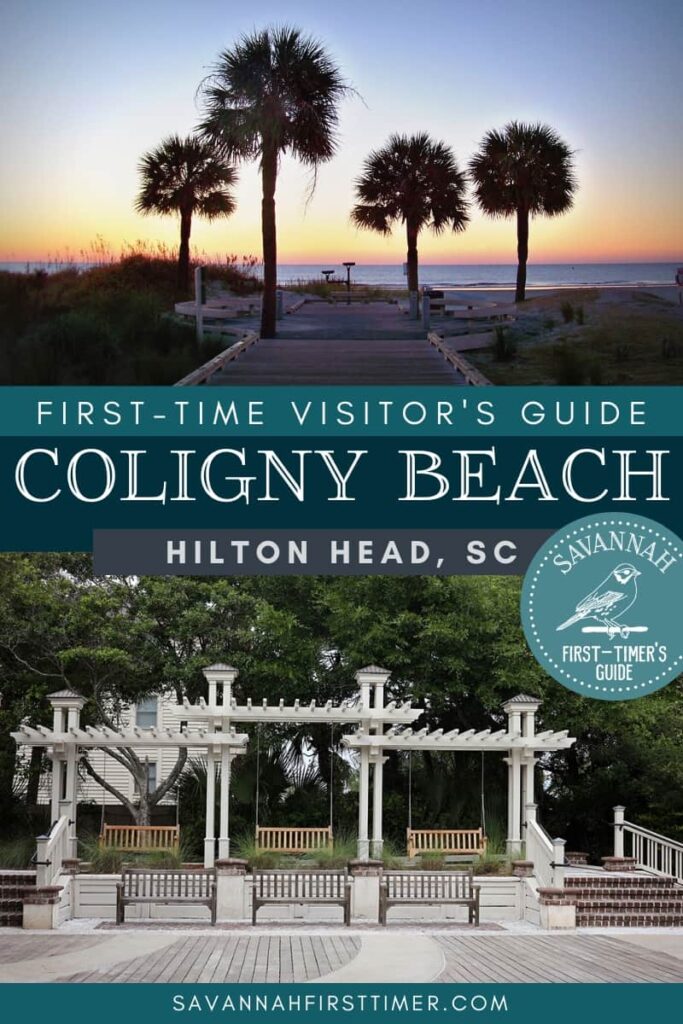 Note: This guide contains affiliate links to my trusted travel partners.
If you're new around here, first of all… welcome 😊
My name is Erin, and I authored the Savannah First-Timer's Guide. I live in downtown Savannah, and my family owns a condo on Hilton Head Island, so I enjoy writing about both areas
⭐ I visited Coligny Beach at the start of the Summer 2023 beach season to take photos and fact check everything for this guide. My goal is to always provide updated and authentic content to help you plan your vacation!
Table of Contents | Click to Expand
Coligny Beach Parking
Address: 1 Coligny Circle, Hilton Head Island, SC 29928
If you're a day-tripper who is headed to Coligny Beach, the best place to park is at Coligny Beach Park.
There are nearly 400 spaces in the lot, and at least 7 of those are ADA-accessible. There are also a decent number of trees in the lot, so there's a good chance you'll find a shady spot.
Although the parking is currently free, rumor has it metered parking could be on the horizon.
We shall see, and I'll update this post if that happens.
Note that even though there are plenty of spaces, the lot can fill up quickly during the summer months. There are additional spots less than 1/10th of a mile away at nearby Lowcountry Celebration Park.
The Coligny Beach Park parking lot has plenty of security cameras and there's a high amount of foot traffic in the area, so that makes the lot feel relatively safe year round.
Oh, and there is a lighted crosswalk so you can walk across South Forest Beach Drive safely — even on high-traffic days!
Alternate Option: Take the Island Breeze Trolley
The Island Breeze Trolley is a free shuttle that has 21 stops along the most popular mid-section of the island.
Make note that the free trolley only runs during tourism season, which is usually from April to September. You can always find updated shuttle info here: Island Breeze Trolley
The shuttles are a great way to get around, and they help eliminate some of the traffic on Hilton Head's busy roads!
---
Coligny Beach, Hilton Head
Wondering what to expect from the actual beach portion of Coligny Beach?
None of Hilton Head's beaches have pristine white sand like you'd find in places like Key West.
Instead, you'll find a light-brown, granular sand throughout much of the coastline. (Fish Haul Beach is the only exception; the sand in that area is muddier and contains oyster shells that can slice your feet!)
The sand is hard-packed — especially near the waterline where the tides go in and out — and the sandy area is fairly wide, even during high tide.
Lifeguards patrol the shoreline during the official beach season, which runs from April 1st to September 30th. There are multiple lifeguard stands in the Coligny Beach area.
Although the beach is family friendly, I tend to think of Coligny as a better option for families with teens and preteens versus those with toddlers.
Being such a crowded beach, it can get overwhelming for parents to keep an eye on toddlers running around, and I think it's too easy to lose sight of the younger kiddos.
Additionally, the waves along the southern end of the island, where Coligny Beach is located, are also generally bigger than those on the north end. That's because the northern end is protected by a sandbar that keeps the waters calmer.
One of the cons of this beach is that it tends to be the trashiest beach on the island. That's due to the fact that it's the most crowded beach and often sees the highest number of people who generally disregard beach rules.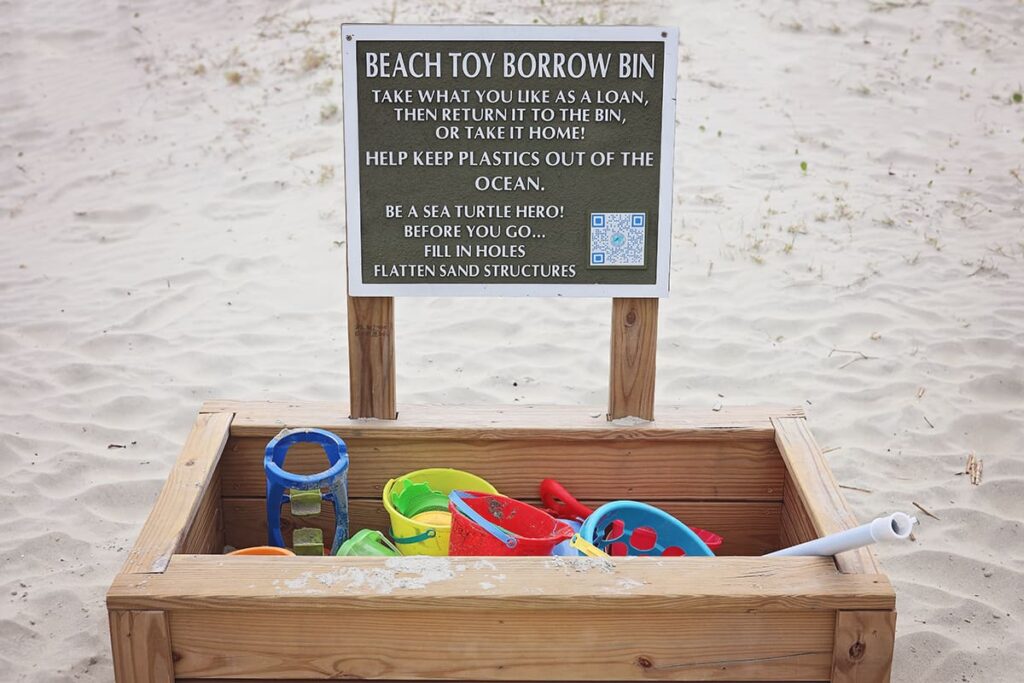 If you see trash along the beach, there are green baskets available for collecting and disposing of it. That's one of the best ways you can help protect wildlife in the area — particularly endangered Loggerhead sea turtles.
---
Coligny Beach Park
Address: 1 Coligny Circle, Hilton Head Island, S.C. 29928
As I mentioned earlier, Coligny Beach Park is the access point for Coligny Beach.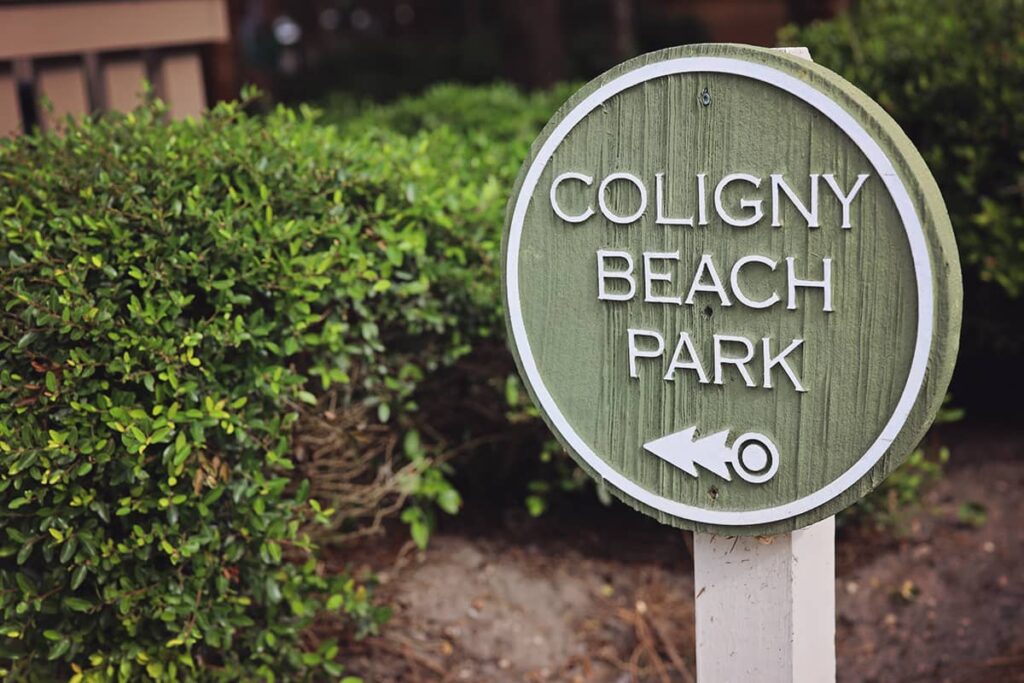 I think it's one of the best general access points on the island, whether you're driving in for a day trip or staying at a place that isn't oceanfront.
That's because it has so many amenities that make it easy to enjoy a day on the beach!
It includes restrooms, changing stations, covered pavilions, multiple seating areas, outdoor showers, a splash pad, free WiFi, and more.
The restrooms appear new, and it's especially nice that they have plenty of stalls. That means you won't have to wait very long (if at all) to get your turn.
If you want to relax, you can do so on one of the sets of wooden swings. They face the boardwalk, so they're a good spot for people watching!
There's also a nice covered seating area with comfy Adirondack chairs where you can relax in the shade.
---
Coligny Plaza
The Coligny Plaza shopping center is adjacent to Coligny Beach Park, so it's within a 5-minute (or less) walk from the beach.
Coligny Plaza is fantastic!!
The entire shopping center is loaded with adorable ice cream shops, a wide variety of restaurants, trendy boutiques, souvenir/sunglasses shops, and laid-back bars.
It's also home to one of my personal favorite grocery stores from days gone by. That's right… Coligny Plaza is where you'll find the island's one and only Piggly Wiggly.
I'm "Big on The Pig" (as their slogan says) and have collected quite a few of their t-shirts over the years.
Restaurants in Coligny Plaza
If you're in need of sustenance, here are some popular restaurants in Coligny Plaza:
Alternatively, if you happen to love sushi as much as I do, there are a few good options in the area, too. Try Al's Aloha Kitchen for classic Hawaiian bowls or Hinoki if you prefer a more serene Japanese-style dining experience.
⭐ Insider Tip: If you're looking for a fun Hilton Head souvenir, Piggly Wiggly and Salty Dog t-shirts are two popular (albeit somewhat cliché) options.
---
Coligny Beach Summary
Overall, Coligny Beach is ideal if you're visiting Hilton Head via a day trip from Savannah and you don't mind dealing with a somewhat crowded beach. (Make that very crowded if you visit over a holiday weekend!)
It has plenty of parking and amenities, and there are excellent restaurants and bars within easy walking distance. Everything you could possibly need is concentrated into one compact area, and that's why Coligny Beach is so popular!
---
Savannah Travel Tips
As always, if you're looking for more travel tips about Savannah or the South Carolina Lowcountry, I'm happy to help.
When you purchase my ebook, you'll also get access to my private Facebook group about Savannah so you can get advice from others who have recently visited.
---
Do you have any questions about Coligny Beach? If so, please let me know in the comments below.
---