There are so many beautiful cemeteries in Savannah that it can be difficult to decide which one to visit first. Personally, the choice is easy for me; I'm a fan of Laurel Grove Cemetery. It's the lesser-known of Savannah's main three burial grounds, which means it's generally the quietest and most peaceful.
In addition to having one of the largest collections of Victorian-era monuments in the Southeast, Laurel Grove Cemetery is also home to many of Savannah's lost and forgotten souls.
A number of enslaved individuals are laid to rest under the massive oaks in Laurel Grove South, and the cemetery also includes multiple "Stranger Grounds" sections. There's even an area known as "Baby Land" that holds orphaned infants.
If you're new around here, first of all … allow me to extend a warm welcome!!
My name is Erin, and I authored the Savannah First-Timer's Guide. It combines all of my top Savannah travel tips from this website into one handy digital download.
---
Table of Contents | Click to Expand
Laurel Grove Cemetery
Much like the former Springfield Plantation the cemetery is partially built upon, Laurel Grove has been segregated since its inception.
Its grounds are separated both visually and physically by the HWY 16 connector ramp.
To put it bluntly, the majority of Savannah's dead Confederates and plantation owners are buried in the northern section, aka: Laurel Grove North, while the human beings they owned are buried in the southern section, aka: Laurel Grove South.
I'm going to do my best to introduce you to both sections of the cemetery so you'll know what to expect if you visit.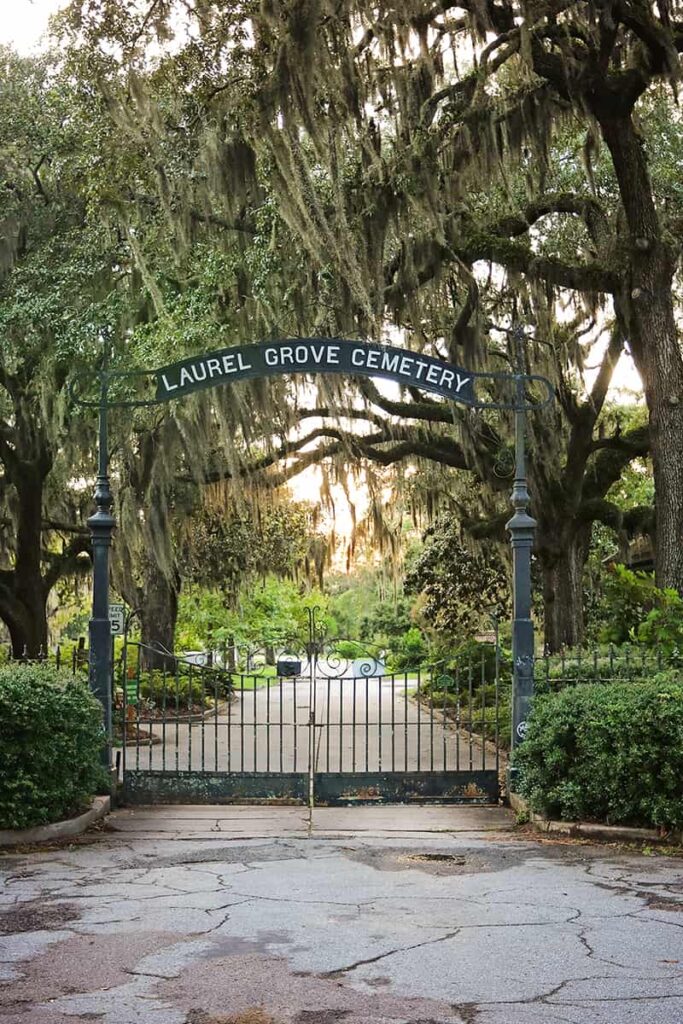 Planning Your Visit to Laurel Grove
Address: Laurel Grove North and Laurel Grove South each have separate entrances. Laurel Grove North is located at 802 W Anderson, while Laurel Grove South is at 2101 Kollock Street.
Hours and Amenities: Both sections are open from 8 a.m. to 5 p.m., have public restrooms (although the one in Laurel Grove South is currently closed for repairs), and include kiosks that provide visitor information. Free parking is available in both sections.
Safety: You might read online that Laurel Grove Cemetery is in a "sketchy" area. While it's true that the surrounding area is low income, there are plenty of nice families living in the homes surrounding the cemetery.
Both sections of Laurel Grove are safe to visit, but you should take the usual precaution of keeping your car doors locked and valuables out of sight whenever you wander away from your vehicle.
Directions: To get to Laurel Grove North from the Historic District, take Martin Luther King, Jr. Blvd. south to Anderson Street and head west. That route dead-ends at the entrance gates.
To get to Laurel Grove South from Laurel Grove North, take Ogeechee Road south to W 37th Street and head west until you see the entrance.
Time to Allot: It would take days to properly examine both sections of the cemetery, but you can get a decent (albeit broad) overview in approximately two hours.
What to Bring: Wear sunscreen, and bring water and bug repellant — especially from May through September.
---
Laurel Grove North
Entrance to Laurel Grove North: 802 W Anderson, Savannah, GA 31415
The City of Savannah purchased the land for Laurel Grove Cemetery in the early 1850s, but those plots sold out before the turn of the century. The cemetery has expanded a few times through the years.
Who is Buried in Laurel Grove North?
Many notable Savannahians are interred in Laurel Grove North, including…
Confederate General Lafayette McLaws (1821 – 1897)
James Lord Pierpont, compose of the popular "Jingle Bells" tune (1822 – 1893)
Confederate Brigadier General Moxley Sorrel, of Sorrel-Weed House fame (1838 – 1901)
Juliette Gordon Low, founder of the Girl Scouts (1860 – 1927)
Florence Martus, a local legend nicknamed "The Waving Girl" (1868 – 1943)
Victorian-Era Markers
Because the plots for Laurel Grove North were sold in the latter half of the 1800s, the cemetery is known for having one of the largest collections of Victorian monuments in the Southeast.
I enjoy taking pictures of the markers, especially since they're frequently covered with moss and lichen. They aren't cleaned as often as the ones in (more popular) Bonaventure Cemetery.
The Silence Memorial
Laurel Grove North contains a rather large section dedicated to fallen Confederate soldiers.
As is typical with veteran burial grounds in the United States, most of the markers are uniform in size and shape. The section includes more than 600 Confederate headstones.
There are a few notable monuments in the Confederate section, but the "Silence" memorial draws the most attention. It's a statue of a female with one finger held to her lips, signifying a state of silence.
The statue was originally part of Savannah's Confederate memorial, which is located in the center of Forsyth Park. It was moved to the cemetery in the late 1800s.
Confederate statues tend to cause lots of controversy in the United States these days, so it was no surprise when the Silence monument was vandalized in July of 2020.
Activists spray-painted "SILENCE NO MORE" across the statue in bright red paint and broke off Lady Silence's right hand and left arm.
Even though the statue has been cleaned, you can still see faint signs of the red spray paint. This first photo is historic and shows how the statue looked prior to being vandalized, while the following photos are post-vandalization.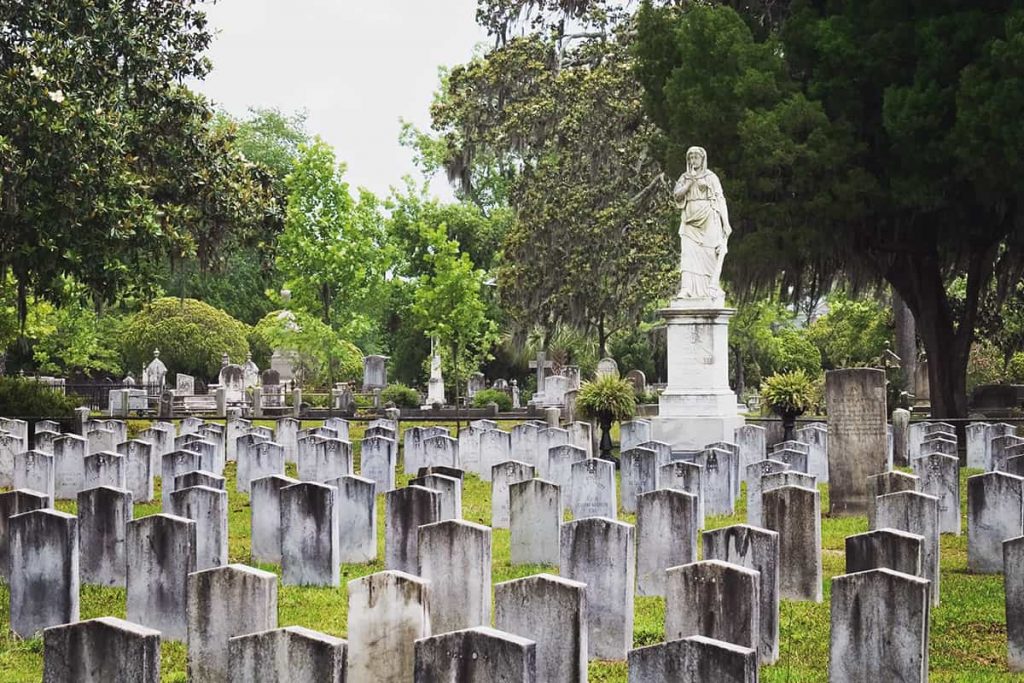 Stranger Grounds in Laurel Grove North
Many cemeteries have a potters field section for unclaimed or indigent bodies, and that's certainly true of Laurel Grove North.
The cemetery's "Stranger Grounds" section contains the remains of more than 4,500 individuals.
Since paupers were often buried as inexpensively as possible, this section of the cemetery is primarily a grassy expanse with only a few headstones scattered about.
The simple wooden crosses that (likely) once dotted its grounds were reclaimed by the earth a long time ago.
Stranger Grounds is adjacent to an elementary school, so it's a little odd to see simple headstones with a playground visible in the background. (It's probably stranger [no pun intended] for the kids at the school to look out over a cemetery while they play!)
---
Cemetery Etiquette
Because so many of the markers are old and timeworn, sometimes visitors don't realize that burials still take place in Laurel Grove Cemetery.
Here are a few things you should know before visiting.
Laurel Grove is an active cemetery, so please be respectful towards anyone visiting a recently-passed family member or friend.
Please refrain from walking atop graves, littering, or doing anything that would cause damage to any plots.
Be particularly careful when driving — especially if you need to back out of an area.
You might also be interested to know that ghost tours aren't allowed inside any of the municipal cemeteries in Savannah. Historic tours are ok.
The municipal cemeteries are not for sensational or entertainment purposes. Any tours marked as haunted, paranormal, or involving ghosts, spiritualists, or mediums are strictly prohibited from any of the municipal cemeteries.

Section 10.02: Restricted Activities, City of Savannah Cemetery Rules and Regulations
---
Laurel Grove South
Entrance to Laurel Grove South: 2101 Kollock Street, Savannah, GA 31415
Laurel Grove South is a serene and peaceful cemetery located on the far west side of Savannah. Since it's far removed from the typical tourist zones it's an ideal spot for anyone seeking some tranquility.
I already mentioned that it's a very special place, but I haven't mentioned yet that I'm fiercely protective of Laurel Grove South.
In fact, anyone who causes harm to this section of the cemetery might have to deal with my ghost in the afterlife — and I promise I won't be a friendly spirit.
Ha!
All threats aside, please be respectful of the grounds and leave the cemetery just as beautiful as you found it. (I hate that I even have to post that reminder, but it's necessary.)
History of Laurel Grove South
When Savannah's Old Negro Burial Grounds neared capacity, the City of Savannah reserved four acres in Laurel Grove South as a final resting place for members of the city's African American community.
According to the Georgia Historical Society, the bodies of Reverend Andrew Bryan and Henry Cunningham were removed from the Old Negro Burial Grounds and transferred to Laurel Grove South.
However, not all of the bodies at rest in the Old Negro Burial Grounds were moved. Some still remain at the original location near Whitefield Square in Savannah's Historic District.
Over time, the City of Savannah has purchased additional land for burials, so the size of Laurel Grove South has grown considerably. (It's currently about 90 acres.)
If you plan to explore it, you can drive a car through the grounds or park and walk. Make note that most of the roads are dirt or grassy paths, and sometimes the low-lying areas flood after heavy storms.
Slave Burials in Laurel Grove South
One of the most solemn areas of Laurel Grove South is the section where enslaved individuals were laid to rest.
The area is simply marked by plain, wooden signs with the words "Slaves Burials" etched into the surface.
The headstones are small and not nearly as elaborate as the massive Victorian-era monuments found in Laurel Grove North, and many are in the process of being overtaken by the massive oaks scattered throughout the grounds of the cemetery.
You'd think the air would feel very heavy in a burial ground for enslaved individuals, but I personally think it's one of the more peaceful places in Savannah.
That might be due to the lack of tourists, but I tend to think (hope?) it's because the enslaved already endured their own version of hell here on earth and are finally at peace now that their spirits are free.
It's an overlooked and often forgotten little section of Savannah, but a very important one.
Who is Buried in Laurel Grove South?
Through the years, many important members of Savannah's African American community have been laid to rest in Laurel Grove South.
Here is a random sampling of a few of the notable names you'll find within its iron gates…
Reverend Andrew Bryan (1737 -1812)
As mentioned above, Reverend Andrew Bryan, founder of First Bryan Baptist Church, was reportedly moved from the Old Negro Burial Ground to his new resting place in Laurel Grove South. The body of his brother, Deacon Sampson Bryan, is also said to have been moved.
Their graves sit side by side, shaded by a massive centuries-old oak with long wispy strands of Spanish moss that occasionally fall to the ground near their markers.
…rejoiced not only to be whipped, but would freely suffer death for the cause of Jesus Christ."

~Words engraved on the marker of Reverend Andrew Bryan in Laurel Grove Cemetery
Westley Wallace Law (1923 -2002)
One of the most notable names in Laurel Grove South is that of Westley Wallace Law.
He was a formidable figure in Savannah's Civil Rights movement and served for many years as the president of the Savannah chapter of the NAACP.
W. W. Law advocated for non-violent civil protests and passive methods of overcoming segregation, and he was a true Savannah hero!
Law notably led the "Great Savannah Boycott" — an eighteen-month boycott of Broughton Street businesses.
During the boycott, he encouraged members of the Black community to avoid shopping in downtown businesses until all of the stores desegregated.
He also organized wade-ins on Tybee Island.
Prior to being laid to rest in the cemetery, W. W. Law cared deeply for Laurel Grove South.
During the early 1970s, he arranged for a restoration and cleanup of the cemetery (view the historic photos here) that focused on the gravesites of Reverend Bryan and Deacon Bryan.
This cemetery is a historic gem. There is no source that holds as much Black history.

~W. W. Law, speaking about Laurel Grove South
Related Reading: The Best Black History Tours in Savannah
Jason "Camoflauge" Johnson (1981 – 2003)
In recent times, popular Savannah rapper "Camoflauge" (given name: Jason Akeil Johnson) was laid to rest in Laurel Grove South.
Camoflauge was gunned down on May 19th, 2003, when he was only 21 years old. At the time, he was walking with his toddler son in front of his Pure Pain Records recording studio on W. 37th Street.
Camoflauge's daughter, Flau'Jae Johnson, was born a few months after his passing. She appeared on America's Got Talent a few years ago and is a strong advocate against gun violence in Savannah.
This is a total side note, but I hope Savannahian Quando Rondo won't follow in Johnson's "early to the grave" footsteps and end up in Laurel Grove far before his time.
His videos usually feature scenes in and around the city, and I occasionally spot my house in the background!
Stranger Grounds in Laurel Grove South
Laurel Grove South has two potters fields sections for folks who couldn't afford proper burials. One is located in the NE corner of the cemetery and the other in the SW corner of the cemetery.
Like the burial grounds for the enslaved, the stranger burial sections are marked by simple wooden signs.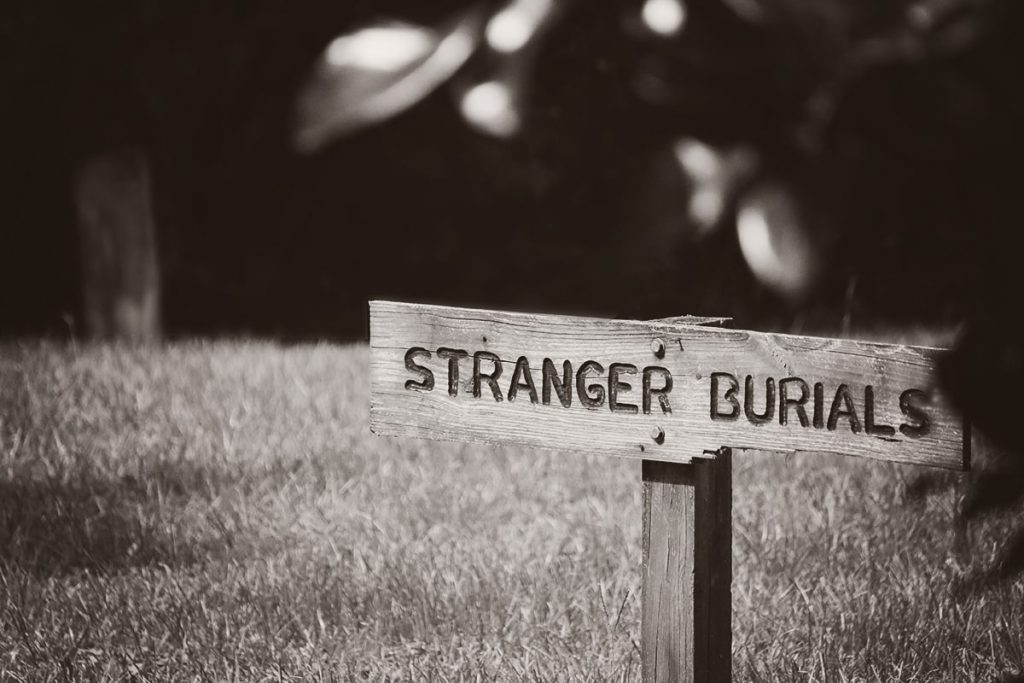 ---
Other Cemeteries in Savannah
In case you were too busy reading to click on any of the related links, here are a few topics you might want to circle back to…
Overall, I hope this post was interesting and that it helped you learn something a little different from the usual touristy bits about Savannah.
If I've gotten any of my history wrong or left out any important info, as always, feel free to let me know in the comments below.
---
Savannah Travel Tips
If you're planning a trip to Savannah, I've created a few resources that might help.
Free Resources Library – When you sign up for my email list, you'll get a checklist of "50 Things To Do On-Foot in the Historic District (No Car Necessary)" and other helpful printables.
Savannah First-Timer's Guide – My ebook combines my most helpful Savannah travel tips from this website into one handy downloadable guide.
To get an overview of the area, my Savannah Georgia Vacation Guide is a quick-reference post designed to help you get acquainted with the city.
---
Do you have any questions about Laurel Grove Cemetery? Let me know in the comments below.