Since I'm into all things spooky, I tend to get lots of questions about the top Savannah ghost tours. Most readers want to know which one is best overall — but that honestly depends on how badly you want to get spooked!
In my opinion, the walking ghost tours are the scariest options. However, a Savannah ghost tours trolley is a good alternative if you have mobility issues or are looking for something fun to do on a rainy night.
Note: This guide contains affiliate links to my trusted travel partners.
Table of Contents | Click to Expand
Savannah Ghost Tours Trolley
In a hurry? Here's a quick overview of the three most popular options:

The Ghost and Gravestones Tour is the most popular option if you simply want to see the sights, listen to spooky stories, and go inside one of Savannah's historic homes.

Hungry? The Grave Encounters Tour is a combo ticket that includes dinner at a haunted restaurant. You'll ride around to see spooky spots and then grab dinner at The Pirates' House. This is the best option if you're traveling with young kids.

BOO! The Savannah Underground Tour is the scariest option. It includes a guided trolley tour past haunted locations and ends with an immersive theatrical performance where actors reenact three Savannah ghost stories.
---
Ghosts and Gravestones Tour Savannah
Operated by: Old Town Trolley
Is it Locally Owned: No, it's owned by Historic Tours of America, which is Florida based.
Age Limit: Recommended for ages 13 and up
Purchase Tickets Here
Also known as the "Trolley of the Doomed," this is one of the most popular ghost trolley rides in Savannah.
It has a couple unique stops you won't find on any other Savannah ghost tours. The first is the Andrew Low House and the second is Perkins & Sons Ship Chandlery.
The Andrew Low house is beautiful and worth seeing, and this tour is the only way to explore the home's interior after dark.
Low's daughter-in-law, Juliette Gordon Low, founded the Girl Scouts, so this house is an authentic piece of Savannah history.
On the flip side, the chandlery is more of a production set.
It was designed to mimic an old ship chandlery from Savannah's past, and it's a staging area where costumed characters hang out and wait for the tour bus participants to come by so the character actors can re-enact some of the city's history in a theatrical way.
Ghosts and Gravestones Tour Reviews
Here are recent reviews from members of my Facebook group to help you decide whether or not to do the tour:
The only part that may be overwhelming to some people is the last stop at the chandlery. It's a dark room anyway, but they shut the lights off completely at one point. There is an option to stay on the trolley if you don't want to go inside.

Sheila S., via my Savannah First-Timer's Guide Facebook group
I have trouble walking, but our tour guide was great. There are two stops where you get out and walk. The first is the Andrew Low House, where steps are involved. At the chandlery stop, you just get off the trolley and walk into the building. It has low lighting but no steps.

Linda, via my Savannah First-Timer's Guide Facebook group
It's ok for kids, but not if you're looking for any history. Despite its name, you don't get to tour any cemeteries. (You do drive past one as the guide points to it out the windows.)

Rita G., via my Savannah First-Timer's Guide Facebook group
It's not really scary but more of a history lesson, in my opinion. We had Olive as our guide, and she was great! The last stop inside the chandlery might be scary, depending on your child. It's dark, and at one point thunder cracks. A woman in our group got spooked and screamed!

Tiffany B., via my Savannah First-Timer's Guide Facebook group
---
Old Savannah Tours Grave Encounters (Includes Dinner!)
Operated by: Old Savannah Tours
Is it Locally Owned: Yes
Age Limit: All ages welcome
Parking: Park for free at the Savannah Welcome Center, or they will pick you up from any hotel located within Savannah's Historic District.
Purchase Tickets Here
The thing that makes Old Savannah Grave Encounters Trolley unique is that it includes dinner at The Pirates' House, which is one of the most haunted restaurants in Savannah!
Make note that the dinner includes a set menu, so the options are somewhat limited (vs. just going there on your own after a tour). The set menu does include their famous pecan-crusted fried chicken and honey-butter biscuits, though!
You'll get to tour the restaurant's rum cellar and see spots where sailors (reportedly) used to get shanghaied, and you can stroll around inside the iconic restaurant. It's one of the oldest structures in the entire state of Georgia.
The tour also includes free entry into one of the most popular art museums in Savannah — the historic Telfair Academy.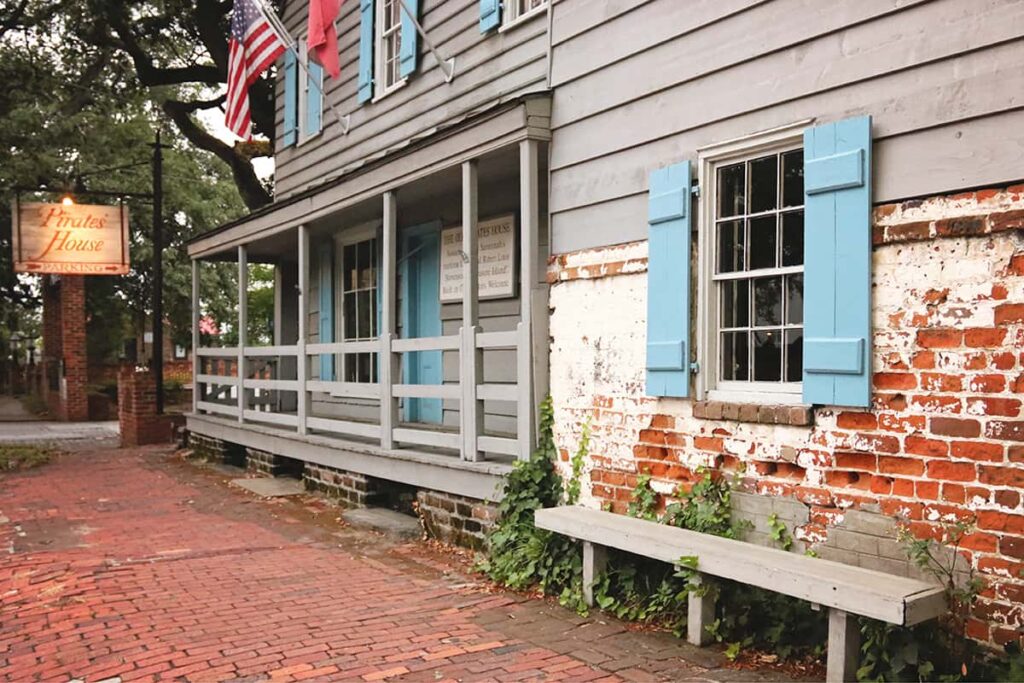 Grave Encounters Trolley Tour Reviews
If you don't want to stop at The Pirates' House or Telfair Academy, make note that you can purchase a less-expensive nonstop trolley tour.
We got the package ticket that included dinner at The Pirates' House. The tour is the only time they will let you into the haunted rum cellar of the restaurant! The ghost trolley was cute and dinner was really good!

Christine C. via my Savannah First-Timer's Guide Facebook group
Much like the daytime Old Savannah trolley tours, the Grave Encounters tour includes character actors that board the trolley to help "bring history to life." They dress in costume and make an entertaining addition to the tour!

Erin C., Savannah First-Timer's Guide
The Pirates' House is cool to walk around but the food was just ok.

Christine R. via my Savannah First-Timer's Guide Facebook group
Great food and cool history! Talk to your server. They love to share the crazy stuff that went on there!

Russ W. via my Savannah First-Timer's Guide Facebook group
---
Savannah Underground Ghost Tour
Operated by: Gray Line Savannah Kelly Tours
Is it Locally Owned: The Gray Line Corporation is based out of Denver, Colorado, but The Savannah Underground (the theatrical portion of the tour) is 100% local!
Age Limit: 13 and up
Parking: Park for free at the Savannah Welcome Center or they will pick you up at any Savannah Historic District hotel.
Purchase Tickets Here
If you're looking for a trolley tour that's on the scarier side, this is the one to pick!
The Savannah Underground is an immersive haunted trolley tour. It includes a theatrical show where performers act out chilling, real-life crimes that took place in Savannah's early days.
They focus on a few different tales during the tour, including the major Yellow Fever outbreaks that plagued Savannah during the late 1700s and early 1800s, the lore of "boo hags" throughout Savannah and the South Carolina Lowcountry, the exorcism at the Hampton-Lillibridge House, and the sad tale of Alice Riley, aka: "the ghost of the hanging square."
Guests choose whether or not to participate in the interactive portion of the show, so it's not something you have to do if you'd rather just watch.
Savannah Underground Trolley Tour Reviews
Our family did this tour and loved it! It's really like two attractions in one — a theatrical performance and a trolley tour.

Stacie, via my Savannah First-Timer's Facebook group
I love that this tour employs local actors, makeup artists, and costume designers! Savannahians are quite creative, and this tour puts that creativity on display in a very spooky way.

Erin C., Savannah First-Timer's Guide
---
Boo Y'all Comedy Ghost Tour
Operated by: Old Savannah Tours
Is it Locally Owned: Yes, Old Savannah Tours is locally owned and operated!
Age Limit: 21 and up only
If you prefer your spooky stories mixed with a side of spooky spirits, the Boo Y'all comedy trolley might be just the ticket. The guide is a comedian, and the trolley's marketing tagline claims, "You might just die laughing."
Make note that the tour is for ages 21 and up. That's because the trolley stops by a popular local pub along the route.
You can buy a drink to enjoy while listening to tales about the Hamilton Turner Inn and the Kehoe House — two haunted Savannah Bed and Breakfasts.
Boo Y'all Haunted Trolley Reviews
Since I'm not much of a drinker (or a fan of clowns), I haven't tried this particular tour. I haven't seen any mentions of it in my Facebook group yet, either. Sorry, folks!
If you've taken the tour and have any thoughts on it, feel free to leave a comment below. I'll update this post once I collect more info.
---
Pros and Cons of a Savannah Ghost Tours Trolley
As you can see, each trolley ghost tour Savannah offers has its own unique benefits. There are a few things they all have in common, though…
Pros:
– They're an ideal way to safely explore an unfamiliar city after dark.
– They make a good rainy night activity.
– The tours are handy for groups — especially when the group members vary in ages and walking abilities.
Cons:
– The quality of the tour often depends on the personality of each individual guide.
– Many ghost tour trolleys fall a bit on the hokey side.
---
Savannah Ghost Trolley: Summary
All in all, Savannah haunted trolley tours are a fun way to safely explore the city at night.
While they aren't as scary as walking ghost tours, they are a great alternative for anyone with mobility issues or for families with younger kids.
---
Do you have any Savannah ghost tours trolley questions? If so, please let me know in the comments below.