Parking in Savannah can be more than a little nerve-racking if you aren't familiar with the city. No need to worry, though! I'm here to give you my favorite tips for finding the easiest and cheapest parking in the Historic District (and beyond).
We'll also cover the location of city parking garages, discuss the city's parking app, and I'll even let you know what to do if you get a parking ticket.
Read on to find out all you need to know about parking in Savannah!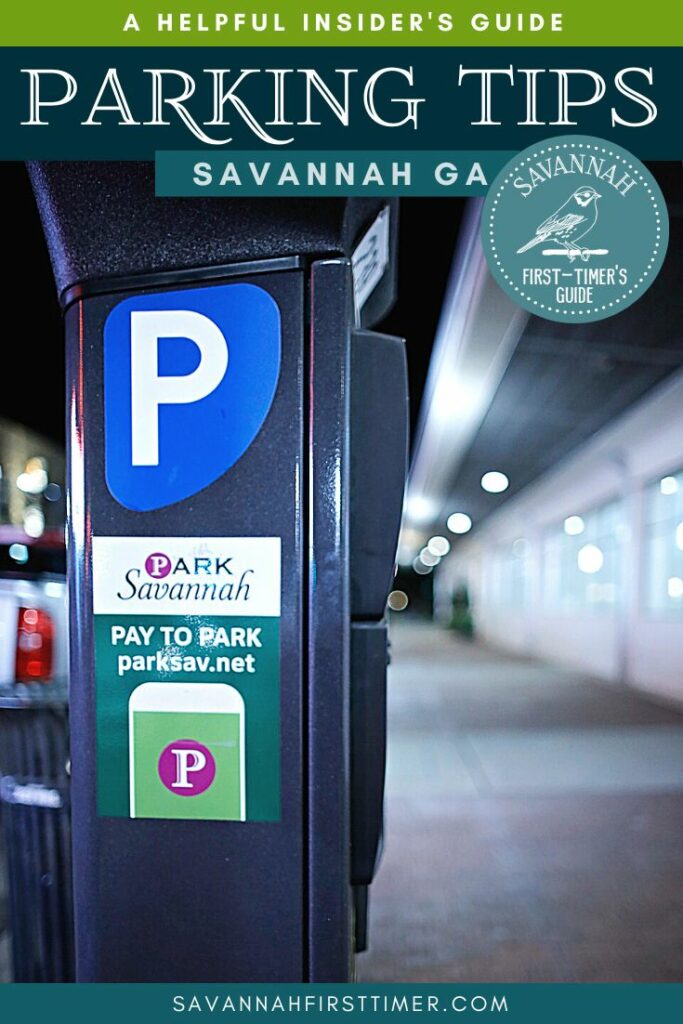 Note: This guide contains affiliate links to my trusted travel partners.
First of all, if you're new around here…allow me to extend a warm welcome!
My name is Erin, and I authored the Savannah First-Timer's Guide. It's a very helpful resource (or so I'm told) that contains some of my best Savannah travel tips in one central location.
Table of Contents | Click to Expand
Parking Downtown Savannah
There are quite a few options available downtown, from metered street parking to covered garages to oversized spaces at the Visitor Center.
However, before we do a deep dive into parking, I want to answer one frequently answered question first…
FAQ: Do you need a car in Savannah?
Nope.
You might be happy to learn you don't actually need a car to get around Savannah.
In fact, unless you have mobility issues or are planning to do multiple trips to the outskirts of the city, my suggestion is to leave your car at home.
Savannah is a city made for walking! You'll notice so many more incredible details when you're out strolling around than you'd see peering out from the window of a vehicle.
Even if you get tired while you're walking around the city, you're not out of luck.
You can take the free DOT shuttles during the day, catch a free Downtowner at night, or enjoy a leisurely pedicab ride throughout the Historic District.
I realize that leaving the car at home isn't always an option, and I totally get that! If you have to bring it, here's the scoop on the city's parking situation…
---
Parking in Savannah's Historic District
The Historic District is the most well-known section of the city, but it's also the most difficult place to find parking in Savannah.
The busiest parking areas in the Historic District are the ones closest to the city's most popular attractions, such as City Market, Broughton Street, West Congress, Bay Street, and the bustling riverfront area.
If you have dinner reservations along one of the streets listed above and need to park nearby, you'd better plan on arriving early! (You could also drop someone off at the door of the restaurant to check in for your party.)
Some meters in the more popular areas have 1-2 hour time limits, while you'll find longer limits on the outskirts of the Historic District.
For example, Tattnall Street near the western edge of the Historic District has meters with 4-5 hour time limits.
My Suggestion: Purchase a Visitor Day Pass!
If you opt to park at metered spaces on the street, I suggest getting a Visitor Day Pass from the Bryan Street Parking Garage. You can purchase 24 or 48-hour passes.
1-Day Visitor Parking Pass: $15
2-Day Visitor Parking Pass: $24
The perk of the pass is that it allows you to park in any metered spot that has a time limit of one hour or more for 24 or 48 hours without moving your car or feeding the meter.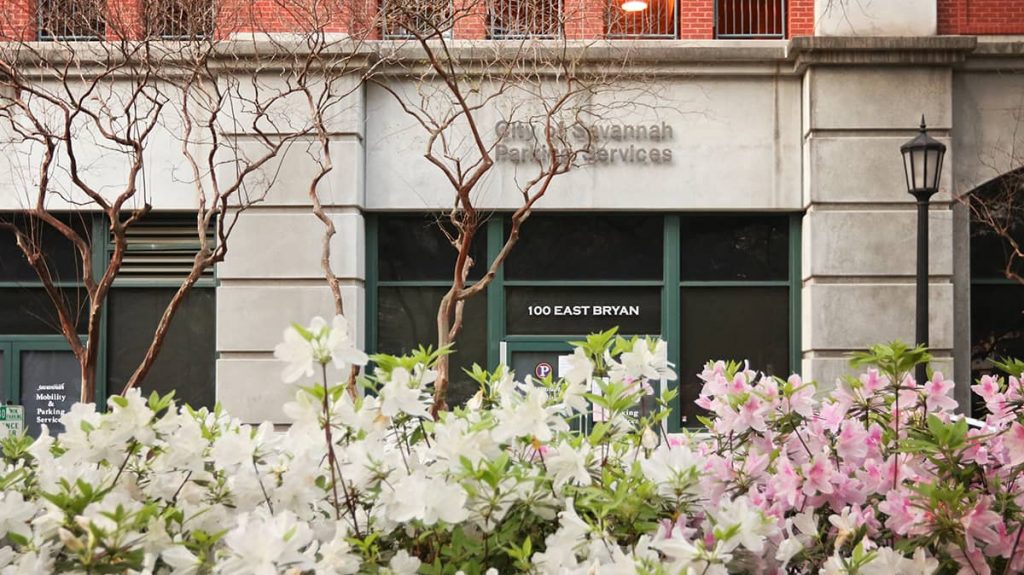 NOTE: You'll still have to move your car if you park at a meter that is scheduled for the street sweeper that night!! More on that below.
Are you having fun yet?
Let's dive a little deeper into the exciting topic of parking in Savannah and discuss whether you should opt for metered street parking, a parking garage, or Visitor Center parking.
---
Savannah Visitor Center Parking
Savannah Visitor Center | 301 Martin Luther King, Jr. Blvd.
Visitor Center Hours: 9 a.m. – 4 p.m.
Parking Lot Hours: 8 a.m. – 6:30 p.m.
Cost: First hour free, $1/hr thereafter
The MLK Visitor Center can be a great place to park, depending on a few factors.
The center has clean bathrooms, free WiFi, snacks, brochures, and a museum, so it makes an ideal place for a pit stop before exploring the city.
It's close to all three of the trolley companies, so it's a very convenient place to park if you're doing a Hop-On/Hop-Off trolley tour in Savannah.
Make note that the trolley companies offer free parking for customers on the day of the tour, so try their lots first.
However, if they run out, the Visitor Center is your next best bet.
Since Savannah's downtown streets are very tough to maneuver with oversized vehicles, I recommend making a beeline straight for the Visitor Center if you're driving an RV or pulling a boat.
Don't even attempt to park on the street!
There are 298 parking spaces and 14 oversized parking spots in the Visitor Center lot.
Oversized spaces can accommodate RVs, moving vans, and vehicles pulling boats or trailers.
It is possible to park overnight at the Visitor Center, but you need to let them know if you plan on doing so.
You can purchase a multi-day pass to put on your vehicle. Make note that you won't be able to move your vehicle after hours.
Sometimes during special events, the price for parking at the Visitor Center increases to amounts closer to $20 per day.
VERDICT: Park at the Visitor Center if you have an oversized vehicle or are doing a trolley tour and the trolley lots are full. Do NOT park at the Visitor Center if you won't be able to move your car by 6:30 p.m. and will need it at night or if you're visiting on a Sunday when it's closed.
---
Savannah Parking Garages
There are seven different city-owned parking garages in downtown Savannah, and four of them have identical rates.
Liberty Street Garage | 401 West Liberty Street
Robinson Parking Garage | 132 Montgomery Street
State Street Garage | 100 East State Street
Bryan Street Garage | 100 East Bryan Street
Pricing for the first four garages is $1 per hour Monday – Friday from 5 a.m. – 5 p.m. (daytime parking) and a $2 flat rate on those same days from 5 p.m. – 5 a.m (nighttime parking). The weekends are a $5 flat rate.
These next three garages are slightly more expensive, with day rates beginning at $2 per hour Monday – Friday.
Whitaker Street Garage | 7 Whitaker Street
Plant Riverside Garage | 500 W River Street
Eastern Wharf Garage | 301 Passage Way
At Whitaker Street Garage you'll pay $2 per hour with a max daily rate of $16 during the weekdays. On weekends there is a $10 flat rate.
NOTE: City garages have rules posted near the entry, so make sure you read them. For example, it's against the rules to back into parking spaces, and they will ticket you if you do.
Overnight Garage Parking
You can park overnight in any of the city garages.
If you need to get your car in the middle of the night, you can pick it up. Some garages have overnight attendants, but if one doesn't, you can pay at the kiosk near the exit. You'll need to pay using a debit or credit card.
Monthly Parking Passes
Locals can purchase monthly parking passes at city-owned garages. Sometimes SCAD parents do this the first year their kids attend school, since freshmen aren't allowed to have cars on campus.
The Liberty Street garage is the one closest to the SCAD freshman dorms, and it is well lit at night.
VERDICT: Park in a city-owned garage if you want to "park it and forget about it". As I mentioned above, Savannah is a walking city! Find a garage near your hotel and then walk or use free public transportation to get around.
---
Parking on River Street
Finding a parking spot on River Street is not easy.
Many of the business owners and servers who work in the food industry arrive in the wee hours of the morning and fill up the available spaces in the area.
I recommend finding parking elsewhere, but if you absolutely need to park on River Street then here's everything you need to know…
Metered parking on River Street will cost you $2 per hour.
Some of the meters along River Street expire after a short amount of time (one or two hours), so always read the signage to see when you'll need to move it.
There are only a few parking lots along River Street. Two are at the corner of Barnard Ramp & River Street and a third is at Abercorn Ramp & River Street.
If you park near City Hall (the beautiful building with the gold dome at the top) many of the spots surrounding it are reserved for city employees during the daytime hours.
However — insider tip here — if you drive down the ramps when city employees are leaving work around 5 p.m., you can often snag their spots. Anyone can park in them after the business day ends.
If you park on the ramps at night, please note that they aren't very well lit.
It's also difficult to walk on the cobblestones, so I don't suggest parking in this area if you're wearing heels.
NOTE: River Street is notorious for flooding during heavy periods of rainfall, so do not plan to park in this area for an extended period of time without checking the weather forecast first.
Related Reading: 11 Photos That Will Make You Fall in Love with River Street
---
ParkSavannah App
The ParkSavannah App makes paying for metered parking so easy.
No more running back and forth to refill the meter or worrying about whether or not you have quarters handy.
With the app, you just connect your credit card and pay at the push of a button!
All you do is enter your payment information and the parking spot number, and then choose the length of time you want to stay.
The parking spot number is typically painted directly on the street in white paint.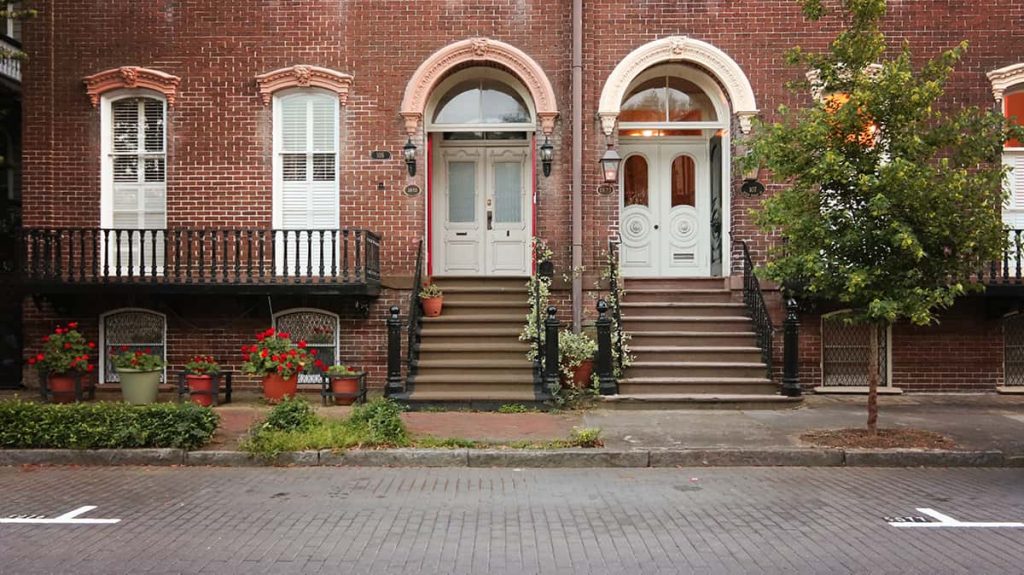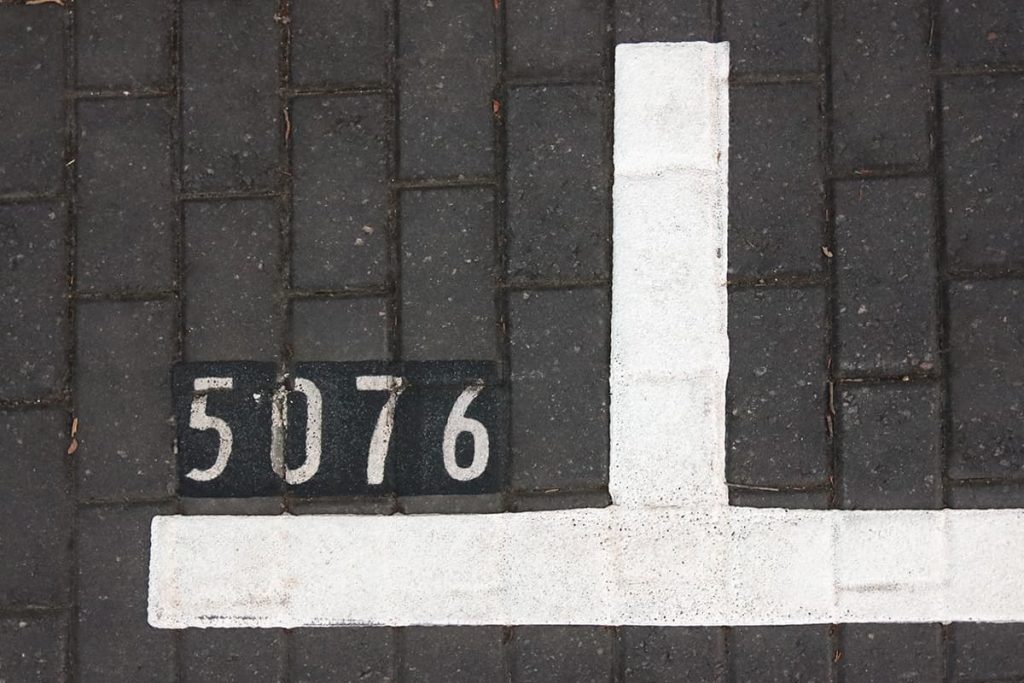 In fact, in many areas of the city you won't even find the old school meters anymore.
They've been removed, and the painted numbers on the street have taken their place.
One perk of the app is that it will send you a notification when your time is running low.
If you want to stay longer you can simply refill the meter remotely.
It won't let you go over the maximum time limit on any spot, so there's no fear of overpaying.
The free app is available in the Apple App Store and at Google Play.
ParkSavannah Kiosks
If you don't want to install the app, just search for the closest ParkSavannah Kiosk and pay there. You can pay by cash or credit card.
They're usually located on a corner, but not always. Here's what they look like…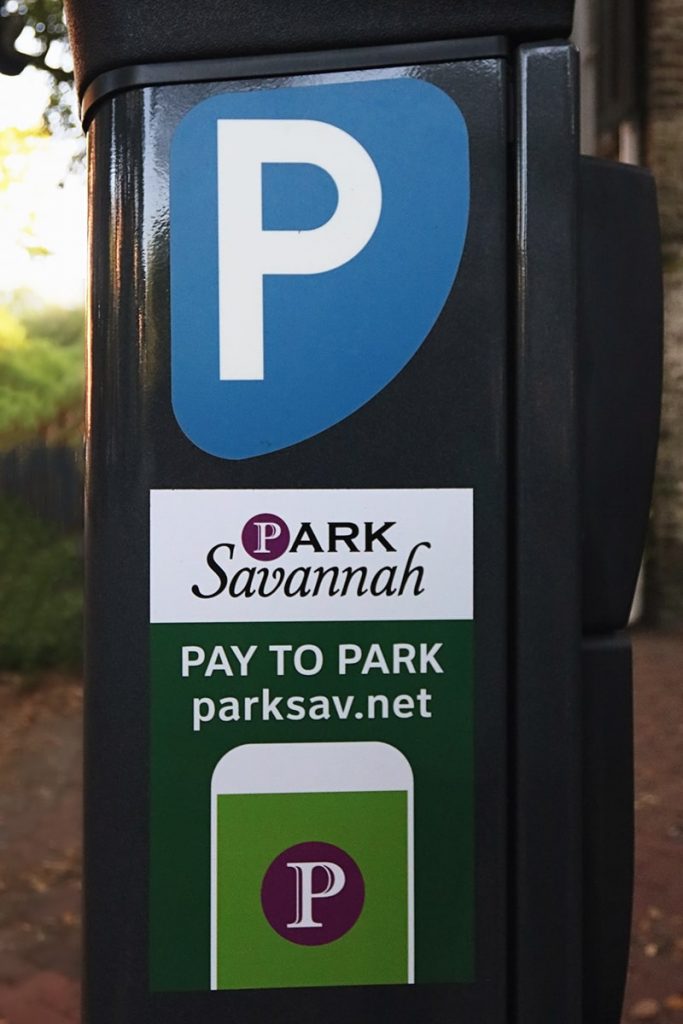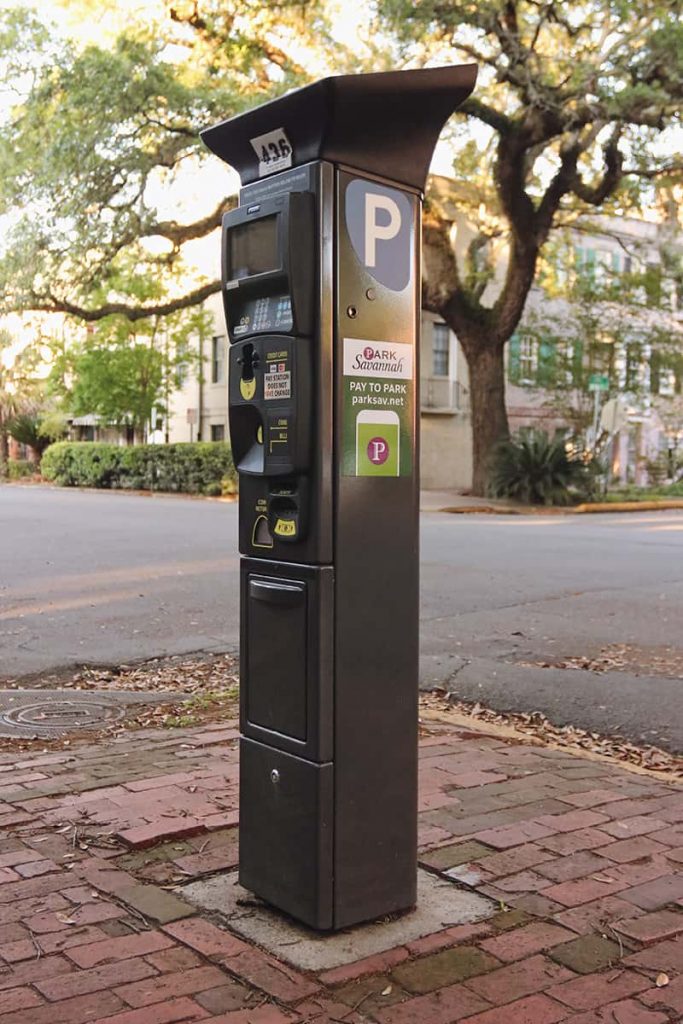 In the northern section of the Historic District, from River Street to Oglethorpe Avenue (north-south) and MLK Jr. Boulevard to Habersham Street (west-east), meters cost $2 per hour.
Between Oglethorpe Avenue and E Liberty Street and Habersham Street and East Broad Street you can usually find $1 per hour meters.
If you enter a number and and it says "space not available"… don't worry!
That's just the city's dumb way of telling you that you're within one of the free parking times.
They really need to make that point clearer on the app.
VERDICT: If you plan to skip around frequently from one area to another or will be shopping and want your car nearby to store packages, choose metered street parking and pay with the app. Check out this map of parking meters to get an idea of where spots are located.
---
Free Parking in Savannah
Metered street parking throughout Savannah is free every Sunday and every night after 8 p.m.
South of Liberty Street, metered street parking is free on Saturday and Sunday.
It's also free every weekday after 5 p.m.
South of Gaston Street, it's currently free all the time — with a few very rare exceptions.
Gaston Street is the street that borders the northern end of Forsyth Park, which means that parking in the Victorian District and the Starland District is essentially free.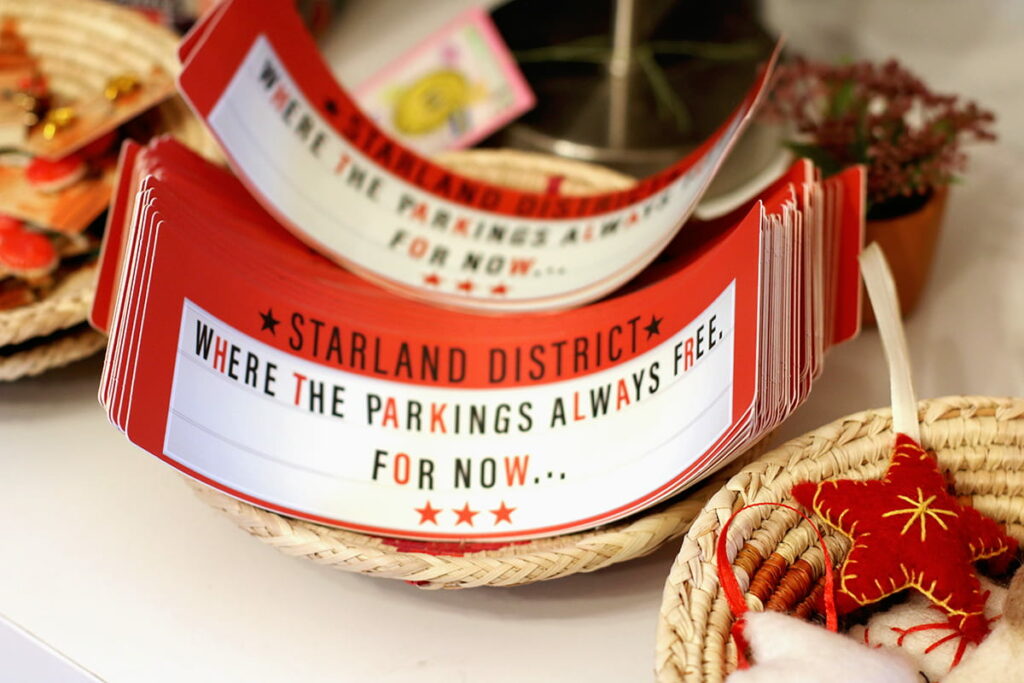 Just make note that Gaston Street is an approximate 20-minute walk from River Street.
That may not seem like much at the beginning of the day, but if you've been out exploring all day and have to walk back to your car, then it might feel like a more significant distance. (You can always take the free DOT shuttle to get back to your car, though! Just note that it stops running at 7 p.m.)
There are also some free spots in the more residential areas on the eastern edge of the Historic District.
Just make note that many of these are further away from most restaurants and bars, which are heavily concentrated in the northwestern section of the Historic District.
Street parking is free on many holidays in Savannah.
---
Where NOT to Park in Savannah
The main thing you need to be aware of if you opt for street parking in Savannah is to move your car on nights when the street sweepers are scheduled to come through.
Every street has a red and white sign that shows the street sweeper schedule, so avoid that side of the street during listed hours.
If you don't move your car during that time frame, you'll be ticketed approximately $35.
You will NOT be able to get out of this ticket, no matter how good of an excuse you offer.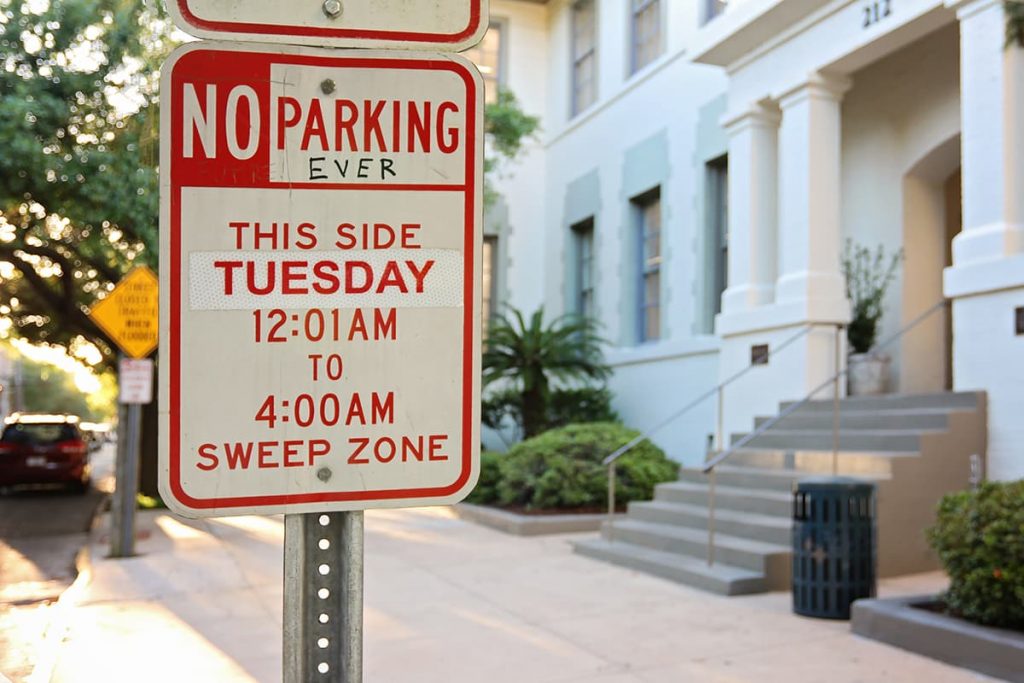 You should also make note that the local arts college, the Savannah College of Art and Design (SCAD), owns many, many properties throughout Savannah.
Their parking is for students and faculty members, so don't park in lots where you see SCAD signs.
SCAD lots are usually clearly marked, and vehicles need to display valid SCAD stickers to park there.
And yes, SCAD does have security guards who patrol their properties at night.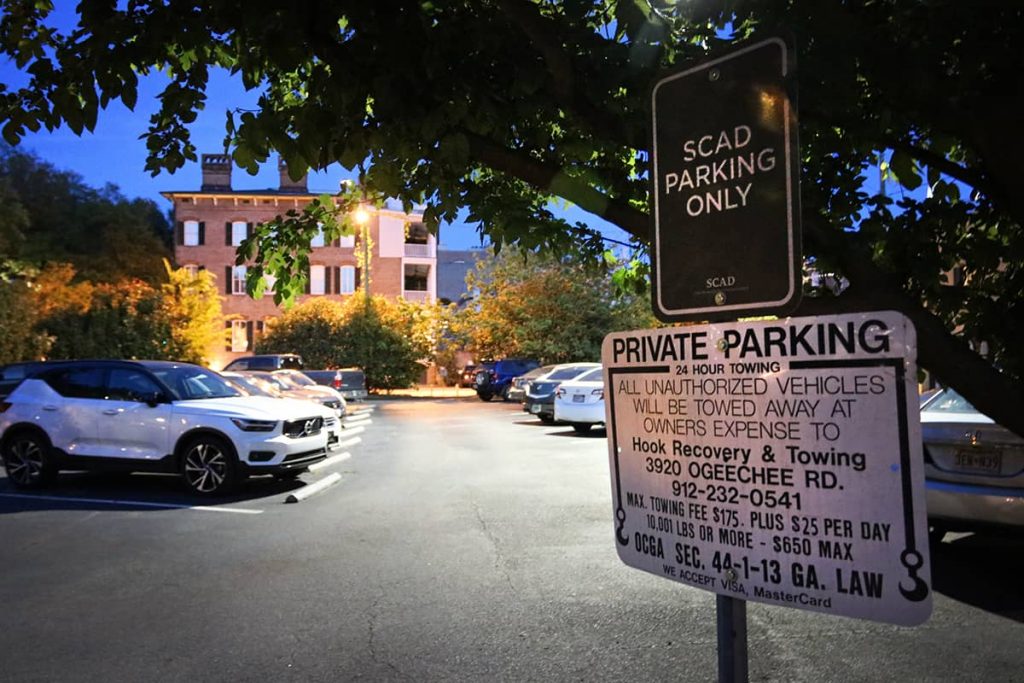 I shouldn't have to say this, but please do not park in a handicap spot unless you're legally allowed to occupy the space.
Savannah is difficult enough to maneuver for folks with mobility issues, so let's not make it more difficult than it needs to be, ok? Thanks.
Finally, please don't park in empty church lots or block anyone's driveway.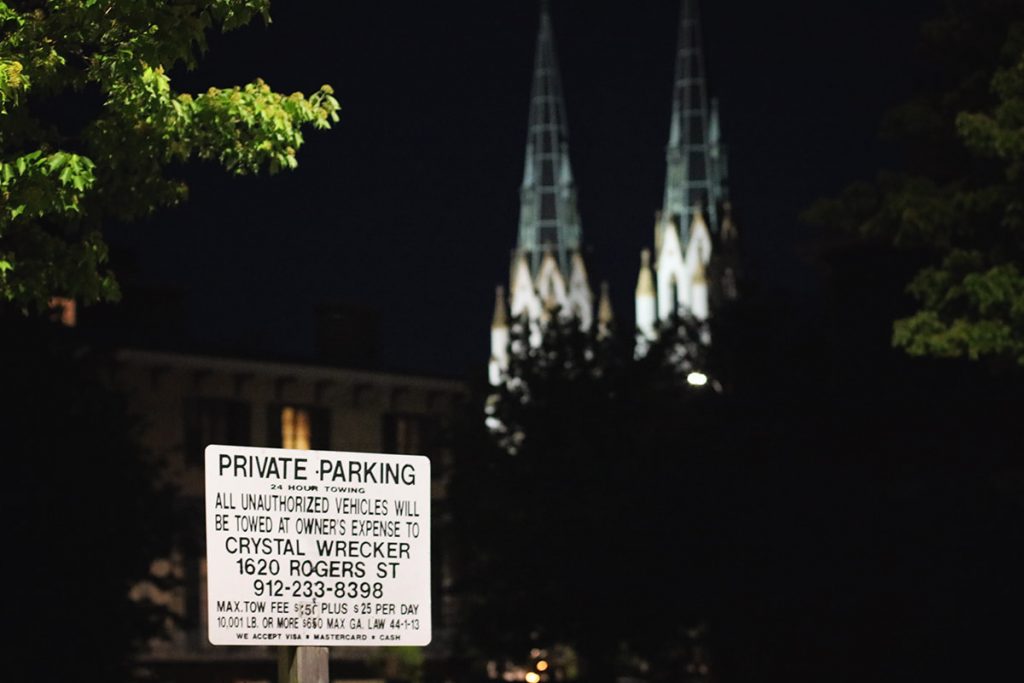 ---
Savannah Parking Tickets
If you read all of my Savannah parking tips above and still managed to get a ticket, shame on you!
Hehe…I'm kidding. It happens to the best of us.
I'll try to help you out — from experience.
The most common tickets given in Savannah are for meter violations, parking in a sweeping zone, and red light camera tickets. (If you book a hotel in Midtown, the intersection at Abercorn and DeRenne is notorious for red light tickets.)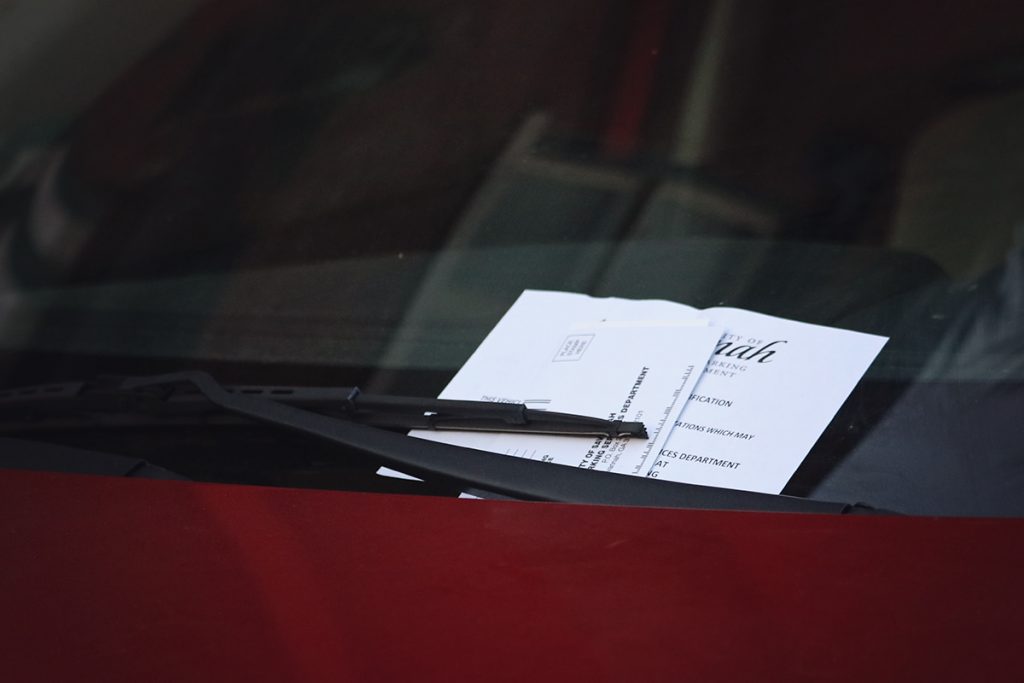 How to Pay Parking Meter Tickets in Savannah
You can pay off your ticket by mail or in person at the Bryan Street Parking Garage, but the easiest way is to pay online. Pay here. (Visa and MC only)
If your ticket is just a meter citation, ask to have it forgiven. You get one "freebie" per year.
Just call the number on the ticket and ask nicely.
How to Pay Street Sweeper Tickets in Savannah
As I mentioned above, if you get a ticket for blocking the street sweepers then you're probably out of luck.
You might not even realize you were ticketed until a month or so after the fact when you receive a citation in the mail.
Sometimes they even add late fees as a fun little surprise bonus. Yay!
You can try appealing it via the city's website, but from what I've discovered, they aren't very amenable to fine reductions.
The city's sanitation department is responsible for managing street sweeper violations. You can reach them at (912) 651-6579.
How to Pay Red Light Tickets in Savannah
If you get a red light ticket in Savannah, you can look it up on the City of Savannah perking services website to verify that it's actually your car.
You should be able to see a video or still image of your vehicle with the license plate visible.
You'll need to enter the violation number and your license plate number to view the video.
Once you verify that you are indeed guilty as charged, you pay the ticket at that same link.
NOTE: If you want to try your luck in court, that's always an option. Call (912) 525-3100, ext. 1570, and a friendly city employee will assist in scheduling your court date.
---
FAQ: Is it Safe to Park on the Street in Savannah?
I'm asked this question fairly often in my Facebook group, so I thought I'd answer it here. You can see on my Savannah crime map that some areas of the city are worse than others, but it's wise to use these tips no matter where you park in Savannah.
Take your valuables with you or hide them in the trunk. Always lock your vehicle. As the Savannah Police Department is fond of saying, "Lock It or Lose It."
When I say to hide your valuables, I mean hide everything that's worth anything. You might not consider sunglasses or loose change valuable, but to a crack addict that loose change means they can score their next hit. Just put it in the glovebox or somewhere out of sight. This tip is more pertinent in some areas of the city than others. (Ahem…Montgomery and Jefferson streets, south of 37th.)
NEVER leave a gun in your vehicle. It's the number one item thieves are searching for when they toss cars in Savannah. If you do have to leave one in the vehicle, be a responsible gun owner and use a lock box. Make sure it's hidden it out of sight.
Don't leave keys in the ignition while loading and unloading your vehicle — unless you want to learn how to make a car disappear. If you don't have a least one foot in the car, then you shouldn't have a key in the ignition.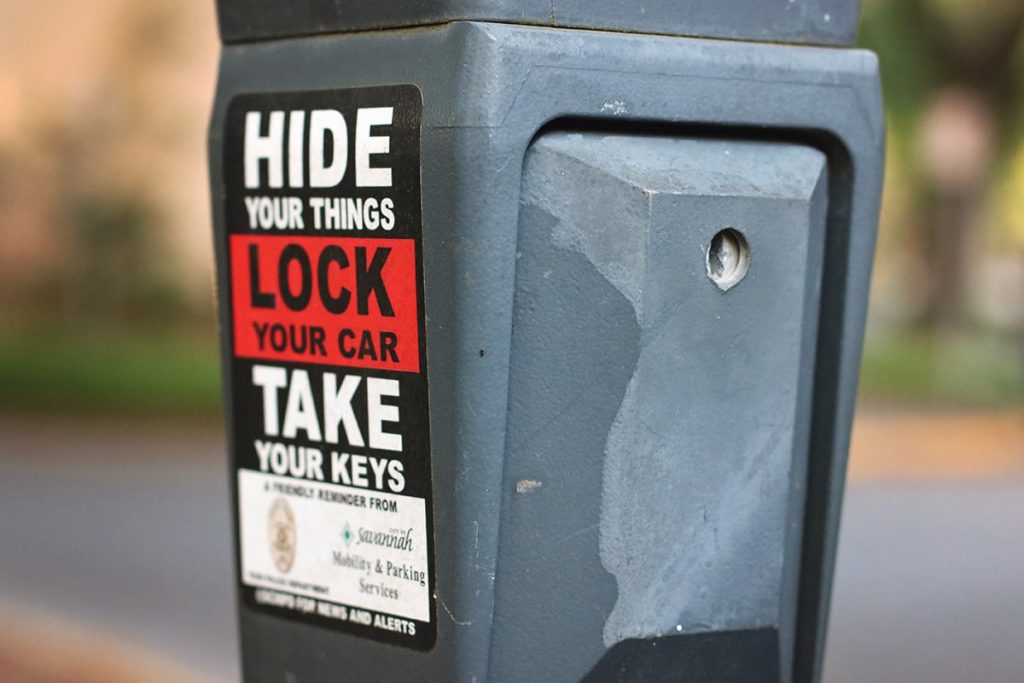 ---
Savannah Travel Guide
I hope these tips have been helpful! If you're in the beginning phase of planning a trip to Savannah, I've created some resources to help you out. Try starting with these…
Savannah Travel Guide: Start here if you don't know anything about the city and want a quick overview.
Free Savannah Printables: When you sign up for my email list you'll get access to free printables. It includes a popular list of 50 things to do on foot in the Historic District — no car necessary!
Savannah First-Timer's Guide: My ebook is inexpensive, and it's the best place to find my top tips in one central location.
If you want to stick around and read about some of the prettiest places in Savannah or my favorite must-see spots, just head to the home page and start exploring.
---
Do you have any questions for me about parking in Savannah? If so, please let me know in the comments below!
---
Love this post? Pin it now to save for later!