Can you imagine my surprise the first time I strolled past 17hundred90 Inn and Restaurant in Savannah and noticed the shadowy figure of a lady peering down at me from a window above the hotel's entrance?!
I was an impressionable youngster* at the time and was taking part in one of the popular ghost tours in Savannah when I spotted her.
I instantly froze in place (my family probably wondered what the heck was wrong with me), and at that exact moment I knew it must be one of the most haunted hotels in Savannah!
As it turns out, that shadowy figure was just a mannequin that had been placed in the window by cheeky hotel staff to draw attention to the inn's haunted reputation — but sure left a lasting impression in my mind.
*Can twenty-something be considered young? Now that I'm nearing 50, it seems young to me!
If you're new around here, first of all… allow me to extend a warm welcome!
My name is Erin, and I authored the Savannah First-Timer's Guide.
It combines my top Savannah tips from this website into one handy downloadable guide.
You might also be interested in:
🏚️ You can Actually Stay in These 3 Haunted Bed & Breakfasts in Savannah
Note: This guide contains affiliate links to my trusted travel partners.
---
Table of Contents | Click to Expand
17Hundred90 Inn and Restaurant History
17Hundred90 Inn began as three separate residences back in the early 1800s.
The first structure was destroyed by the great fire of 1820 that burned more than 450 homes and businesses in Savannah.
It was a devastating event that left many homeless and caused neighboring Southern states to flood donations into the city.
Some remnants of that original structure still remain today, including the brick and slate floors in the restaurant's main dining area.
The Main Inn was originally a duplex that was built between 1821 and 1823. You can see the beams from what used to be the back porch of the duplex when you're standing at the front check-in area.
The Main Inn expanded in 1888 with the addition of another residence.
Currently the Main Inn consists of 14 unique rooms, but there are also three guest houses.
Guest House 1 has the most incredible painted ceilings! Room 302 is my favorite, although the decor is very Victorian. (It fits!)
Guest House 2 still has the beautiful original wood floors and one or two of the rooms have exposed brick walls. My favorite is Room 306. It has a king-sized bed, a tub AND a shower, and it includes a pretty fireplace. I also like room 305.
Guest House 3 has exposed beams and exposed brick walls, both of which I always love. I think Room 315 is probably my favorite because of the fireplace.
The entrance above shows the main inn, while the building on the far right with the blue door is one of the guest houses.
17Hundred90 Inn & Restaurant | 307 E President Street, Savannah, GA 31401
---
So…is 17Hundred90 Inn Haunted?
There are two (or three, depending on the source) ghosts who supposedly roam the grounds. Two are friendly and the other — not so much.
Thaddeus is the name of the friendliest ghost. He leaves pennies lying around in the restaurant and tavern for guests to pick up.
I tend to like any ghost who'll pay me to be his friend!
The not-so-friendly ghost isn't quite as welcoming. No one knows the name of this spirit, but legend has it he was a Voodoo practitioner and head cook at the restaurant.
Employees working alone in the kitchen have reported hearing sounds like keys jingling and pots banging together. They've reportedly even had spice jars thrown at them!
But the most famous spirit of all is the ghost of Anna…
17Hundred90 Inn Room 204
Anna is said to haunt Room 204, and her tale is a sad one.
There are multiple versions of it, but the general consensus is that she fell in love with a sailor even though her family had promised her to another man.
The sailor headed out for sea, and she was apparently so brokenhearted that she took her own life by leaping to her death.
Nothing hurts the heart like unrequited love, right? I feel your pain, Ghost Anna!
Now, I've been to the 17Hundred90 Inn many times, and I don't see how a leap from the third story could actually kill anyone. (Technically, Room 204 is on the third floor.)
However, we're talking about a period in time when healthcare wasn't very advanced, so… who knows? I guess anything's possible.
Miley Cyrus stayed in Room 204 while filming The Last Song on Tybee Island, and she believed she received a visit from Anna.
She posted a photo of her boot with a small handprint on it and claimed Anna left the mark.
Ghost Anna has been known to move guest's belongings and tug on their bed covers. Then again, there are some guests who haven't experienced any ghostly encounters at all.
Maybe she only comes out to play when she's in the right mood?
As always, if you've stayed there and have anything to report back, let me know in the comments below!
Related Reading: The 11 Most Haunted Places in Savannah, Georgia
---
17Hundred90 Inn Savannah Reviews
One of the best things about staying at 17Hundred90 is how walkable the city is from its location.
It's on the northeast side of Savannah's Historic District, so it's in a quiet, residential area, but you'll still have easy access to the city's restaurants and landmarks.
Attractions Within Easy Walking Distance:
🚢 River Street: Walk there in less than 10 minutes
🍻 City Market: Walk there in 10 minutes at a leisurely pace
🌳 Forsyth Park: Walk there in less than 20 minutes
🍳 The Collins Quarter (brunch): Approximately five minutes
🍔 The Pirates' House: A potentially haunted restaurant in Savannah
The staff there were very accommodating! The location was excellent. We walked almost everywhere! We stayed in Room 301, and I liked that it had a whirlpool bath and a separate shower. It also had a private courtyard where we could eat outside. We received a free continental breakfast.

Lisa W, via my private Savannah First-Timer's Guide Facebook group
Staying at the inn also truly feels like stepping back in time. The narrow hallways, creaky floors, Victorian furnishings, and old fireplaces really are a blast from the past.
On a quiet evening, you can also hear the clippety-clop of horses passing by the inn! If you love history and hauntings, then this is a hotel to consider.
The restaurant on the main floor of the inn is the area that feels the most historic to me.
I love the low ceiling with its exposed wood beams and the dark red brick floors and antique chandeliers. It feels like such a cozy spot!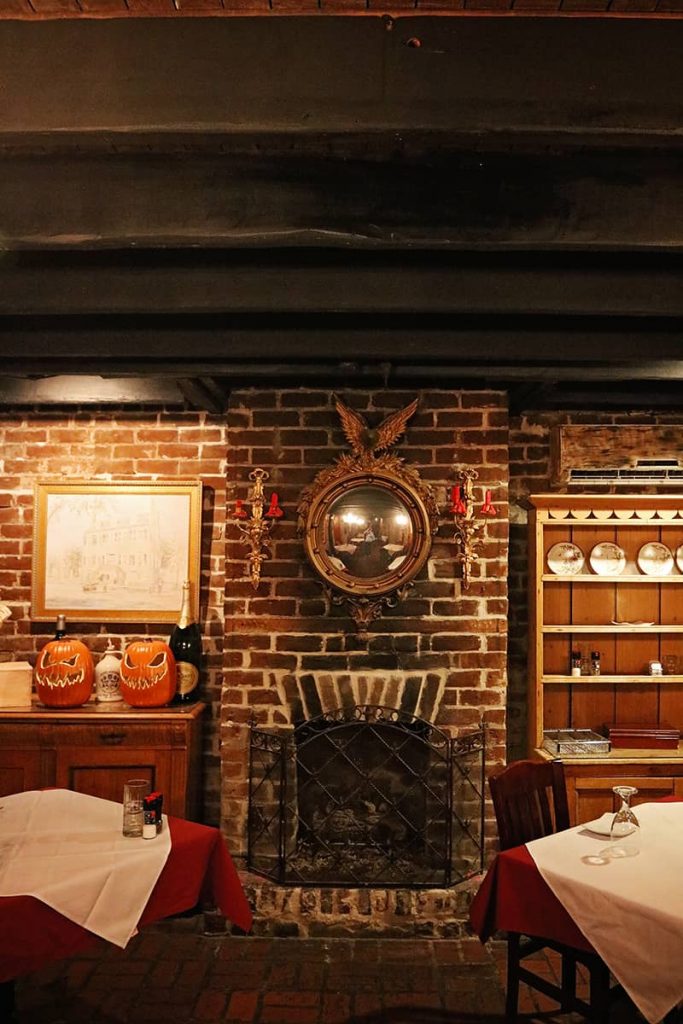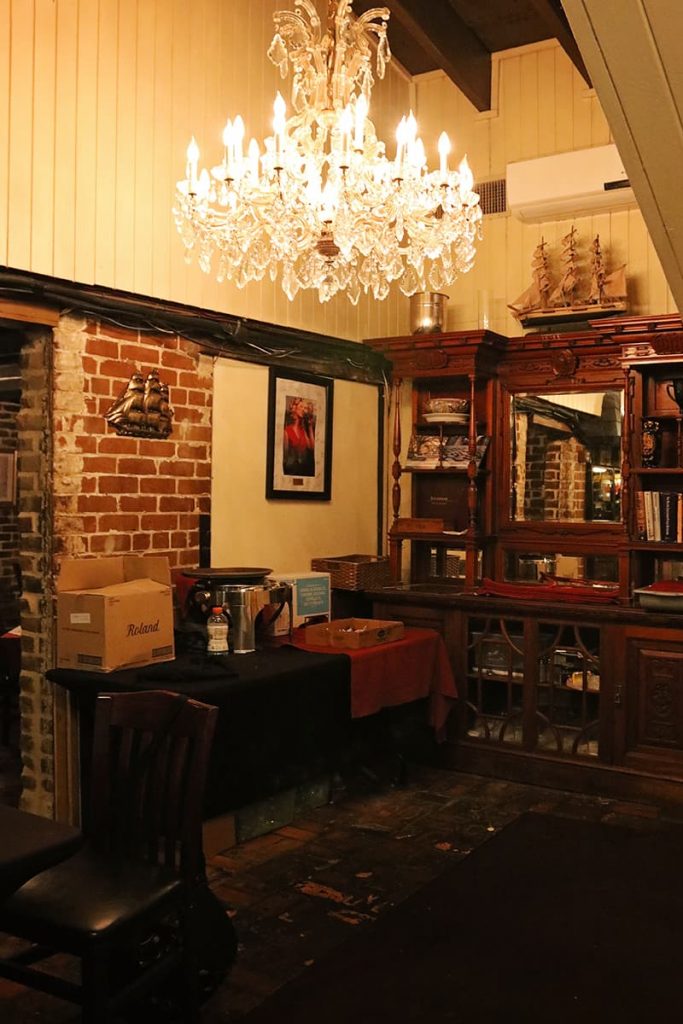 ⭐ Insider Tip: Neither the main inn nor the guest houses are particularly soundproof, so keep that in mind. If you need to sleep in absolute silence, you should opt for a newer hotel or bring ear plugs.
Head to my Best Accommodations in Savannah page to see a list of my favorite hotels and B&Bs (and learn why I like them!) or do a search below to see what's available.
17Hundred90 Menu
If you're staying at 17Hundred90 and don't feel like venturing out, the inn's own restaurant is a popular spot to grab a bite to eat. The menu has a wide range of choices, so there should be something to suit everyone's needs.
Like a true Southern establishment, they bring out fresh biscuits and honey butter before your meal. That in itself should be enough to make you want to reserve a table!
The restaurant was nice. The piano player was a quiet piano player. (I cannot stand loud music when I am eating.) The food was good. The restaurant had Leopold's Ice Cream for dessert, so we were able to taste it there instead of waiting in the long line at the store!

Lisa W. via my private Savannah First-Timer's Guide Facebook group
Popular meals include the Filet or New York Strip, Shrimp Scampi, and Boursin Chicken.
Attached to the restaurant is a quaint little bar that's popular with visitors and locals. (That's how you know it's a good spot, right?)
If you're looking to have a drink in a quiet pub-like atmosphere and relax after a day of sightseeing, 17Hundred90's bar makes an ideal place. It reminds me of an old episode of Cheers.
Many of Savannah's ghost tours — especially the haunted pub tour options — stop by the inn on a nightly basis, so you might run into some crowds outside.
Overall, I love this quaint little inn for its history and for the haunted factor, but particularly for its quiet east side location.
While I tend to favor The Marshall House overall, I think 17Hundred90 makes an ideal spot for ghost hunters and those who want a cozy inn with good food and a relaxing bar on site.
Related Reading: Is The Marshall House in Savannah Really Haunted?
---
More Helpful Savannah Travel Resources
If you're planning a trip to Savannah and need additional help, I've created lots of resources. Here are a few of my favorites…
Savannah First-Timer's Guide – My ebook combines my top tips from this website into one handy downloadable guide.
The Top Tours in Savannah – Whether you're interested in ghosts, architecture, food, Gullah-Geechee history, cemeteries, or trolley tours…I've rounded up some of my favorites for you!
Savannah FTG Free Resources Library – Get a free printable list of 50 Things To Do On-Foot in the Historic District (No Car Needed!), plus more fun goodies.
You'll also gain access to my (very active) private Facebook group when you purchase the ebook. You can use it to pick my brain about your upcoming travel plans and can also see photos and read trip reviews from others who have recently visited.
---
So…is the 17Hundred90 Inn and Restaurant haunted? Let me know your thoughts in the comments below — especially if you've had a strange experience there.
---
Love this post? Pin it now to save for later!